This pepper steak recipe is straightforward with only a handful of ingredients. You'll be surprised at how simple it is to make!
There's a common misconception about Chinese food that it's all complex with lots of rare ingredients. This makes people think it's too complicated for home cooks to make.
Today we are going to prove otherwise! Not only are we going to make it simpler, but also a lot healthier. Rest assured that the flavor will still be delicious.
Your days of greasy Chinese takeout are coming to an end. Let's get started!
What Is Chinese Pepper Steak Made Of?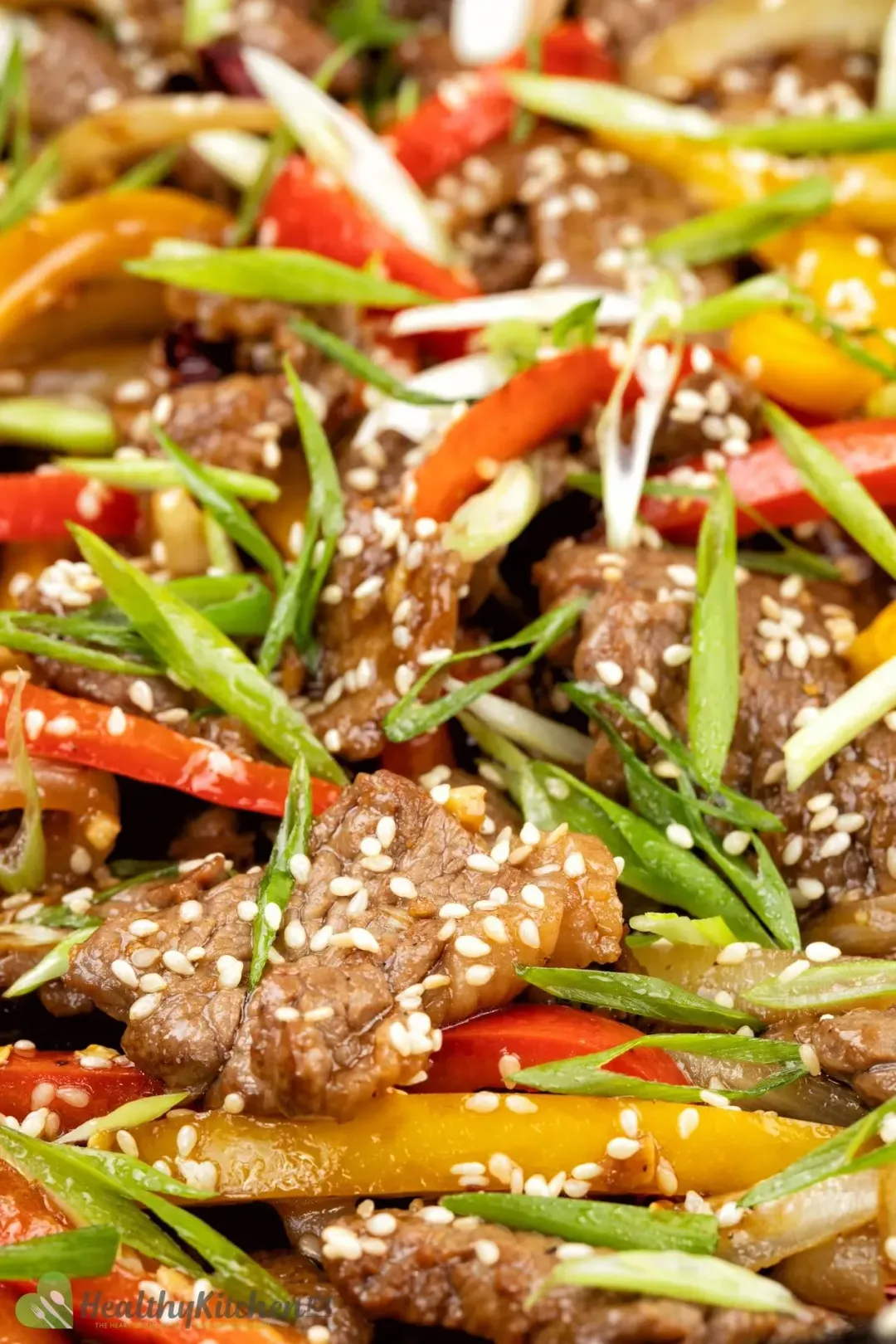 Pepper steak mainly consists of thinly sliced beef and bell peppers. The common cooking method is stir-frying. Here are a few things that determine pepper steak's flavor profile:
Savoriness: this can vary depending on the chef. But when it comes to Chinese cuisine, some common ingredients are soy sauce and oyster sauce.
To intensify the savoriness, chefs also use ginger, garlic, and spring onions or scallions.
Sweetness: honey or brown sugar are the most popular options as they give the dish a beautiful caramel color.
Most of these ingredients will appear in our pepper steak recipe. But you don't have to follow it strictly.
Think of our recipe as a guide and foundation to build upon when creating your own pepper steak extravaganza.
How to Make
The cooking process is simple but that doesn't mean you can just dump everything in a pan and stir-fry. Here are a few things to keep in mind.
While your beef is marinating, prepare all the vegetables and seasonings. The cooking process will be very brief so you want to have everything ready beforehand.
Use a wok or cast iron skillet to cook as it gives the dish a distinctive smoky flavor.
Cook the vegetables first as they take more time to cook than the beef
Keep in mind that beef is delicate and can overcook easily. Once the beef is medium-rare and slightly pink, remove it from the pan.
The beef will cook more in the sauce later and become well-done. So don't worry about eating undercooked meat.
1. What Is the Best Cut of Beef for Stir-Fry?
For a stir-fry dish, you want to find tender cuts of beef. Here are a few candidates:
Tenderloin: as the name suggests, it's the most tender cut of beef. It can be expensive, but also perfect for grilling, searing, or for beef wellington.
Sirloin: also known as porterhouse, it's a flavorful and affordable cut of meat. To keep the meat tender, marinate or cook it on high heat for a short period of time.
Striploin: this cut usually has great marbling— making it tender, juicy, and flavorful. 
Flank steak: is the cheapest cut in our list. It can be used for stir-fry or grilling and needs to be marinated to get the maximum beefy flavor.
For today's pepper steak recipe, we're using striploin. But you can pick your favorite cut of beef within your budget.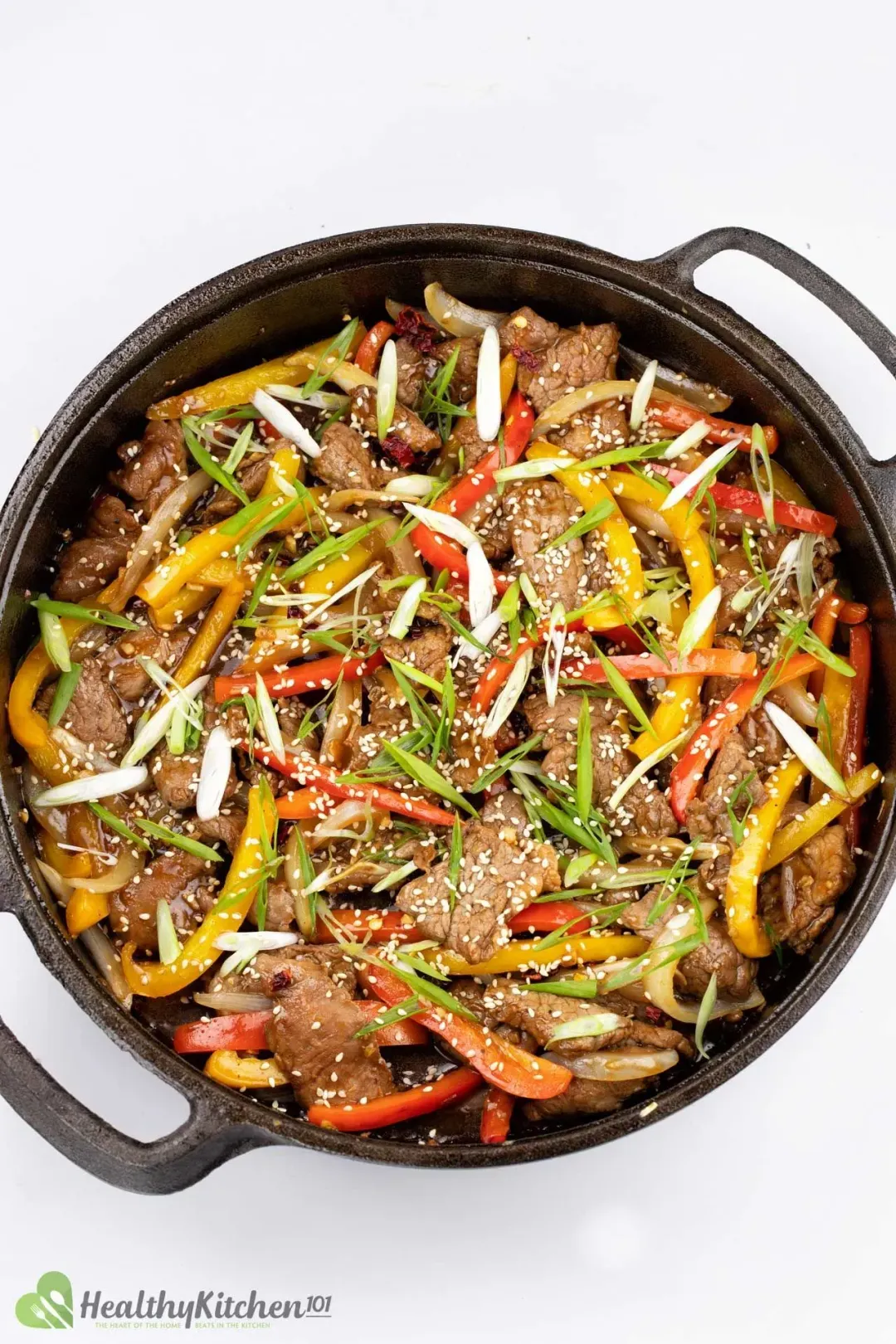 2. How to Prepare Beef for Stir-Fry
If your cut of beef comes with silver skin and fat, you should remove them with a sharp knife. Once you've finished, thinly slice the beef.
A good trick to make a thin slice is to freeze the meat 15 minutes before cutting. When the meat is firm, you can make a clean cut without the meat wobbling.
If you're a busy person, you can always ask your butcher nicely to do it for you. They'll help you prep your meat.
3. How to Marinate Beef
Here are the ingredients of our simple beef marinade:
Salt
Black pepper
Reduced-sodium soy sauce
Dark soy sauce
Minced garlic
Add all the ingredients to the beef. Mix well to incorporate. Cover and set aside. For this recipe, you only need to marinate for 15 minutes.
4. How to Prepare Bell Peppers
Wash bell peppers thoroughly under running water. Allow to dry or pat dry with a kitchen towel.
Cut off the top and bottom of the bell peppers.
Remove the seeds.
Make a slice right down the middle and open it flat.
Cut into strips or dice, depending on the recipe.
Why Cook Beef Pepper Steak with Onion?
Onion is one of the most common ingredients in the world. 
As for why onions always go with stir-fried dishes, we can think of a few reasons.
Stir-frying technique requires cooking food on high heat in a heavy-duty skillet— usually a wok or cast iron skillet. When you add onions to the skillet, its surface is lightly charred, giving it a distinct roasted flavor.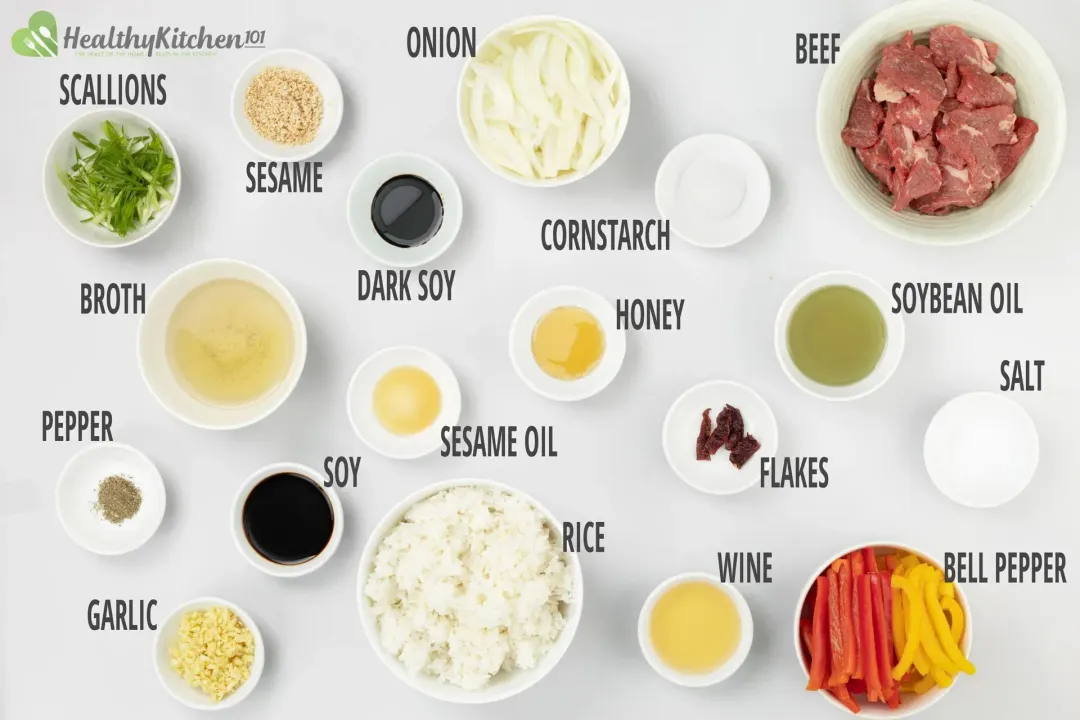 In addition, when you cook onions, you bring out their signature sweet taste. The sweetness adds a nice contrast to a savory dish and gives it another dimension.
And, you can cook onions until completely tender and caramelized. Or, you can add crunch with it slightly undercooked with a hint of peppery taste, yet still sweet and charred.
Simply put, onions are the most versatile ingredient that go well with any food.
Types of Onions
White onions: as the name suggests, these onions have a white peel on the outside. They tend to be pungent— perfect for those who love a peppery hint in salads.
Yellow onions: they are the most versatile and go well with any recipe. They can be less pungent, and sweeter than white onions.
Sweet onions: if you're planning to make deeply caramelized onions, sweet onions are your best bet. They also go well in salads and pickled foods.
Red onions: with their mesmerizing purple color, red onions add a nice contrast of color in any dish. You can have them raw or cooked in salads, relishes, or for grilling.
How to Cut Onions without Crying
For most people, cutting onions can make them cry nonstop, with an addition of a runny nose. Technically, they are not crying.
Onions have a special chemical called syn-propanethial-S-oxide. This chemical prevents pests from infesting the onions.
When you cut into an onion, you release this chemical and it irritates the lacrimal glands in your eyes. This is why you "cry".
There are no scientific methods to prevent tearing up when cutting onions. That being said, here are some tricks that are worth a try:
A sharp knife: using a well-sharpened knife may reduce damaging the cell walls of the onion, releasing less irritating chemicals.
Refrigeration: put an onion in the fridge or freezer before cutting. The low temperature may slow down the chemical reactions and potentially make the chemical less irritating.
Is This Recipe Healthy?
Yes, this recipe is healthy for you. Here's why:
Since we limit the use of oil, the amount of saturated fat in this recipe is 4 grams per serving. This is relatively low for a stir-fry dish.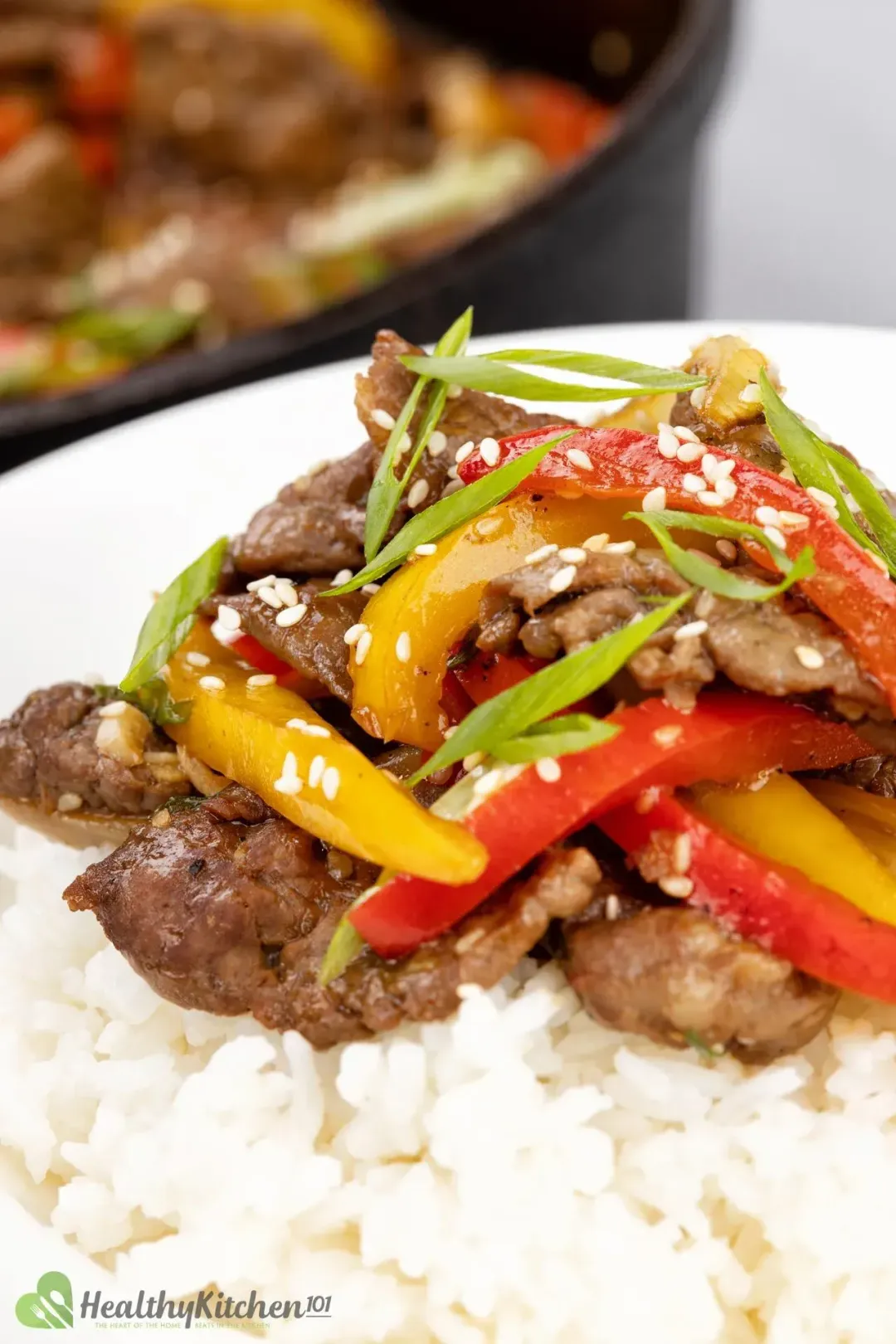 High consumption of saturated fatty acids can lead to high blood cholesterol levels. This may result in an increased risk of cardiovascular diseases.
We recommend a diet low in saturated fats to improve your blood cholesterol levels and heart health. You can start by cutting down on the use of oil, as we do for today's recipe.
In addition, thanks to all those bell peppers, our pepper steak recipe is packed with lots of micronutrients. It also contains 77mg of vitamin C, which is about 93% of your recommended daily intake.
The human body cannot produce vitamin C and the only way for us to get it is through food. We primarily think of vitamin C as an immune booster, but it does so much more than that.
If you want to know why it's so important, here is a detailed article about vitamin C.
Pepper Steak and Rice
Rice is an important agricultural commodity with the highest consumption in Asian countries.
In Chinese cuisine, rice is not just a food staple, but also a valued tradition. If there's one thing that always appears in a Chinese person's everyday meals, it's rice.
And since our pepper steak is a Chinese-inspired recipe, it would only be right to serve it with rice.
Types of Rice
Rice can be very diverse and suit different recipes. Here are some types of rice you can use for this dish:
Jasmine rice: is a type of long-grain white rice and commonly used in Southeast Asian cuisine. It has a distinctive scent of jasmine flower and delicately soft texture— perfect for any Asian-style dish.
Japonica rice: this short-grain, mildly sweet, white rice is popular in Chinese, Japanese, and Korean cooking. If you cannot find it, any type of sushi is a good alternative.
Brown rice: is a type of whole-grain rice with a nutty, roasted flavor and lightly firm, chewy texture. Not only is it tasty, this fibrous rice can bring you many health benefits as well.
Black rice: also known as "The Forbidden Rice", this whole-grain has a similar texture and flavor profile to brown rice. However, black rice is more complex with a nuttier taste and more chewy texture.
If you've never tasted any of these types of rice, now is a good time to give them a try.
Or, if you love rice, our Mongolian beef recipe is another perfect dish to pair with it.
What Do You Serve With?
Since our main dish is protein-rich, we only need a simple side dish and beverage to make a wholesome meal. We recommend pairing it with winter melon meatball soup and pomegranate blueberry juice.
Since the winter melon meatball soup is both light and comforting, it would make a perfect side dish.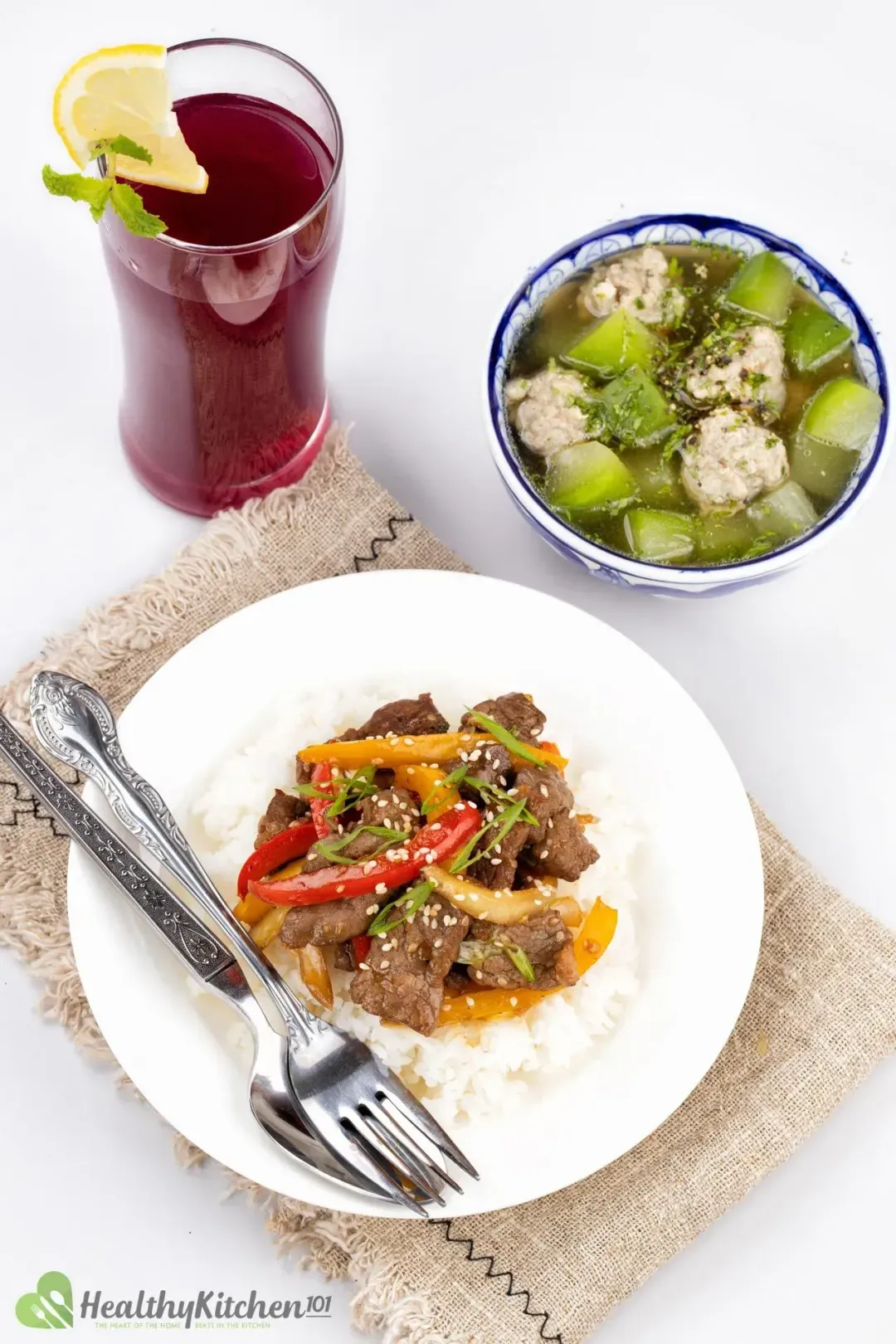 Combine the soup and pepper steak and you will have a delicious homemade Chinese dinner at home. Finish it off with a refreshing glass of pomegranate blueberry juice on ice.
Discover the Ultimate Beef Stir-fry Recipes to Satisfy Your Cravings
This article provides a step-by-step guide on how to make a delicious and authentic beef chow fun dish, which is a staple in Cantonese cuisine. The recipe uses simple ingredients and can be prepared in under 30 minutes, making it a great option for busy weeknights.
Beef chow mein is a popular Chinese dish that consists of stir-fried noodles, tender strips of beef, and a variety of vegetables. This recipe is easy to customize to your liking, and can be made in under 30 minutes for a quick weeknight dinner.
For those who relish the taste of beef stir-fry dishes and crave more, peruse our collection of equally mouth-watering recipes below.
Pepper Steak
This pepper steak recipe is one of our favorite Chinese recipes. It comes together in only a few minutes, and unlike those greasy takeouts, this one is fresh and healthful. Don't be surprised if it tastes just as good as the restaurant's (or even better!)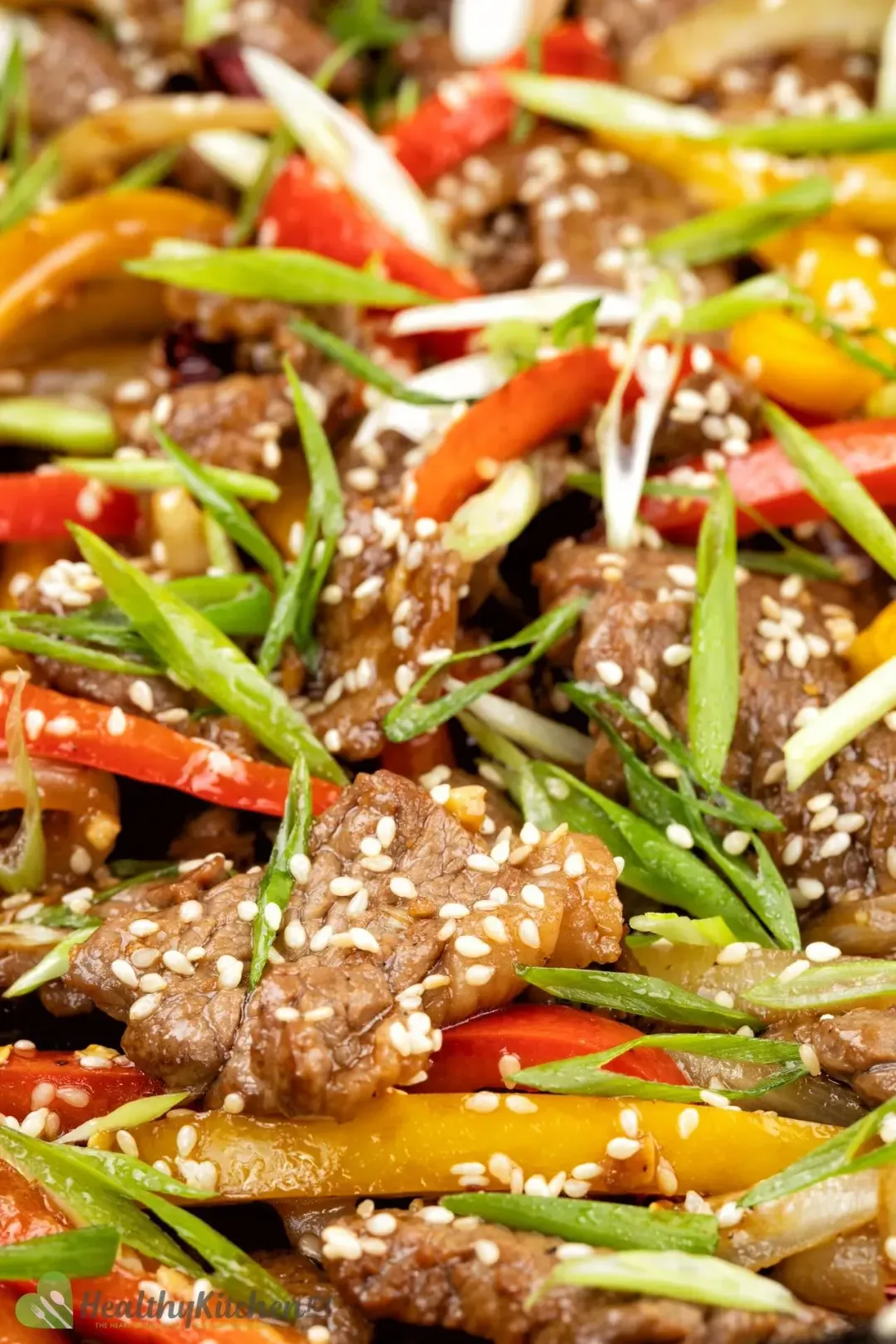 cook TIME

5 mins

prep TIME

5 mins

total TIME

25 mins

INACTIVE TIME

15 mins
COURSE

Main Course

CUISINE

Asian, Chinese

SERVINGS

CALORIES

467 kcal
INGREDIENTS
12 oz

lean striploin

(thinly sliced)

2 tbsp

garlic

(minced, divided)

1/4 tsp

black pepper

(divided)

5 1/2 tsp

reduced sodium soy sauce

(divided to 1 tbsp and 2 ½ tsp)

1 tsp

dark soy sauce

(divided)

3 tbsp

soybean oil

(or vegetable oil, divided)

8 oz

bell peppers

(yellow and red, cut into strips)

4 oz

yellow onions

(thinly sliced)

2 tbsp

white wine

(optional)

1/3 cup

unsalted chicken broth

1 oz

fresh scallions

(thinly sliced)

1/2 tbsp

white sesame seeds

(roasted, plus more to garnish)

1 tsp

red pepper flakes

(optional)

3 cups

cooked medium-grain rice
INSTRUCTIONS
Prep
1
Marinate the beef: In a big bowl, marinate the 12 oz beef with 1 tbsp minced garlic, 1/8 tsp salt, 1/8 tsp black pepper, 1 tbsp reduced sodium soy sauce, and 1/2 tsp dark soy sauce. Cover and let sit for 15 minutes at room temperature.
Cook
1
Cook the vegetables: In a cast iron skillet, heat 1 1/2 tbsp soybean oil over high heat. Add 8 oz sliced bell peppers and 4 oz yellow onions, and stir fry for 2 minutes or until just tender. Add 1 tbsp minced garlic and 1/8 tsp salt. Stir for 30 seconds or until fragrant. Remove to a plate and set aside.
2
Stir-fry the beef: Turn the heat to high. Add 1 1/2 tbsp soybean oil to the same skillet. Add the marinated steak to the skillet and stir fry for 30 seconds. Add 2 tbsp white wine and cook for 10 seconds, allowing the alcohol to evaporate. Turn off the heat. Transfer to a plate and set aside.
3
Make the sauce: Add 1/3 cup chicken broth, 1 tbsp cornstarch, 2 1/2 tsp reduced sodium soy sauce, 1/2 tsp dark soy sauce, and 1 tsp honey. Mix well to dissolve. Cook for 30 seconds. Return the vegetables and beef to the pan. Add 1 tsp red pepper flakes and stir. Then add 1 oz scallions, 1/2 tbsp roasted sesame seeds, and the remaining 1/8 tsp black pepper. Turn the heat to high and stir vigorously to combine all ingredients.
4
Turn off the heat. Add 1/2 tsp sesame oil. Give everything a final mixing.
5
Plating: Transfer the beef to a plate or a bowl. Serve with cooked rice. Garnish with a sprinkle of roasted sesame seeds.
NUTRITION
Nutrition Facts
Pepper Steak
Amount Per Serving (1 serving)
Calories 467
Calories from Fat 162
% Daily Value*
* Percent Daily Values are based on a 2000 calorie diet.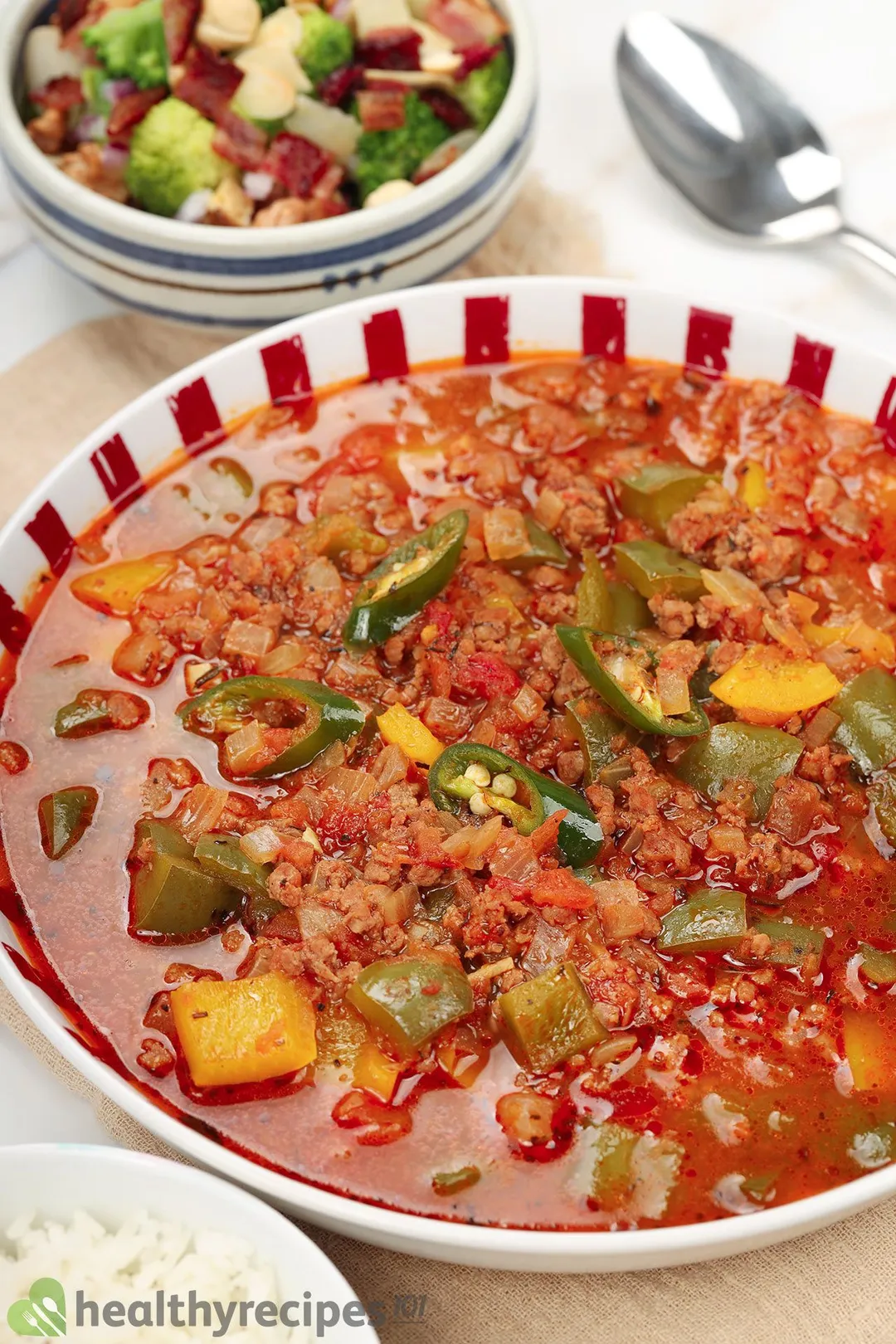 Previous Recipe
Stuffed Pepper Soup
Stuffed Pepper Soup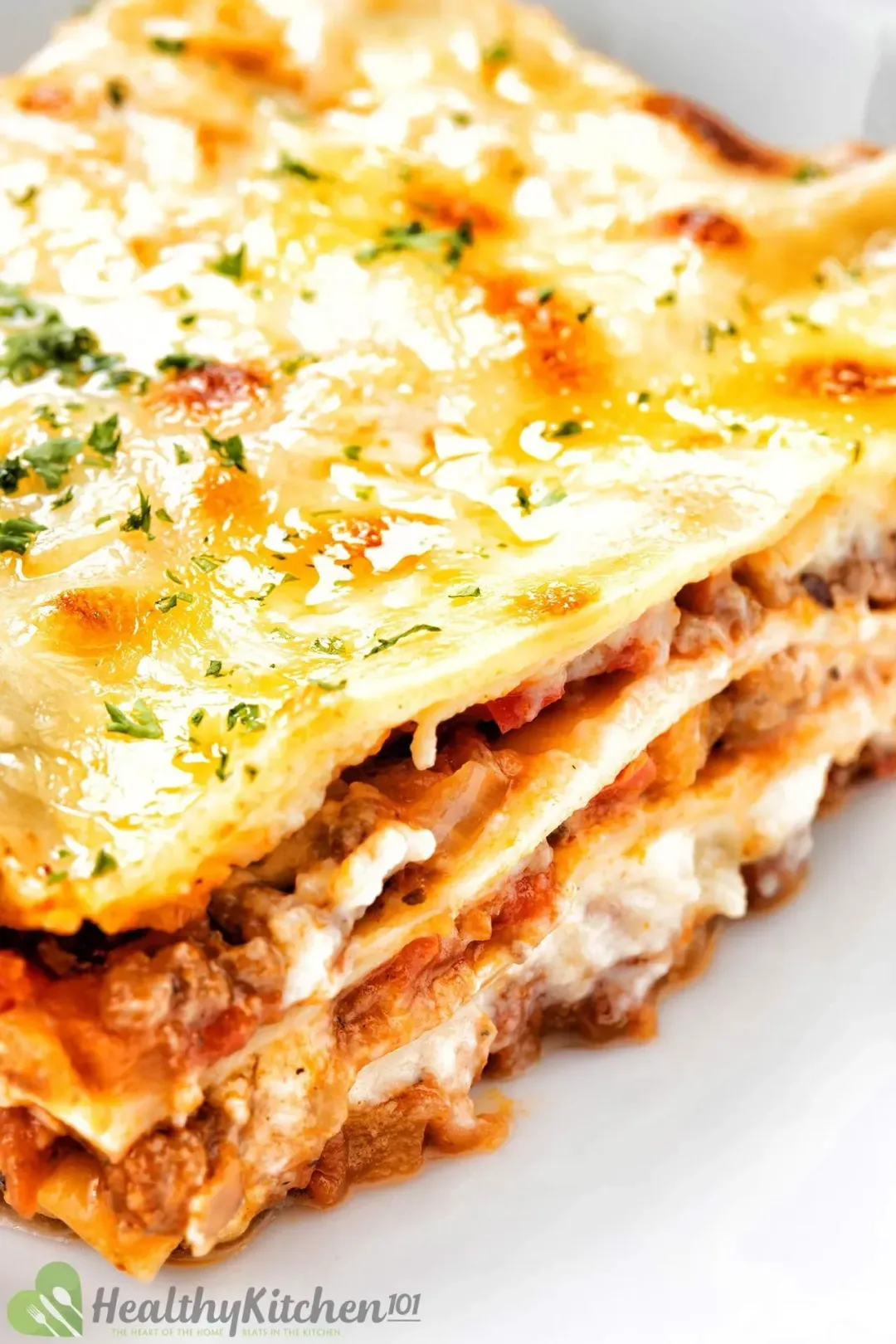 Lasagna
Head Chef, Culinary Consultant
Tuyet Pham is an award-winning Saigonese chef who believes that joy is the secret ingredient to delicious food. At Healthy Recipes 101, Tuyet personally tests and simplifies every recipe, ensuring maximum flavor with minimal effort. With a background at prestigious French restaurants P'TI Saigon and Le Corto, Tuyet knows how to make every dish exceptional.
Writer, Author
Luna Regina is an accomplished writer and author who dedicates her career to empowering home cooks and making cooking effortless for everyone. She is the founder of HealthyKitchen101.com and HealthyRecipes101.com, where she works with her team to develop easy, nutritious recipes and help aspiring cooks choose the right kitchen appliances.
Nutrition Reviewer
Lizzie Streit is a Minneapolis-based dietitian and founder of It's a Veg World After All. She completed her MS in Human Nutrition from Drexel University, and is an expert in culinary nutrition, recipe development, and nutrition communications. Lizzie's philosophy is centered around making nutrition recommendations, and especially the advice to eat more vegetables, approachable and realistic. She is excited to be working with the team at Healthy Recipes 101 to ensure that their recipes are both nutritious and delicious.
This was such a tasty addition and I'll have no problems fitting it into my Webnesday dinners 😉

Fantastic. It was really good.