This chicken biryani recipe will take you to an Indian rice dish that's rich and savory. With a gripping fragrance and slightly pungent flavor, it's a great dish for buffets and big parties.
What Is Biryani?
Chicken biryani is a famous aromatic Indian dish that originated in Persia. After spreading the way to the South of India, it started to travel further through different parts of the country.
The original form of chicken biryani is well-known by the name "Dam Pukht" which means "steam-cooked". This name alludes to the cooking method that involves marinating chicken and cooking it with basmati rice in layers.
Chicken biryani has appeared in many forms and versions, from royal courts to local tables. Its ingredients have been modified bit by bit over time, and different methods adapted to suit indigenous dieting customs.
It's not common knowledge, but there are two ways to cook:
Kachi yakhni biryani chicken: The raw chicken meat is marinated with the spice blend first. After that, it's cooked along with the rice so that both will come out well-cooked together.
Pakki yakhni biryani chicken: Both the chicken meat and the rice are cooked ahead separately. They're then layered over one another in a dutch oven and steamed for a shorter period of cooking time.
Basically, this recipe follows the first method with just a minor manipulation. We decided to sear the chicken quickly before par-boil it with the rice to tenderize the chicken and make it juicier.
Another dish we love that belongs to Indian cuisine and uses similar spices is chicken korma. If you're in the mood for Indian food, you may also want to take a look at that.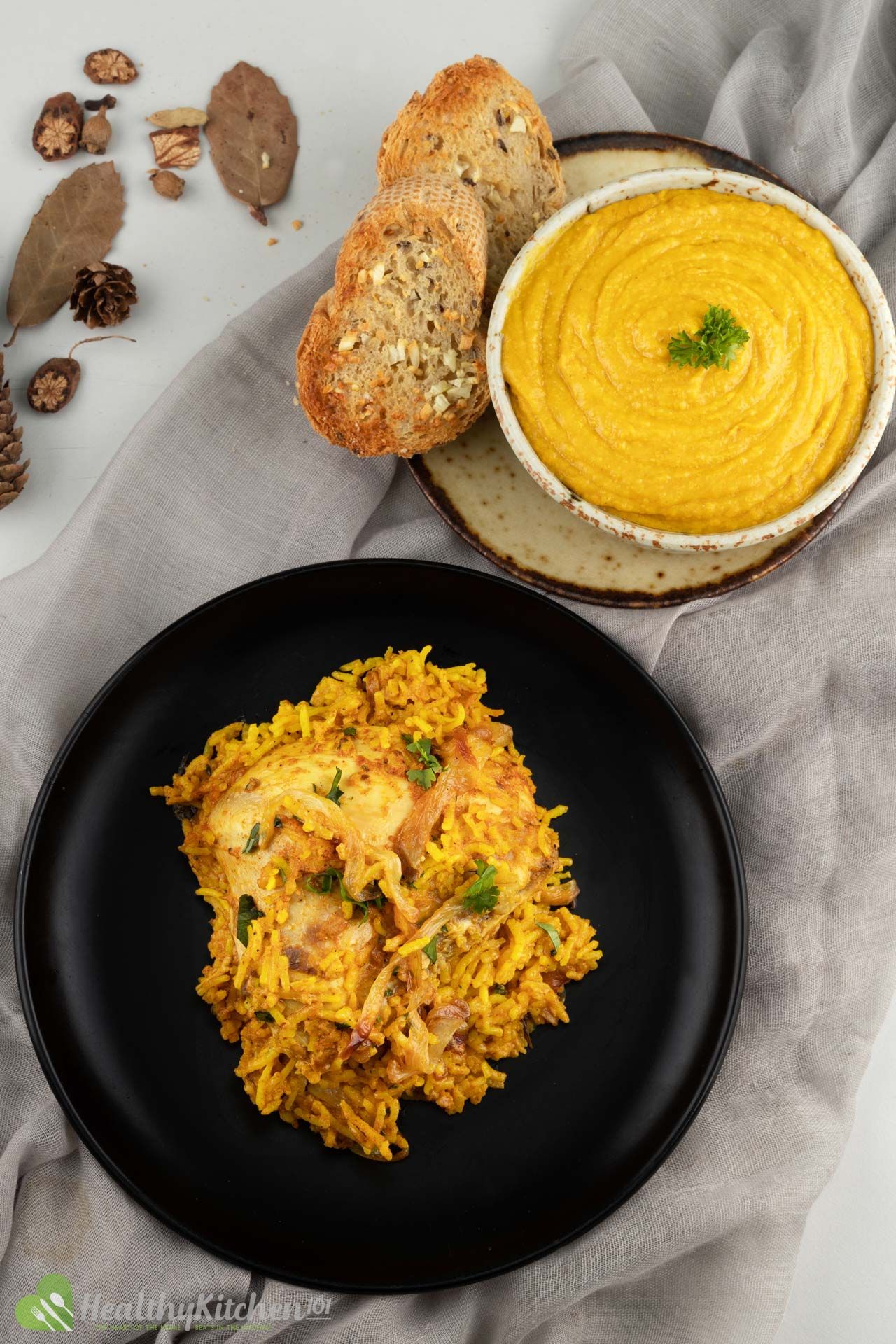 Is Chicken Biryani Healthy?
Thanks to the fact that chicken biryani involves only chicken thighs and fresh ground spices— yes, it is healthy. Though higher in calories and fat when compared to chicken breasts, chicken thighs are still a good source of protein.
The difference in nutritional content may not vary vastly between the two. But, in larger portions, you'll see how quickly those differences can add up.
Therefore, if you wish to follow your daily quota strictly, simply watch the portion size.
Also, you might want to purchase fresh whole spices then grind them yourself. By doing so, the taste can be as authentic and close to its original taste as possible.
Are you afraid that carb intake will make you gain more weight? Here we opted for basmati rice— a complex carb with a much lower GI in comparison with white rice.
Low GI foods allow carbohydrates to break down more slowly in your body and prevent blood sugar spikes. Hence, consuming basmati rice will help stabilize your appetite so there's less chance you'll reach for more food shortly after.
How Many Calories Are in Chicken Biryani?
If you follow this chicken biryani recipe, you'll get 510 calories from one serving. This includes the portion of basmati rice that's eaten along with the chicken.
How to Make Chicken Biryani
Here is brief summary: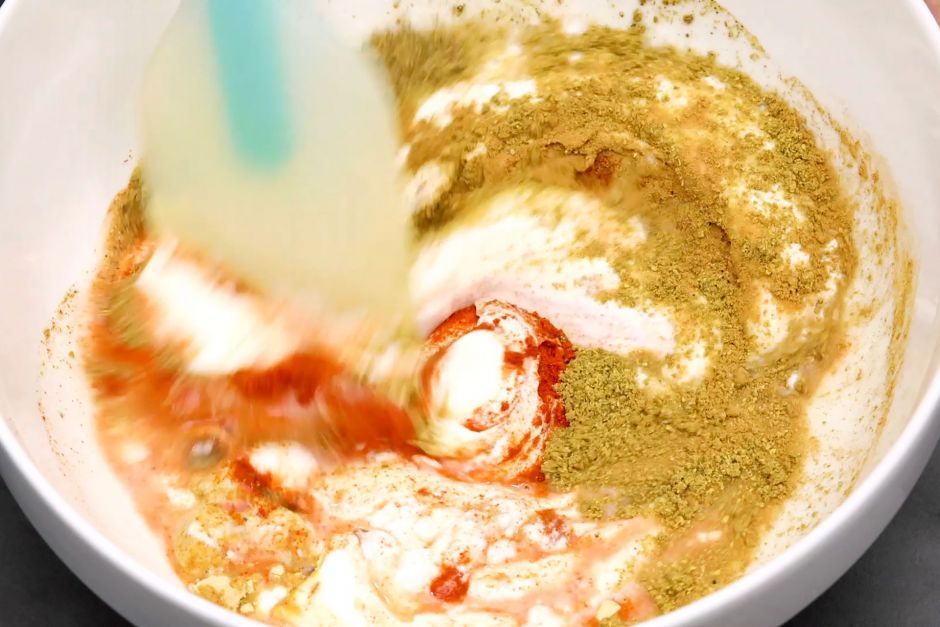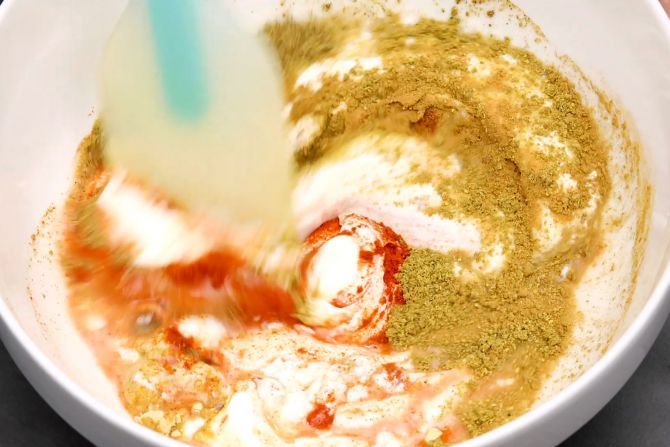 Make the marinade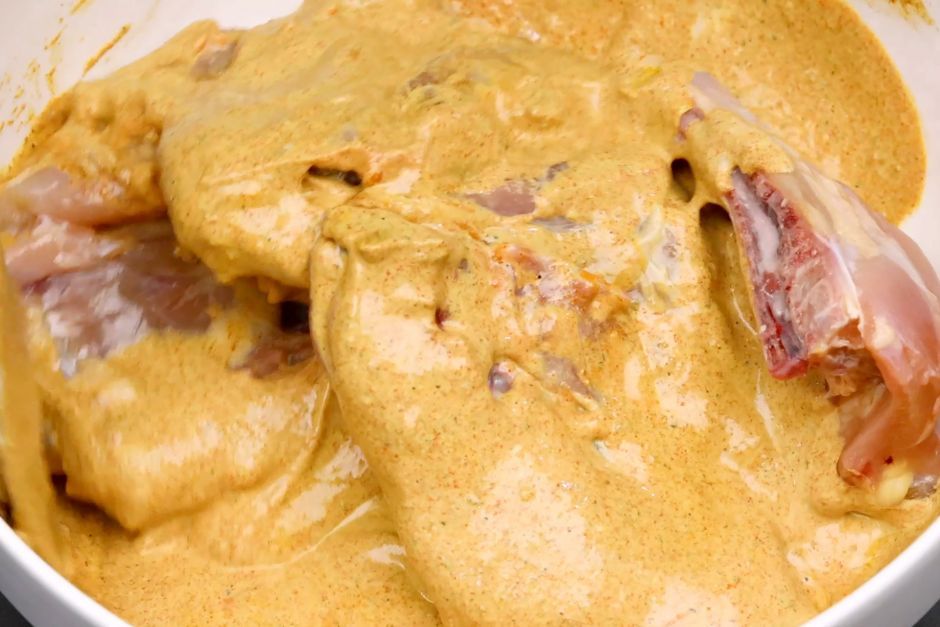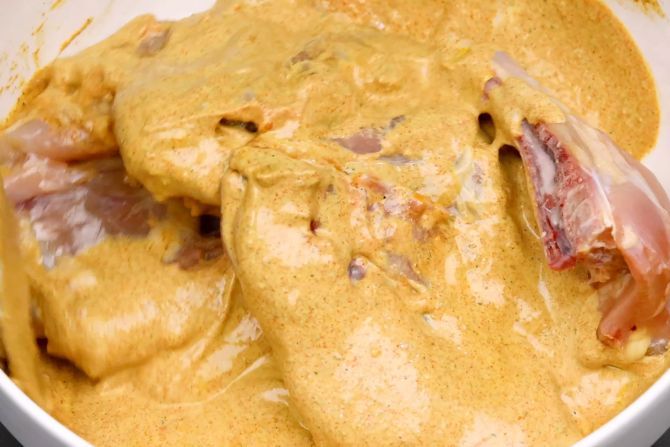 Marinate the chicken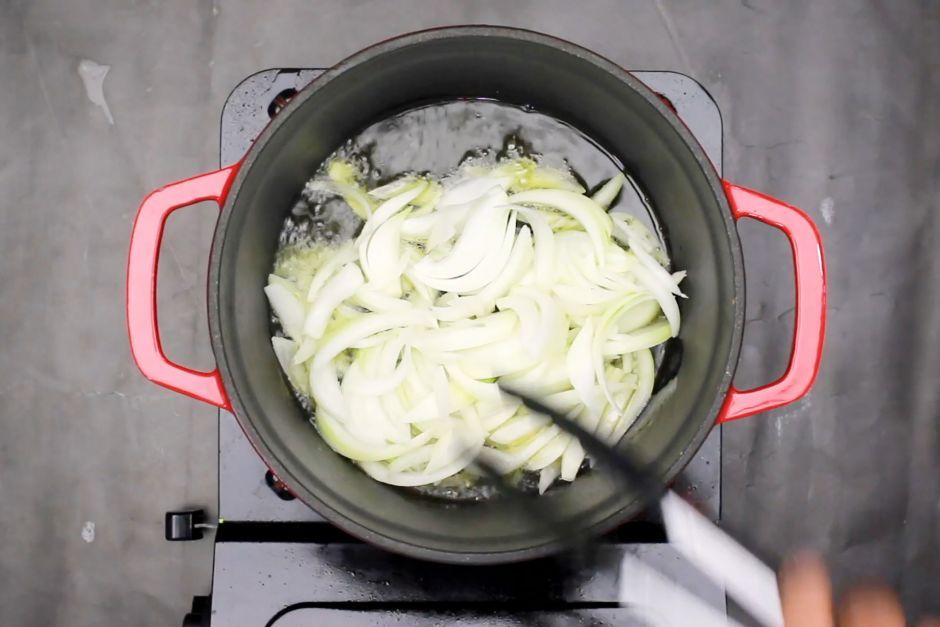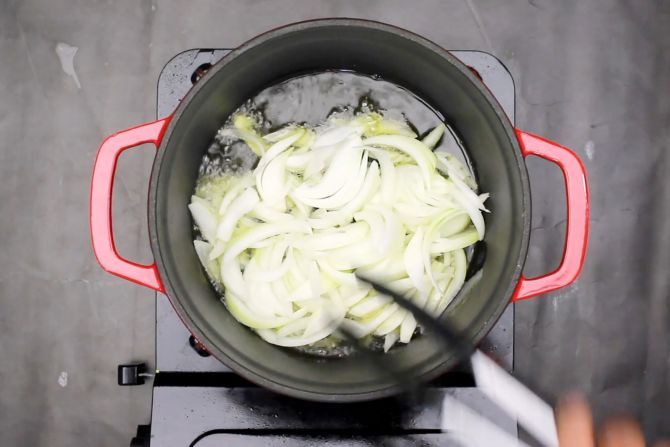 Stir-fry the onion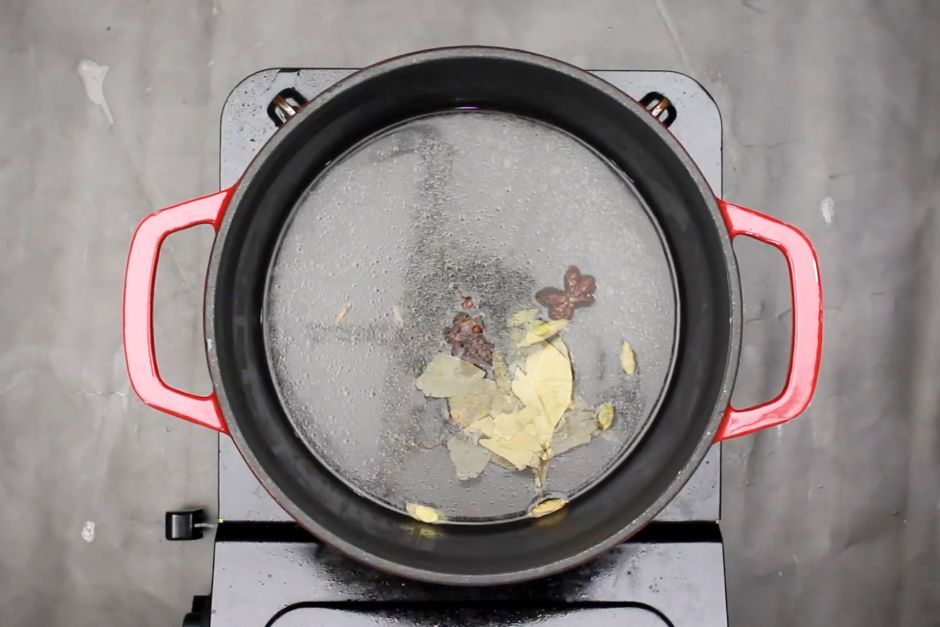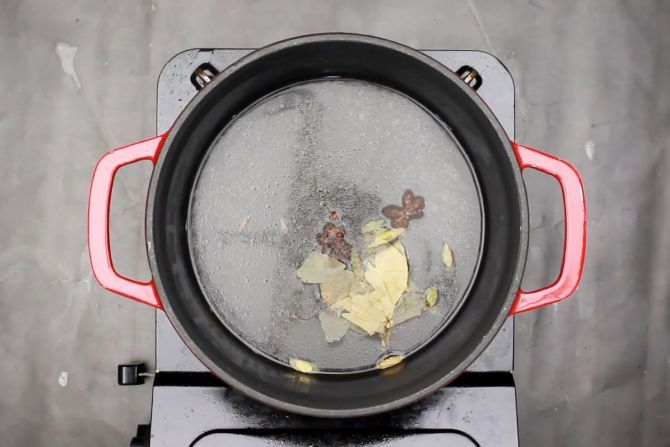 Boil the rice (1)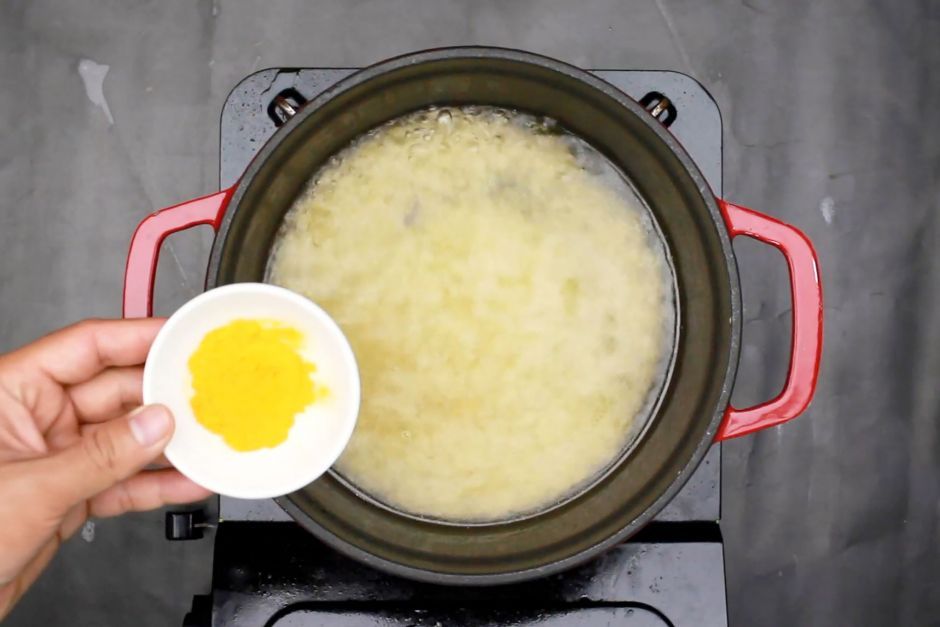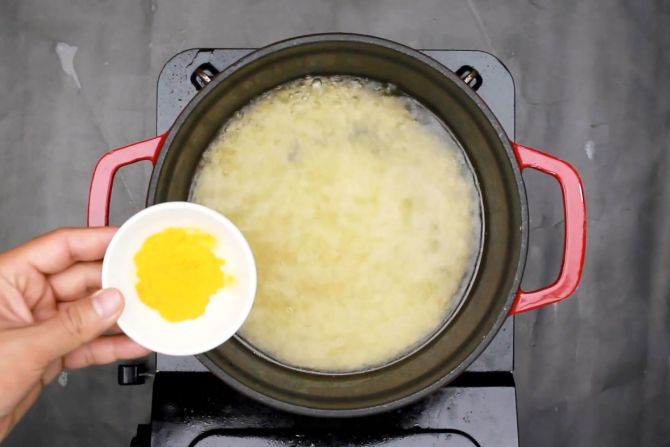 Cook the rice (2)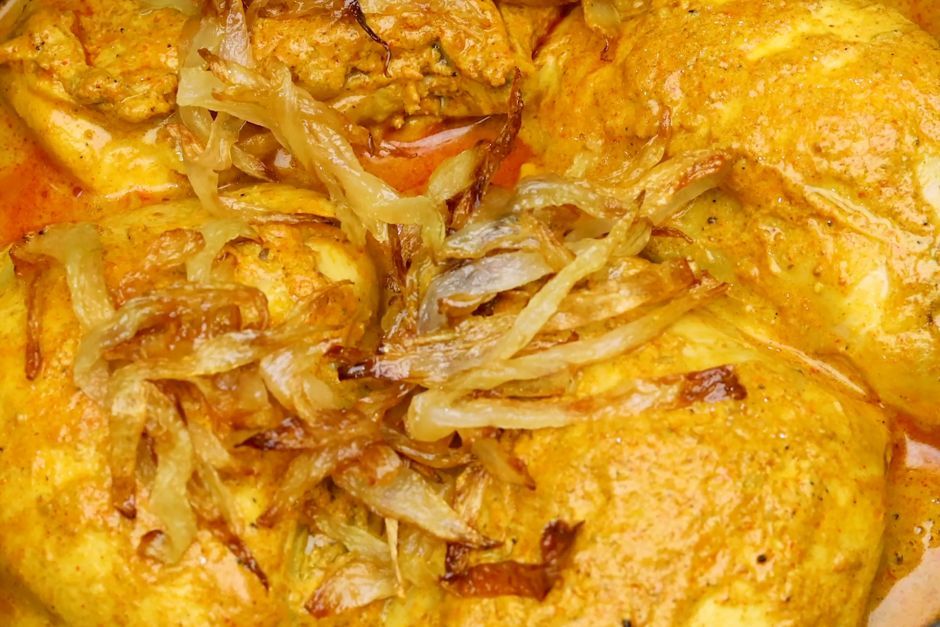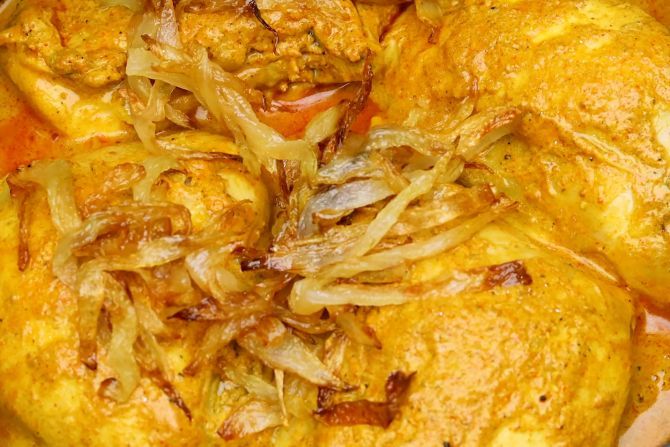 Cook the chicken (1)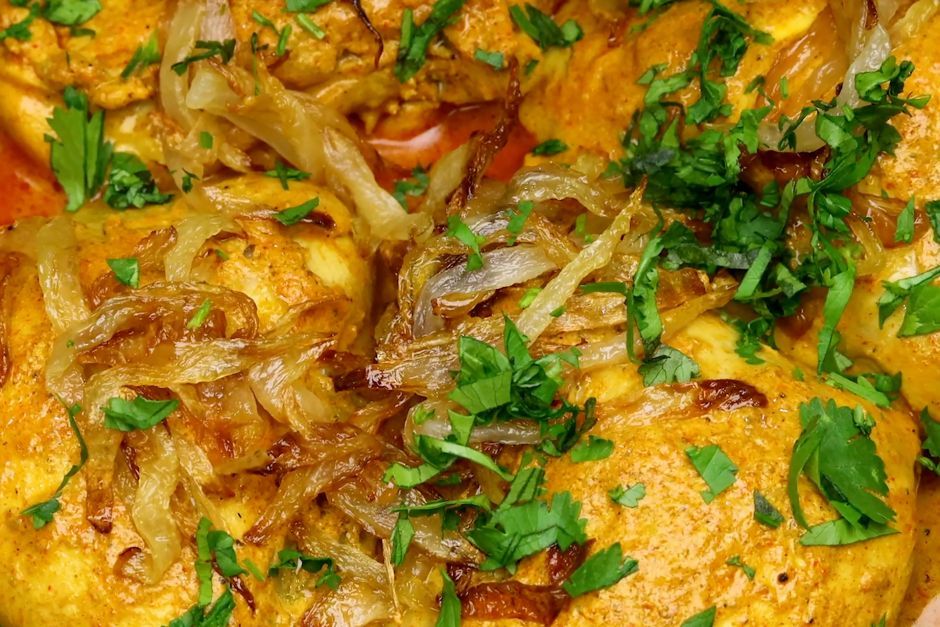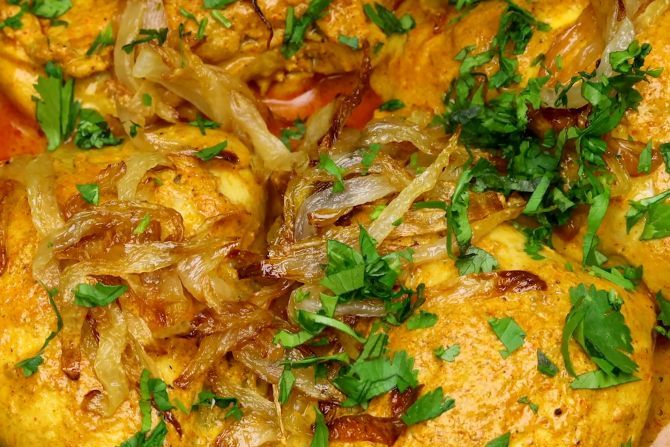 Cook the chicken (2)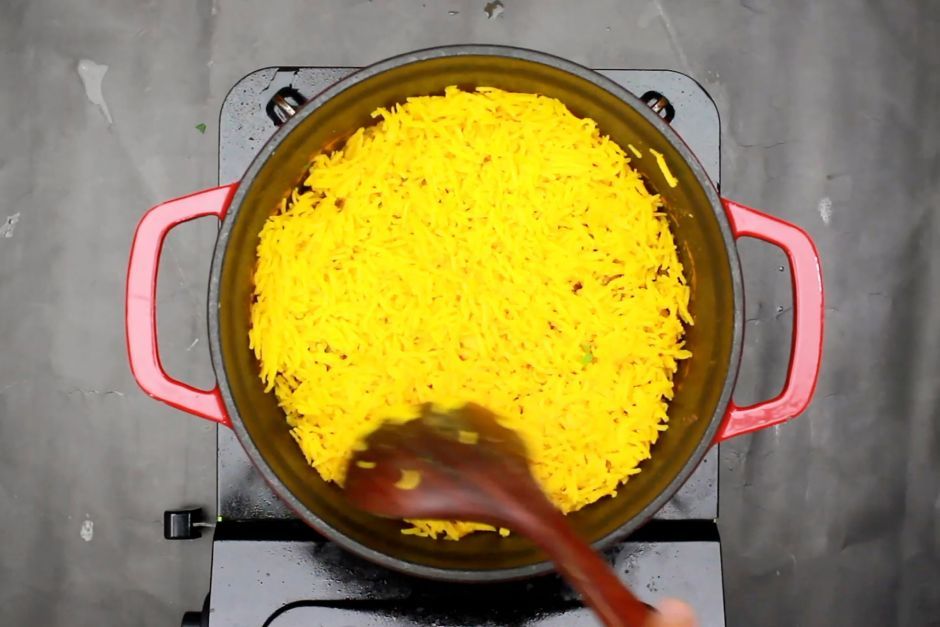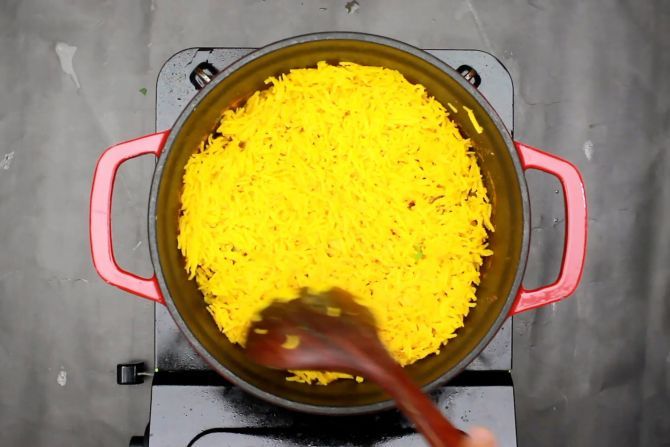 Cook the chicken (3)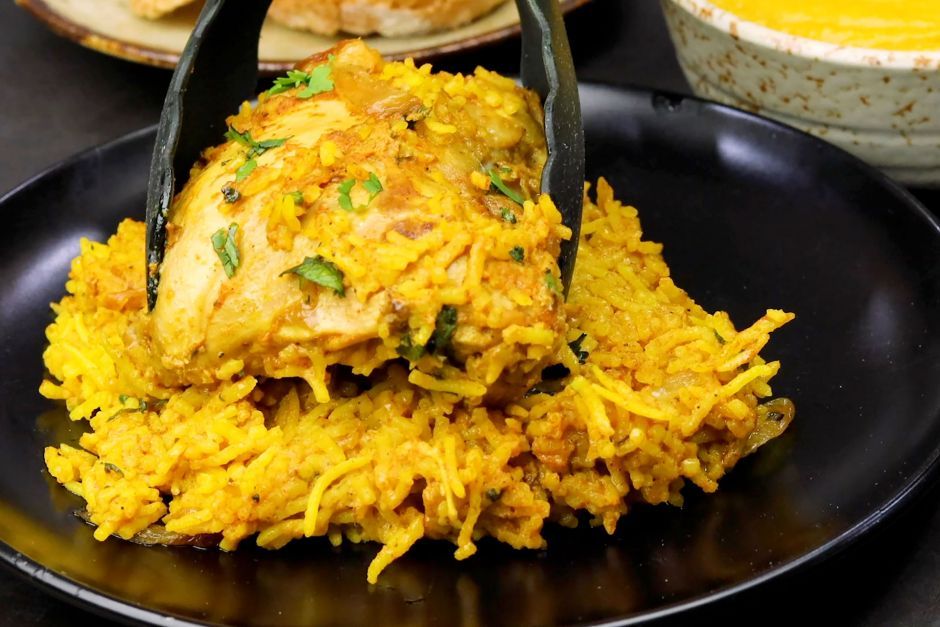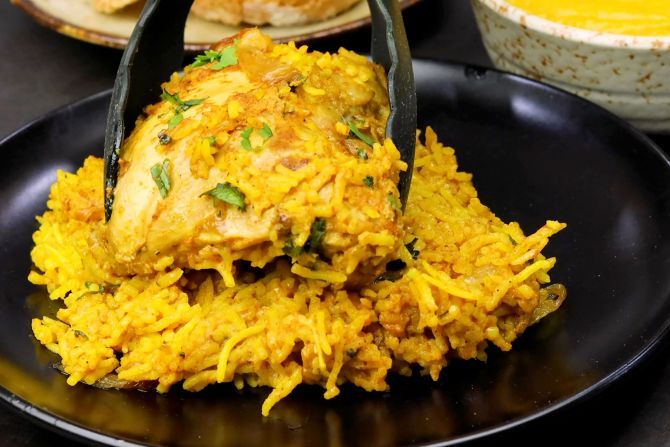 Serve immediately
Jump to Recipe
Tips for Making
1. For the rice
Basmati rice is slightly thinner than regular white rice and usually comes with a special fragrance. A perfect batch of basmati rice should be fluffy with grains that are separable.
Therefore, our advice is to always use a boiling pot or saucepan with a thick bottom. By doing so, you can prevent both the rice and chicken from being burnt easily by the strong heat.
2. For the spices
The spices are what gives the dish its bold flavor and help make it beautiful with its distinct color. Therefore, it's important to choose the right amount for each ingredient.
In this recipe, we managed to create a spice mix that's neither too spicy nor pungent. We did not include chili powder so it'll be more adaptable to diverse taste buds.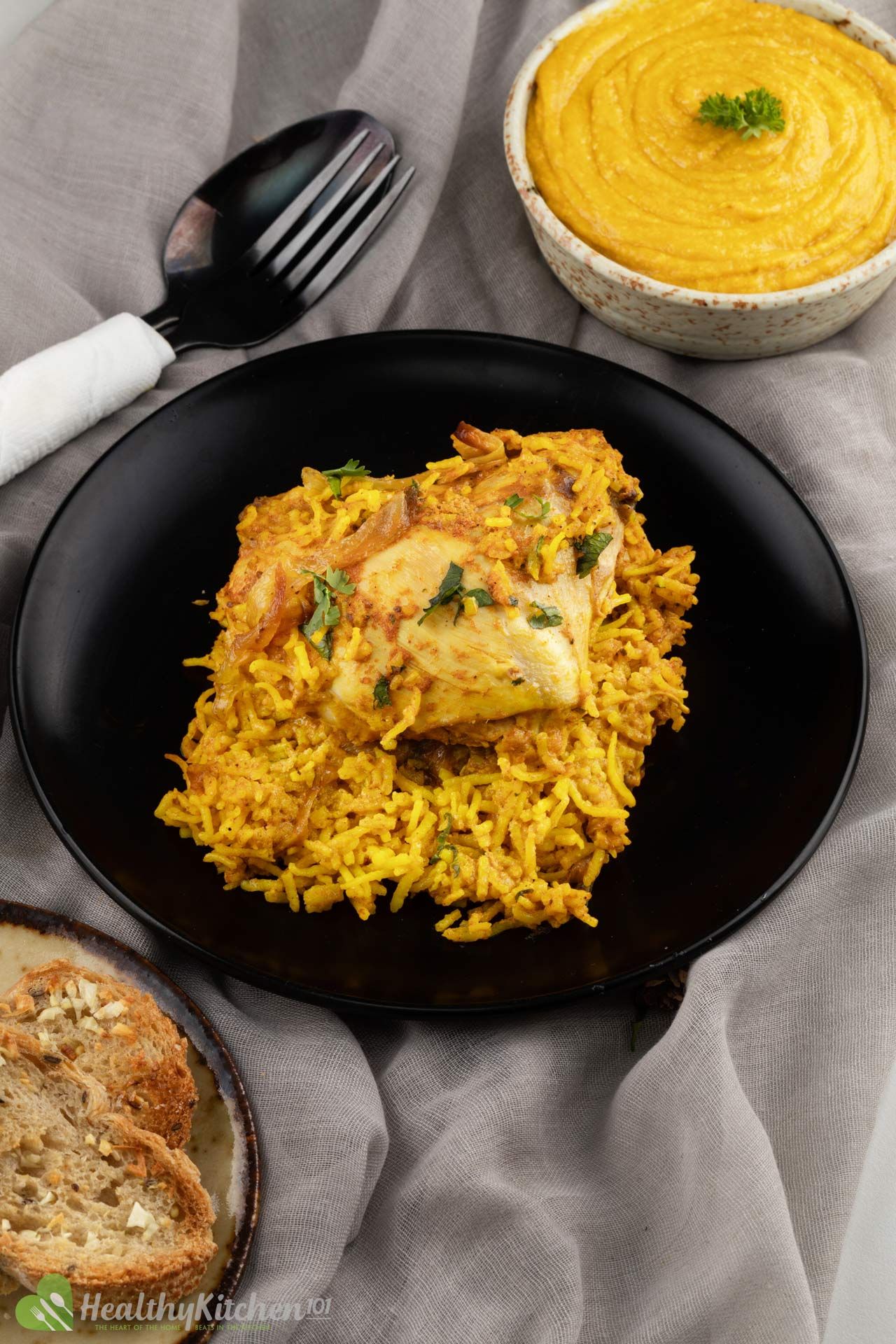 That said, you can follow our instructions exactly for a tried and true, stress-free combination. Of course, you're free to play around with the spices until you've finally found the perfect mix for your taste.
If you're a big fan of chicken, this top 50 chicken roundup or heck out our list of 20 best chicken thigh recipes might be of help.
What Goes Well with Chicken Biryani?
It's not just succulent chicken pieces in this chicken biryani recipe. Besides the mouth-watering and vibrant-colored chicken, you also have a creamy sauce and crispy onions to enjoy altogether.
1. Coconut Milk
In the olden days, coconut milk infused with curry and ginger garlic paste was favored in the South of India. Chicken biryani was no exception.
For this recipe, instead of coconut milk, we opted for Greek yogurt as a natural meat tenderizer. This is also a great way to comparatively cut down on the fat content.
2. Vegetables
The only vegetable that's in this chicken biryani is the onion. Onions are sliced thin and deep-fried in batches until golden brown and crispy.
Keep in mind that the onions shouldn't be overcooked to dark brown, otherwise they will make the whole dish bitter.
How Long Does Biryani Last in the Fridge?
Chicken biryani can last up to 2 days in the fridge and 2 months in the freezer. To freeze, simply put the chicken in an airtight container with a lid.
It's best to prepare a new batch of basmati rice when you're about to warm the leftover chicken biryani. Basmati rice can have a weird texture and flavor when reheated.
If you love this recipe, this Instant Pot chicken biryani recipe is a more convenient version.
What to Serve with Chicken Biryani
To complete a festive meal with chicken biryani, it's crucial to choose just the right side dish. Here are some brilliant options:
1. Raita
Many people love to serve their chicken biryani with raita— a yogurt salad. They find its cooling effect very soothing when paired with high-protein dishes.
We believe that not just raita alone but other Indian-style chutneys can also work great with this chicken biryani.
2. Bread
Either bread or naan can make a great combo with this chicken biryani. The pillowy bread easily absorbs the sauce, giving you a pleasant mouthfeel when eaten together with the tender juicy chicken.
3. Pumpkin Soup
For a comforting combination meal with harmonious flavors, we paired chicken biryani with an all-purpose pumpkin soup. We love how fulfilling and captivating a food combo they make.
How about you? What would you pair with biryani?
Recipes
Course
Calories
Saturated fat
Sodium
Chicken Biryani
Main Dish
510
6.2 g
460 mg
Pumpkin Soup
Side Dish
238
4.9 g
292 mg
Total
748
11.1 g
752 mg
Nutritional values in this table vary somewhat to those below due to different app calculations. Read more...
Other Savory Chicken & Rice Recipes
These favorite chicken and rice recipes are as comforting and healthy as this Biryani recipe: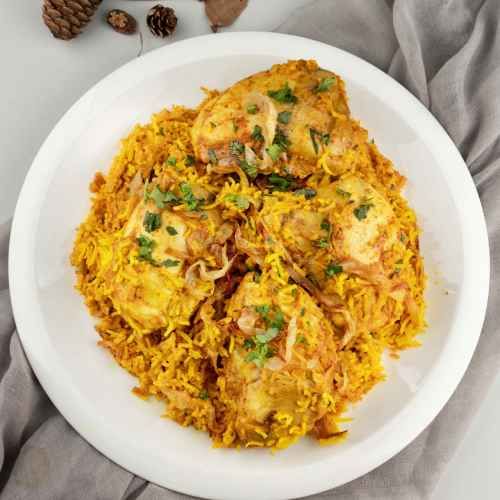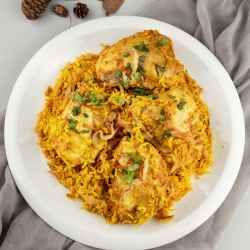 Chicken Biryani recipe
This Chicken Biryani is truly a staple to indulge in. For people following gluten-free diets, you should look for a certified gluten-free chicken broth instead.
Ingredients
18

oz

skinless chicken thigh diced

3/4

cup

plain Greek yogurt

4

cups

water

1

tsp

ginger powder

2

tsp

garlic powder

2 1/2

tsp

turmeric

divided

1

tsp

cinnamon

1/2

tsp

cayenne pepper powder

1/4

tsp

cardamom powder

2

tsp

garam masala

1

tsp

coriander powder

1/2

tbsp

cumin powder

1 1/2

tbsp

paprika

1/2

tsp

salt

5

cloves

3

bay leaves

1

star anise pod

6

green cardamom pods

3/4

cup

basmati rice uncooked

1

cup

unsalted chicken broth

8

oz

onions

sliced

1

cup

olive oil

for deep frying (*)

1/2

cup

coriander

chopped

1

tbsp

unsalted butter

melted
Instructions
Marinate the chicken:
In a large bowl, make the marinade of cinnamon powder, cardamom powder, 1/2 teaspoon of turmeric powder, paprika, ginger powder, garlic powder, cumin powder, garam masala, cayenne pepper, coriander powder, salt, Greek yogurt, and 1/3 cup of water. Whisk together.

Add chicken thighs to the marinade, toss to combine.
Stir-fry the onion:
In a dutch oven, heat 1 cup of olive oil over medium heat. When the oil gets hotter, add the sliced onion in and deep fry for 15 minutes.

Remove the fried onion, drain excess oil, and set aside.
Cook the rice:
In the same dutch oven, heat 3 cups of water over high heat.

Add the dry ingredients into the saucepan: star anise, cardamom pods, cloves, and bay leaf. Cover and let cook for 4 minutes.

Use a slotted spoon to remove dry ingredients from water.

Continue to add basmati rice and 2 teaspoons of turmeric powder to the water. Reduce heat to medium, cover with lid and boil for 6 minutes.

Remove rice from the oven, drain, and set aside.
Cook the chicken:
Cook the marinated chicken in a saucepan with 1 cup of chicken broth. Turn on medium heat and cook for 13 minutes with the lid on.

Add half the fried onion and half the chopped coriander on top of the chicken.

Add boiled basmati rice in, layer it out evenly, cover with lid, and cook for 5 minutes.

Check if the rice is cooked and fluffy. If ready, drizzle melted unsalted butter over to finish. Serve immediately.
Nutrition
Nutrition Facts
Chicken Biryani recipe
Amount Per Serving (1 serving)
Calories 510
Calories from Fat 207
% Daily Value*
Fat 23g35%
Cholesterol 134mg45%
Sodium 465mg20%
Potassium 697mg20%
Carbohydrates 42g14%
Protein 35g70%
Vitamin A 1592IU32%
Vitamin C 5mg6%
Calcium 127mg13%
Iron 4mg22%
* Percent Daily Values are based on a 2000 calorie diet.