Our chicken Afritada recipe is a perfect choice for everyday cooking.
Easy to make and requiring very little supervision, this Filipino stew is what you should make on busy days. It contains chicken drumsticks and veggies cooked to perfection in a delicious broth.
The stew is typically served over white rice, but it doesn't need to be, especially when there are plenty of vegetables. If you don't cook rice very often, Asian recipes like this one are the introduction you need.
What Is Afritada?
Afritada, or Afritadang manok, is a Filipino meat-and-vegetable dish cooked slowly in a tomato-based broth. The meat can be chicken, beef, or pork, and is typically cooked with carrots, potatoes, and bell peppers — the more the merrier.
Because the stew is so easy, people in the Philippines make it everyday, serve it with cooked rice, and call it a meal. Sometimes, it's cooked with extra potatoes and carrots and eaten without rice.
Afritada, Menudo, Mechado, and Kaldereta?
Afritada is not alone. Filipino cuisine has multiple stews that look very similar to one another.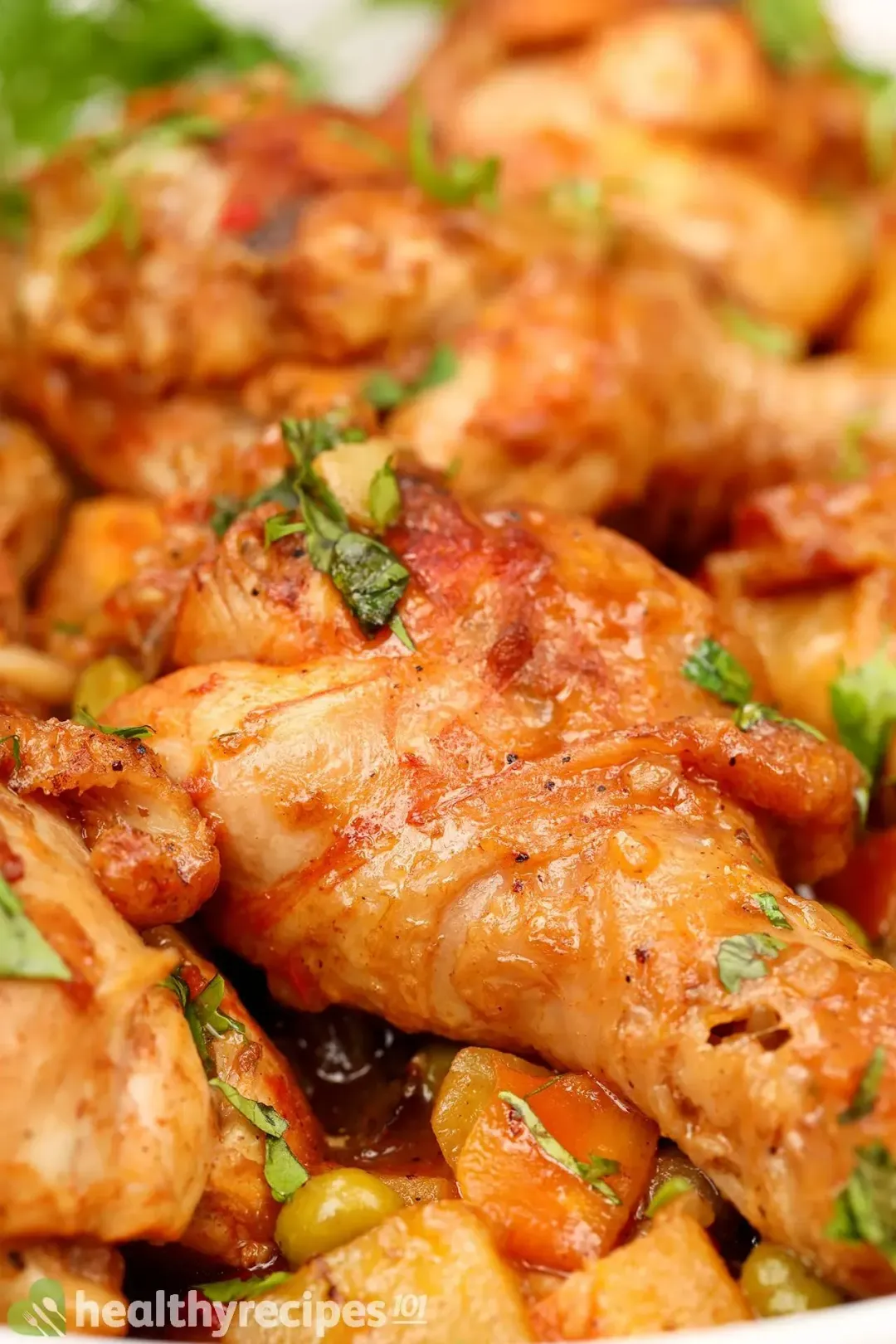 Menudo is often made with sliced pork and liver (sometimes sausages as well), and cooked with vegetables in a tomato-based sauce. What makes it stand out from the other stews is the raisins, added and cooked alongside the vegetables.
Mechado looks similar to Afritada cooked with either beef or pork, but in this case the meat must have a layer of fat. The sauce is made of soy sauce and calamansi (a miniature citrus fruit), giving it that signature tangy taste.
Kaldereta is a goat meat (or beef) stew with vegetables. The broth is cooked with liver paste, giving it a luscious, rich texture that's very distinct from the other stews.
If you have a chance, be sure to give all of these tasty dishes a try!
Is Chicken Afritada Healthy?
Chicken Afritada is considered a healthy dish.
Compared to beef and pork, chicken has a lower saturated fat content. Considering the fact that we should limit our saturated fat intake, chicken is a healthy protein choice.
The stew also has plenty of vegetables, giving you an array of micronutrients and a decent amount of fiber. We added extra potatoes so your meal contains a significant serving of healthy carbs as well.
We're also concerned about the way this dish is typically over-seasoned — it often winds up with far more sodium than what's recommended. Following our guidelines strictly, we used just enough salt to flavor the food but not so much as to become problematic.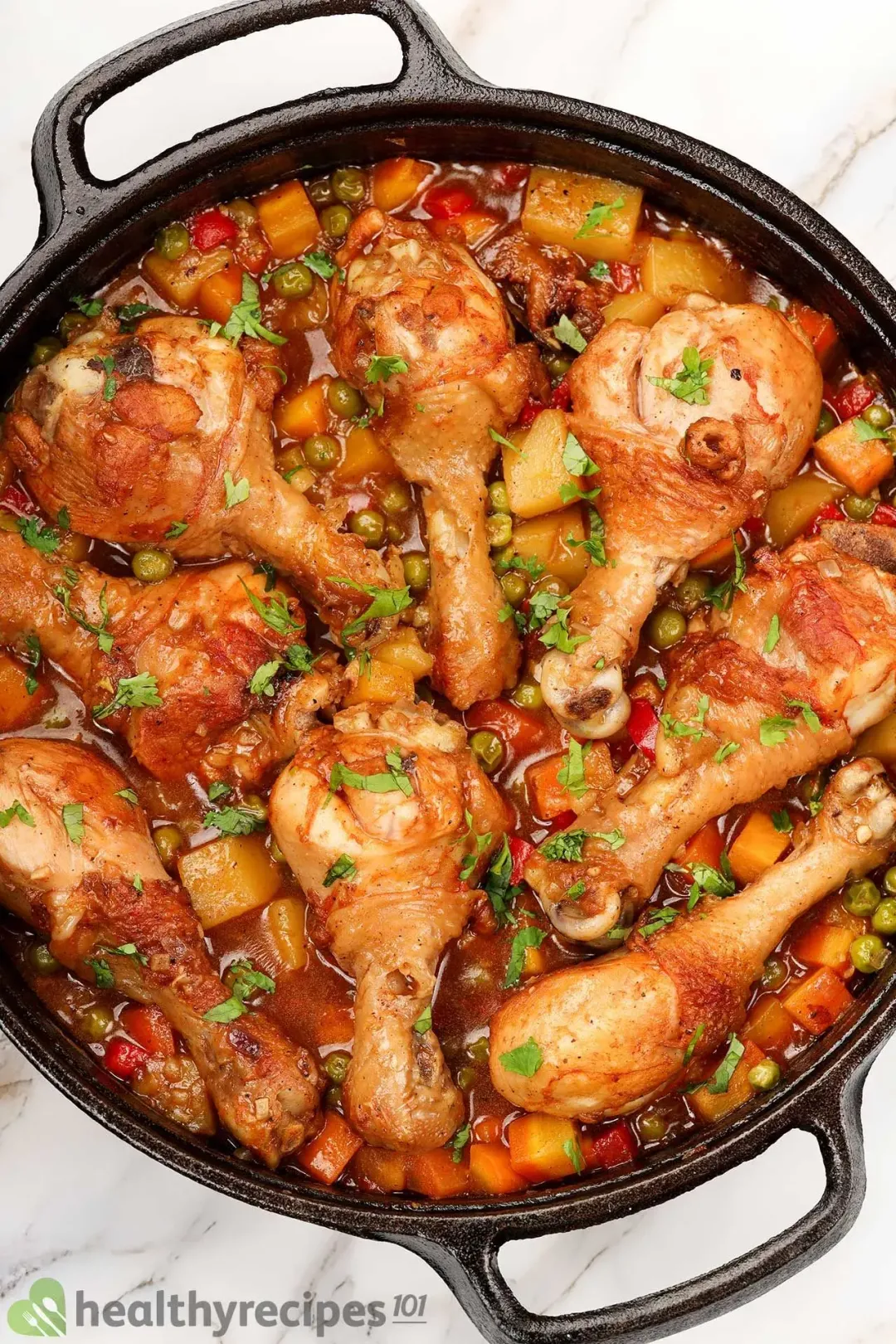 Chicken Afritada Ingredients
This section covers all you need to know about the ingredients, the potential alternatives, and how they're cooked.
1. Chicken Choice
All sorts of cuts can be used to make this stew — thighs, wings, breasts, or drumsticks. Sometimes, people purchase a whole chicken and cut it up so everyone at the table can get the piece they prefer.
In terms of flavors, dark meat (like that on the drumsticks) is juicier and more flavorful than white meat, so they're what we went for.
Unlike grilling, you don't need to marinate the chicken before cooking. We, however, rubbed the drumsticks with some paprika so they'll take on a more attractive color.
2. The Sauce for Chicken Afritada
A good stew starts with a good stock, and we just love our homemade stock so much. We make it by roasting chicken bones until golden, then adding water and simmering it with vegetables and herbs for about an hour.
We typically use one part bones, one part vegetables and herbs, and two parts water. Onions, carrots, celery, dill, and bay leaf all contribute to the flavor.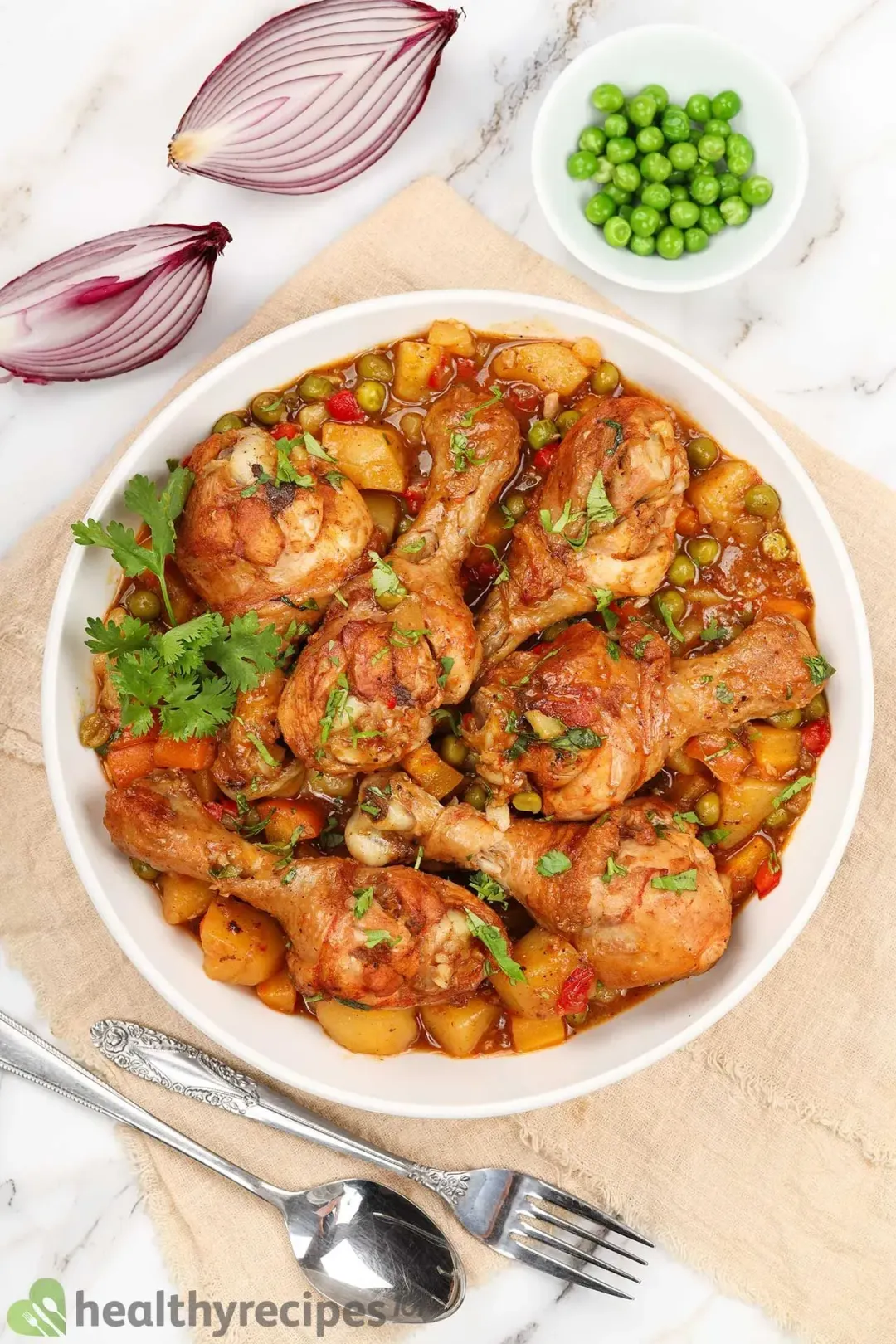 If you haven't got the time, a store-bought broth works just fine. Remember to pick the unsalted kind so you maintain control of how much salt goes into the broth.
We also need a good tomato sauce. You can either make one yourself at home or pick an unsalted product. Our tomato sauce recipe cooks tomatoes together with tomato paste, garlic, onion, and paprika, and results in a simple sauce to go with anything.
We balanced the tartness of tomatoes with some sugar. Both white and brown sugar work, but the brown one results in a better-looking stew.
To give the broth a thick texture, we stirred in some flour. You can use cornstarch or all-purpose flour.
Finally, we added some salt and pepper.
3. Vegetables
We used the classics: potatoes, carrots, green peas, and bell peppers. You can use both red and yellow bell peppers if you want the stew to be colorful.
The stew will be cooked for about 35 minutes so it's important that these vegetables be cut into large pieces. To achieve the best texture, prep your vegetables so they look similar to the picture we have above.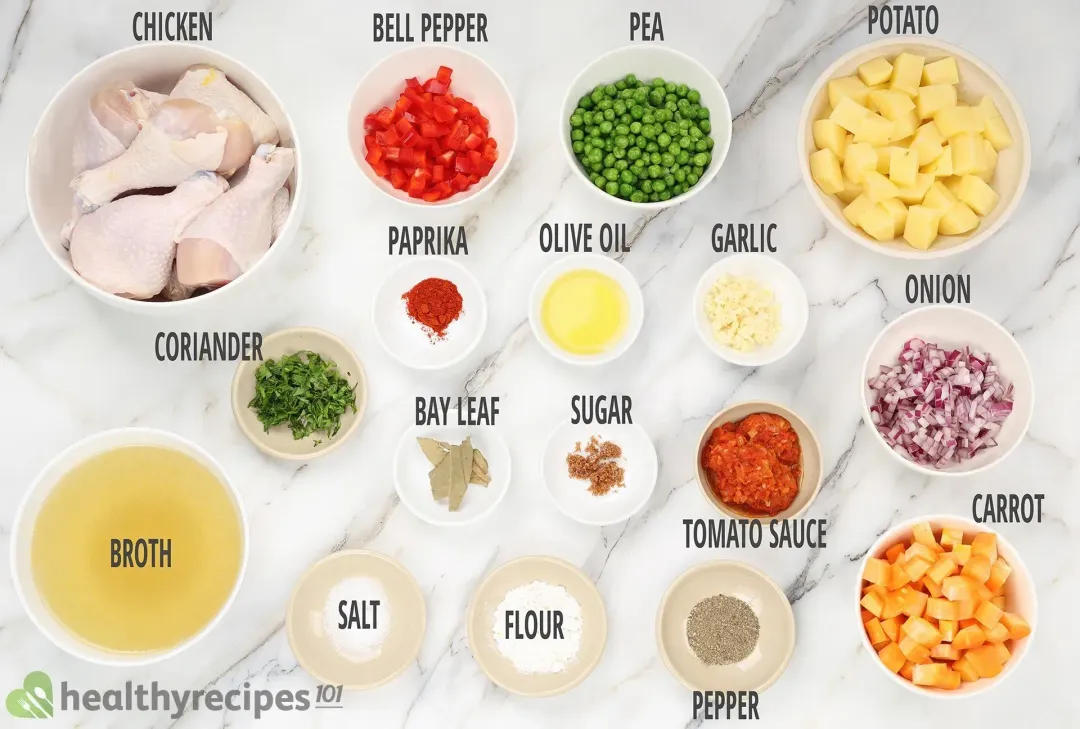 How to Store and Reheat Chicken Afritada
Leftover Afritada can be stored in the fridge for up to 5 days, and in the freezer for up to 3 months.
There's a small problem when you reheat drumsticks: the inside may still be cold even when everything else is bubbling hot. To avoid this situation, use scissors to cut into the drumstick so that the liquid can better penetrate into the meat.
If the leftovers come to more than one serving, we suggest portioning them out into separate containers. Personally, we love Ziploc bags because they take up less freezer space than rigid airtight containers.
What to Serve With Chicken Afritada
This stew is full of juicy and tender bites, so we paired it with a simple salad. It's crunchy and refreshing.
To complete the meal, we suggest an easy drink that's mildly tangy and sweet. This orange pineapple juice is a perfect candidate.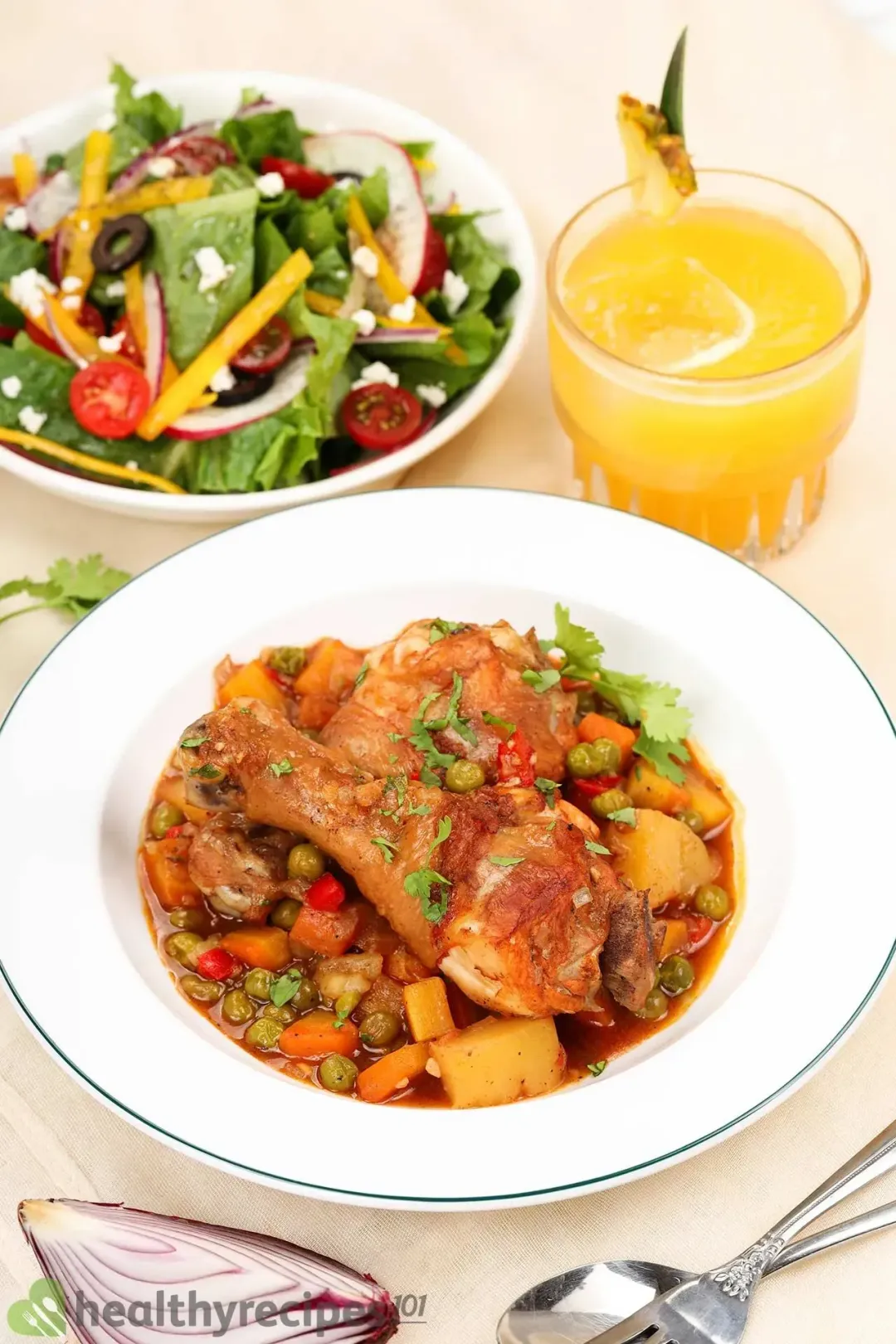 More Chicken Cooked En-Sauce
This dish embraces the colorful diversity of Caribbean cuisine with its abundance of flavors, from a deep sweetness to subtle spicy and savory notes. Yet, it's surprisingly simple, featuring only tender chicken and crunchy veggies, smothered in a lusciously caramelized sauce.
Sweet honey, tangy traditional Dijon mustard, creamy dairy, and other spices combine to complement the chicken breasts and vegetables in this recipe. We pan-sear the chicken breasts to create a golden-brown outer coating before smothering them in the luscious honey mustard sauce.
Chicken Afritada
This chicken Afritada recipe calls for simple ingredients and is ready before you know it. You can even leave it alone while it simmers and go do whatever else needs to happen around the house.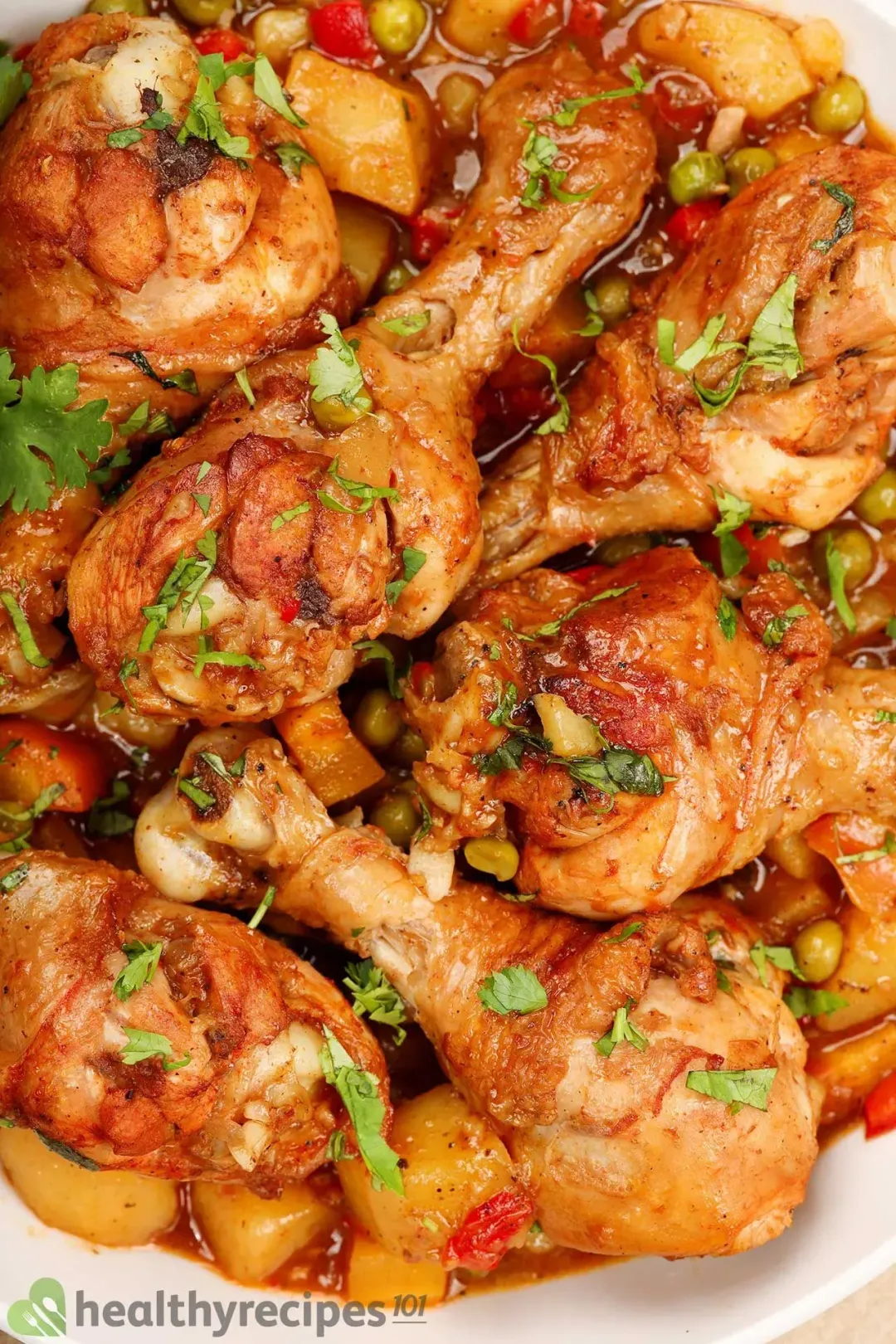 cook TIME

50 mins

prep TIME

5 mins

total TIME

55 mins
COURSE

Main Course

CUISINE

Asian, Filipino

SERVINGS

CALORIES

470 kcal
INGREDIENTS
36 oz

chicken drumsticks

(about 8 medium)

10 oz

potatoes

(cut into chunks)

6 oz

carrots

(cut into chunks)

4 oz

green peas

(fresh or frozen)

2 oz

red bell peppers

(diced)

1/4 cup

homemade tomato sauce

2 cups

unsalted chicken broth

1/2 tsp

ground black pepper

2 tbsp

cilantro

(chopped)
INSTRUCTIONS
1
Rub 1/2 tsp paprika evenly onto 36 oz worth of chicken drumsticks.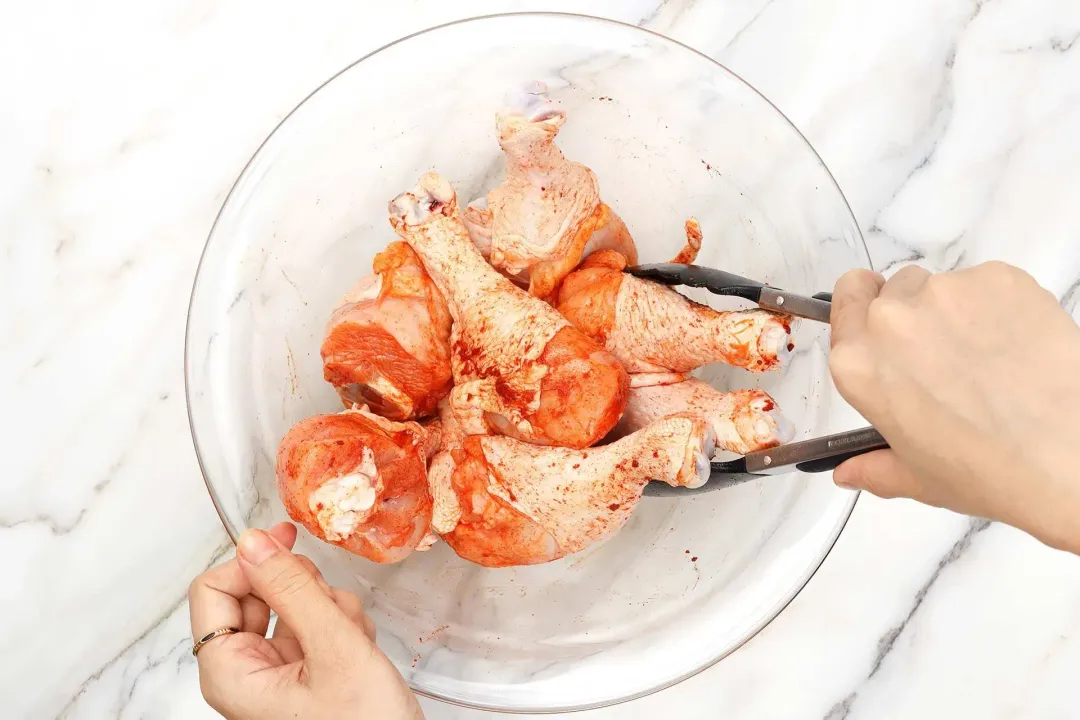 2
Heat 2 tbsp olive oil in a deep skillet over medium heat. Dip the tip of your chopsticks into the oil to check the temperature; if the oil sizzles, it's ready for you to add the drumsticks to sear for about 5 minutes. Flip and sear the other side for another 5 minutes.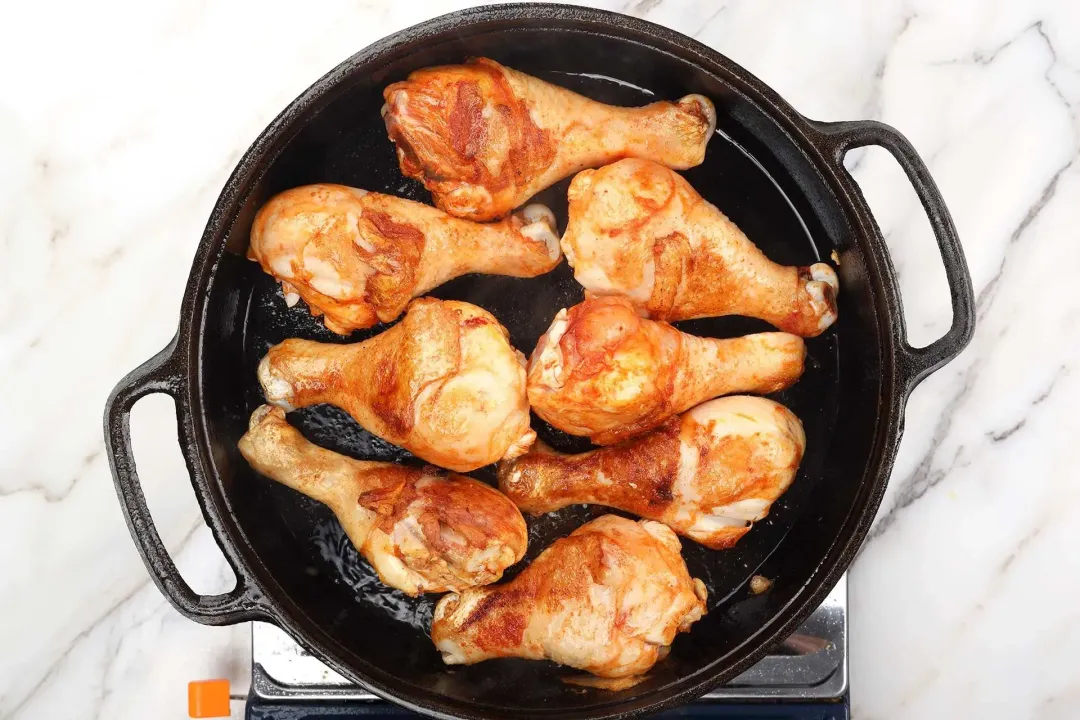 3
Place the chicken in a bowl and set aside. Add to the skillet 2 oz diced onions and 1 tbsp minced garlic and stir quickly for about 30 seconds.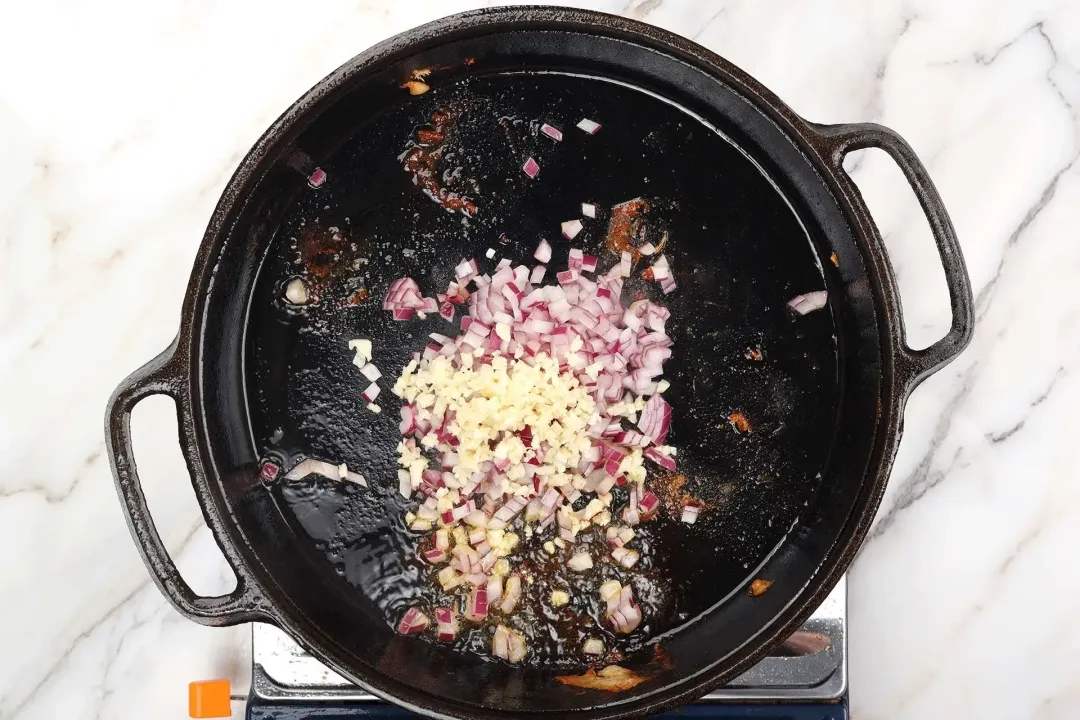 4
Add 10 oz potatoes, 6 oz carrots, 4 oz green peas, and 2 oz bell peppers and sauté with the aromatics for 3 minutes.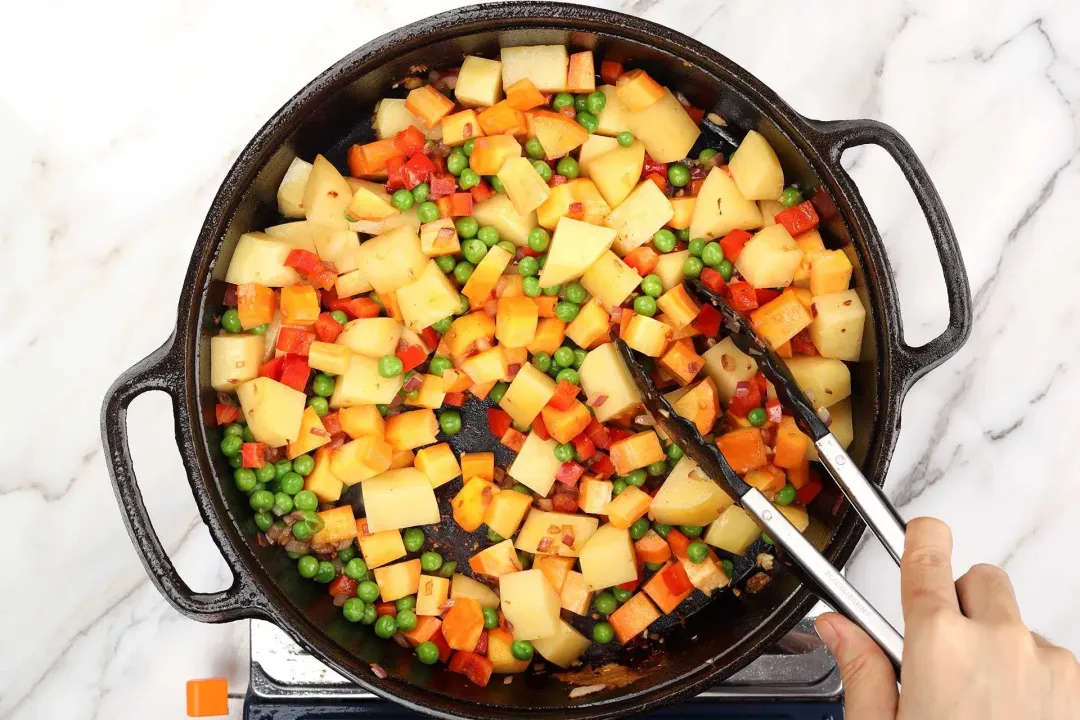 5
Add 1/4 cup tomato sauce, 1 tbsp all-purpose flour, 1/2 tsp brown sugar, 1/2 tsp pepper, and 1/2 tsp salt. Stir everything well to incorporate.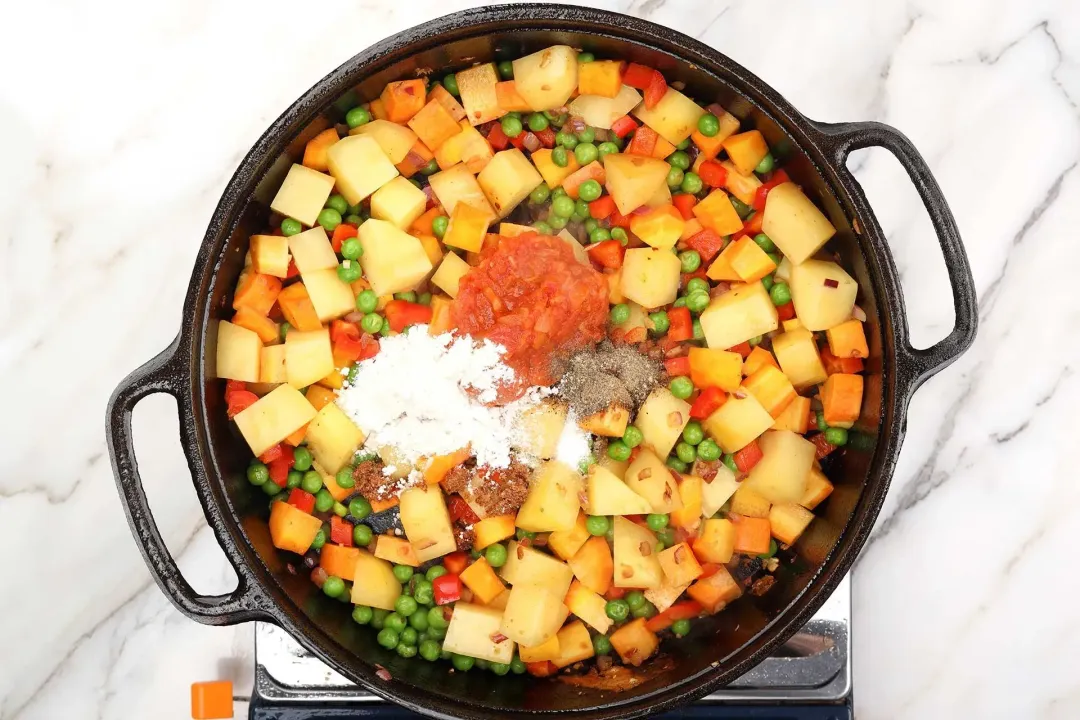 6
Add the seared chicken back into the skillet. Carefully pour in 2 cups unsalted chicken broth. Add a bay leaf. Move the pieces around so all of the drumsticks touch the bottom. Turn the heat to high, and when everything comes to a boil, reduce the heat to low and simmer for 35 minutes.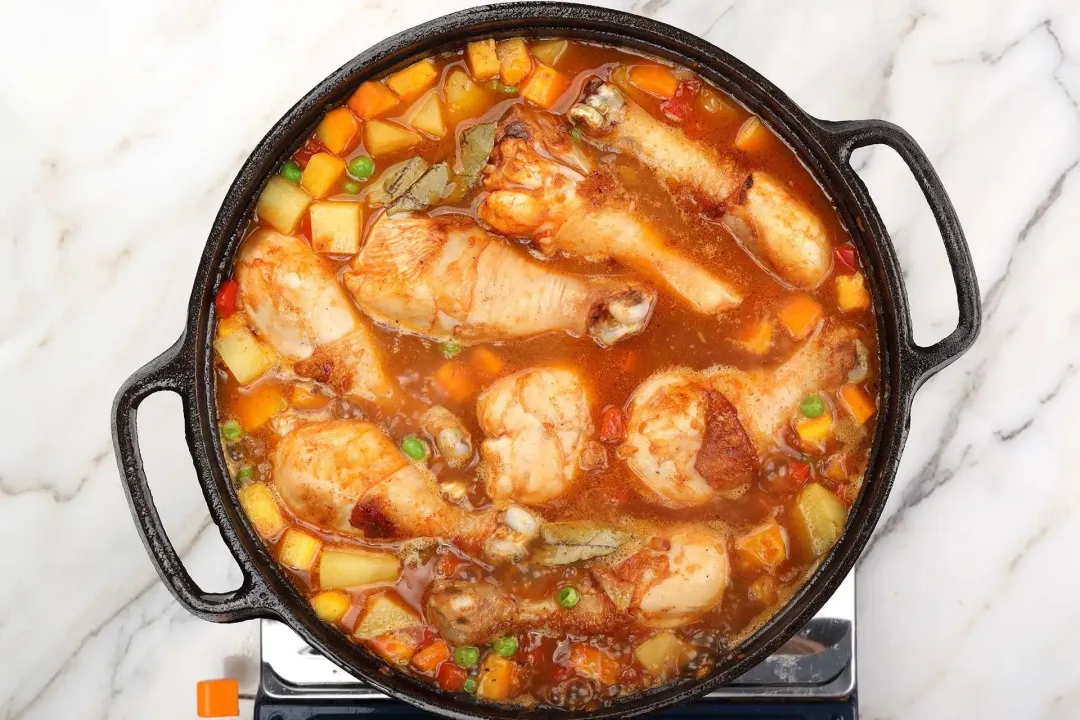 7
Sprinkle 2 tbsp chopped cilantro on top and serve.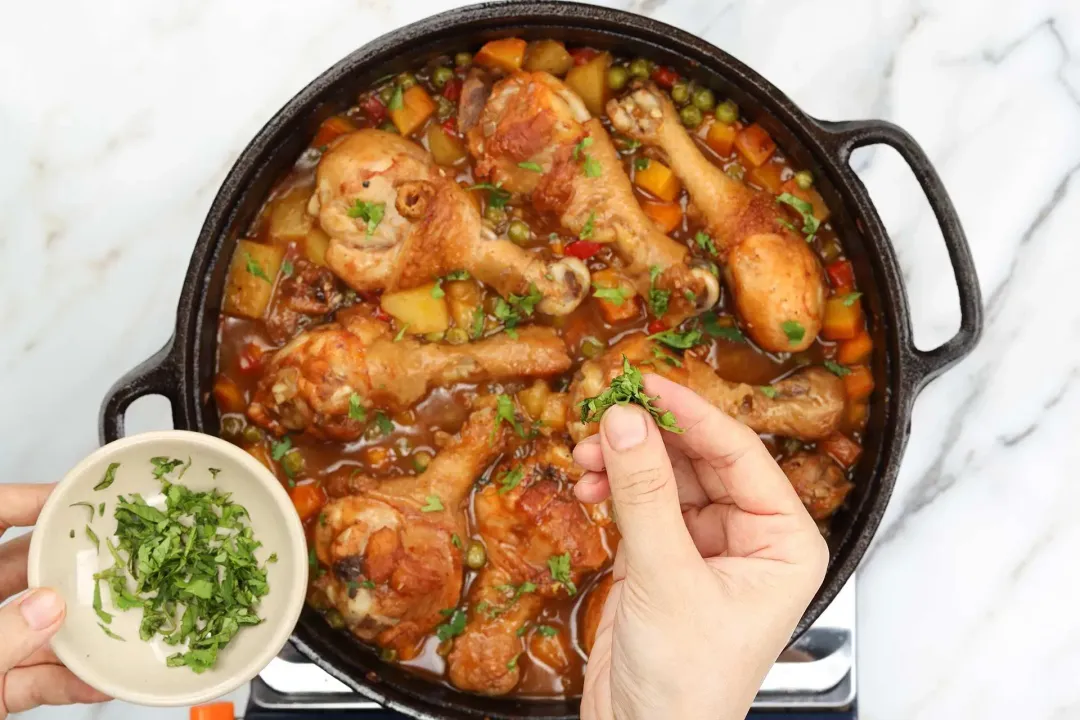 NUTRITION
Nutrition Facts
Chicken Afritada
Amount Per Serving (1 serving)
Calories 470
Calories from Fat 216
% Daily Value*
* Percent Daily Values are based on a 2000 calorie diet.
Keywords: chicken afritada, chicken afritada recipe, how to cook chicken afritada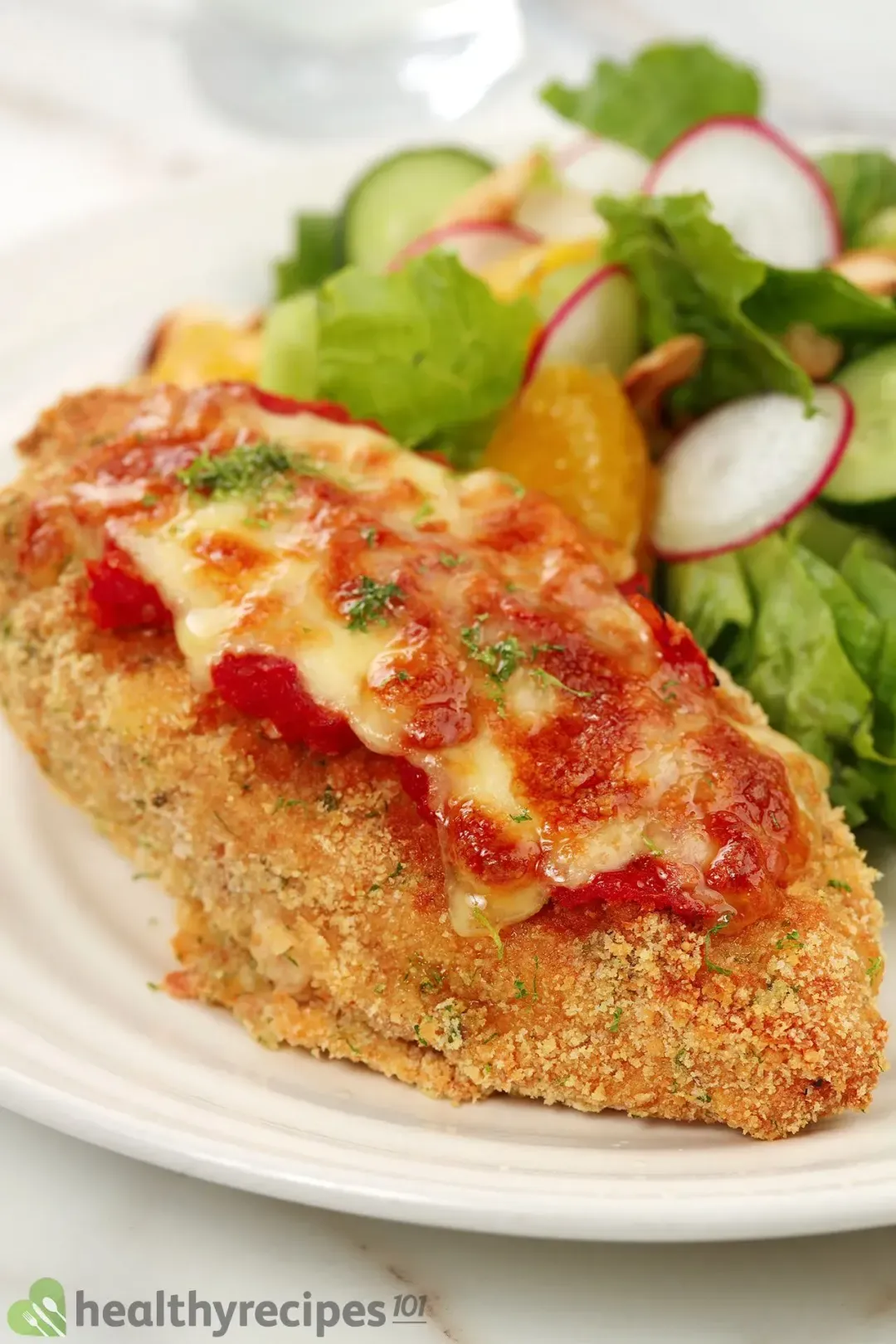 Previous Recipe
Air Fryer Chicken Parmesan
Air Fryer Chicken Parmesan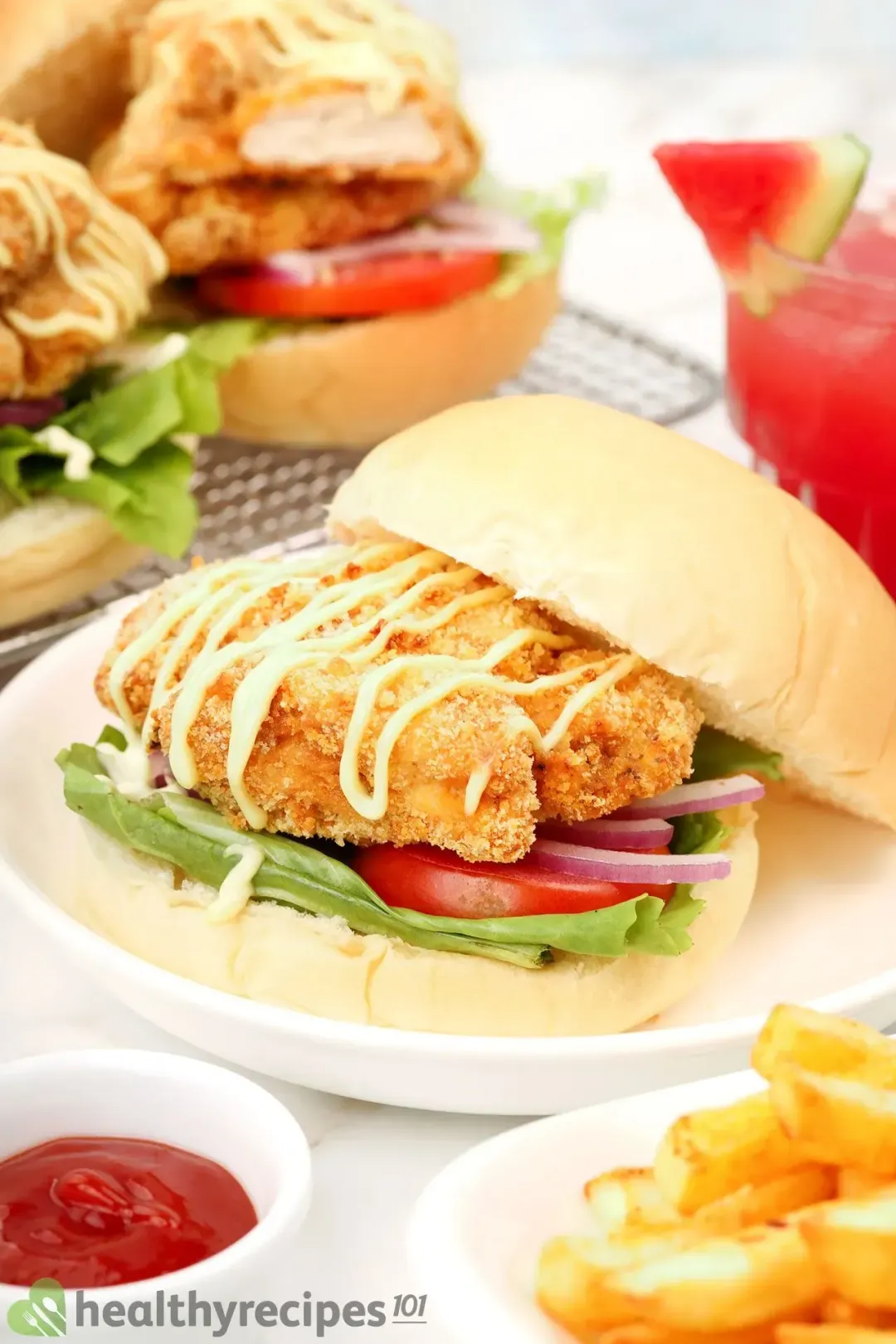 Next Recipe
Air Fryer Chicken Sandwich
Air Fryer Chicken Sandwich
Head Chef, Culinary Consultant
Tuyet Pham is an award-winning Saigonese chef who believes that joy is the secret ingredient to delicious food. At Healthy Recipes 101, Tuyet personally tests and simplifies every recipe, ensuring maximum flavor with minimal effort. With a background at prestigious French restaurants P'TI Saigon and Le Corto, Tuyet knows how to make every dish exceptional.
Writer, Author
Luna Regina is an accomplished writer and author who dedicates her career to empowering home cooks and making cooking effortless for everyone. She is the founder of HealthyKitchen101.com and HealthyRecipes101.com, where she works with her team to develop easy, nutritious recipes and help aspiring cooks choose the right kitchen appliances.
Nutrition Reviewer
Natalie Butler is a registered dietitian nutritionist with a passion to help others live their best life through food, fitness, safer beauty and a healthy lifestyle. She has expertise with a variety of diets and diseases and believes that there is no one-size-fits-all approach for health.
So easy to follow. My husband and kids love it.

Yum, great flavor. I will make this dish over and over again.