Our shrimp paella recipe may not qualify as an authentic take on the delicious Spanish staple, but it does show you a simpler way to cook it at home.
You may know paella is cooked in a giant shallow pan over an outdoor grill or wood fire that looks incredibly impressive.
However, with modern days kitchen utensils, you don't have to own a large pan or fire up a grill just to cook a meal. We have simplified the original recipe so that it can be prepared in the comfort of your kitchen. This recipe calls for a skillet, but we also have another recipe that cooks paella with an Instant Pot. It's simple and effortless either way.
Before you start heating the pan, here are some interesting facts about today's meal.
What Are the Three Main Types of Paella?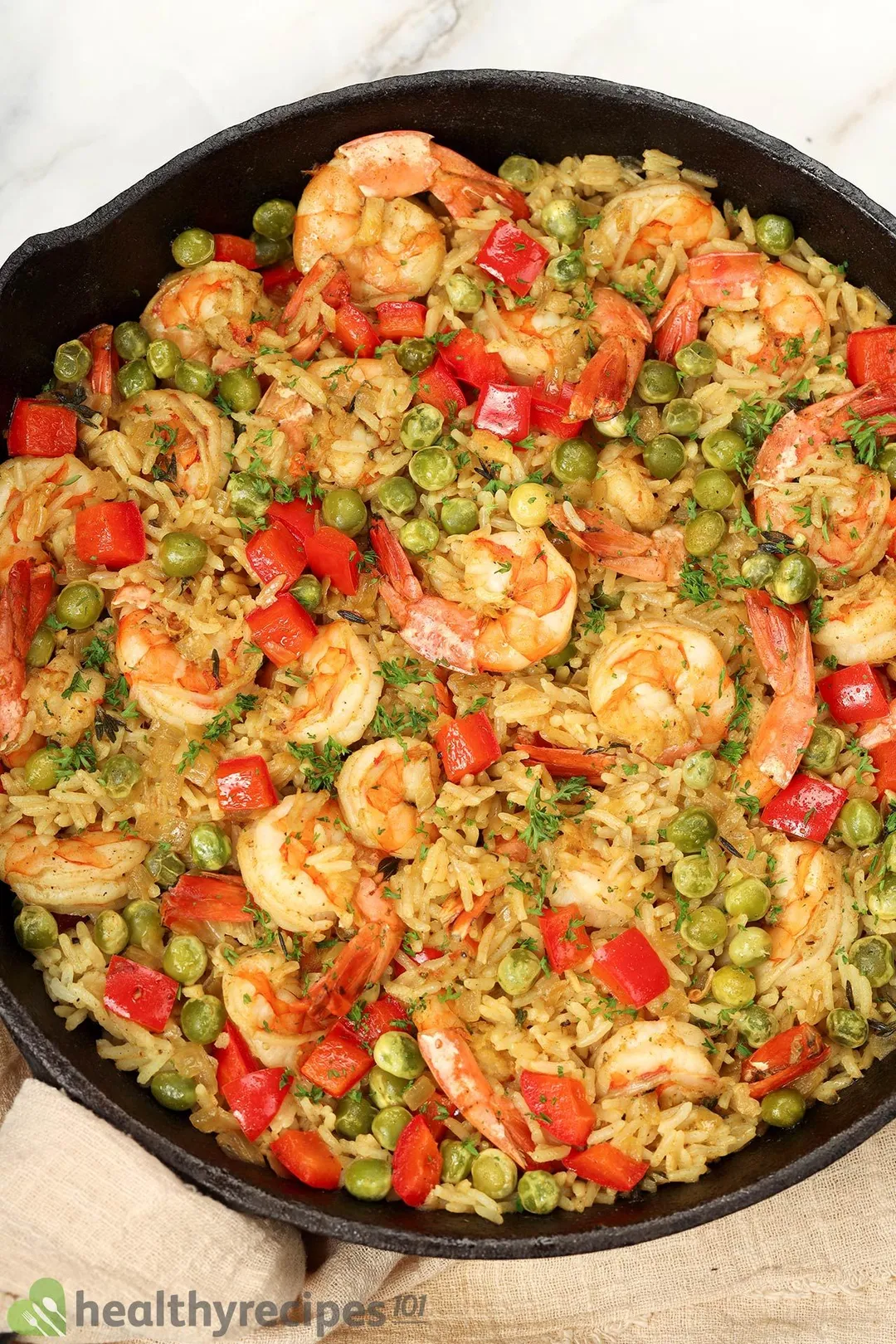 Every Spanish family and restaurant has its own interpretation of this classic rice dish. That being said, they all fall into one of these 3 categories:
Paella Valenciana: Since paella originated in Valencia, Spain, this version is considered the traditional and authentic way to cook paella. Besides rice and saffron, the main choices of protein for the dish can be pork, chicken, or sometimes rabbit, duck, or snails. Various vegetables, herbs, and spices such as green beans, tomatoes, garlic, and paprika can also be added.
Paella de Marisco (seafood paella): As the name suggests, the main sources of protein in a paella de marisco recipe are solely seafood, such as clams, squid, mussels, shrimp, or prawns, etc. If a seafood paella recipe contains 5 different types of seafood ingredients, it's called "Paella Marinera." Another variation of seafood paella is "Paella Negra" (black paella), where the rice is black instead of bright yellow as a result of squid ink.
Paella mixta (mixed paella): As the name suggests, this type of paella is a combination of seafood and meat. So, if you love a dish that allows you to taste a bit of everything, paella mixta is perfect for you.
No matter which type of paella you're making, keep in mind that saffron is a crucial ingredient that adds a subtle sweet, earthy yet floral hint to the rice.
Saffron may be a bit too expensive, but it can be quite economical considering you only need to use a few threads for the whole recipe. In other words, it will be worth every gram!
Is Shrimp Paella Healthy?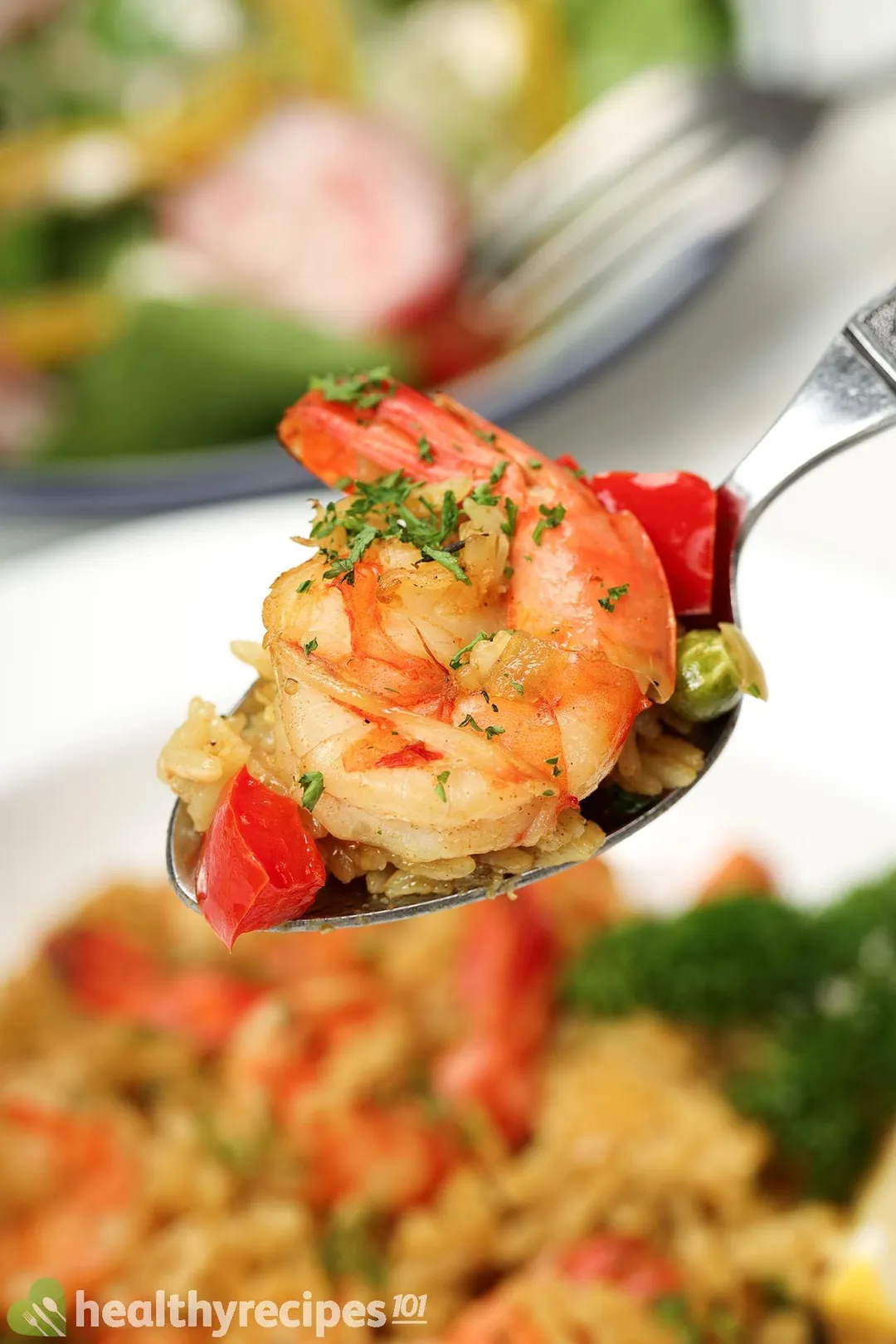 Yes, our shrimp paella recipe is healthy because:
It's very low in saturated fat: It may sound unreal, but shrimp actually contain almost no saturated fat. The amount of saturated fat in this recipe comes mostly from olive oil, resulting in less than 2 g per serving.
It contains the right amount of calories: With the appearance of shrimp, rice, and olive oil, you might think that this recipe is high in calories. Don't worry; we've adjusted our recipe to keep a balanced flavor profile while maintaining less than 500 calories per serving.
It's fairly rich in protein: Shrimp is a great source of protein. One serving of our Spanish rice dish can contain up to 38.6 g of protein.
Shrimp Paella Ingredients
Here are the main ingredients of our shrimp paella recipe:
Shrimp: Fresh shrimp are always our preference because the taste and crunchiness are far superior to frozen. That being said, we have to admit that frozen shrimp are far more convenient.
Saffron and turmeric: As mentioned above, paella wouldn't be complete without saffron. However, it can be quite expensive, so we add turmeric for color reinforcement.
Mixed vegetables: We use bell peppers, onions, carrots, and green peas, but you can be creative and add anything you like.
Seasoning: Besides the regular salt and freshly cracked black pepper, we also use Cajun seasoning, chili powder, and paprika.
Herbs: Cooking with thyme gives your dish a subtle hint of woodsy earthiness and a deep savory aroma. In addition, a sprinkle of chopped parsley is a great way to garnish your rice and give it one last boost of flavor.
Rice: It can be quite difficult to choose from among the wide variety of rice. Don't worry. We have found a few popular types of rice for this particular dish.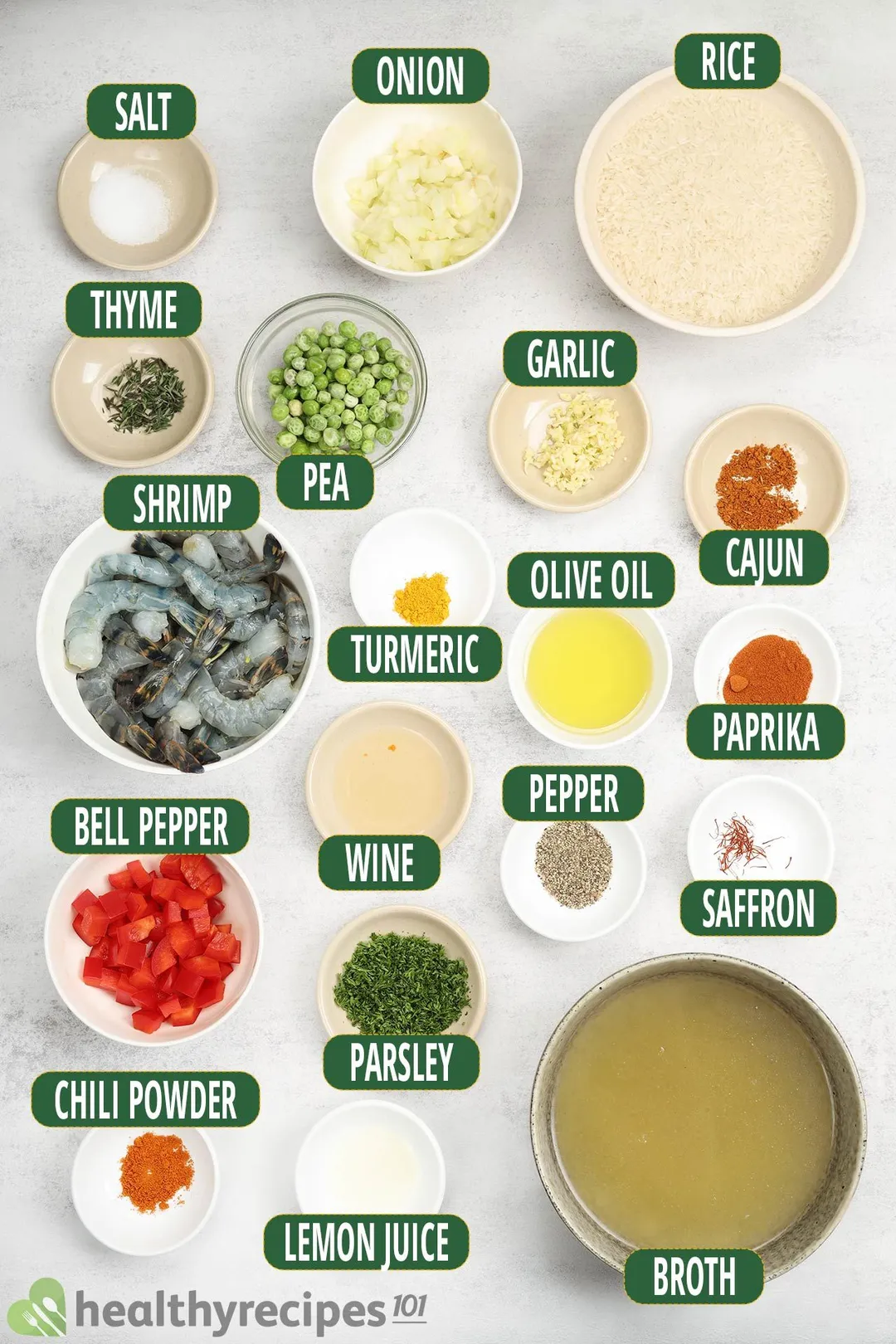 Rice for Paella
If you're trying to recreate a traditional paella, we recommend using Bomba rice.
Bomba rice is also known as Valencia rice. This particular short, almost round grain rice is among the most widely cultivated and commonly consumed all across Spain.
If you're cooking with Bomba rice, you may need to use more liquid than recommended in the recipe because it absorbs three times its volume in water compared to most rice, which only absorbs twice its volume.
Ergo, Bomba rice absorbs more flavor than other types of rice. This is what makes it the perfect rice for paella.
If you can't find Bomba rice at your local grocery store, arborio rice would be the closest substitute that is more commonly available in the U.S.
You can also get away with using long-grain rice because they absorb more water and flavor than regular medium-grain rice. Avoid using Asian short-grain rice because it may become mushy or clump together when cooked, making your paella less appetizing.
How to Store and Reheat Shrimp Paella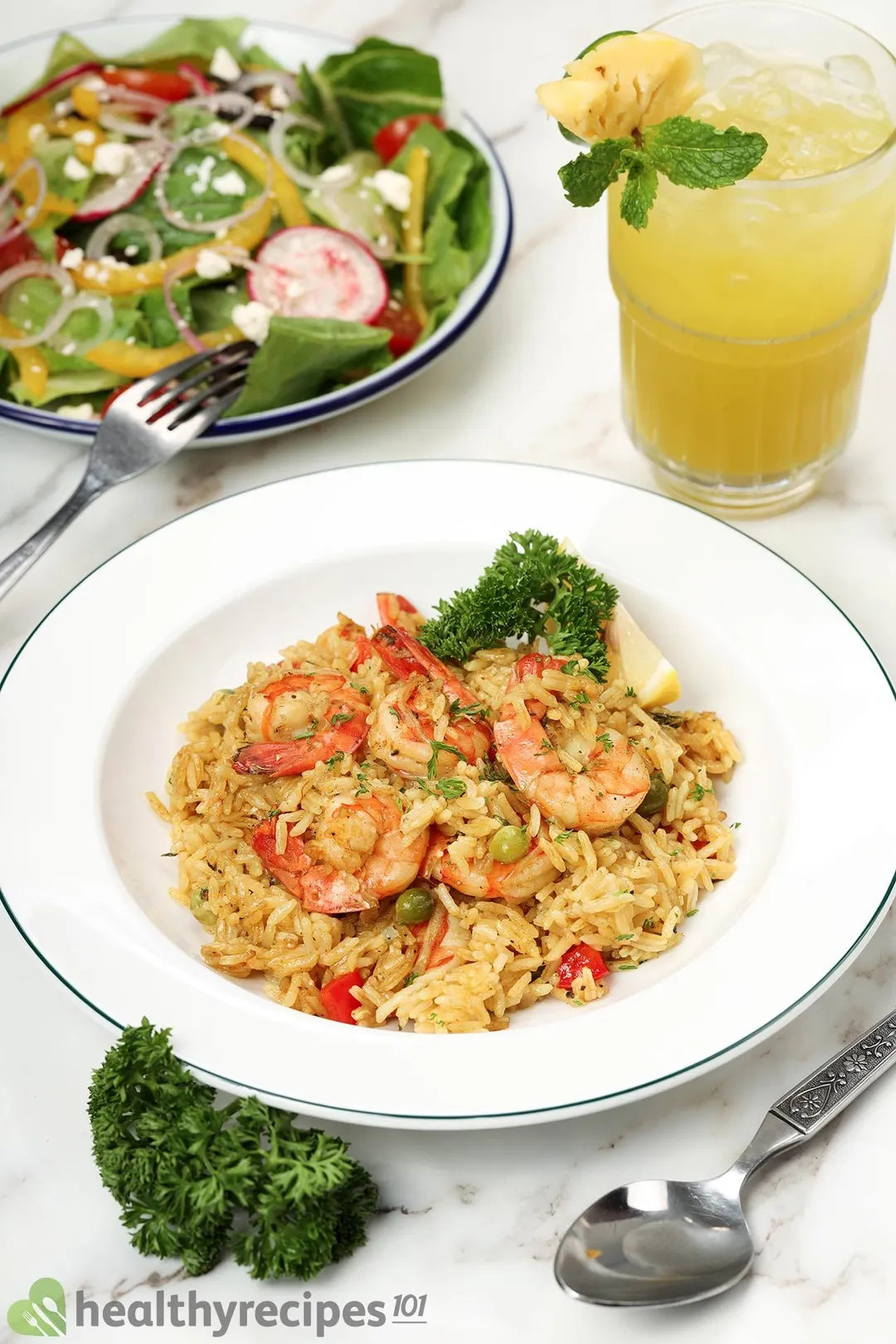 Leftover shrimp paella should last for three to five days in the refrigerator. If your rice is still warm, you may want to allow it to cool slightly before placing it in containers.
To reheat, transfer the shrimp paella to a microwave-safe container and blast it for about 2 minutes. When the timer rings, you will have a hot and hearty meal ready to enjoy.
What to Serve with Shrimp Paella
1. Greek Salad
Our shrimp paella and Greek salad are both two iconic staples of Mediterranean cuisine, and it is no surprise that they are the perfect match for each other when it comes to a healthy meal.
2. Pineapple Cucumber Juice
As always, we recommend finishing off your meal with a glass of healthy juice instead of going for a slice of pie. Today's pick for a dessert drink is our pineapple-cucumber juice.
Other Delicious Shrimp and Rice Recipes
Besides today's shrimp paella recipe, we also other healthy shrimp and rice recipes inspired by different cuisines:
Shrimp Fried Rice Recipe: This Asian-style recipe is one of our favorite quick and healthy meals as it takes less than 30 minutes to cook. Besides rice and shrimp, the dish is also packed with diced carrots, sweet corn, and peas — all combined to give you a vibrant and appetizing meal.
Shrimp Jambalaya Recipe: If you've never had jambalaya before, you're in for a treat. This Louisiana rice dish is packed with lots of warm and aromatic spices that will season the shrimp and rice beautifully once everything is cooked.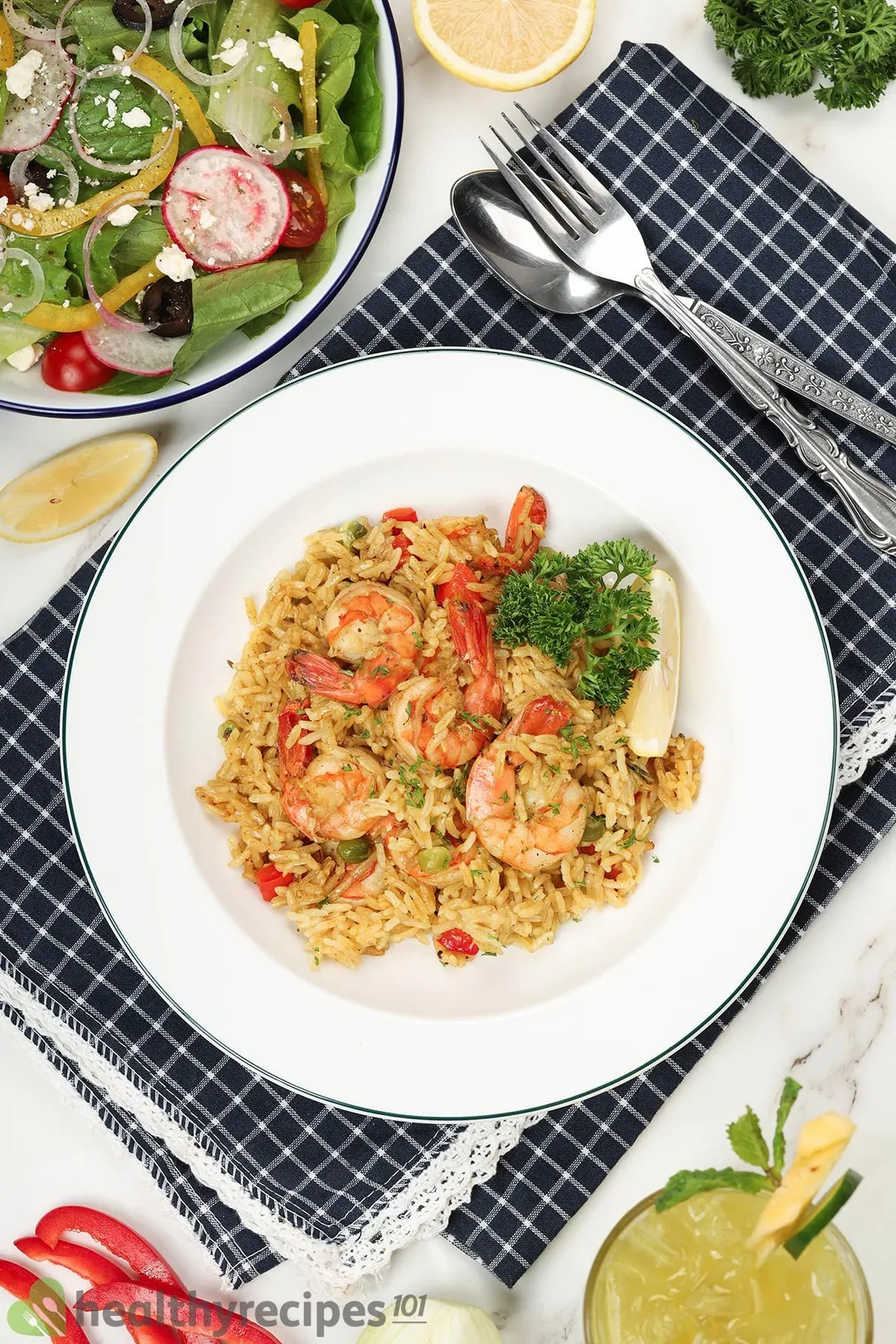 For more ideas on how to make marvelous dishes with shrimp and rice, check out our full collection right here.
How to Make Shrimp Paella
Today's shrimp paella recipe is our very own modern take on a classic Spanish meal. Side note: You don't need a giant pan to make it at home!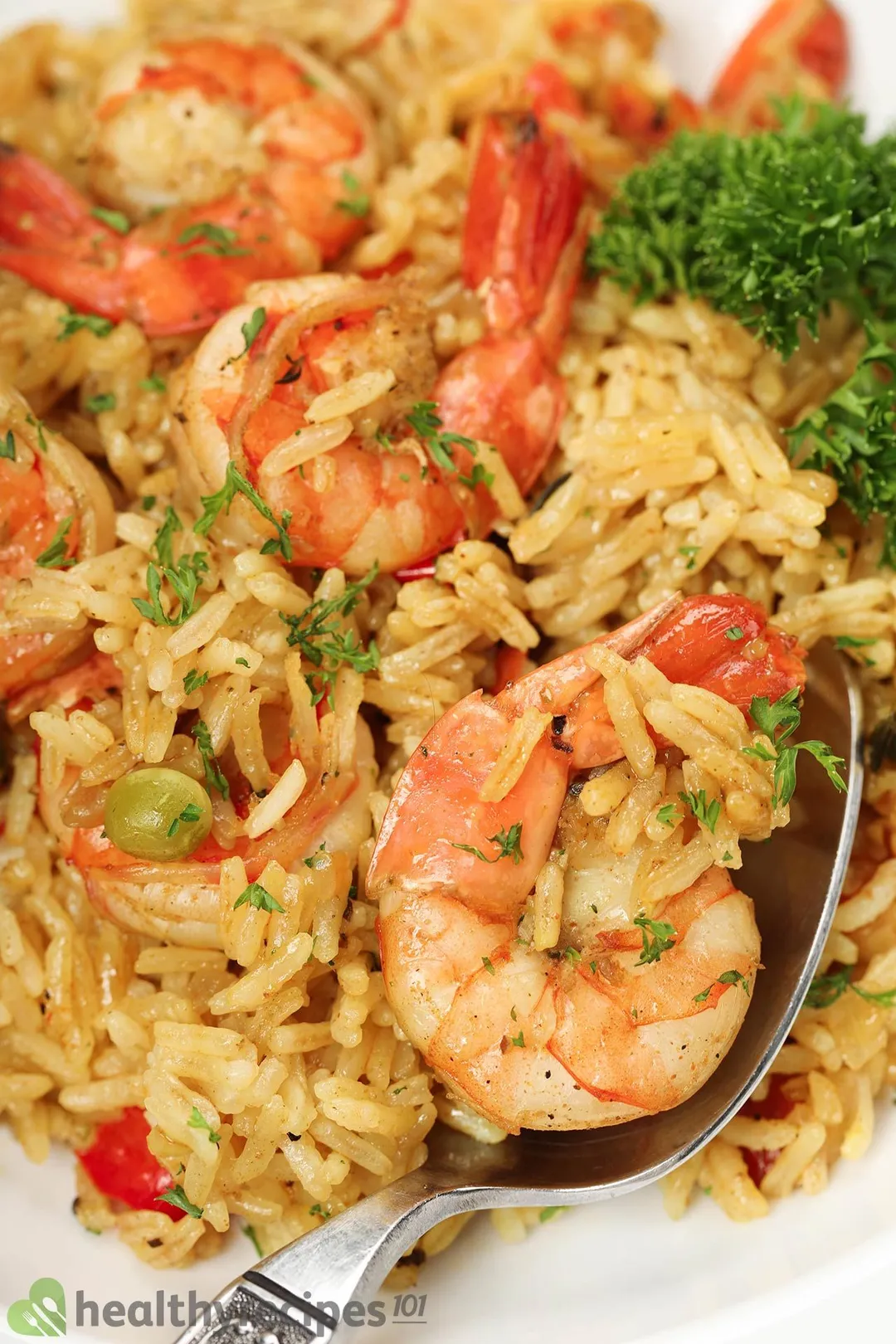 cook TIME

25 mins

prep TIME

10 mins

total TIME

35 mins
COURSE

Main Course

CUISINE

Spanish

SERVINGS

CALORIES

496 kcal
INGREDIENTS
11 oz

raw shrimp

(from 22 oz whole shrimp, peeled and deveined)

2 oz

onion

(finely diced)

1 1/2 cups

uncooked long-grain white rice

2 cups

unsalted chicken broth

1 tsp

fresh thyme

(leaves only)

2 tbsp

parsley

(finely chopped)
INSTRUCTIONS
1
Sauté the aromatics: Heat 2 1/2 tbsp olive oil in a deep pan over medium heat. Add 1/2 tbsp minced garlic and 2 oz diced onions. Stir constantly for 1 minute or until fragrant.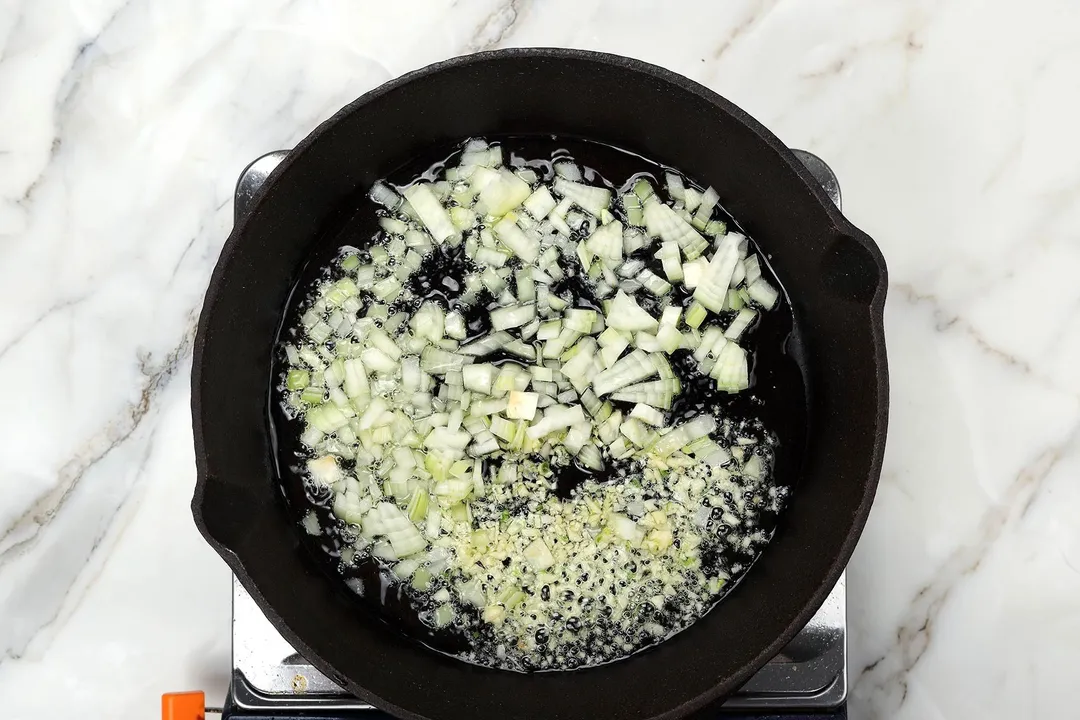 2
Cook the shrimp: To the same pan, add 22 oz peeled shrimp, 1/8 tsp saffron, 1/4 tsp ground turmeric, 1/2 tsp salt, 1 tsp paprika, 1/2 tsp black pepper, and 1/4 tsp chili powder, 1 tsp lemon juice, 1 tbsp white wine, 1 tsp fresh thyme, and 1/2 tsp Cajun seasoning. Cook and stir for 3 minutes or until the shrimp turn pink.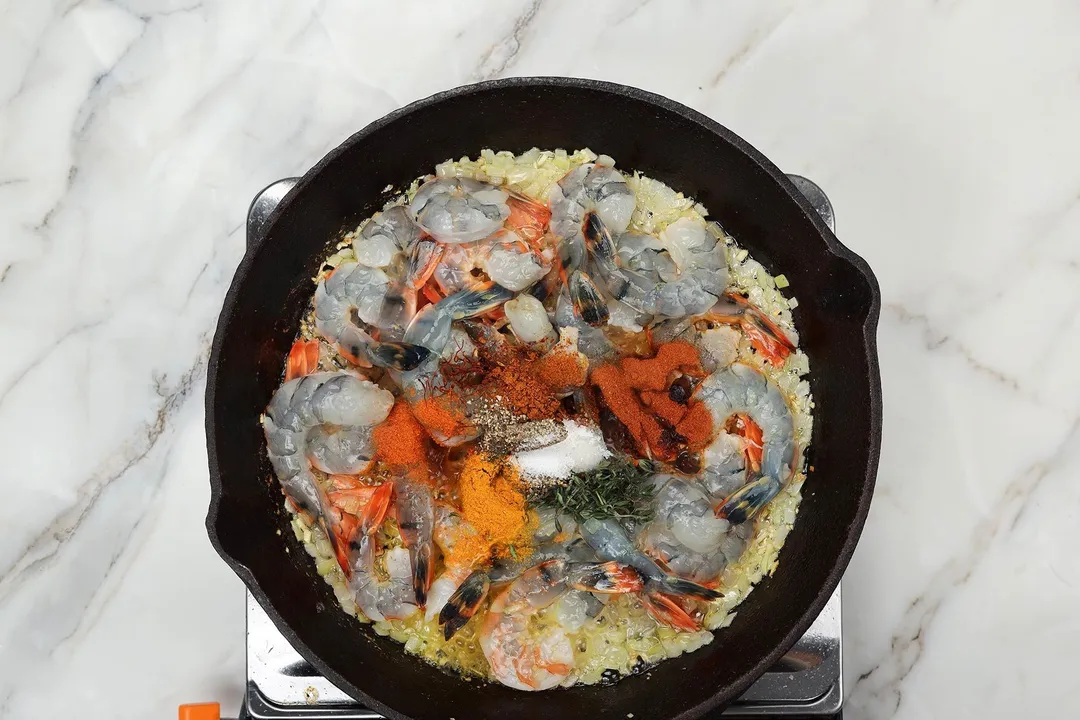 3
Briefly sauté the vegetables: Add 2 oz green peas and 2 oz red bell peppers to the pan. Stir for 1 minute to distribute the seasonings evenly.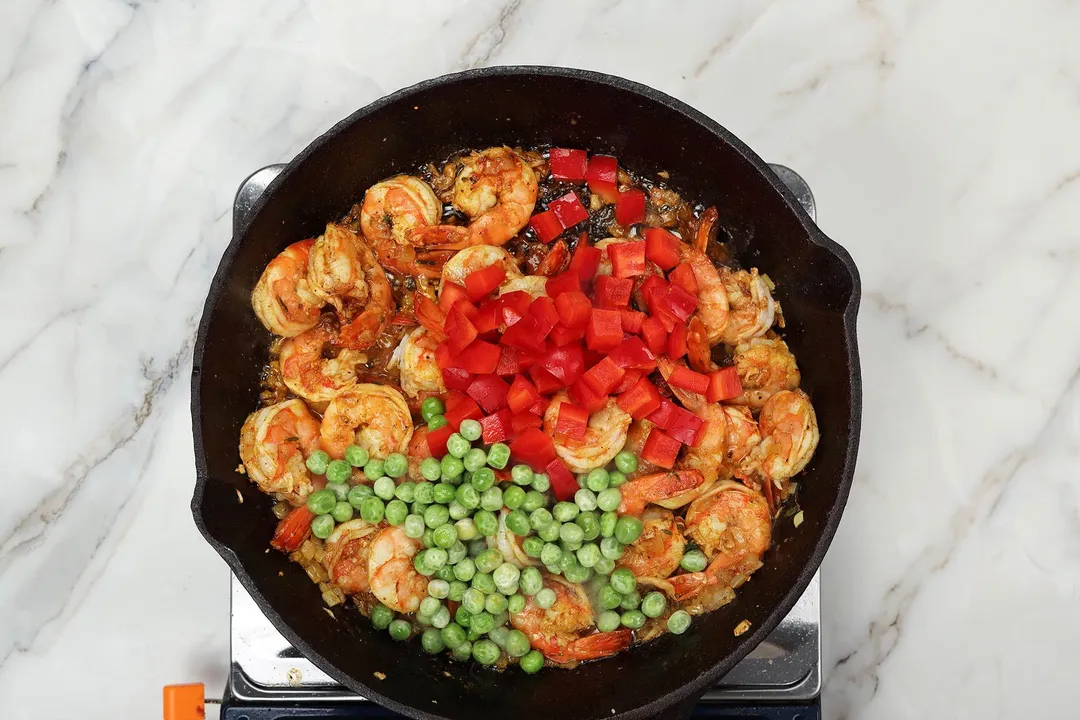 4
Mix in the rice: Add 1 1/2 cups raw long-grain white rice to the pan. Stir around to mix everything together.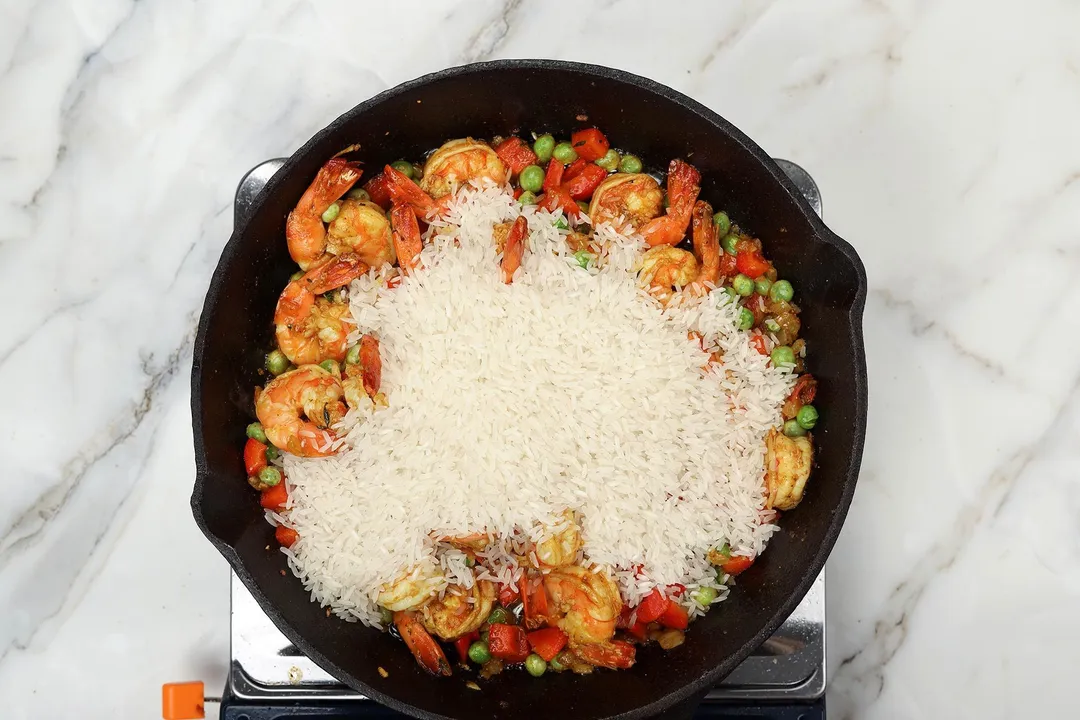 5
Add chicken broth: Continue to add 2 cups unsalted chicken broth to the pan and stir around a couple of times. Cover with a lid and bring to a boil over high heat. Once boiling, reduce the heat to low and simmer for 18 minutes. Once the timer rings, turn off the heat.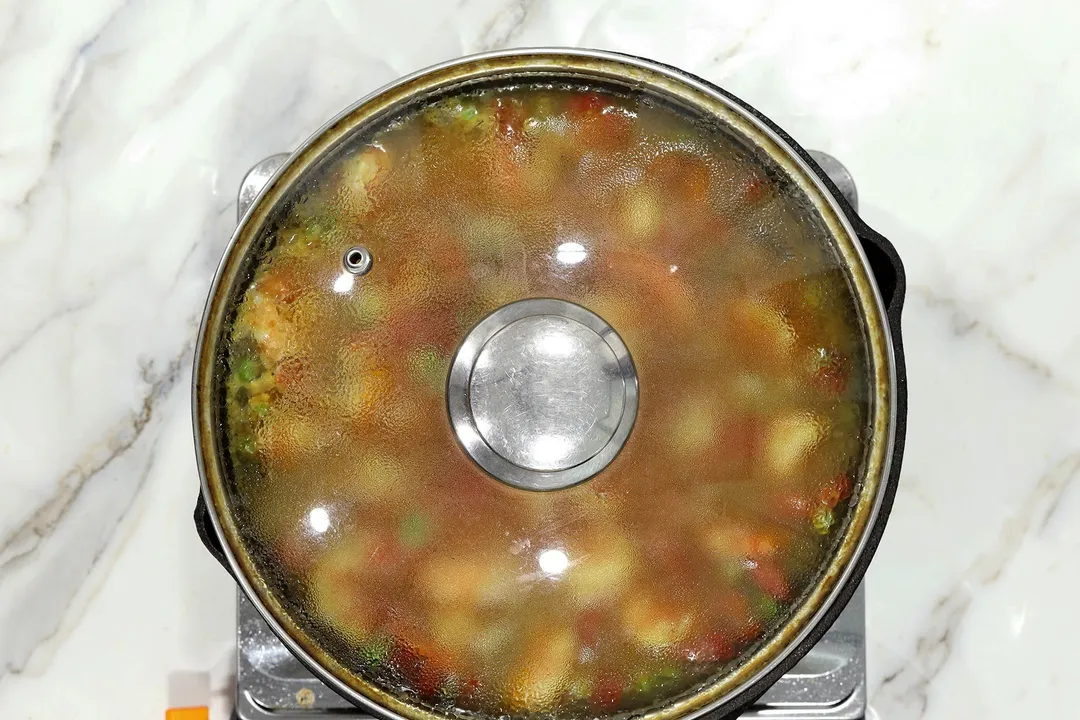 6
Garnish and serve: Sprinkle 2 tbsp chopped parsley on top of the paella. Transfer the rice into serving bowls. The shrimp paella is best enjoyed immediately when it's still warm.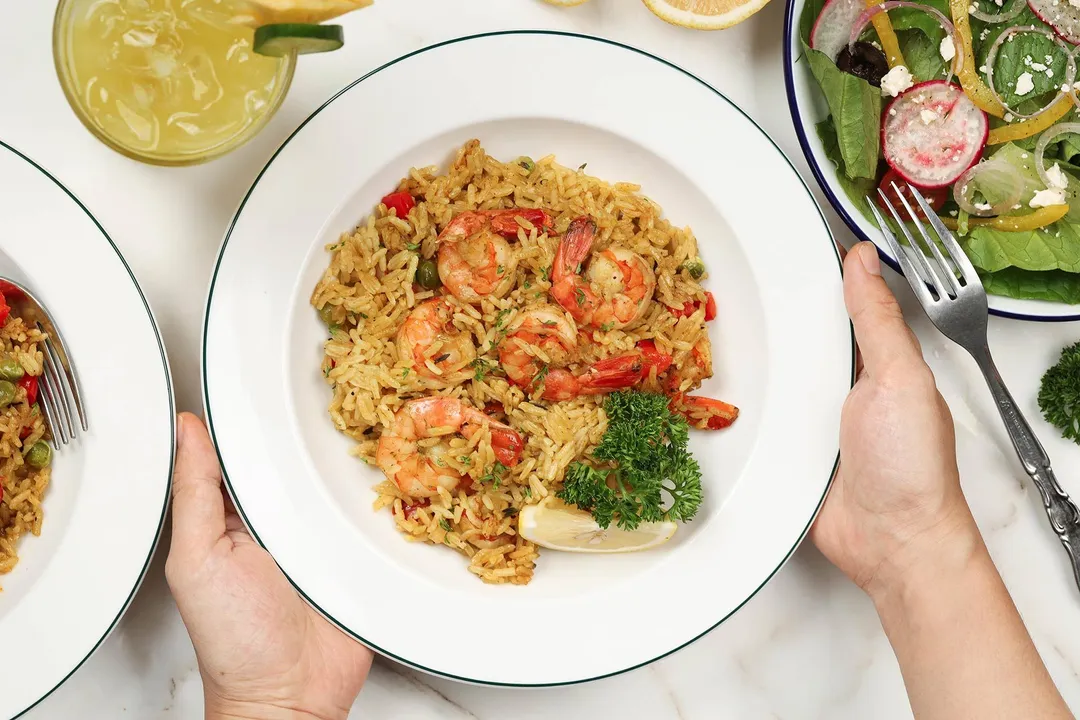 NUTRITION
Nutrition Facts
How to Make Shrimp Paella
Amount Per Serving (1 serving)
Calories 496
Calories from Fat 90
% Daily Value*
* Percent Daily Values are based on a 2000 calorie diet.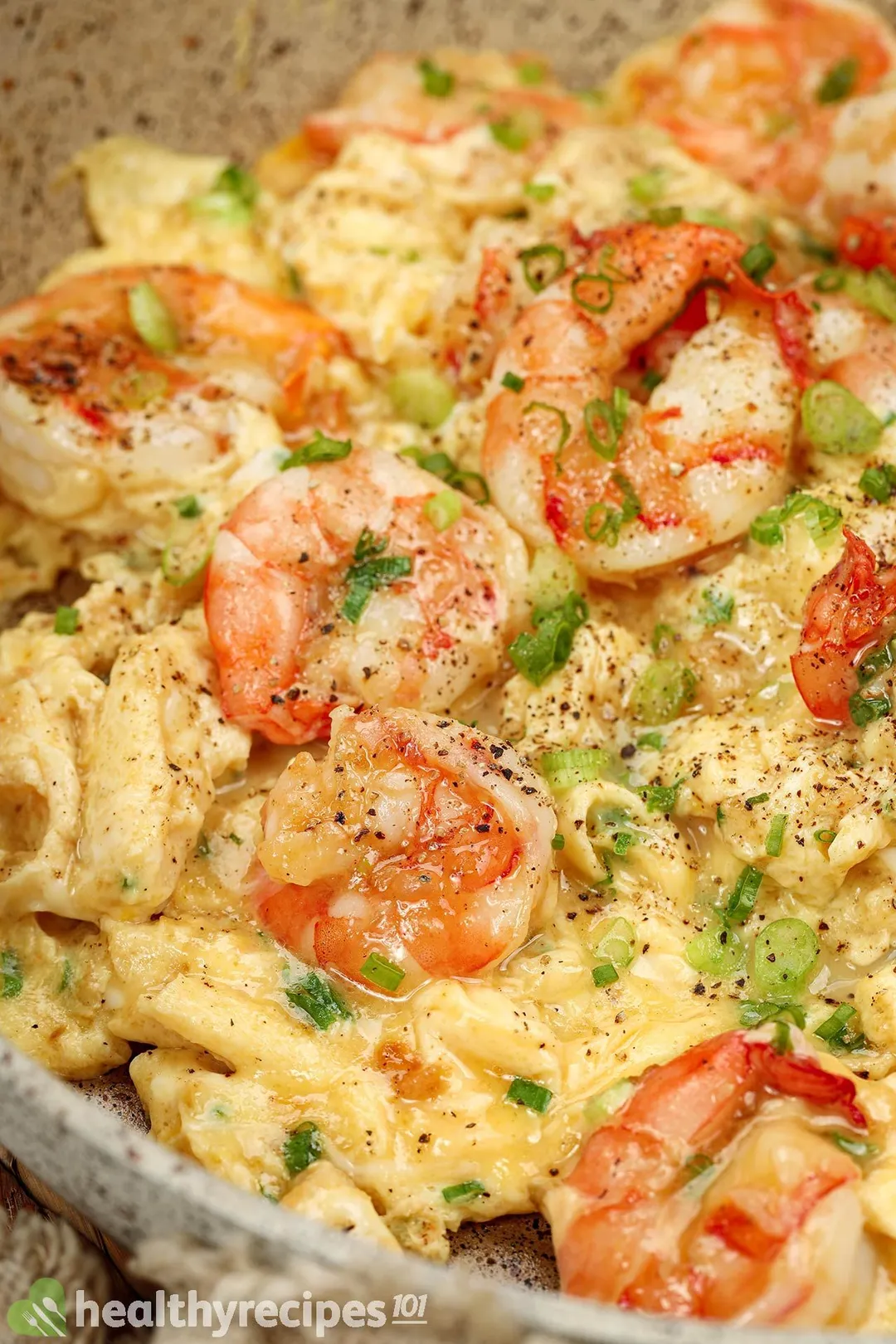 Previous Recipe
Stir-fried Shrimp and Egg
Stir-fried Shrimp and Egg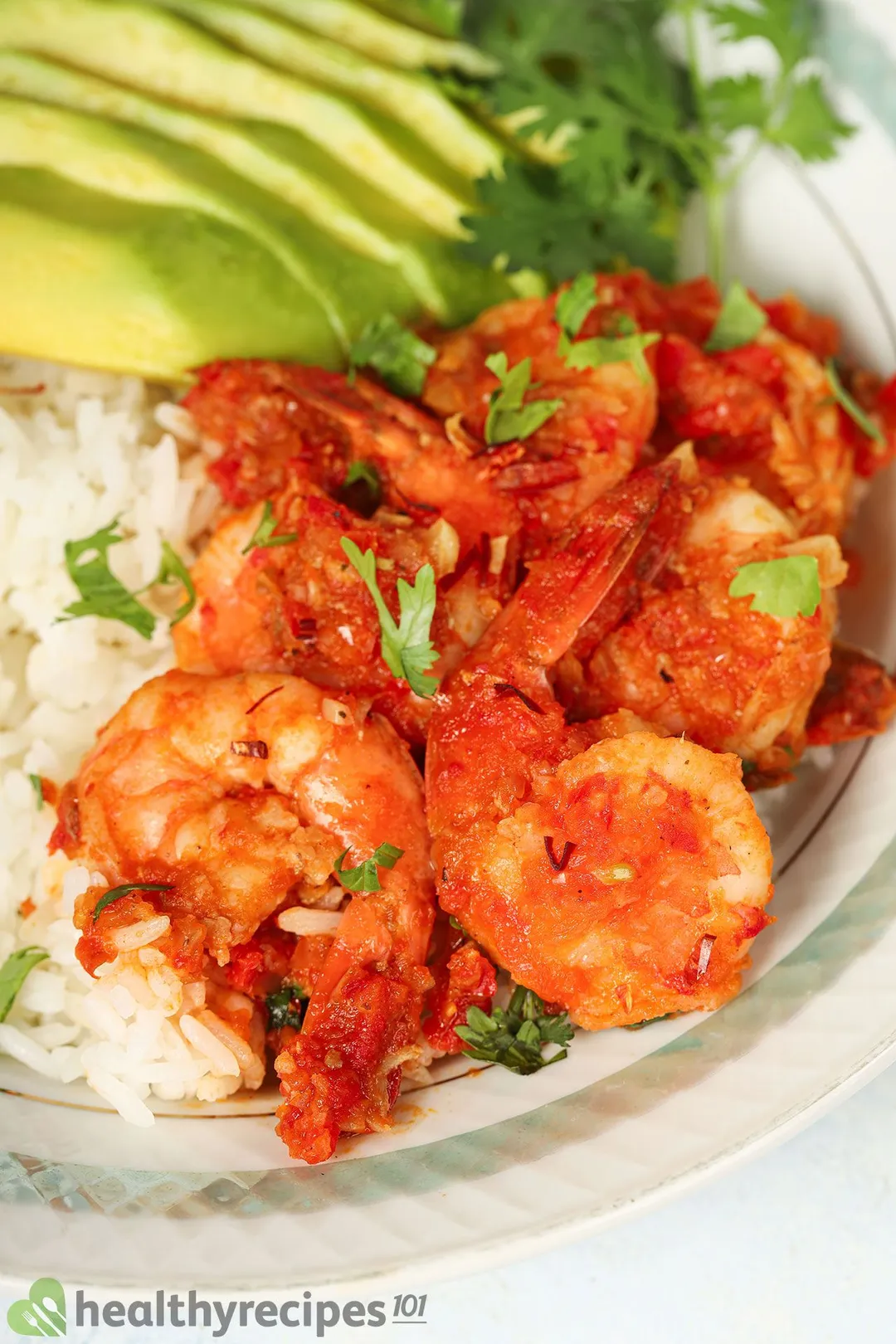 Shrimp Diablo
Head Chef, Culinary Consultant
Tuyet Pham is an award-winning Saigonese chef who believes that joy is the secret ingredient to delicious food. At Healthy Recipes 101, Tuyet personally tests and simplifies every recipe, ensuring maximum flavor with minimal effort. With a background at prestigious French restaurants P'TI Saigon and Le Corto, Tuyet knows how to make every dish exceptional.
Writer, Author
Luna Regina is an accomplished writer and author who dedicates her career to empowering home cooks and making cooking effortless for everyone. She is the founder of HealthyKitchen101.com and HealthyRecipes101.com, where she works with her team to develop easy, nutritious recipes and help aspiring cooks choose the right kitchen appliances.
Nutrition Reviewer
Natalie Butler is a registered dietitian nutritionist with a passion to help others live their best life through food, fitness, safer beauty and a healthy lifestyle. She has expertise with a variety of diets and diseases and believes that there is no one-size-fits-all approach for health.
This recipe combines different spices and flavors to create a delicious seafood meal that is perfect for any occasion.