This homemade chicken shawarma recipe is always on the list of my top signature recipes we're most proud of. It's super aromatic, full of exotic spices, and when wrapped in pita bread, it's simply perfect. It's no surprise then that I recommend it for World Food Day (October 16).
What is Shawarma?
Shawarma is a common name for dishes that have thin slices of shaved meat, such as beef, lamb, chicken, turkey, or veal.
It's often served with pita bread, lots of vegetables, and a sauce of choice.
One reason it became famous is thanks to the cool rotating vertical spit. Layers of meat are grilled slowly and evenly, then shaved off.
The meat we use in today's recipe is chicken. Either chicken breasts or thighs are fine, but thighs are juicier and that's what we're going with.
It's a shame that we don't own a revolving spit, so couldn't do it the traditional way. But on the bright side, we can bake them in the oven and that's more convenient for you too!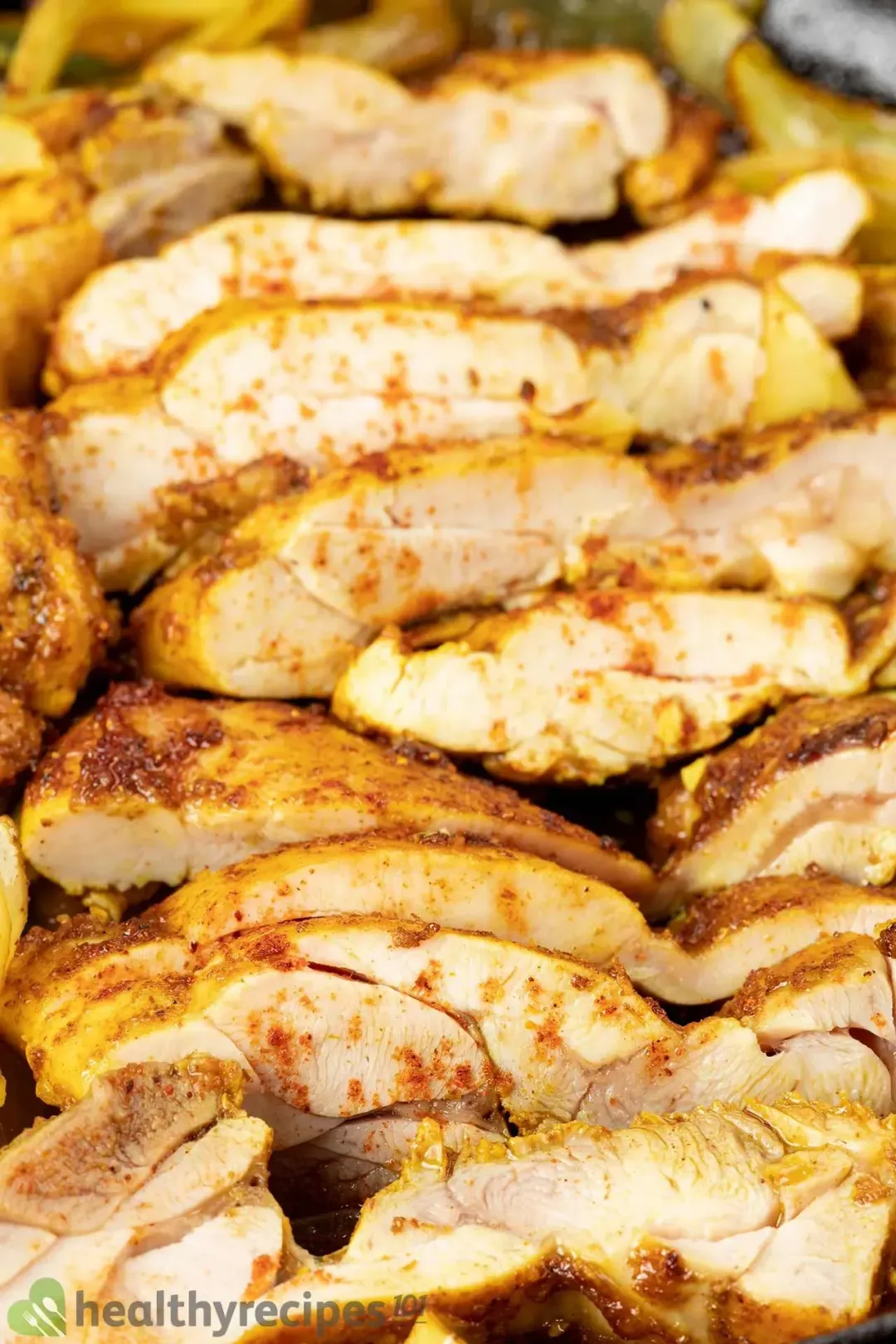 Is This Recipe Healthy?
This recipe corresponds with our healthy eating guidelines, based on the USDA's guidelines and approved by prestigious nutritionists.
First, it yields around 497 calories, about 60% of which come from the chicken meat and healthy fats.
Also, the amount of saturated fat is moderate— 5 grams, less than 22% of what's recommended every day. Its effects on our bodies are yet to be confirmed, so meanwhile, we're keeping an eye on it.
And since overconsumption of sodium is linked to high blood pressure, we don't add lots of salt to the seasoning mix. The sodium is thus kept at around 600 milligrams per serving.
Besides all that, our recipe offers a vast amount of vitamins B, C and A, and minerals like iron, magnesium, zinc, etc.
Main Ingredients
Let's have a look at what our recipe calls for:
1. Chicken
The only cut we find appropriate is the thigh. It's juicier, more tender than the breast, and definitely more convenient than the leg and wing.
If you decide to use chicken breast because it's more packed with protein, do expect drier meat. Chicken thigh may have less protein, but it's not too little, and has amazing flavor.
With that said, we recommend this oven baked chicken breast recipe if you want to have chicken breast for dinner.
2. Seasoning
The soul of authentic homemade chicken shawarma lies in the spices. The basic shawarma marinade includes cumin, turmeric powder, ground coriander, garlic, and paprika.
In this recipe, we also add a dash of lemon juice to make the meat more tender and aromatic.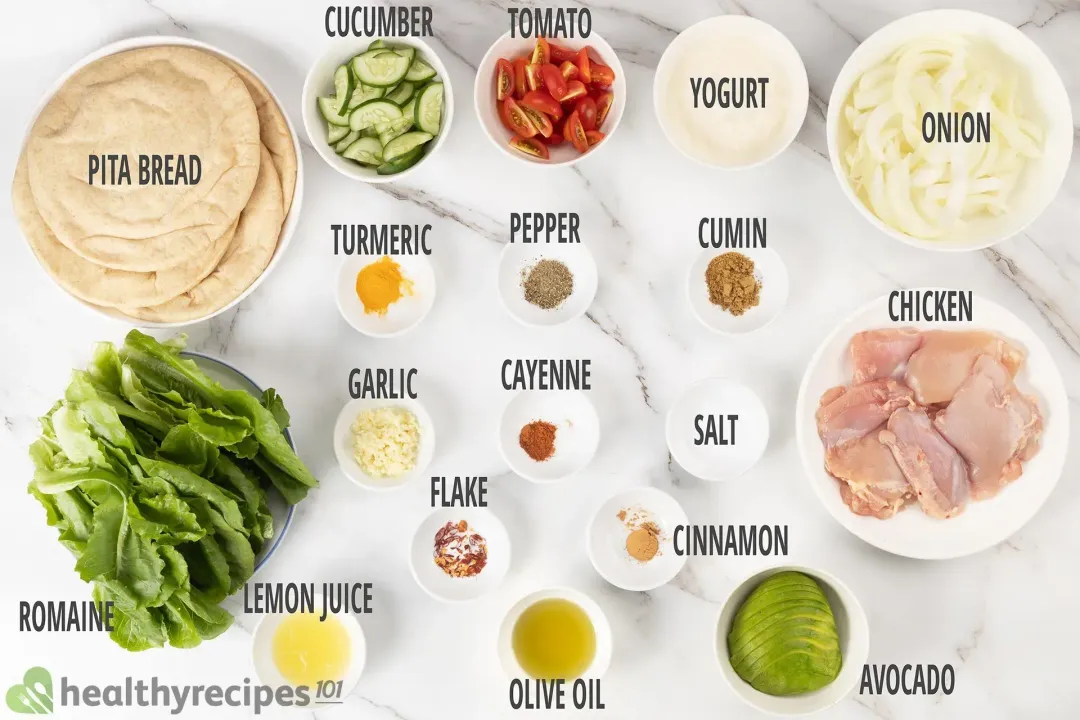 3. Pita Bread
This yeast-leavened, round, flatbread is a popular carbohydrate source in Middle Eastern cuisine. Needless to say, it is a must for chicken shawarma.
You can either get store-bought or make the bread yourself, depending on your preference. We prefer homemade foods, but to skip the hassle, we chose to buy pita bread locally instead.
There are lots of brands and many of them are full of sodium, which we try to regulate. After lots of searching we picked out a lower-sodium option, mentioned in the recipe card.
If you can't get the one we recommend, you can try using less salt to season the chicken.
4. Vegetables
Crisp cucumber, fresh lettuce, and tomatoes add both freshness and plenty of nutrients to this protein-dense meal.
To serve, treat them as you would in tacos: chop them into bite-sized pieces. We chopped the lettuce finely, sliced the cucumber thinly, and quartered the cherry tomatoes.
To add a creamy twist, we also use avocado in this recipe. It mellows out the intense flavor of the seasonings and most importantly, gives us lots of healthy fats.
Sauce
As juicy as the chicken is, the shawarma wrap will turn out tastier with a complementing sauce.
1. Tahini Sauce
Tahini is a condiment made of toasted sesame seeds, finely blended with oil until they become a thick paste. It is seen as a unique part of Middle Eastern cuisine, included in many dishes.
To prepare the sauce, toast and blend the seeds, then simply add lemon juice, garlic, salt, and pepper to the paste and stir. If it's too thick, continue to add lemon juice until it reaches a sauce-like consistency.
You should end up with a tangy, creamy, fragrant sauce.
2. Garlic Sauce
Also a staple of the cuisine, garlic sauce is really straightforward— a blend of garlic, salt, lemon juice, and oil. It's recommended you use a neutral oil, so the flavor of the sauce won't be too intense.
The sauce begins with chopping garlic finely using a strong food processor. Then, add half of the oil in slowly (like how you would when making mayonnaise) to gradually emulsify the sauce.
Finally, add lemon juice in (slowly) along with the rest of the oil, and season to taste.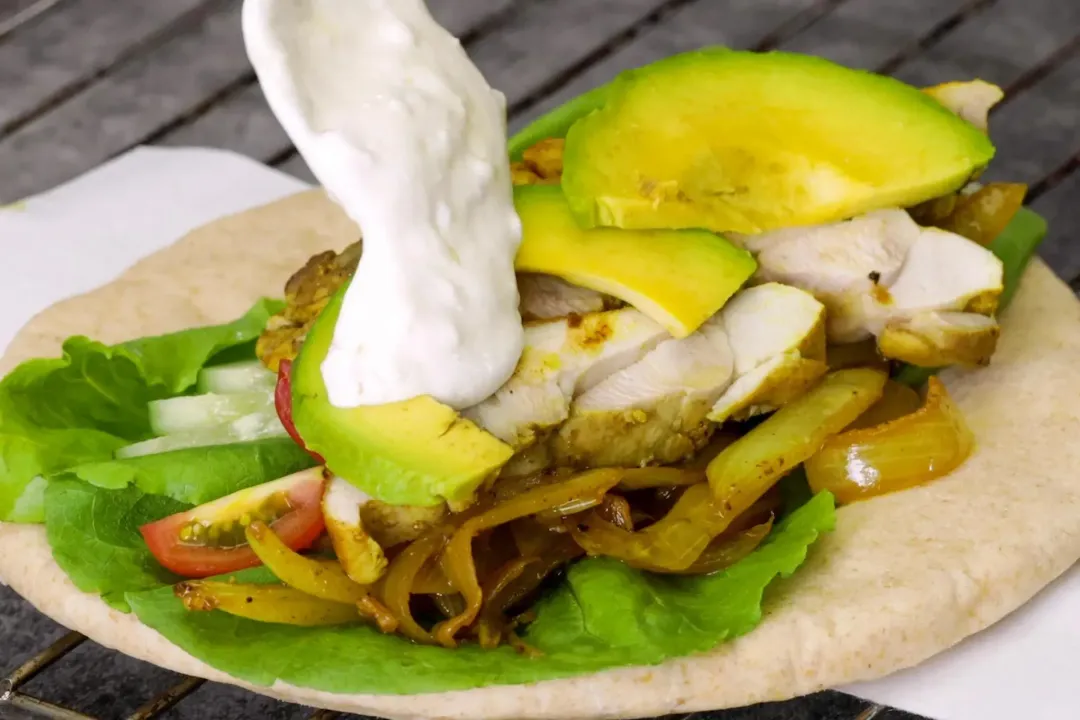 3. White Sauce
Not to be confused with the Italian Béchamel sauce, this white sauce includes Greek yogurt, lemon juice, garlic, and seasonings. We used this in our recipe because it's easy to make and requires simple ingredients.
To make the white sauce, chop the garlic finely and mix it with the other ingredients.
Tips for Making Juicy, Tender Meat
If not handled properly, chicken meat can become dry and tough instead of heavenly tender.
The secret is lemon. The lemon juice in the marinade contains acid that tenderizes the chicken meat and also makes it juicier.
And, never cut the meat before cooking. It may absorb flavor faster and cook faster that way, but the meat juice will evaporate more quickly as well, leaving you with dry chicken.
Calories
As mentioned before, our recipe yields 500 calories per serving. Since most of the calories are from proteins and healthy fats, we want a side filled with healthy carbs.
To turn it into a 750-calorie meal and meet the health guideline criteria, we chose hummus. It's a creamy, aromatic dip made of chickpeas, garlic, oil, lemon juice, and seasonings.
What to Serve with
As a staple of Middle Eastern cuisine, chicken shawarma should always be accompanied by a side of hummus. It's traditional to put hummus inside the pita bread and put the chicken on top.
But since there's yogurt sauce for that, we cut up some celery and carrot sticks and served them with hummus, also upping the veg content.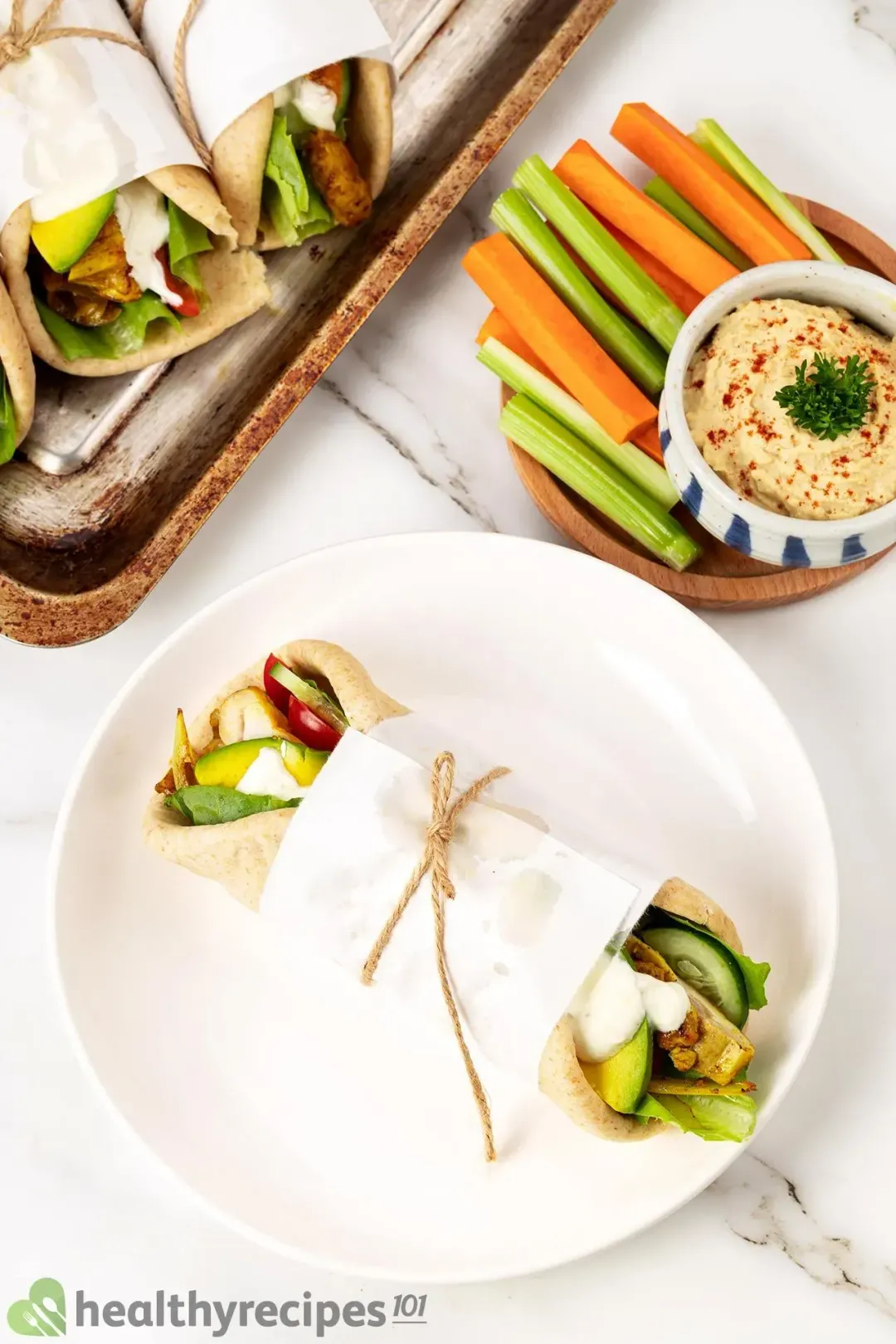 For more chicken recipe ideas, have a look at our best healthy chicken roundup or this best chicken thigh recipes.
FAQ
1. What Is the Difference between a Gyro and Shawarma?
To anyone who has tried a chicken gyro and shawarma, it is easy to spot similarities. Mixing up the two is common if you don't pay close attention.
Both are a type of doner kebab— serving shaved meat, from a large turning meat cone, in pocket bread.
The difference is in the topping choices.
Traditionally, gyros are more commonly made of pork rather than chicken, lamb or beef. It's wrapped in pita bread and has tzatziki sauce drizzled in.
Meanwhile, shawarma can be made of all sorts of meat, and calls for a whole range of toppings.
2. How Long Does It Last?
Cooked chicken shawarma can be stored in the fridge for up to two days.
Of course, keeping the thighs whole before sliding them into the fridge allows them to retain more moisture.
Also, you may want to refrigerate the vegetables and sauce in separate containers. If you cut up the avocados, use them straight away because they will turn brown after several hours.
3. Can You Freeze?
Although reheated chicken isn't as juicy as freshly-cooked, you can place them in Ziploc bags and freeze for longer use.
Instead of freezing cooked chicken, you can marinate a big batch, freeze half of it and use half of it. The longer it sits, the more flavor it has, so it's a win-win situation.
However, if your chicken was frozen when you bought it and you let it thaw, do not refreeze it raw.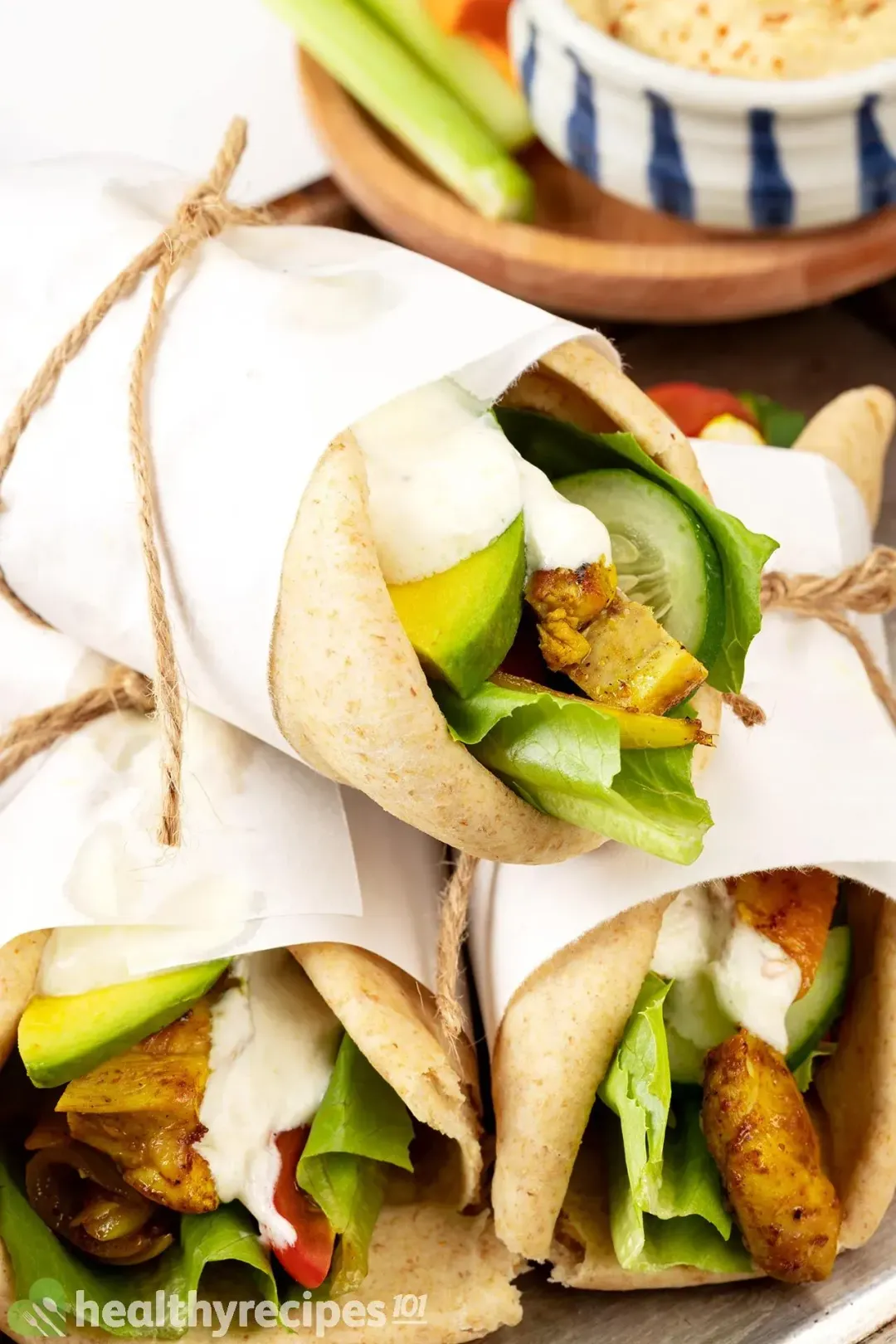 Chicken Rolls and Wraps to Add to Your Week Meals
Not just packed tight with spiced chicken breasts, these rolls are also drizzled with lots of rich white sauce. They're served on a bed of avocado and lettuce salad so you can get some fiber and vitamins.
Want something light as an afternoon snack? Also with about 450 calories, these lettuce wraps are super flavorful and yet, very light on your tummy. It involves loads of fresh and crispy vegetables apart from the thoroughly seasoned ground chicken, and our favorite ingredient, toasted peanuts.
Healthy Chicken Shawarma
This healthy chicken shawarma recipe is simple to make, and is perfect for any time of the day. Make some hummus and your meal is set!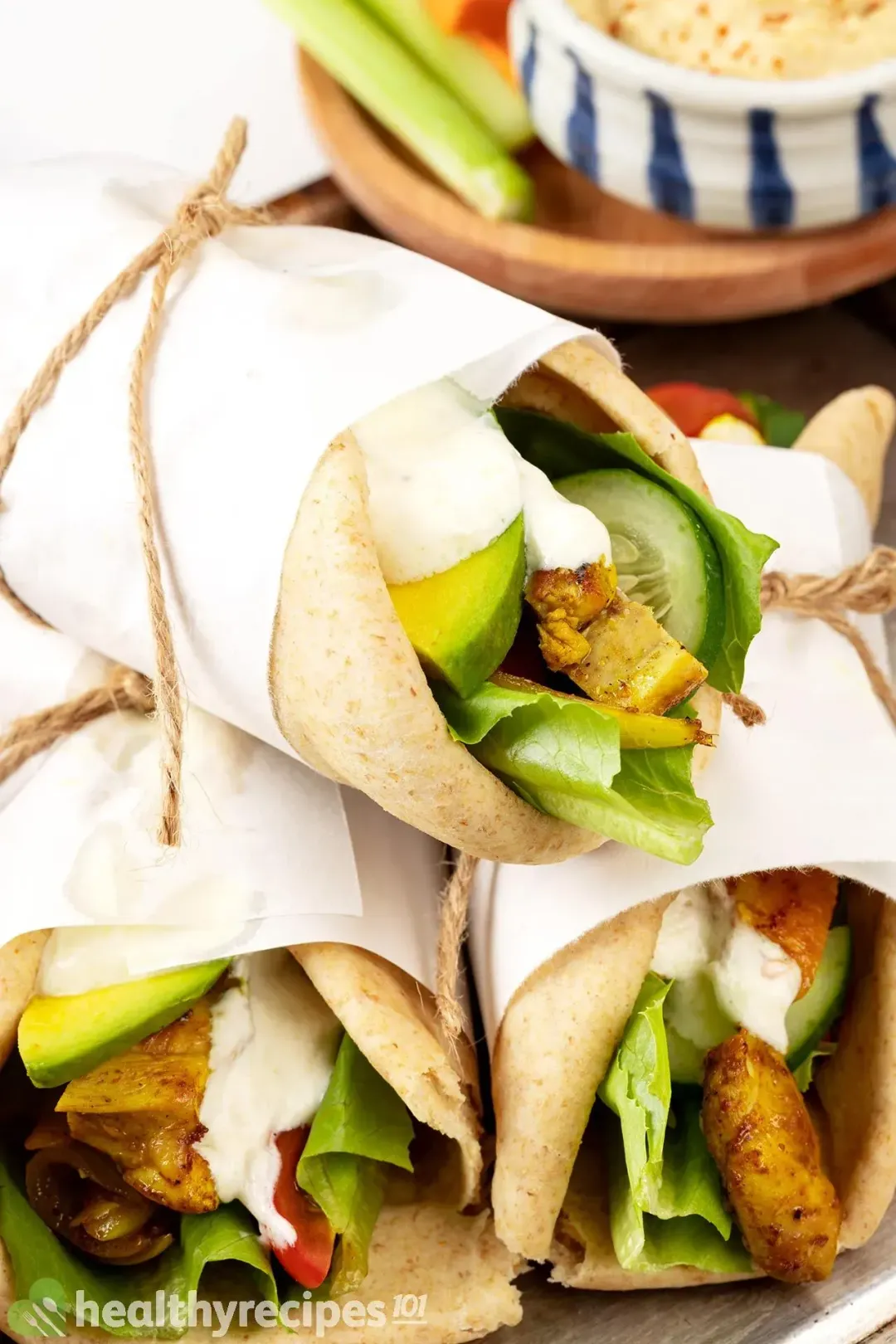 cook TIME

25 mins

prep TIME

20 mins

total TIME

1 hr 15 mins

INACTIVE TIME

30 mins
COURSE

Main Course

CUISINE

Middle East

SERVINGS

CALORIES

497 kcal
INGREDIENTS
12 oz

skinless boneless chicken thighs

3.5 oz

Romaine lettuce

(washed and spin-dried)

3.5 oz

cherry tomatoes

(quartered)

3.5 oz

avocadoes

(sliced)

3 1/2 tbsp

olive oil

(divided into 1, 1 and 1.5)

3/4 cup

plain Greek yogurt

8 tsp

garlic

(minced (divided into 5 and 3))

1/4 tsp

ground black pepper

1 tsp

ground coriander seeds

1/4 tsp

crushed red pepper flakes
INSTRUCTIONS
1
Preheat the oven to 400°F.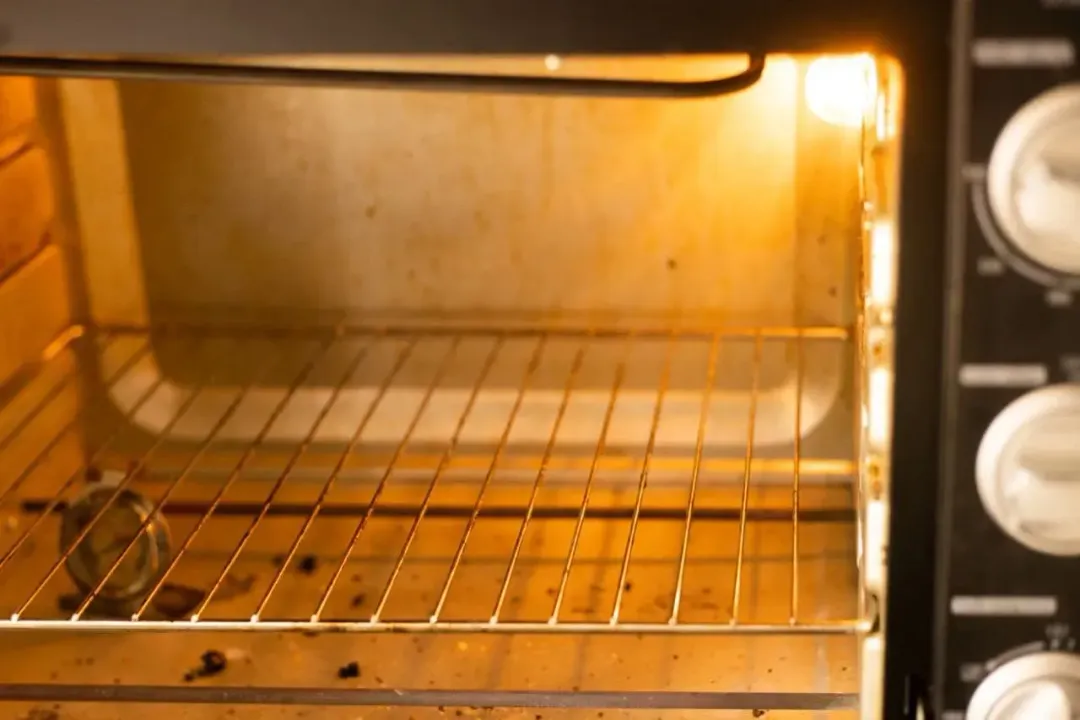 2
Marinate 12 oz chicken with 5 tsp garlic, 1 tbsp olive oil, 6 tsp lemon juice, and the rest of the spices (1/2 tsp cumin, 1/4 tsp black pepper, 1/2 tsp turmeric, 1/4 tsp cinnamon, 1/8 tsp cayenne powder, 1/2 tsp salt, 1 tsp coriander seeds) for 30 minutes.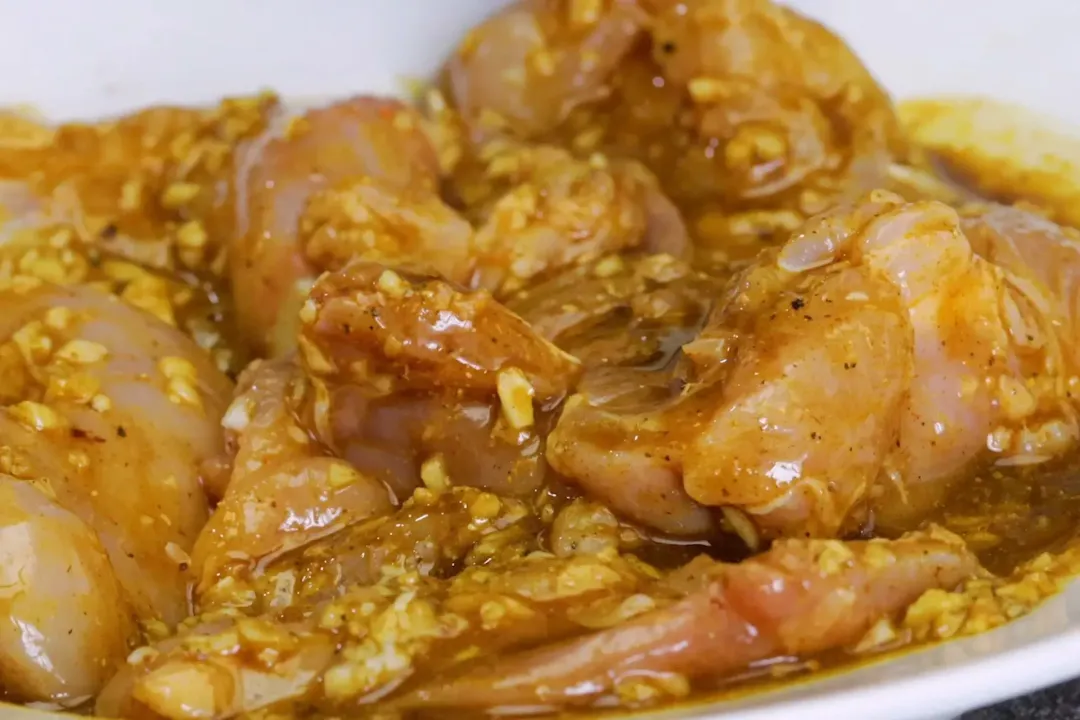 3
Make the sauce by mixing Greek yogurt, 1 1/2 tbsp olive oil, 3 tsp garlic, and 1/4 tsp crushed red pepper flakes. Refrigerate until needed.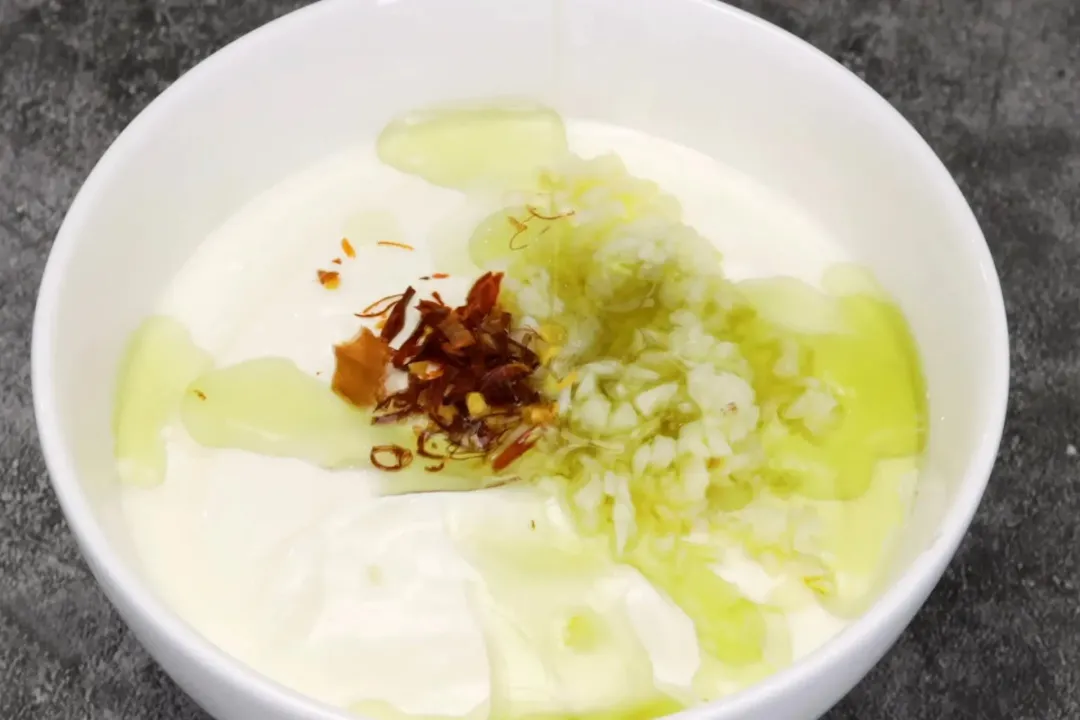 4
In a preheated cast-iron skillet, sear the marinated chicken over medium heat, 2.5 minutes on each side. Mix 10 oz onions in with the rest of the marinade.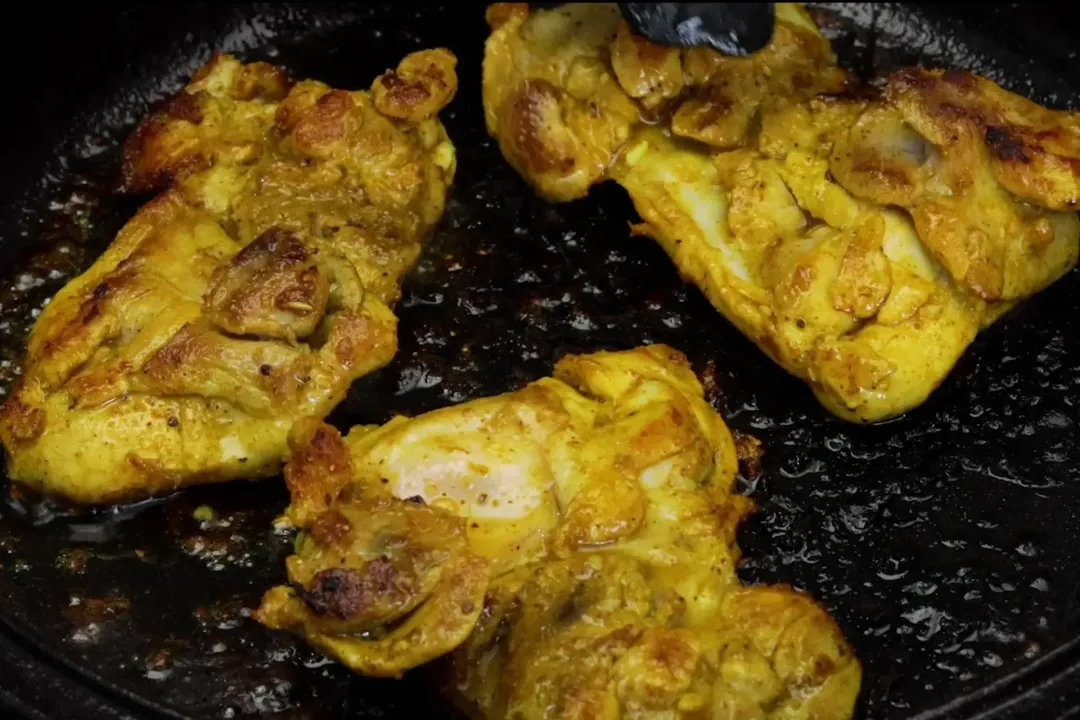 5
Turn off the stove, take the chicken out and cook the onions with the marinade using only the residual heat in the pan, about 1 minute.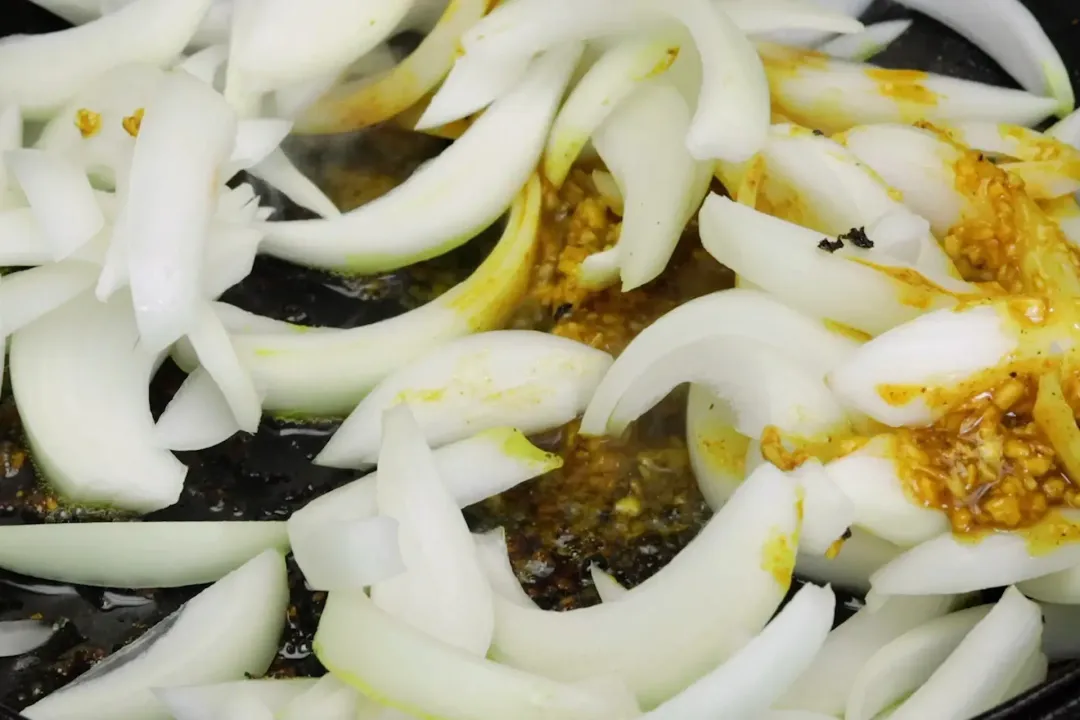 6
Place the chicken back on top of the onions and bake in the oven for 15 minutes.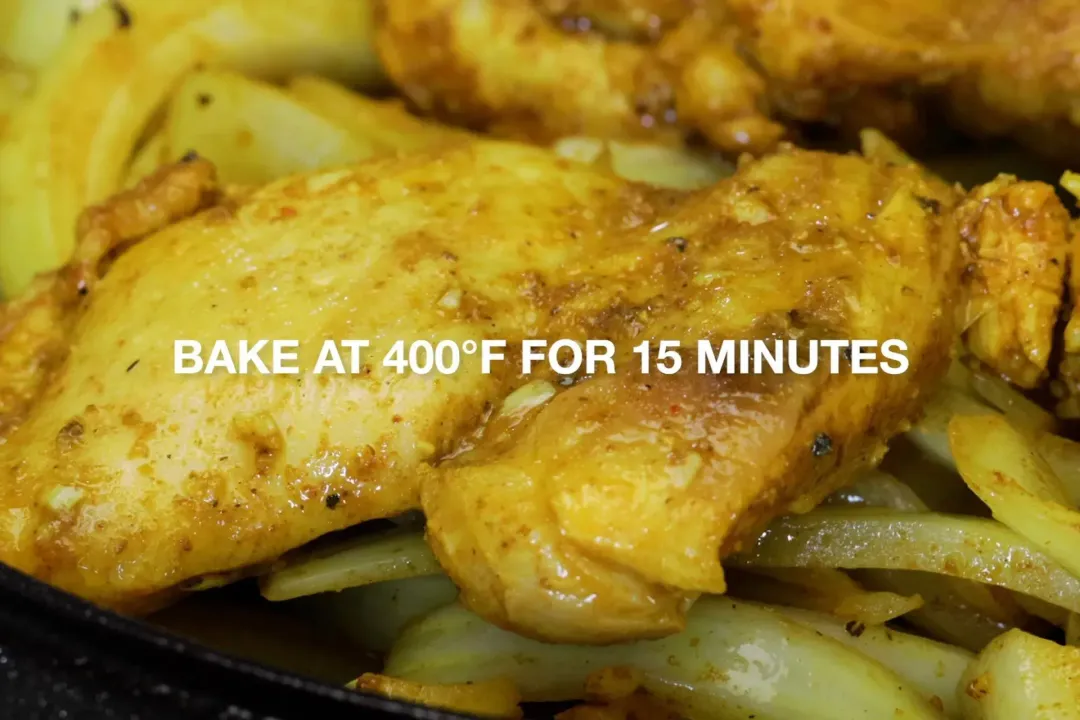 7
When it's done, cut the chicken up and assemble it on pita bread, lettuce, tomatoes, avocado, cucumber to serve.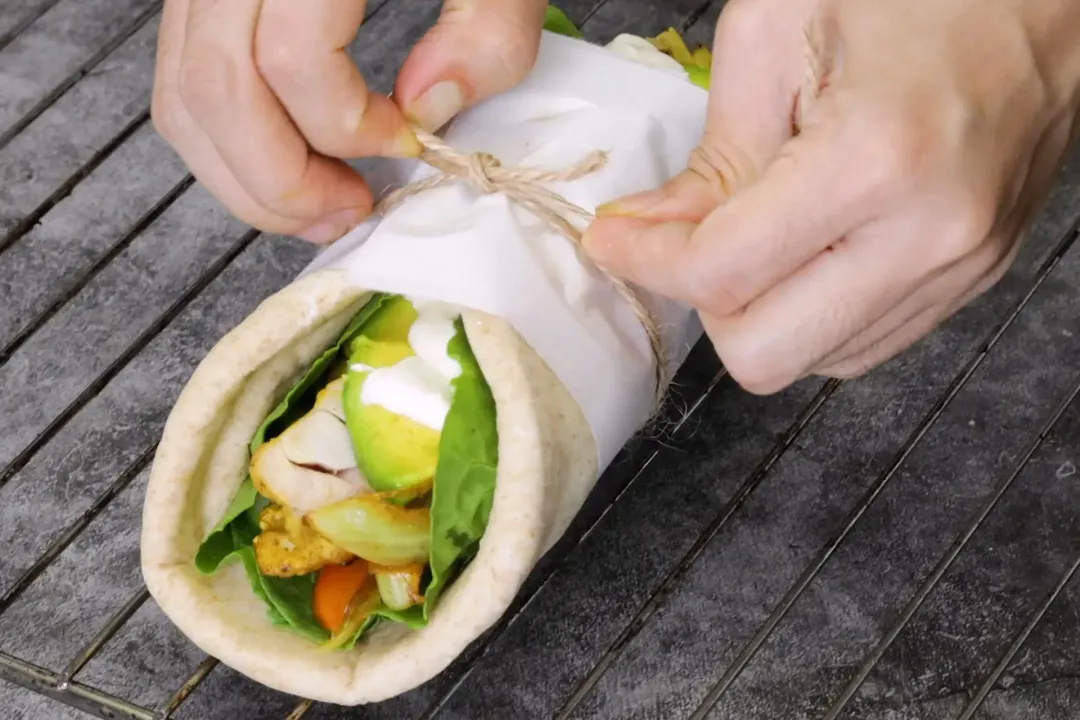 NUTRITION
Nutrition Facts
Healthy Chicken Shawarma
Amount Per Serving (1 serving)
Calories 497
Calories from Fat 216
% Daily Value*
* Percent Daily Values are based on a 2000 calorie diet.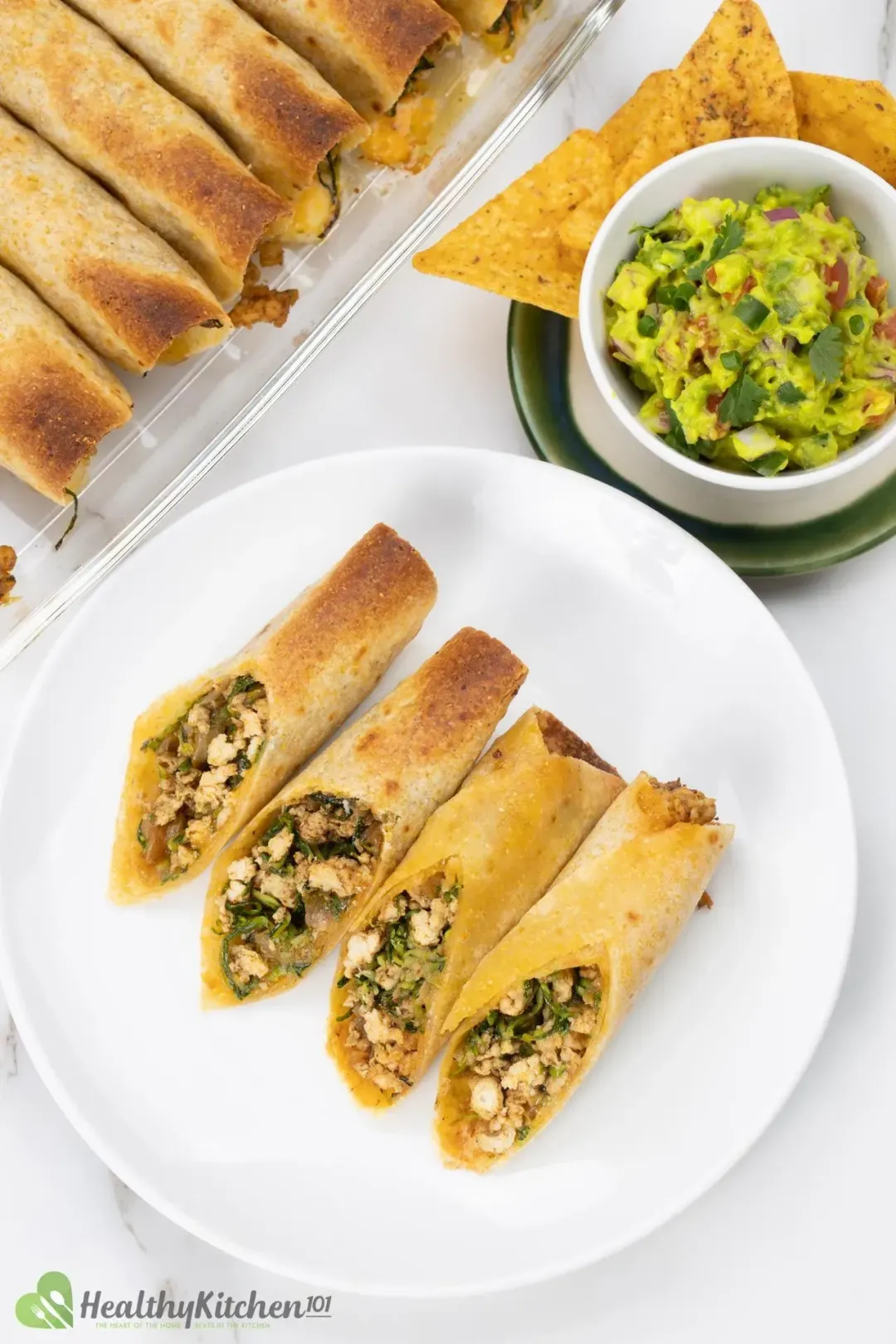 Previous Recipe
Baked Chicken Taquitos
Baked Chicken Taquitos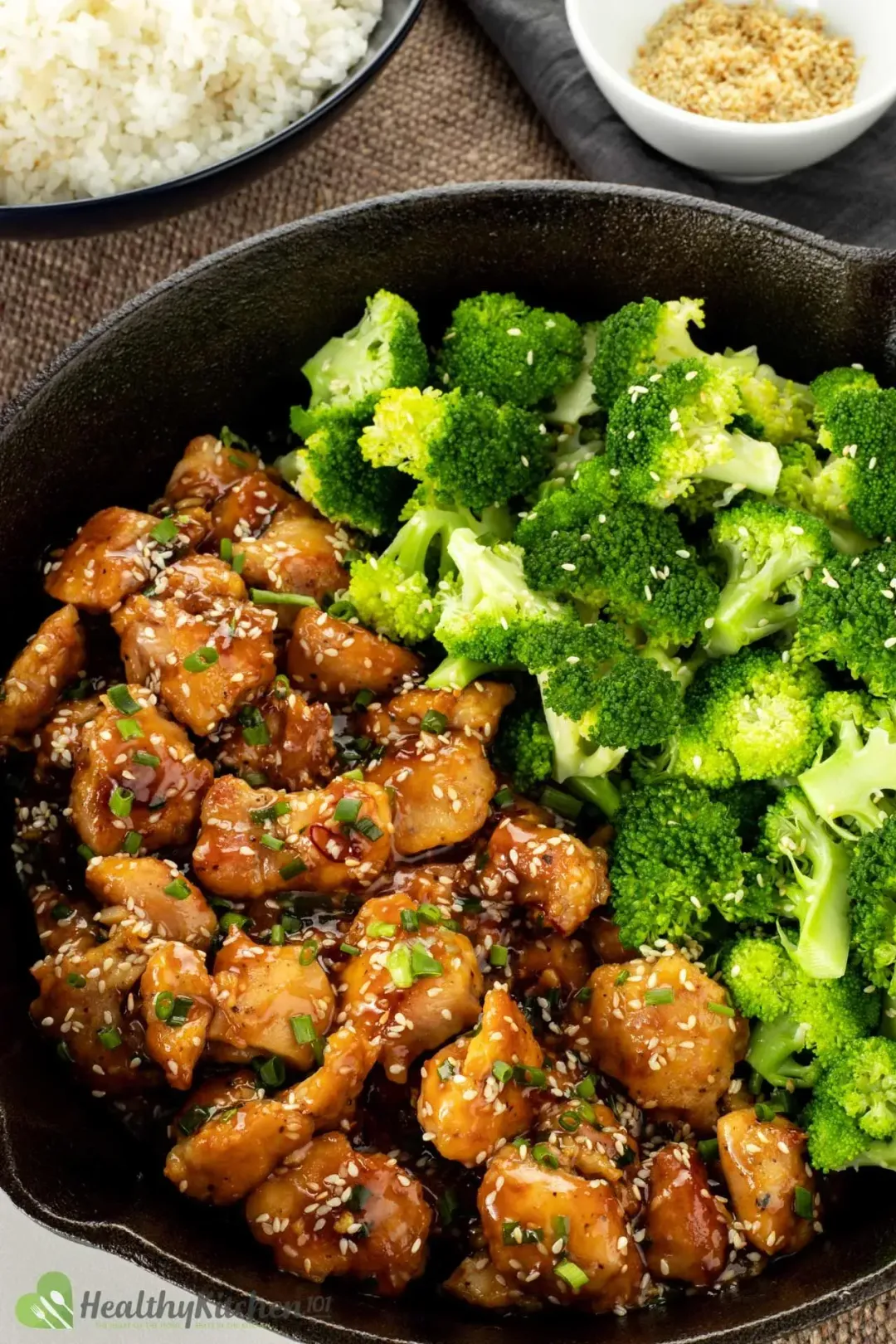 Next Recipe
Honey Sesame Chicken
Honey Sesame Chicken
Head Chef, Culinary Consultant
Tuyet Pham is an award-winning Saigonese chef who believes that joy is the secret ingredient to delicious food. At Healthy Recipes 101, Tuyet personally tests and simplifies every recipe, ensuring maximum flavor with minimal effort. With a background at prestigious French restaurants P'TI Saigon and Le Corto, Tuyet knows how to make every dish exceptional.
Writer, Author
Luna Regina is an accomplished writer and author who dedicates her career to empowering home cooks and making cooking effortless for everyone. She is the founder of HealthyKitchen101.com and HealthyRecipes101.com, where she works with her team to develop easy, nutritious recipes and help aspiring cooks choose the right kitchen appliances.
Nutrition Reviewer
Lizzie Streit is a Minneapolis-based dietitian and founder of It's a Veg World After All. She completed her MS in Human Nutrition from Drexel University, and is an expert in culinary nutrition, recipe development, and nutrition communications. Lizzie's philosophy is centered around making nutrition recommendations, and especially the advice to eat more vegetables, approachable and realistic. She is excited to be working with the team at Healthy Recipes 101 to ensure that their recipes are both nutritious and delicious.
Hey,

Thank you for shawarma recipe, I really really like the way you explained it, Me and my family like shawarma when we ate it in asian restaurant so i'm going to try this one in upcoming weekend where we set together once in a week so this will be amazing can you please tell me if i use persian saffron in it ? this will be perfect or not give me some suggestion

Thanks
Debra

Hi Debra. I suppose it would be a more gourmet dish if there was persian saffron 😀 I expect it to be a bit more bitter and tangy. Anyway, my suggestion is, go for it 😀 Really can't wait to learn from this new experience of yours 😉

The thing I love about this dish is that it's super easy to make. Oh for God's sake, I love all the mediterranean dishes made in the oven. I mean, why not when they're super effort-saving? Haha. Sure there are waiting time this and that but it takes me literally no special skills. I'm so new to cooking but I find it a breeze following your recipe 😉

I love chicken shawarma but I never tried at home. Thanks for this recipe I will try it at home.

How many servings does it make?

Hi Sarrah! This recipe makes four servings — four large shawarma rolls. Each roll is served with a side of hummus and veggie sticks.