What better way to enjoy a casual yet delicious dinner than with this lemongrass chicken recipe? Embracing the beauty of Vietnamese cuisine, it features a wide variety of ingredients that harmoniously blend with one another, creating flavors that dance beautifully on your tongue.
With lemongrass as a base, this dish is infused with a unique citrusy scent that brings a delightful aromatic twist to the savory chicken. We served it with a steamy bed of rice and fresh veggies, with an added sweet-spicy dipping sauce that ties everything together in an exciting burst of flavors.
What Does Lemongrass Taste Like?
Lemongrass is a plant with pale green stalks that's native to South Asia, Southeast Asia, and Australia. It has a distinct lemony aroma that's mixed with floral notes, complemented by a minty undertone.
As complex as its flavors are, lemongrass doesn't overpower the ingredients it's paired with. On the contrary, it highlights their tastes with a distinct brightness, bringing an incredibly unique undertone to the dish.
Lemongrass works marvelously as an aromatic to infuse its scent and flavors into broths, marinades, and soups. You may find it as a staple ingredient in many Thai, Indian, or Vietnamese dishes such as tom yum, curry, or various stir-fries. Many also like to brew it to make a healthy tea.
Is This Recipe Healthy?
We carefully chose the individual ingredients and adjusted their amounts to make this lemongrass chicken both tasty and health-conscious. With approximately 2 g saturated fat and 590 mg sodium in a 485-calorie serving, this dish perfectly adheres to the health standards set by our guidelines.
Nutrient-wise, this dish is incredibly high in proteins, thanks to the main ingredient, chicken. Additionally, chicken also helps to provide a decent amount of vitamins B12 and B6, folate, heme iron, zinc, and other minerals.
The meat is air-fried, which is considered to be relatively healthy compared to other frying methods as it can reduce fat usage and potentially produce fewer harmful compounds.
The other main ingredient, lemongrass, also comes with a myriad of potential health benefits. It is said to have anti-inflammatory effects as well as treat bacterial infections in the digestive tract.
Main Ingredients
While the ingredients for this dish may seem plentiful at first, it is a homemade dish at heart, so you don't have to worry about too many complications. Everything is a pantry staple or a common ingredient that you can easily find at the store.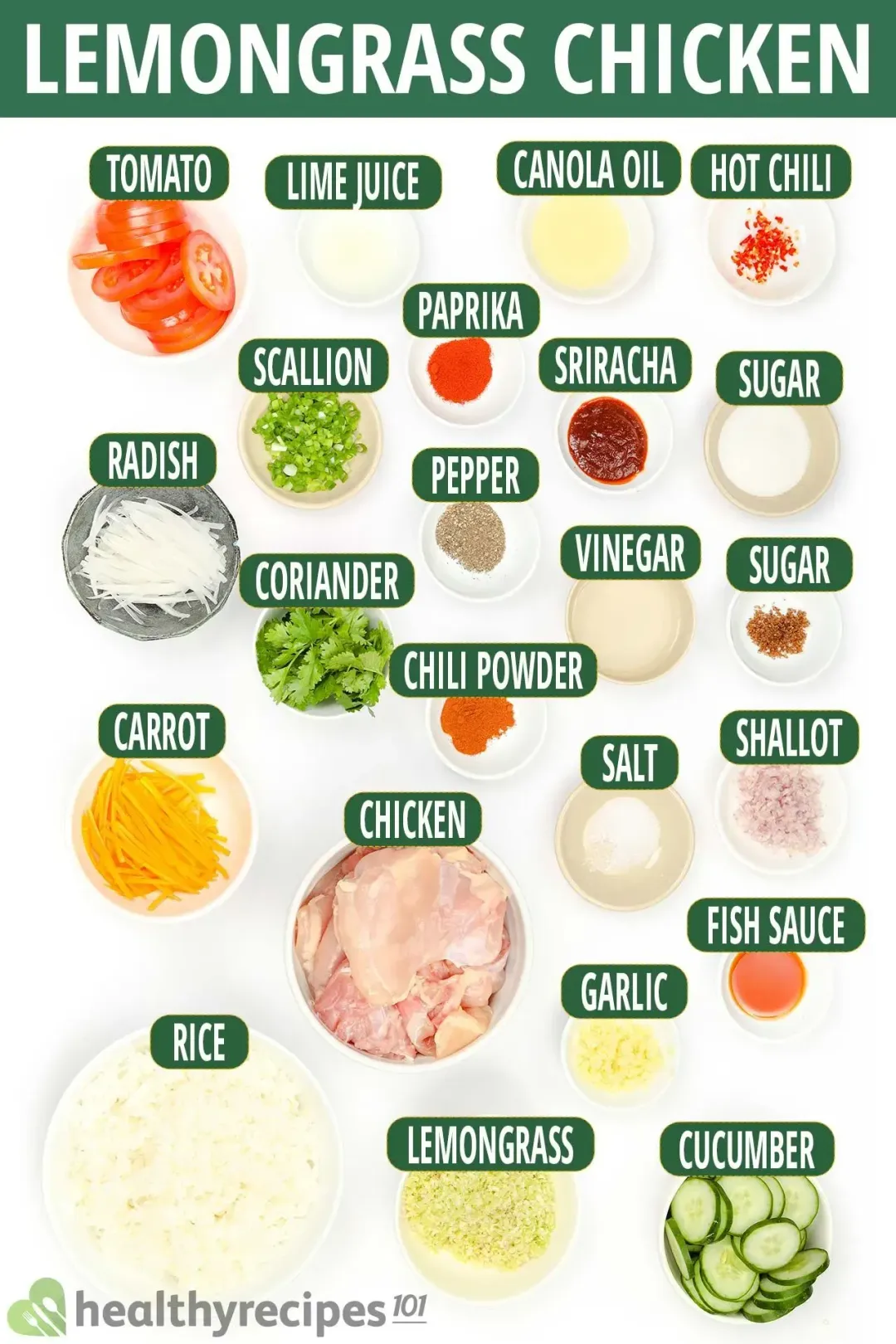 Chicken: We went with boneless skinless chicken thighs for this recipe. You can also use chicken breast, although it might not be as flavorful and juicy. This recipe also works for other meat varieties, so you can switch chicken out for pork, beef, or even shrimp.
Lemongrass: For a bright and vivid taste, we recommend using fresh lemongrass to marinate the chicken. Dried lemongrass also works, although it has a more subdued and woodsy scent that might not stick to the meat as strongly. If you have trouble finding the stalks, you can use lemongrass paste for a near-similar taste.
Vegetables: Bring some vibrant pops of color to this dish with tomatoes and cucumbers. These veggies also carry a freshness that helps to mellow out the chicken's savory taste and the sauce's pungent tones. For the sauce, we added some julienned carrots and white radish to lighten the intensity of its savory and umami taste. With their crunchy textures, these veggies also give you an exciting mouthfeel in every bite.
Aromatics: In addition to the lemongrass, we used other aromatic herbs and veggies like scallions, shallots, garlic, and coriander. Altogether, they give the dish a divine mixture of fragrant undertones that makes every bite a rollercoaster of flavors.
Fish Sauce: This staple Asian condiment is quite easy to find at supermarkets or most Asian specialty stores. It might throw you off a bit at first because of how uniquely pungent it is but you'll be amazed by how well its salty and umami flavors tie everything together in the end.
Other Condiments: We used a little sriracha to give the sauce a slightly thick texture base and a hint of sweetness. As for the spices, we varied between sweet and spicy with the use of paprika, sugar, brown sugar, salt, and pepper.
Rice: Vietnamese dishes are often served with a side of white rice, and this one is no exception. The rice's subtle flavor helps to make the dish more filling as well as soften the chicken's heavy taste. If you want to switch things up, consider serving the chicken and veggies with egg noodles, rice vermicelli, or use them as filling for banh mi.
How to Store and Reheat the Leftovers
This dish (sauce included) should last for approximately 2 days when kept in airtight containers in the fridge. The dipping sauce should be kept separate from the meat, veggies, and rice.
The quickest way to reheat, of course, is to simply use the microwave. You can also give the meat a light sear over the stove top or use the air-fryer. We recommend cooking a new batch of rice and chopping up fresh veggies for a more flavorful dish.
What to Serve With
With the rice and veggies on the side, this lemongrass chicken is technically already a small meal on its own. If you want to serve it with something else, we reckon a light soup or simple stir-fries—like the following dishes—should be enough: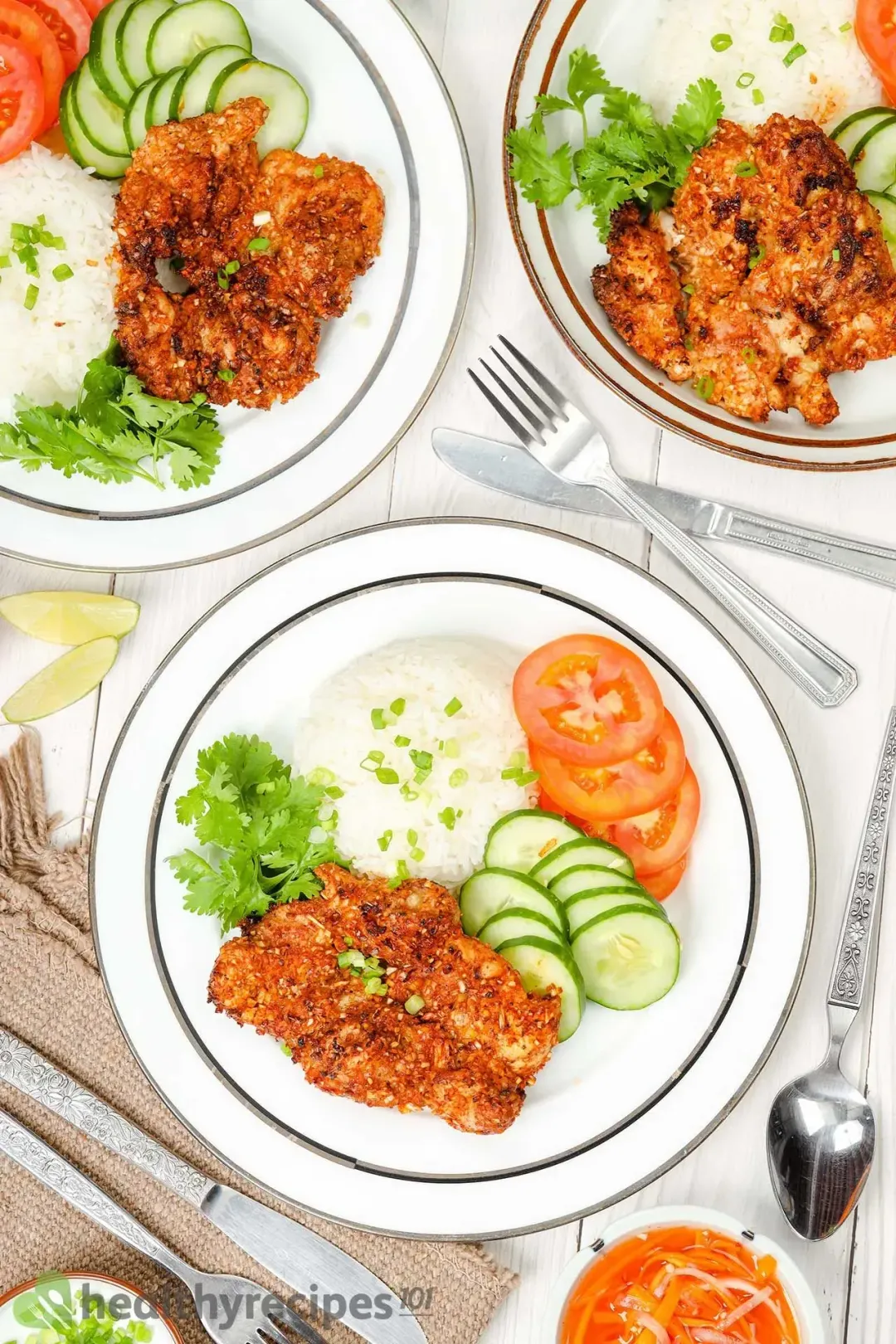 Chicken and Rice Will Never Go Out of Style
For instance, this skillet of chicken Paella is worth a try, taking on a gorgeous hue from saffron and dotted with bright pepper dices. It also has chewy mushrooms, peas, and obviously, chicken thighs cut into bite-sized chunks.
Whoever says healthy food can't be tasty will be proven wrong by this stir-fried chicken and broccoli recipe. It's a delicious and nutritious meal that cooks everyday ingredients with really basic steps.
How to Make Lemongrass Chicken
Embrace the beauty of Vietnamese cuisine with this lemongrass chicken recipe. It infuses the savory chicken with a uniquely citrusy scent that creates a delightful aromatic twist. It's served over steamy rice and fresh veggies, with an added sweet-spicy dipping sauce that ties everything together.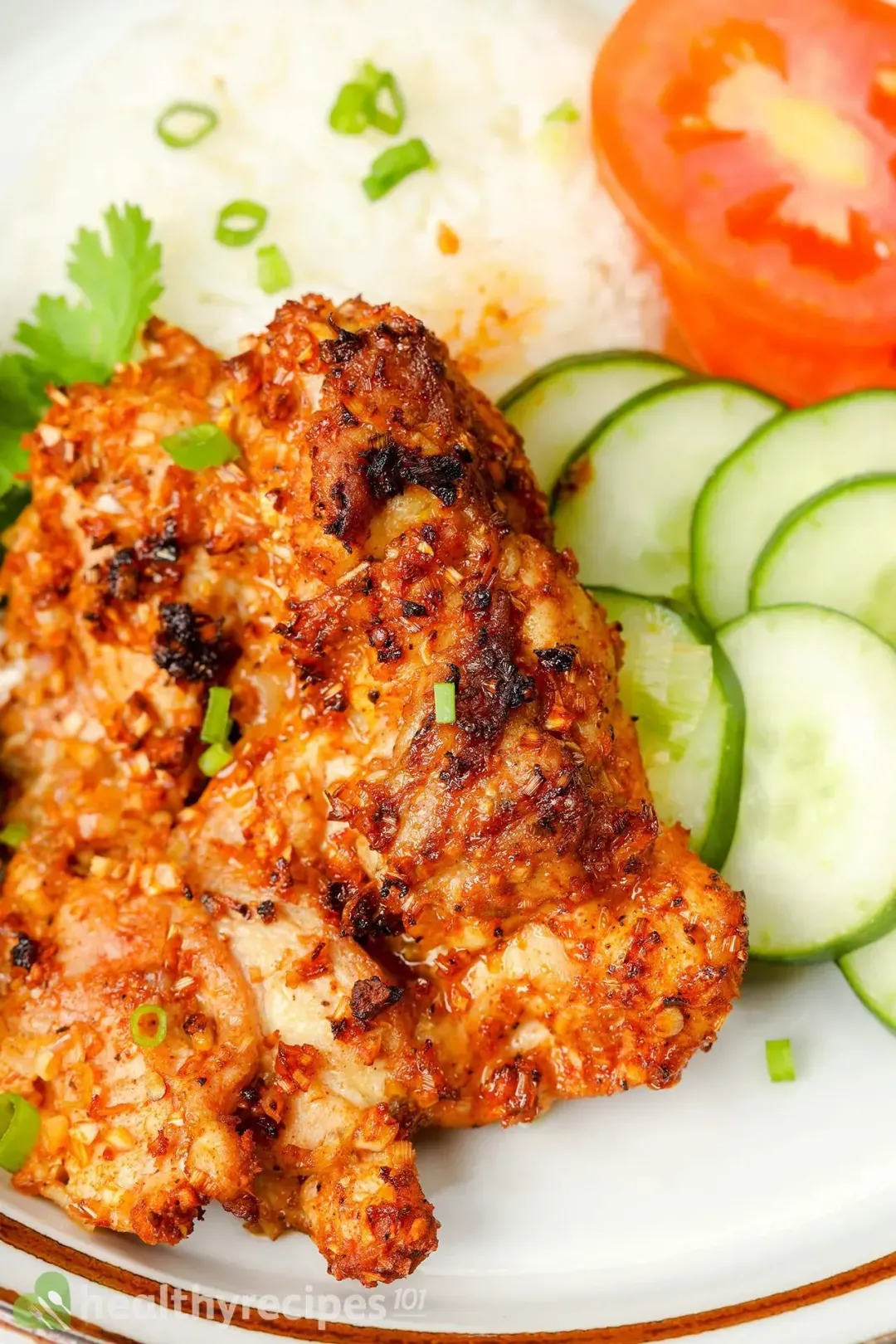 cook TIME

23 mins

prep TIME

15 mins

total TIME

38 mins
COURSE

Main Course

CUISINE

Vietnamese

SERVINGS

CALORIES

485 kcal
INGREDIENTS
20 oz

skinless boneless chicken thighs

2 oz

lemongrass

(finely minced)

1 oz

white radish

(julienned)

0.5 oz

red chili

(minced)

1/4 cup

scallion

(sliced)

1/2 tsp

ground black pepper

3 1/2 cups

cooked medium-grain rice

(from 1 3/4 cups uncooked)
INSTRUCTIONS
Prep:
1
Cook the Rice: Rinse the rice then check the package instructions and cook using a preferred appliance. Typically, it should take around 15-20 minutes to cook and follow the 1 cup rice to 2 cups water ratio.
2
Prepare the Chicken: Gently pat the chicken dry with paper towels to remove excess moisture.
3
Mince the Lemongrass: Slice off the root and remove the outer layer to separate the stalks, then continue slicing off the bulbs at the bottom. Then, crosswise slice the stalk in two or thirds and thinly slice the hard parts. Rock the knife over the sliced pile to finely mince.
4
Mince the Chili: Diagonally slice the chili into thin pieces then rock the knife over the sliced pile to mince.
5
Slice the Tomato: Lay the tomato horizontally then slice. Discard the top and the end.
6
Slice the Cucumber: Lay the cucumber horizontally then make ½-inch slices. Discard the top and the end.
7
Julienne the Carrot: Remove the peel, cut off the ends then cut the carrot into thirds. Thinly slice each third lengthwise then stack the sliced pieces and repeat the same slicing motions.
8
Julienne the Radish: Repeat the same steps as the carrots.
9
Mince the Shallot: Cut off the roots and remove the papery skin then lengthwise slice in half. Lay the half flat and make horizontal cuts into the shallot, then make vertical cuts. Leave the roots intact. Turn the shallot at a 90-degree angle then thinly slice.
10
Mince the Garlic: Bash the garlic with the side of your knife and remove the papery skin, separate the cloves then thinly slice them. Chop over the sliced pile with a rocking motion a few times until they are finely minced.
11
Chop the Scallions: Slice off the white roots and the first 1-2 inches at the top. Bunch the scallions together with one hand and thinly slice the bundle into small pieces.
Cook:
1
Marinade the Chicken: In a large bowl, put 20 oz skinless boneless chicken thighs then add 2 oz lemongrass, 2 tbsp garlic, 2 tbsp shallot, 1 tbsp canola oil, 1/2 tbsp lime juice, 1/4 tsp salt, 1/2 tsp ground black pepper, 1/2 tsp chili powder, 1 tsp paprika, 1/2 tbsp lime juice, and 1/2 tsp brown sugar. Gently toss to evenly coat the chicken then leave to marinade for 5 minutes.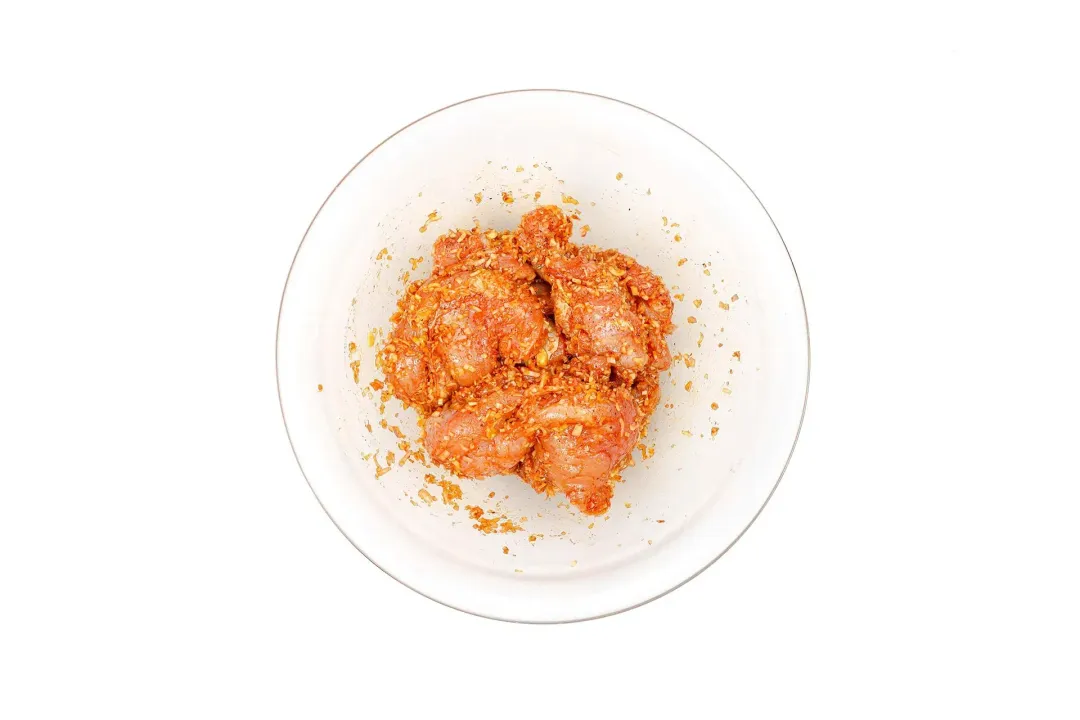 2
Air-fry the Chicken: Evenly spread the marinated chicken pieces and air-fry at 400°F for 17 minutes.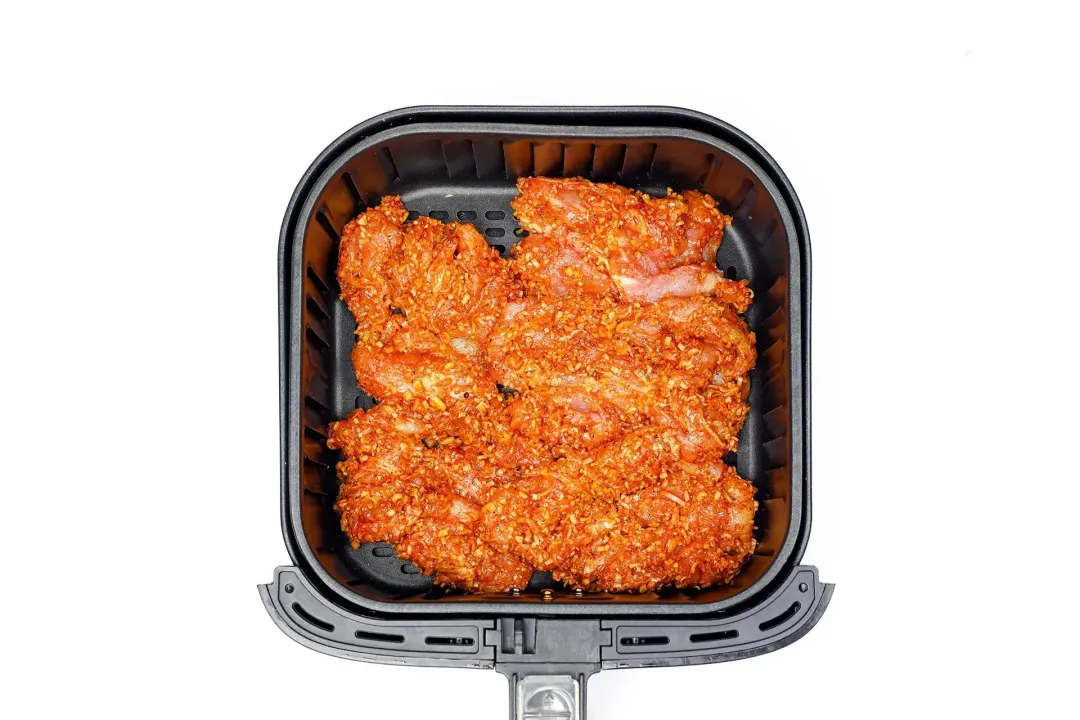 3
Make the Sauce: In a bowl, mix 1 tbsp sugar, 1 tbsp garlic, 0.5 oz red chili, 3 tbsp white vinegar, 2 tsp Thai fish sauce, 2 tsp sriracha, and 2 fl oz water until you get a red-tinted mixture with a slightly syrupy consistency.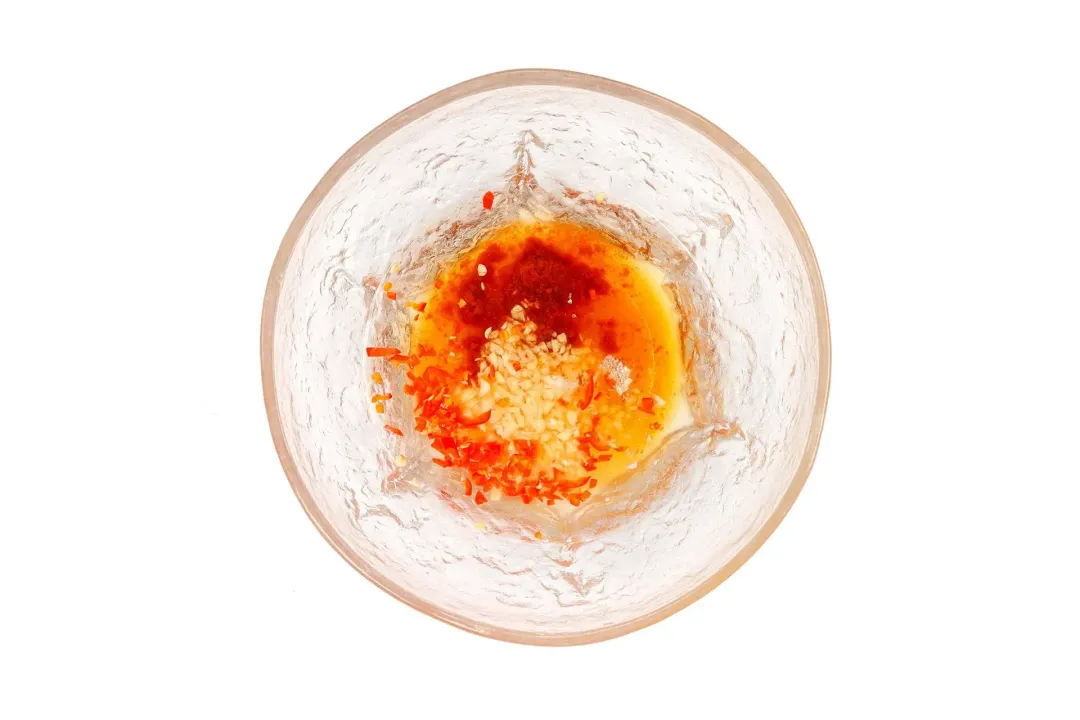 4
Add the Carrots and the Radish: Add 1 oz carrot and 1 oz white radish to the sauce then gently stir to mix.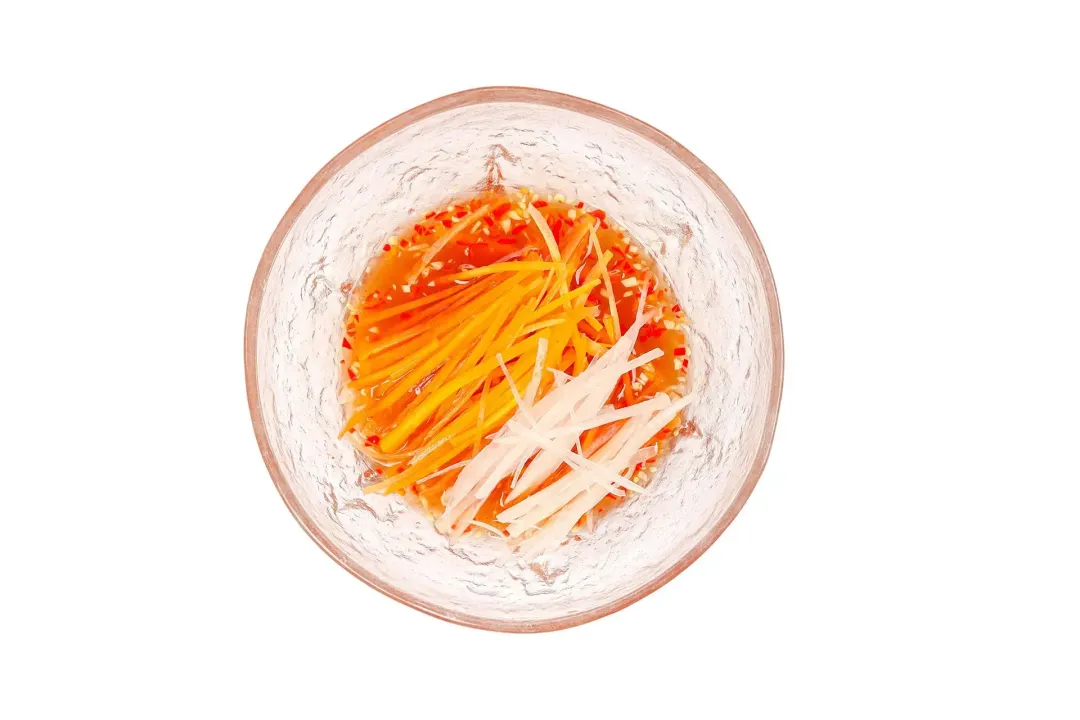 5
Garnish and Serve: Lay the air-fried chicken onto the serving plates alongside 3 1/2 cups cooked medium-grain rice, 6 oz cucumber, and 6 oz tomato. Sprinkle 1/4 cup scallion over the surface then serve.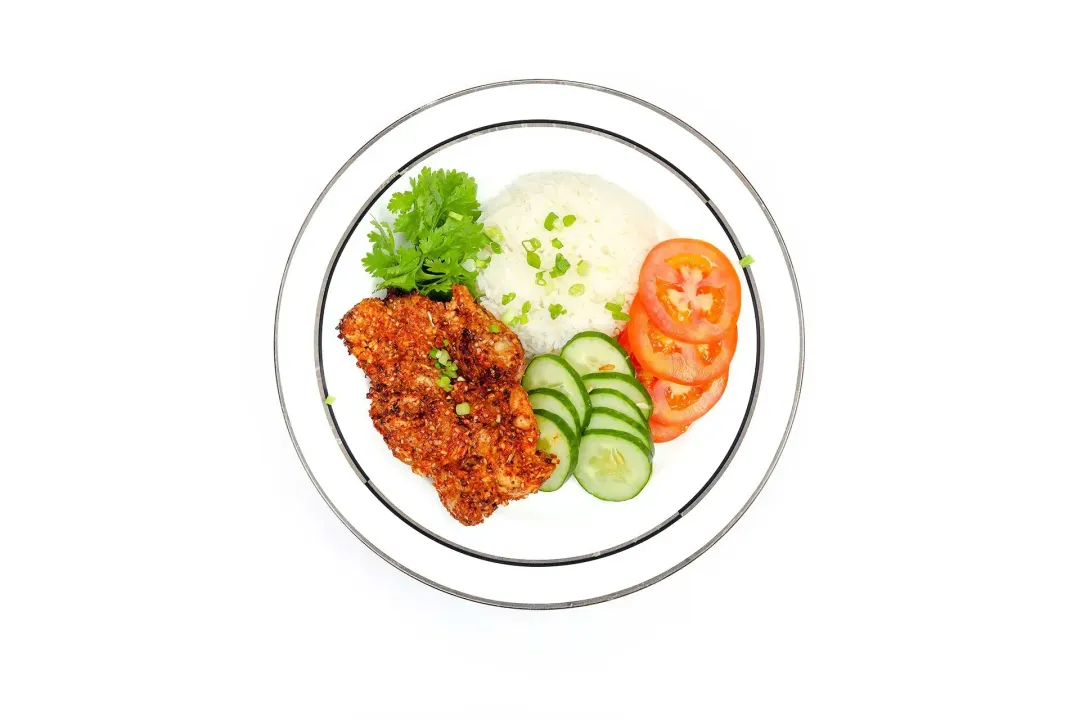 NUTRITION
Nutrition Facts
How to Make Lemongrass Chicken
Amount Per Serving (1 serving)
Calories 485
Calories from Fat 91
% Daily Value*
* Percent Daily Values are based on a 2000 calorie diet.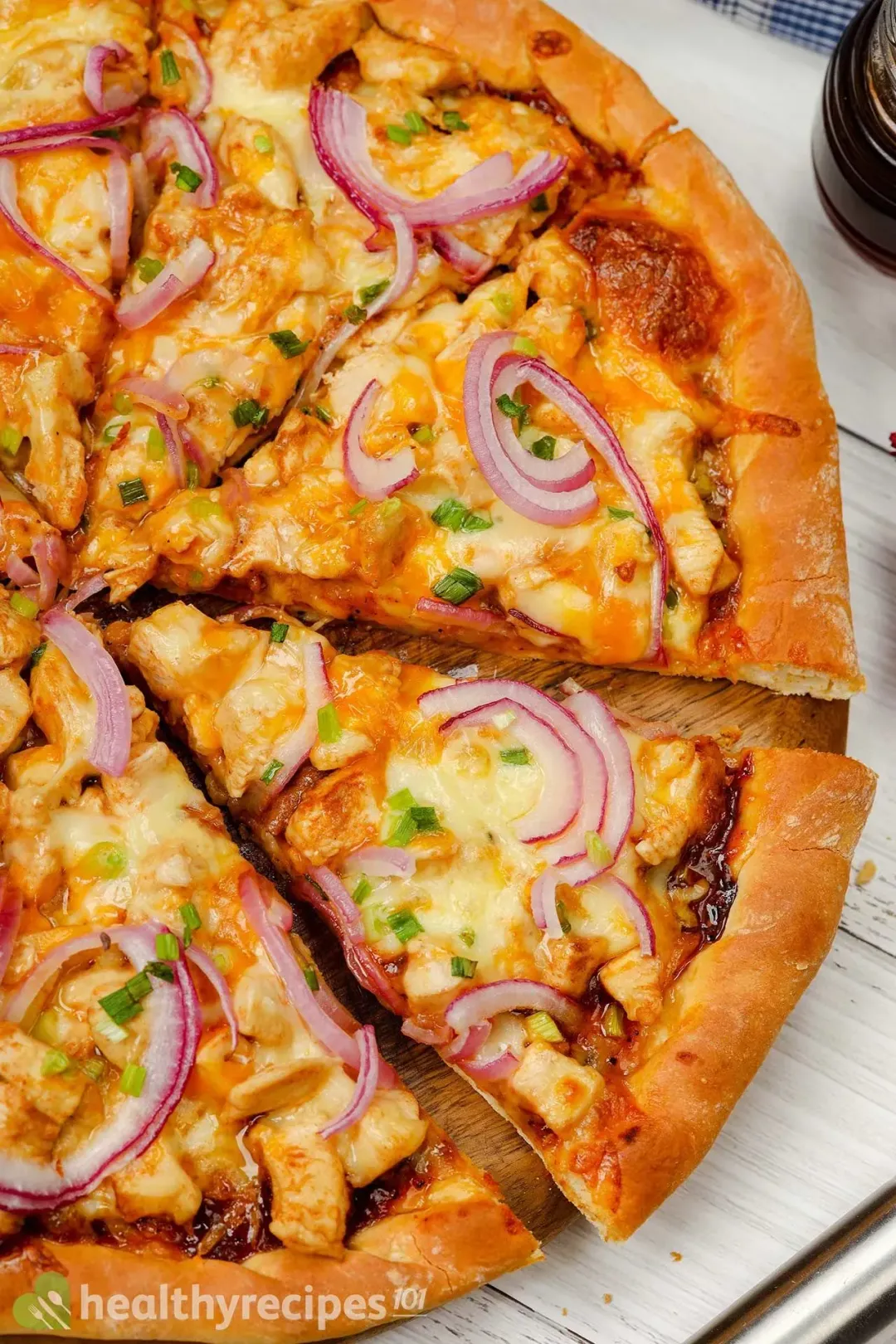 Previous Recipe
Buffalo Chicken Pizza
Buffalo Chicken Pizza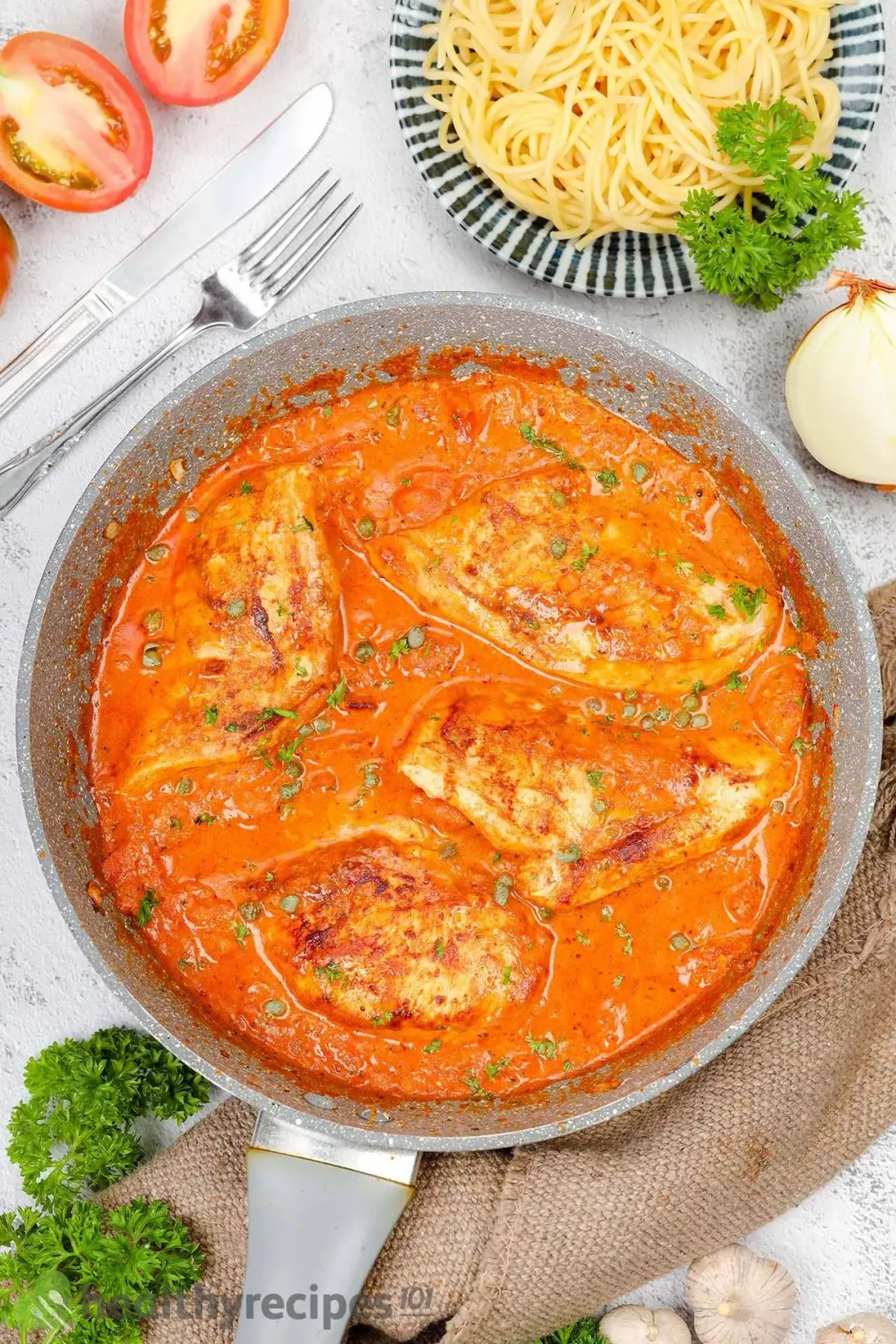 Next Recipe
Chicken Tomato
Chicken Tomato
Head Chef, Culinary Consultant
Tuyet Pham is an award-winning Saigonese chef who believes that joy is the secret ingredient to delicious food. At Healthy Recipes 101, Tuyet personally tests and simplifies every recipe, ensuring maximum flavor with minimal effort. With a background at prestigious French restaurants P'TI Saigon and Le Corto, Tuyet knows how to make every dish exceptional.
Writer, Author
Luna Regina is an accomplished writer and author who dedicates her career to empowering home cooks and making cooking effortless for everyone. She is the founder of HealthyKitchen101.com and HealthyRecipes101.com, where she works with her team to develop easy, nutritious recipes and help aspiring cooks choose the right kitchen appliances.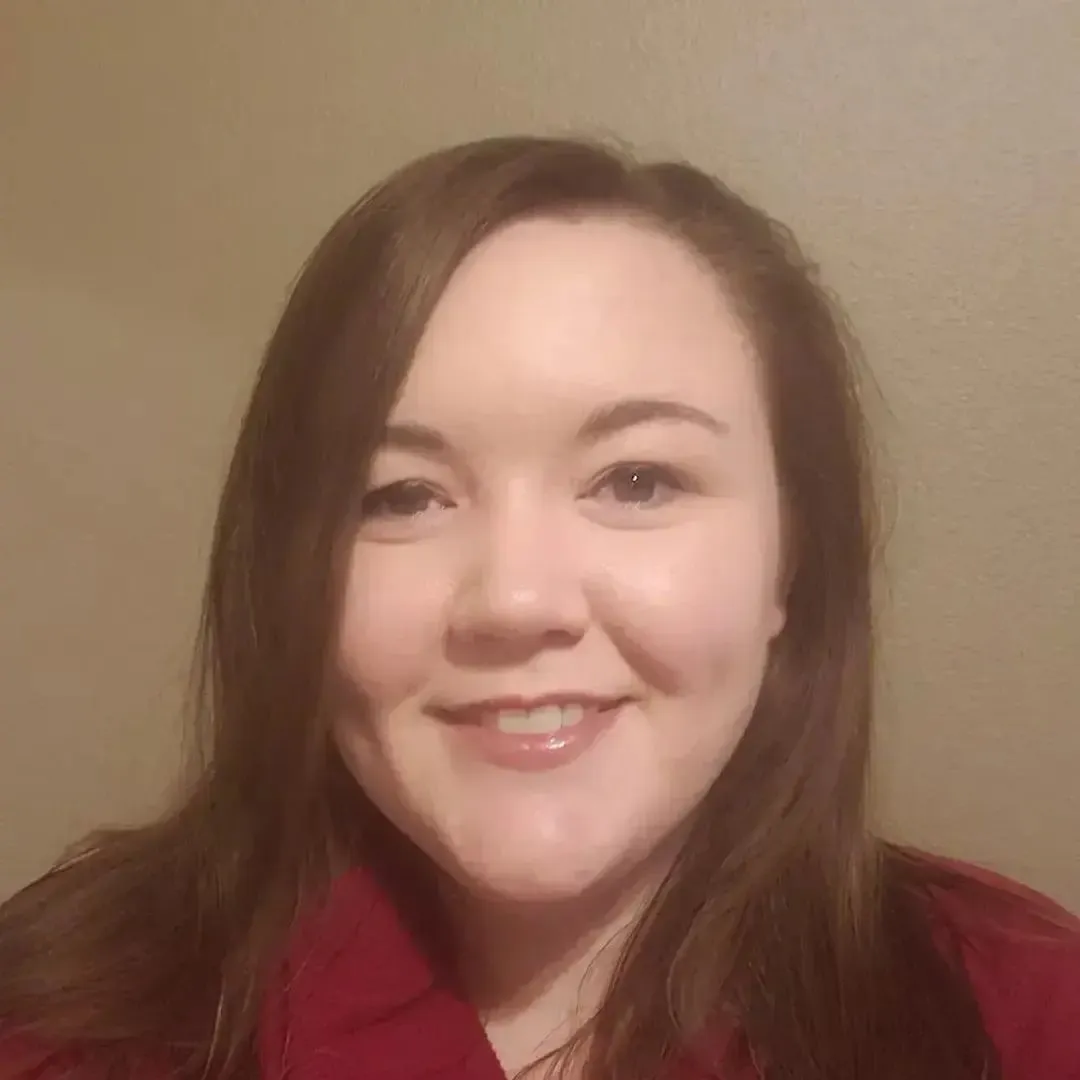 Nutrition Reviewer
SaVanna Shoemaker is a registered dietitian and freelance health and wellness writer. She's passionate about whole food-based eating and holistic nutrition, and uses her platform to help people embrace real food and reduce their sugar and processed food intake. Her work has appeared on Healthline, Greatist, Livestrong, Verywell Health, and more. In her free time, she enjoys gardening, reading, cooking, and weight lifting.
This lemongrass chicken is a flavorful and healthy way to spice up your weeknight dinner routine.