Today's honey mustard salmon recipe will help you make a tender and juicy salmon fillet flavored with a wonderful caramelized sauce. Bake your choice of vegetables on the side and the result is an impressive dinner packed with flavor and nutrition.
Is Honey Mustard Salmon Healthy?
Salmon is the star of the show and is a great source of omega-3 fatty acids, which most people lack in their diets. You can enjoy the health benefits of salmon by including it in your dinner rotation once or twice a week.
As a dish, our honey mustard salmon recipe is carefully formulated to provide you with a good amount of calories (450 calories) and protein (48 grams). It provides a good amount of energy and helps you feel full for longer.
Each serving of our honey mustard salmon is only about 7 grams of saturated fat, which is relatively low compared to other baked recipes. We also incorporate veggies into the dish to improve the nutrient content for this all-in-one recipe.
Honey Mustard Sauce for Salmon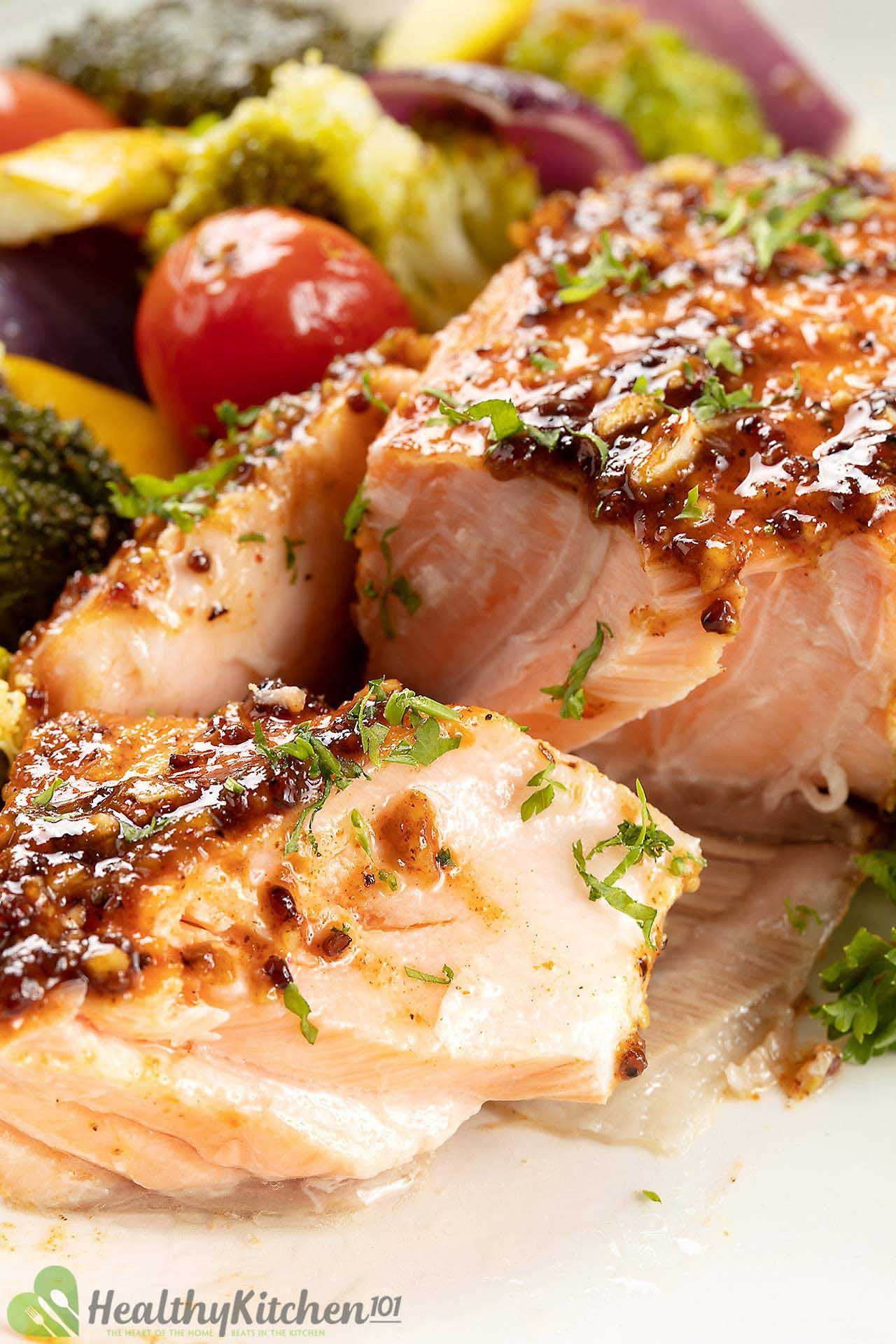 The combination of honey and mustard has become a classic for one simple reason- it's flavorful. This sauce is versatile enough to pair beautifully with protein, carbs and vegetables, as well as being suitable for dressing cold dishes or glazing baked ones.
You can go with other sauces, too, as we did with this simple teriyaki salmon recipe or this lemon and caper sauce salmon.
The simple blend of honey and mustard is gorgeous. But we decided to jazz things up a bit by adding a smoky note from paprika and adding a little spicy kick from chili powder. Feel free to modify the sauce recipe to suit your taste-add extra mustard for a stronger taste or go a little lighter on the honey.
Now you know what's in that delicious sauce, let's get on with the how-to.
How to Make Honey Mustard Salmon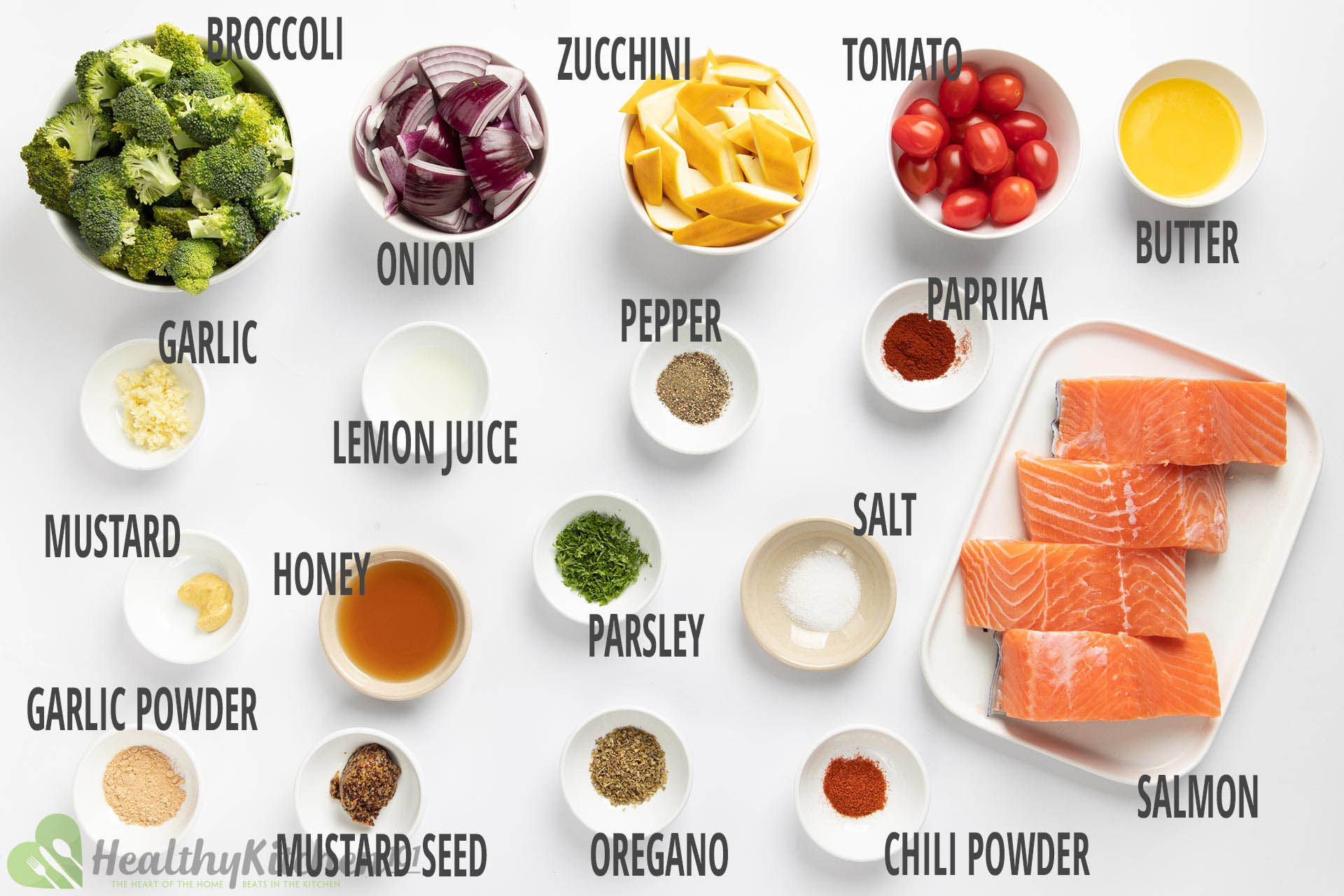 Here's a quick summary: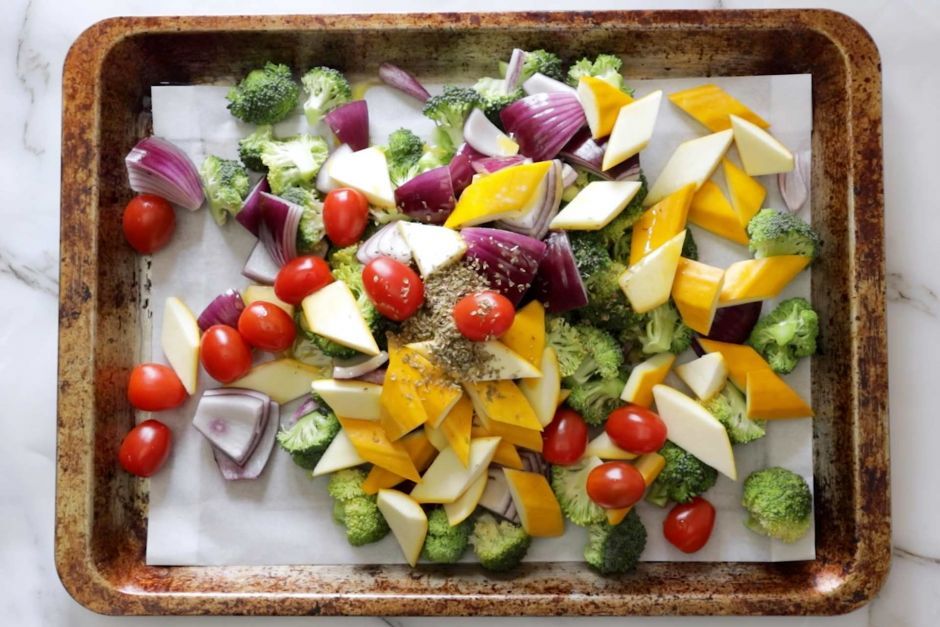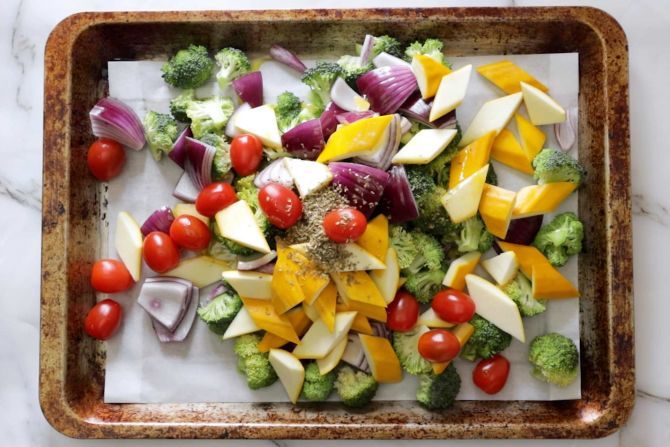 Prep the vegetables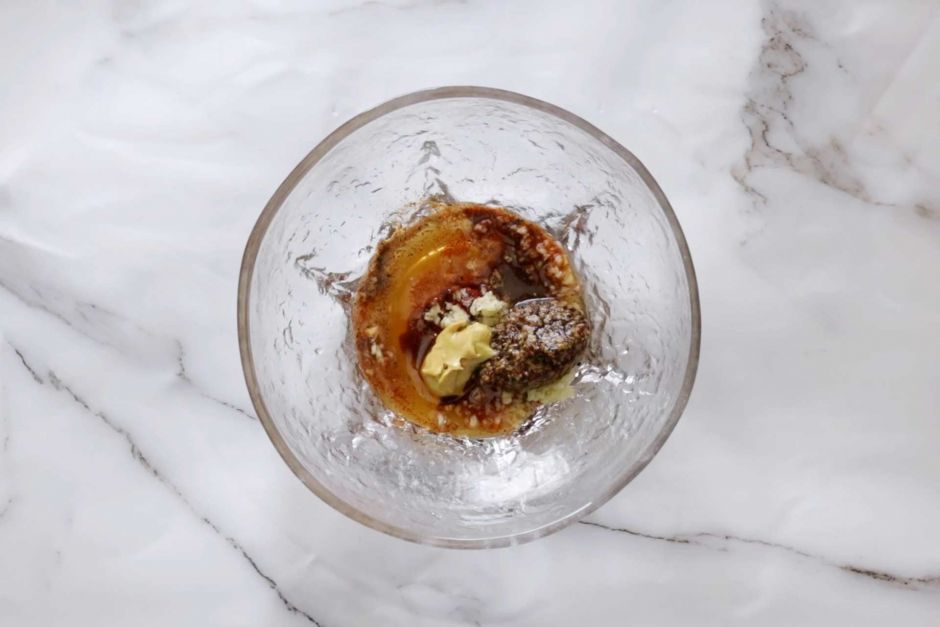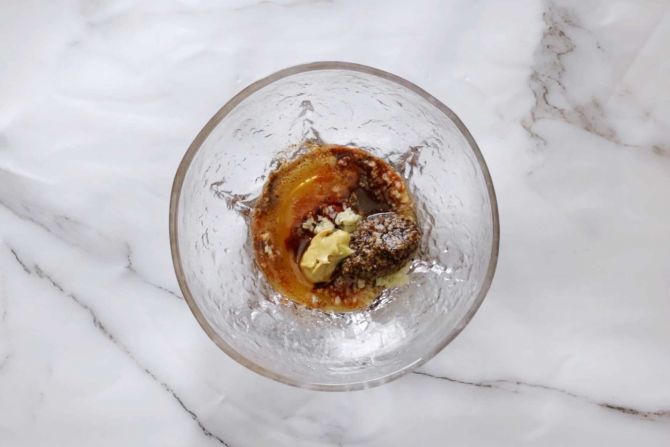 Make the honey mustard sauce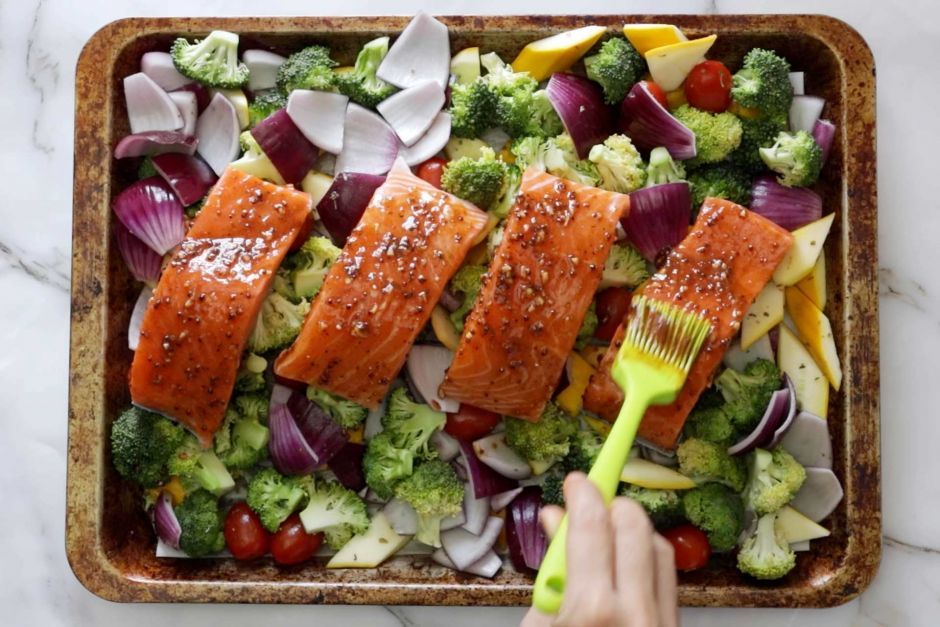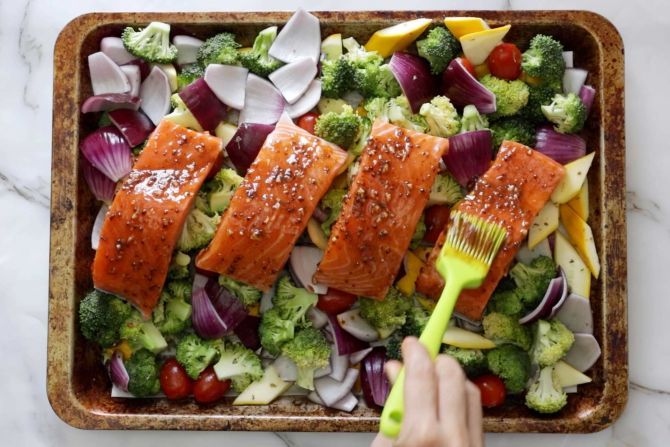 Prepare the baking sheet
First bake: Bake at 355°F for 15 minutes.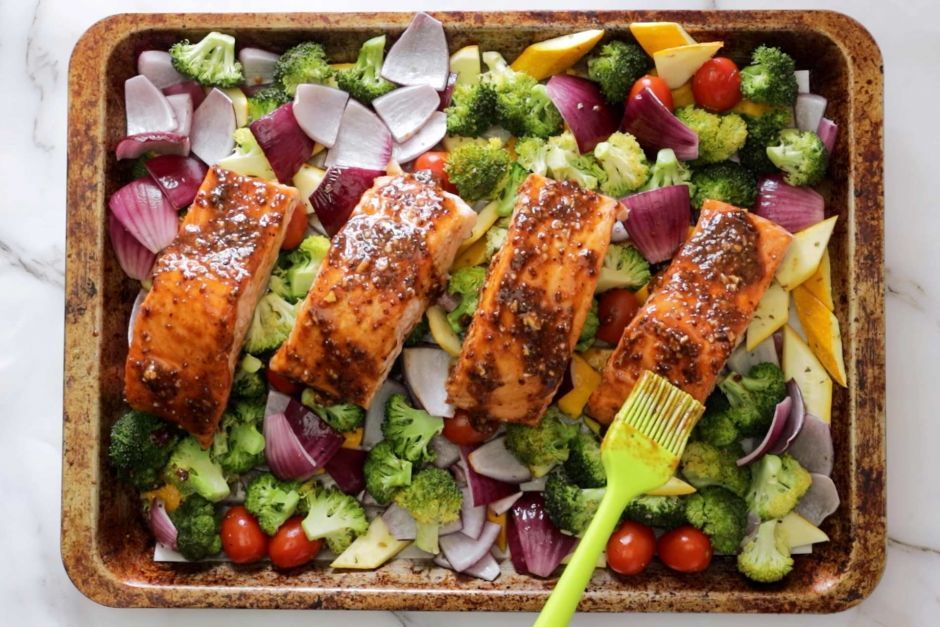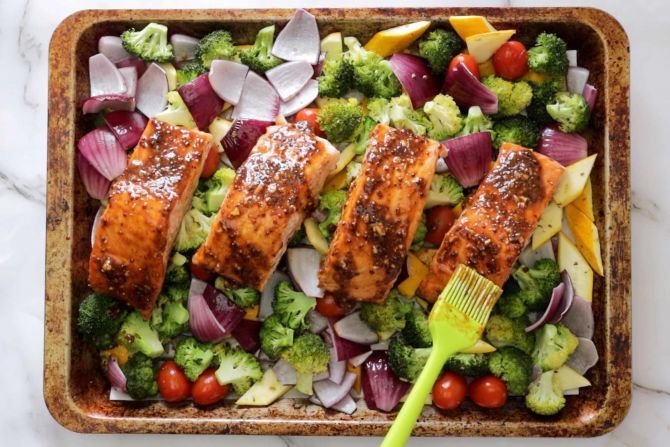 Second bake for 10 minutes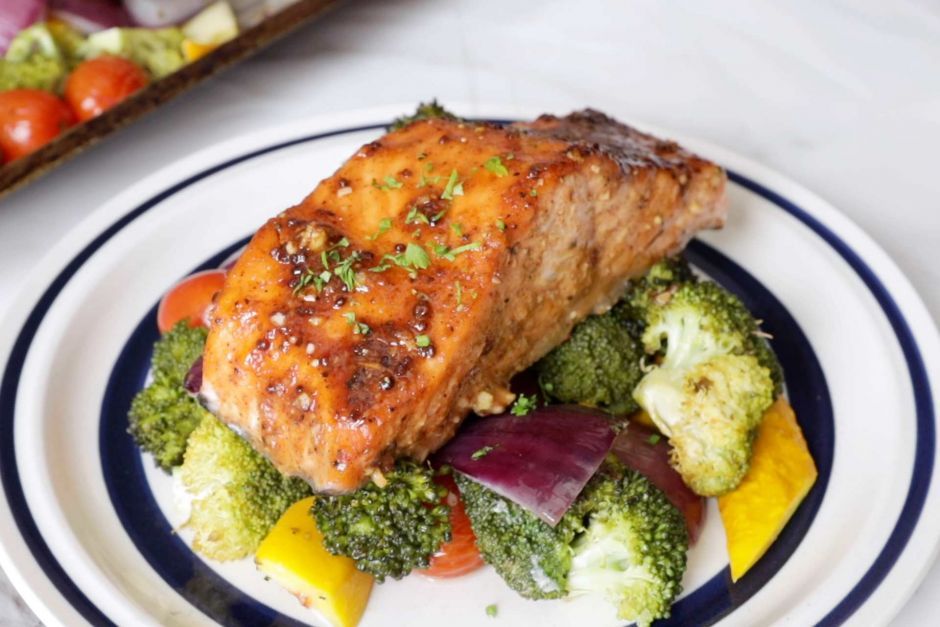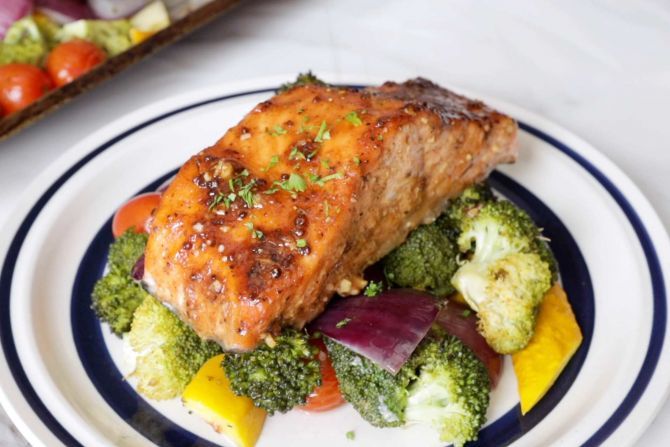 Serve
Jump to Recipe
Salmon is a great source of omega-3 and protein, so knowing how to bake it is essential to mastering this seafood choice.
It's also versatile; you can make a Tuscan butter salmon for dinner or implement a traditional French cooking method to get a delicious meal.
How Long Do You Bake Salmon?
The baking time will vary depending on the size and thickness of your salmon steak. If your steak is about 2 inches thick, it requires at least 18-20 minutes in the oven at 355°F. If it's closer to 1 inch thick, 15-17 minutes should be sufficient.
See our healthy parmesan crusted salmon and this easy, flavorful salmon dinner for more tips on baking salmon.
Protip: always check your steak at the minimum baking time so that your salmon won't end up overcooked and dried out.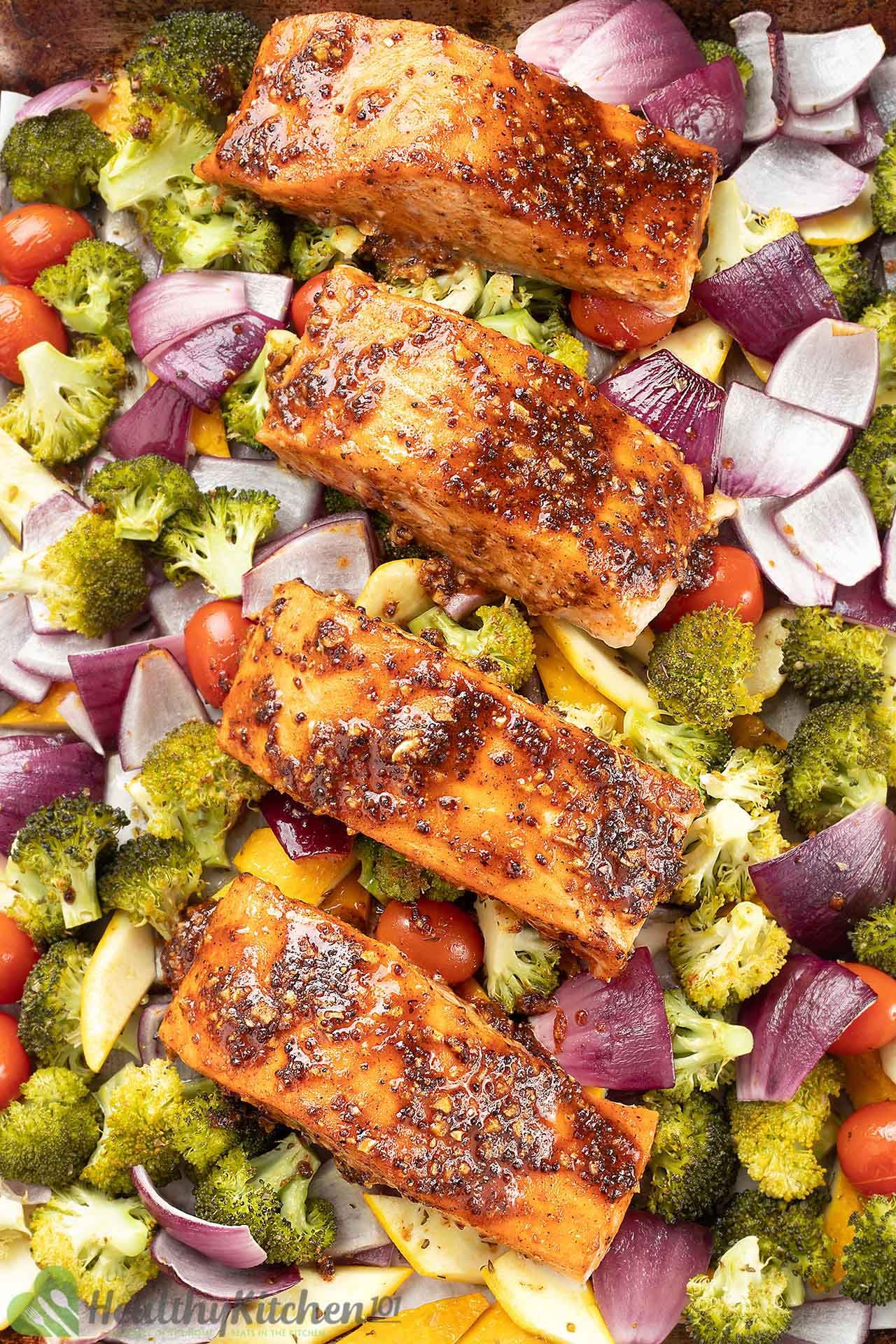 How to Test Salmon for Doneness
To do it, use a fork to gently twist the thickest part of your baked salmon piece. If the salmon begins to flake but still has a little translucency in the middle, it's ready to be served.
Cook Frozen Salmon
Fresh salmon can be difficult to find if you don't live near the ocean or lake areas. In this situation, buying frozen salmon is the only option.
The good news is that frozen salmon is not only as tasty as fresh but it can be cooked quickly too. Simply thaw it in a refrigerator the night before when you are ready to cook. The sauce should be applied after thawing so that it can stick on the surface.
Otherwise, you can omit the thawing process and season the frozen fish with your favorite kinds of seasonings. In this method, increasing the cooking time by 5 minutes to ensure the salmon is cooked evenly.
What to Serve with Honey Mustard Salmon
Honey mustard salmon is best served with pasta or salad for a wholesome and fulfilling meal. Here are some options: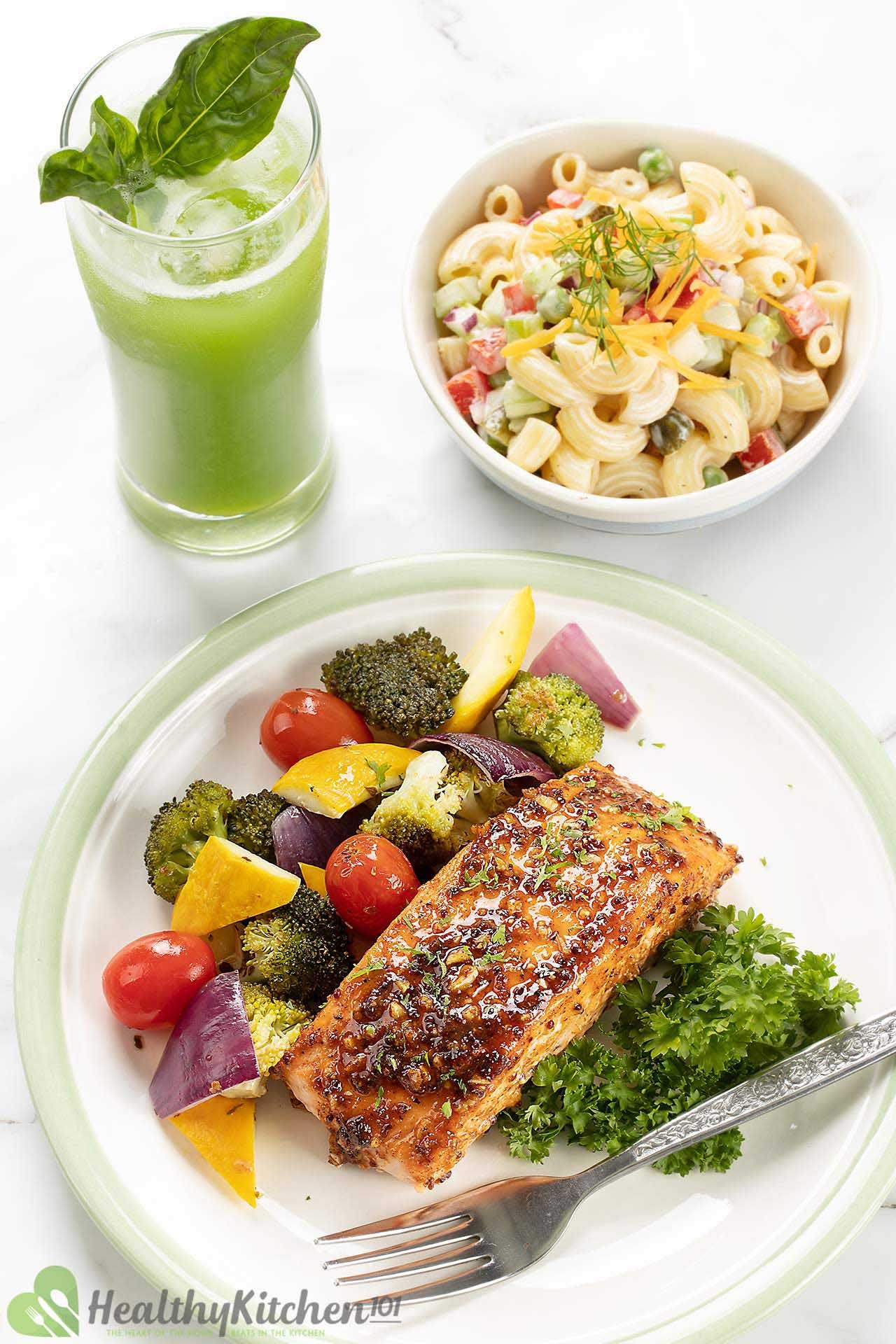 1. Grilled Vegetables
Baked, grilled, or roasted vegetables can be crunchy, juicy and bright; adding great texture and color to the dish. Sprinkle with fresh herbs like parsley or basil to enhance the flavor without overpowering the elements.
2. Salad
To create a balanced meal, try siding baked salmon with a veggie-loaded grain salad. It makes a fresh and fulfilling combination for those days you crave a quick and hearty meal.
We chose to serve our honey mustard salmon with macaroni salad and cucumber and lemon juice to create a flavorful, filling and refreshing meal. Here's how it adds up nutritionally:
Nutritional values in this table vary somewhat to those below due to different app calculations. Read more...
If you are interested in more salmon recipes, check out our salmon burger and this easy cook with broiled salmon. They are also delectable and nutritionally balanced.
More Easy Salmon Recipes: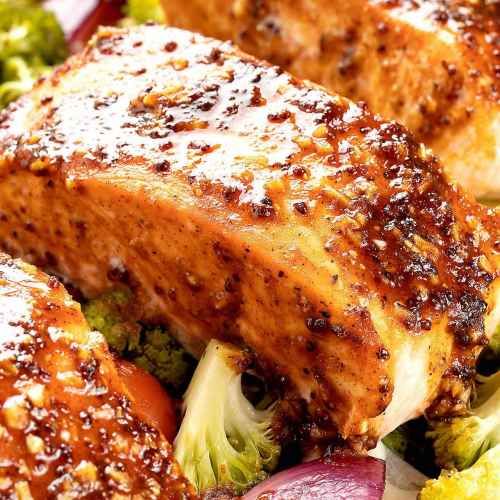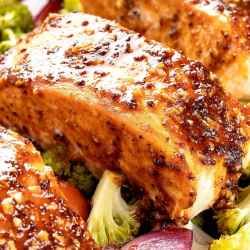 Honey Mustard Salmon Recipe
With this honey mustard salmon recipe, a nutritious and mouth-watering dinner is only a few minutes away.
Ingredients
28

oz

boneless salmon

4 x 7oz fillets

3

tbsp

unsalted butter

melted

10

oz

broccoli

chopped into 1-inch chunks

7

oz

red onion

chopped into 1-inch chunks

4

oz

cherry tomatoes

7

oz

yellow zucchini

chopped into 1-inch chunks

1

tsp

oregano

2 1/2

tbsp

honey

2

tsp

garlic

chopped

1/2

tsp

garlic powder

1/2

tsp

chili powder

1

tsp

lemon juice

1/2

tsp

paprika

1/2

tsp

salt

1/2

tsp

ground pepper

1/2

tsp

traditional Dijon mustard

1

tbsp

wholegrain mustard

1

tbsp

parsley
Instructions
Mix chopped broccoli, red onion, zucchini, and cherry tomatoes with oregano and melted butter.

Prepare the honey mustard sauce: In a small bowl, whisk together honey, garlic, garlic powder, chili powder, lemon juice, paprika, salt, ground pepper, mustard, and mustard seeds.

Line a baking sheet with parchment paper. Place the salmon fillets in the middle of the paper. Spoon half of the honey mustard sauce on the salmon, and spread it around the fish evenly. Arrange the vegetables around the salmon.

Bake at 355°F for 15 minutes.

Remove the baking sheet from the oven. Brush the remaining sauce on the salmon. Bake for another 10 minutes.

Remove from heat. Sprinkle salmon and vegetables with parsley. Serve.
Nutrition
Nutrition Facts
Honey Mustard Salmon Recipe
Amount Per Serving (1 serving)
Calories 450
Calories from Fat 171
% Daily Value*
Fat 19g29%
Cholesterol 124mg41%
Sodium 582mg25%
Potassium 1264mg36%
Carbohydrates 25g8%
Protein 48g96%
Vitamin A 1319IU26%
Vitamin C 85mg103%
Calcium 92mg9%
Iron 2mg11%
* Percent Daily Values are based on a 2000 calorie diet.