If you are looking for a hearty and fulfilling meal that you can knock up in less than an hour, our Instant Pot crack chicken recipe could be your next go-to dish. It's delicious, comforting, and requires minimal effort to make.
Best of all, it uses only simple ingredients that you may already have to hand. This family-friendly meal is excellent for those quick weeknight dinners but also perfect for weekend gatherings and International Hamburger Day (May 28).
What Is Crack Chicken?
'Crack chicken' sounds like an unusual name for a dish, and nobody really knows where it got its name. Rumor has it that the dish earned its name from tasting so good that you can't stop eating it!
In terms of ingredients, crack chicken is a delicious combination of shredded chicken, heavy cream, cheddar cheese, bacon, and seasonings of preference. It's rich, hearty, and a satisfying meal with tons of flavor in each bite.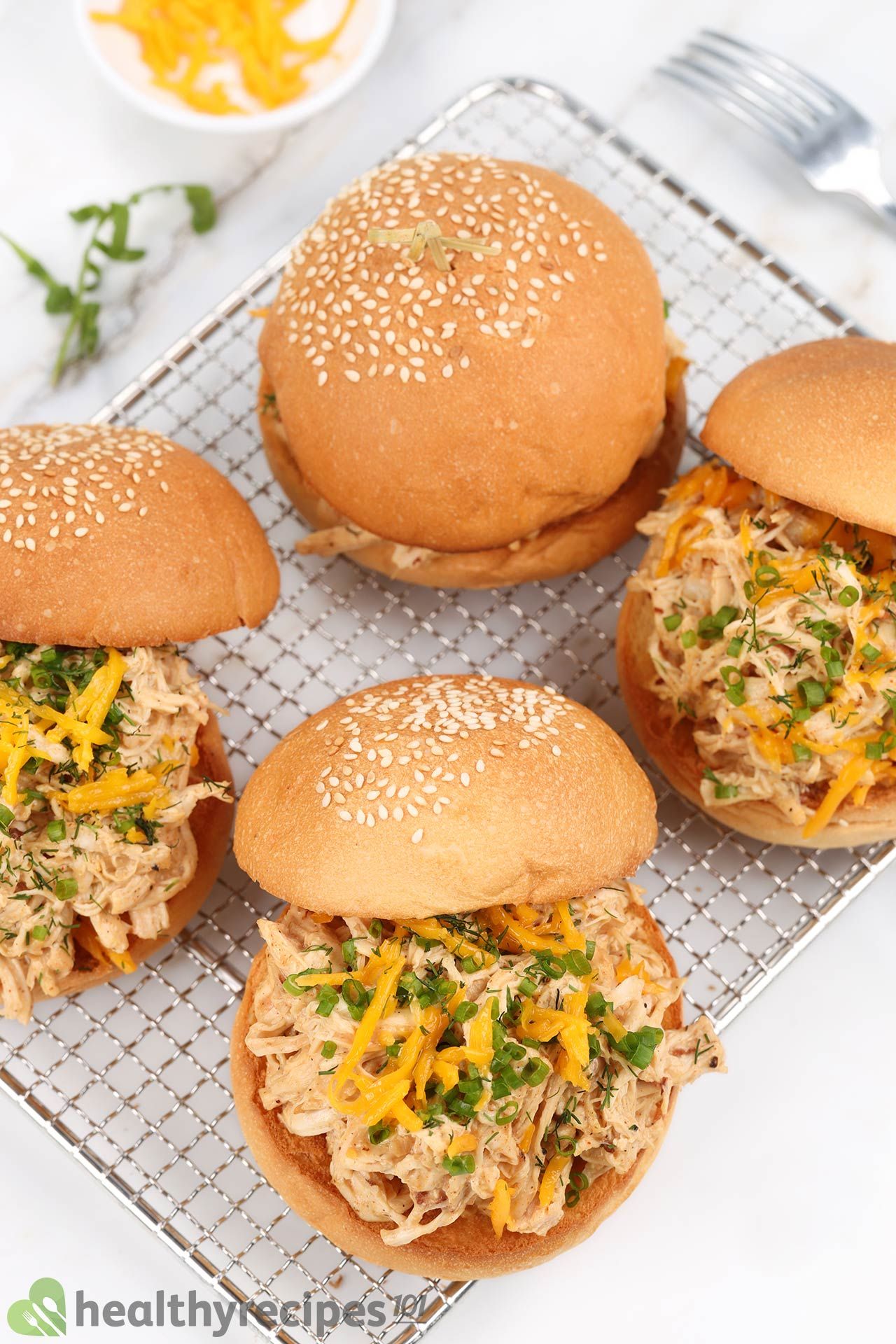 Main Ingredients for Instant Pot Crack Chicken
Chicken: We're using chicken breast in our Instant Pot crack chicken recipe, but you can also use chicken thighs as a delicious alternative.
Cheese: Bringing added texture and intensity of flavor, no crack chicken recipe would be complete without cheese. Today we're using cheddar but please feel free to substitute with another delicious melting cheese like Mozzarella, Monterey Jack, or Provolone.
Chicken Broth: Although water is perfectly okay as a base, we recommend chicken broth for an extra touch of umami.
Bacon: For the strongest flavor and most even texture, bacon should always be cooked fresh with the fat from the cooked bacon intensifying the creaminess and flavor.
Cream Cheese: Cut the cream cheese into small chunks and distribute carefully over the hot chicken for an even coating of mouthwatering melted deliciousness.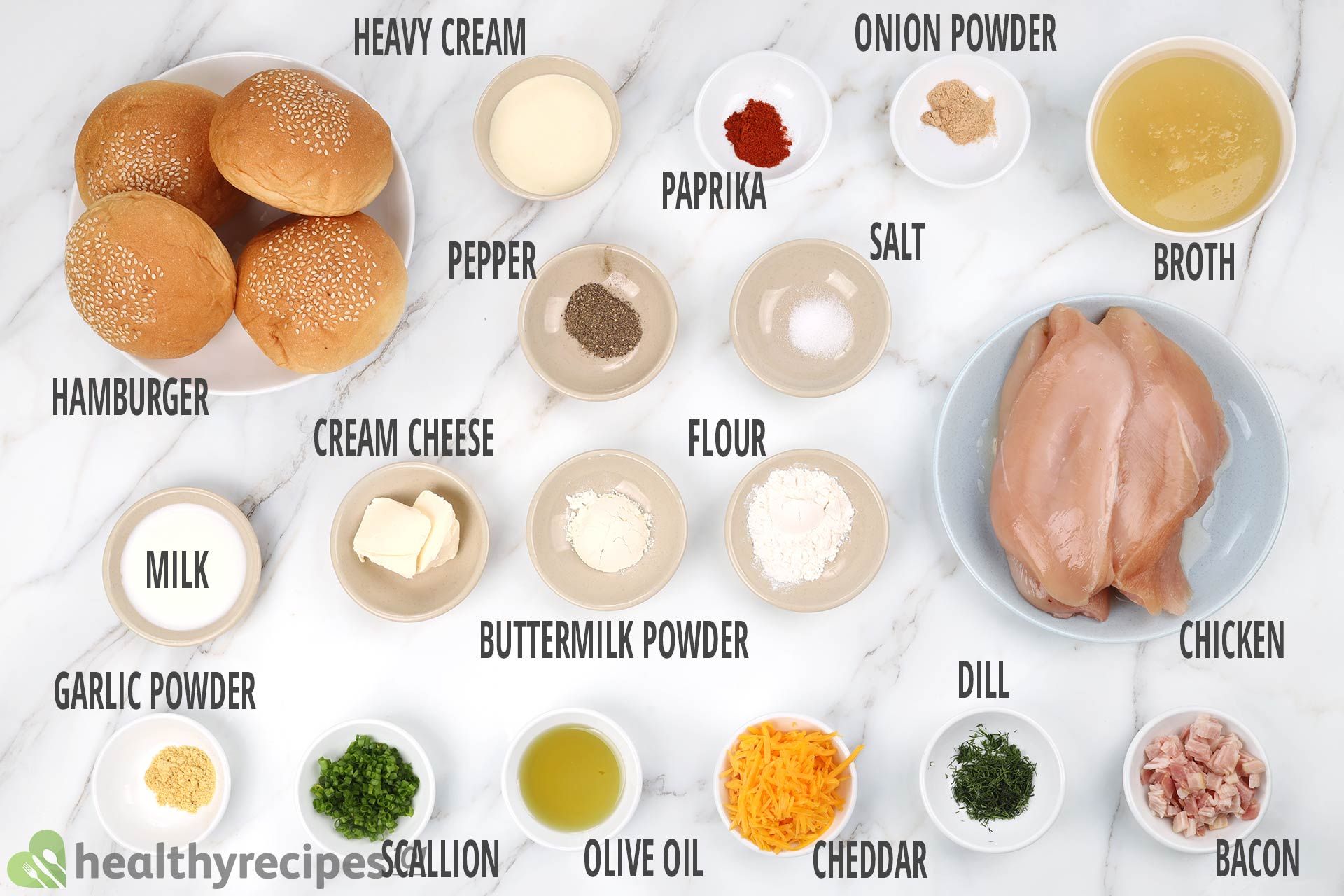 Is Crack Chicken Healthy?
Yes, our crack chicken is healthy. And here is why:
First, including the buns, each serving of our Instant Pot crack chicken contains only 501 calories. Even with a side dish, it all adds up to a 750-calorie meal.
As a suitable side dish with our crack chicken recipe, we recommend a green salad and fresh fruit juice to maximize the taste experience and provide a healthy fiber and nutrients boost.
Second, our crack chicken boasts lower levels of salt than most other crack chicken recipes you can find on the internet. With 1⁄4 teaspoon of salt in total, the dish contains only 357 milligrams of sodium per serving. A low-sodium diet is linked to many health benefits, including reduced blood pressure and a generally improved diet.
Finally, creamy foods are often considered unhealthy since they contain a high amount of saturated fat. In our crack chicken recipe, most of the fat comes from the heavy cream and cheddar cheese.
To mitigate the risk, we tested and formulated the recipe, using a recommended amount of the added dairy, without exceeding the USDA's Dietary Guidelines but still ensuring a flavorful dish.
For more Instant Pot chicken recipes, check out our Instant Pot shredded chicken recipe and all our instant pot recipes with chicken breast or this healthy instant pot dinner ideas.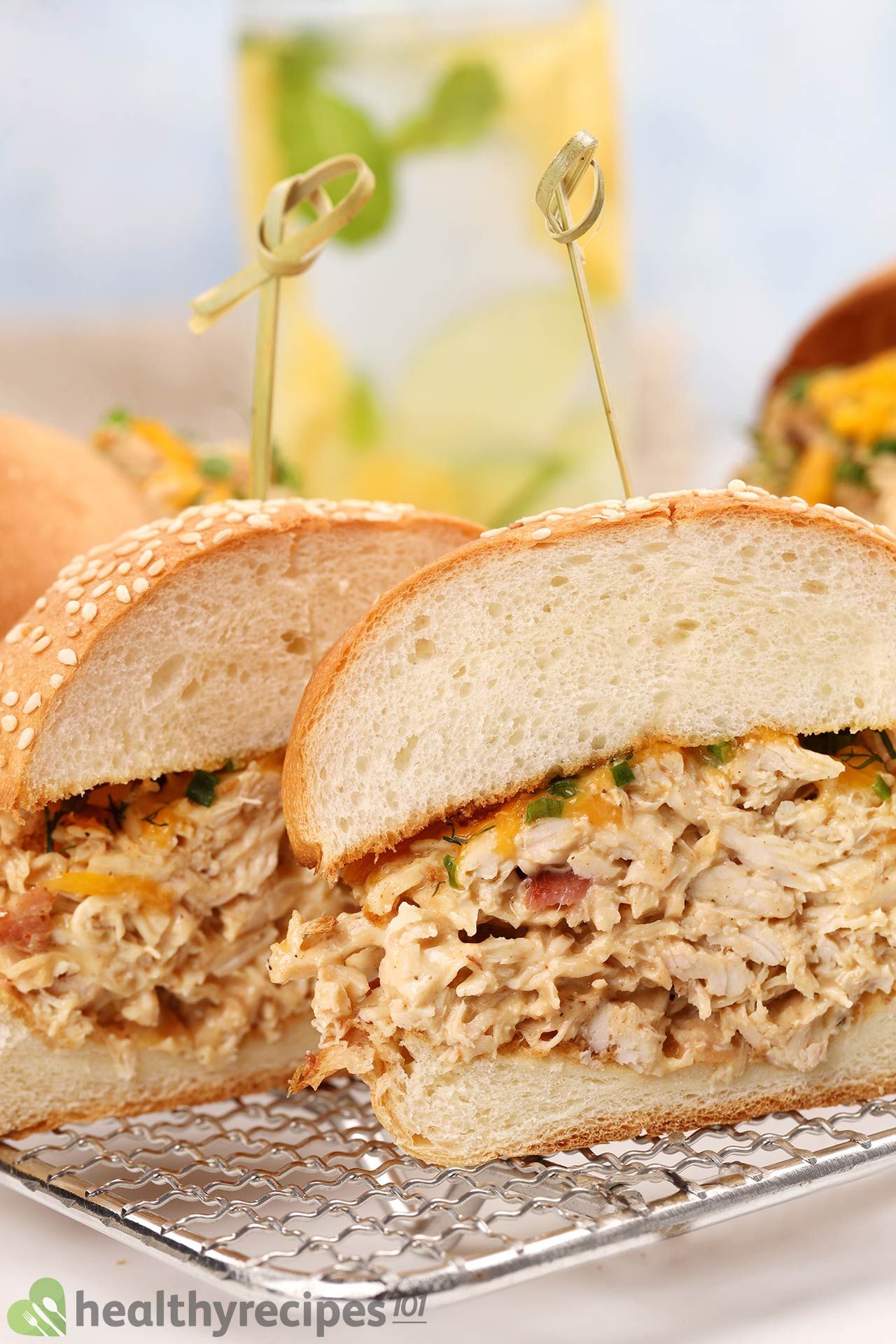 How to Make Crack Chicken in the Instant Pot
With all the ingredients gathered together, you're ready to make the dish, as follows: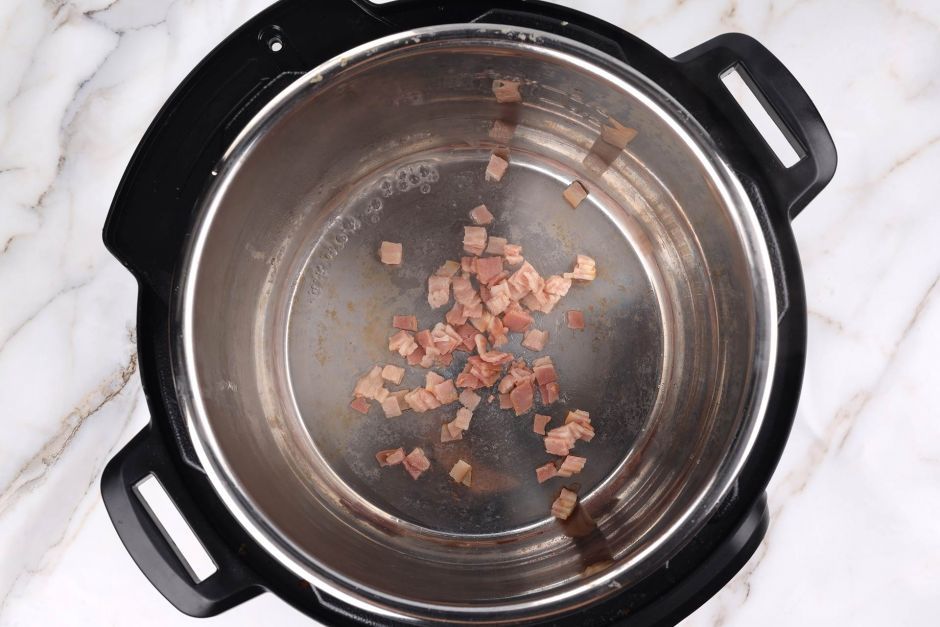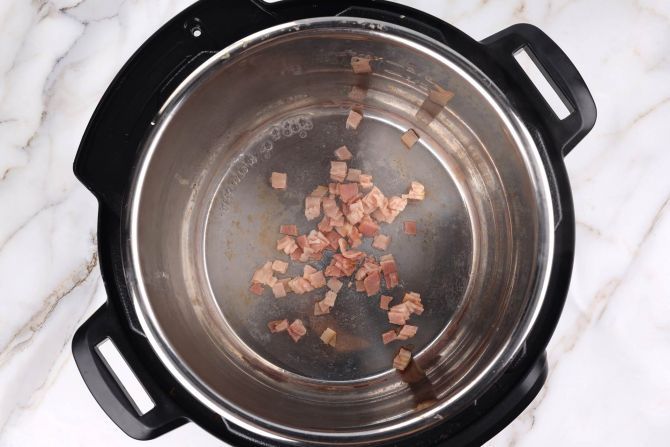 Cook the bacon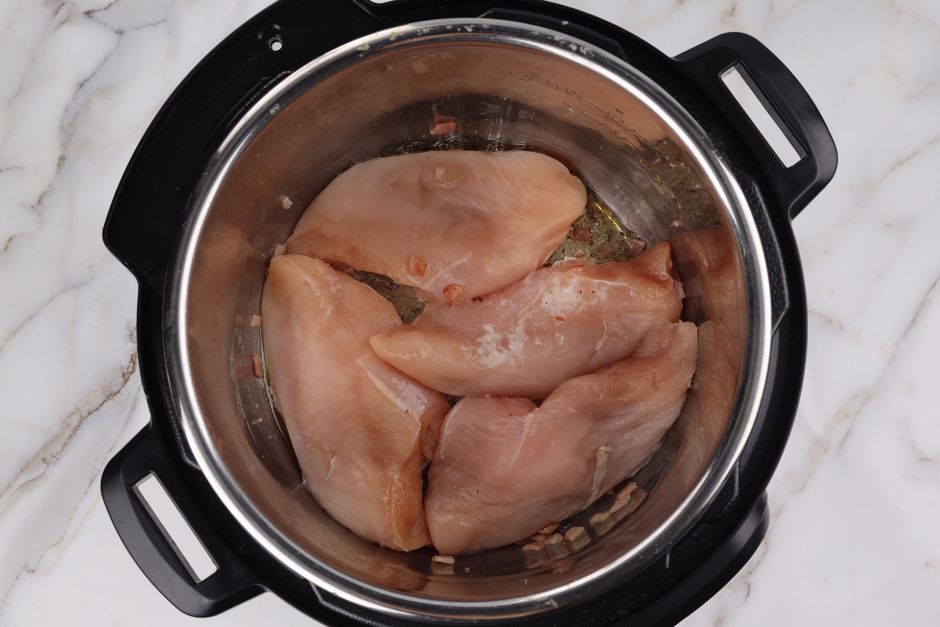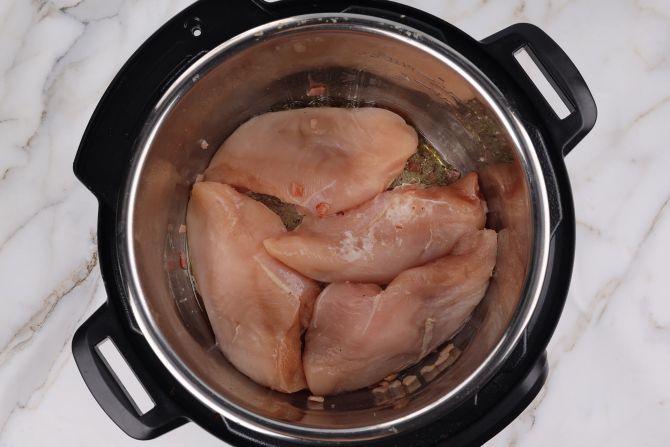 Sear the chicken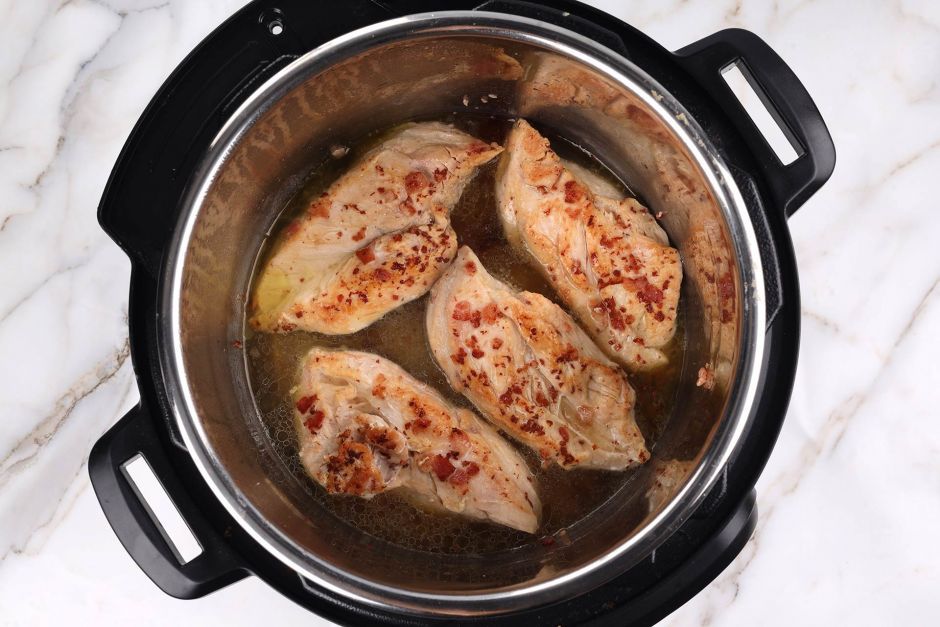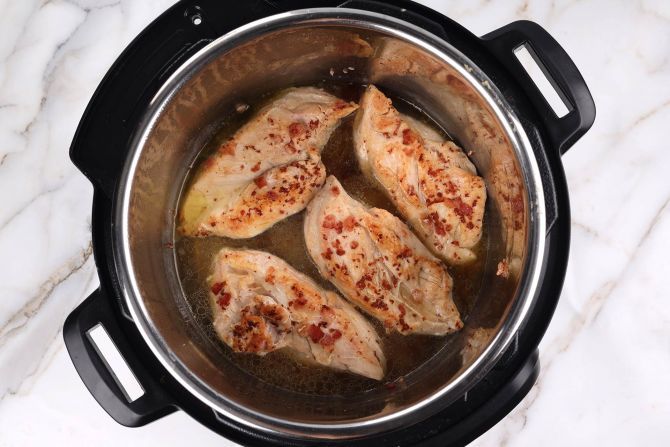 Steam the chicken in the broth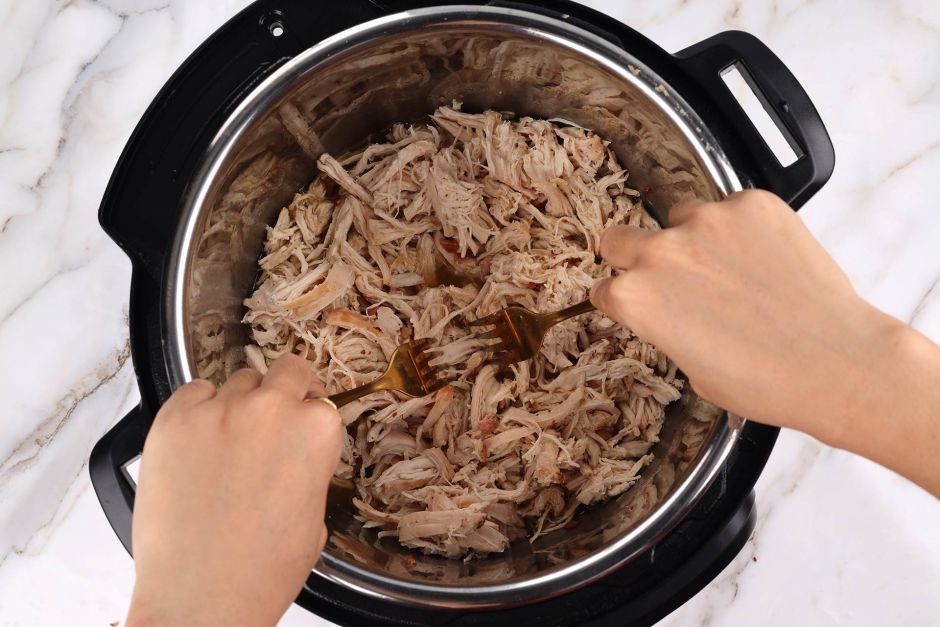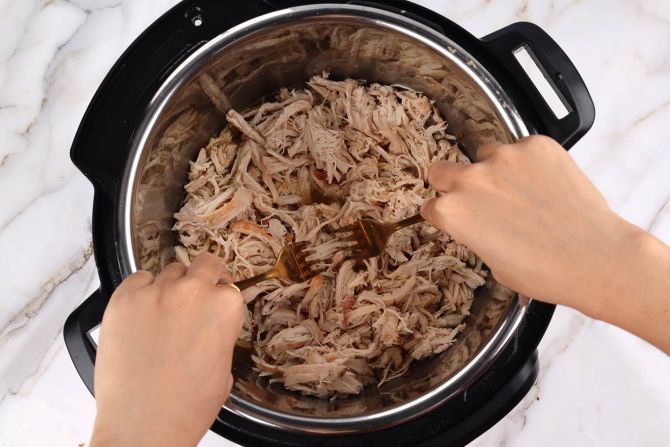 Shred the chicken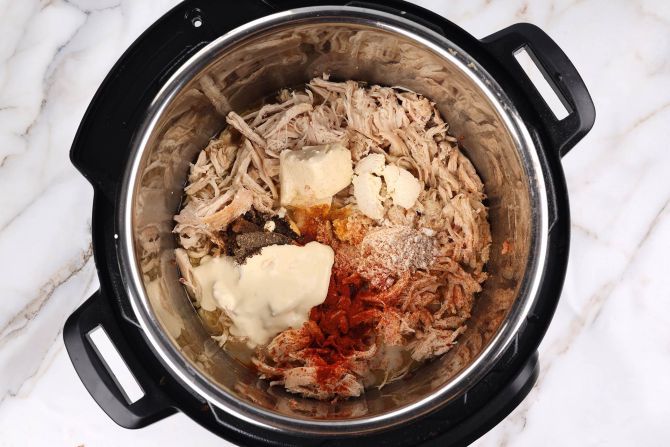 Add the milk and seasoning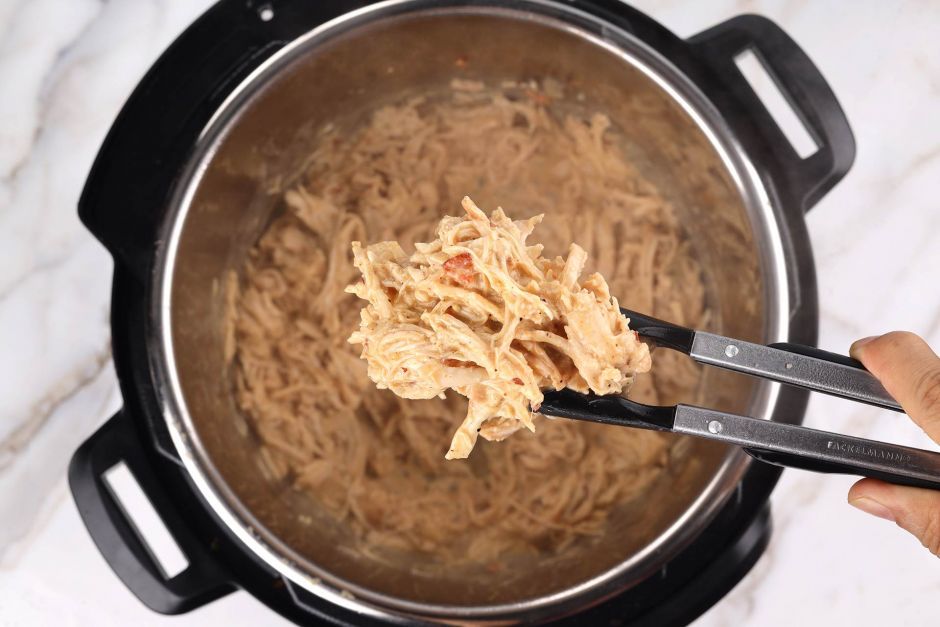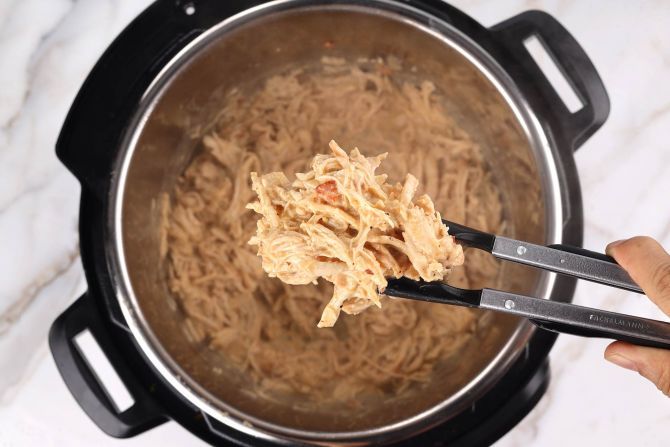 Cook the chicken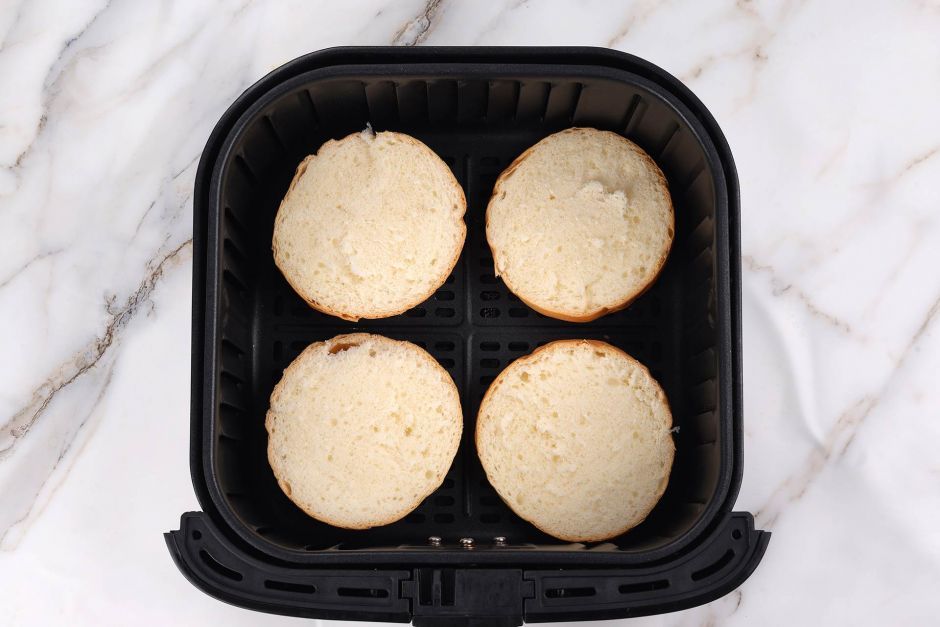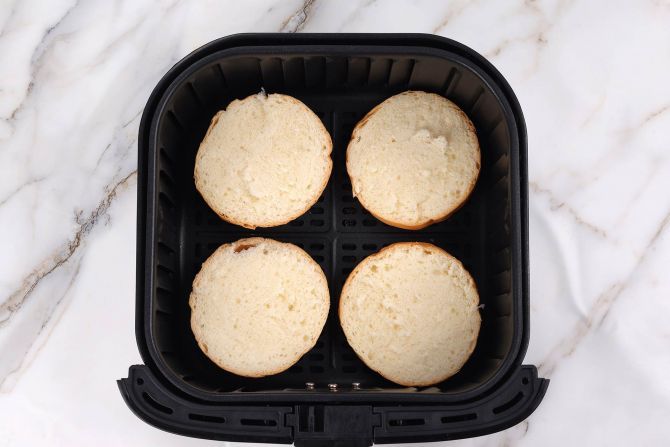 Cut and bake the buns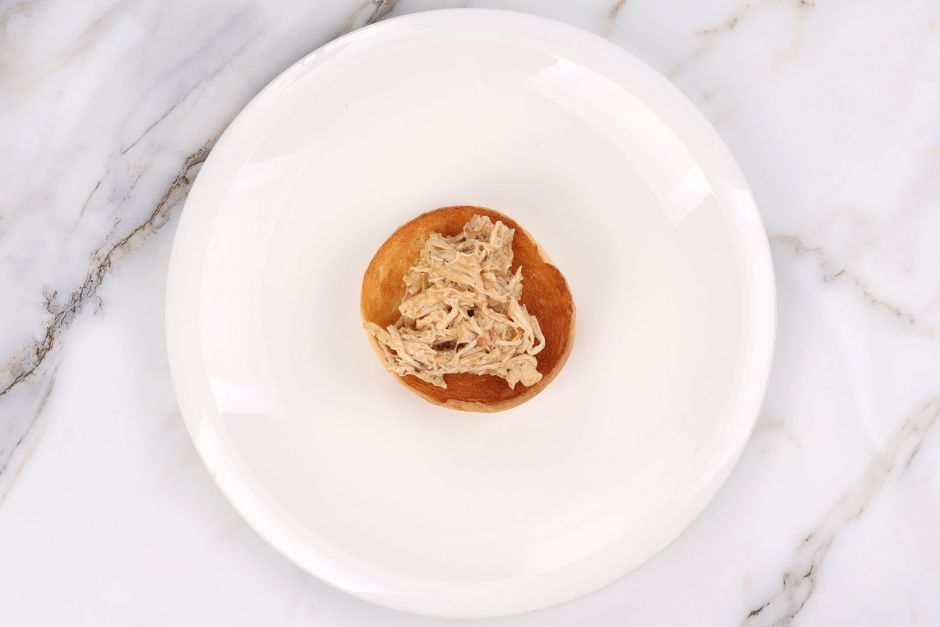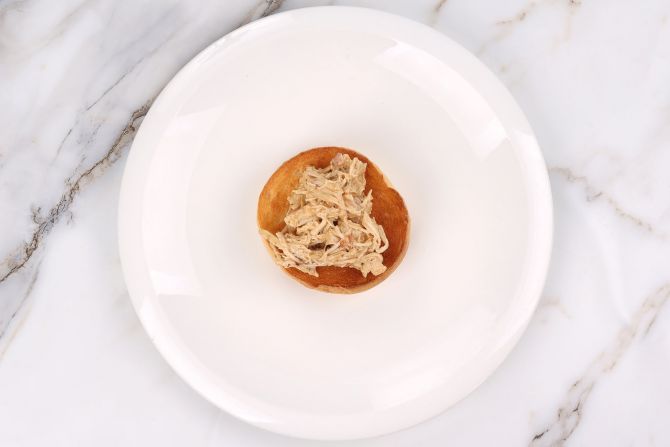 Place the shredded chicken on the buns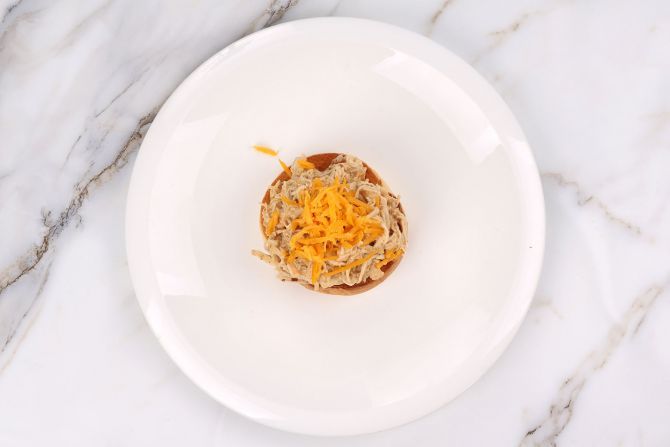 Top with the cheese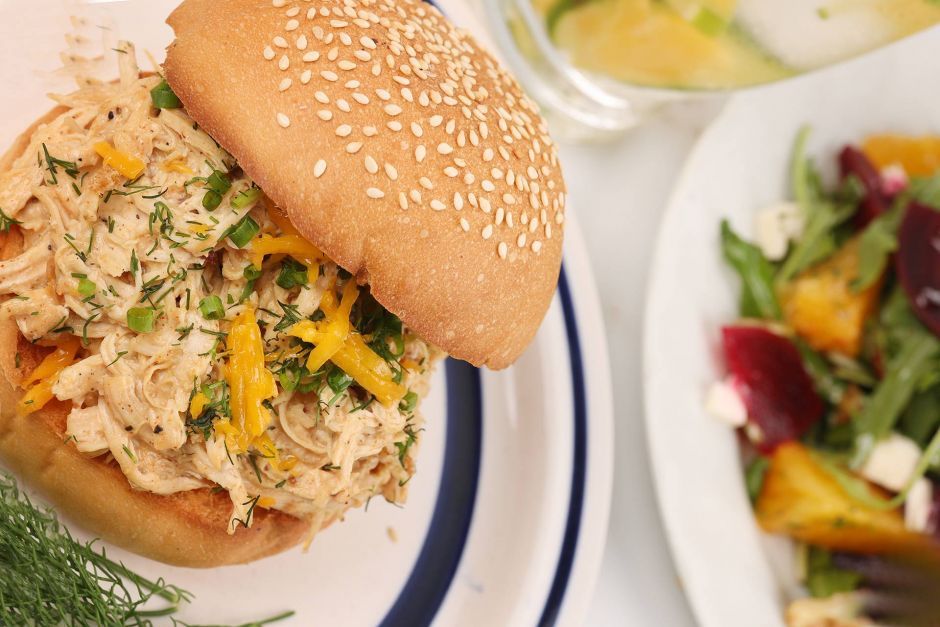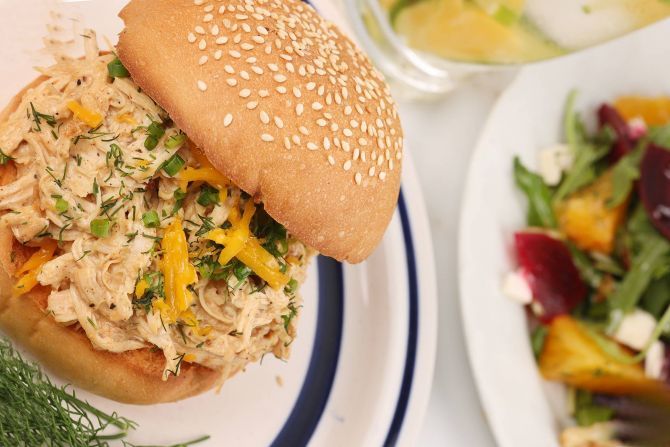 Serve
What to Do With Crack Chicken Leftover
Don't worry, if you find yourself with leftover crack chicken, it's a blessing! Of course, you could go for a second round of crack chicken with buns as your next meal, but with a few simple ideas you'll find it easy to turn that delicious chicken into an entirely new and different meal.
Reincarnating your leftover crack chicken is only a matter of imagination and what ingredients you have to hand. Here are our suggestions for leftover crack chicken:
Fried Rice: The beauty of fried rice is that anything can go in the pan. Pick your favorite vegetables and protein foods and simply stir fry the lot in a large pan or wok. This is a quick and effortless way to turn leftovers into dinner for the whole family.
Chicken Curry: Stir the leftover shredded chicken into a pot of vegetables and dairy-based broth. Warm everything up and enjoy the curry with steamed rice or a baguette.
Chicken Salad: Whether you prefer a classic chicken salad with creamy mayonnaise dressing or opt for a tangy, herby sauce, simply toss the chicken in too and you can't go wrong.
What to Serve With Crack Chicken
There are several great ways to eat crack chicken, but the most popular way is to serve this creamy shredded chicken on a bed of steamed rice. If you prefer a low-carb option, go with cauliflower rice.
Our favorite way, however, is to have our crack chicken in a sandwich. Simply place the chicken on the hamburger buns with a fresh green salad on the side for a healthy yet satisfying meal.
Nutritional values in this table vary somewhat to those below due to different app calculations. Read more...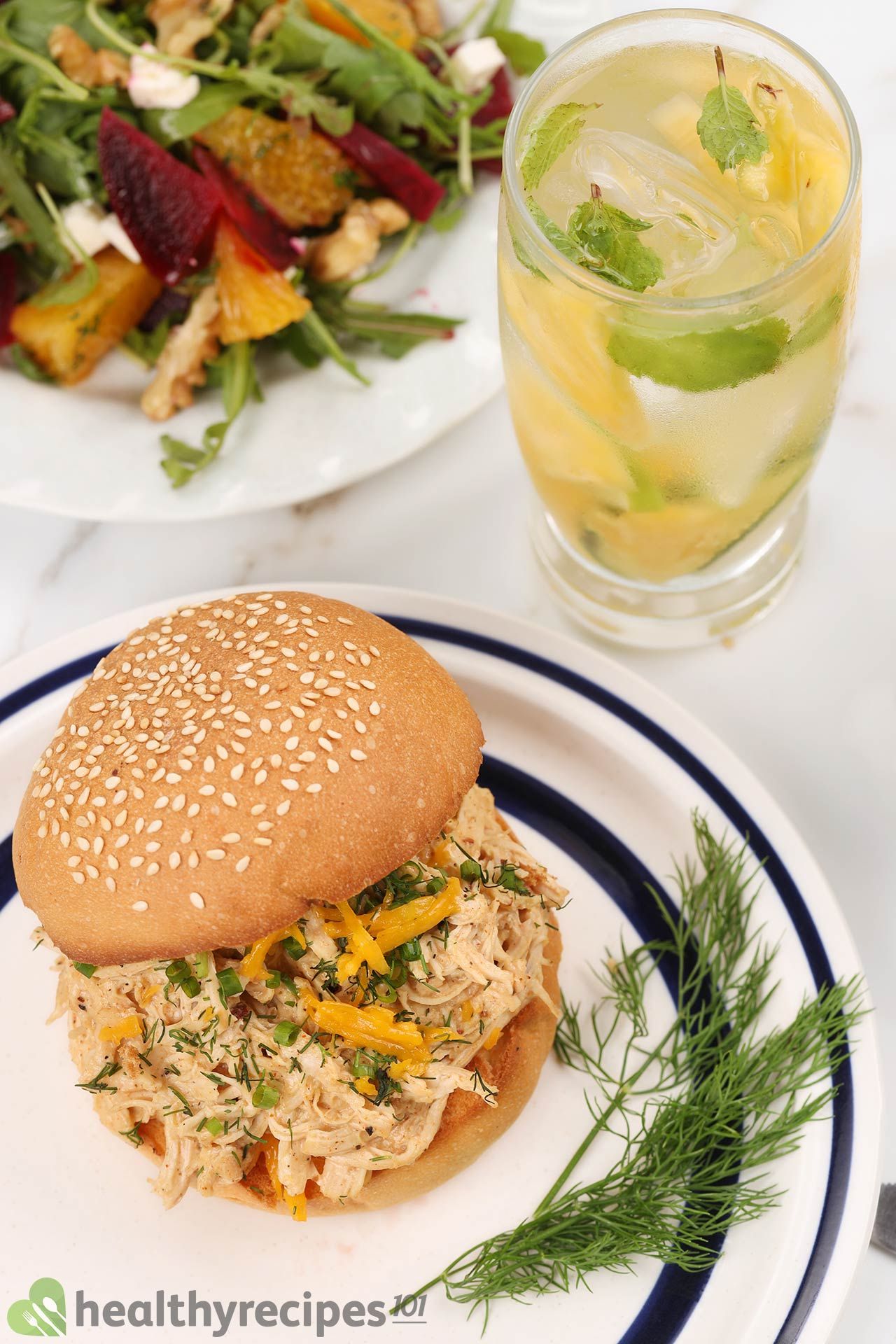 To have perfectly chicken recipes every time, check out our healthy chicken roundup or top chicken thigh recipes.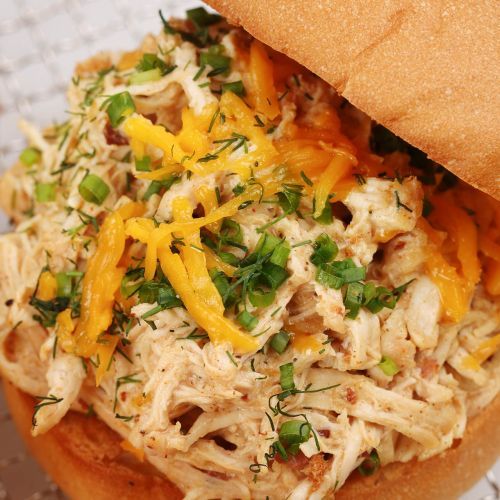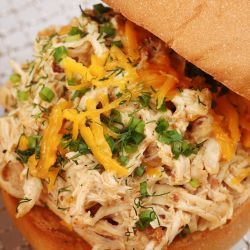 Instant Pot Crack Chicken Recipe
Our Instant Pot crack chicken recipe takes all the cooking time out of this popular dish and makes it a super easy, hearty dinner for busy days.
Ingredients
1

oz

cured bacon

chopped

1

tbsp

olive oil

24

oz

skinless boneless chicken breast

1

cup

unsalted chicken broth

1/4

tsp

salt

1

oz

cream cheese

1/2

tsp

garlic powder

1/2

tsp

onion powder

1

tbsp

buttermilk powder

1/2

tsp

ground pepper

2

tbsp

milk

3

tbsp

heavy cream

1

tbsp

all-purpose flour

1/2

tsp

paprika

1

oz

cheddar cheese

2

tbsp

green scallions

chopped

1

tbsp

dill

chopped
Instructions
Turn on sauté mode on your Instant Pot, and cook 1 oz bacon for 1 minute.

Pour 1 tbsp olive oil into the pot and sear the chicken on both sides, about 2 minutes for each side.

Pour in 1 cup unsalted chicken broth, secure the lid and set your Instant Pot to steam mode for 10 minutes.

Carefully release the pressure, and use 2 forks to shred the chicken.

Turn on sauté mode again, add in 1/4 tsp salt, 1 oz cream cheese, 1/2 tsp garlic powder, 1/2 tsp onion powder, 1 tbsp buttermilk powder, 1/2 tsp ground pepper, 2 tbsp milk, 3 tbsp heavy cream, 1 tbsp flour, and 1/2 tsp paprika. Stir to combine.

Cook the chicken for another 12 minutes to thicken the broth. Turn off the Instant Pot.

Cut the hamburger buns in half, place them in the air fryer and bake at 380℉ in 2 minutes.

Divide the chicken mixture evenly among the buns.

Top with the cheese, dill, and scallions.

Serve.
Nutrition
Nutrition Facts
Instant Pot Crack Chicken Recipe
Amount Per Serving (1 serving)
Calories 502
Calories from Fat 189
% Daily Value*
Fat 21g32%
Cholesterol 157mg52%
Sodium 547mg24%
Potassium 652mg19%
Carbohydrates 27g9%
Protein 43g86%
Vitamin A 228IU5%
Vitamin C 1mg1%
Calcium 83mg8%
Iron 1mg6%
* Percent Daily Values are based on a 2000 calorie diet.