This orange pomegranate juice recipe is a harmonious blend of sweetness and tanginess from the two fruits.
In this recipe, we will show you two ways to make these fruit juices— with a juicer and with a cheesecloth. It takes more work with the cheesecloth, but in return, the juice will come out clearer and more appealing.
How Healthy is Our Orange Pomegranate Juice?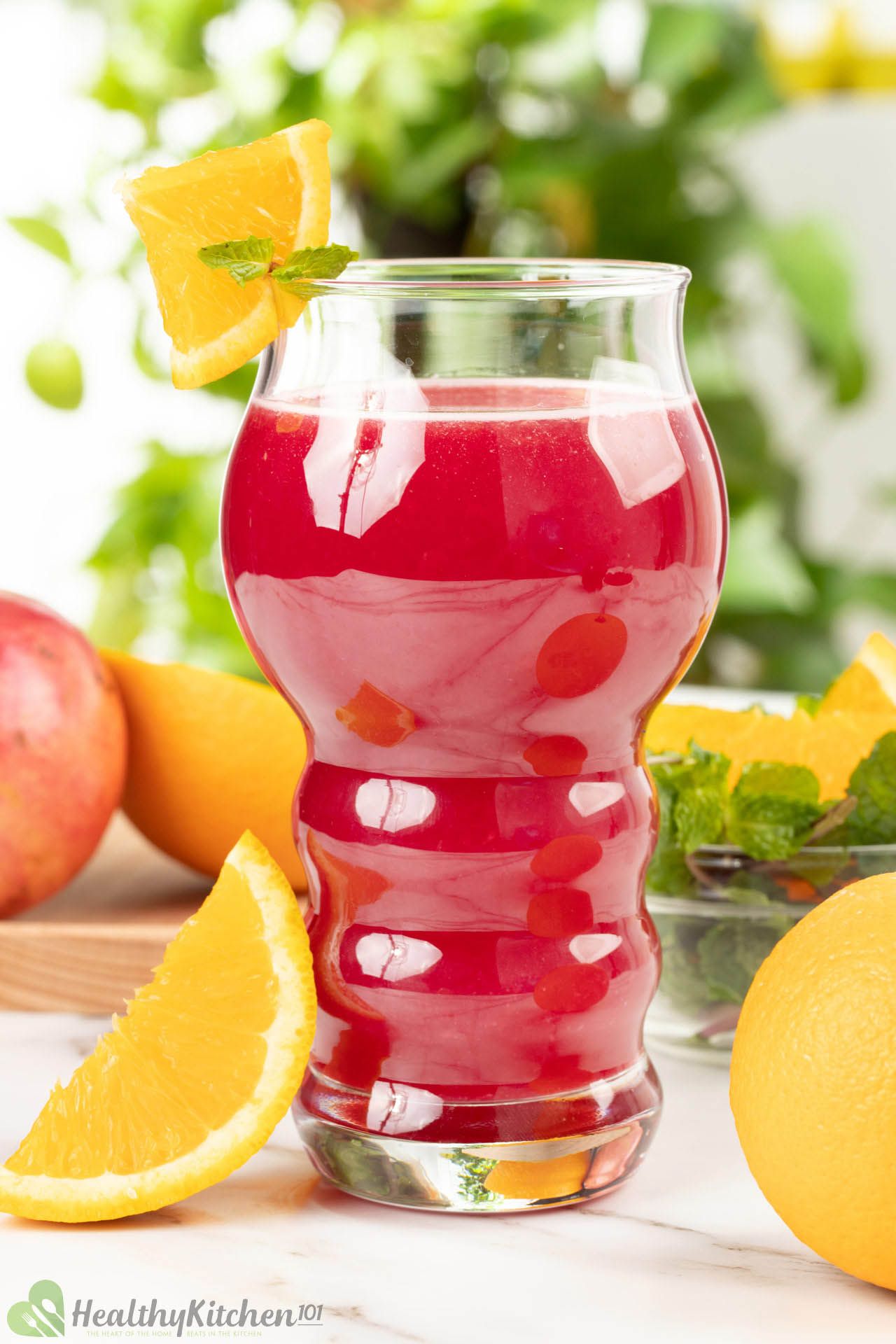 Our orange pomegranate juice recipe is one of the many healthy recipes we recommend on this site. It adheres to our healthy eating guidelines, inspired by the USDA's dietary guidelines and approved by our prestigious nutritionist. We have numerous health-conscious recipes that you can try, like this sweet, tangy fresh orange pineapple juice or our healthier version of sparkling orange juice.
To begin with, each glass of this drink yields less than 100 calories. We prefer drinks with calories under 250 so the larger portion of your daily calories come from whole foods.
For juices, we take the sugar content into serious consideration. As regulated by the USDA, one should consume less than 10% of calories per day from added sugar.
Since pomegranate juice is naturally sweet, we only added 3 grams of sugar per serving to balance the flavor. This translates to 12 calories, around 0.4%-0.5% of the daily amount of calories we recommend.
Even when it comes to cocktails, our drink with orange juice and rum is an example of how we always regulate sugar, alcohol, and ultimately calories.
Most of the calories in this orange pomegranate juice recipe are from fruit sugar, accounting for 88% of the total calories. This is why homemade juice beats the kind sold in cans or bottles; you know exactly what's in it.
1. Orange Pomegranate Juice for Healthy Skin
Your body cells constantly suffer from oxidative stress caused by free radicals that emerge from metabolic processes or external sources. They can accelerate the aging process of your skin or cause conditions like skin inflammation.
Antioxidants like vitamin C in oranges, or polyphenols in pomegranate seeds can reduce the effects of oxidative stress. Specifically, they can improve your skin condition and slow down the aging process.For more juice recipes that are packed with vitamin C, check out our easy orange juice recipes here.
2. Does Orange Pomegranate Juice Clean Arteries?
"It does" would be a bold claim to make. However, pomegranate juice does have positive effects on the arteries.
For starters, antioxidants in oranges and pomegranates can help protect the artery walls against radical damage, enhancing their durability.
Furthermore, vitamin C specifically is found to lower the rate of LDL oxidation, the main cause of artery plaque formation. Regular and sufficient intake of vitamin C is therefore linked to plaque removal.
However, vitamin C is not the cure for atherosclerosis or related diseases. It is strongly recommended to adopt a healthy lifestyle, rather than develop the preventable disease.
How to Make Orange Pomegranate Juice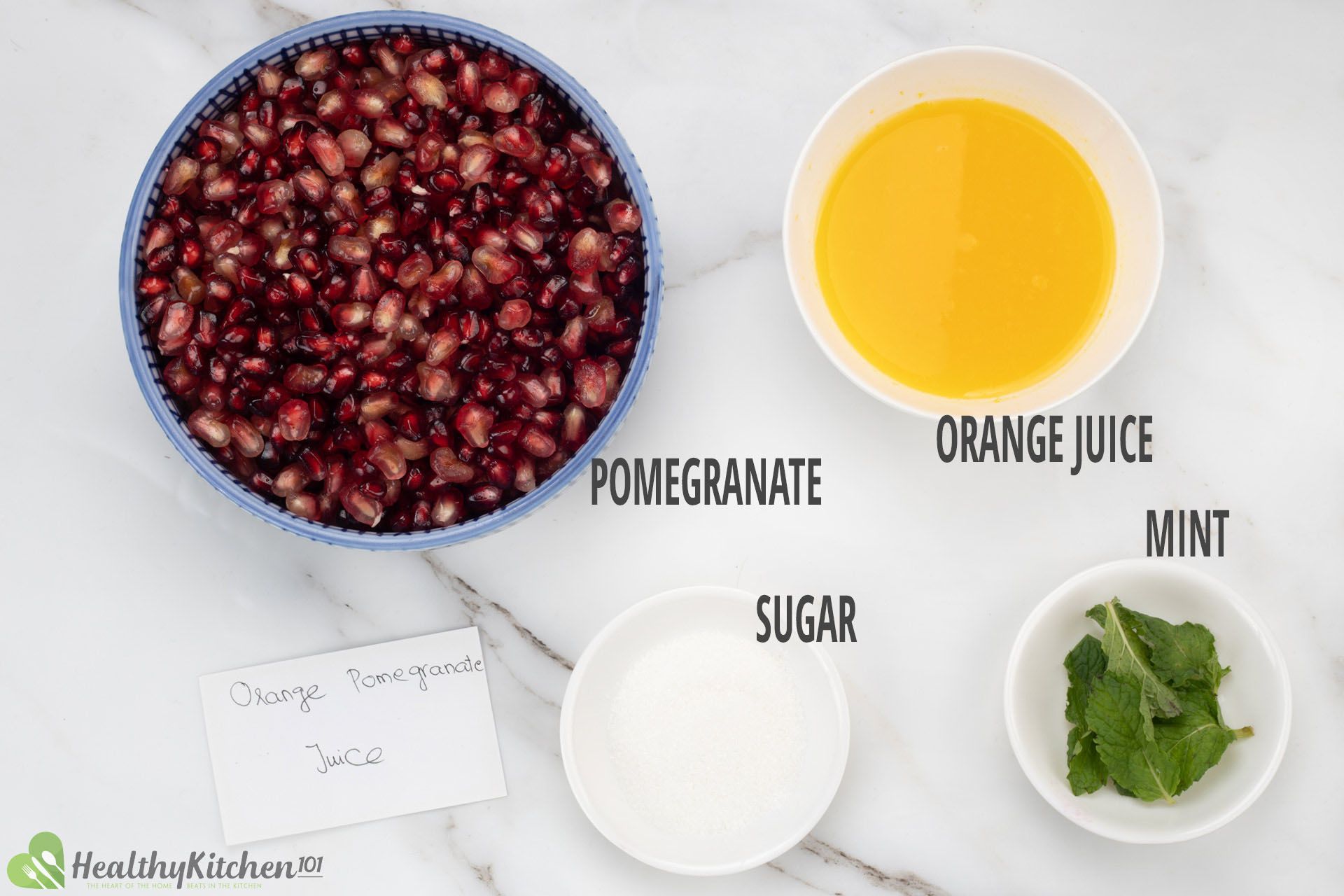 Here is our step-by-step orange pomegranate juice recipe:
1. How to Juice Pomegranate and Orange
To juice an orange, slice it in half and squeeze the juice out into a large bowl. If you have an orange juicer, things will be easier.
Juicing pomegranate seeds with a juicer is really straightforward. Simply place fruits in the machine, press the button, and collect the juice.
However, your juicer will also extract the impurities in the pomegranate seeds, leaving you with a cloudy batch of juice.
To get clear, gorgeous juice, you will need a large piece of cheesecloth. Place pomegranate seeds in it, grab the corners, and twist to extract the clear juice.
It may take more time and strength, but the results are really rewarding.
For more healthy pomegranate drinks to put into your collection, check out this article.
2. Steps to Make This Juice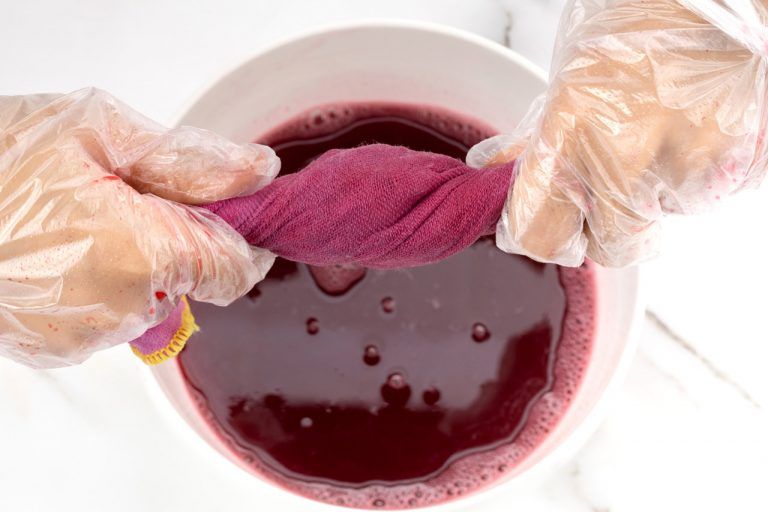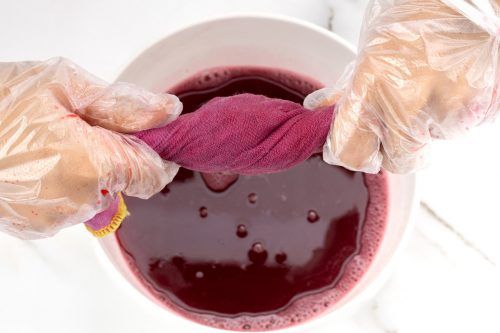 Setting up, twist and wring: Place a piece of cheesecloth on a sieve over a medium bowl. Add a handful of pomegranate seeds onto the cheesecloth, grab it by the corners, and start wringing. The juice coming out should be very clear.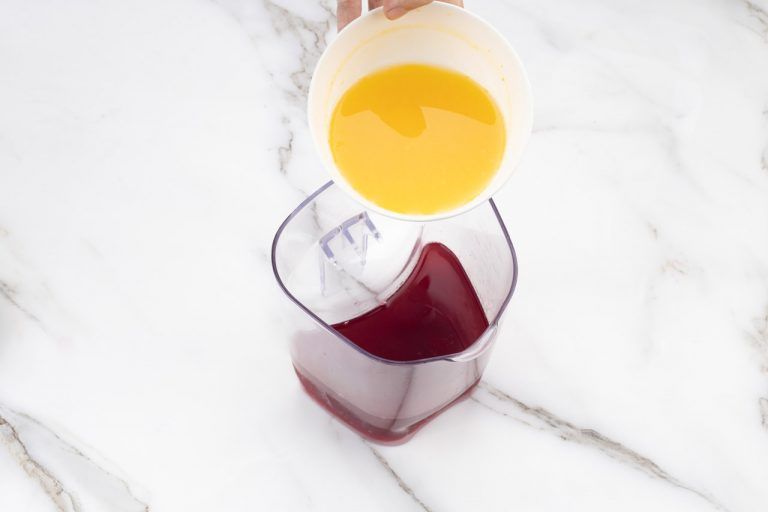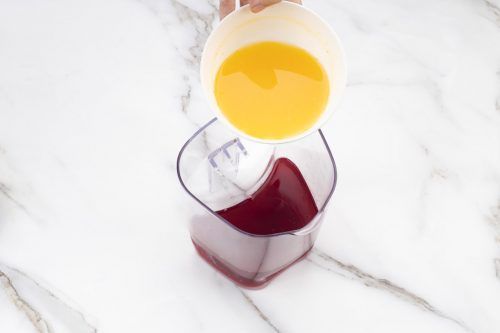 Mix: Add pomegranate juice and orange juice to a large pitcher and stir in sugar.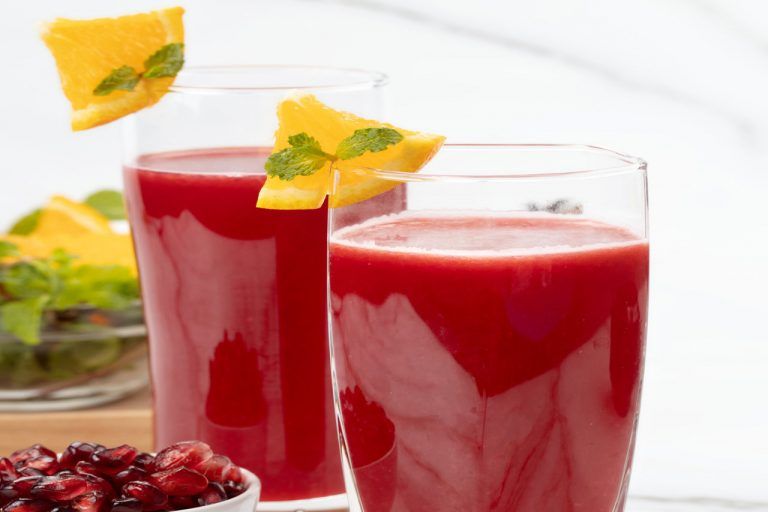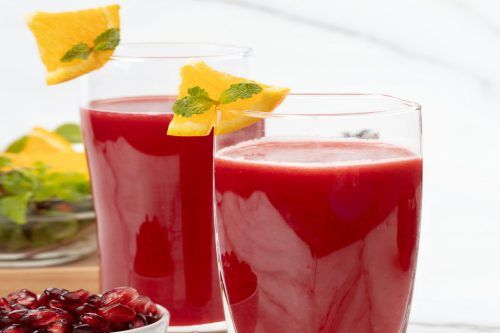 Serve: Pour the juice into serving glasses and decorate with mint leaves. Add ice and serve.
And that is it! Clean your cheesecloth with warm water and save it for next time. Meanwhile, enjoy your beautiful glass of juice and maybe brag to your friends about your stunning, non-synthetic beverage.
What Fruit Goes Well with Pomegranate?
Often, pomegranate juice is drunk as-is, with or without a little sugar. Mixing the juice with another ingredient is a nice idea, but that ingredient needs to be selected carefully.
Since pomegranate has a light fragrance, we don't want any addition to overpower it. Fruits with mild, light scents like berries and citruses are recommended.
You can also try coconut water and pomegranate juice. They taste great on their own and even more wonderful together.
Besides fruits, you can reduce pomegranate juice with sugar to get a thick sauce, then serve it with soda. It makes a tasty soft drink, but is made with 50% natural ingredients.
View our top delicious juice recipes for more healthy juice.
How Long Does Pomegranate Juice Last?
Fresh juices can be kept for 24 hours, covered and refrigerated. However, within the first 2 hours after making, discoloration slowly takes place and leaves your juice less attractive.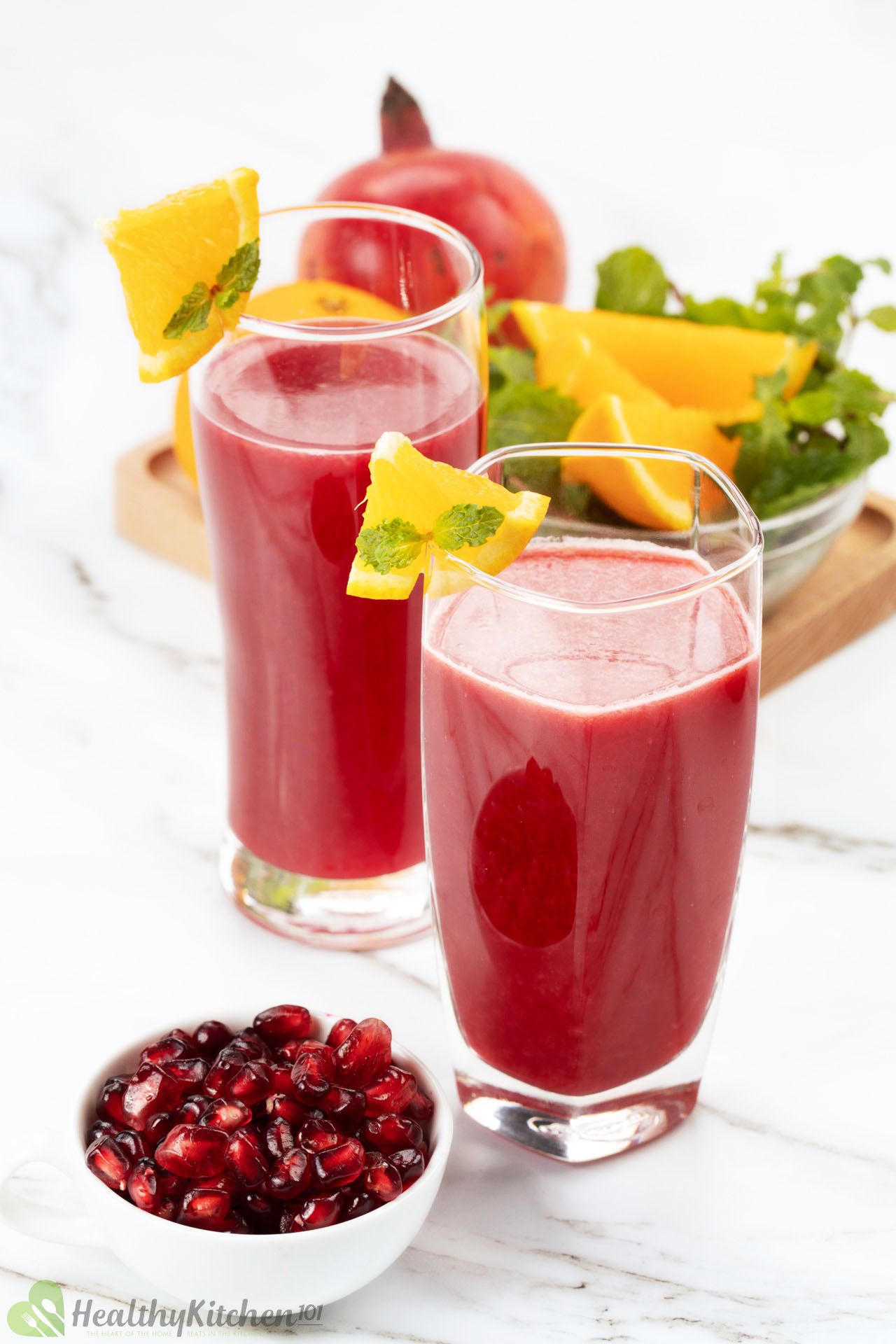 As the juice is extracted, cells within the fruit also break open and release an enzyme called "phenolase." This enzyme oxidizes the vitamin C present in most fruits and darkens the juice with time.
So, your juice is still safe to drink after 2 hours, but no longer possesses its original beautiful hue. We recommend you use the juice within 2 hours to get the best experience.
If you enjoy creating delicious mixes, you can have a go at making a sweet beverage from milk here or attempt our alcoholic drink with orange juice.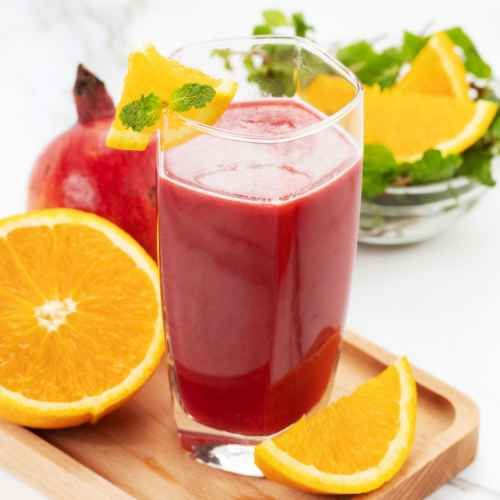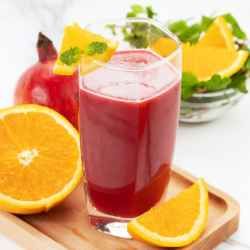 Orange Pomegranate Juice Recipe
This orange pomegranate juice recipe only takes 10 minutes to make. It may also take some elbow grease, but the result is really rewarding (and gorgeous, too!)
Ingredients
4

fl oz

orange juice

(about 8 oz orange)

12

oz

pomegranate

1

tbsp

sugar

2

tbsp

mint leaves

1

cup

ice
Instructions
Place a piece of cheesecloth on a sieve over a medium bowl.

Add a handful of pomegranate seeds onto the cheesecloth, grab it by the corners, and start wringing. The juice coming out should be very clear.

Combine the pomegranate and orange juice in a large pitcher and stir in sugar.

Pour the juice into serving glasses and decorate with mint leaves. Add ice and serve.
Nutrition
Nutrition Facts
Orange Pomegranate Juice Recipe
Amount Per Serving (1 serving)
Calories 97
Calories from Fat 9
% Daily Value*
Fat 1g2%
Sodium 6mg0%
Potassium 263mg8%
Carbohydrates 22g7%
Protein 2g4%
Vitamin A 96IU2%
Vitamin C 24mg29%
Calcium 12mg1%
Iron 1mg6%
* Percent Daily Values are based on a 2000 calorie diet.