Today's pesto shrimp recipe adds a delicious and gorgeous main dish to your meal plans. Succulent shrimp are nicely coated with a thick and herby pesto sauce and served alongside roasted potato wedges and cherry tomatoes.
Get a taste of pesto sauce with this incredible recipe.
What Does Pesto Sauce Taste Like?
Pesto sauce is originally from Genoa, Italy. The sauce is mainly herby and bright thanks to the herbs. The signature flavors of olive oil and garlic come through and make it richer, while the cheese and nuts add hints of saltiness and nuttiness.
There are a lot of alternatives that you can use for the ingredients of pesto.
Spinach is our choice in this recipe, but you can go with kale, arugula, or watercress.
Instead of basil, you can use parsley, tarragon, mint, or coriander. Their flavors won't be the same because each herb has its signature flavor. However, you can experiment to find what fits best with your tastes.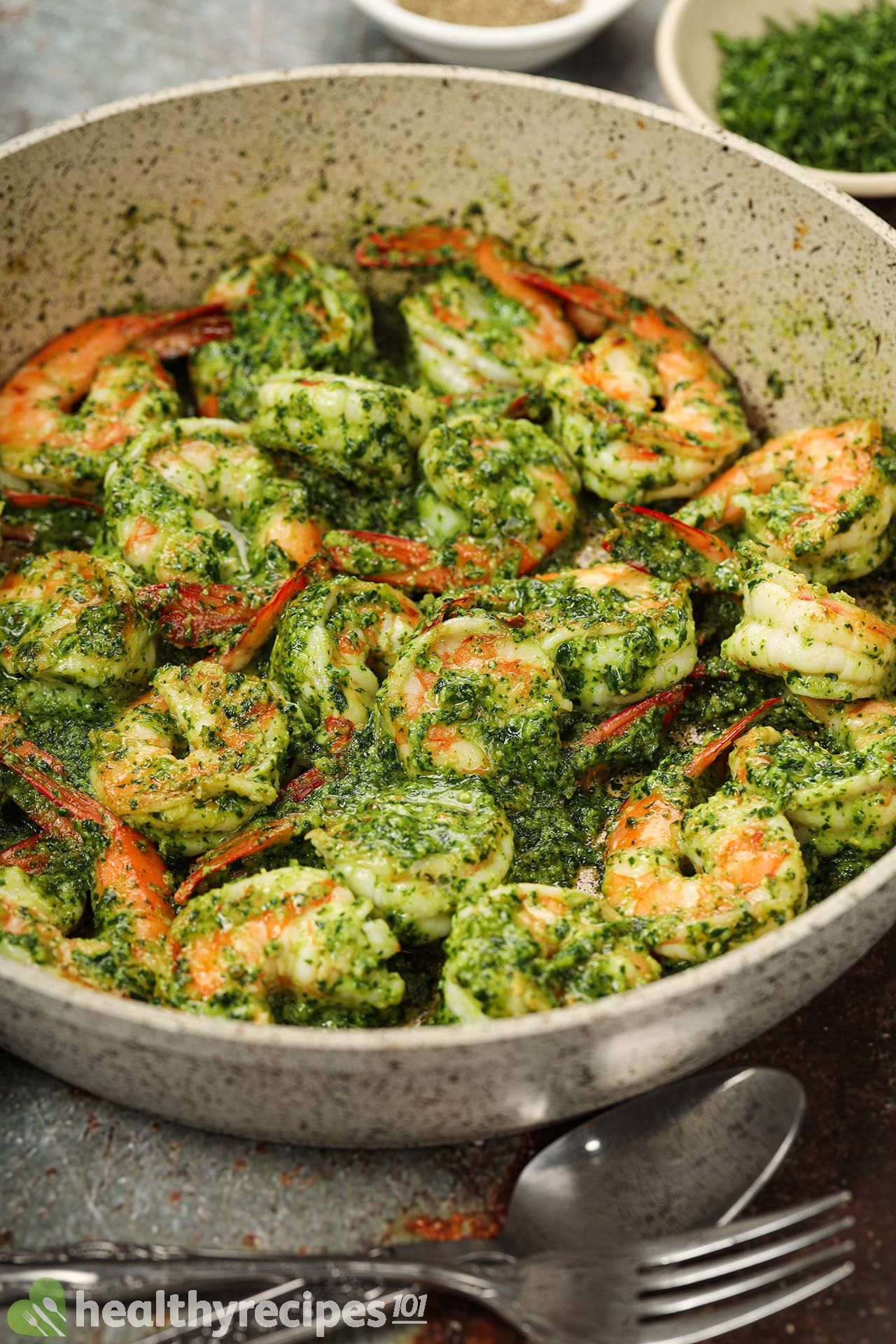 Pine nuts are delicious, but they are also one of the most expensive nuts in the world. Almonds, cashews, or macadamias are good alternatives.
You can also leave out pine nuts and add oil in their place. Add oil gradually, however, to make sure your sauce doesn't end up too oily.
You can choose to omit the cheese altogether, that's what we did in this recipe. If you are a fan of cheese, however, parmesan or pecorino romano are the perfect choices for pesto sauce.
Is Pesto Shrimp Healthy?
Each serving of pesto shrimp contains 505 calories, a reasonable number for a fulfilling main dish.
Adhering to our healthy guidelines, we adjusted the ingredients to manage the saturated fat and sodium levels. They stand at 4.9 g and 578.4 mg, respectively, in this dish.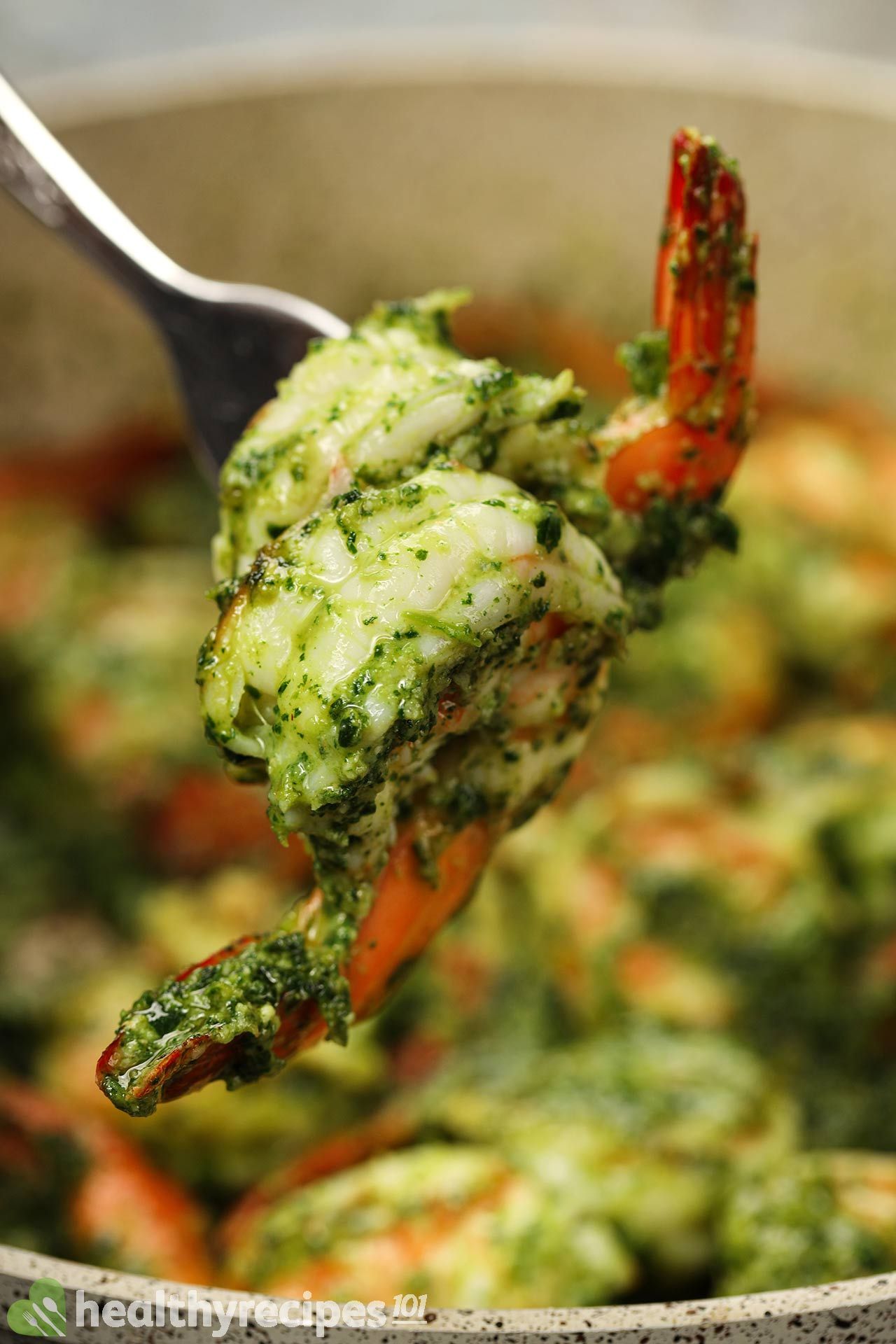 Thanks to the addition of shrimp, this main course provides you with 39.4 g of protein. Aside from protein, shrimp also contains other important nutrients, which means more health benefits. Shrimp contains a valuable antioxidant named astaxanthin, which promotes heart and brain health. Sometimes, shrimp gets a bad reputation for its cholesterol content. However, dietary cholesterol may not be as harmful as you think.
Lastly, shrimp allergy is one of the most common allergies. You should completely avoid eating it if you're allergic.
The two supporting ingredients, tomatoes and potatoes also contain important nutrients like fiber, vitamins, antioxidants, and minerals.
Ingredients for Pesto Shrimp
Shrimp is an ingredient that you need to prepare carefully. Remove the head and trim the legs. Remove the sand tract by cutting along the back. Peel the shrimp thoroughly but keep the tail intact for more shrimp flavor.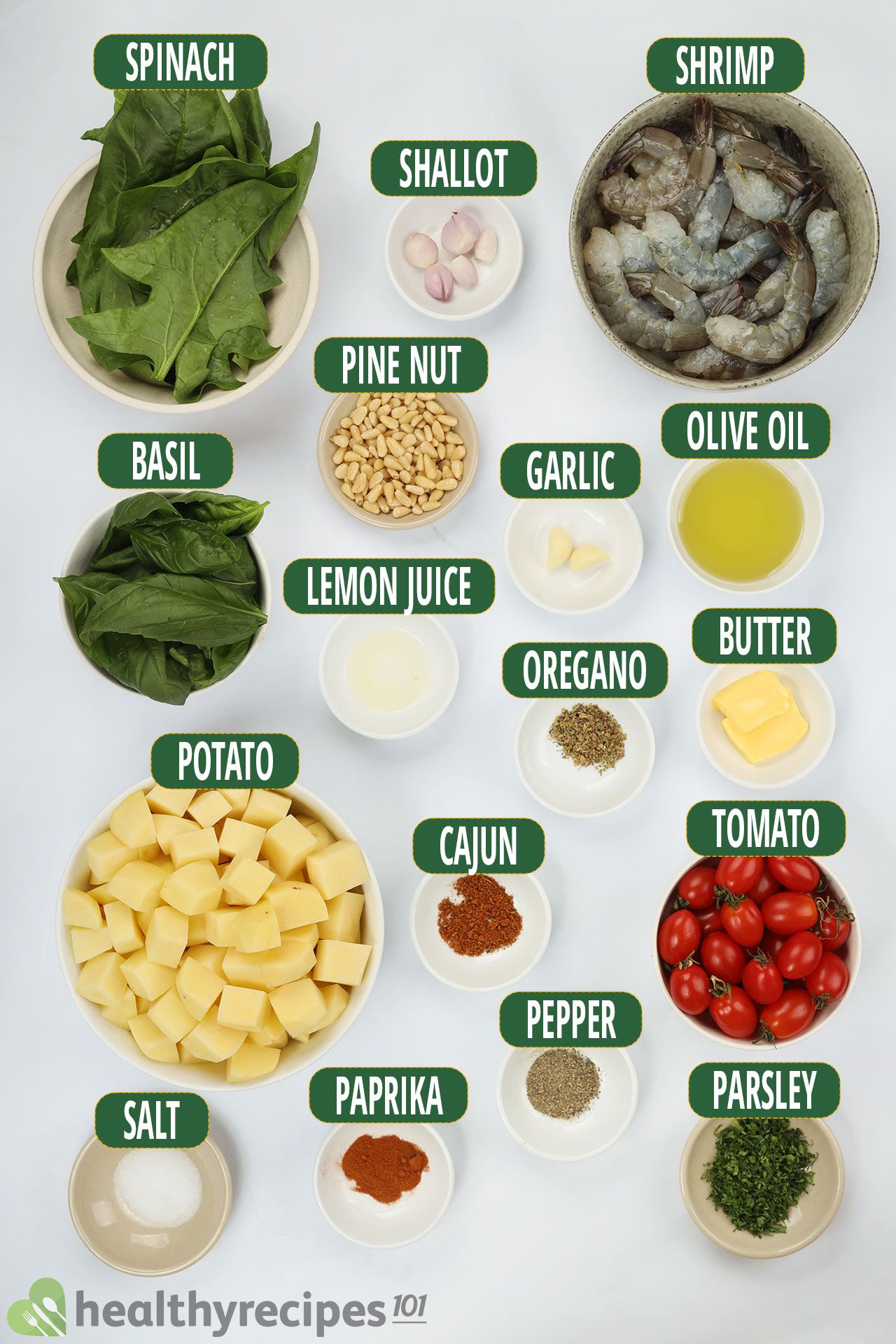 Our rendition of pesto sauce is close to the classic version. We use spinach, basil, and parsley as our greens. Olive oil, garlic, pine nuts, and lemon juice are all back to recreate the traditional taste of pesto.
Cheese is absent in this recipe, but shallot is a new ingredient. Shallot adds a strong and slightly sweet flavor to the sauce.
Roasted potatoes and cherry tomatoes are served alongside the shrimp. Sweet and juicy tomatoes and rustic potatoes make a harmonious combination.
We season the potatoes with paprika, oregano, Cajun seasoning, butter, and pepper to make the simple potato more layered alongside the multi-layered flavor profiles of everything around it.
How to Store and Reheat the Leftovers
You can store cooked shrimp in airtight containers or wrap them tightly with plastic or aluminum foil. Cooked shrimp should last up to 4 days in the fridge if stored properly.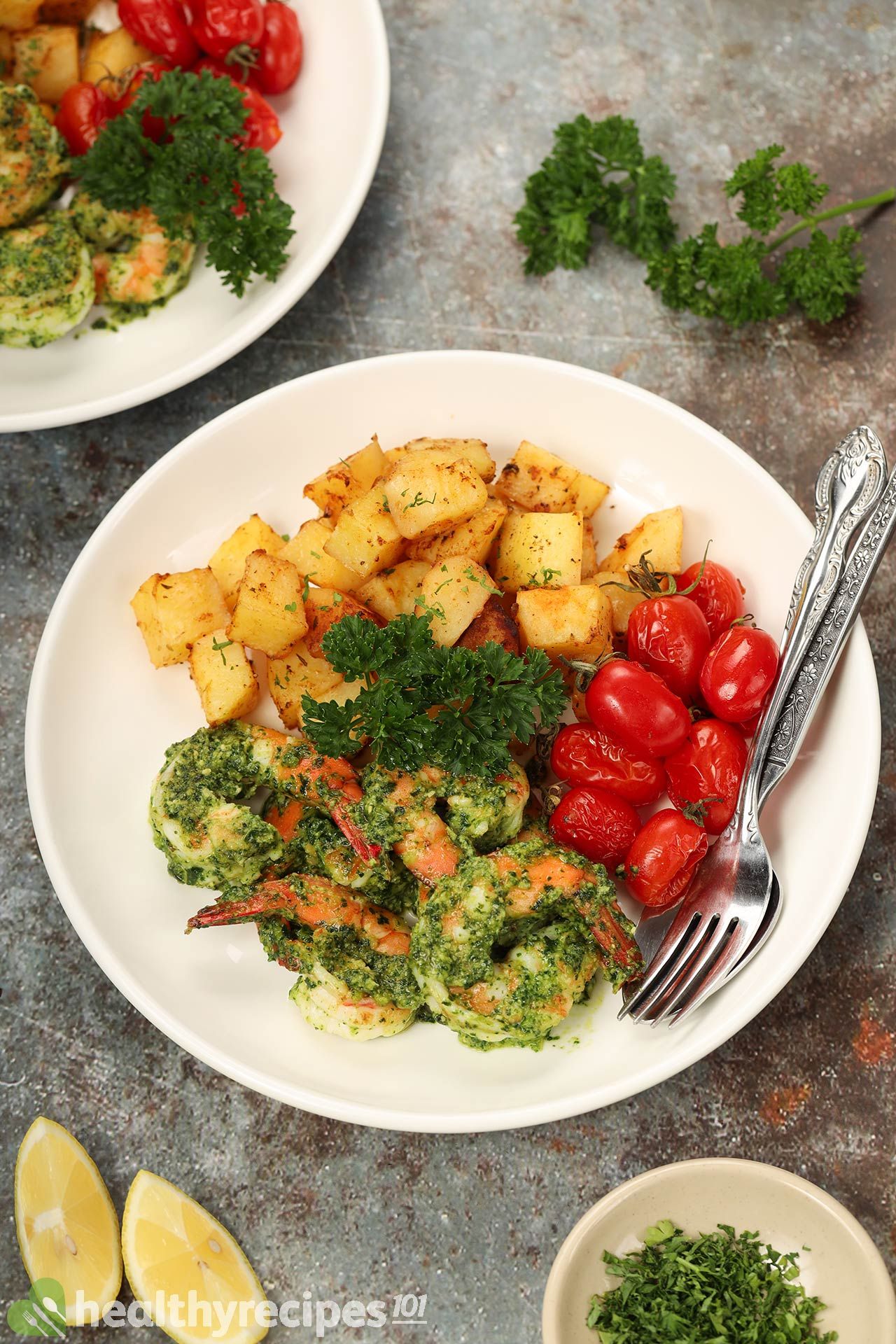 Storing shrimp in the freezer will extend their shelf life to 2-3 months.
There are some things to note while reheating shrimp. You should reheat shrimp the same way you cooked it, but at a lower temperature to avoid overcooking it. Let the shrimp come to room temperature before reheating with the microwave or skillet. Keep a close eye on the shrimp to avoid overcooking, and add a little water to prevent it from drying.
Pesto should maintain its best quality for 5-7 days in the fridge and will be good for 3-4 months if you store it in the freezer.
Pesto can turn brown due to the oxidation process; this happens when the sauce is in contact with air for a long time. We recommend storing pesto in airtight containers or jars to prevent this.
What to Serve With Pesto Shrimp
Pesto sauce is excellent with rice and pasta. If you're looking for something different from the regular pasta, give couscous a try.
A fresh salad and pesto shrimp make a great combination, as the sauce can be a dressing for the salad.
Not sure what to go with? Check out our meal plan for some recommendations.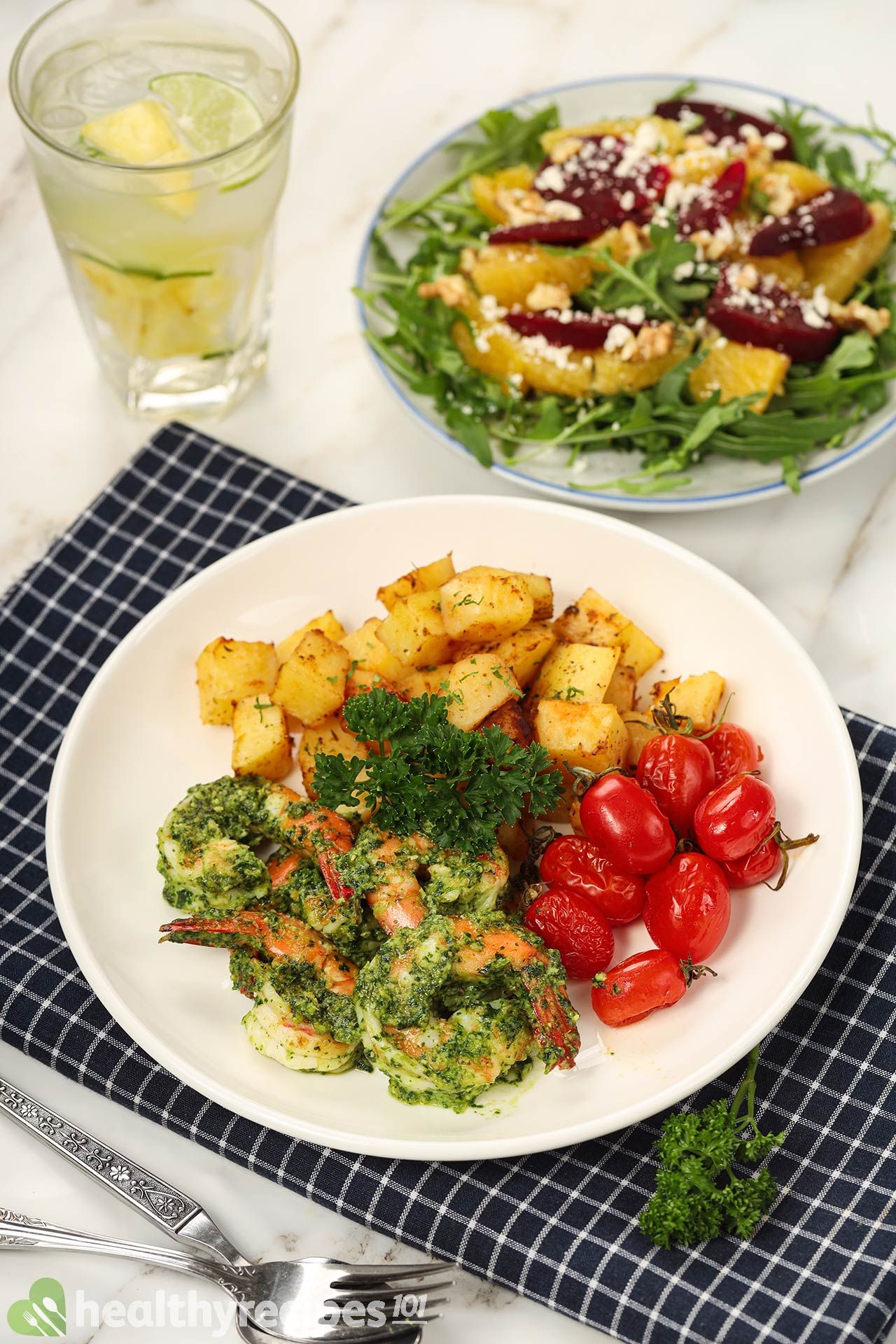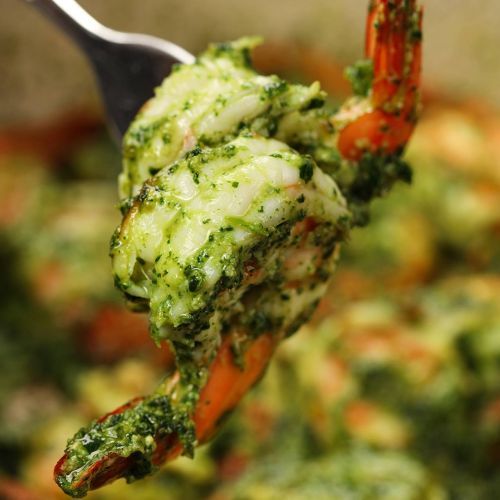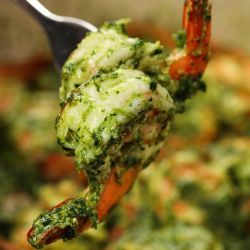 How to Make Pesto Shrimp
Today's pesto shrimp recipe features a match made in heaven. Pesto sauce and shrimp make a tasty and beautiful duo.
Ingredients
12

oz

peeled shrimp

from 24 oz whole shrimp

26

oz

potatoes

cubed

8

oz

cherry tomatoes

4 3/4

tbsp

olive oil

1

oz

spinach

stems removed

1

oz

basil

0.5

oz

shallot

2

tbsp

parsley

chopped

2

cloves

garlic

whole

1

oz

pine nuts

shelled

1/2

tsp

oregano

chopped

1

tsp

lemon juice

1/2

tsp

paprika

1

tbsp

unsalted butter

1/2

tsp

Cajun seasoning

1/2

tsp

pepper

1/2

tsp

salt
Instructions
Microwave 26 oz potatoes for 8 minutes.

Blanch 1 oz spinach and 1 oz basil for 30 seconds. Shock them in ice water and drain.

Make the sauce: Blend 3 tbsp olive oil, 1/2 tsp salt, spinach, basil, 2 tbsp parsley, 1 oz pine nuts, 0.5 oz shallot, 2 garlic cloves, and 1 tsp lemon juice.

Season the potatoes with 1/2 tsp paprika, 1 tbsp unsalted butter, 1/2 tsp oregano, 1/2 tsp pepper, and 1/2 tsp Cajun seasoning.

Roast the potatoes and 8 oz cherry tomatoes at 428°F for 12 minutes.

Add 3/4 tbsp olive oil to a pan and saute 12 oz peeled shrimp for 3 minutes on medium heat.

Stir in the pesto sauce for another 3 minutes.

Serve the shrimp with roasted vegetables and enjoy.
Nutrition
Nutrition Facts
How to Make Pesto Shrimp
Amount Per Serving (1 serving)
Calories 505
Calories from Fat 225
% Daily Value*
Fat 25g38%
Cholesterol 282mg94%
Sodium 578mg25%
Potassium 1468mg42%
Carbohydrates 34g11%
Protein 40g80%
Vitamin A 1630IU33%
Vitamin C 37mg45%
Calcium 166mg17%
Iron 4mg22%
* Percent Daily Values are based on a 2000 calorie diet.