Our garlic butter salmon recipe makes a main dish that rivals any you might find at restaurants. It's a dish that captures your attention at first glance with glossy-skinned salmon laid on a bright green bed of asparagus alongside golden potato wedges.
The goodness isn't just on the outside either. This dish also captivates the taste buds with tender, flaky salmon that carries the complex flavors of garlic, butter, and robust spices. Even better, this impressive dish can easily be made at home with simple ingredients in just under 30 minutes. 
Is Garlic Butter Salmon Healthy?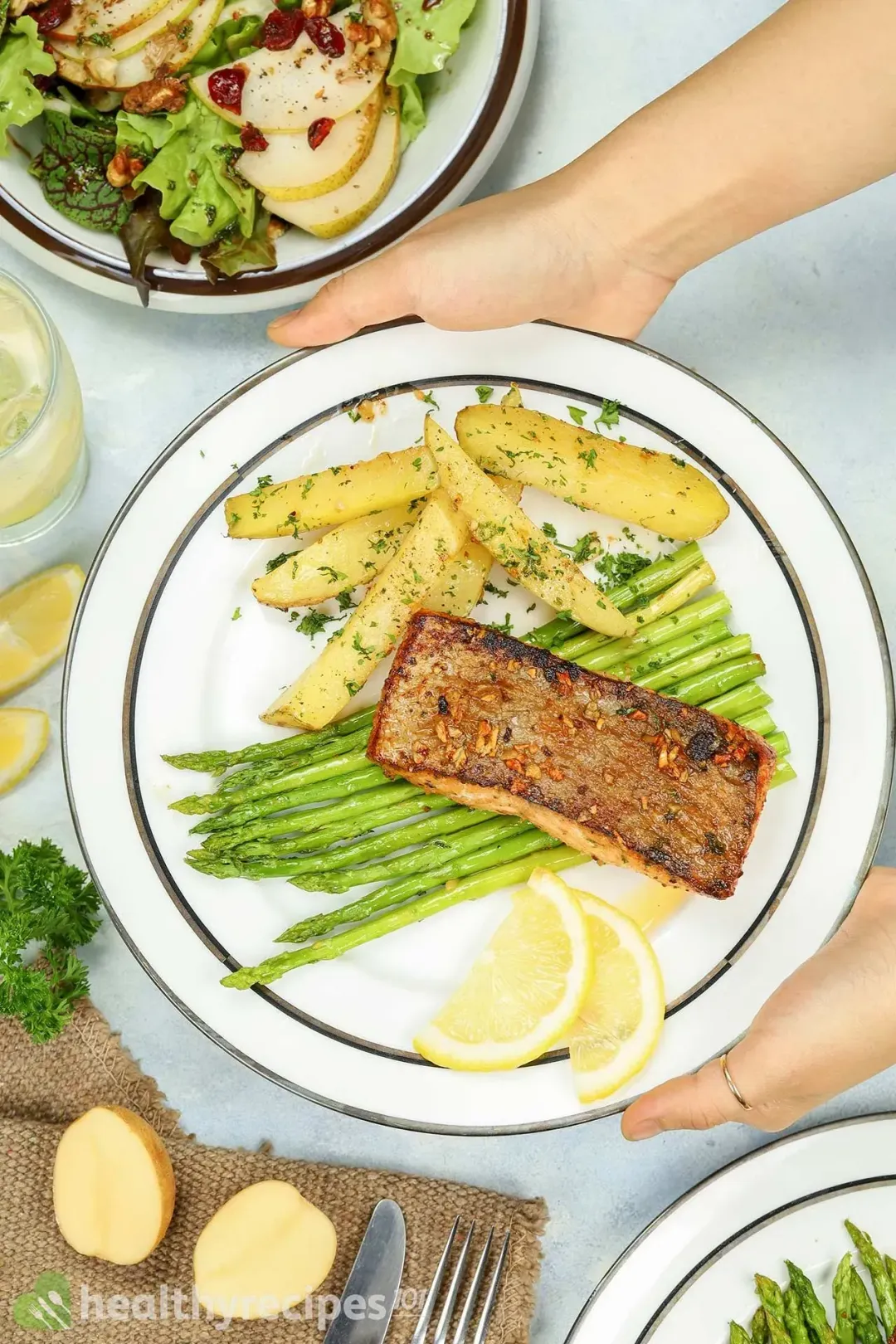 Even though this recipe requires pan-searing, it's still relatively healthy because we made sure to carefully choose and measure the ingredients. For starters, we tried to limit the amount of oil by using only one tablespoon of olive oil. This type of oil, which has a medium-high smoke point, is also considered to be a healthy choice for cooking.
Additionally, we used only a small amount of butter to add flavor without filling the dish with unhealthy fat. There are 7.5 g saturated fat and 464.6 mg sodium, both of which take up less than 33% of the recommended daily intake limit.
With salmon as the main ingredient, this dish is an incredible source of omega-3 fatty acids, which may help to give your body energy and prevent cardiovascular disease. Cooked alongside asparagus, this dish is also packed with fiber, potassium, and antioxidants that may promote heart health. 
Ingredients for Garlic Butter Salmon
As sophisticated and restaurant-worthy as this dish looks, it doesn't require complex ingredients. You can most likely find them at your local supermarket; some are probably already in your pantry. 
We used boneless sockeye fillets for this recipe. If you're purchasing fresh fillets, look for one with a fresh appearance, which includes bright, reddish flesh that's firm and bouncy with a mild sea scent. It shouldn't have dark spots, gray and opaque skin, mushy flesh, or a foul fish odor. 
Frozen salmon can also be used, just remember to fully thaw it before cooking. When selecting it, steer clear of packages that have ice crystals. This suggests that it's been frozen more than once, which could lead to a decrease in quality.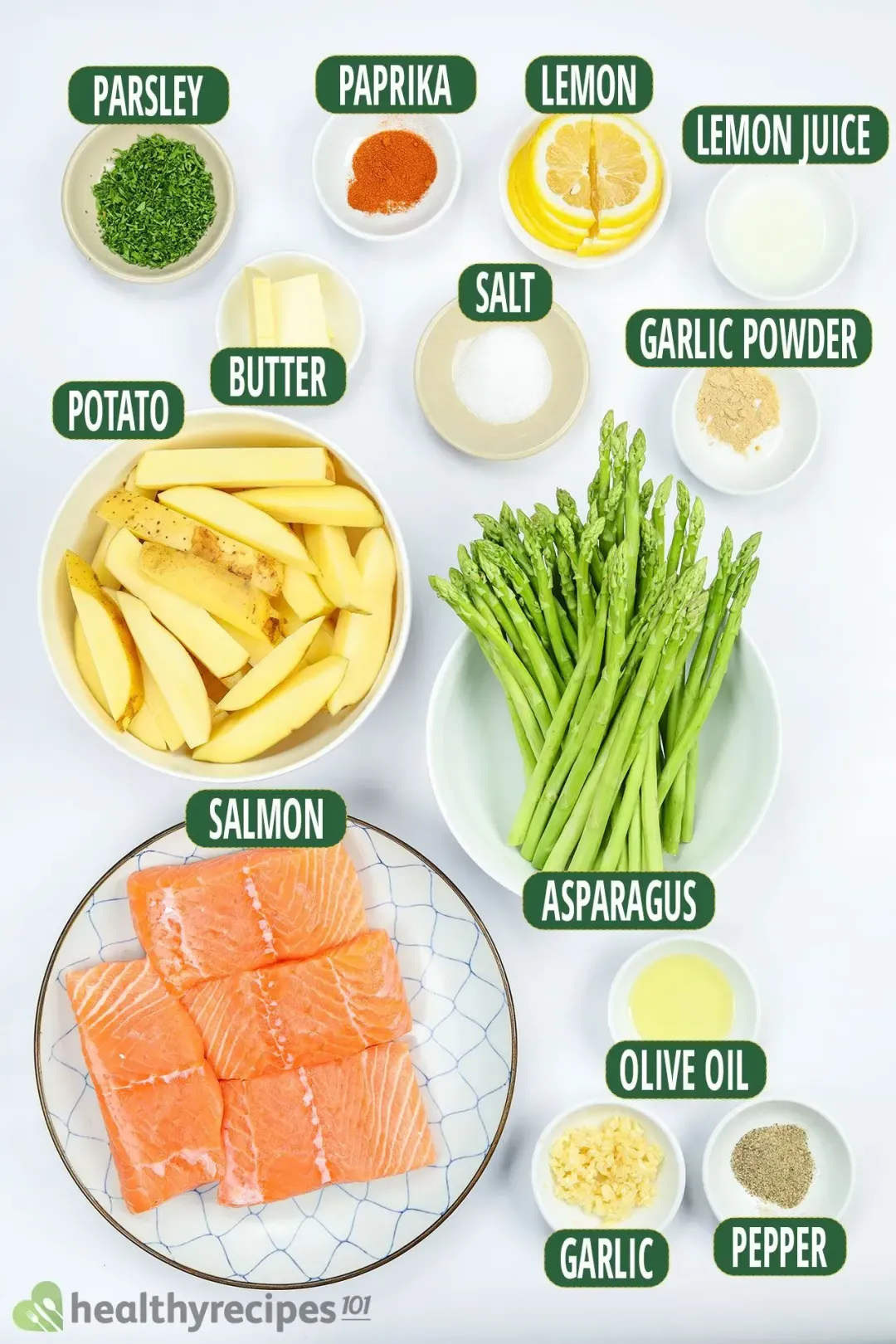 This vegetable instantly enhances the dish's flavor with its earthy taste and bitter-sweet undertone. When choosing asparagus, look for bright-colored stalks that are firm and straight with a closed tip, as this often indicates freshness. 
The golden wedges of potatoes give this dish an irresistible appearance. Not only that, but their starchy and creamy consistency also marvelously complements the salmon's tender meat.
This recipe wouldn't be complete without this versatile plant. It's minced into fine pieces that infuse the dish with a signature garlicky and subtly sweet taste.
We use unsalted butter to reduce the amount of sodium in this dish. This variety has a milder sweetness than the regular kind, making it an ideal ingredient for this richly-flavored dish. 
Paprika, salt, pepper, and garlic powder are the spices used in this recipe to enhance the salmon's flavor. We also added a small squeeze of lemon juice to add a touch of zesty flavor that makes the dish more vibrant. 
How to Prepare the Ingredients
Much of the ingredient list is devoted to spices and butter, which need to be divided into the right portions. The more time-consuming elements are the fish and vegetables, which should be thoroughly prepared to ensure the dish's quality.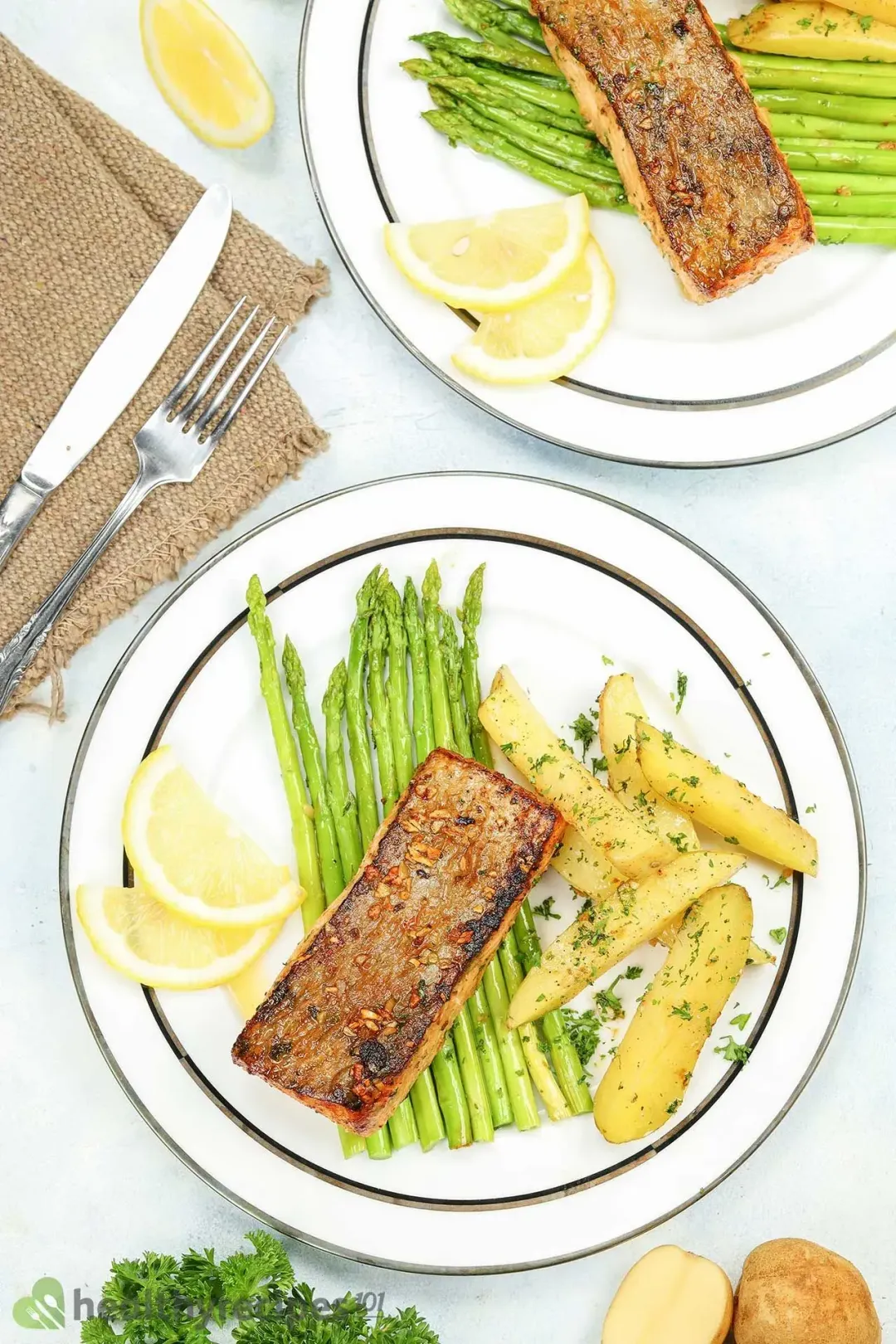 There are three main steps when it comes to preparing the salmon for this recipe:
Descaling: To make the process easier, rinse the fish under cool water to loosen the scales. Then fluff them up by sliding a knife in the opposite direction of the one they're going in. Scrape in short strokes until the skin is clear and lightly rinse.
Deboning: Even though we use a boneless cut, there could still be small hidden pin bones. Slightly lift the fish from underneath to encourage them to protrude, and slide your hand over the surface to feel for any tiny bumps. Grab the tips of any bones with a tweezer and slowly but steadily wriggle them out. It helps to move in the same direction as the bones to avoid tearing through the flesh. 
Rinsing: Once you have removed the scales and bones, thoroughly rinse over both sides of the salmon, then use paper towels to pat it dry.
Potatoes are grown in the ground and often carry dirt so remember to rinse them thoroughly. We kept it simple and cut them into 3/4 - 1 inch wedges without peeling off the skin. Then, soak the wedges in cold water for a few minutes to remove the excess starch. 
To prepare, thoroughly wash the stalks to remove any dirt, then trim or snap the woody ends off. If the stalks are too thick, you can use a vegetable peeler to remove the skin on the lower half. 
What to Serve With Garlic Butter Salmon
This garlic butter salmon is filling enough on its own, but you can always pair it with a side dish to make a complete and satisfying meal. Here are some of our suggestions: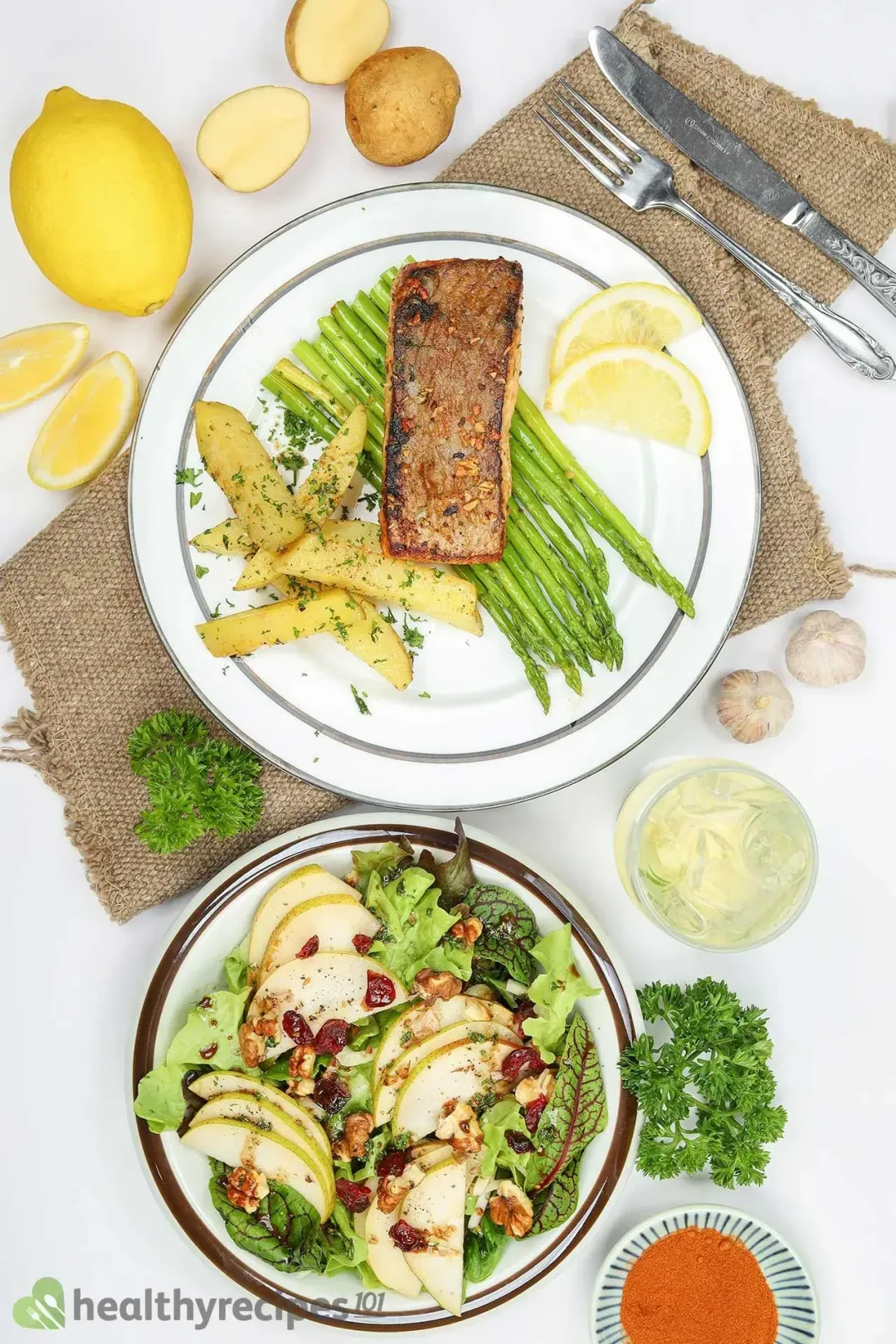 How to Store and Reheat Garlic Butter Salmon
This salmon dish will last up to two days when stored in an airtight container in the fridge. In the freezer, it may last up to several months, however, it's not recommended since the texture will change after thawing. 
To reheat, you can use either the microwave or the stovetop. If it seems to have dried out, add a little olive oil.
Similarly Gorgeous Salmon Ideas
Let us first give you a proper introduction to Cajun salmon: crispy filets doused in spices and butter and served up with a quick avocado salad. It's one of the quickest salmon recipes we have, coming together in just 15 minutes.
Oh the skin isn't crispy enough for you? Our pan-seared salmon might be what you want. The seasonings are just basic: butter, salt, pepper, and lemon juice. When the sauce has drenched the filets and properly come together, we drizzle it over the top of the veggie tray baked while the fish sizzles.
Check out either of those articles and you shall find more delicious, healthy salmon ideas of ours.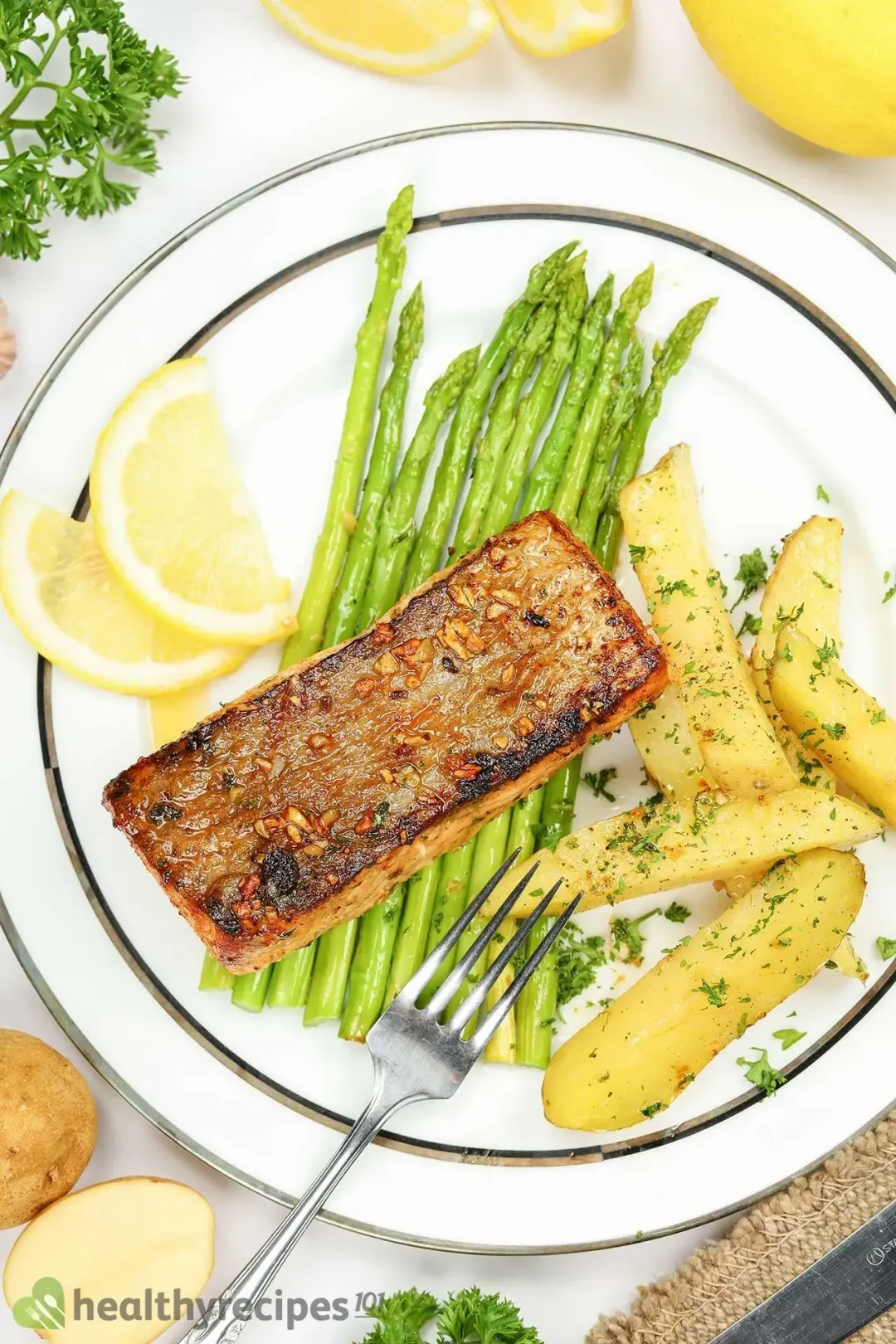 How to Make Garlic Butter Salmon
Elevate your dinner menu with this garlic butter salmon recipe featuring salmon that's crispy on the outside and delightfully juicy on the inside. Wrapped in a garlicky scent with a mildly sweet undertone, it carries depths of flavor that draw you in with the very first bite.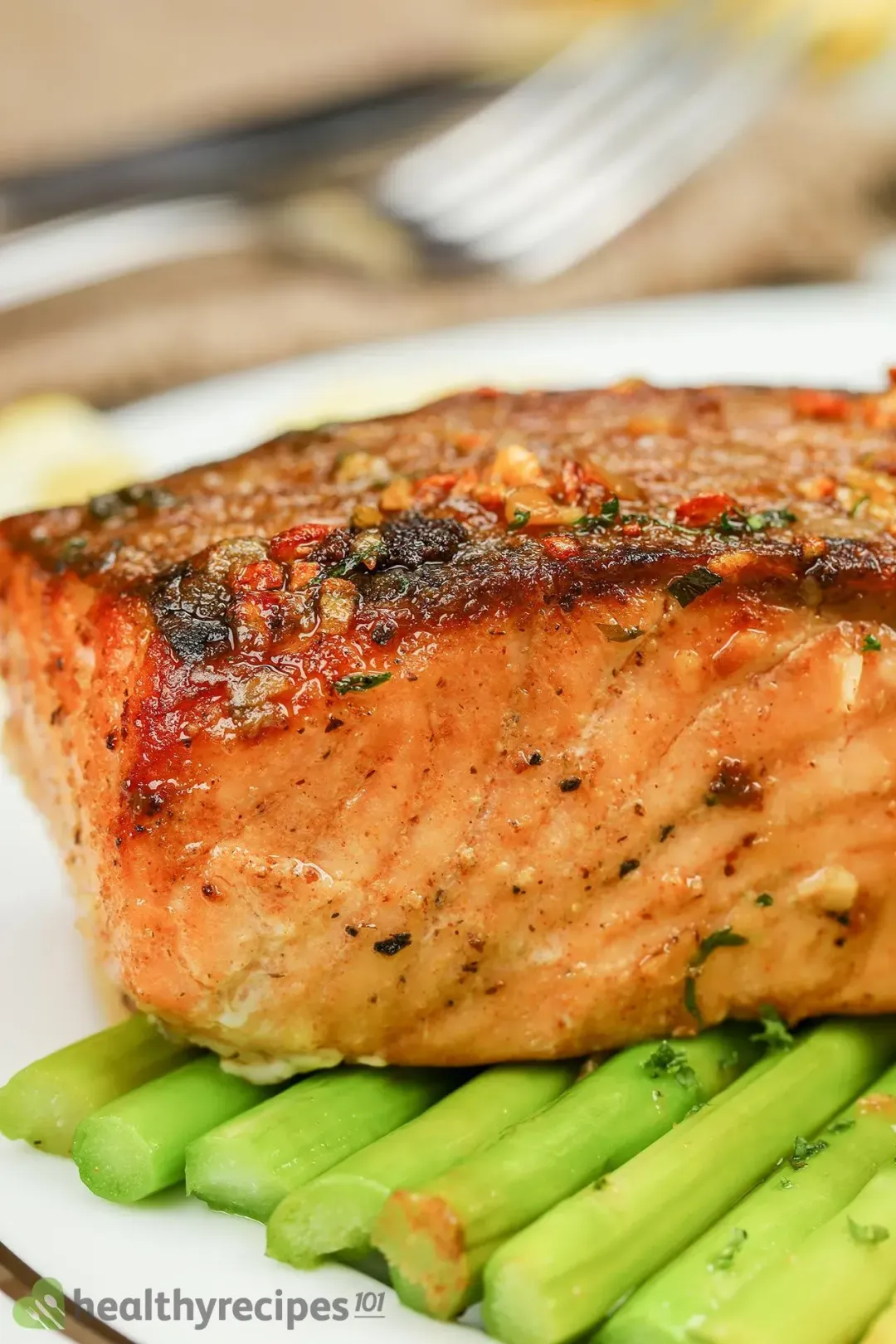 cook TIME

20 mins

prep TIME

7 mins

total TIME

27 mins
COURSE

Main Course

CUISINE

American

SERVINGS

CALORIES

483 kcal
INGREDIENTS
26 oz

boneless salmon

(descaled)

22 oz

potatoes

(cut into wedges)

10 oz

asparagus

(woody ends removed)
INSTRUCTIONS
1
In a microwave-safe bowl, microwave 22 oz potatoes on full power for 15 minutes.
2
Season 26 oz boneless salmon with 1/2 tsp paprika, 1/2 tsp salt, 1/2 tsp pepper, and 1/2 tsp garlic powder.
3
Over medium-high heat, heat 1 tbsp olive oil until hot. Then, pan-sear 26 oz boneless salmon for 5 minutes on both sides. Sear with the skin side down until golden and crispy, then flip the fish and sear the other side.
4
Add 3 tbsp unsalted butter, 2 tbsp garlic, and 1 tsp lemon juice in the pan then stir these ingredients around the salmon for 1 minute.
5
Preheat the oven to 450°F. Leave the remaining sauce on the pan but remove the salmon and lay it onto a baking tray lined with parchment paper alongside 10 oz asparagus. Then drizzle the sauce over these ingredients. Sprinkle 2 tbsp parsley on top and put on the middle shelf of the oven for 12 minutes.
6
Garnish with parsley and lemon slices, then serve immediately.
NUTRITION
Nutrition Facts
How to Make Garlic Butter Salmon
Amount Per Serving (1 serving)
Calories 483
Calories from Fat 189
% Daily Value*
* Percent Daily Values are based on a 2000 calorie diet.
Keywords: garlic butter salmon, garlic butter salmon recipe, how to make garlic butter salmon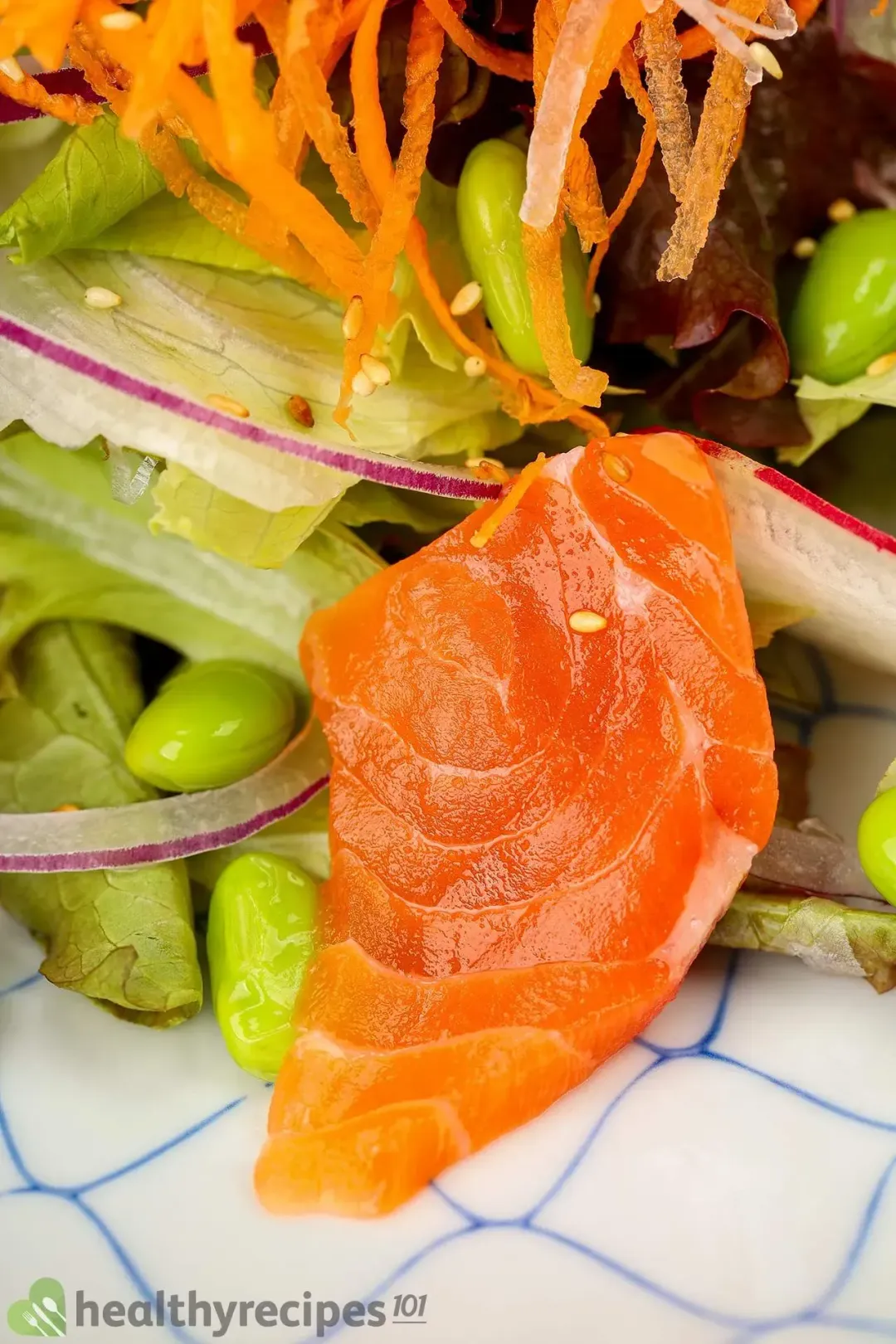 Previous Recipe
Japanese Salmon Salad
Japanese Salmon Salad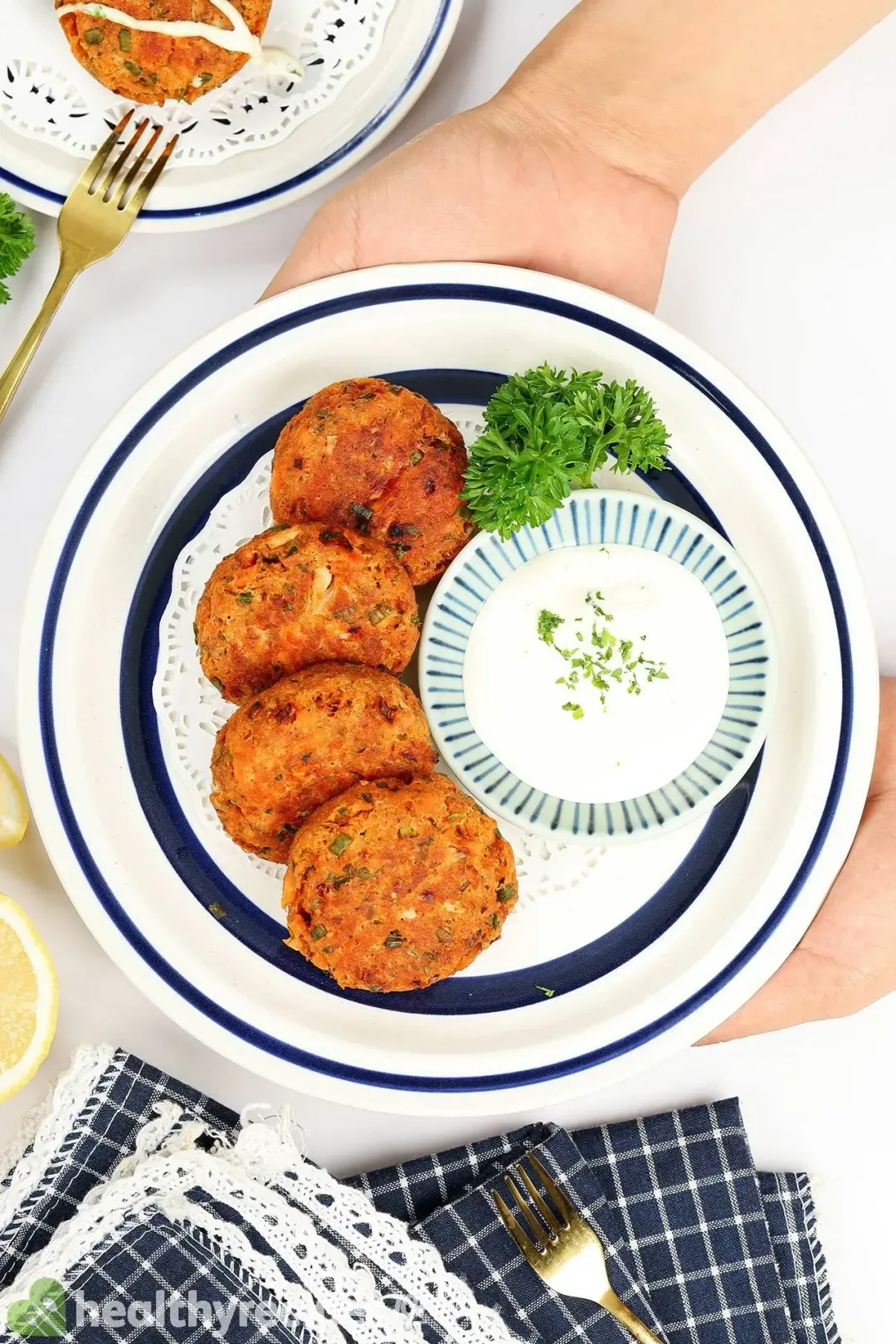 Next Recipe
Fried Salmon Patties
Fried Salmon Patties
Head Chef, Culinary Consultant
Tuyet Pham is an award-winning Saigonese chef who believes that joy is the secret ingredient to delicious food. At Healthy Recipes 101, Tuyet personally tests and simplifies every recipe, ensuring maximum flavor with minimal effort. With a background at prestigious French restaurants P'TI Saigon and Le Corto, Tuyet knows how to make every dish exceptional.
Writer, Author
Luna Regina is an accomplished writer and author who dedicates her career to empowering home cooks and making cooking effortless for everyone. She is the founder of HealthyKitchen101.com and HealthyRecipes101.com, where she works with her team to develop easy, nutritious recipes and help aspiring cooks choose the right kitchen appliances.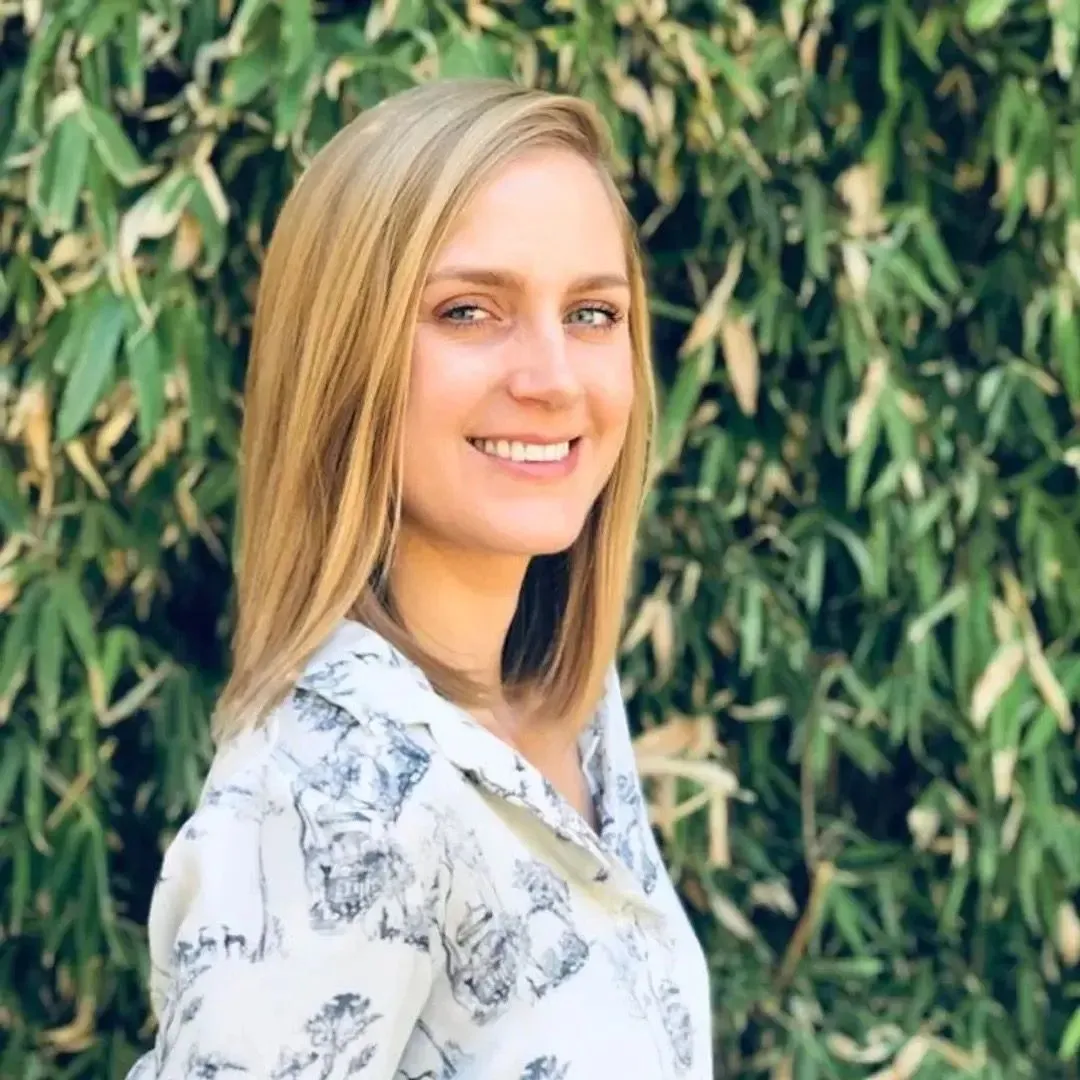 Nutrition Reviewer
Emily Rogers is a California-based Registered Dietitian Nutritionist who specializes in Public Health Dietetics. She has had an eclectic career working as a health educator, nutrition counselor, recipe developer, clinical dietitian and outpatient dietitian. Emily is currently a full-time Public Health Nutritionist with the County of Orange where she teaches Nutrition Education and Community Nutrition courses.
Flavorful garlic butter salmon dish.

Easy and tasty!!! Mouthwatering salmon dish.