Today's salmon fried rice recipe proves that you should always keep some leftover rice in the fridge to make fried rice. The tender chunks of fish and veg are tossed with egg-infused fried rice, all sealed beautifully with a blend of soy sauce, sesame oil, and paprika.
Is This Recipe Healthy?
Fried rice, when combined with a variety of ingredients, is one of the most nutrient-dense dishes you can make. Ours comprises salmon, eggs, rice, sesame oil and seeds, and a bunch of veggies, bringing you heaps of proteins, good fats, carbohydrates, and loads of micronutrients.
When eating dishes seasoned with salt, soy sauce, or anything sodium-rich, you're likely to exceed the recommended amount of sodium.
You can easily monitor your sodium intake by controlling the size of each portion, which we've already done for you. This not only keeps the sodium within a safe range, but also keeps the calorie-count to a healthy level.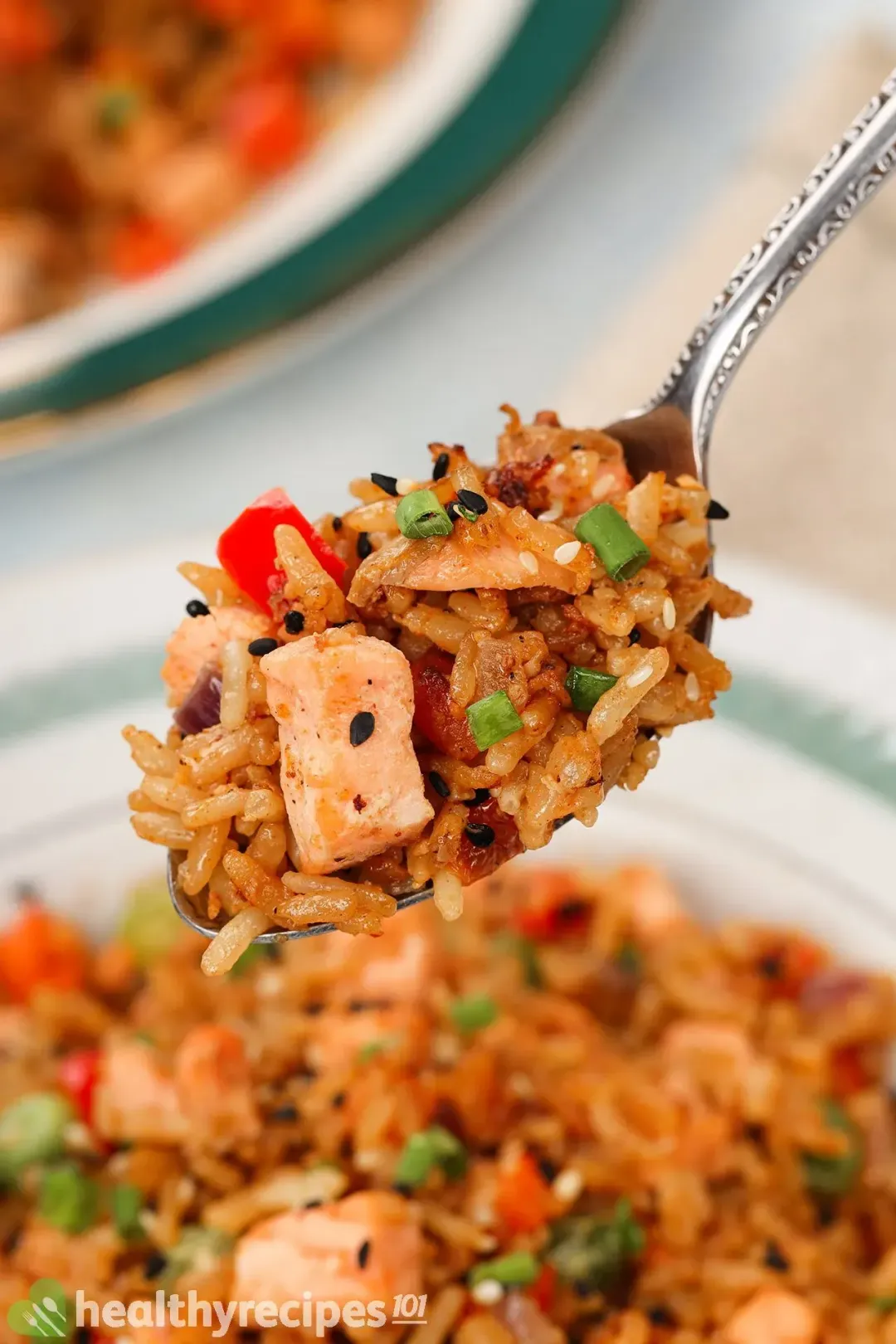 You can have a look at our healthy eating guidelines to learn more about these limitations.
Ingredients You'll Need
For this recipe you'll need salmon, eggs, rice, some veggies, scallion, soy sauce, sesame oil, and several seasonings.
1. Salmon
If you have salmon trimmings or fillets that are too small or not very presentable, this fried rice recipe makes good use of them. We didn't unfortunately, so we had to purchase a whole fillet, then cut it into bite-size chunks.
Regarding the skin, we only advise keeping it on when the fillet is seared or baked. Its texture doesn't really match fried rice, in our opinion, but if you're a fan, feel free to leave the skin intact.
2. Egg
With fried rice, eggs can be either mixed in with the rice before cooking, or after.
By mixing the eggs with the rice first, we're looking for a golden color and a rich taste imbued nicely into each rice grain. This is what we're going for today.
By stirring the eggs in later, your fried rice will have chunks of scrambled eggs and remain white in color. This method is normally only used when eggs are the only proteins, and of course, ours already has salmon.
3. Rice
As aforementioned, you'll be mixing the rice with the eggs first. This step is more efficient to do by hand. With a pair of gloves, you can easily separate any rice clumps to ensure each grain is coated nicely.
We also added some paprika to the rice, so its color turns slightly orange.
4. Vegetables
The ones we used are typical for fried rice: bell peppers, green peas, carrots, basically anything firm, fresh, and can easily be cut into chunks. Other options we can think of are green beans, snap peas, and mushrooms.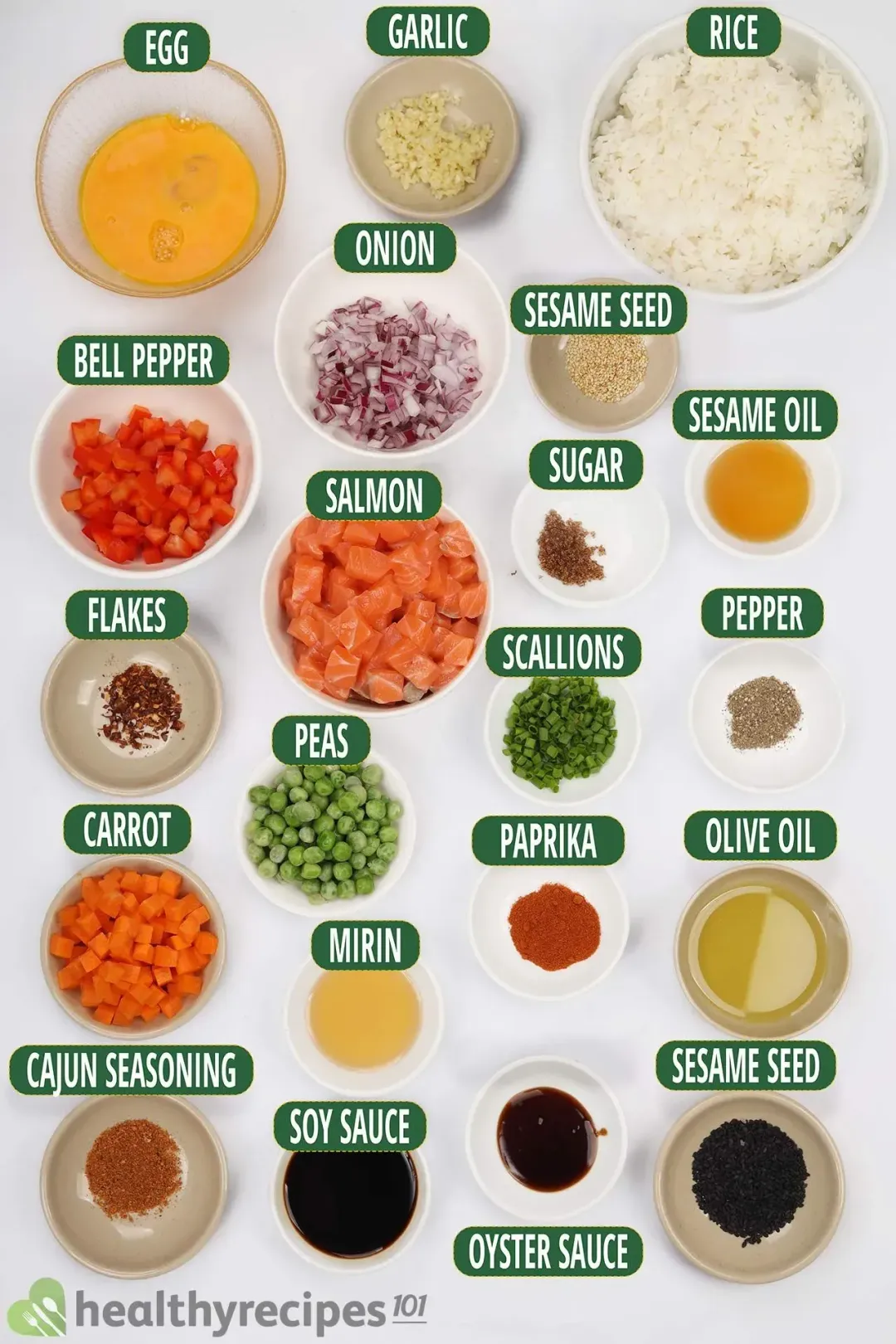 5. Seasoning
Salmon and soy sauce go really well together, so our seasonings for today's fried rice complement it well. There's sesame oil, garlic, mirin, oyster sauce, sugar, and black pepper.
For even more flavor and to give the dish a spicy kick, we included some Cajun seasonings. If it's not in your pantry, replace it with Tabasco, Sriracha, or any red powder (paprika, cayenne, red pepper powder).
6. Types of Rice for Fried Rice
Any type within the long-grain and medium-grain varieties would do. We're looking for something that's dry and doesn't release starch when stirred a lot, like risotto does.
Can You Cook Fried Rice With Leftover Rice?
Leftover rice from the fridge is a perfect material for fried rice. The end result will have separated grains, more concentrated flavors, and simply look better when plated.
Plus, since you'll be using liquid seasonings, using freshly cooked rice can result in something with a congee-like texture.
How to Cook Rice for Fried Rice
Ideally, you'd want to cook your rice a bit drier than usual, but that can be difficult because different types of rice cook in different amounts of water. The easiest way is to cook your rice is as usual, then use our 1-hour method:
First, spread it out on a sheet and place it in front of a fan for 30 minutes to partially dry it out. Then, let it sit in the fridge for another 30 minutes, so the grains harden and separate more easily.
If you don't need to use it right away, freeze it and it'll turn out even better for fried rice.
How to Reheat Fried Rice?
After sitting a few days in the fridge, fried rice can be reheated directly in a non-stick pan without any additional oil. Gently stir it over medium heat until heated through, which should take less than 5 minutes.
However, as this is a seafood stir-fry, you don't want to keep it for more than 4 days.
What to Serve With
Fried rice is best complemented by something juicy, like a salad, a glass or drink, or a soup. Today, we're pairing ours with this easy cabbage soup and sweet orange pineapple juice: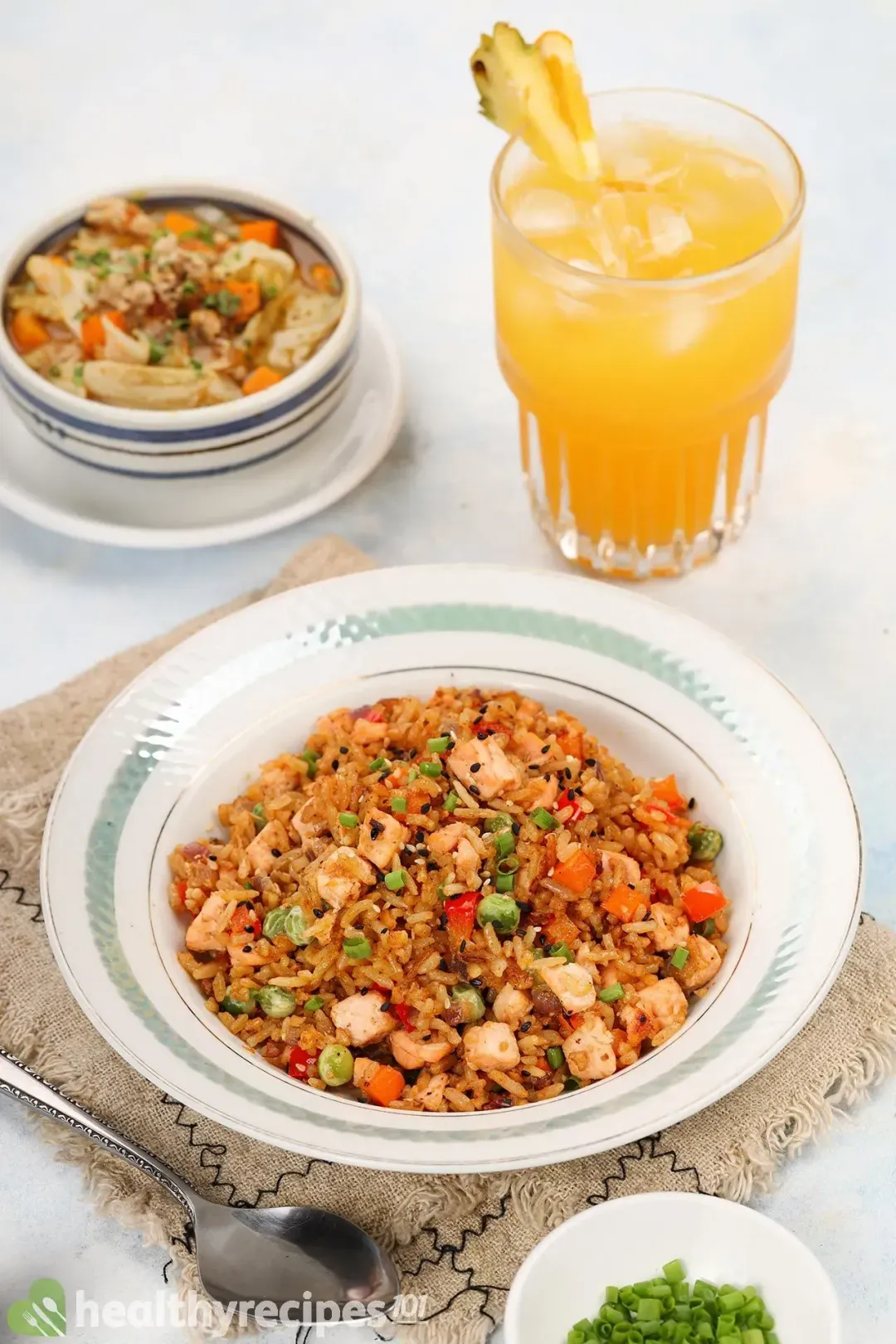 Their recipes will be visible once you scroll past the salmon fried rice recipe card down below.
More Salmon and Rice Recipes
Having to fried rice in a row can be boring, so switch up your weekmeals with a saucy one instead. Introducing maple glazed salmon, featuring golden salmon filets over cooked rice and a side of steamed broccoli. If you're not a fan of broccoli, the savory, fragrant sauce that drizzles over them will change your mind.
And if you're into a little project that ends up in flavorful small bites, try salmon sushi cupcakes. You can cook the fish a little before the assembly, but we just love that tender mouthfeel of raw sushi-graded salmon. It's got all the delicious textures: cooked rice, rich avocado, crunch nori sheets, and creamy sauce that drizzles all over each.
There's more in our salmon and rice roundup.
Salmon Fried Rice
This salmon fried rice recipe takes just 20 minutes to turn out a delectable fried rice dish, with chunks of fish, veg, and plenty of flavors.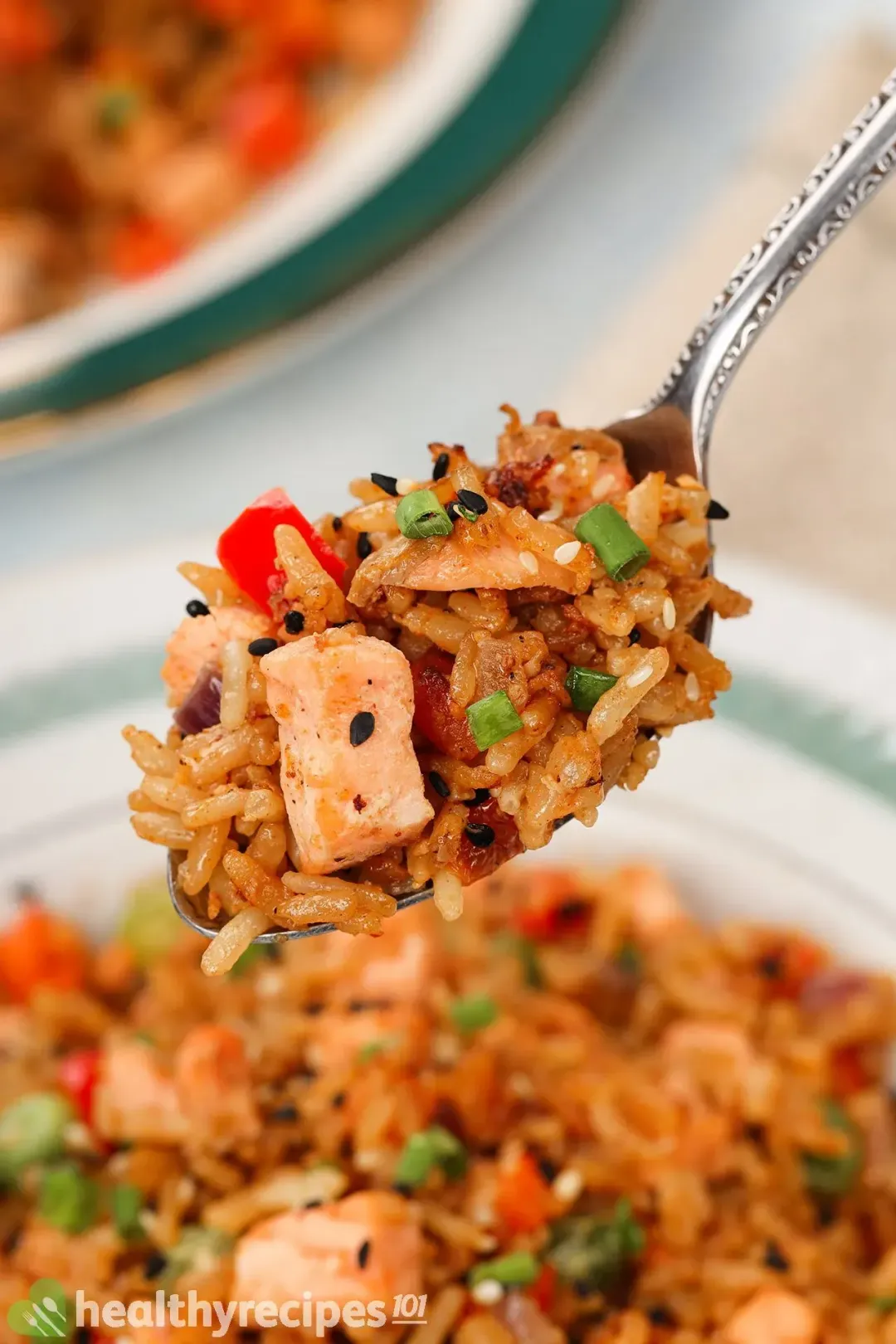 cook TIME

15 mins

prep TIME

5 mins

total TIME

20 mins
COURSE

Main Course

CUISINE

Global

SERVINGS

CALORIES

490 kcal
INGREDIENTS
11 oz

skinless salmon

(cut into cubes)

3 cups

cooked medium-grain rice

(refrigerated)

2 oz

red onion

(about half a medium, finely chopped)

2 oz

red bell pepper

(about half a medium, cut into small cubes)

2 oz

carrots

(about half a medium, cut into small cubes)

2 oz

green peas

(fresh or frozen)

3 tbsp

olive oil

(divided into 1 and 2 tbsps)

1 tbsp

garlic

(about 3 cloves, minced)

2 tbsp

reduced-sodium soy sauce

1/2 tsp

ground black pepper

2 tbsp

scallions

(finely chopped)

1/2 tbsp

black sesame seeds

(toasted)

1/2 tbsp

white sesame seeds

(toasted)

1/2 tsp

red pepper flakes
INSTRUCTIONS
1
Break 3 cups of refrigerated rice apart, then gently mix it with 2 medium eggs and 1 tsp paprika. Make sure that each grain is coated and there are no lumps.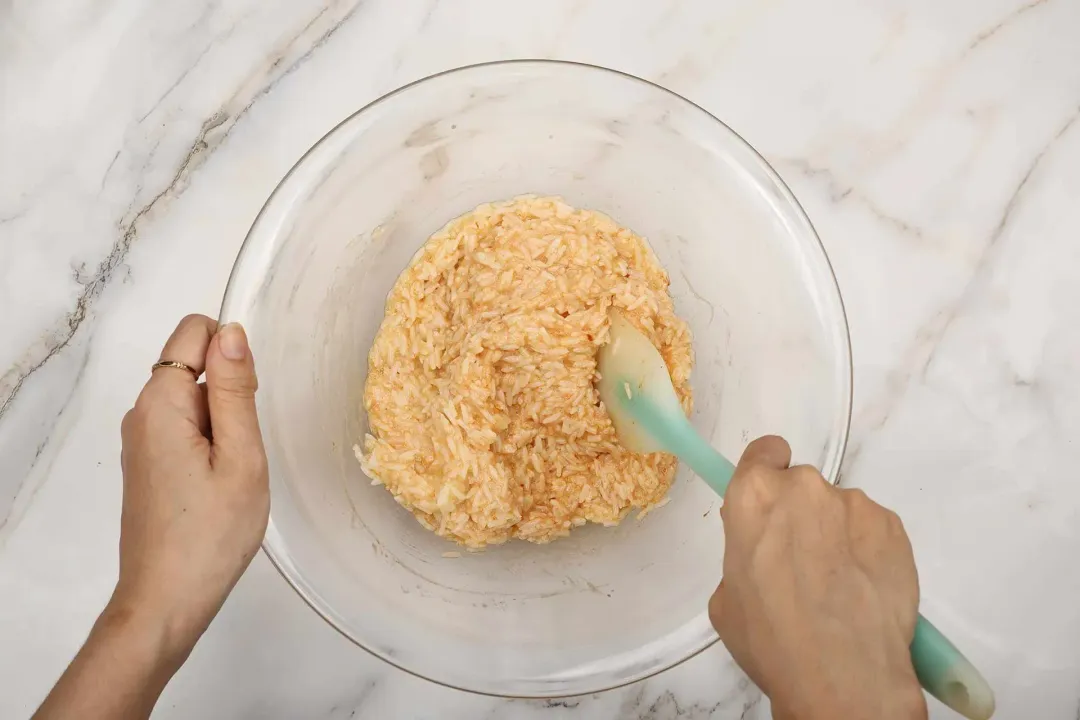 2
Heat 1 tbsp olive oil in a large non-stick frying pan over medium heat, and sauté 1 tbsp garlic for 30 seconds or until softened. Add 11 oz cubed salmon and cook for 3 minutes. Be gentle when stirring, so the cubes maintain their shape. Place all into a bowl when done.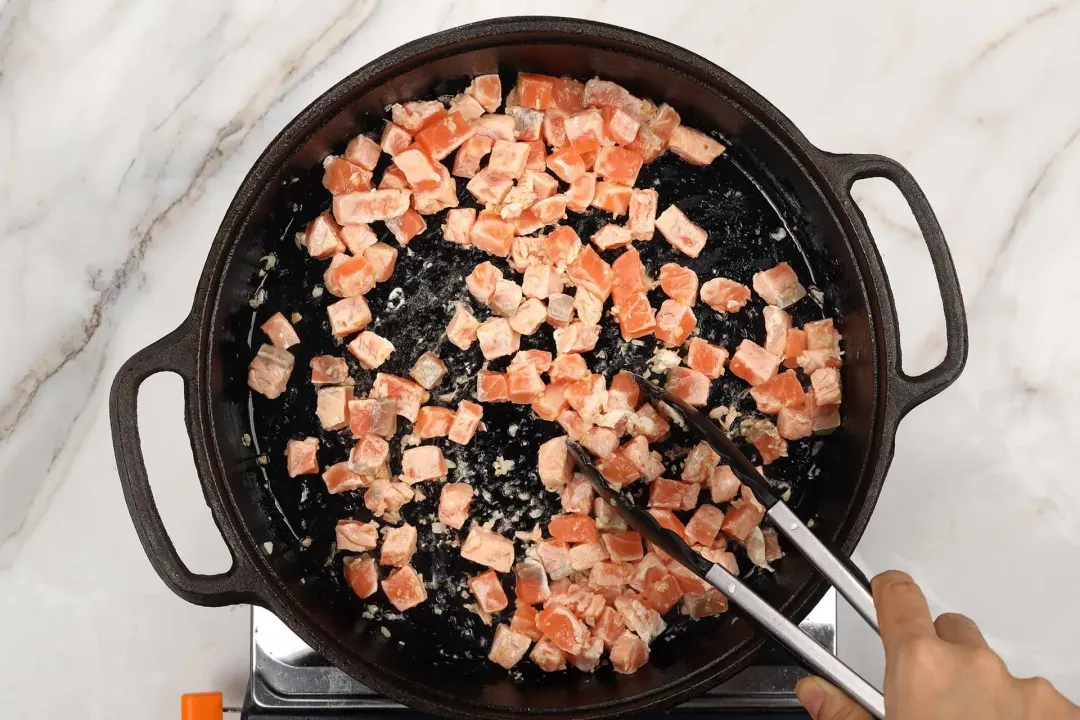 3
Heat the remaining olive oil (2 tbsp) and stir in 2 oz red onion. Sauté for 1 minute, then add the rice and cook for 5 minutes. Stir constantly and gently.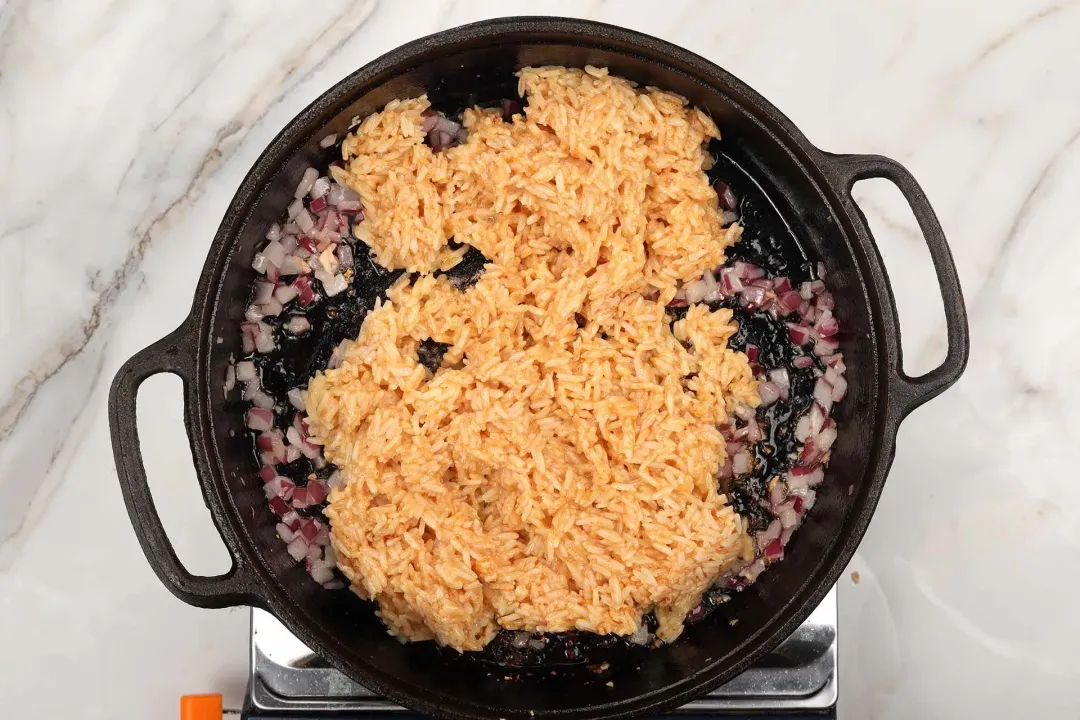 4
As the rice is now dryer with the egg cooked, add bell pepper, carrots, and green peas (2 oz each). Stir to cook for 3 minutes.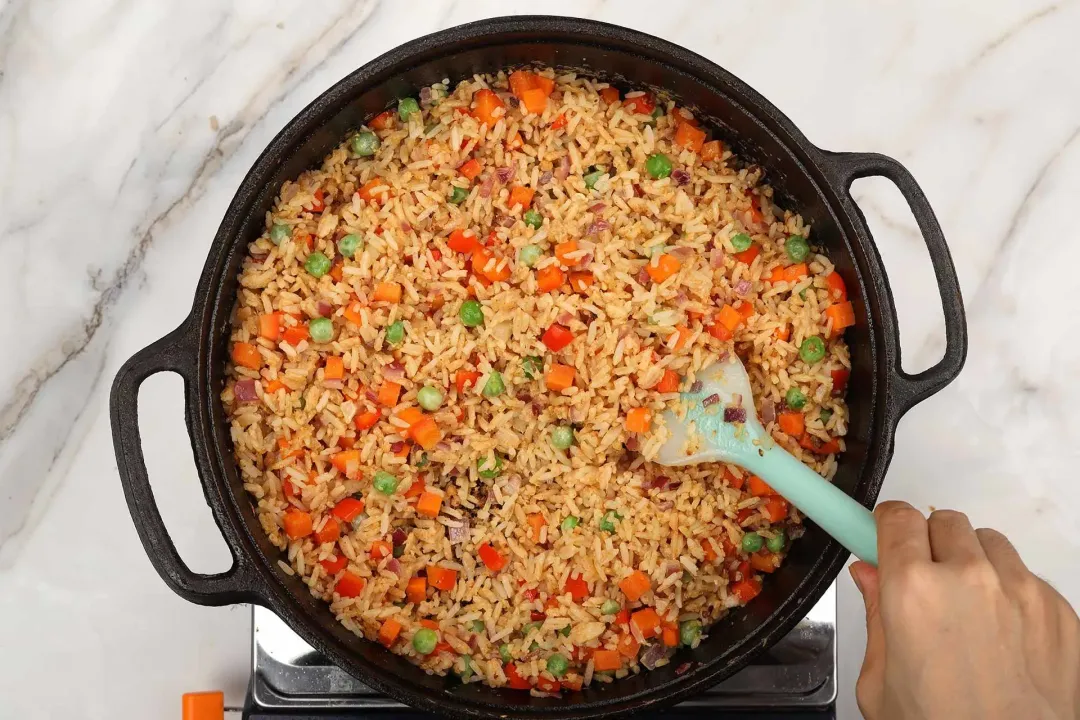 5
Add the cooked salmon along with the seasonings: 2 tbsp soy sauce, 1 tbsp sesame oil, 1 tbsp mirin, 1 tsp oyster sauce, 1 tsp Cajun, 1/2 tsp black pepper, and 1/4 tsp brown sugar. Gently stir for 1 minute.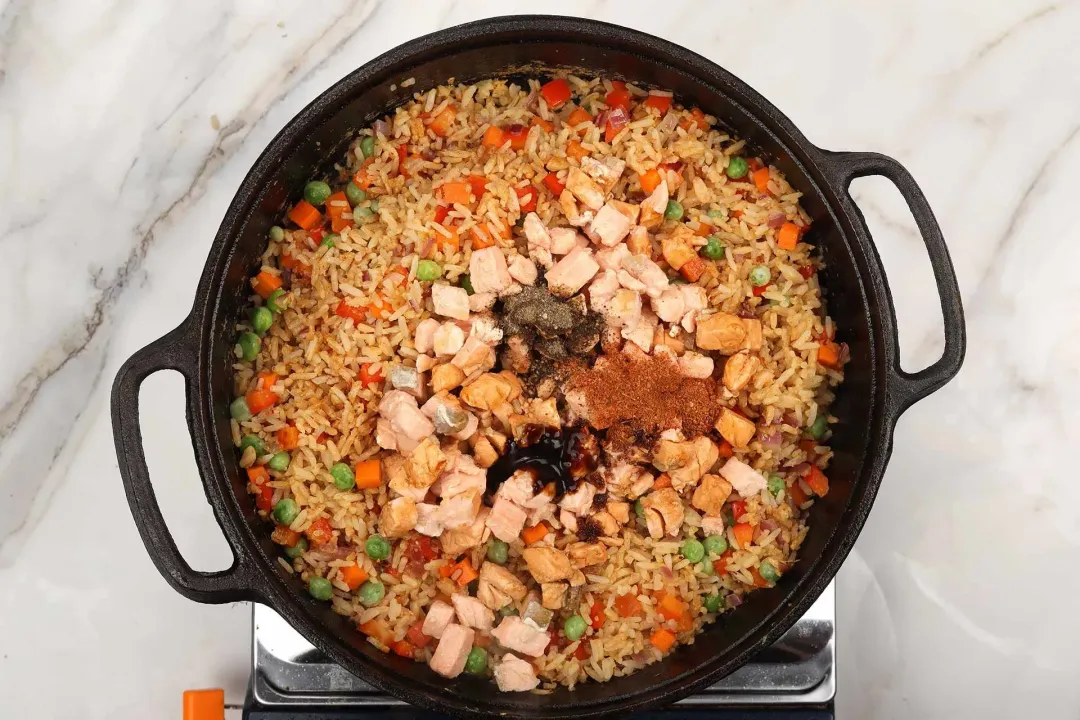 6
Turn off the heat. Scatter on top 2 tbsp scallion, 1/2 tbsp black sesame seeds, 1/2 tbsp white sesame seeds, and 1/2 tsp red pepper flakes. Scoop into serving bowls and enjoy.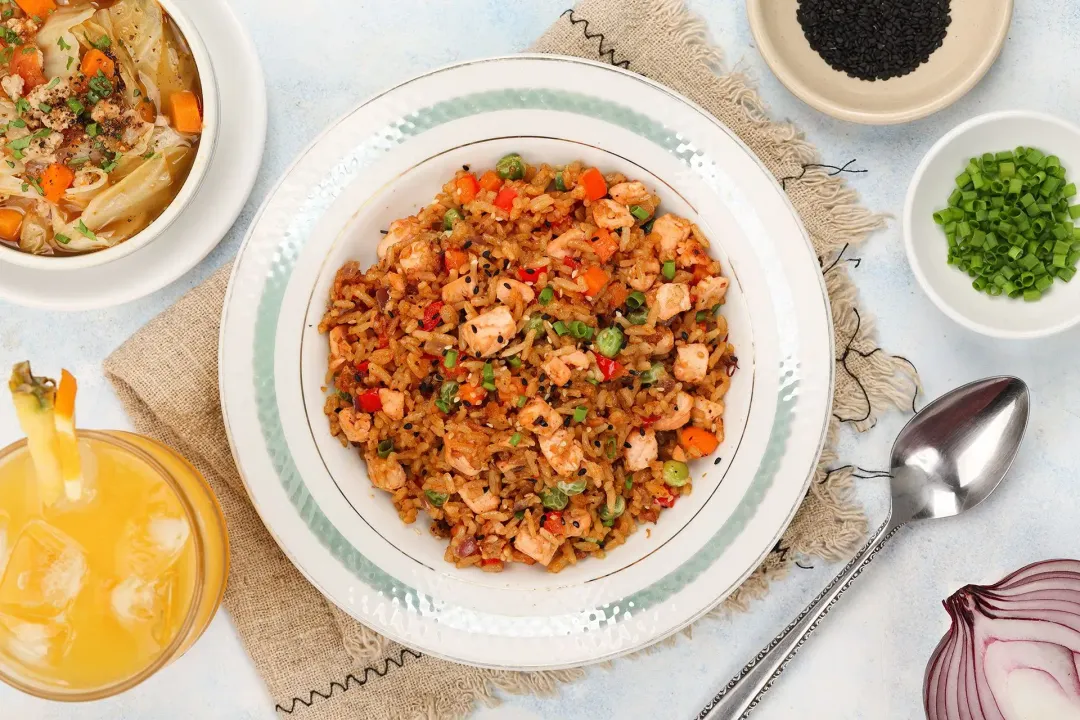 NUTRITION
Nutrition Facts
Salmon Fried Rice
Amount Per Serving (1 serving)
Calories 490
Calories from Fat 180
% Daily Value*
* Percent Daily Values are based on a 2000 calorie diet.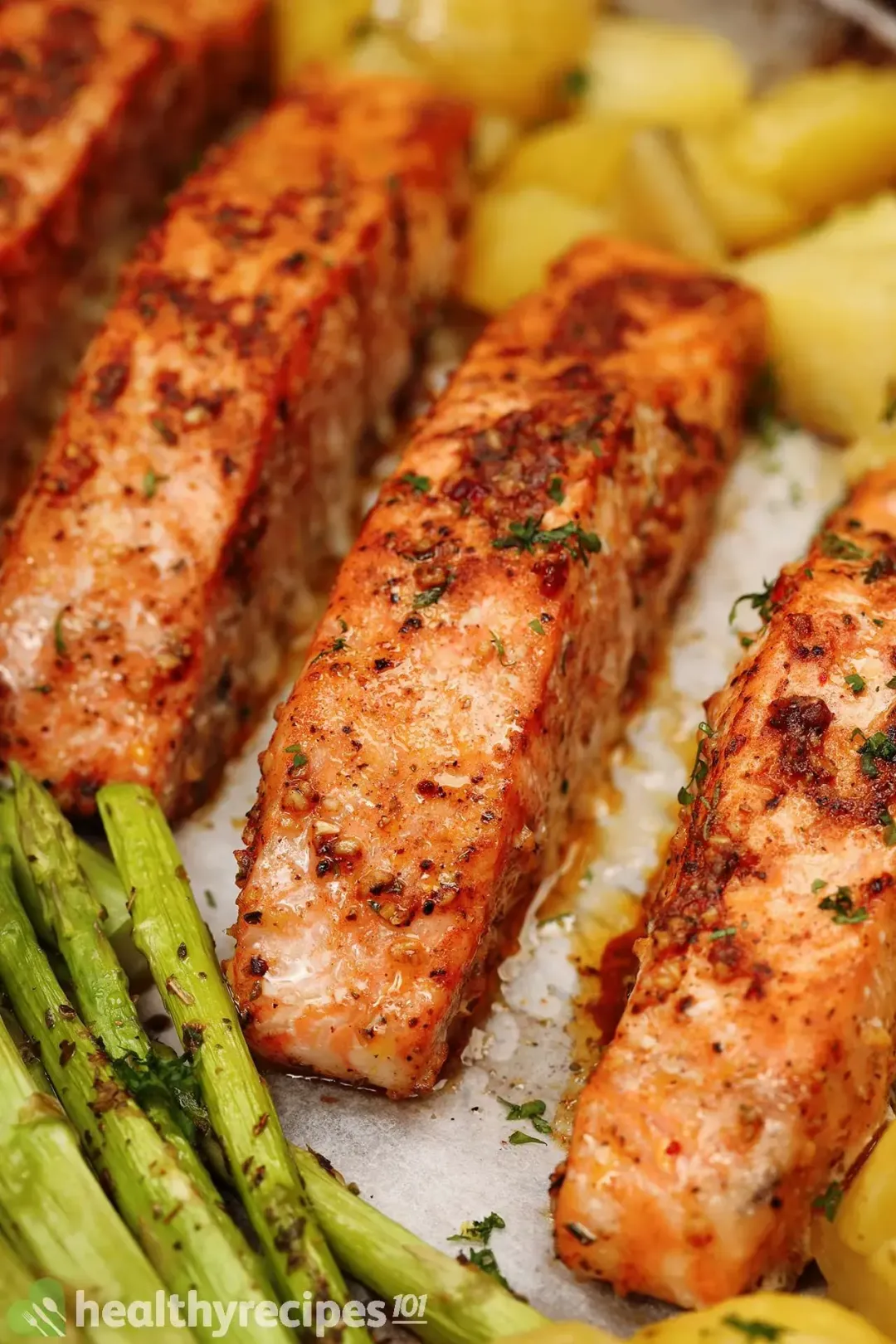 Previous Recipe
Oven-Baked Salmon
Oven-Baked Salmon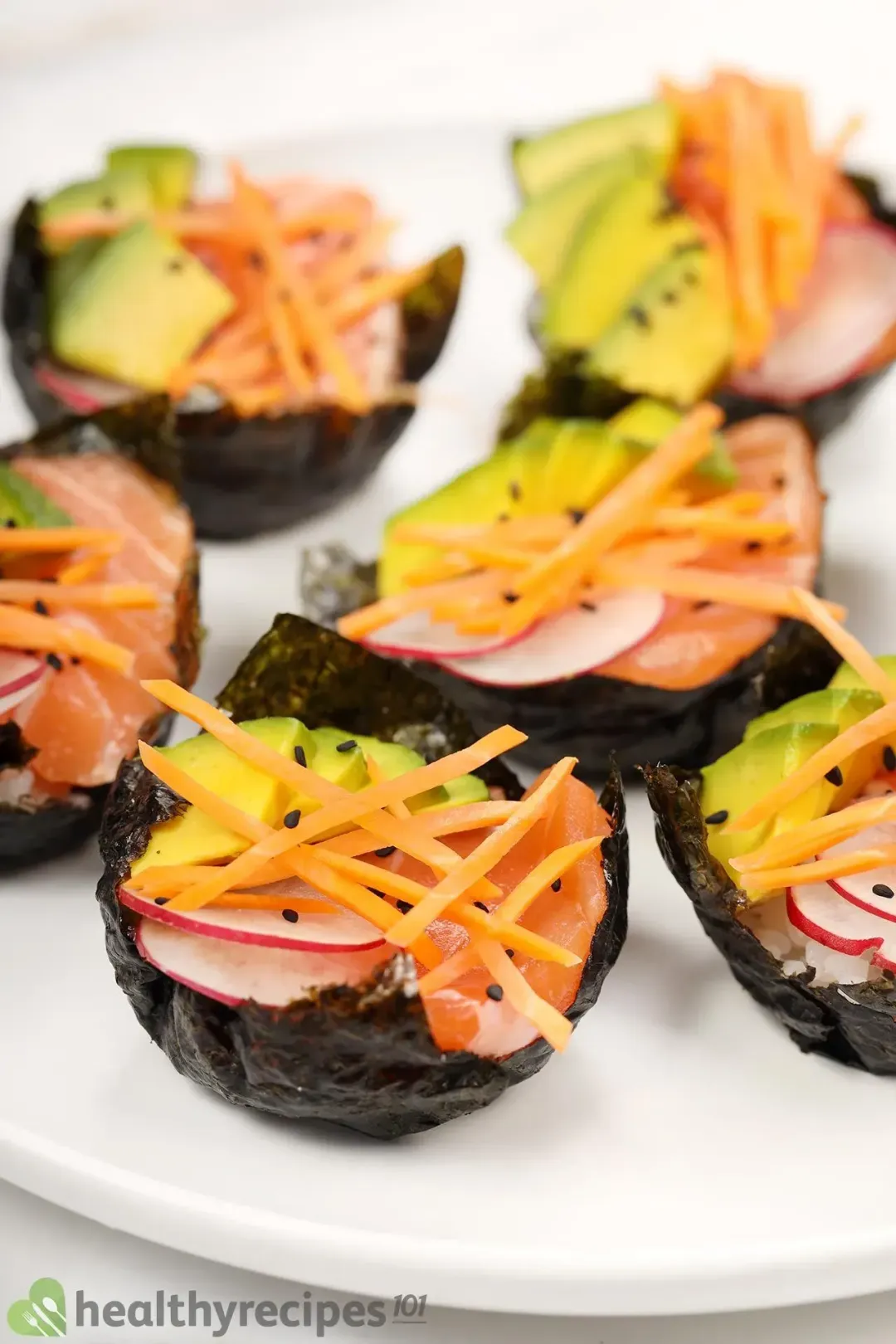 Next Recipe
Salmon Sushi Cupcakes
Salmon Sushi Cupcakes
Head Chef, Culinary Consultant
Tuyet Pham is an award-winning Saigonese chef who believes that joy is the secret ingredient to delicious food. At Healthy Recipes 101, Tuyet personally tests and simplifies every recipe, ensuring maximum flavor with minimal effort. With a background at prestigious French restaurants P'TI Saigon and Le Corto, Tuyet knows how to make every dish exceptional.
Writer, Author
Luna Regina is an accomplished writer and author who dedicates her career to empowering home cooks and making cooking effortless for everyone. She is the founder of HealthyKitchen101.com and HealthyRecipes101.com, where she works with her team to develop easy, nutritious recipes and help aspiring cooks choose the right kitchen appliances.
Nutrition Reviewer
Natalie Butler is a registered dietitian nutritionist with a passion to help others live their best life through food, fitness, safer beauty and a healthy lifestyle. She has expertise with a variety of diets and diseases and believes that there is no one-size-fits-all approach for health.
The salmon adds a nice pop of flavor and protein, while the veggies and rice make for a filling and nutritious meal.