Salmon may not be an unfamiliar ingredient, but its full potential is not always realized. This subtle fish offers a great canvas for you to experiment on and expand your culinary horizons. What better place to start with than a cuisine as diverse as Asian?
Explore new ways to eat salmon with our Asian Salmon Recipes list. You'll be amazed by how simple yet flavorful these dishes are.
Check out Our Most Popular Recipes
There's never a dull moment when experimenting with Asian food. Even the simplest dishes can captivate you with their gorgeous blend of flavors and textures. Hopefully, the dishes from our Asian Salmon Recipes are enough to inspire you to bring your taste buds on an exciting culinary journey.
What to Consider When Cooking Salmon at Home
Cooking salmon at home can seem intimidating at first. However, you may be surprised to find it's much simpler than you think. Here are a few key elements to consider:
You don't need to be too particular when cooking salmon. However, it's always good to be prepared. Have a large (fish) spatula on hand to quickly flip and lift as you cook. Get a small pair of needle-nose pliers to remove the pin bones and a meat thermometer to precisely check when your salmon is done.
There are three main cuts you can choose from when cooking salmon. Filets are the most common, easiest to prepare, and can be adapted to almost any recipe. 
If you're looking for something more succulent and thicker, steaks are the way to go. This cut is ideal for high-heat cooking methods, such as grilling, broiling, or pan-searing. 
Finally, a side of salmon can be a good fit for a large meal. It's almost as long as the fish and can be cooked using various methods, such as roasting, grilling, poaching, baking, or any other that you choose. 
The oven provides a great shortcut for cooking restaurant-worthy Asian salmon recipes. It allows you to cook many filets in one go, and multitask while the food is cooking. Many like to roast their salmon, but you can also bake or broil to keep it simple, or en papillote to infuse it with herby flavors. 
If you prefer a more hands-on approach, try sautéing, pan-frying, or poaching. These methods usually take less than 20 mins for a flavorful dish of tender salmon. 
Last but not least, grilling is never a bad idea if you're looking for a smoky taste and that crispy charred skin.
How to Make Asian Salmon 
Asian food is known for its complex yet harmonious flavors, ranging between sweet, spicy, savory, and sour. This is because of the balanced combination of delectable condiments, fresh ingredients, and suitable cooking methods. 
Salmon has a mild and briny flavor that works well in a lot of Asian dishes. If you want to bring Asian flavors right into your kitchen, consider the following elements.
Asian spices are familiar ones that you may already have in your pantry. Go for intense and slightly spicy ones such as pepper, ginger, sesame seeds, red pepper flakes, minced garlic, cumin, etc.
Thai basil can be used in a baked salmon dish to enrich its taste. You can also wrap your salmon in foil with bay leaves to infuse it with a woodsy scent. Other Asian herbs to consider are cilantro, rosemary, lemongrass, and spearmint. 
Marinating sauces is the easiest way to instantly introduce Asian flavors to your salmon dish. Soy sauce, teriyaki sauce, miso, and oyster sauce are the most common choices, often paired with honey or ginger in a glazed dish. You can also use Sriracha if you're looking for a more sweet-and-spicy taste. 
Going beyond the seasonings, you can also add salmon to classic Asian dishes. Fried rice, white rice, sushi, miso soup, curry, or egg noodles are great places to start with.
What Drink Goes Well With?
Sparkling wines such as white or rosé are the most popular choices for pairing with Asian salmon recipes. Japanese-based dishes will mesh well with something subtly sweet, like Pinot Noir, sake, or fino sherry. Indian dishes might call for white wine such as dry riesling, pinot gris, or a simple rosé like Grenache.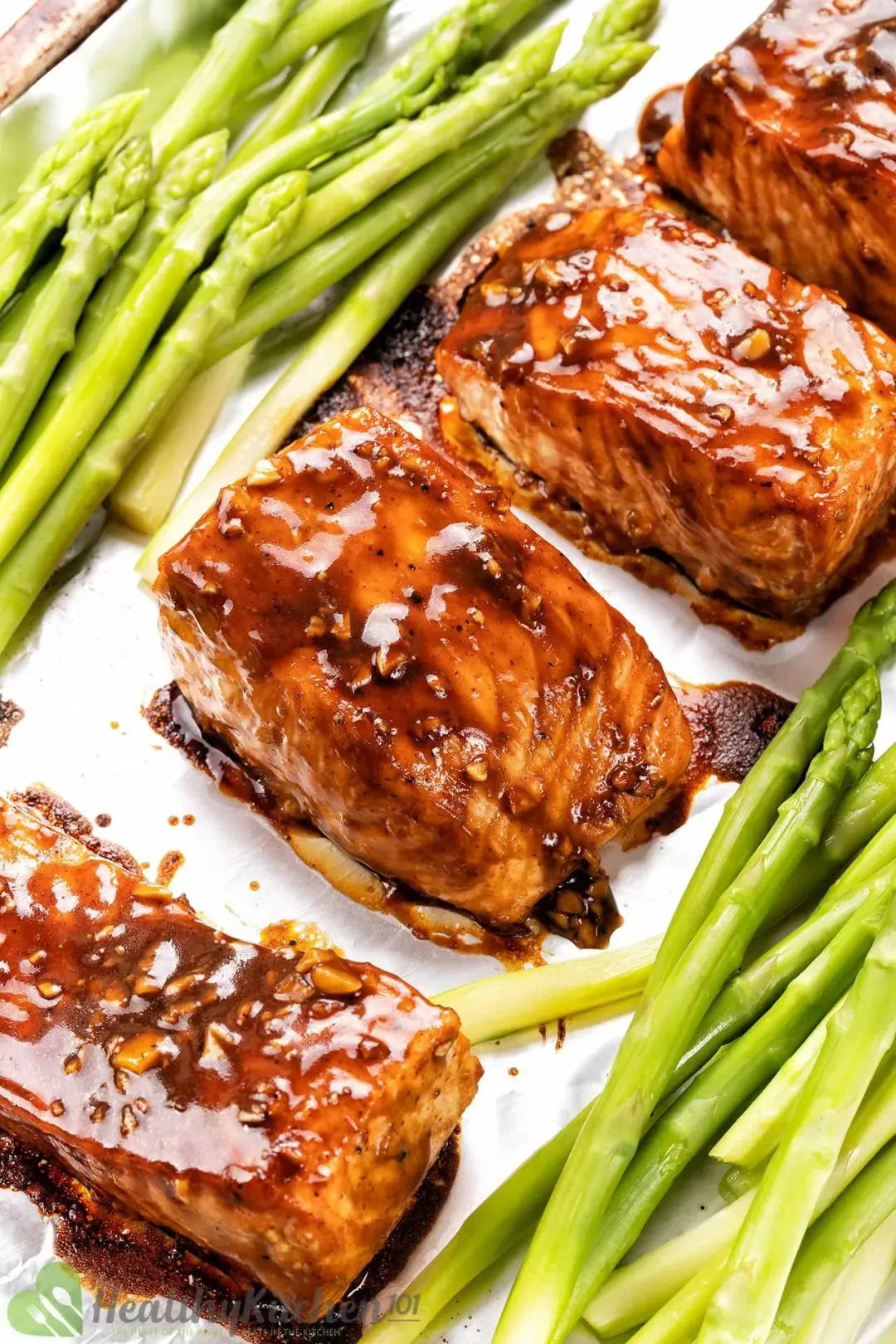 Asian Salmon Recipes
Looking for ways to make Asian Salmon Recipes? Give our list a quick look-over and get yourself inspired with these marvelous dishes.
Ingredients
Directions
Choose a recipe that you like.
Gather the ingredients.
Follow the instructions to give you incredibly tasty Asian salmon recipe in less than 45 minutes!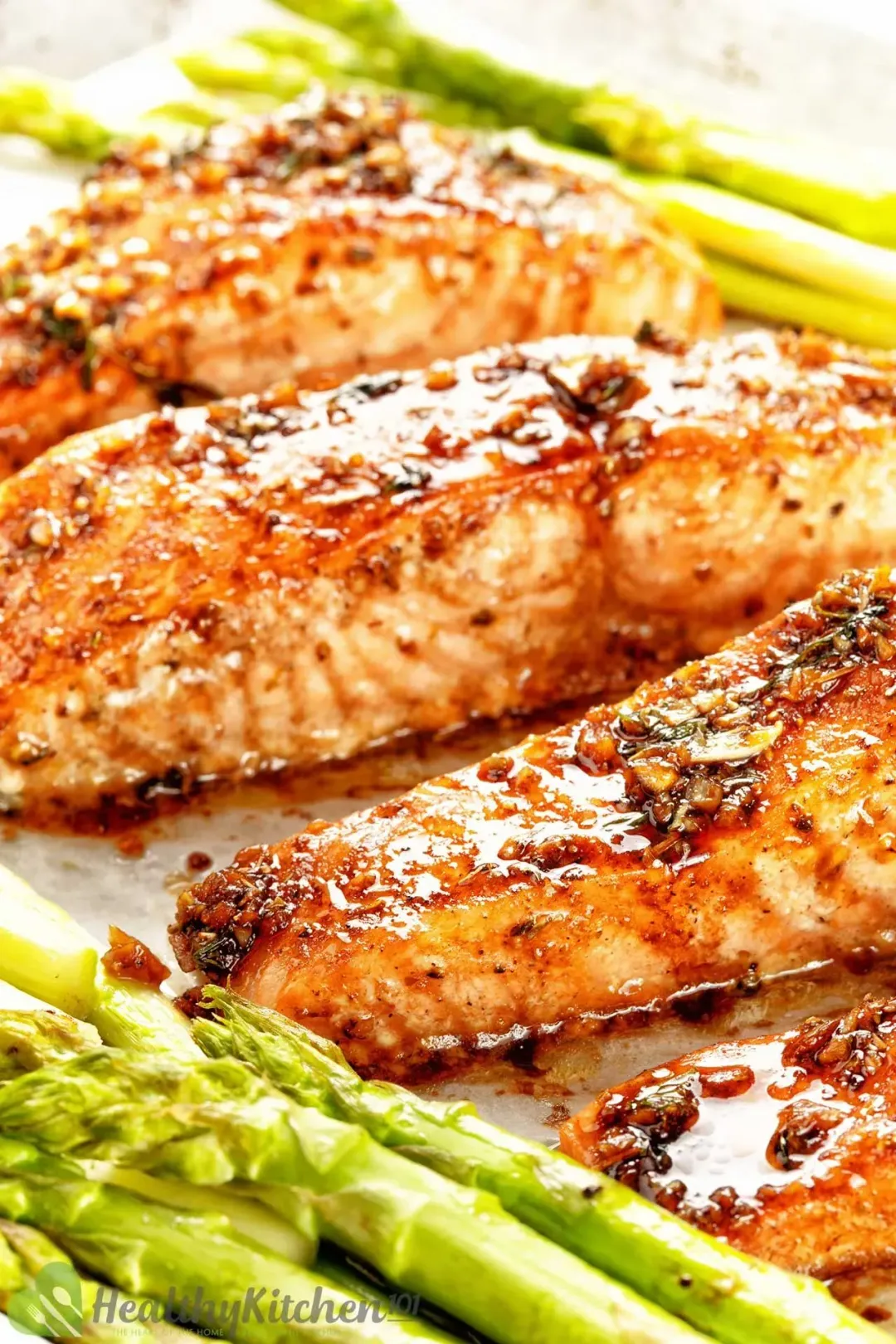 Previous Recipe
Salmon Recipes for Dinner
Salmon Recipes for Dinner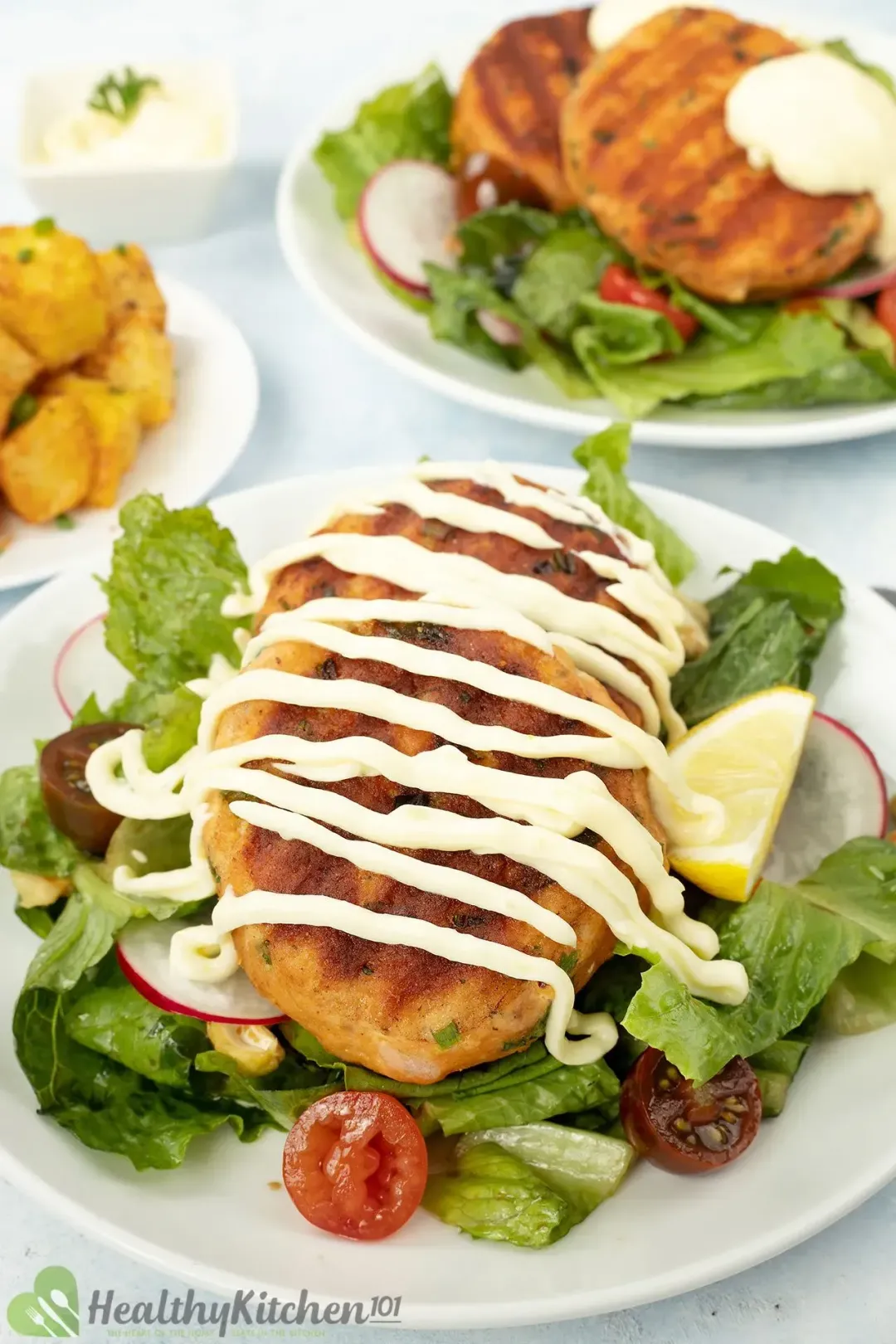 Next Recipe
Frozen Salmon Recipes
Frozen Salmon Recipes
Writer, Author
Luna Regina is an accomplished writer and author who dedicates her career to empowering home cooks and making cooking effortless for everyone. She is the founder of HealthyKitchen101.com and HealthyRecipes101.com, where she works with her team to develop easy, nutritious recipes and help aspiring cooks choose the right kitchen appliances.
Comments/ Reviews