Our shrimp chop suey recipe is the perfect way to clean out and use up all the veggies in your fridge. The dish consists of shrimp and a rainbow of vegetables stir fried in a thickened sauce.
Appealing and appetizing with a variety of colors and textures, our shrimp chop suey is visually stunning and fantastically healthy.
What Is Chop Suey?
Chop suey is an American-Chinese dish. It contains bite-sized chunks of protein (pork, beef, shrimp, or fish), cooked quickly with various chopped vegetables such as carrots, onions, and cabbage, then tossed in a starch-thickened sauce.
Chop Suey vs Chow Mein
Chop suey and chow mein are both classic stir-fried dishes that can easily be found in any Chinese restaurant or take-out menu. These two often share similarities in their ingredient lists and cooking technique, but they are two different dishes.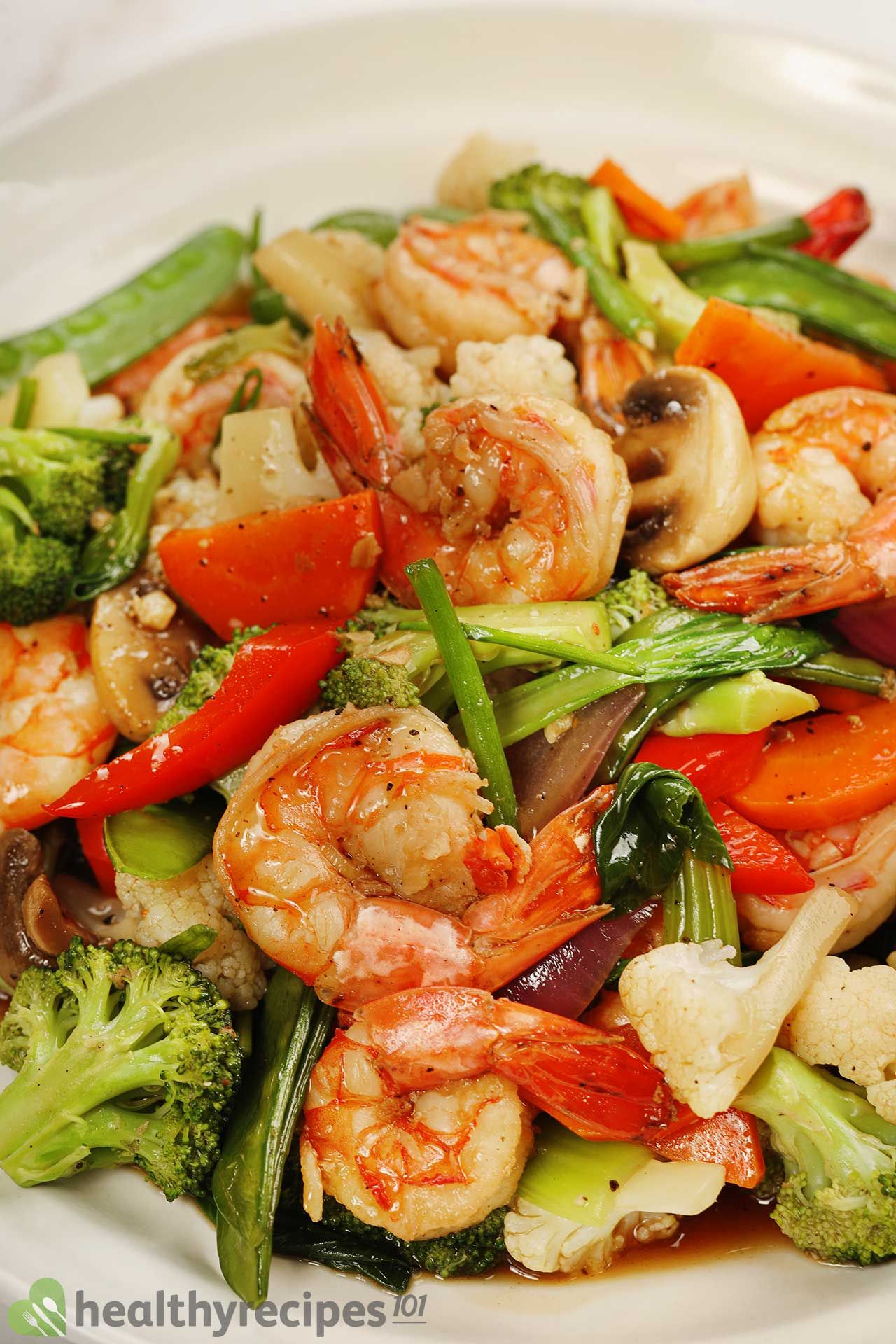 Chow mein involves boiled noodles being added to a wok along with other stir-fried ingredients, and then sauce at the end of the cooking process. The noodles are soft and coated in a flavorful sauce.
Chop suey, on the other hand, is more adaptable to whatever meat and veggies are in your fridge. Plus, instead of tossing with noodles, the stir-fried mixture is served over hot steamed rice.
Is This Shrimp Chop Suey Recipe Healthy?
Yes, our shrimp chop suey recipe is relatively healthy. The dish also provides an excellent amount of protein, 34 grams — up to 68% of the recommended daily allowance from the USDA.
The vegetable mixture in this recipe is also packed with dietary fiber and essential vitamins and minerals. Veggies, in general, are gut-friendly and ideal elements to add to your daily diet to keep your digestive system working smoothly and efficiently.
Shrimp Chop Suey Calories
Each serving of this shrimp chop suey contains approximately 485 calories, with the rice included. This leaves ample calorie room for an appetizer, soup, or drink to round out the meal.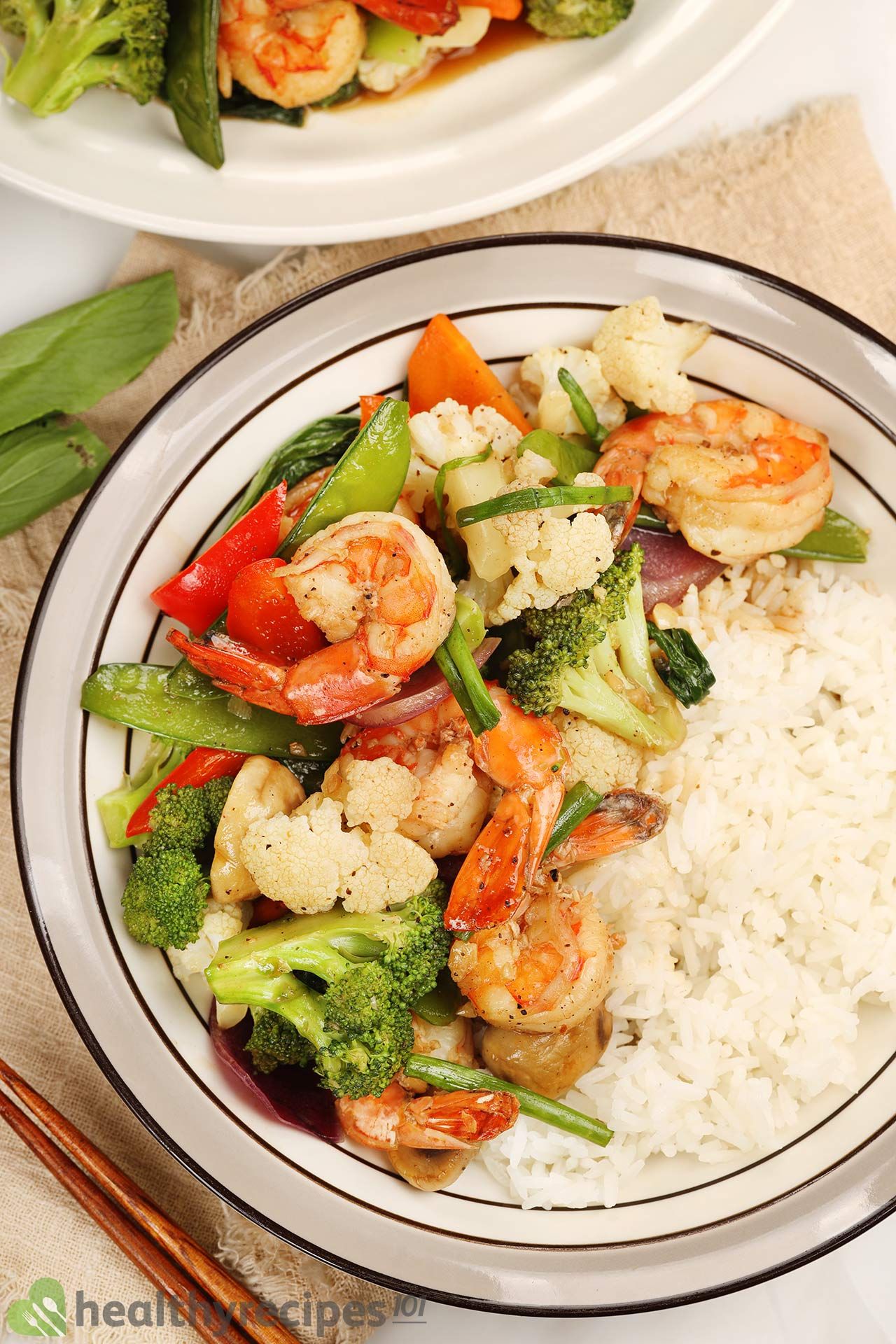 Shrimp Chop Suey Ingredients
Chop suey is wonderfully versatile: you can use whatever protein and veggies you have on hand to make a quick and nourishing meal.
1. Shrimp
There are also diverse options when it comes to the protein in your stir-fry. We went with fresh shrimp in this recipe, but you can switch it with chicken or beef. They can all be cost-effective, easy to prepare, and bursting with flavor.
2. Vegetables
You can use the freshly harvested vegetables from your garden or go with the leftover veggies in your fridge that need using up. The most common ones you see in chop suey dishes include carrots, onions, bell peppers, cauliflower, bok choy, snow peas, and mushrooms.
Don't overcook the veggies since they should always be tender-crisp. Make sure that you keep your eyes on the stir-frying pan.
Another tip in this recipe is to parboil the vegetables. We blanched the veggies by dropping them in boiling water for a minute and then submerging them in cold water. This step helps to keep the vibrant colors, crunchiness, and nutrients.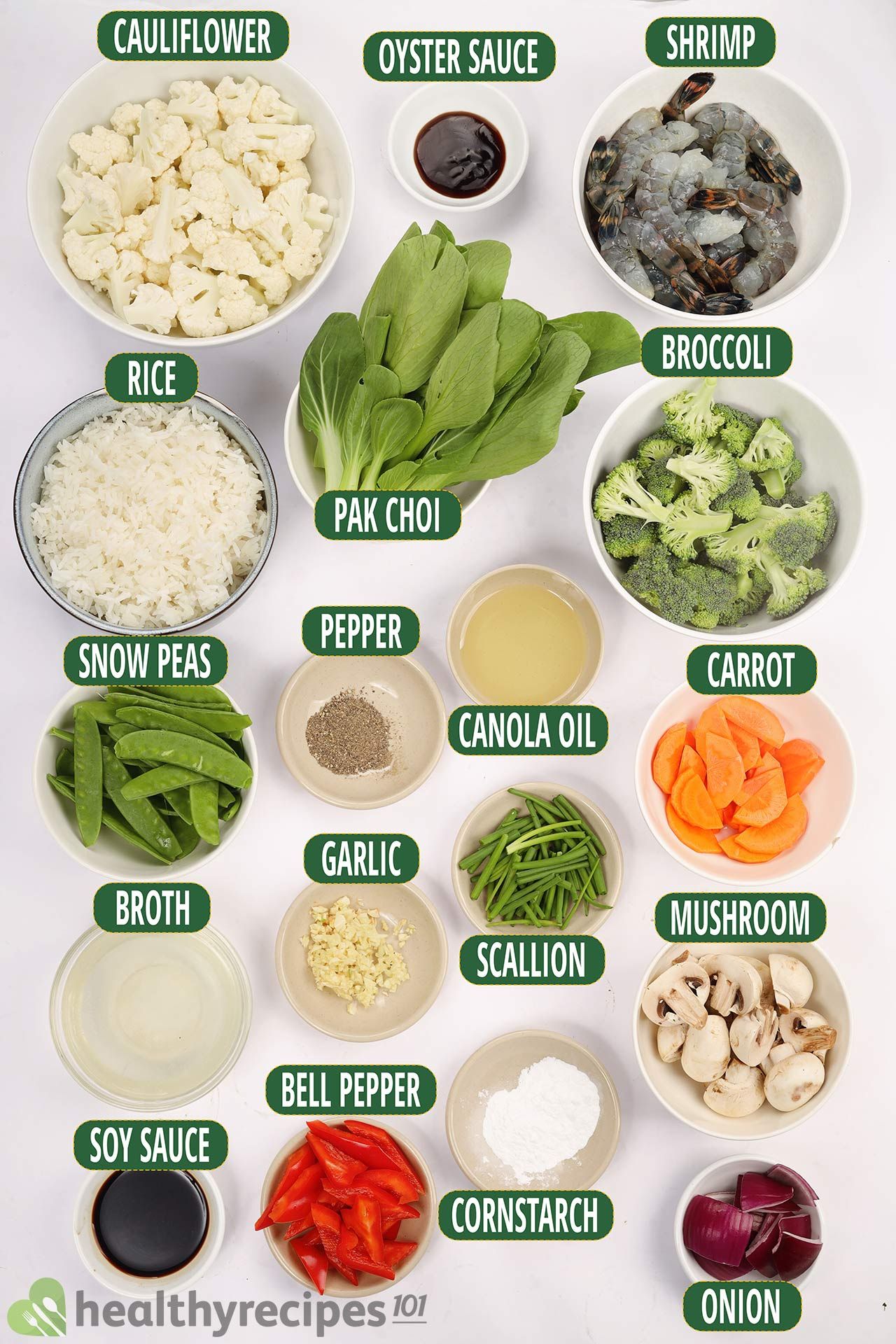 3. Sauce
The sauce is where the magic really happens. The sauce for our shrimp chop suey is simple with five condiments. Soy sauce and oyster sauce — the two classic seasonings in Chinese stir-fried dishes — lend the saltiness and signature umami flavor.
The cornstarch is diluted in the chicken broth to thicken the sauce. If you don't have broth, you can use water, but it's tastier with stock, either from chicken or vegetables.
And finally, a finishing touch of black pepper adds a splash of spiciness and amplifies the complexity of flavor.
How to Make Shrimp Chop Suey
When Chinese immigrants came to America, they brought with them the chop suey. It then became a well-known staple of Chinese-American cuisine thanks to the straightforward process that still delivers exquisite taste.
Here are the steps we took, illustrated: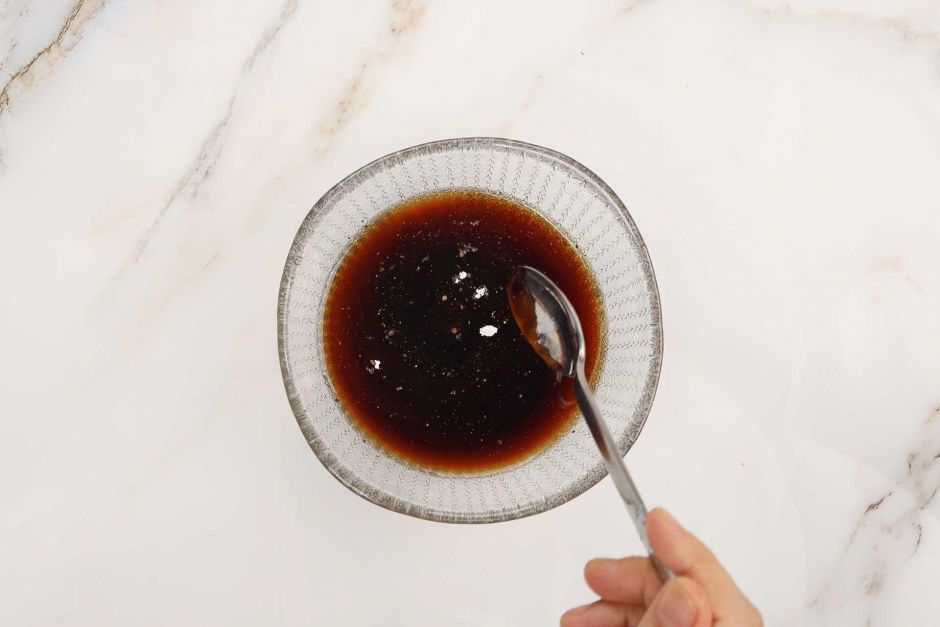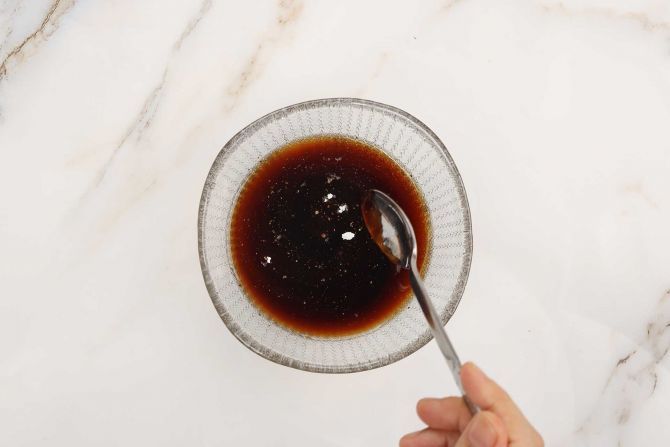 Make the sauce.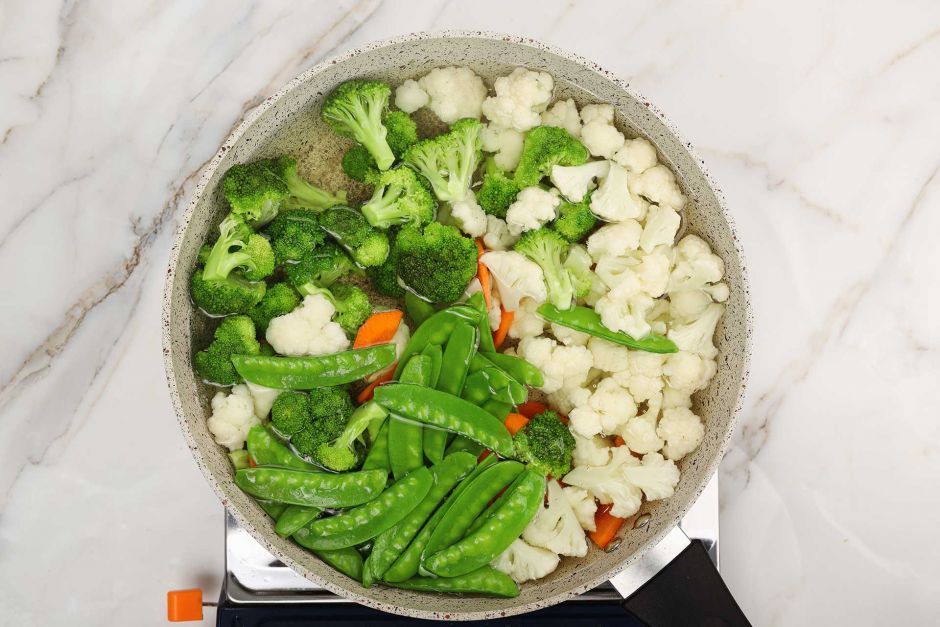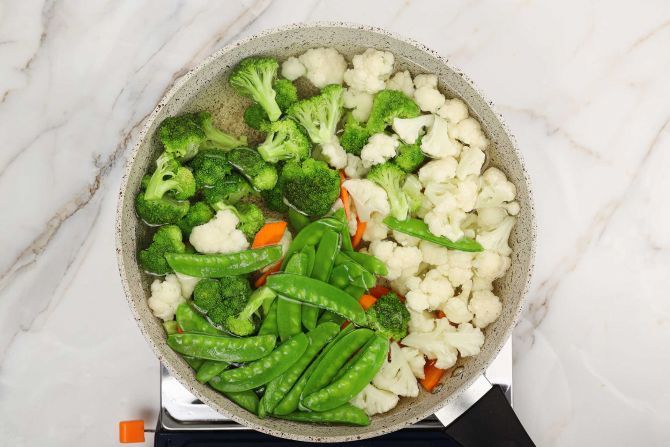 Parboil the vegetables.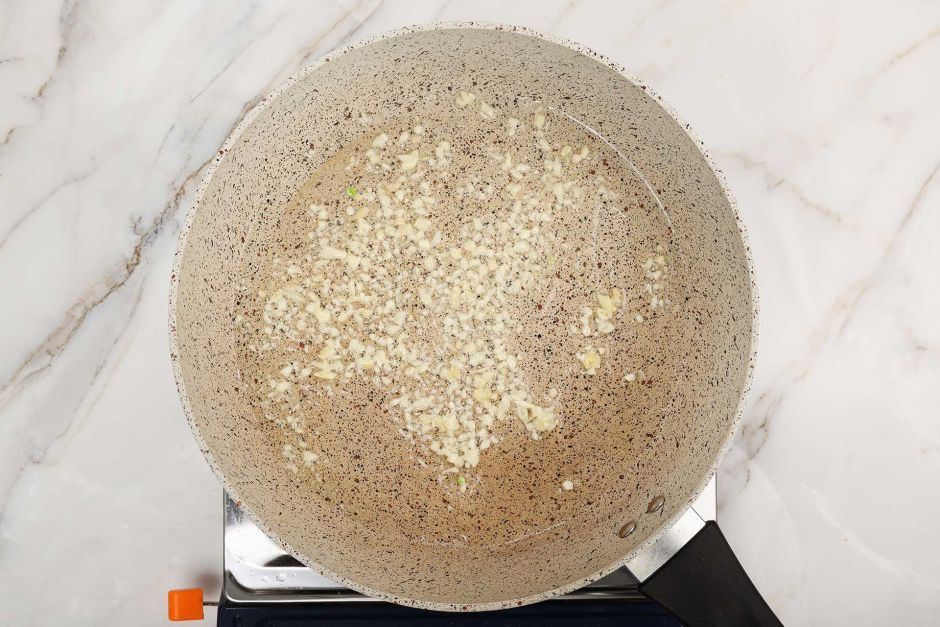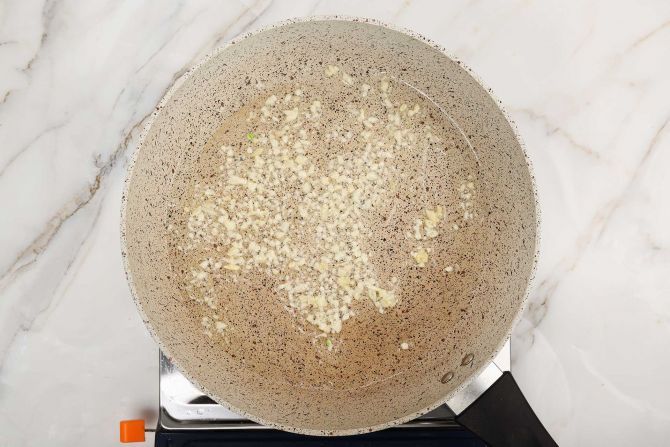 Sauté the garlic.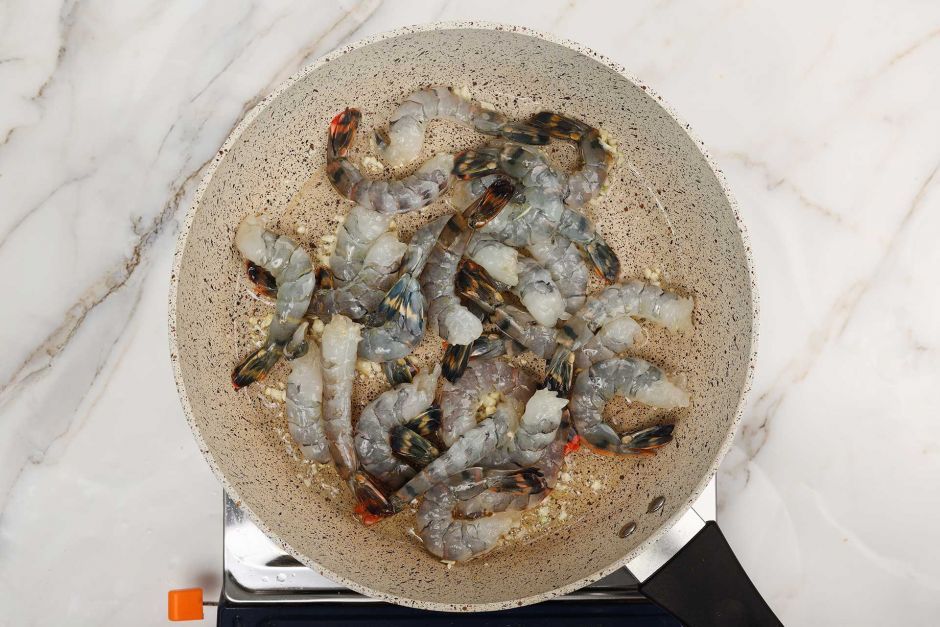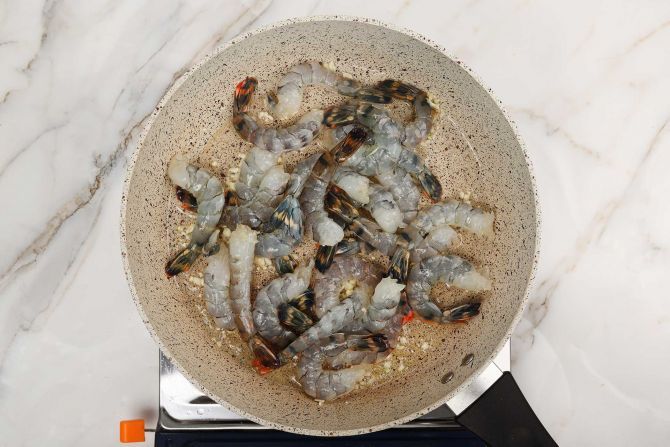 Stir-fry the shrimp.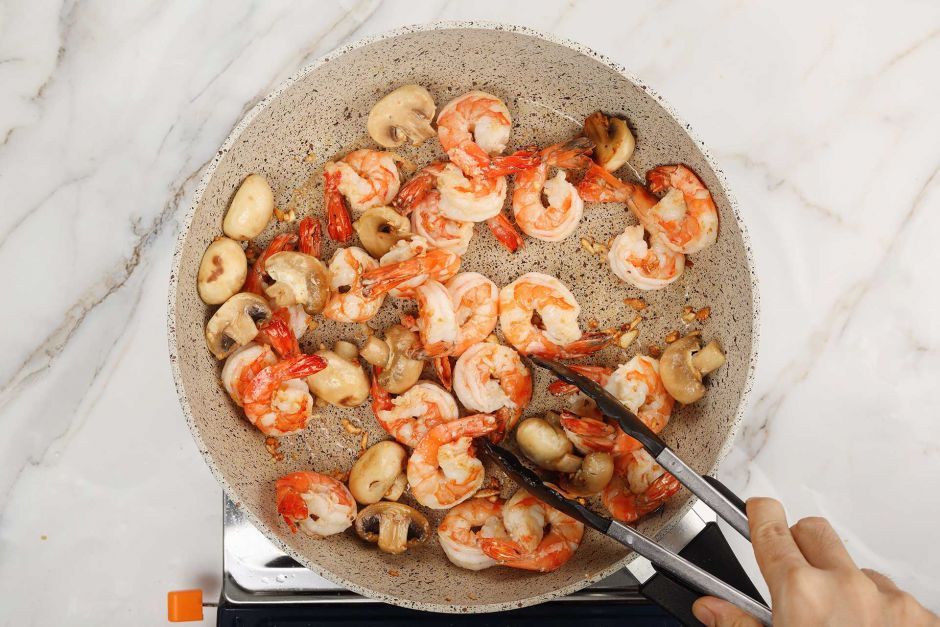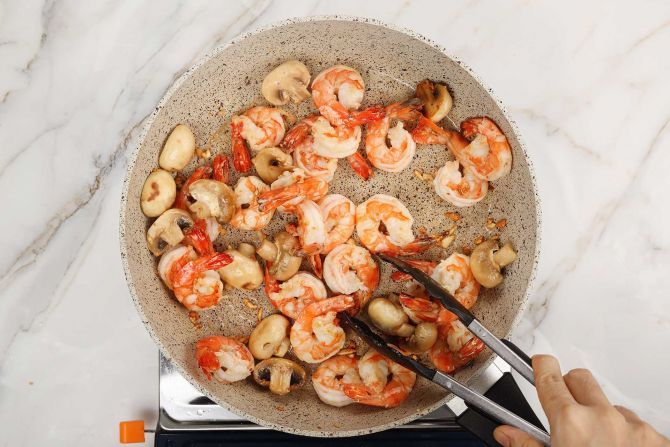 Add the mushrooms.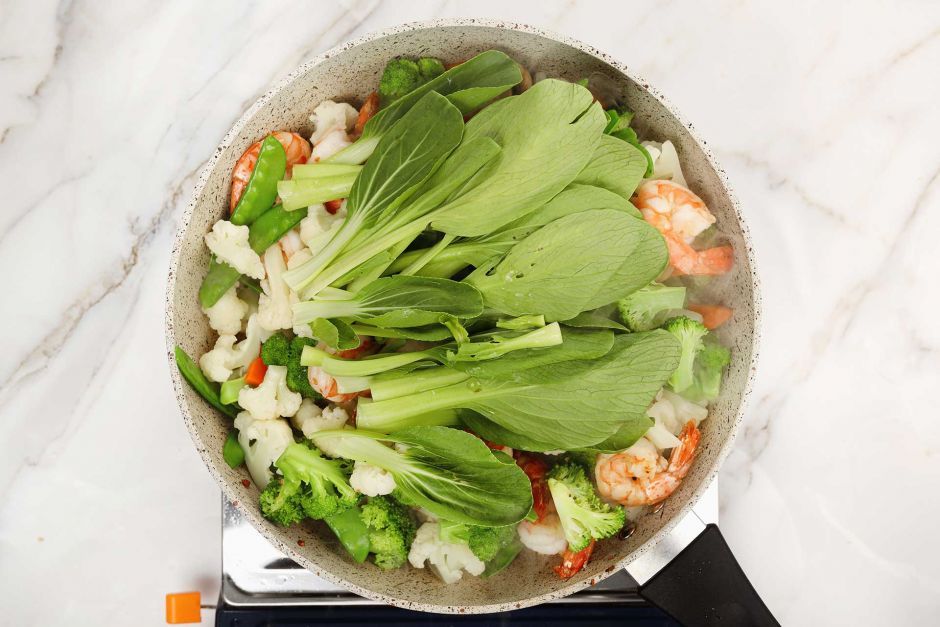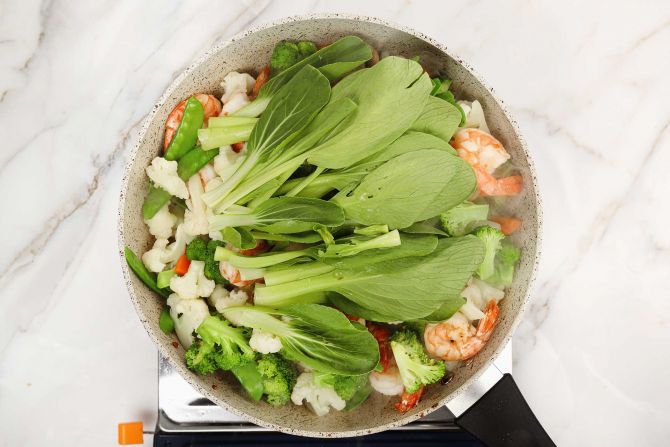 Toss in the bok choy.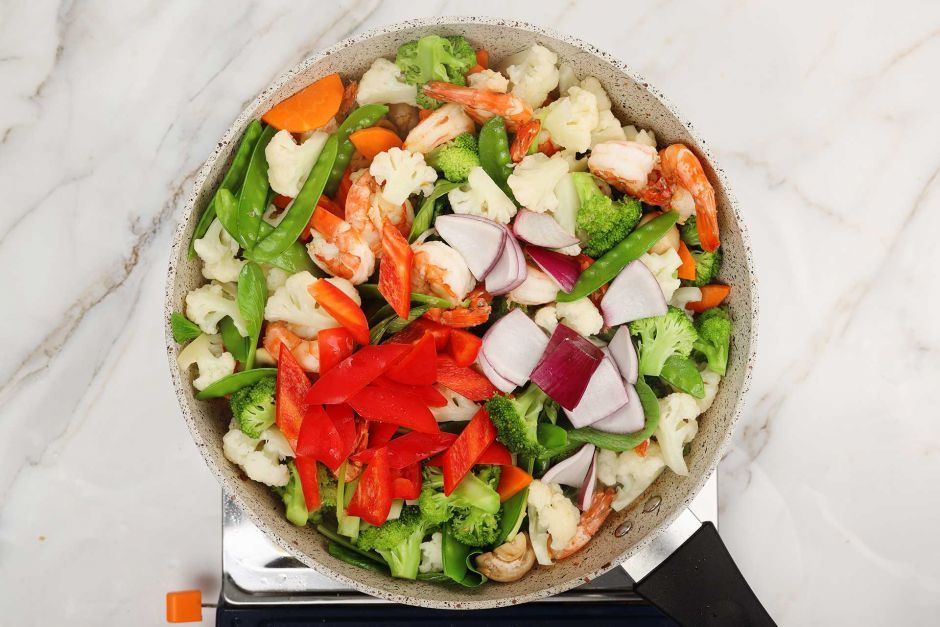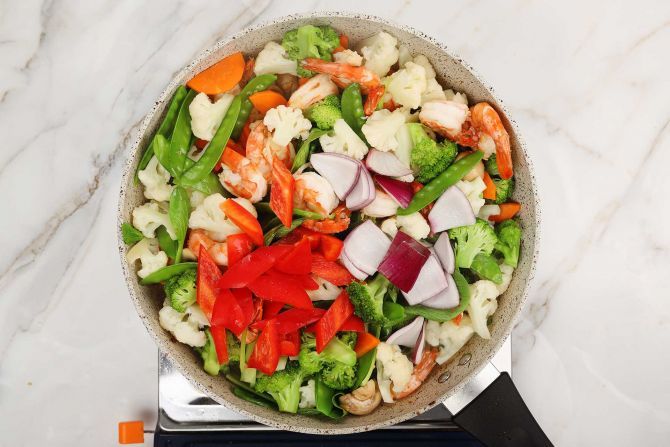 Add the bell pepper and onions.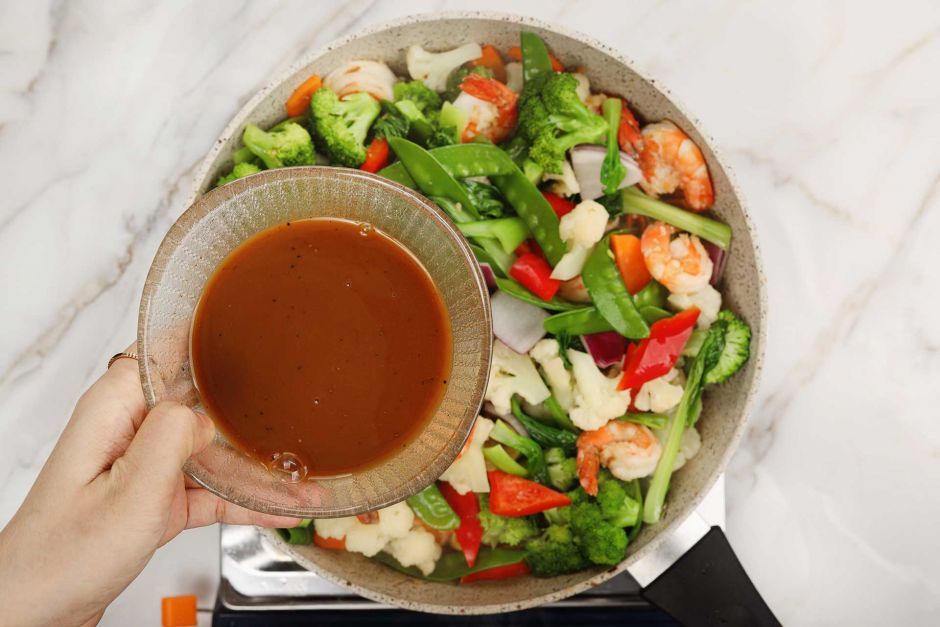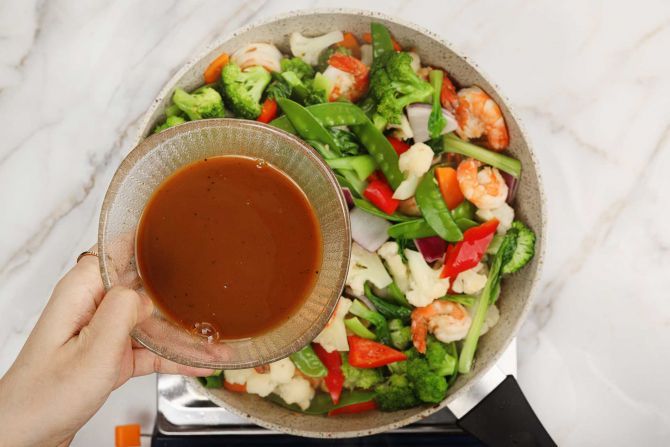 Pour in the sauce and toss to coat everything with the mixture.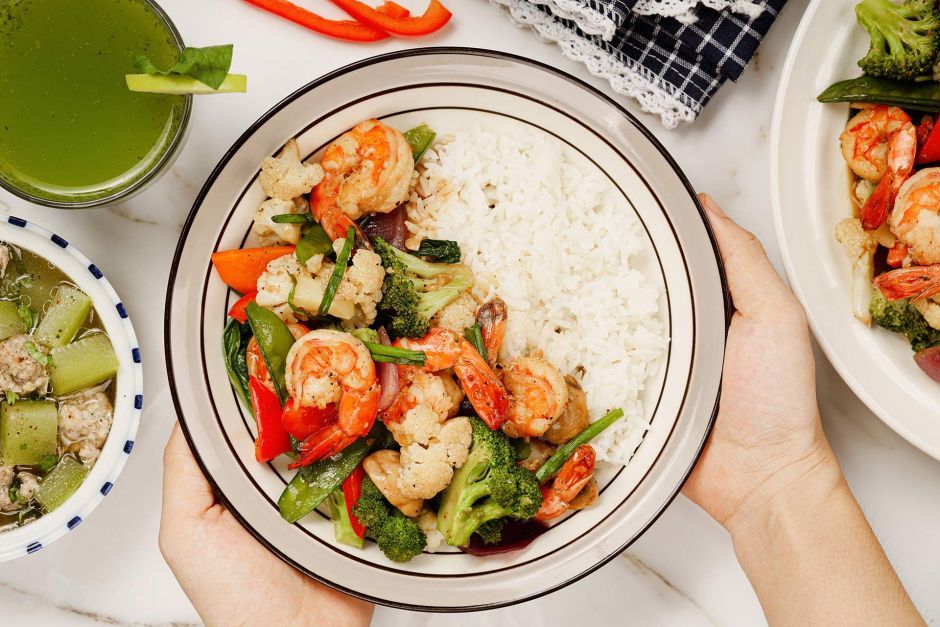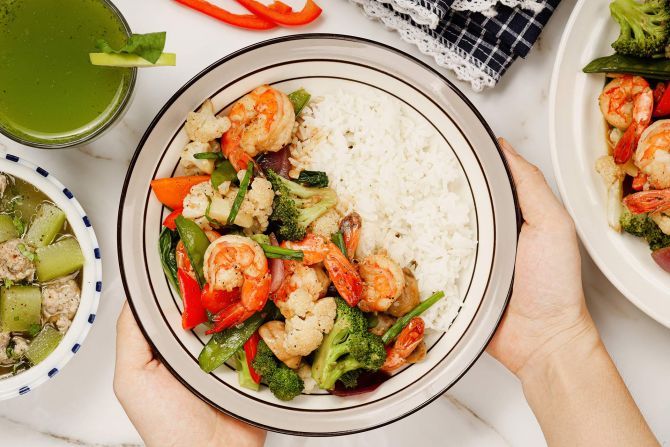 Garnish and serve hot with rice.
It's best to prepare the rice cooker before you cook the shrimp chop suey so that everything is ready as soon as the sautéing is done.
Store and Reheat
The cooked shrimp chop suey should be allowed to cool completely at room temperature before being transferred to an airtight container or Ziplock bag. The refrigerated dish can last for up to 3 – 4 days. We don't recommend storing it in the freezer since the vegetables tend to turn mushy when frozen and thawed.
To reheat the shrimp chop suey, cook the mixture over low heat with a few tablespoons of water for 3 – 5 minutes or until the dish is heated through.
For the rice, you can either steam it for 5 minutes or microwave it in a bowl covered with plastic wrapper/a piece of paper towel. Don't forget to add a tablespoon of water to the rice as this helps to return the moisture to it.
What to Serve With Shrimp Chop Suey
Traditionally, this stir-fried Chinese meal is often paired with a hot vegetable soup, so we put this delicious shrimp chop suey with our winter melon meatball soup. The soup is made with tender squash, juicy meatballs, and abounds with delicate flavors.
To round out all this deliciousness, we chose simple green apple juice. It's mild and sweet in taste with an exciting hint of citrus, bringing a fresh note to the meal.
Nutritional values in this table vary somewhat to those below due to different app calculations. Read more...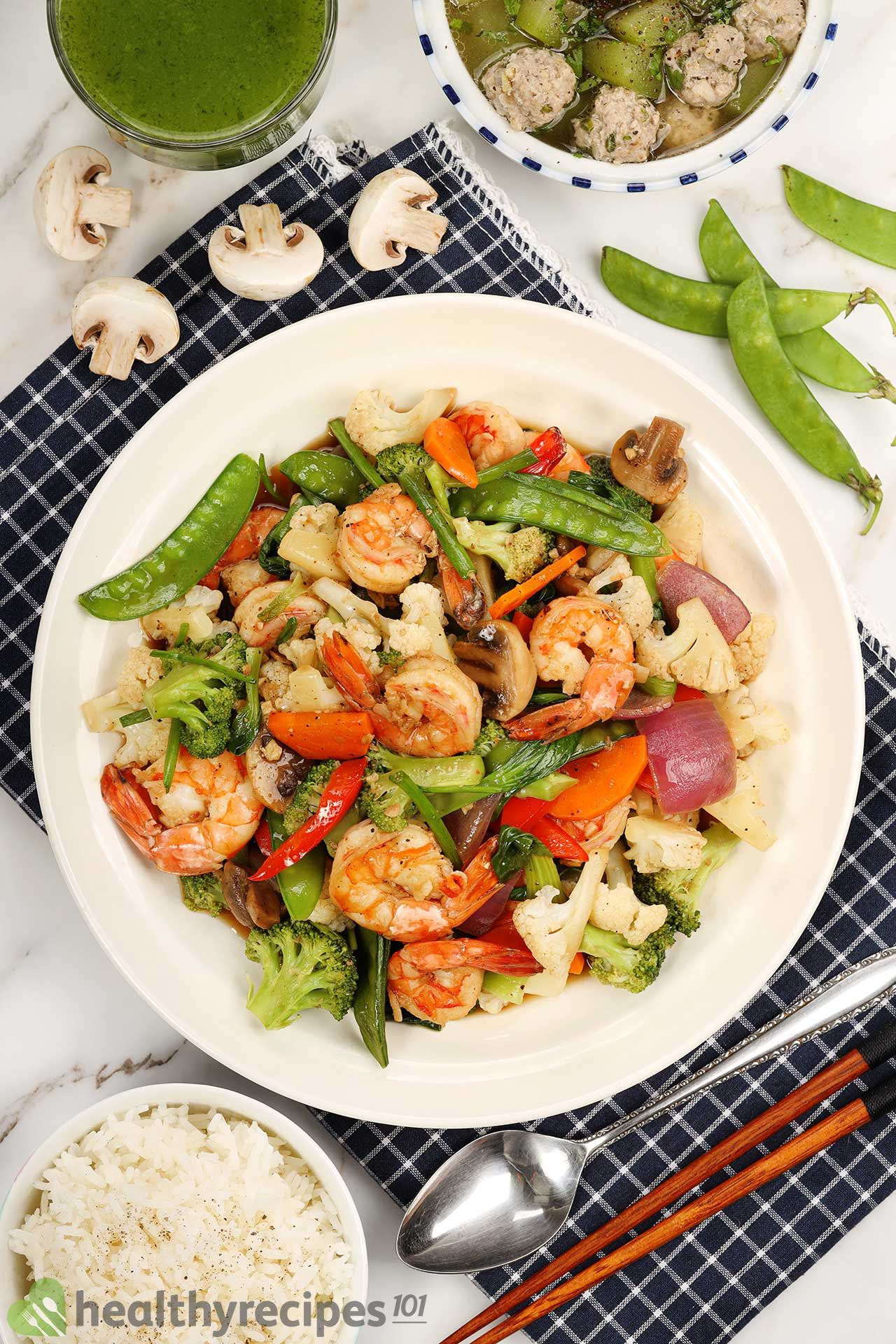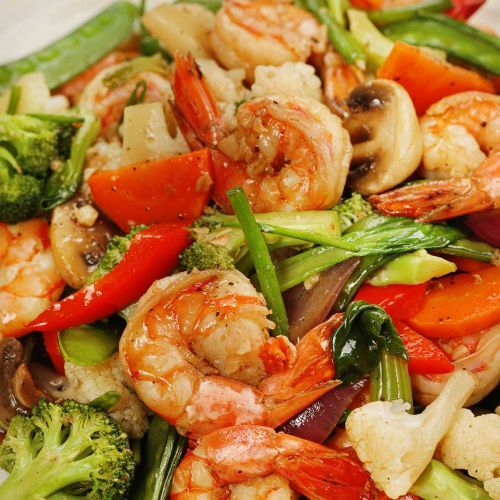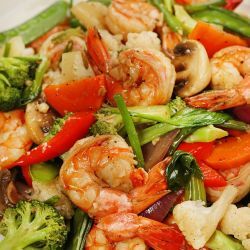 Shrimp Chop Suey Recipe
Our shrimp chop suey recipe introduces a quick and easy-to-make stir-fried Chinese dish. It's nourishing and perfect for a busy weeknight!
Ingredients
9

oz

peeled and deveined shrimp

equals to 18 oz raw shrimp

2

tsp

cornstarch

1/2

tsp

ground pepper

1/2

tbsp

oyster sauce

1/2

cup

unsalted chicken broth

1 1/2

tbsp

reduced sodium soy sauce

2

oz

carrot

sliced

6

oz

broccoli

chopped into bite-size pieces

8

oz

cauliflower

2

oz

snow peas

3

tbsp

canola oil

1

tbsp

garlic

chopped

2

oz

white mushrooms

halved

2

oz

pak choi

2

oz

red bell pepper

1

oz

red onions

2

tbsp

scallion

3.5

cups

cooked medium-grain rice
Instructions
Make the sauce: In a small bowl, whisk together 2 tsp cornstarch, 1/2 tsp ground pepper, 1/2 tbsp oyster sauce, 1/2 cup chicken broth, and 1 1/2 tbsp soy sauce. Set aside.

Bring a pot with a few inches of water to a boil. Add 2 oz carrot, 6 oz broccoli, 8 oz cauliflower, and 2 oz snow peas and cook for 1 minute. Remove the vegetables from the pot and drain them under cold water. This step helps to retain their crispness and bright colors.

In a non-stick skillet, heat 3 tbsp canola oil over medium heat. Add 1 tbsp garlic and sauté for 30 seconds or until fragrant.

Add 9 oz shrimp. Cook and stir occasionally for 5 minutes.

Stir in 2 oz white mushrooms and cook for another 2 minutes.

Toss in 2 oz pak choi and the parboiled vegetables and stir fry for 1 minute.

Add 2 oz red bell pepper and 1 oz red onions to the pan. Stir and cook the mixture for 1 minute.

Pour the sauce into the pan and toss until thickened and the sauce sticks to the vegetables.

Garnish with 2 tbsp scallion and serve over hot rice.
Nutrition
Nutrition Facts
Shrimp Chop Suey Recipe
Amount Per Serving (1 serving)
Calories 483
Calories from Fat 108
% Daily Value*
Fat 12g18%
Cholesterol 206mg69%
Sodium 548mg24%
Potassium 910mg26%
Carbohydrates 60g20%
Protein 34g68%
Vitamin A 3896IU78%
Vitamin C 101mg122%
Calcium 156mg16%
Iron 4mg22%
* Percent Daily Values are based on a 2000 calorie diet.