This shrimp chow fun recipe will demonstrate how to prepare this flavorful and smoky stir-fry. It is not the ingredients that hold the secret, but rather a special cooking technique that results in the famous smoky flavor.
Wok Hei — The Secret Flavor of Chinese Cooking
This key element in Chinese cooking has been in existence for centuries. 'Wok' is a large, steep, and thin pan used specifically for quick stir-fries, and 'hei' means 'smoke'. It has no taste, but its aroma gives whatever flavors there are an entirely different dimension. You'd think that this stuff is created by heating oil in the pan until there is smoke coming off, but that's not the entire story.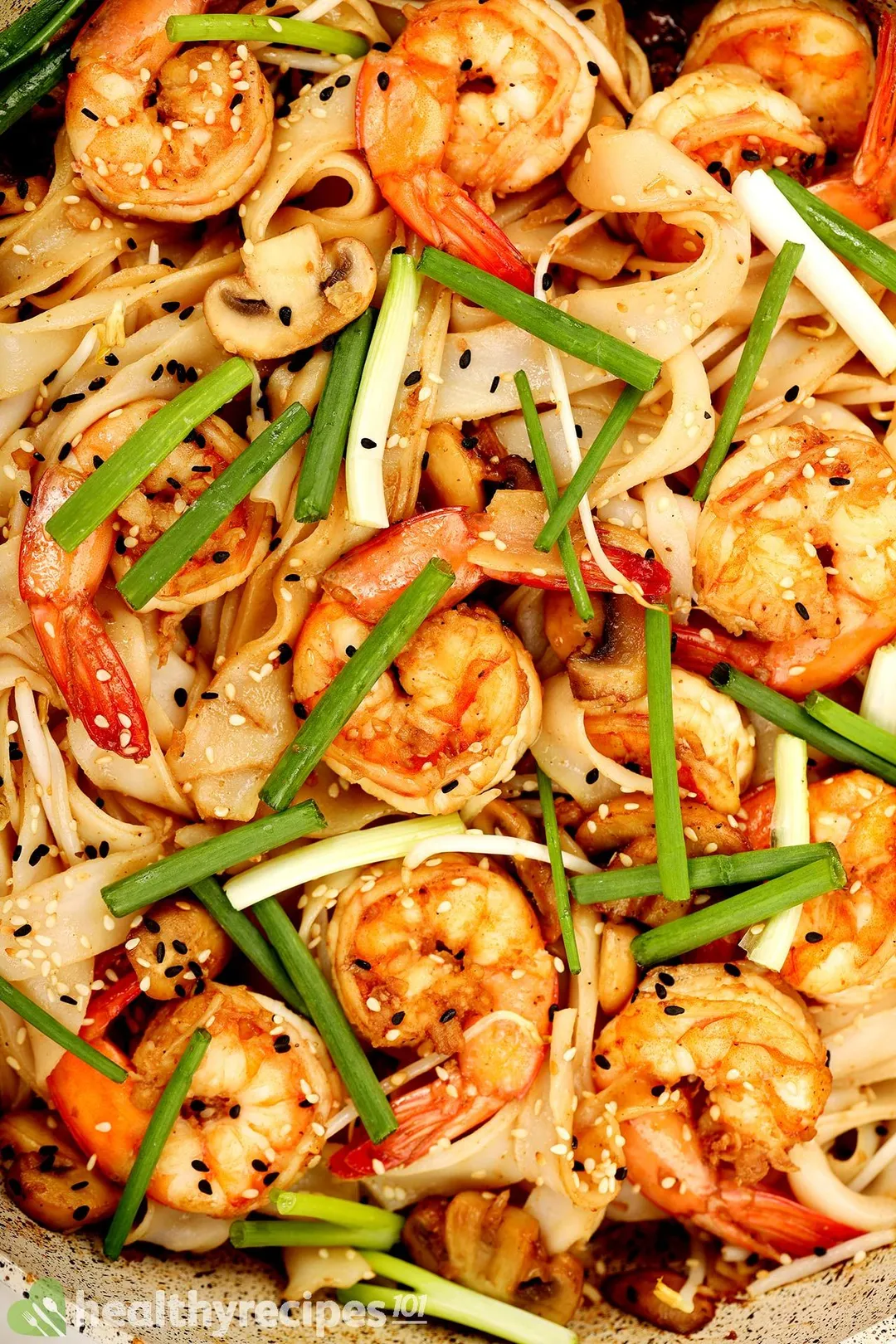 Restaurants that specialize in Chinese dishes save one or two special woks for making dry stir-fries. They are cleaned with lots of plain water, but the use of soap, to keep some flavors inside the wok. This technique might sound unsafe, but in reality, the wok is continuously used, leaving no chance for bacteria to grow.
Upon receiving the next order, the chef would heat this wok over high heat after adding some canola oil in it, and wait for the smoke to appear. This smoke is a result of oil and flavors brought to their smoking point, giving whatever foods are cooked with it a nuanced taste. That, and only that, is the 'wok hei' everyone adores.
Chow Fun — A Smoky Stir-Fry
Chow fun, or '炒粉', is a stir-fry of rice noodle, veg, and meat, all imbued with the smell of 'wok hei'. This rice noodle is soft, chewy, and large in width, allowing more sauce to cling onto it. These ingredients can also be used to make various other Chinese dishes, such as Chow Mein, Lo Mein, and Mei Fun.
The sauce is made with soy sauce, ginger, garlic, and sesame oil. These are the basic components that build the base of flavor in Chinese cooking.
Ingredients for Our Shrimp Chow Fun
A shrimp chow fun recipe typically consists of cooked wide rice noodles, shrimp, bean sprouts, sometimes another type of veg, and the mentioned seasonings. As with many stir-fries, you can certainly add more greens to it, such as those that are crisp and fresh, like bok choys.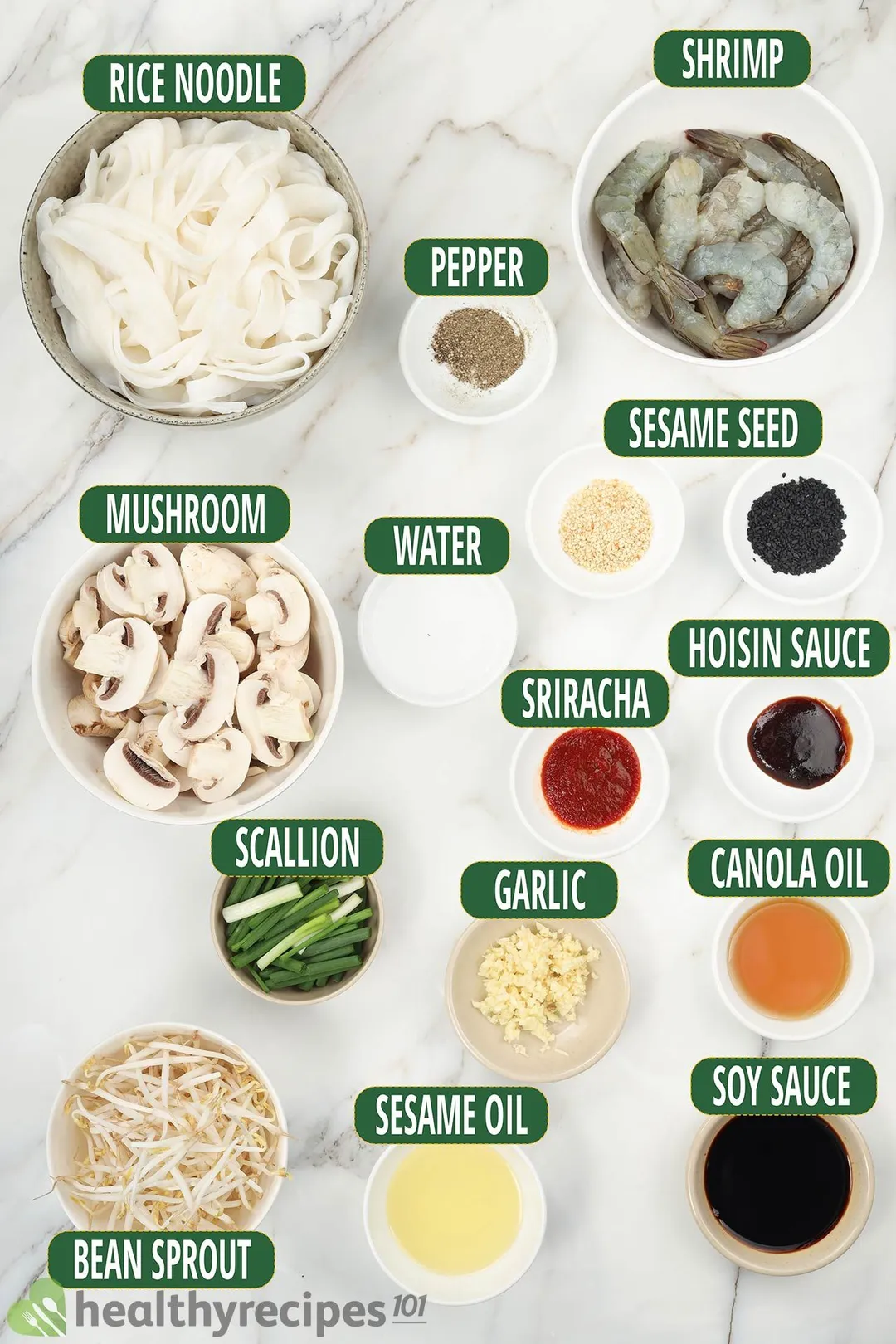 If you fancy a little heat, slice some chilis and add it to the stir-fry.
Chow Fun vs Chow Mein
While 'mein' literally means noodles, the term 'chow mein' specifically refers to a type of egg noodle shaped like spaghetti but less dense. 'Chow fun' uses a wide noodle, 'hor fun', made of rice instead of wheat flour and is more chewy.
Both dishes are similarly seasoned, but chow mein is often made without wok hei. Instead, it includes a slurry solution mixed in the sauce which thickens and glistens the noodles.
Chow fun is made with wok hei, and it's also drier since the cooking technique involves charring the noodles. These char marks are not compulsory, but they are an indicator of whether or not the chef has used good techniques.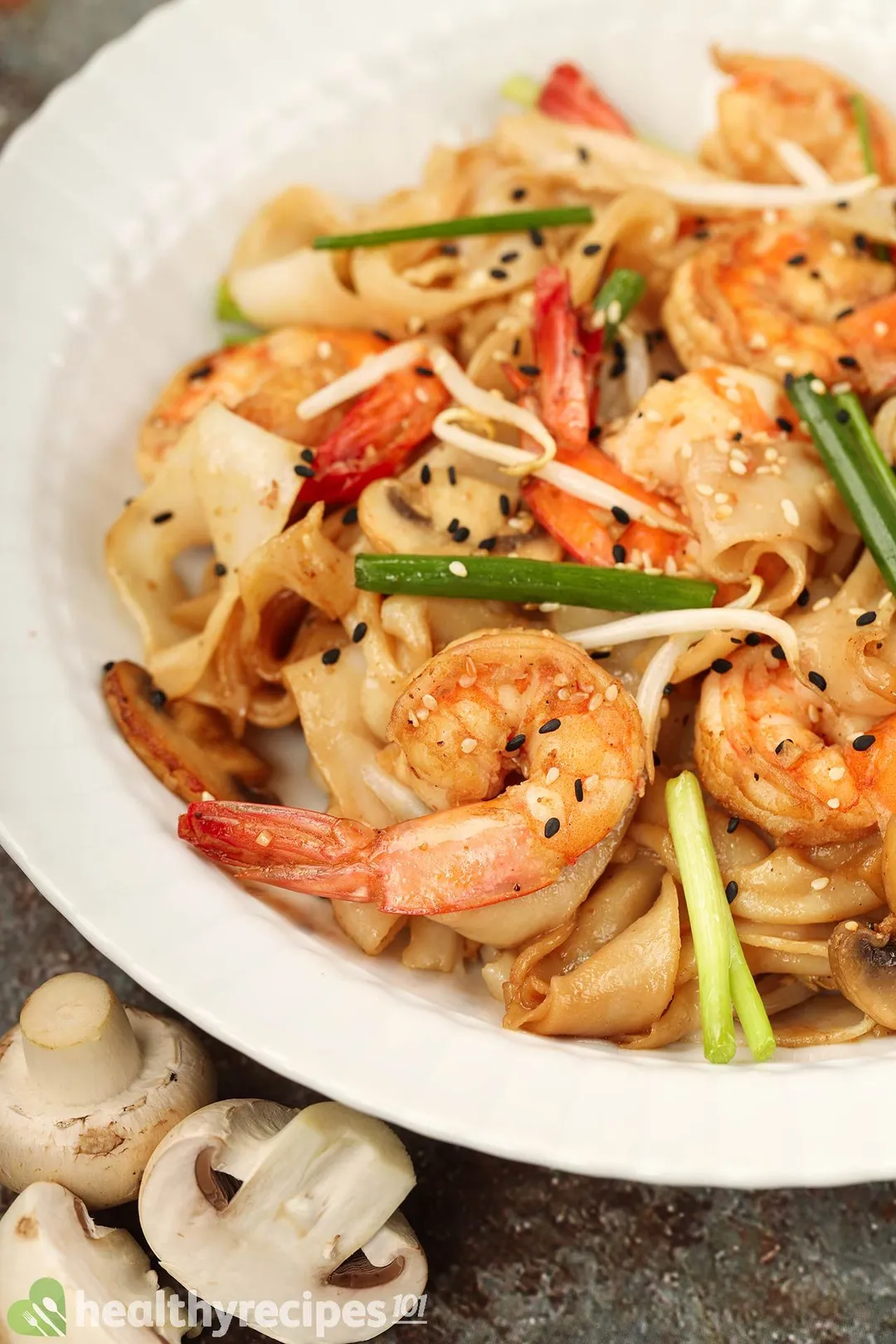 How Healthy Is Shrimp Chow Fun?
Shrimp chow fun certainly combines plenty of ingredients into a nutrient-dense meal. In each serving, there are proteins and good fats from shrimp and sesame oil, carbs from rice noodles, fiber from bean sprouts and mushrooms, and tons of micronutrients from all of them combined.
On the other hand, chow fun is sometimes drenched in oil and slathered with soy sauce. Fat is crucial for the body, but too much of it can raise your calorie intake. Too much soy sauce also makes the dish salty, and salty foods have been found to be the cause of cardiovascular diseases.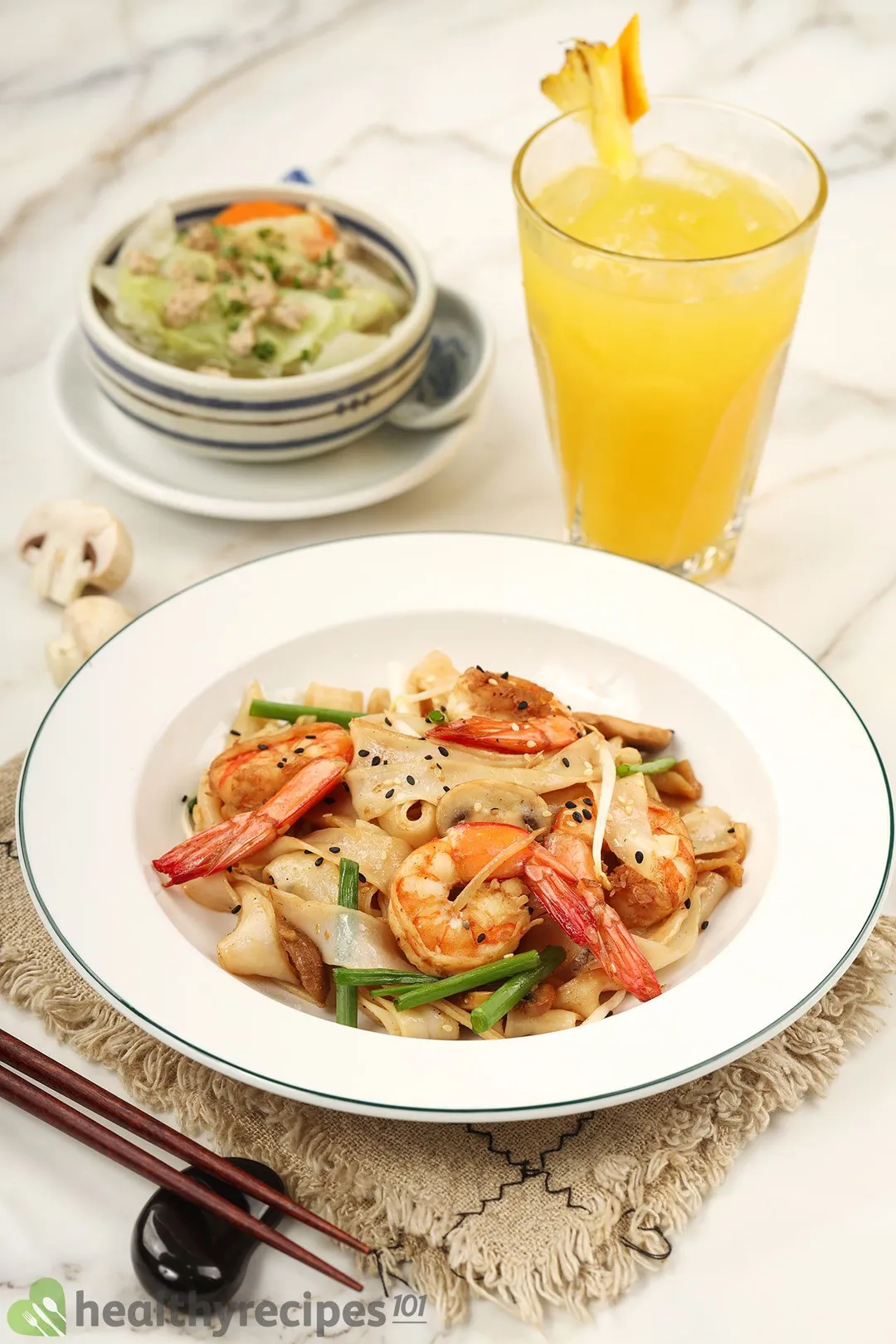 At Healthy Recipes 101, our recipes are formulated with your health in mind. The calories, sodium level, and some other elements are kept within a moderate range, so that you can control your intake better.
What to Serve With Shrimp Chow Fun
If you wish to consume more calories, make these complementary sides and enjoy a better dining experience. Our suggestions include a mellow meatball soup with soft winter melon cubes, and a fresh orange pineapple juice that's packed with natural flavors:
Shrimp Chow Fun
Winter Melon Meatball Soup
Orange Pineapple Juice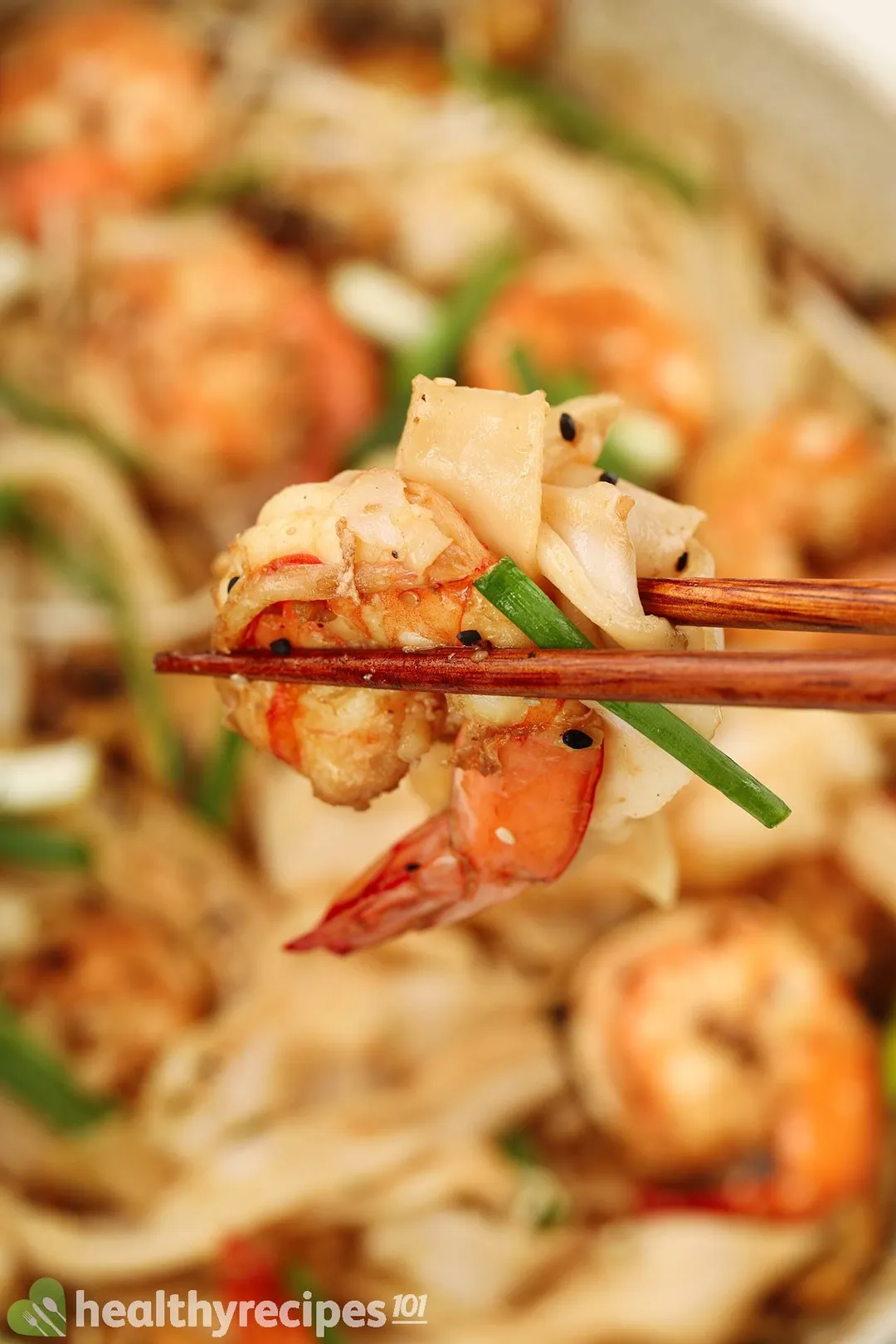 Find Other Chinese Shrimp Dishes Here
Looking for something else? We've got an abundance right here in these Chinese Shrimp Recipes and Asian Shrimp Recipes collections.
Shrimp Chow Fun
This shrimp chow fun recipe demonstrates how to prepare this flavorful and smoky stir-fry. It requires just 20 minutes and basic ingredients.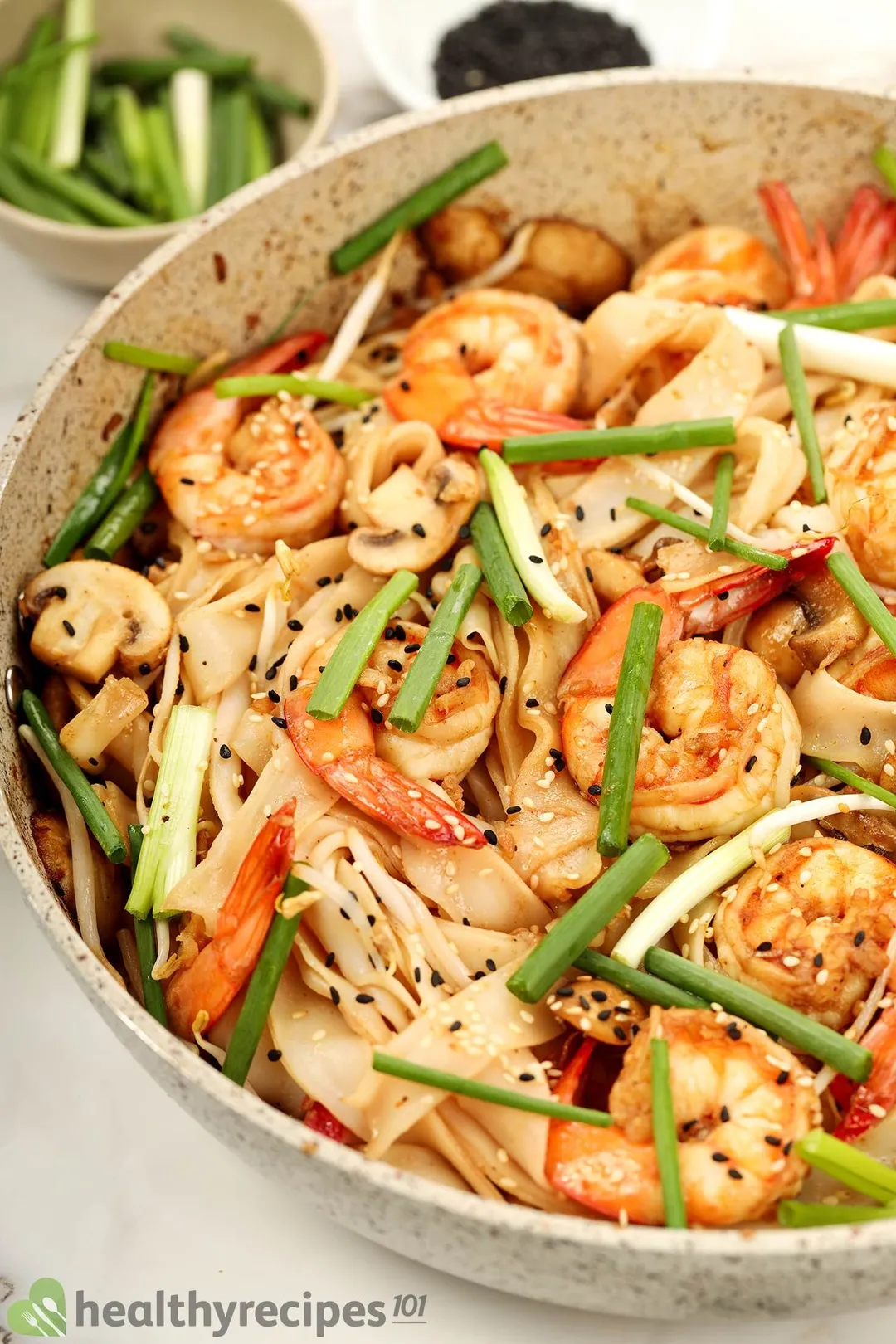 cook TIME

13 mins

prep TIME

7 mins

total TIME

20 mins
COURSE

Main Course

CUISINE

Cantonese, Chinese

SERVINGS

CALORIES

490 kcal
INGREDIENTS
9 oz

peeled shrimp

(from 18 oz raw shrimp)

20 oz

cooked wide rice noodles

6 oz

white mushrooms

(sliced)

2 1/2 tbsp

reduced sodium soy sauce

1/2 tsp

ground black pepper

1 tbsp

white sesame seeds

(toasted)

1 tbsp

black sesame seeds

(toasted)

1/4 cup

scallions

(chopped)
INSTRUCTIONS
1
In a bowl, mix together 2 1/2 tbsp soy sauce, 2 tbsp water, 1 1/2 tbsp sesame oil, 1 tsp sriracha, 1/2 tsp hoisin sauce, and 1/2 tsp ground black pepper. Set aside.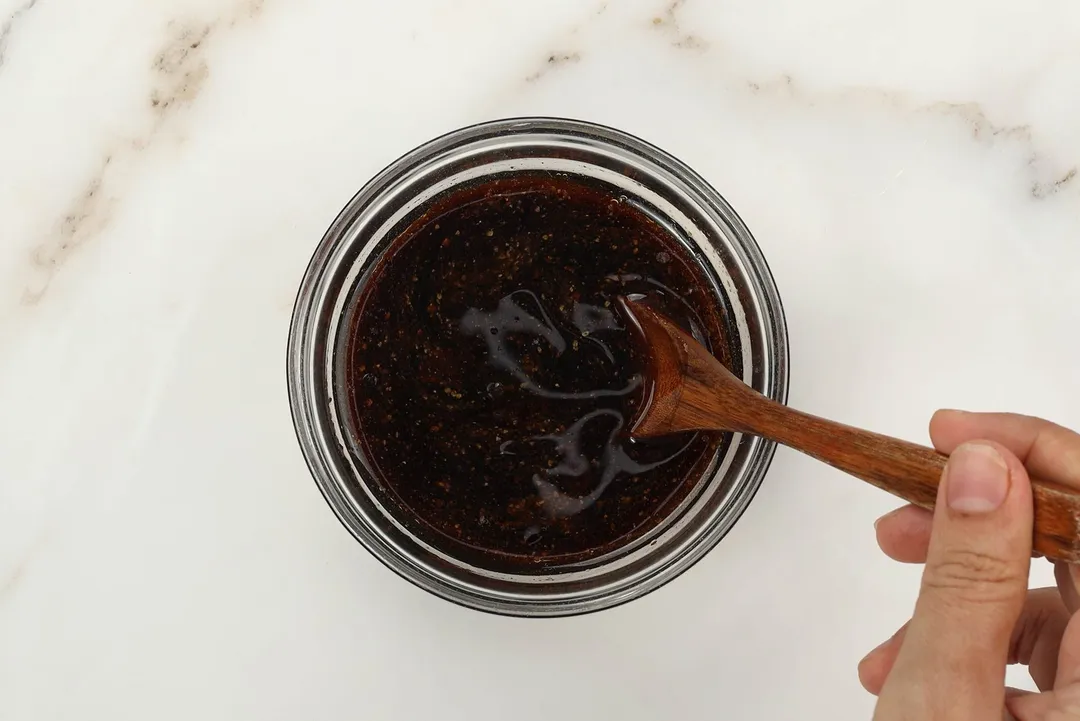 2
Heat 1/4 cup canola oil in a non-stick skillet over high heat, until smoke appears. Reduce the heat to medium, then stir in 2 tbsp minced garlic for just about 30 seconds.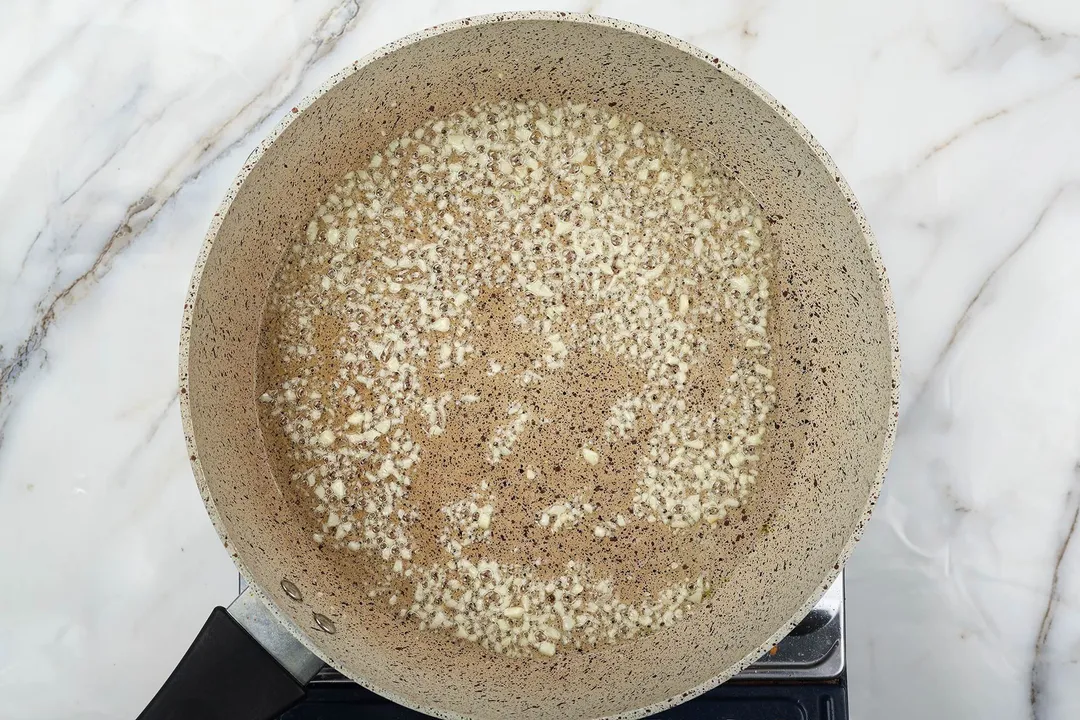 3
Add 9 oz peeled shrimp and keep stirring to cook for 3 minutes.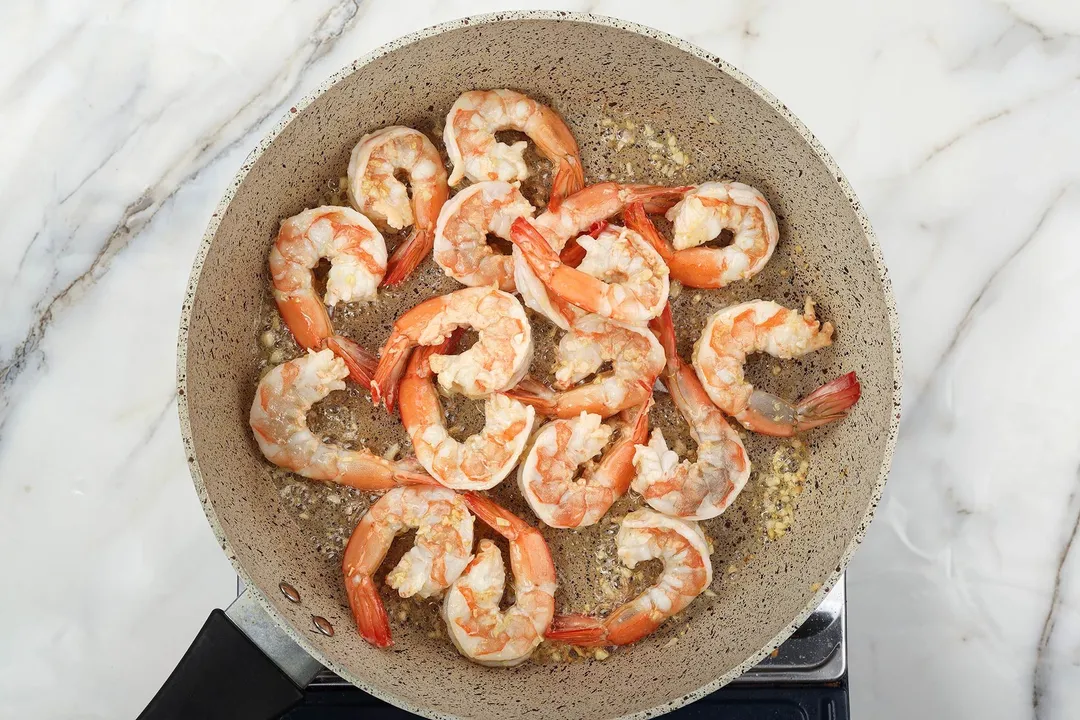 4
Add 6 oz button mushrooms and keep stirring to cook for 3 minutes.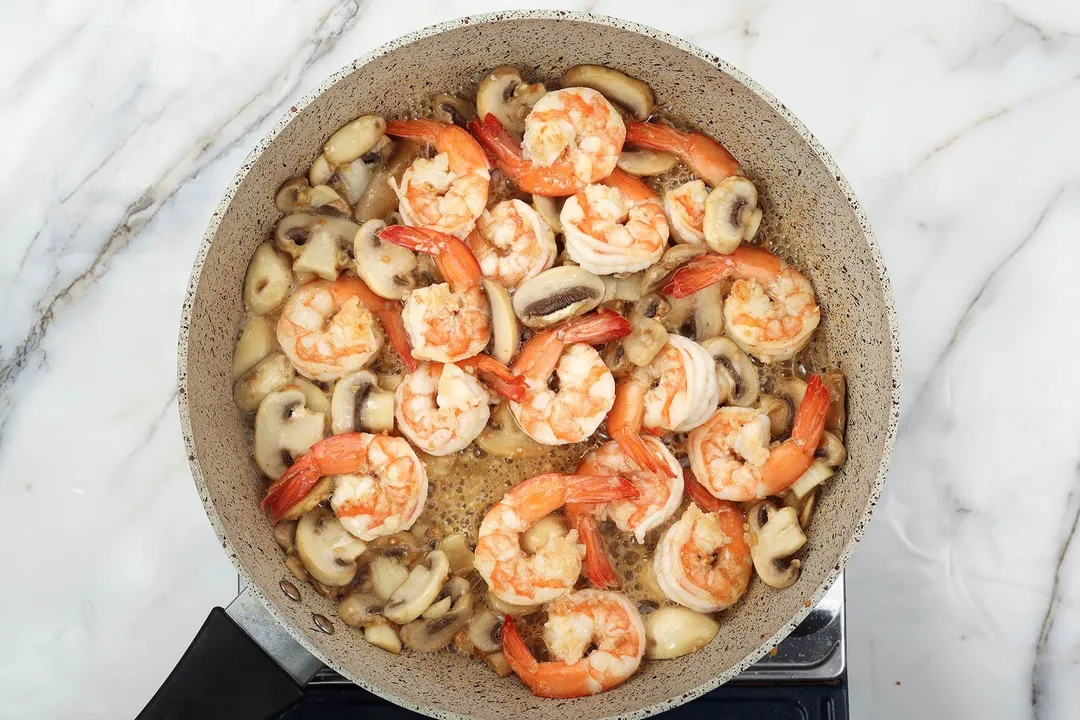 5
Add the prepared sauce and wait for it to start simmering.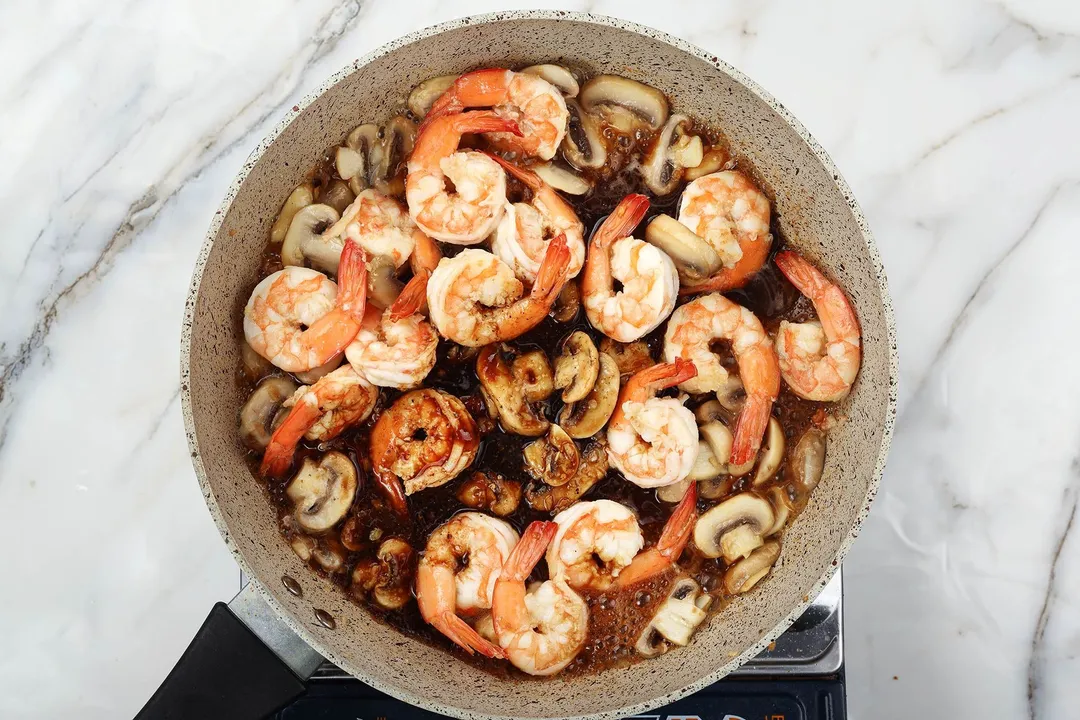 6
Add 20 oz cooked wide rice noodles and stir to coat them in sauce. Add 2 oz mung bean sprouts and stir for another 3 minutes, or until the sauce gets absorbed.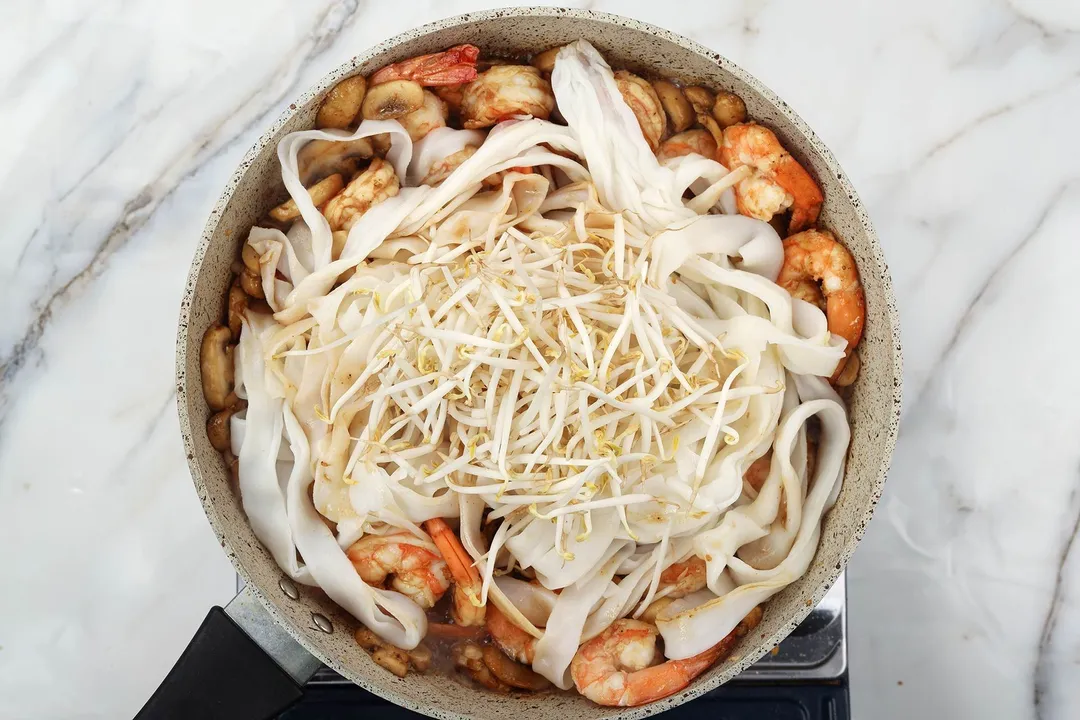 7
Turn off the heat. Sprinkle 1 tbsp black sesame seeds, 1 tbsp white sesame seeds, and garnish with 1/4 cup scallions.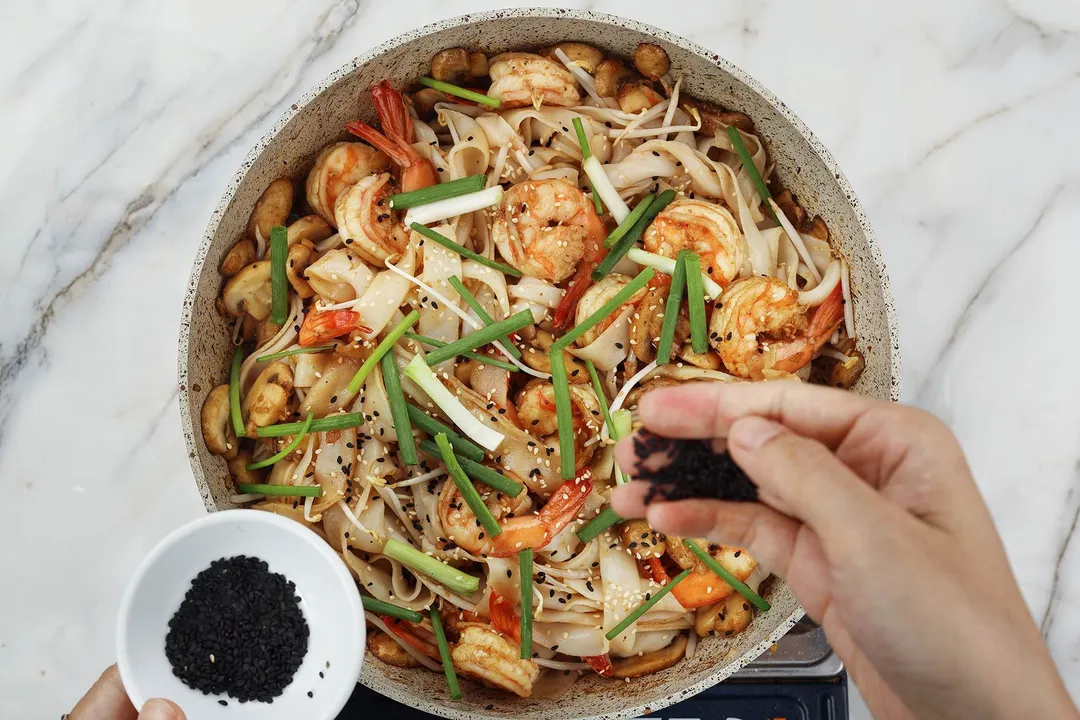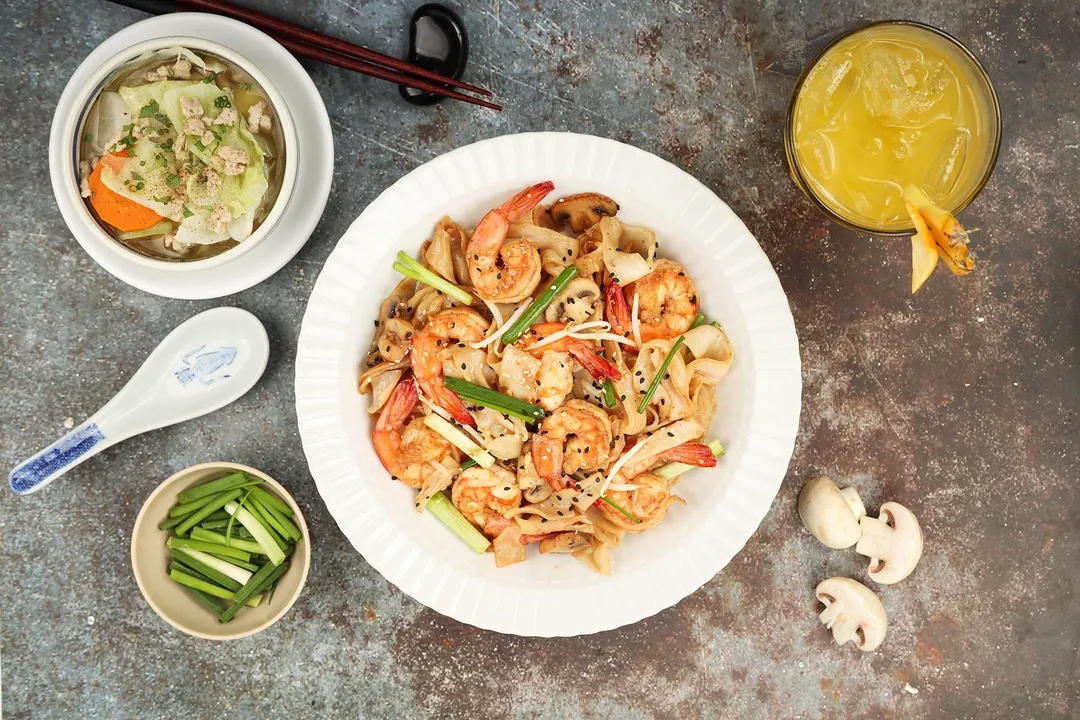 NUTRITION
Nutrition Facts
Shrimp Chow Fun
Amount Per Serving (1 serving)
Calories 490
Calories from Fat 198
% Daily Value*
* Percent Daily Values are based on a 2000 calorie diet.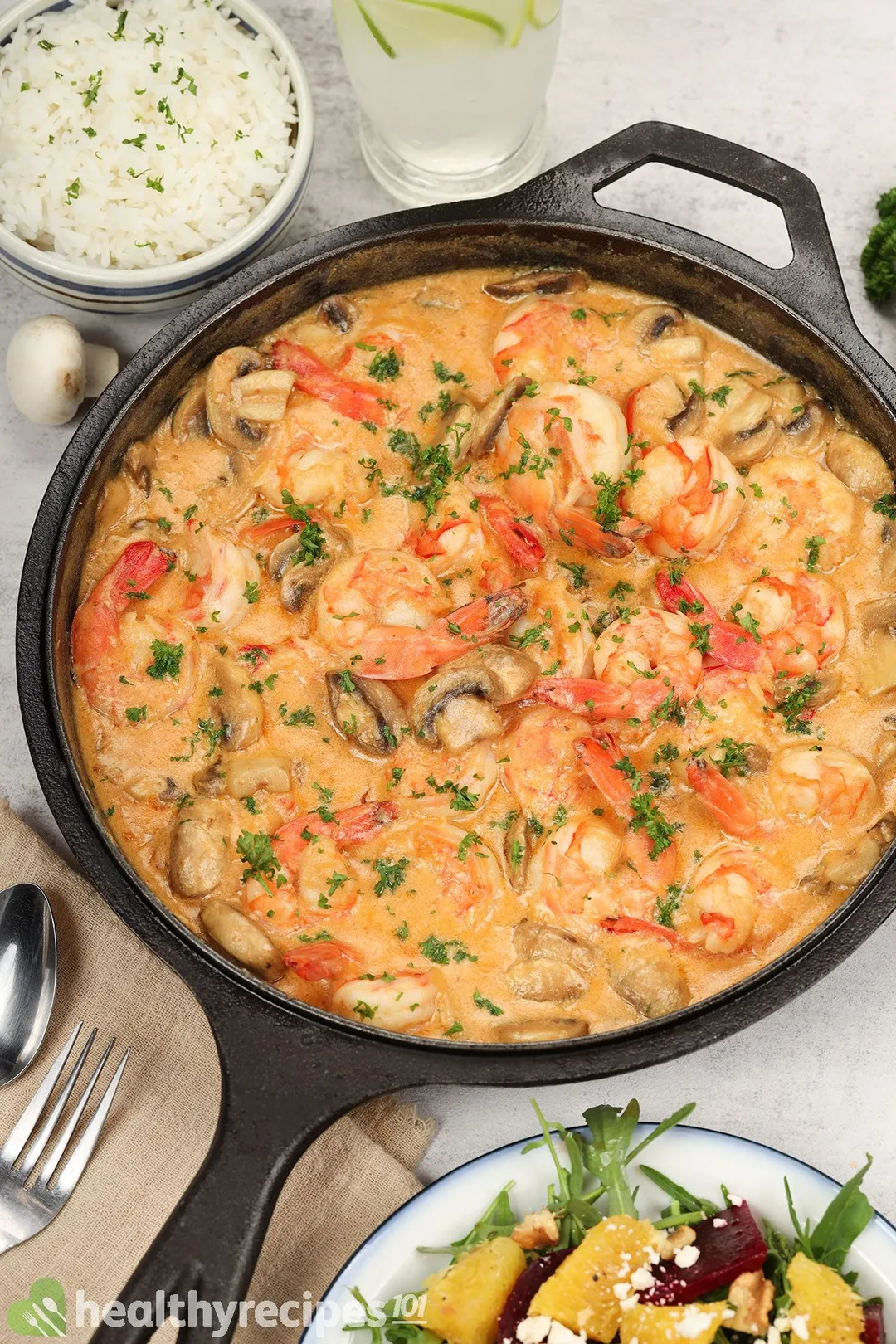 Previous Recipe
Shrimp Newburg
Shrimp Newburg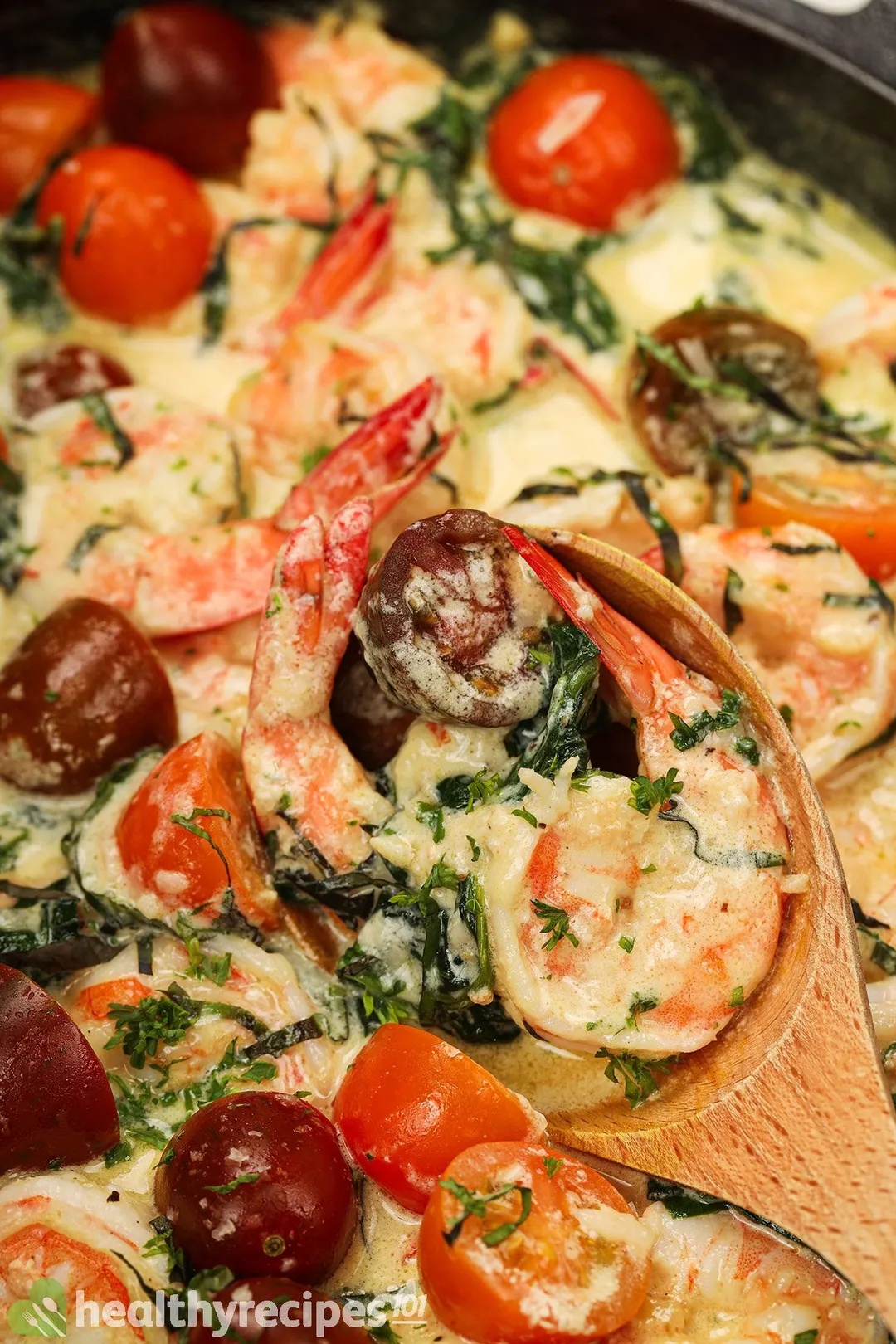 Tuscan Shrimp
Head Chef, Culinary Consultant
Tuyet Pham is an award-winning Saigonese chef who believes that joy is the secret ingredient to delicious food. At Healthy Recipes 101, Tuyet personally tests and simplifies every recipe, ensuring maximum flavor with minimal effort. With a background at prestigious French restaurants P'TI Saigon and Le Corto, Tuyet knows how to make every dish exceptional.
Writer, Author
Luna Regina is an accomplished writer and author who dedicates her career to empowering home cooks and making cooking effortless for everyone. She is the founder of HealthyKitchen101.com and HealthyRecipes101.com, where she works with her team to develop easy, nutritious recipes and help aspiring cooks choose the right kitchen appliances.
Nutrition Reviewer
Natalie Butler is a registered dietitian nutritionist with a passion to help others live their best life through food, fitness, safer beauty and a healthy lifestyle. She has expertise with a variety of diets and diseases and believes that there is no one-size-fits-all approach for health.
Second time making it. Love!