Looking for a high-protein, low-carb meal that is both delicious and quick to make?
You have come to the right place. This 30-minute shrimp lettuce wraps recipe will give you mouthfuls of juicy shrimp, refreshing veggies, creamy avocado, and luscious ketchup-mayo sauce in every single bite.
Are Shrimp Lettuce Wraps Healthy?
Yes, we have carefully measured the amount of each ingredient so that they can work together to benefit your health.
First off, our dish is packed with protein: 45.6 grams per serving, a remarkable amount. This is thanks to the shrimp which is famous for being an excellent source of protein.
Shrimp is also known for being high in cholesterol which may ring alarm bells for some people. However, research shows that the main factor that causes your blood cholesterol levels to rise is in fact saturated fats, and not the cholesterol found in food.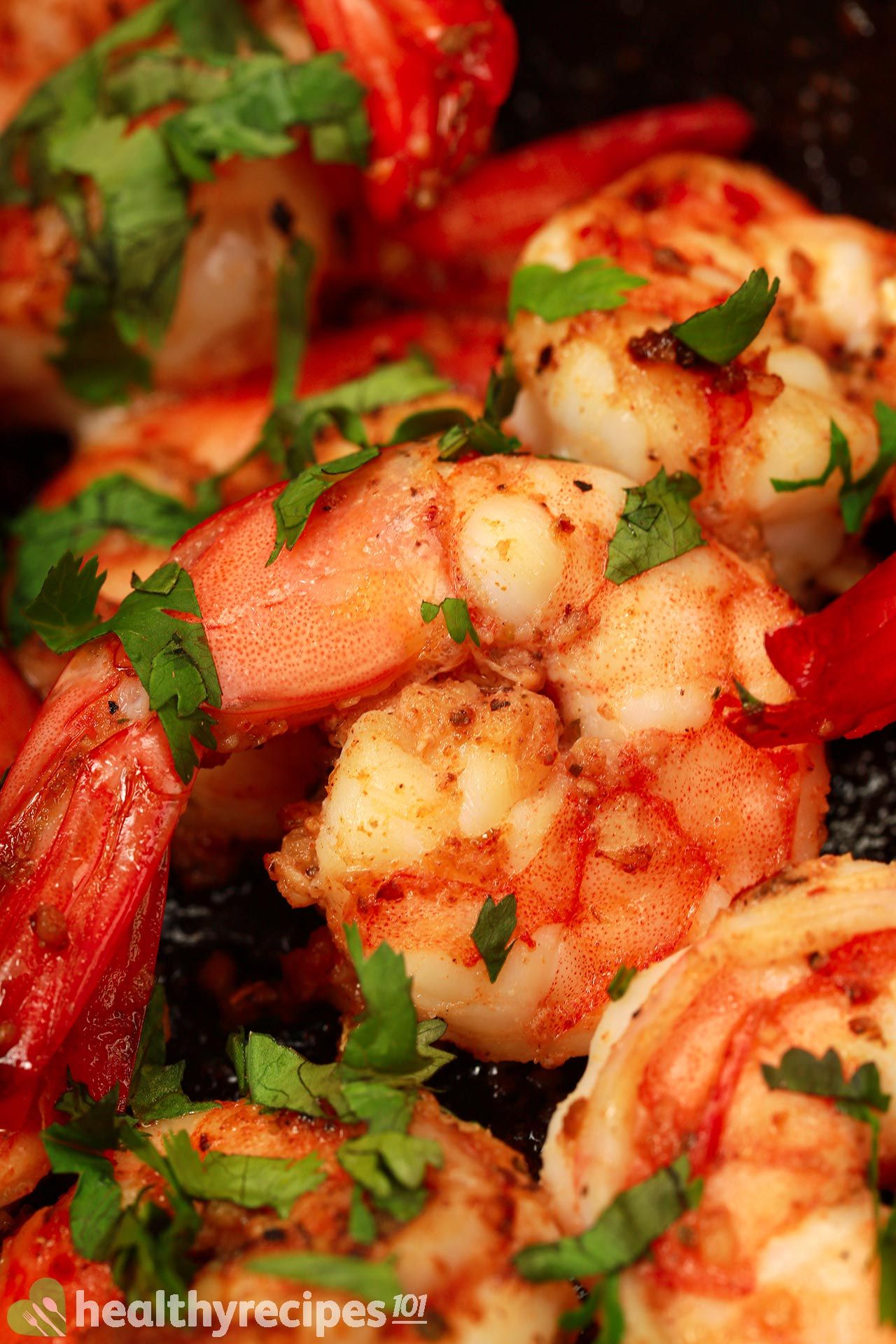 For this reason, we have kept those unhealthy fats at a controlled amount of 5.1 grams per serving to help you enjoy the dish guilt-free.
This dish is also exceptionally rich in vitamins A and C, thanks to the wonderful presence of lettuce, carrots, and avocado, with lettuce being the main contributor. These leaves also have an amazing hydrating effect which further lightens the dish.
Best Lettuce for Wraps
It is the lettuce that makes or breaks this dish. And the three things we're looking for in these wrapping lettuce leaves are their shape, texture, and flavor.
For these reasons, butter lettuce, or butterhead lettuce, is the best choice. Its mild buttery taste and light crunchiness beautifully complement the other ingredients without overpowering their flavor. At the same time, the rounded edges of these leaves are just perfect for holding in your filling.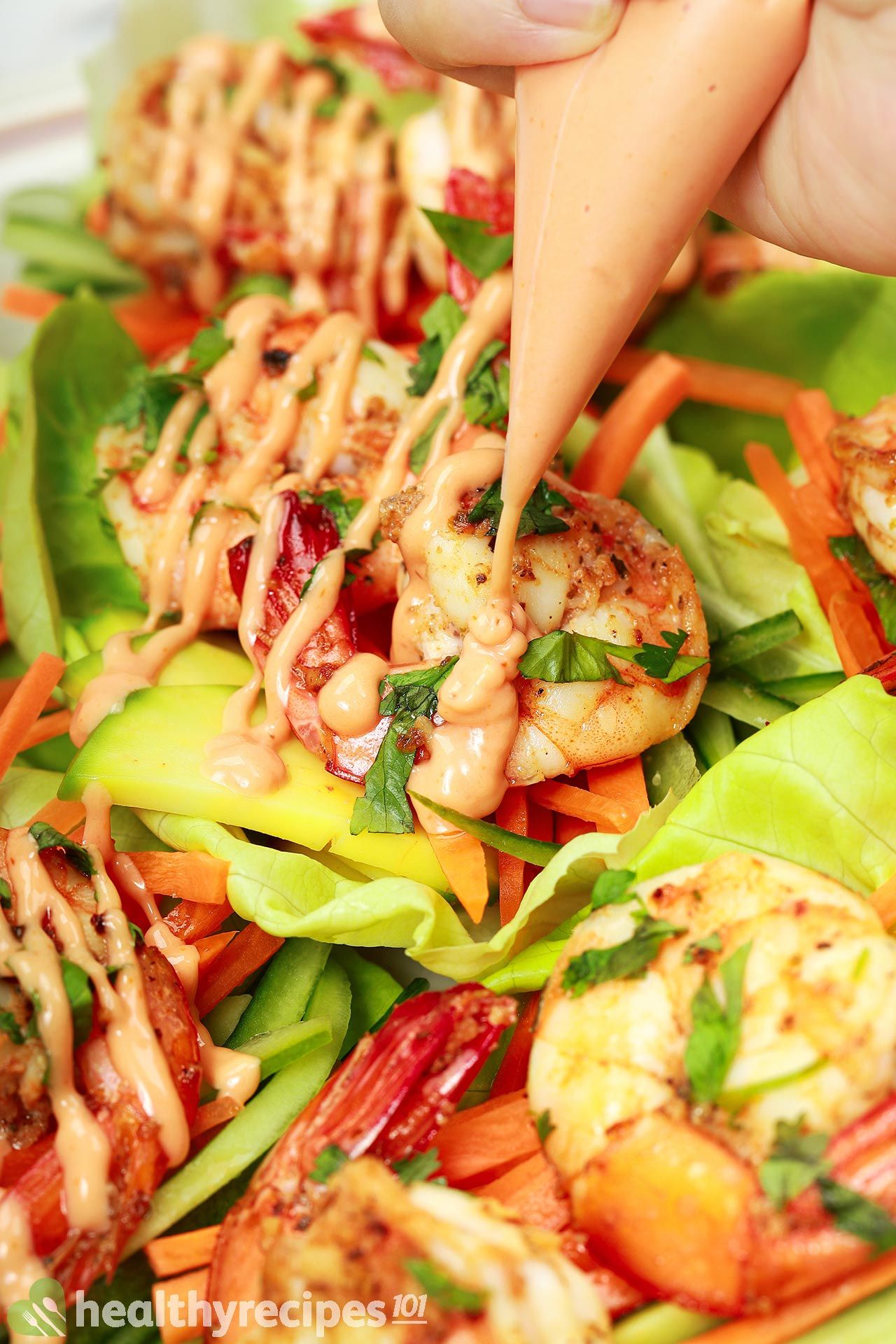 For other options, you can try iceberg lettuce, also known as crisphead lettuce. This variety offers relatively similar features, though the leaves are crunchier and a bit more bitter compared to their sweet-tasting tender butterhead cousin.
And if you would like to try something colorful and flavorful, then artisan lettuce is a great alternative as well.
How to Store the Leftovers
You can store the leftover shrimp in an airtight container in the fridge for around 2 to 3 days.
With the leftover lettuce and veggies, it is best to consume them within 1 to 2 days for best quality and freshness. Remember to keep them separated from the shrimp so that they can keep their crunch and won't get mushy.
What to Serve with Shrimp Lettuce Wraps
Here are some recommendations for delicious dishes to go with our shrimp lettuce wraps: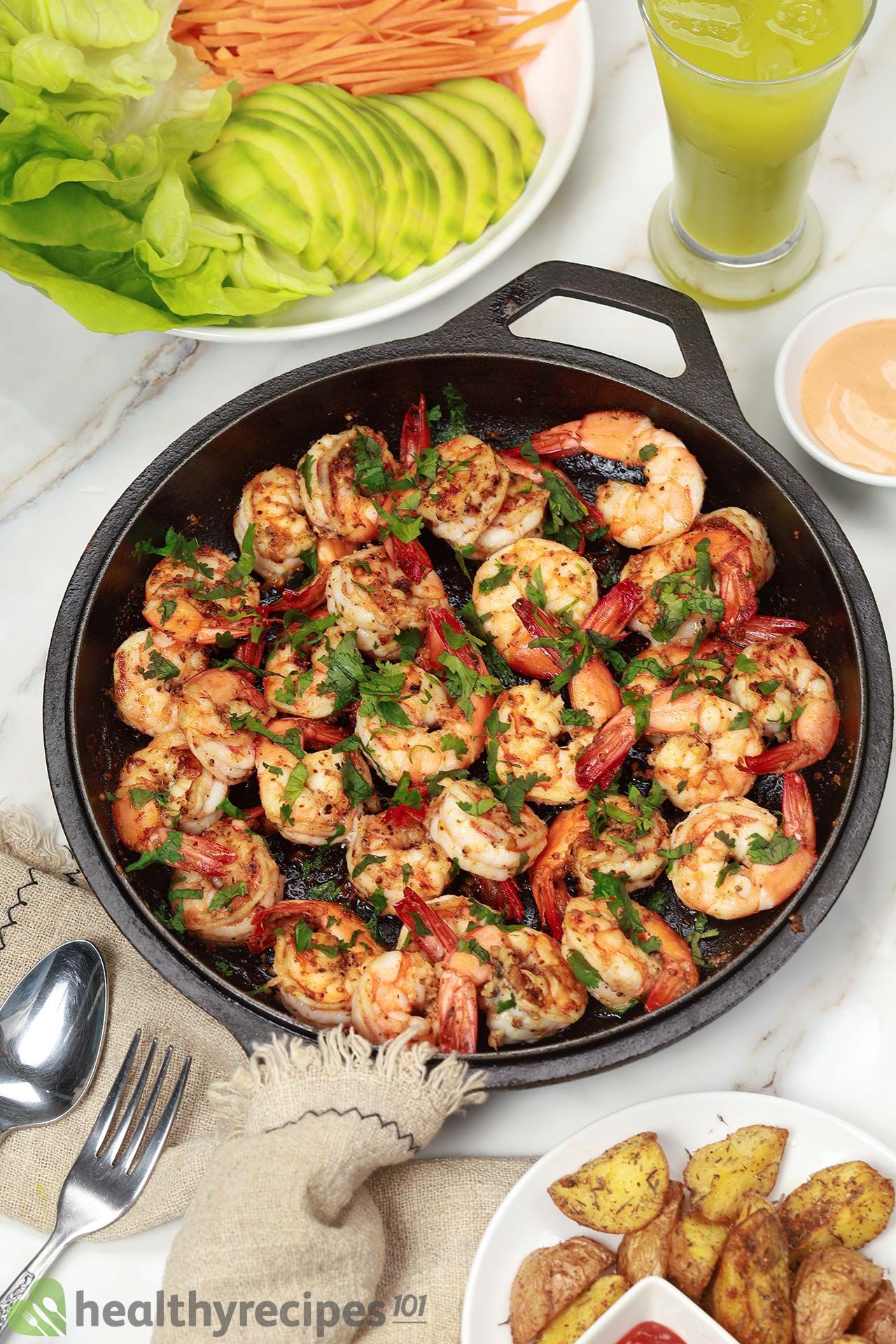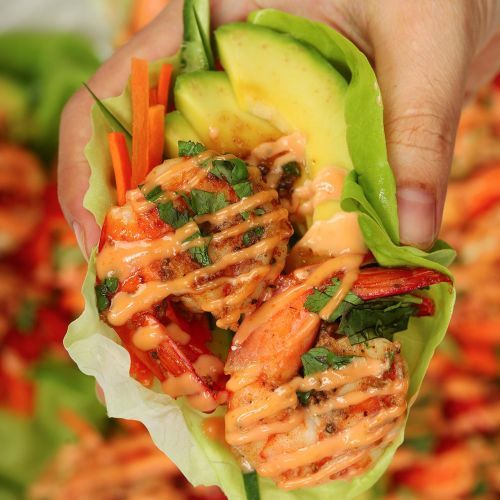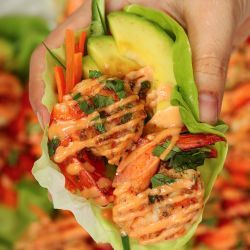 How to Make Shrimp Lettuce Wraps
Absolutely delightful and easy to make, these creamy savory shrimp lettuce wraps will make a refreshing entree for your next delicious meal.
Ingredients
15

oz

peeled and deveined shrimp

from 30 oz whole shrimp

4

oz

lettuce

separated into individual leaves

10

oz

avocado

halved and thinly sliced

6

oz

cucumber

julienned

6

oz

carrots

julienned

1

tbsp

unsalted butter

1/2

tbsp

Italian seasoning

1/4

tsp

salt

1/2

tsp

pepper

1/2

tbsp

garlic powder

1/2

tsp

paprika

1/2

tsp

oregano

1/4

cup

cilantro

1 1/2

tbsp

Heinz ketchup

2

tbsp

Japanese mayonnaise

2

tbsp

olive oil
Instructions
1. For the shrimp:
Shrimp: For each shrimp, cut off the head, then peel off its shell (you can keep the tail for visual effect). Next, make a shallow cut along the shrimp's back with a small knife, then use a toothpick to remove the vein. After that, wash your shrimp clean, pat dry, then place them in a bowl to marinate.

Seasoning: Set aside salt, garlic powder, pepper, Italian seasoning, paprika, and oregano for marinating the shrimp.

Butter: We use unsalted butter to fry the shrimp after marinating.

Cilantro: Cilantro is added on top of the shrimp after frying to add an extra aroma.
2. For the wraps:
Lettuce: Separate the lettuce head into individual leaves, then rinse them gently with water to remove any debris, and let them dry.

Avocado: Halve the avocado, remove the seed, then peel off the skin and cut the flesh into thin slices.

Cucumber: Rinse the cucumber. Cut it in half, and then into thin strips (julienne style).

Carrots: Rinse the carrots first. Peel off the skin, cut them in half and then into thin strips (julienne).
3. For the sauce:
Mayonnaise: We use Japanese mayonnaise to add extra creaminess to our sauce.

Ketchup: We use Heinz ketchup for this recipe, but you can use whatever type you have on hand.

Olive oil: We use cold-pressed, extra virgin olive oil.
COOKING
Marinate the shrimp: Season 30 oz shrimp with 1/2 tbsp Italian seasoning, 1/4 tsp salt, 1/2 tsp pepper, 1/2 tbsp garlic powder, 1/2 tsp paprika, and 1/2 tsp oregano. Mix well, then let sit for 5 minutes.

Make the sauce: Add 2 tbsp Japanese mayonnaise, 1 1/2 tbsp Heinz ketchup, and 2 tbsp olive oil to a small mixing bowl. Stir to combine.

Cook the shrimp: Add 1 tbsp unsalted butter to a frying pan over medium heat, then add the marinated shrimp. Stir well for 7 minutes, then remove from heat and sprinkle cilantro on top.

Assemble the wraps: Arrange the lettuce leaves on a serving plate, then place the avocado, carrot, and cucumber slices, and 1 to 2 shrimp on top of each leaf. Drizzle the wraps with the sauce before serving.
Nutrition
Nutrition Facts
How to Make Shrimp Lettuce Wraps
Amount Per Serving (1 serving)
Calories 478
Calories from Fat 243
% Daily Value*
Fat 27g42%
Cholesterol 360mg120%
Sodium 553mg24%
Potassium 1196mg34%
Carbohydrates 16g5%
Protein 45g90%
Vitamin A 7503IU150%
Vitamin C 11mg13%
Calcium 189mg19%
Iron 2mg11%
* Percent Daily Values are based on a 2000 calorie diet.