The name speaks for itself; this shrimp marinade recipe brings bold flavors to your shrimp simply by marinating them. Left to sit in a robust mixture of hot sauce and spices, they become tender and juicy while thoroughly infused with gorgeous flavors.
Served over a bed of chickpeas and corn, these shrimp make a filling dish for any mealtime. It's so easy you can whip it up in a few simple steps, and the result is nothing short of delectable.
Is Shrimp Marinade Healthy?
With shrimp, corn, and chickpeas as the main ingredients, this dish is packed with numerous nutrients. Most notably, shrimp contain omega-3 fatty acids – essential fats that are beneficial to the heart and may help to lower blood pressure. Corn and chickpeas are excellent dietary fiber sources, which could have positive effects on the digestive system.
Moreover, we also carefully calculated the ingredient portions to follow our nutrition guidelines. Each serving provides a substantial amount of protein, while saturated fat and sodium are kept within the daily intake limit. This ensures that the dish is healthy enough to indulge in without worrying about over-consuming anything.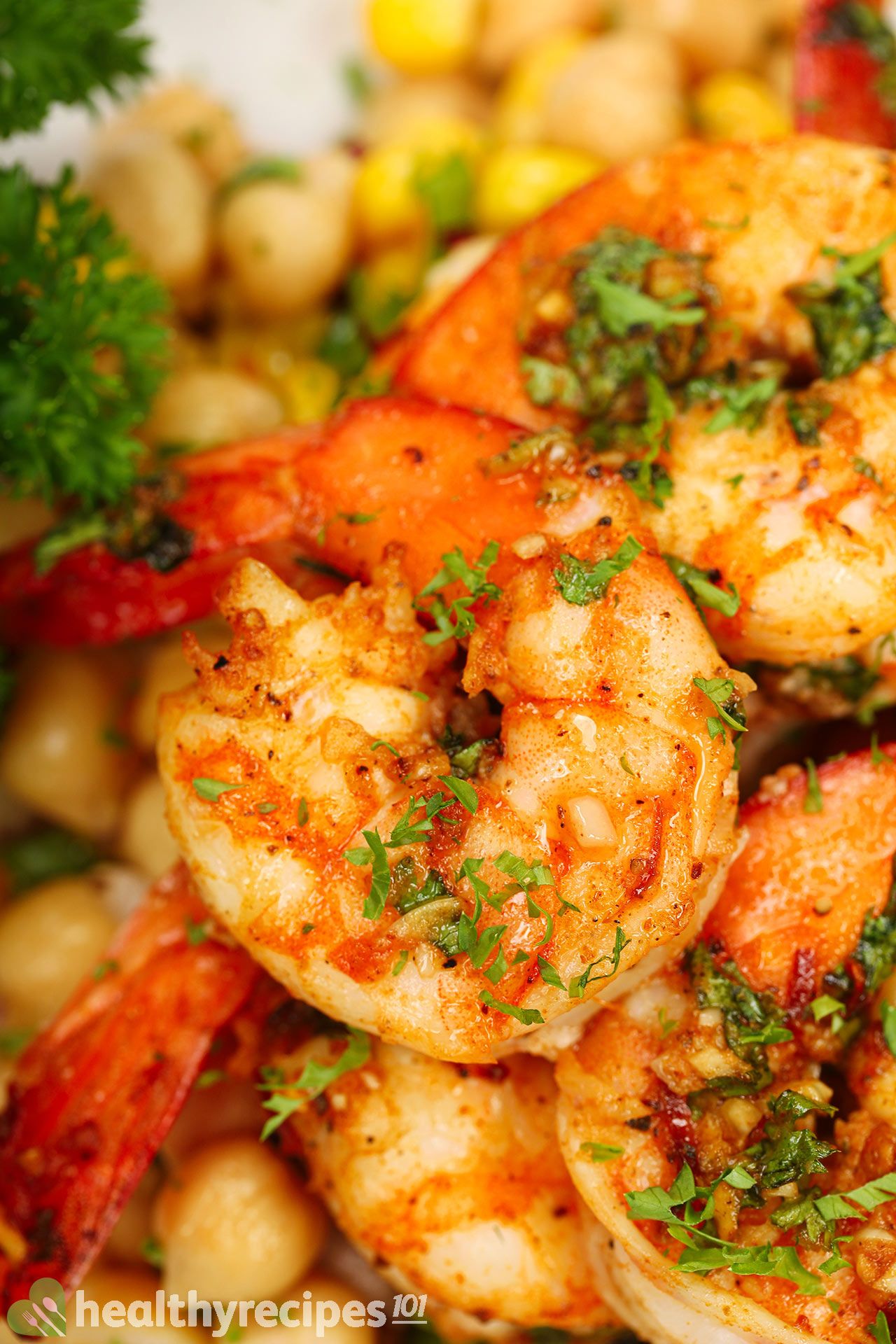 Ingredients You'll Need
This shrimp marinade dish can be made with simple and familiar ingredients that you can easily find. It only requires shrimp, veggies, herbs, hot sauce, and some hearty spices.
Shrimp: You can use shrimp of various sizes for this recipe, but we recommend medium and above to make the dish more filling and satisfying. If you're using frozen shrimp, be sure to fully thaw them either by leaving them overnight in the fridge or, quicker, soaking them in a bowl of cold water.
If you've bought shell-on shrimp, remove the shells by gently pulling at the legs with your fingers. You can also take the extra step and devein them by cutting a slit along the back with a paring knife, then use the tip of the knife to pull the black veins out.
Chickpeas: These legumes' starchy texture and mildly earthy flavor make the dish much more filling. We used canned chickpeas, which only needed to be drained before adding to the dish.
Corn: We used corn to add a pop of color and vibrant sweetness to the dish. We went with the frozen variety, which can be defrosted in the fridge overnight or in a ziplock bag soaked in cold water for 5 – 15 minutes.
Other Ingredients: Parsley, red onion, and cilantro are also used to add a subtly earthy aroma and spicy kick to the dish.
These herbs and veggies require minimum preparation. Thoroughly rinse then chop the parsley and cilantro. As for the red onion, you can mince it into small pieces with a chef's knife—washing is optional since you will remove the peel anyway.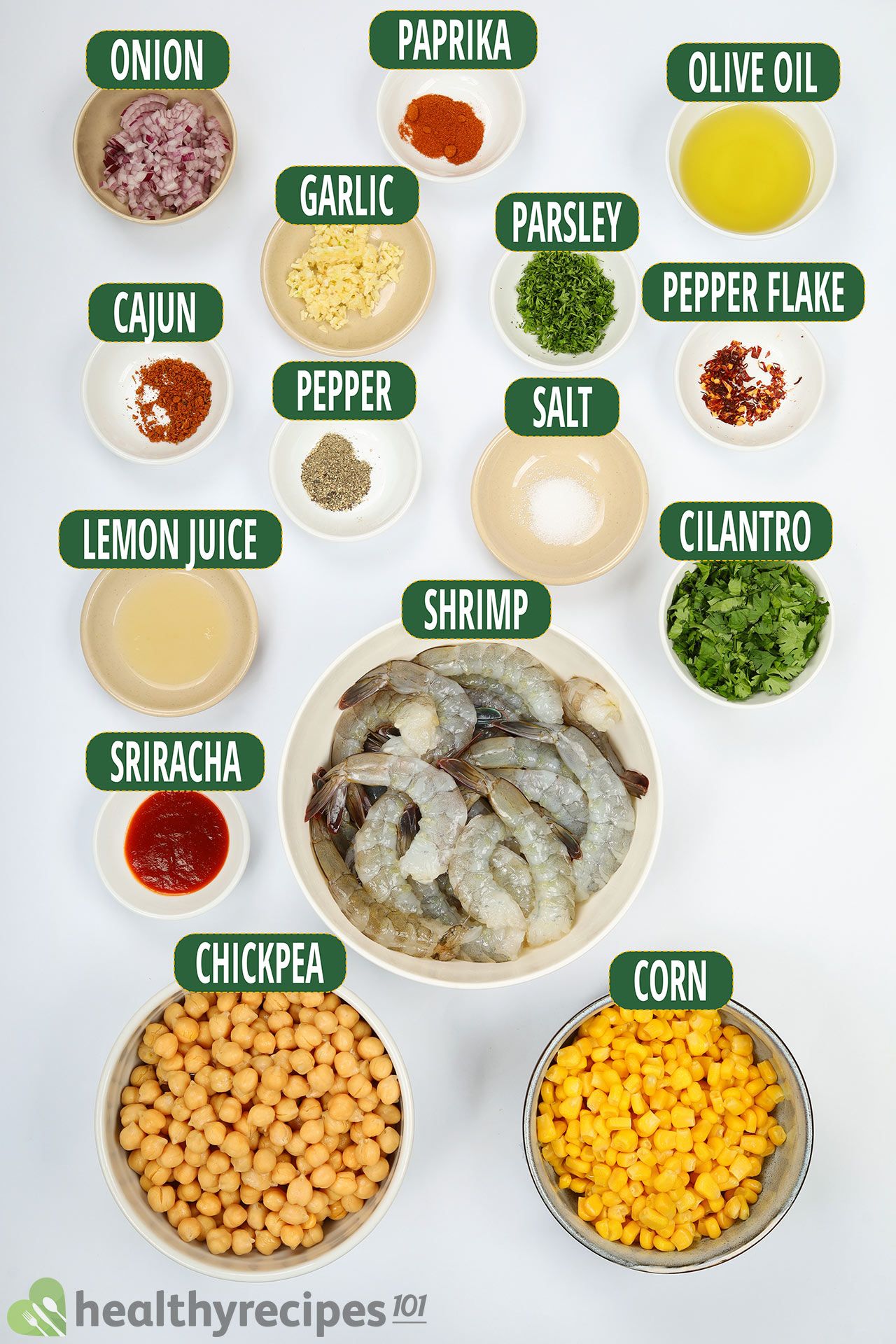 For the Marinade
Sriracha: This hot sauce brings a little heat to the marinade and adds a delightful tangy-sweet and garlicky undertone. The spice levels may vary depending on the brand, but it mostly ranges from light to moderate.
Lemon juice: Even though the recipe only calls for one tablespoon, lemon juice will brighten up the marinade with its vibrant zest and citrusy scent.
Garlic: Garlic and shrimp is a foolproof combination that can hardly be beaten. Minced into small bits, the garlic infuses the shrimp with a distinct scent that perfectly complements the taste of the sweet and mellow seafood.
Seasonings: Red pepper flakes, Cajun seasoning, paprika, salt, and pepper are used to further intensify the flavors of this marinade. Cajun and paprika, in particular, have a smokiness and chargrilled undertone that take your taste buds to exciting summer BBQs.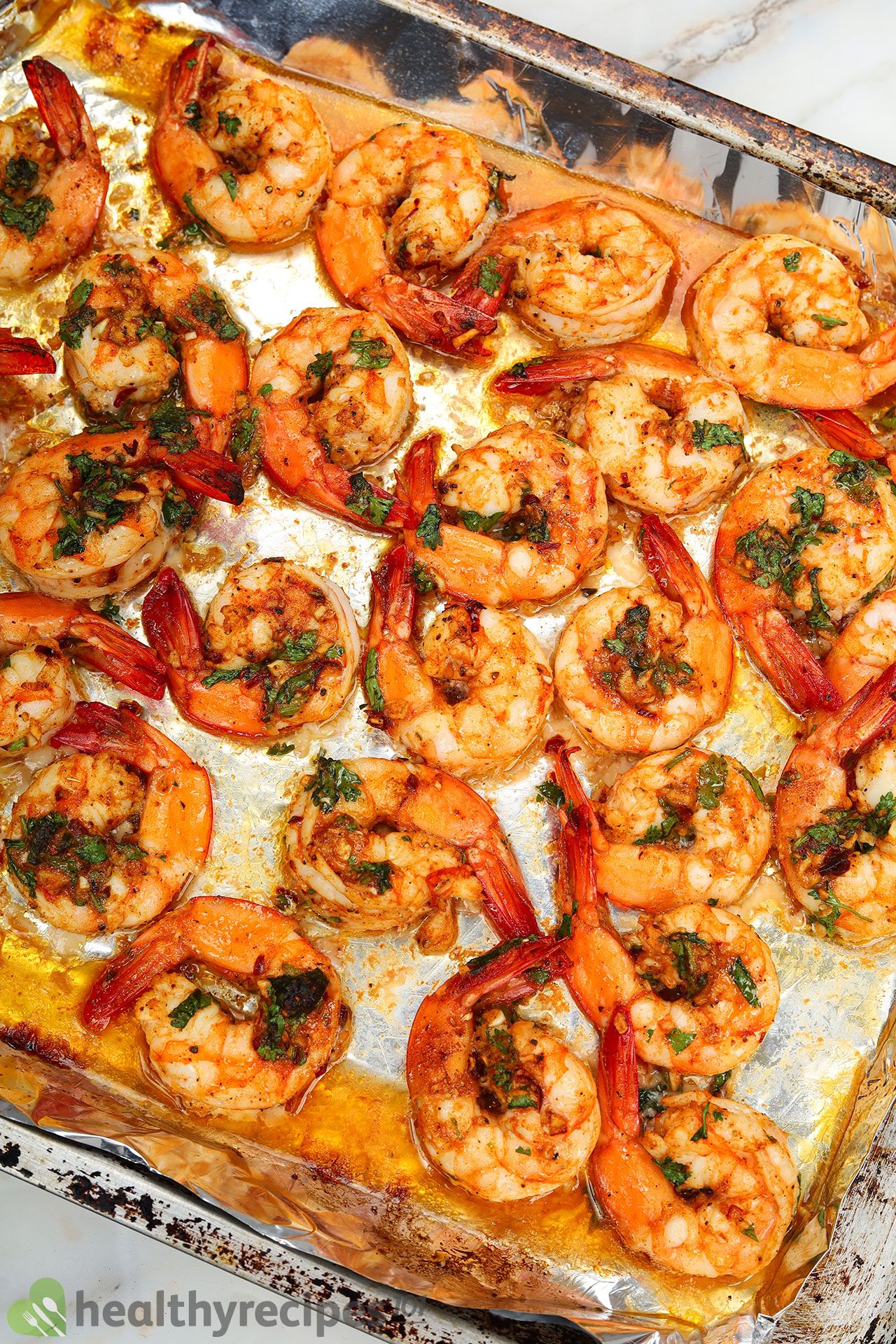 How to Store and Reheat Shrimp Marinade
This dish can be stored in an airtight container in the fridge for up to three days. However, you should keep the shrimp and the salad separated to preserve their taste and textures.
As for reheating, you can cook the shrimp on a stovetop for several minutes or microwave them for approximately one minute. Add a little water or olive oil if they appear to have dried out.
What Goes Well With Shrimp Marinade
Our recipe pairs these juicy and flavorful marinated shrimp with a bed of chickpeas, corn, and some herbs. Pasta, mashed potatoes, rice, or roasted vegetables also work really well to make a filling main dish.
If you're looking for side dishes to serve with this dish, these are our suggestions: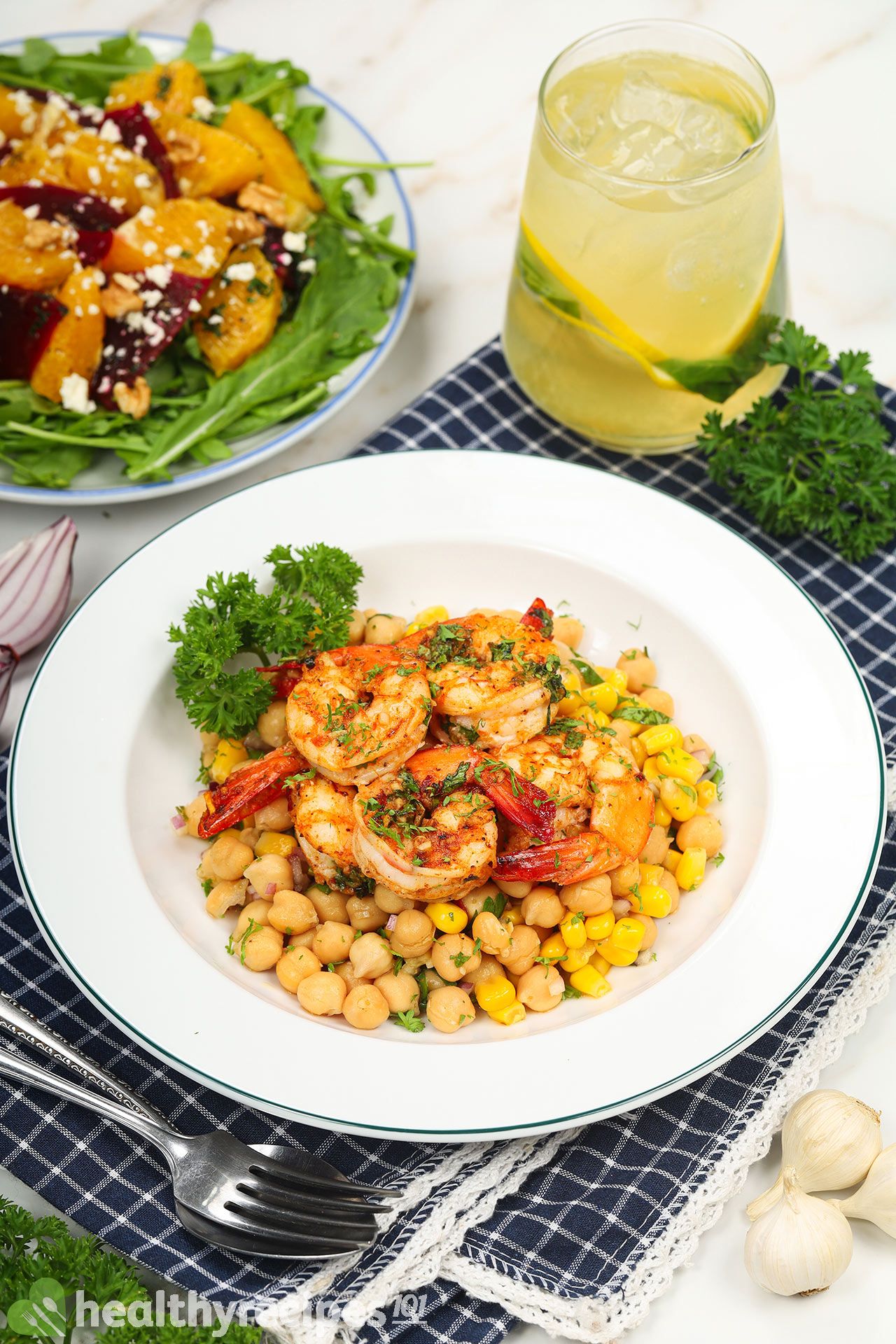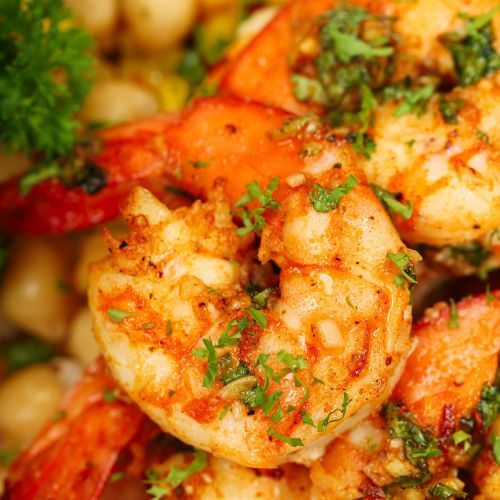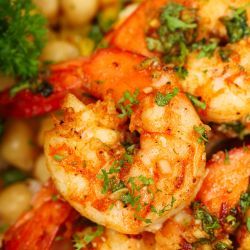 Shrimp Marinade Recipe
This shrimp marinade recipe carries all the comforts and warmth of homemade food. It features tender and brightly-flavored shrimp that you can make with little to no trouble.
Ingredients
15

oz

shrimp

peeled, deveined, from 30 oz medium whole

16

oz

canned chickpeas

drained

8

oz

corn

1

oz

red onion

minced

1

tbsp

garlic

minced

1/4

cup

cilantro

chopped

2

tbsp

parsley

1 1/2

tsp

Sriracha

1/2

tsp

Cajun seasoning

1/2

tsp

paprika

1/2

tsp

red pepper flakes

1/4

tsp

salt

1/2

tsp

pepper

1

tbsp

lemon juice

5

tbsp

olive oil
Instructions
In a large bowl, add 30 oz medium shrimp, 5 tbsp olive oil, 2 tbsp cilantro, 1/4 tsp salt, 1/2 tsp pepper, 1 tbsp garlic, 1/2 tsp paprika, 1 1/2 tsp Sriracha, 1/2 tsp red pepper flakes, 1/2 tsp Cajun seasoning, and 1 tbsp lemon juice. Use a tong to evenly blend the ingredients together and marinate for 5 minutes.

Lay the shrimp on a baking tray lined with aluminum foil and cook in the oven at 450°F for 12 minutes. Remove from the oven when the shrimp turn bright and golden with a small amount of orange shrimp sauce leaking out. Transfer the shrimp onto a small plate and gather the sauce formed from the drippings and marinade into a small bowl.

In another bowl, add 16 oz canned chickpeas, 8 oz corn, 1 oz red onion, and 1/4 cup cilantro to toss with the sauce that was collected in the previous step.

Lay the shrimp over the salad, garnish with 2 tbsp parsley, and enjoy.
Nutrition
Nutrition Facts
Shrimp Marinade Recipe
Amount Per Serving (1 serving)
Calories 487
Calories from Fat 189
% Daily Value*
Fat 21g32%
Cholesterol 343mg114%
Sodium 583mg25%
Potassium 835mg24%
Carbohydrates 29g10%
Protein 50g100%
Vitamin A 561IU11%
Vitamin C 10mg12%
Calcium 148mg15%
Iron 2mg11%
* Percent Daily Values are based on a 2000 calorie diet.