Are you craving some scrumptious shrimp? Today's pan fried shrimp recipe is here to help. It makes a hearty meal with juicy plump shrimp, refreshing vegetables, and fragrant white rice all on a single plate.

Is Pan Fried Shrimp Healthy?
Yes, our pan fried shrimp is good for your health. Here's why:
The dish is packed with protein, with each serving containing a whopping 41 grams, most of that comes from the shrimp which is an excellent source of this nutrient.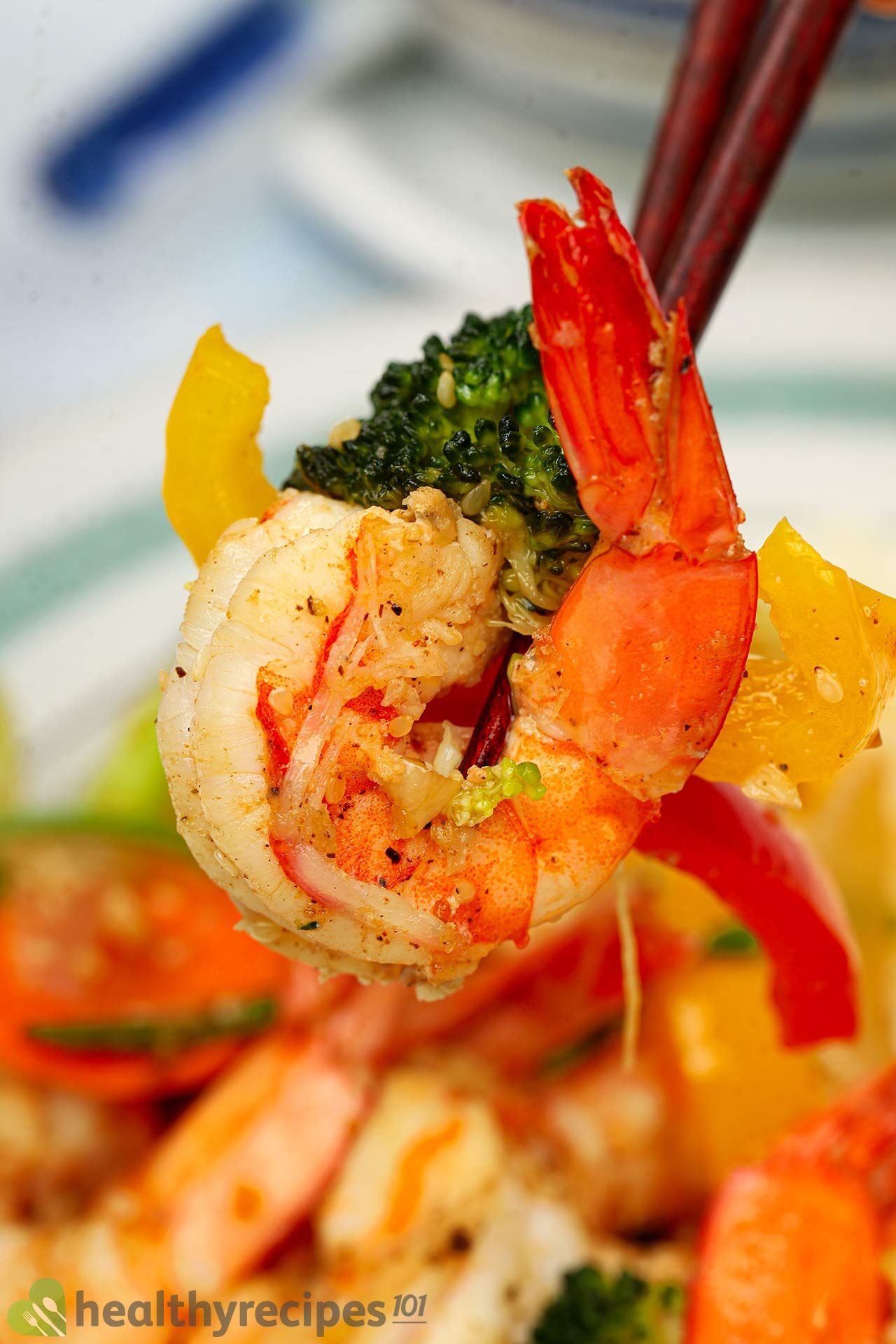 This dish is also extremely rich in vitamins A and C, providing 40% and 349% of your recommended daily intake, respectively. These impressive figures are the result of a hearty combination of carrots, bell peppers, and broccoli.
And though shrimp is known for being high in cholesterol, this isn't something to worry about, because the main factor that raises our blood cholesterol levels is saturated fats, and not the cholesterol present in food.
That's why with this recipe, we have kept those unhealthy fats at a relatively low amount of 4.3 grams per serving.

Ingredients for Pan Fried Shrimp
The ingredients for this dish are easy to get, quick to prep, and simple to cook with. Let's take a look at what we need to make it: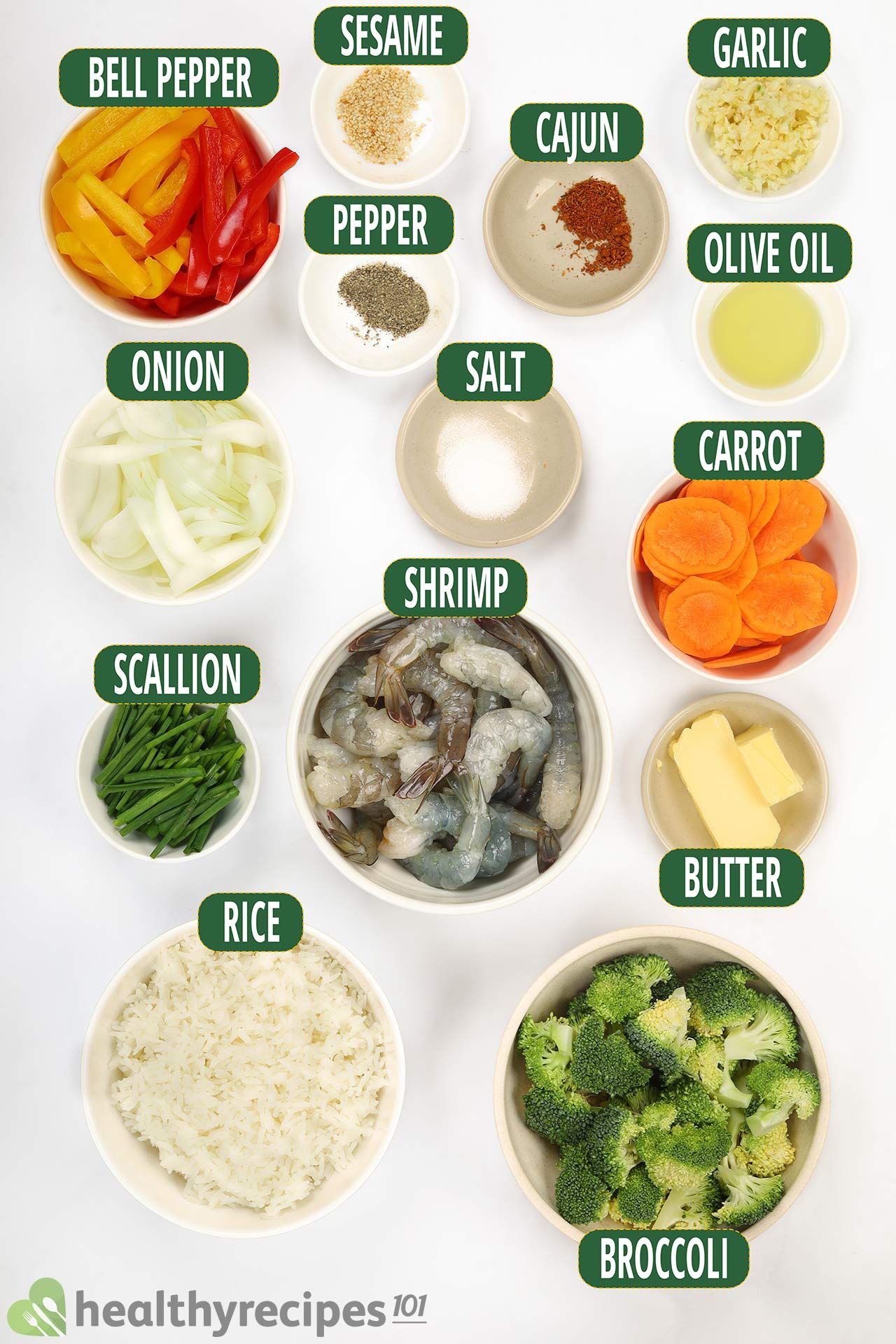 Shrimp: Of course, this is our star. Mouth-watering plump shrimp with a briny taste and meaty texture is hard to beat. When stir-frying the shrimp in this recipe, we add just enough olive oil and butter to make the shrimp tender and juicy.
Veggies: The addition of carrots, bell peppers, broccoli, and onions make our dish full of different flavors and textures. Carrot brings that slightly sweet taste, while broccoli carries fresh but earthy notes. Red and yellow bell peppers have a bright and fruity flavor, while onions add a pungent kick to the mix.
Seasoning: To enrich the flavor of the shrimp and the veggies, we simply use salt, pepper, and Cajun seasoning for a warm savory taste. A sprinkling of scallions and sesame seeds also gives our dish a delicious aroma.
Cooked rice (to serve with this recipe): Fragrant white rice makes a wonderful complement to this pan-fried shrimp. You can also replace it with cooked brown rice or white quinoa for a higher fiber content and less calorie intake.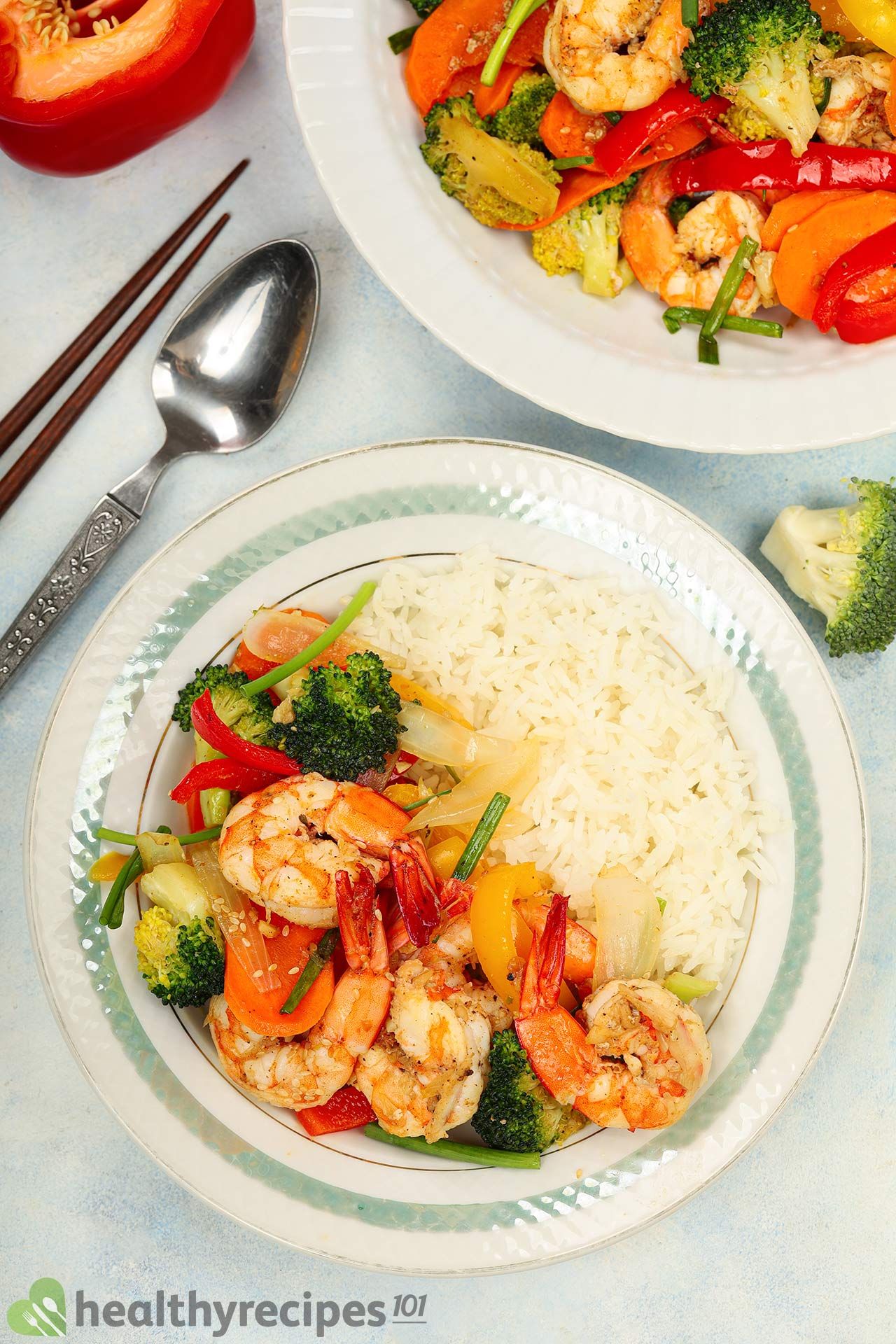 What to Serve with Pan Fried Shrimp
Here are some recommendations for delicious dishes to go with our pan fried shrimp: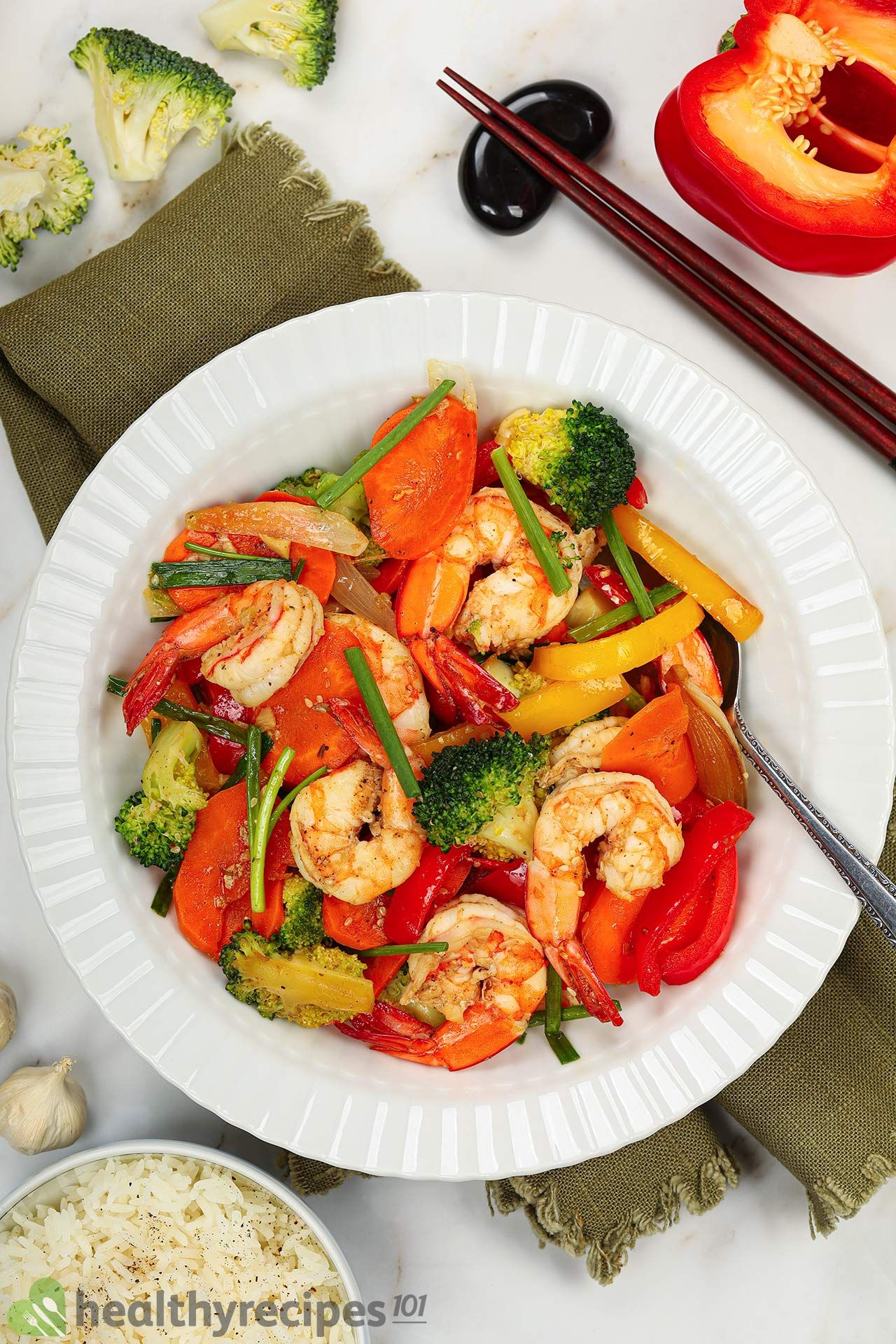 Previous Recipe
Shrimp And Asparagus
Shrimp And Asparagus
Next Recipe
Shrimp Parmesan
Shrimp Parmesan
Luna Regina
A writer and entrepreneur, Luna's day doesn't start at the computer keyboard, but in the kitchen.
Half of her working hours are spent on mixing ingredients for her recipes. The other half involve working with the tech team to research and test the tools and appliances that promise to make kitchen work effortless and mess-free. From a kitchen knife or water filter to the Instant Pot, if it can help save time and effort for the home cook, Luna and her team are on it.
Luna's extracurricular pastimes include camping, travel, and photography.