This cashew shrimp recipe makes a sticky and sweet stir-fry that will make you yearn for second or third helpings.
Cashew Shrimp — A Chinese Delight
Those odd-looking nuts you often see at the mall are more than snacks. They sit right at the center of many recipes — a creamy dip, a salad, milk, and in this cashew shrimp recipe, a saucy stir-fry.
The shrimp are nicely scented with garlic and ginger, and as they cook, tons of flavor is released and melds with the already-flavorful sticky glaze. A good amount of sesame oil is incorporated into the sauce, adding that signature, irresistible scent of Chinese cuisine. Finally, the nuts go in, slightly softened, and coated in all the deliciousness.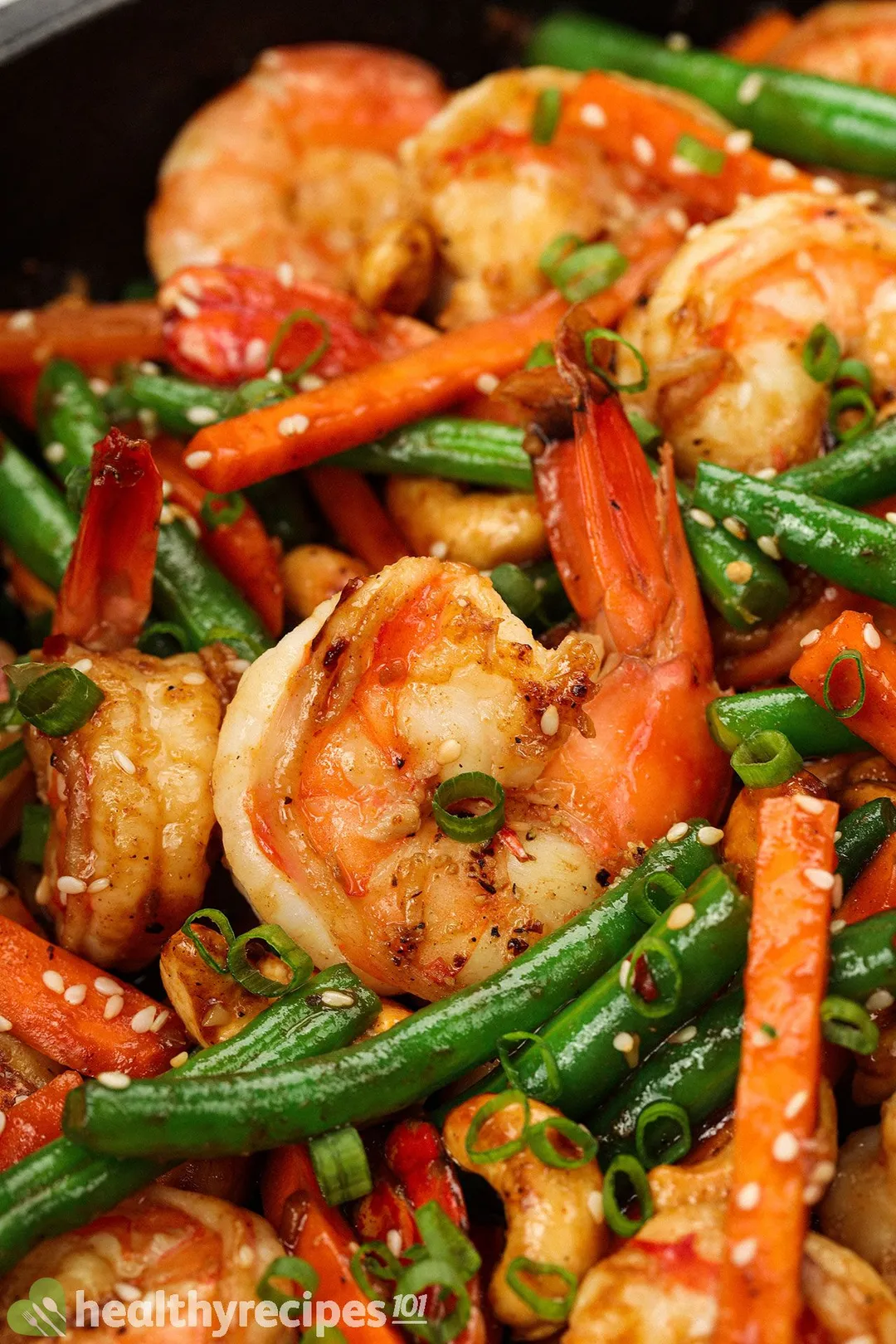 Like most Asian dishes, this one is often served alongside cooked rice and veggies.
If you like this Cashew shrimp, you just might enjoy our Cashew Chicken Recipe as well. Keep it in your cookbook to switch things up and keep dinners exciting.
Cashews Are Good for You
Loaded with healthy monounsaturated fats, cashews can be considered a healthier alternative fat source. This type of fat is associated with lower risks of heart disease, unlike saturated fats — the kind that's often found in animal sources like meat and dairy, and some plant sources like coconut or palm oils.
By including cashews in your meal, you can also expect an additional intake of iron, copper, vitamin B6, magnesium, and a small amount of protein as well. These nutrients play a role in maintaining a healthy brain function as well as the development of a strong body.
… And So Is Our Cashew Shrimp Recipe.
Shrimp is rich in not just proteins but also brain-healthy fatty acids — omega 3s. To this protein-rich stir-fry we also add some veggies, which are packed with micronutrients such as vitamin A, C, K, folic acid, and many more.
Besides these benefits, there's another aspect of our recipes that we are proud of.
As creative as we get with food, there are some boundaries that we strictly work within to help you build a healthy diet. For a main dish, for instance, we make sure it's got moderate levels of calories, saturated fats, and sodium. Cashew, shrimp, and oil are calorie-rich components, and the glaze is also made from ingredients high in sodium, so with this recipe, there was a lot to deal with.
Once happy with the taste, we tackled the portion size to keep all of our concerns within a reasonable range. The resulting nutritional facts can be seen in the nutritional label at the bottom of this article.
Let's Talk Ingredients
When it comes to cooking meat or seafood, size matters. Delicate proteins like shrimp cook quickly, and therefore, overcook easily. If you're not using medium-sized shrimp as we do, alter the cooking time accordingly — we have some tips for you in the how-to section to come.
Cashews don't usually come already roasted and unsalted, so read the labels carefully as you shop. Get the right kind (roasted, unsalted) and you won't need to do anything with them prior to cooking.
Cashew Substitutes
In terms of size and texture, macadamia is closer to cashews compared to peanuts. Still, they are quite costly, so peanuts can be used instead. They're not exactly a perfect replica for cashews, but they will work.
The sauce for this cashew and shrimp skillet requires:
Soy sauce: our salty base.
Oyster sauce: umami and extra thickness.
Garlic and ginger: aromatics. These two are found in a lot of Asian recipes.
Brown sugar: sweetness.
Ground black pepper
Paprika and red pepper flakes: adjust the heat to your preference.
Sesame oil: a lingering scent and extra healthy fats.
Cornstarch and water: the basic thickener for many Chinese sauces.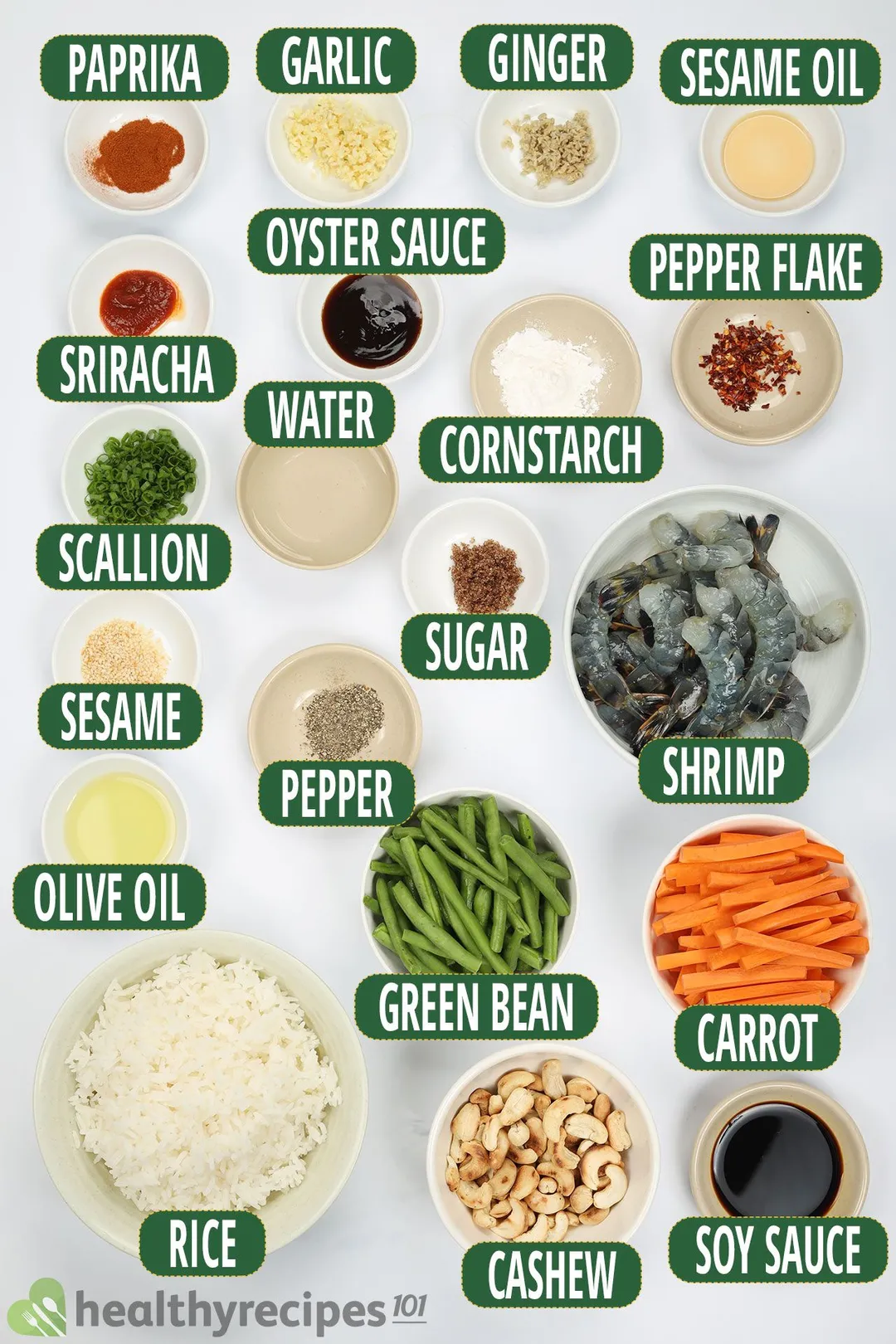 Finally, you'll also need carrots and green beans, cut into segments similar in size. Have some cooked rice prepared, too — we sometimes rely on frozen rice packets, because they're so darn convenient.
How to Make Cashew Shrimp
First, start by measuring out all of the sauce ingredients and mix them together in a bowl. The cornstarch slurry goes in first, then the seasonings, and lastly, the sesame oil.
Heat a large skillet over medium heat, and sauté the aromatics until they're fragrant. Add the shrimp and, regardless of size, cook just until both sides turn red, then add the veg. All will finish in about 3 minutes, perfectly done.
Finally, add the cashews and sauce and reduce for about 30 seconds — that's how quick it is. Serve the beautiful sauté with cooked rice.
Measurements and more details on cooking are mentioned in our 'cashew shrimp recipe' card listed at the bottom of this article.
Storage and Reheating the Leftover
For the best result, the leftovers should be divided into different containers and kept in the fridge for about 4 days. They won't bear the same texture when heated from frozen.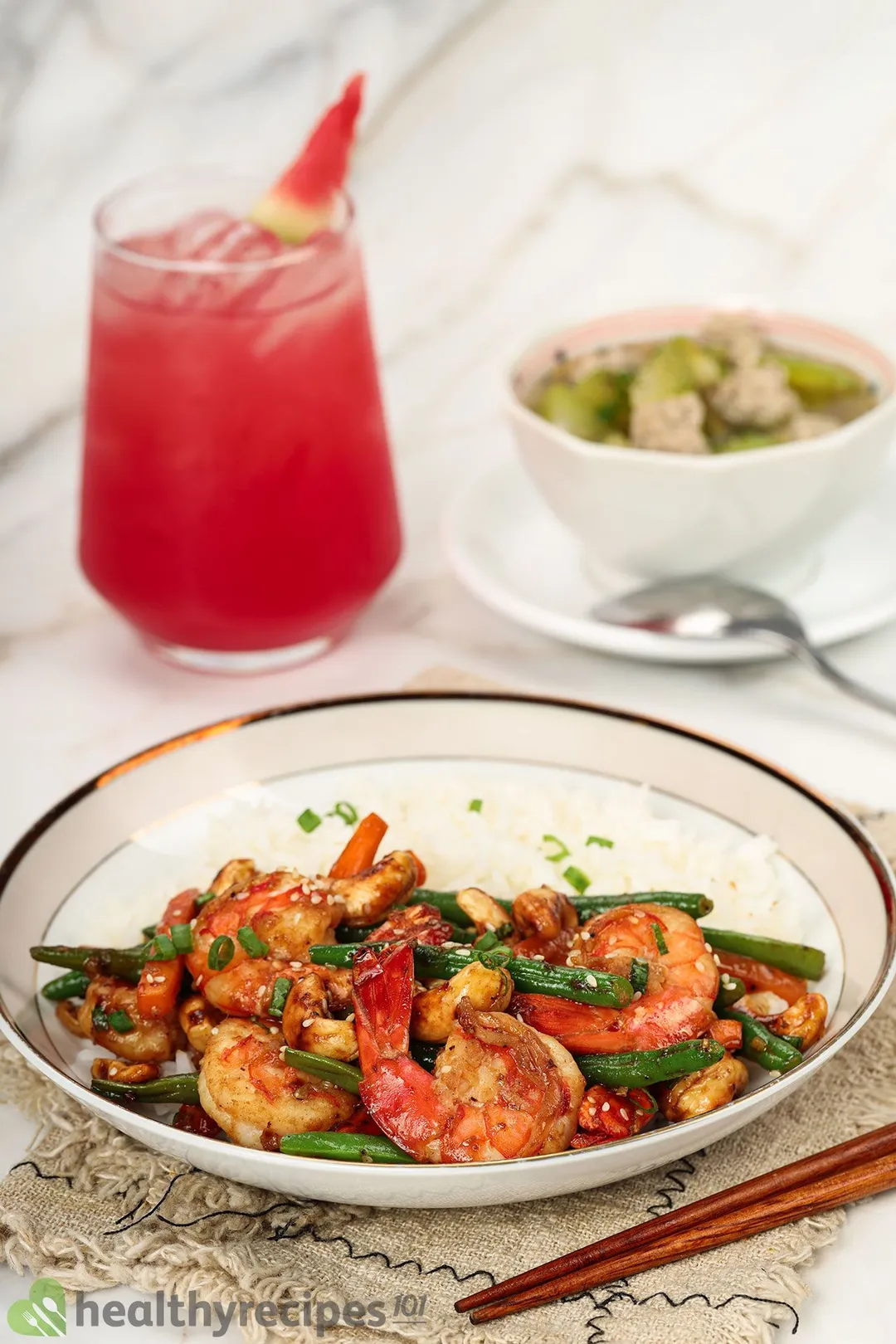 What to Serve With Cashew Shrimp
Our best candidates for this sticky shrimp skillet and rice are a hearty soup and a tart-sweet beverage. They add different flavors to the meal.
Cashew Shrimp
Winter Melon Meatball Soup
Lemon Watermelon Juice
More Shrimp Recipes Here!
For other quick and easy shrimp dishes, check out our Fried Shrimp Recipes collection.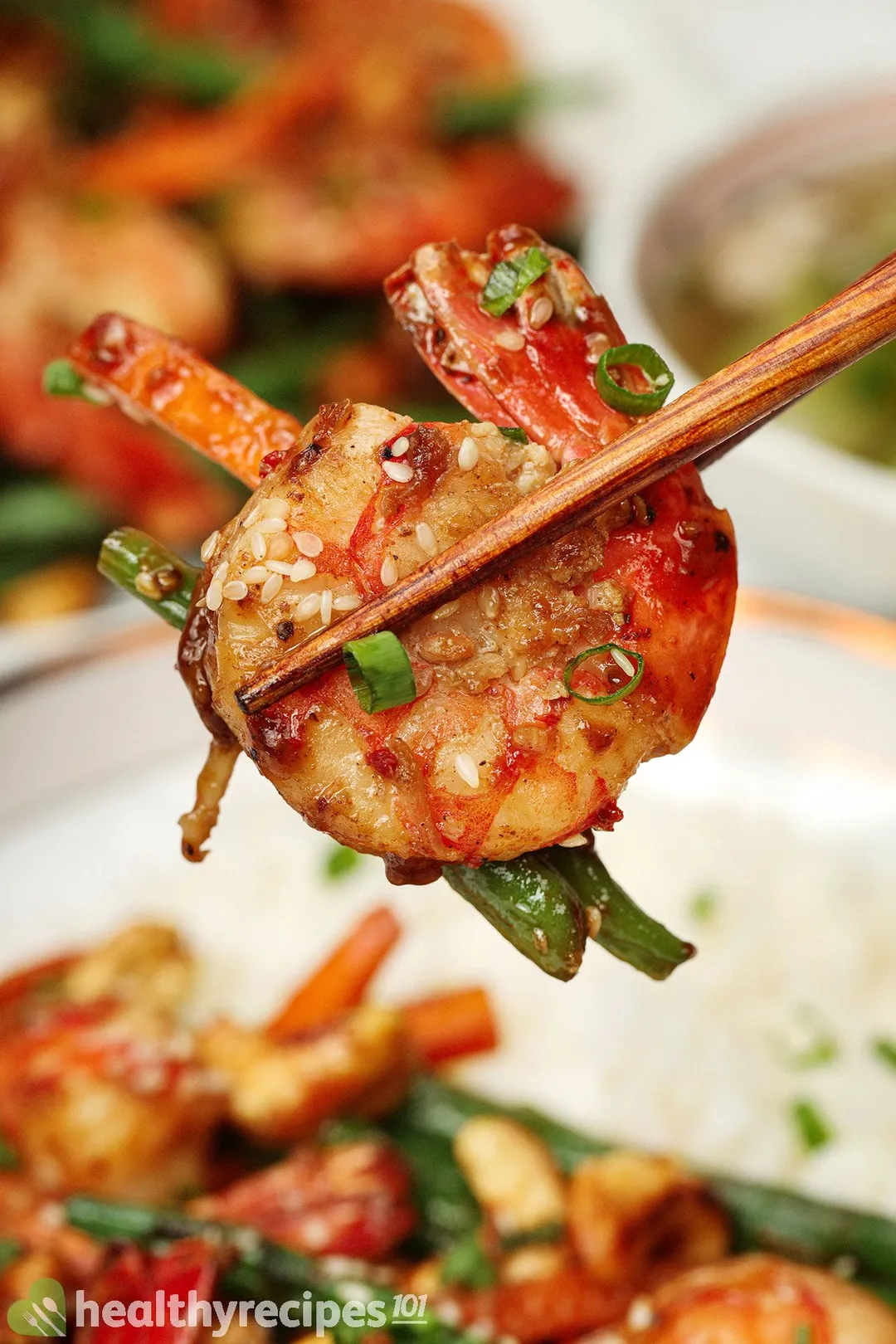 Cashew Shrimp
This cashew shrimp recipe is fool-proof and takes no time at all. Keep it in the fridge for hassle-free meals for days to come.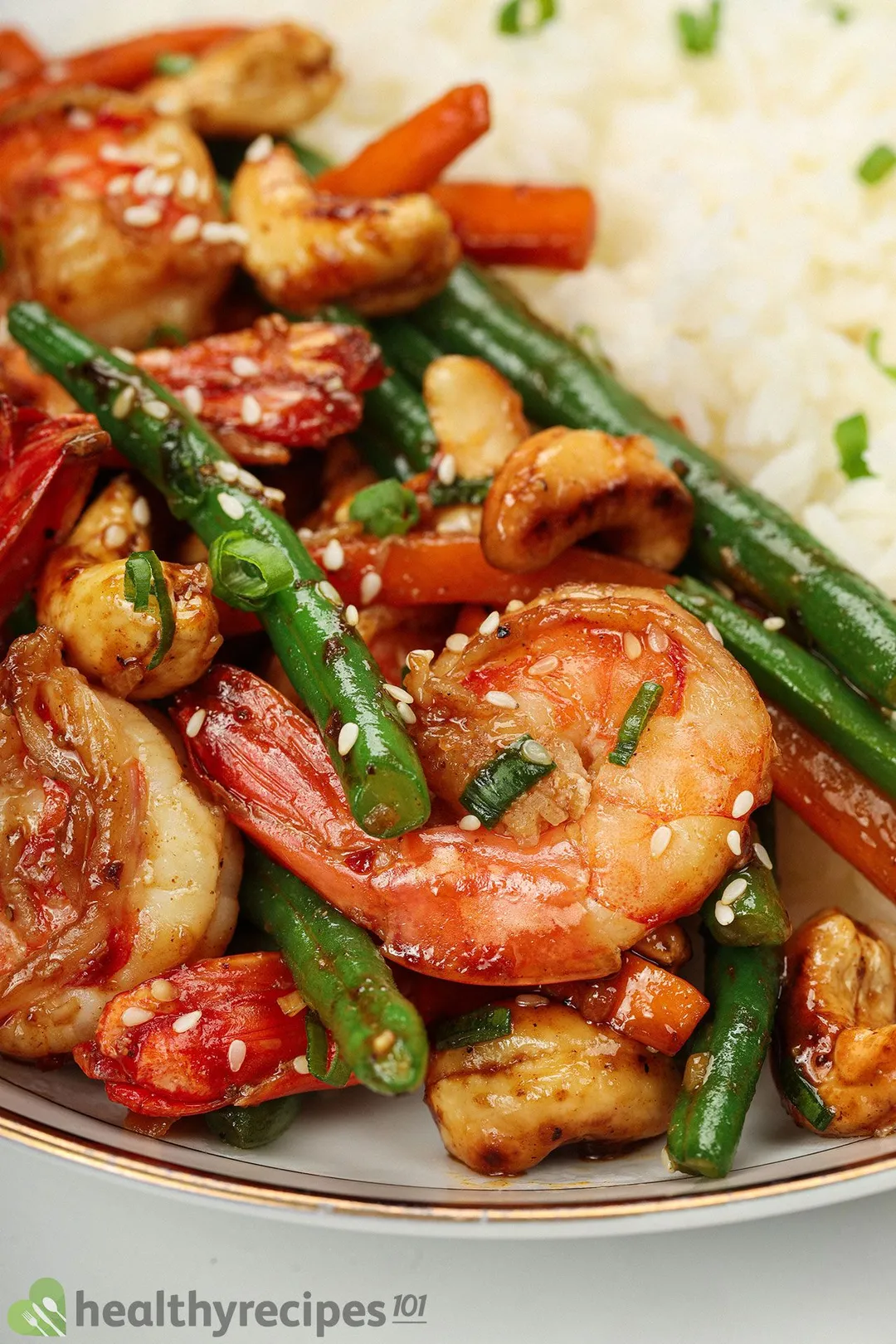 cook TIME

17 mins

prep TIME

8 mins

total TIME

25 mins
COURSE

Main Course

CUISINE

Asian, Chinese

SERVINGS

CALORIES

507 kcal
INGREDIENTS
10 oz

peeled shrimp

(from 20 oz shrimp)

3 oz

cashews

(roasted and unsalted)

4 oz

carrots

(cut into strips the same size as green beans)

1 1/2 tbsp

reduced-sodium soy sauce

1/2 tsp

ground black pepper

1/2 tsp

red pepper flakes

1 tsp

sesame seeds

(toasted)

2 tbsp

scallion

(finely chopped)

3 cups

cooked medium-grain rice
INSTRUCTIONS
1
In a bowl, mix together 4 tbsp water, 2 tsp cornstarch, 1 1/2 tbsp soy sauce, 1/2 tbsp oyster sauce, 1 tsp brown sugar, 1/2 tsp Sriracha, 1/2 tsp pepper, 1/2 tsp paprika, 1/2 tsp red pepper flakes, and 1 tsp sesame oil. Set aside.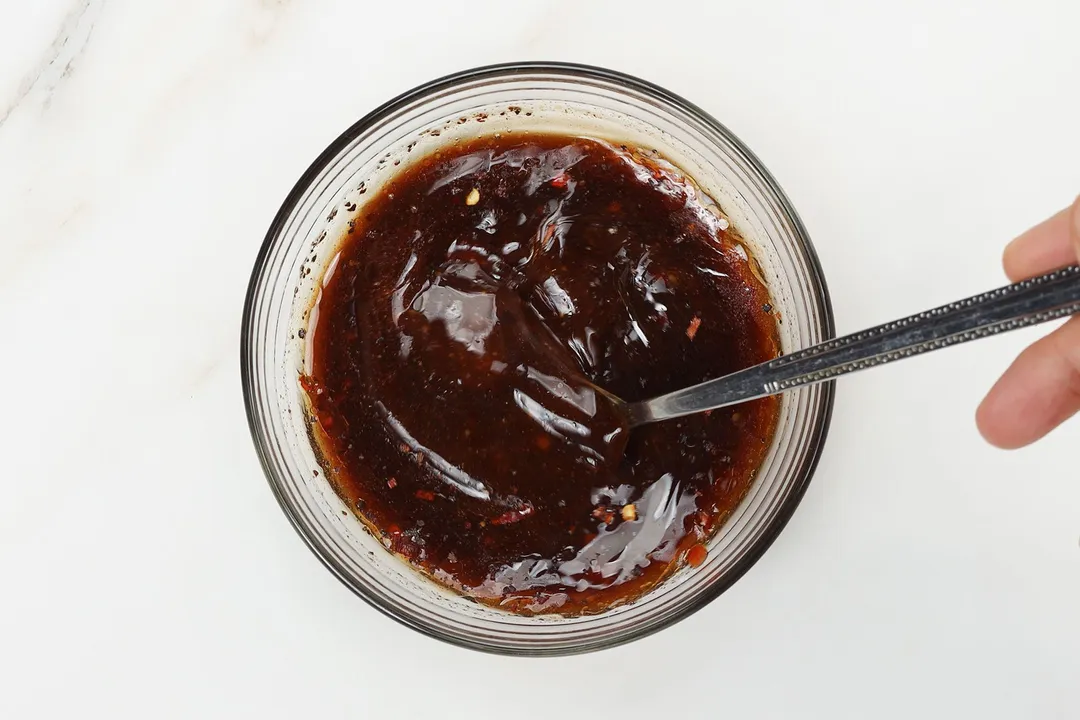 2
Heat 1 tbsp canola oil in a large non-stick pan over medium heat. Sauté 1 tbsp garlic and 1 tsp ginger until fragrant.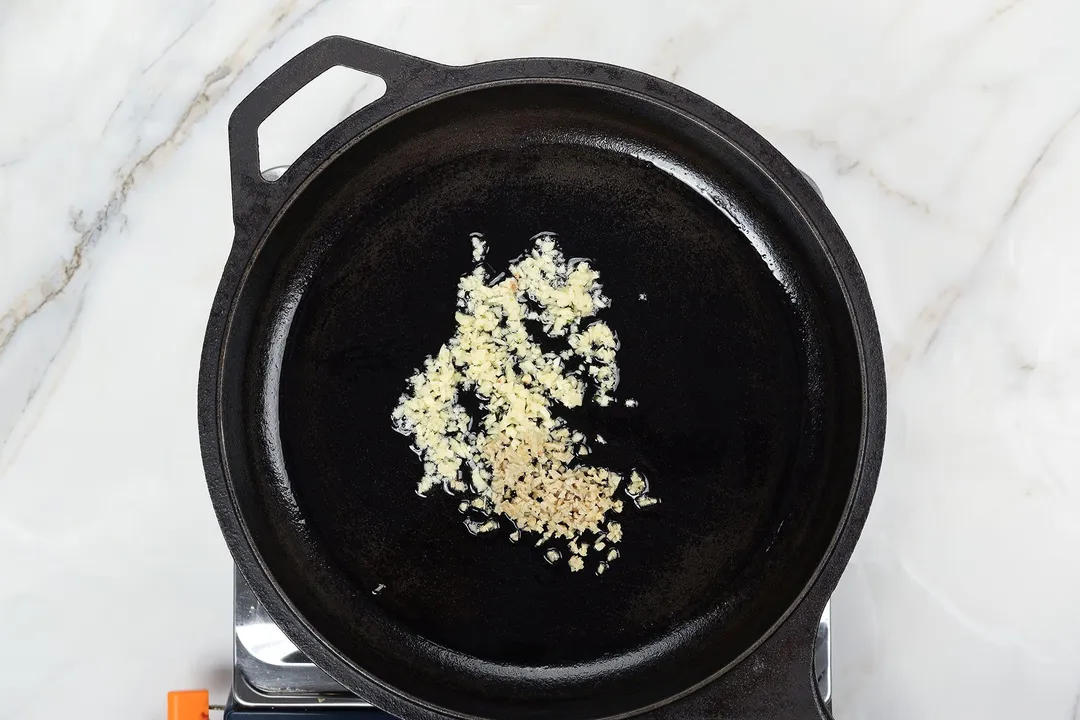 3
Add 10 oz peeled shrimp. Cook until both sides turn red.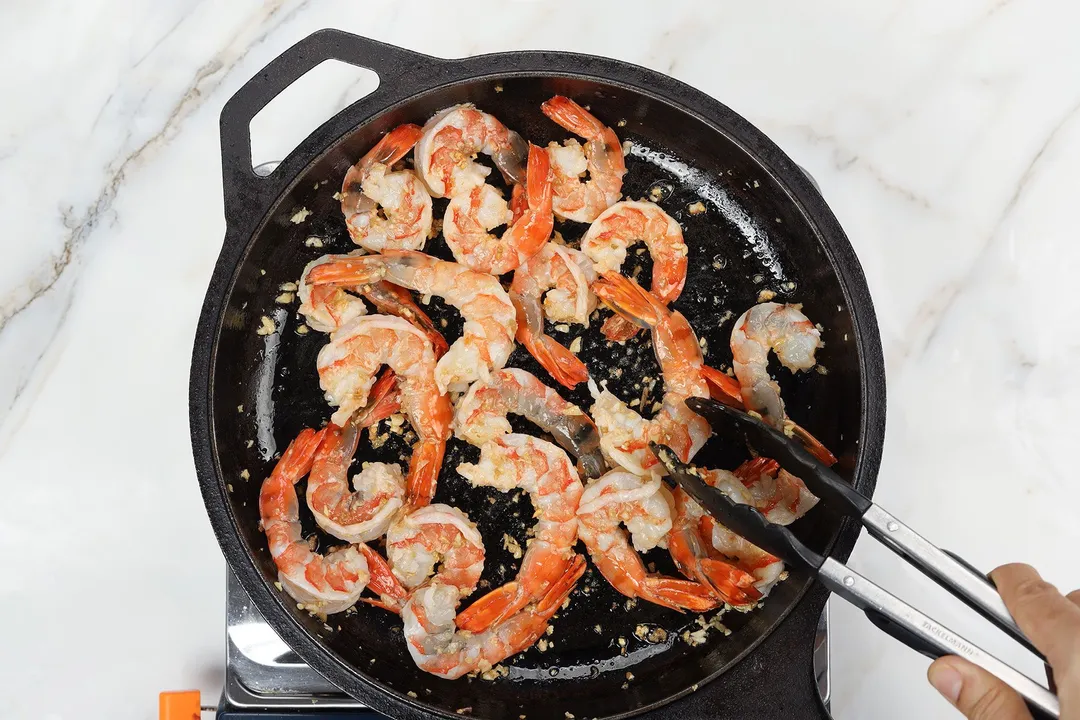 4
Add 4 oz carrots and 4 oz green beans. Stir everything for about 3 minutes.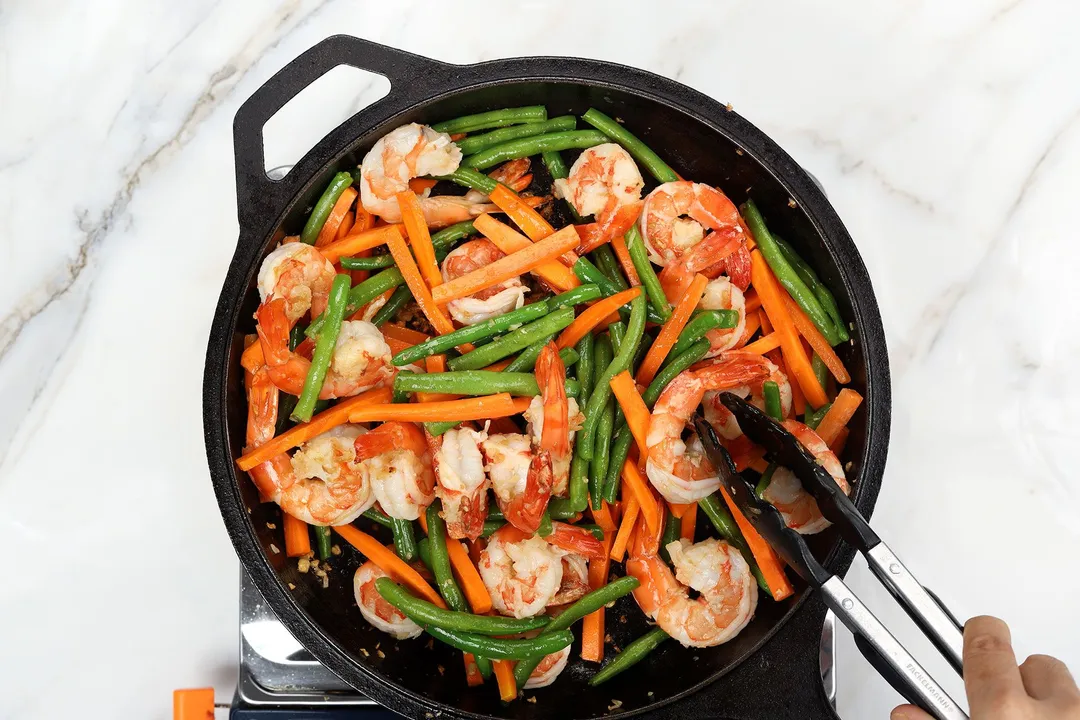 5
Add 3 oz cashews. Pour in the sauce you mixed earlier, and it should quickly thicken in about 30 seconds.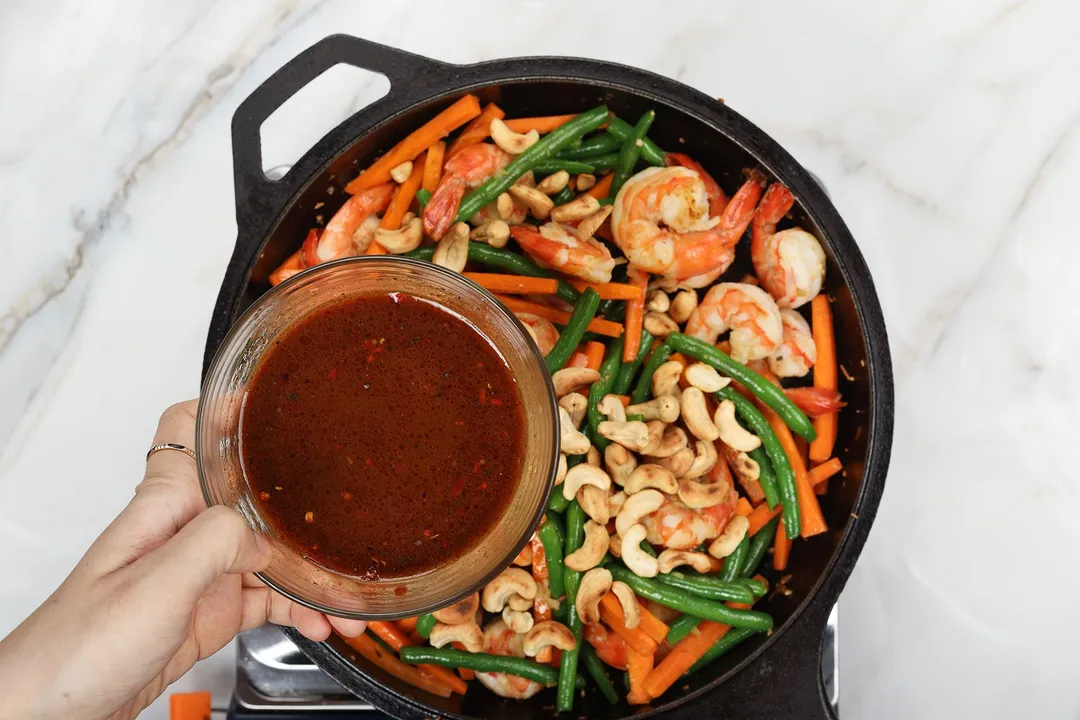 6
Garnish with 1 tsp sesame seeds, 2 tbsp scallion, and enjoy with 3 cups cooked medium-grain rice.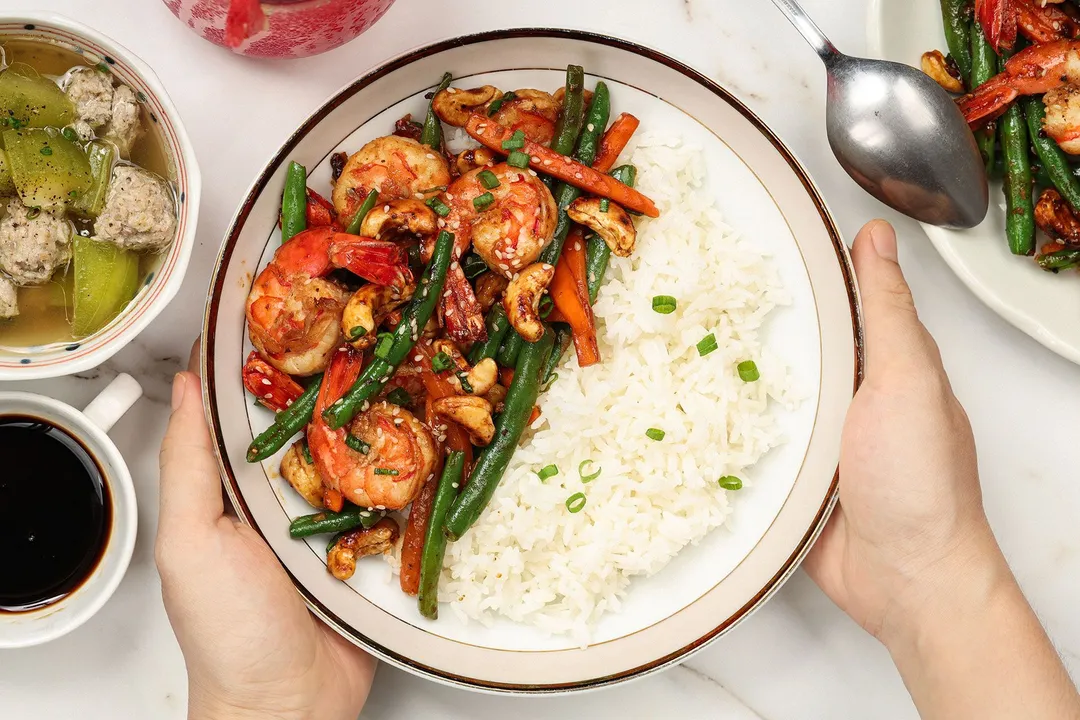 NUTRITION
Nutrition Facts
Cashew Shrimp
Amount Per Serving (1 serving)
Calories 507
Calories from Fat 135
% Daily Value*
* Percent Daily Values are based on a 2000 calorie diet.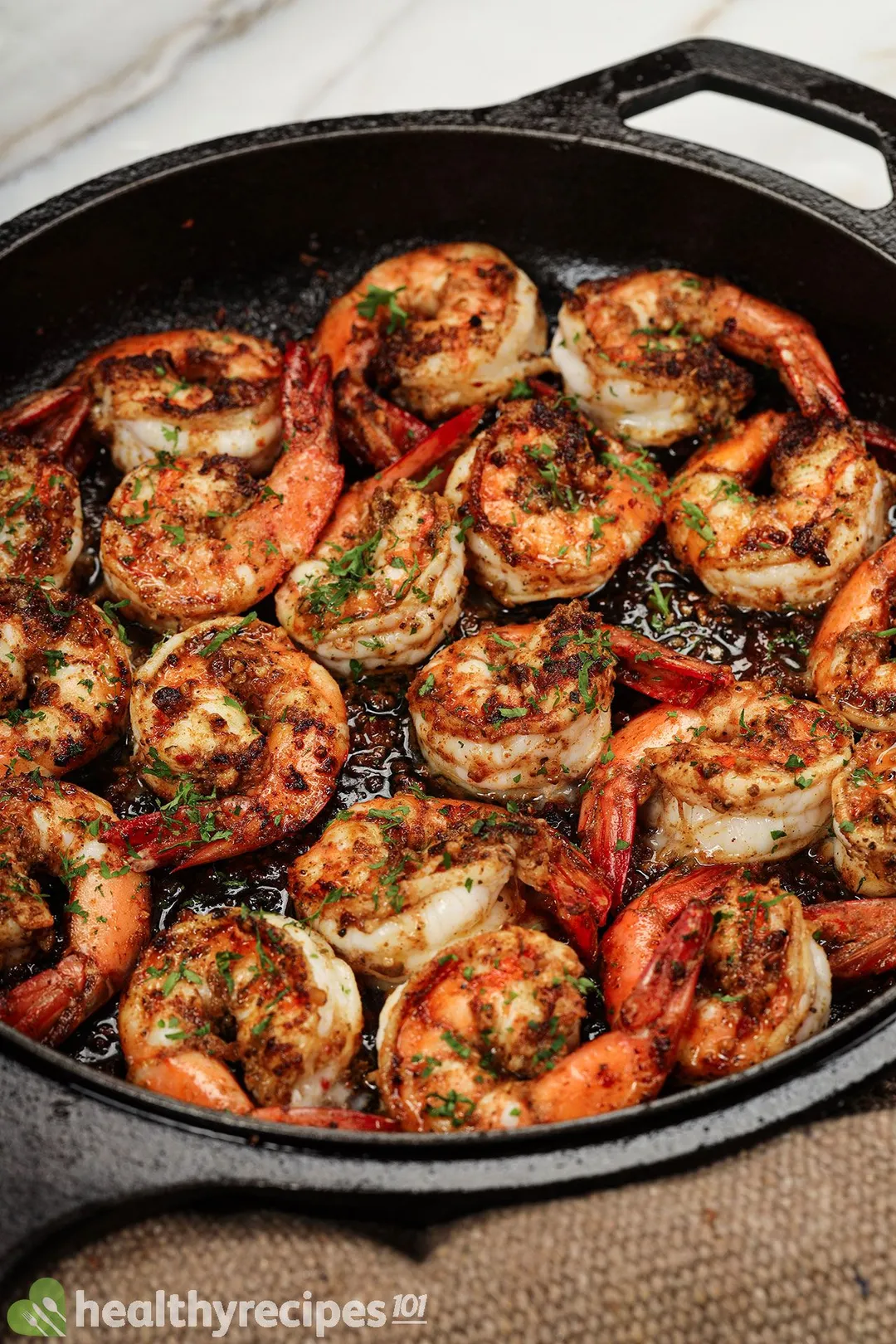 Previous Recipe
Pan Seared Shrimp
Pan Seared Shrimp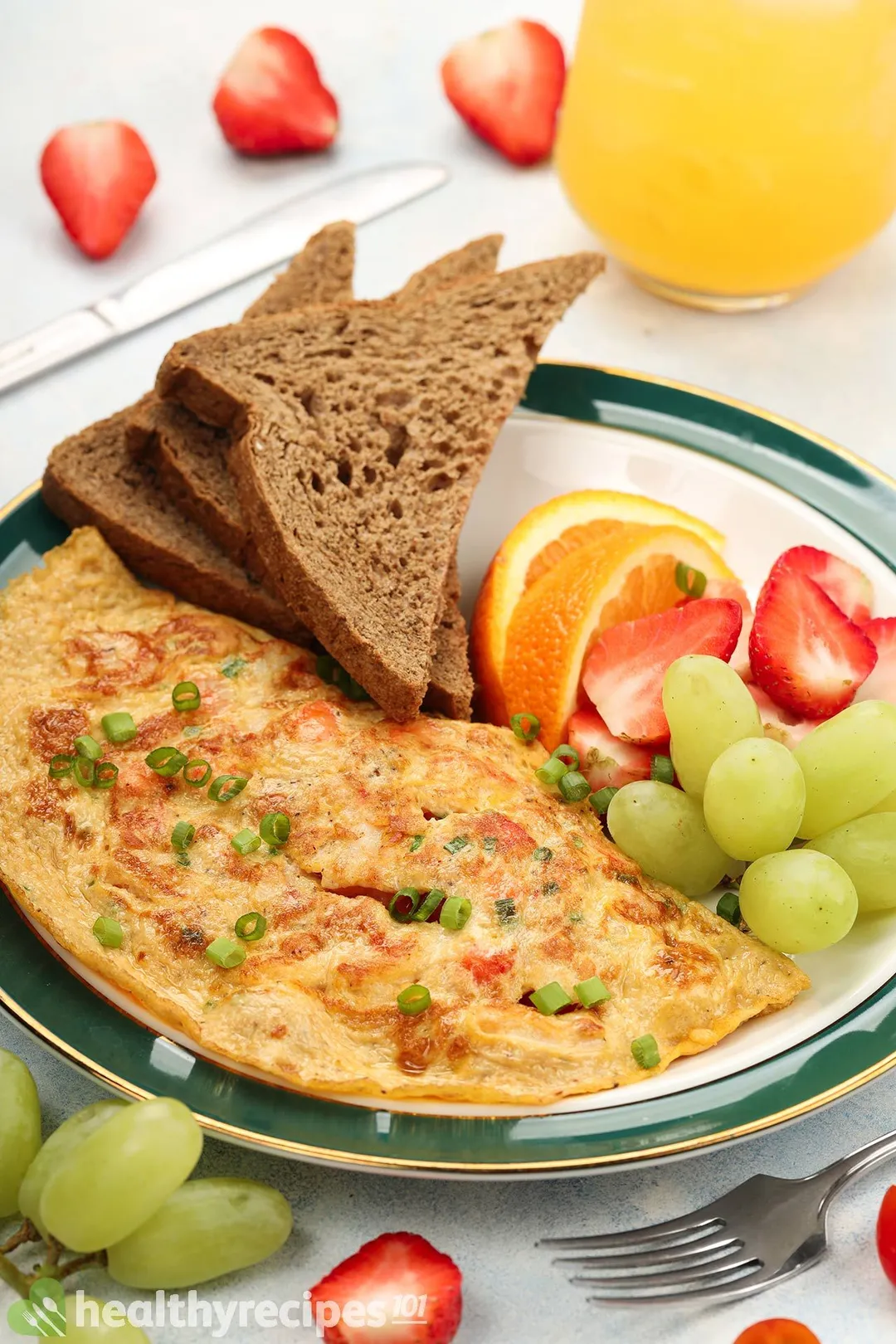 Shrimp Omelet
Head Chef, Culinary Consultant
Tuyet Pham is an award-winning Saigonese chef who believes that joy is the secret ingredient to delicious food. At Healthy Recipes 101, Tuyet personally tests and simplifies every recipe, ensuring maximum flavor with minimal effort. With a background at prestigious French restaurants P'TI Saigon and Le Corto, Tuyet knows how to make every dish exceptional.
Writer, Author
Luna Regina is an accomplished writer and author who dedicates her career to empowering home cooks and making cooking effortless for everyone. She is the founder of HealthyKitchen101.com and HealthyRecipes101.com, where she works with her team to develop easy, nutritious recipes and help aspiring cooks choose the right kitchen appliances.
Nutrition Reviewer
Natalie Butler is a registered dietitian nutritionist with a passion to help others live their best life through food, fitness, safer beauty and a healthy lifestyle. She has expertise with a variety of diets and diseases and believes that there is no one-size-fits-all approach for health.
Delicious, really impressed for me. I'll be back!

I got lazy and didn't batter the shrimp, but they still turned out delicious. Oh maybe add the shrimp in last so they're not overcooked.