Today's shrimp and asparagus recipe yields a simple, healthy dish brimming with fresh Mediterranean flavors. Tender, juicy jumbo shrimp are stir-fried with asparagus and a hearty spice blend and then served over cooked barley for a nutritious and satisfying meal.

Is Shrimp And Asparagus Healthy?
Yes, it is.
This shrimp and asparagus with rice recipe contains 479 calories per serving. This dish demonstrates that it is possible to prepare a nutritious and healthy meal even when time and energy are limited.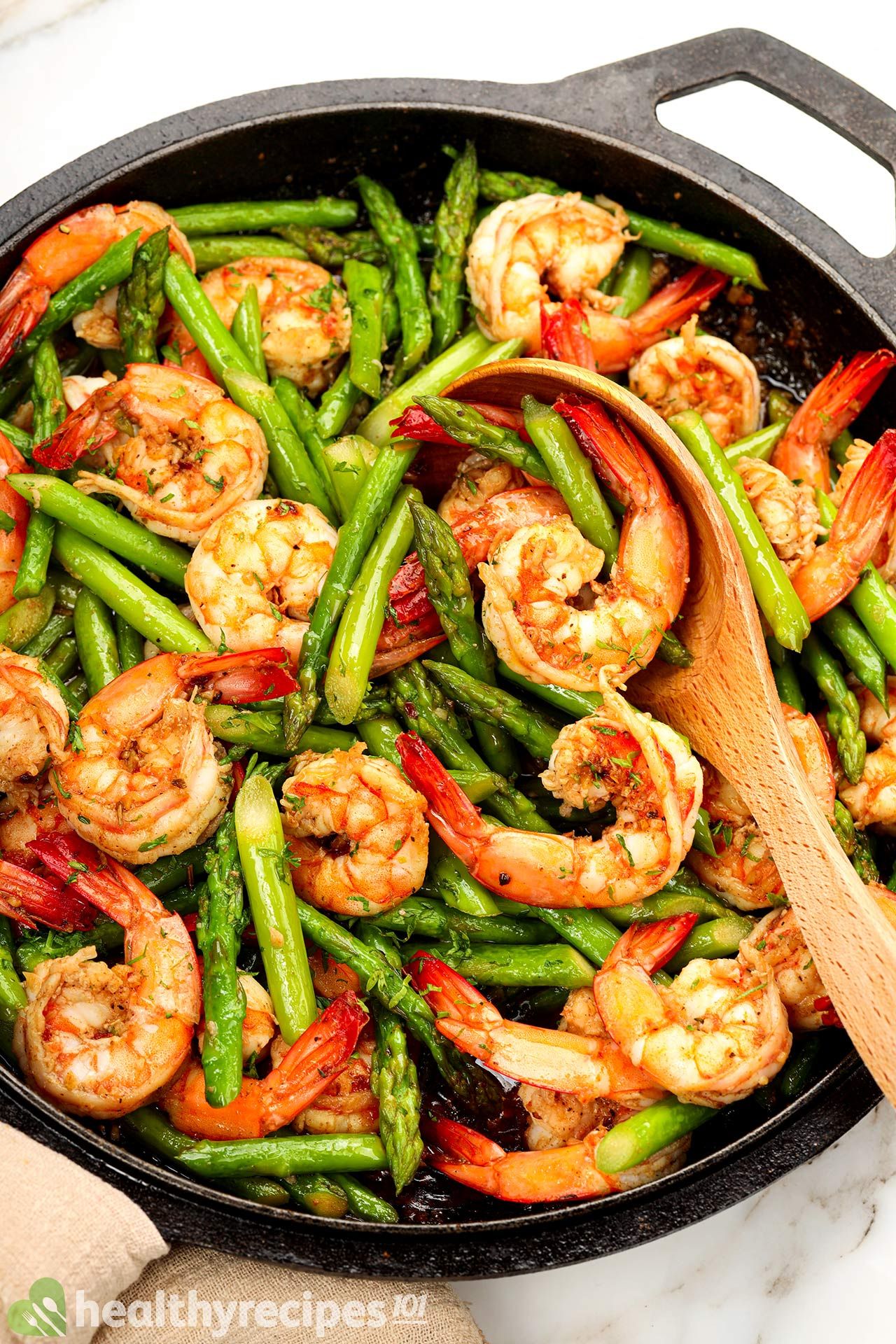 Shrimp is a good source of vitamins A, D, and E, plus fat-soluble vitamins. It's high in protein and calcium, which are known to aid in the fight against bone degeneration.
Shrimp also contains omega-3 fatty acids, which are proven to help prevent heart disease, stroke, and diabetes.
Furthermore, asparagus is an antioxidant powerhouse. It's loaded with vitamins C and K, in addition to a plethora of other micronutrients that aid in immune system support, inflammation reduction, and infection resistance.
As is the case with the majority of vegetables, asparagus is high in fiber and low in calories. Its addition to main dishes can help your stomach feel fuller for longer.
Finally, barley is included to provide soluble fiber, vitamins, and minerals. It has a variety of health benefits and is effective at lowering cholesterol levels, thereby lowering one's risk of developing heart disease.

Main Ingredients
Jumbo-sized shrimp is the best choice for today's shrimp and asparagus, ensuring that the shrimp does not overcook when sauteed.
Frozen shrimp can also be used. Defrost them properly by running them under cool water until the ice melts, or let them defrost overnight before you start cooking.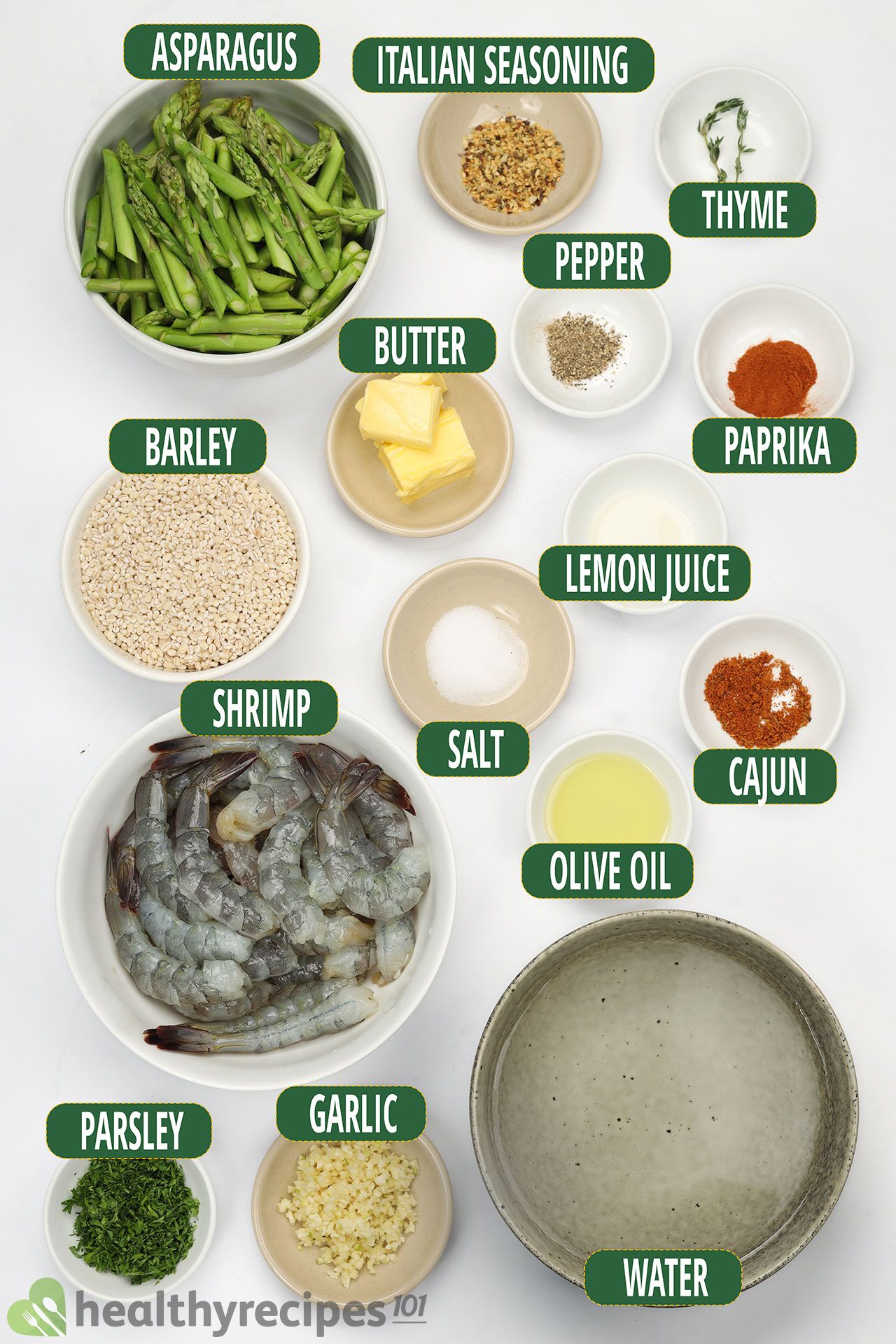 Along with the shrimp, asparagus adds another protein source to the dish. Shrimp and asparagus complement one another beautifully and provide the flavor foundation for this dish, and both require a brief cooking time to ensure the best texture.
Therefore, you only need to sauté asparagus on high heat for a few minutes until it turns bright green. To summarize, for it to be considered a success, the shrimp must be juicy and plump, while the asparagus must be crisp-tender.
The cereal grain barley has a mild flavor. We use pearled barley in this recipe because it is tender and cooks quickly in the spice-infused broth under high pressure, resulting in an al dente texture with a nutty flavor.
For today's dish, the seasonings are straightforward: garlic, paprika, Italian seasoning, lemon juice, salt, ground black pepper, and cajun.
The dynamic trio of lemon, garlic, and butter makes a flavorful, well-balanced combination to complement the juicy shrimp. When the shrimp are cooked, the spice mixture infuses them and transforms them into succulent morsels, bursting with deliciousness.
How to Prepare Asparagus
While asparagus is available year-round in most areas, its peak season is between February and June.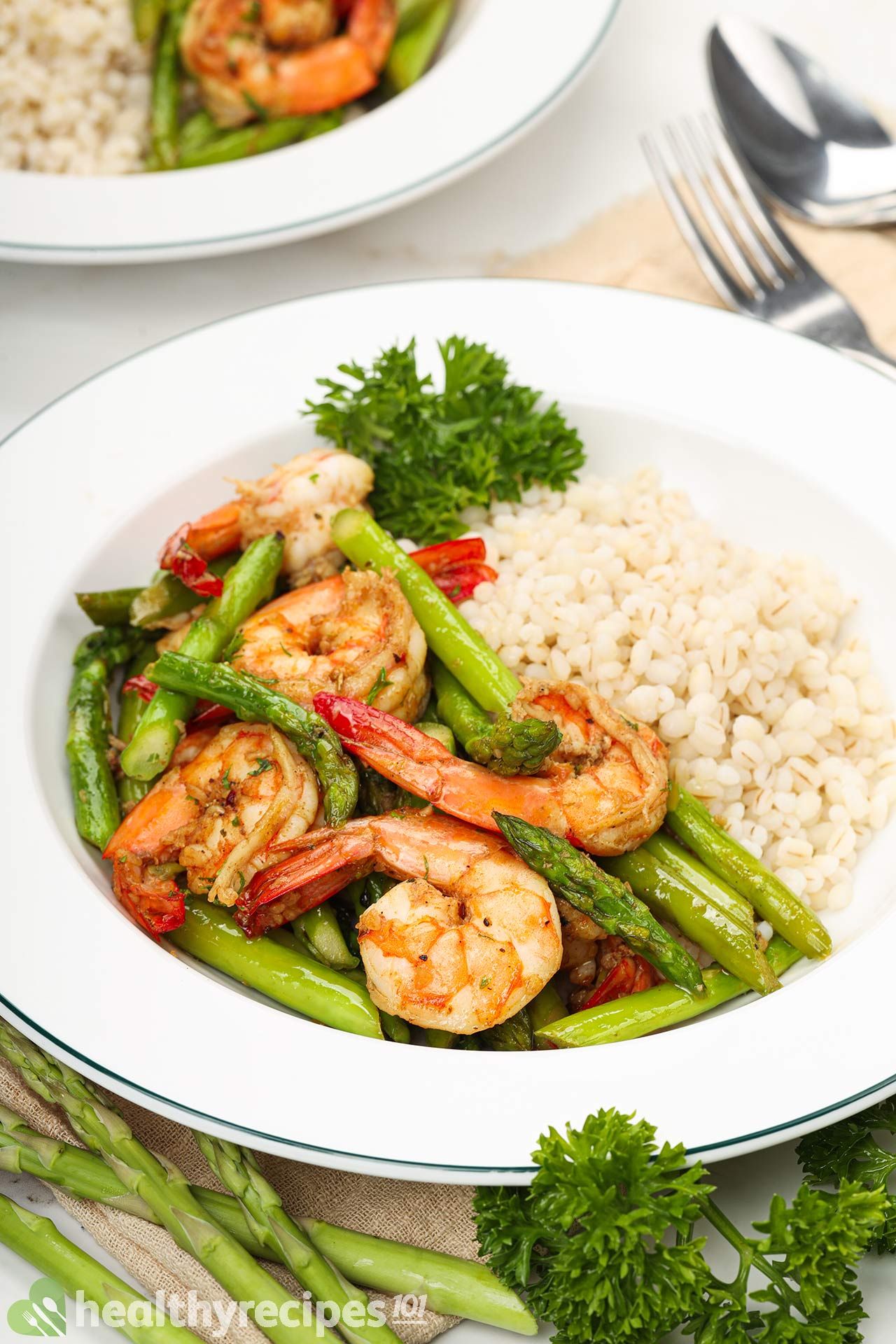 When buying asparagus, first, take a look at the buds. Check if they're firm and bright but not brown, wilted, or slimy. They can be purple, green, or white; however, they cannot be brown or yellow.
At the grocery store, asparagus is typically stored bundled together and standing upright in ice or ice water. This maintains their hydration, crispness, and freshness.
The following are some fundamentals to know when preparing asparagus for cooking:
1. Do You Have to Wash Asparagus Before Cooking?
It is optional; however, if you do, please ensure that you wash it immediately before cooking. The break-down process will be accelerated if you wash it and then refrigerate it.
To begin washing asparagus, rinse the stalks to remove any dirt or grit from the harvesting process. Following that, simply roll it between two towels to dry.
2. How to Trim Asparagus
Asparagus's slender green stems have a tough, fibrous bottom portion that must be removed because it is difficult to eat.
Trimming asparagus is also a simple procedure. Arrange the stalks in a straight line and give them the same cut, about 2-3 inches from the bottom, depending on their initial length.
To trim a single asparagus stalk, take each stalk and bend it until the tough part snaps in half. All that remains is to discard the tough base.
3. How to Tell If Asparagus is Bad
Asparagus cannot be kept for an extended period. To achieve the best results, consume it within 2-3 days of purchase.
Asparagus should be stored as if it were a bouquet of flowers. Remove the bottoms, wrap a plastic bag or plastic wrap loosely around the top, and put the stalks in a tall jar or glass filled with about an inch of water.
If your refrigerator does not allow for upright storage, wrap the trimmed ends of asparagus in a wet paper towel and place them in a plastic bag with the buds toward the top. Leave the bag open to allow air to circulate.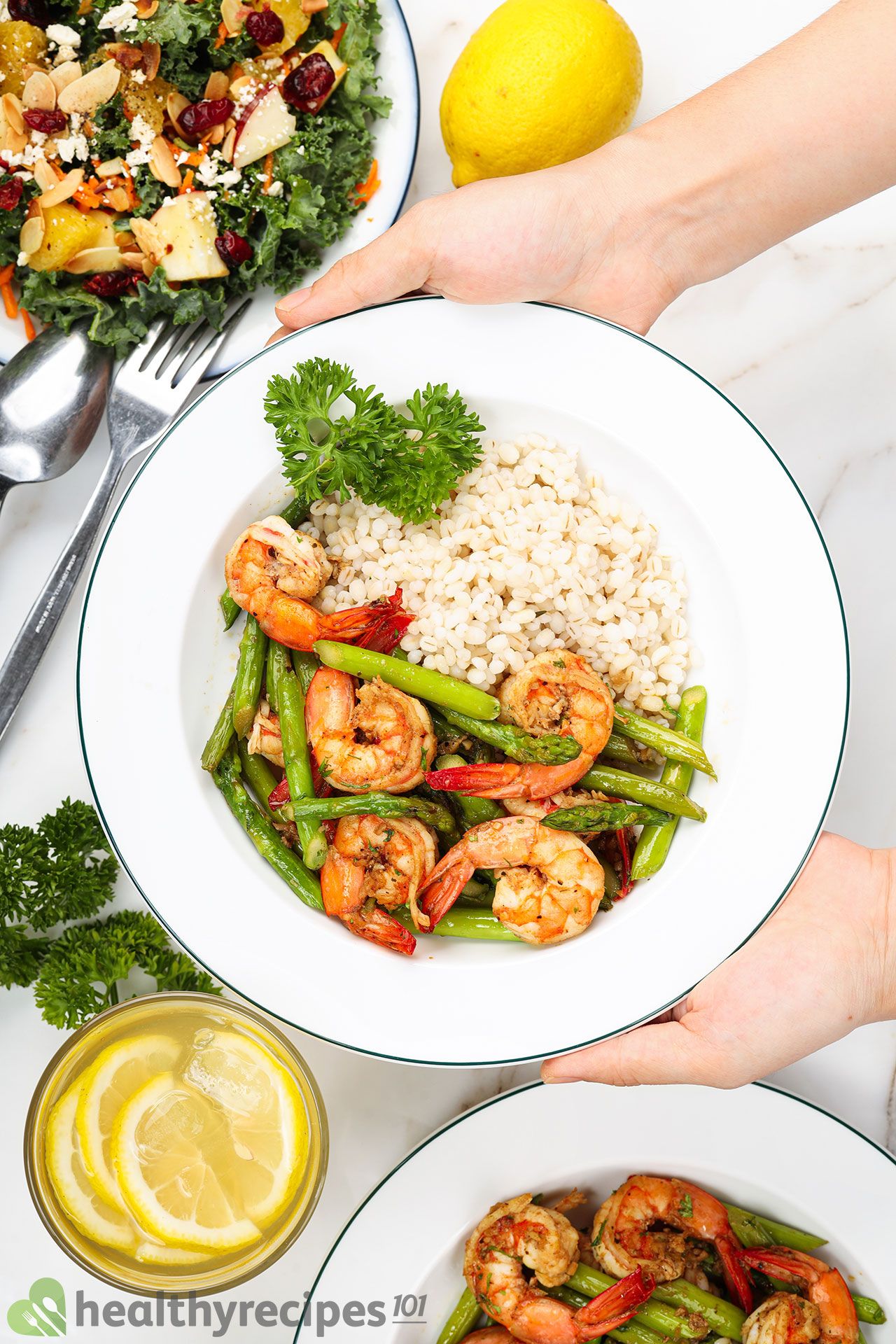 Storing and Reheating Shrimp And Asparagus
Leftover shrimp and asparagus will keep for up to 3 days in the refrigerator if properly stored in airtight containers. The storing period can be extended to 3 months in the freezer.
To reheat, allow the leftover portion to thaw overnight in the refrigerator. The next day, reheat it in the microwave or oven until warm before eating.

What to Serve with Shrimp And Asparagus
Generally, shrimp and asparagus pair well with carbohydrate-dense side dishes, ranging from rice, noodles, and pasta to rice pilaf, quinoa, and bread.
As we already enjoy our version with barley, we decided to add cabbage soup and a refreshing glass of orange-pineapple juice to today's meal to kick things off.
Cabbage soup: A simple and nutritious green cabbage soup made with ground pork, carrots, and white radishes to boost your fiber intake.
Orange-pineapple juice: A five-ingredient tropical fruit juice that helps your body absorb more vitamins and essential digestion-aid nutrients. It's divine and refreshing when served either as an appetizer or a side beverage for big meals.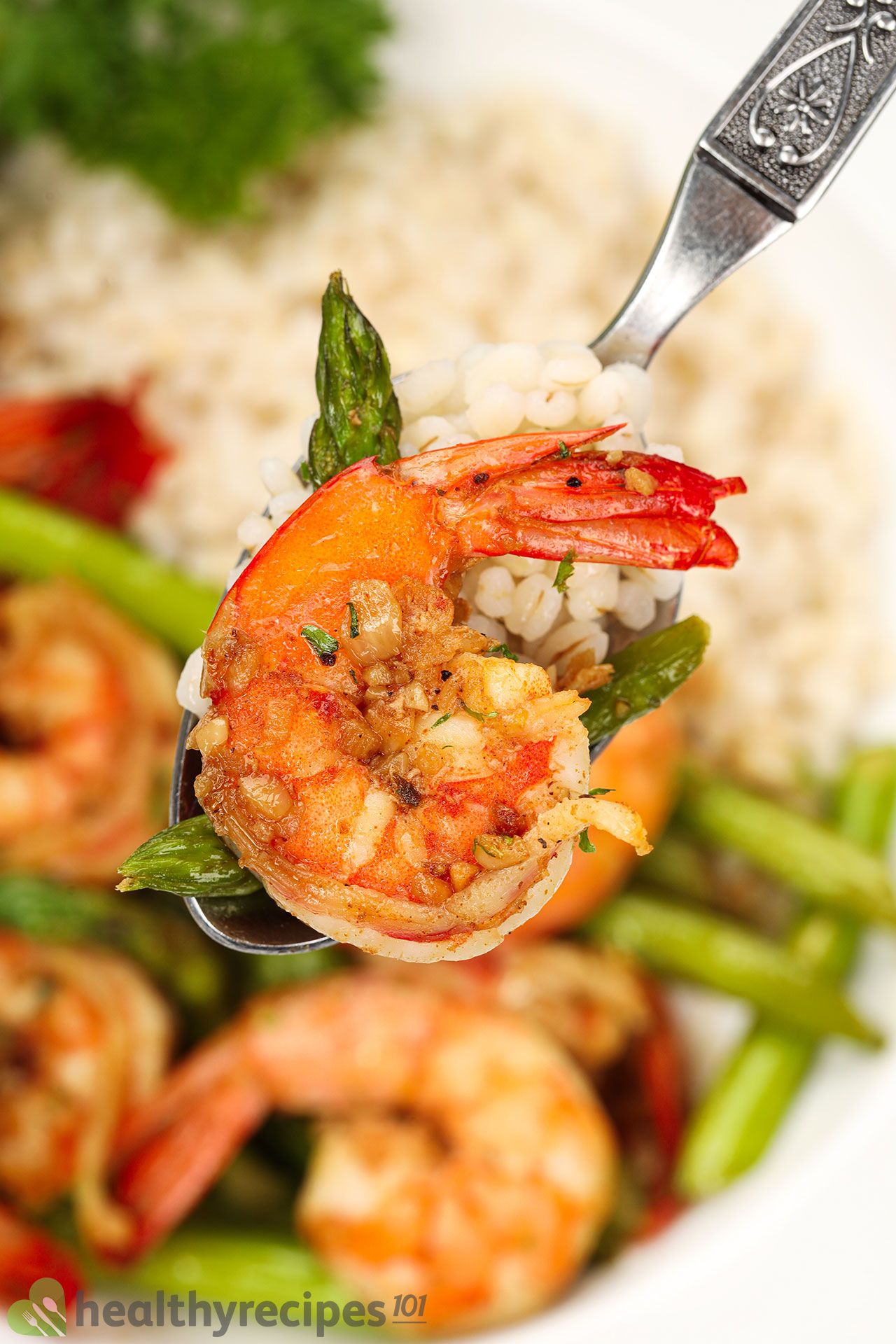 Previous Recipe
Shrimp Tikka Masala
Shrimp Tikka Masala
Next Recipe
Pan Fried Shrimp
Pan Fried Shrimp
Luna Regina
A writer and entrepreneur, Luna's day doesn't start at the computer keyboard, but in the kitchen.
Half of her working hours are spent on mixing ingredients for her recipes. The other half involve working with the tech team to research and test the tools and appliances that promise to make kitchen work effortless and mess-free. From a kitchen knife or water filter to the Instant Pot, if it can help save time and effort for the home cook, Luna and her team are on it.
Luna's extracurricular pastimes include camping, travel, and photography.