Our one-pan shrimp fried rice recipe makes a dinner that tastes better and healthier than anything that comes in a little white box ordered from the restaurant. The dish is packed with colors, flavors, and textures: fluffy rice with slightly crispy edges, chewy and savory seafood, and plenty of crunchy vegetables.
It is surprisingly quick and easy to make, and you can customize it with any of your favorite add-ins you have on hand while still capturing the distinct flavors of the Asian-style fried rice that we all know and love.
Is This Shrimp Fried Rice Recipe Healthy?
Yes, unlike many fried rice recipes out there, ours is healthy.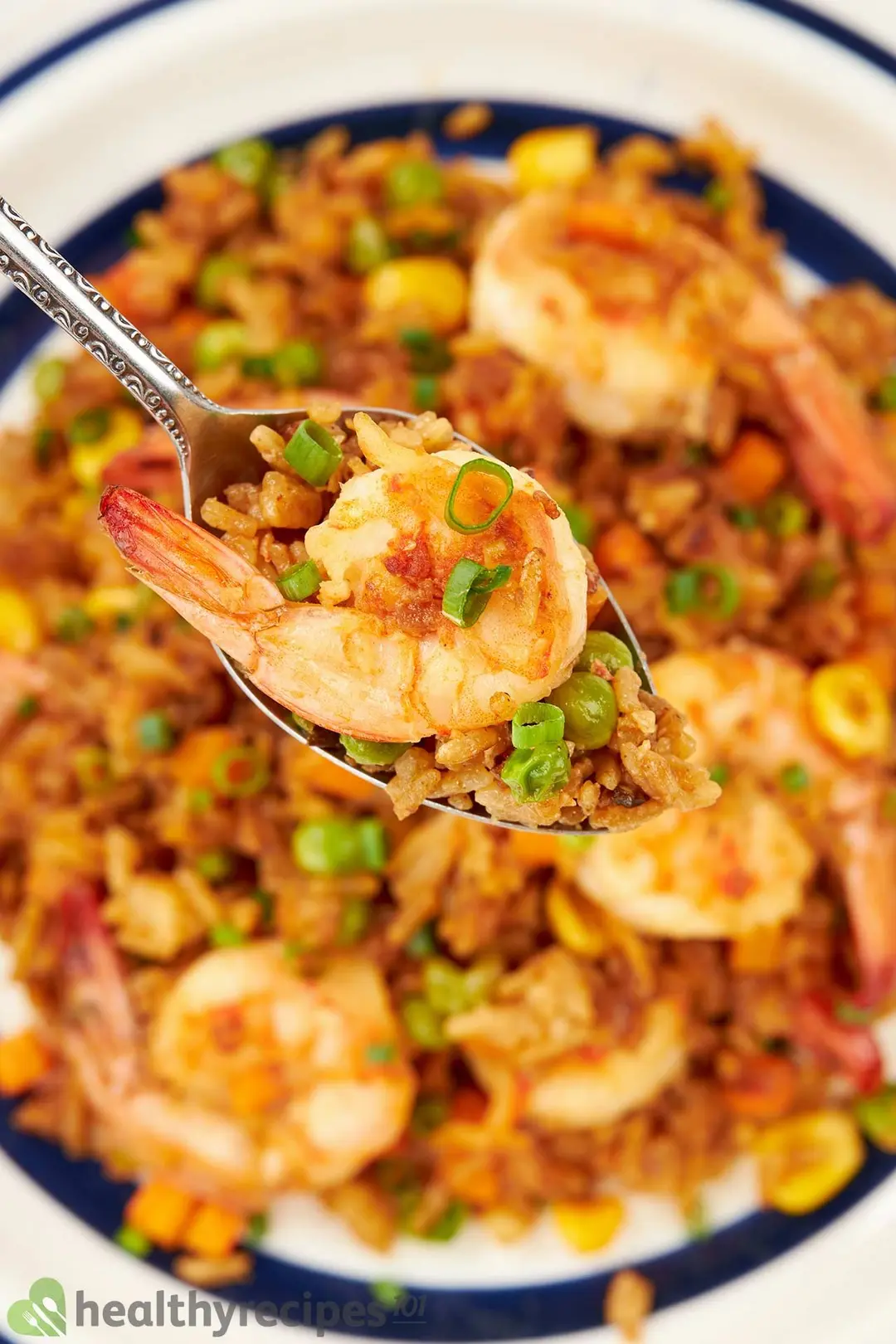 It's low in sodium: Fried rice is typically loaded with soy sauce, salt, and MSG. Our recipe uses low-sodium soy sauce without added salt but is still bursting with flavor.
It's packed with protein: There are 37.6 grams of protein in each serving — up to 75% of your recommended daily intake. This means the dish will keep you feeling full for longer, and you won't have to deal with the usual post-rice munchies.
It's rich in vitamins and minerals: With plenty of fresh vegetables, our fried rice is a delicious way for you and your children to consume more of your favorite veggies.
Shrimp Fried Rice Calories
Though containing a few calorie-rich ingredients like shrimp, rice, and olive oil, our shrimp fried rice contains only 502 calories per serving. That's a relatively low total for a classic Asian-style fried rice dish.
Shrimp Fried Rice Ingredients
Our fried rice recipe has a simple list of ingredients that are very easy to put together:
Shrimp: We always use fresh juicy and tender shrimp for the best flavor, but if you're in a hurry and want to save some time on prepping, you can use cooked frozen shrimp. Just thaw it out and throw it in the pan.
Cooked Rice: The best rice for a fried rice recipe is the leftovers in the fridge. Fresh rice can be a bit too mushy and sticky, but chilled rice has had a chance to dry out and is perfect for frying.
Vegetables: The base mix of chopped onion, carrots, peas, and sweet corn is our favorite. They add texture and color, making the dish irresistible.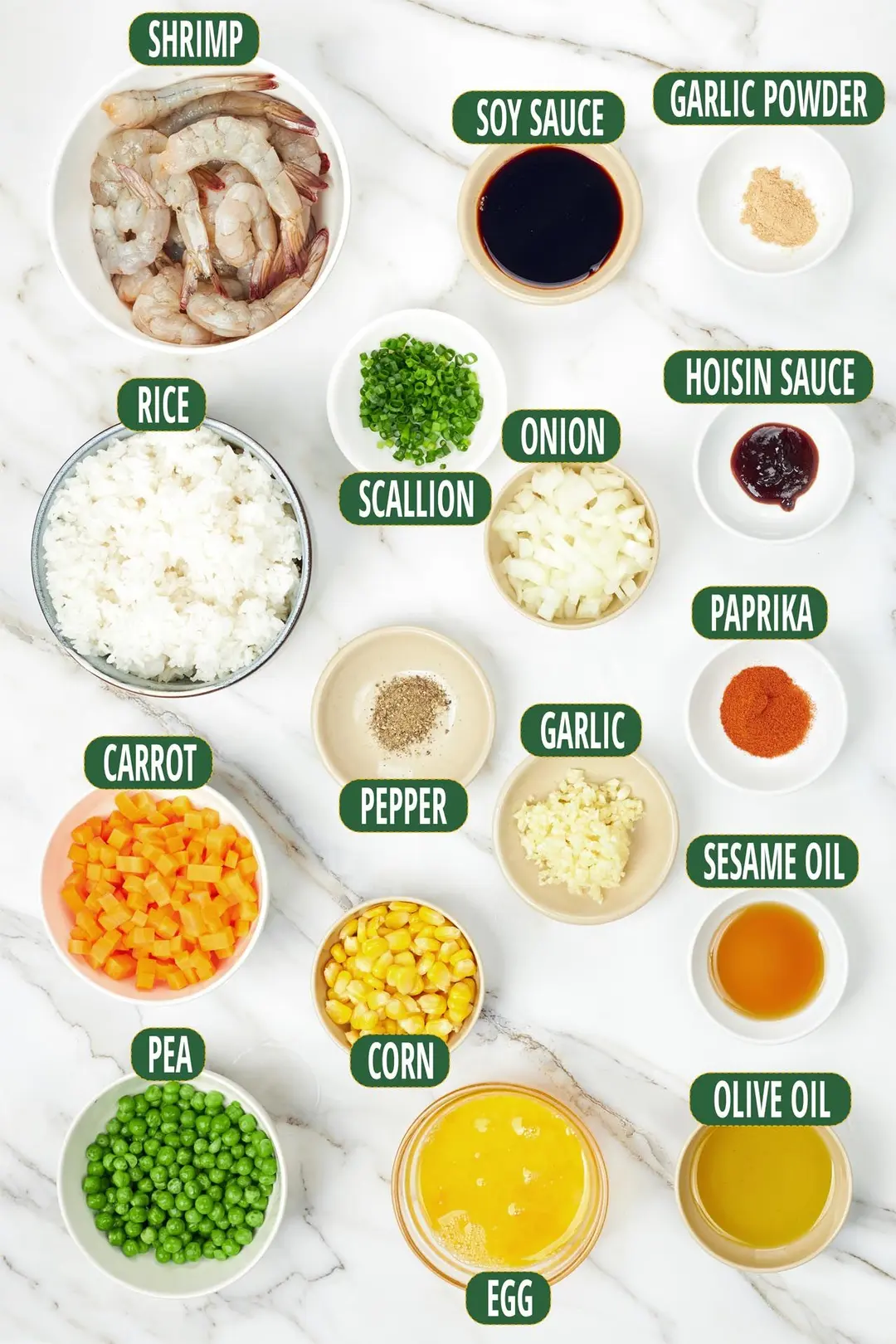 Eggs: Eggs add flavor, texture, vibrant color, and a healthy dose of protein to the pan.
Seasoning: Soy sauce is the most common flavor enhancer in any Asian-style fried rice, while hoisin sauce lends an extra layer of savoriness. Sesame oil is our secret weapon in today's recipe; its uniquely nutty aroma makes the dish shine.
The beauty of fried rice is that it's completely customizable to your taste. You can swap out the shrimp for your favorite other protein like chicken, pork, or even tofu. If you have any veggies lingering in the fridge, please feel free to add them to the pan. The more, the merrier!
How to Make Shrimp Fried Rice
Dinner can be fixed within 35 minutes with this shrimp fried rice recipe, and here's how we made it.
Step 1: Season the cooked rice.
Step 2: Sauté the shrimp.
Step 3: Sauté the onions.
Step 4: Stir-fry the rice.
Step 5: Add in the vegetables.
Step 6: Season the mixture.
Step 7: Return the shrimp to the pan.
Step 8: Garnish and serve.
It's important to note that stir-fried recipes often happen fast so it's best to have everything prepared and to hand when you start cooking. For the detailed instructions with measured ingredients, please refer to the recipe card at the bottom of the recipe.
How to Tell if Shrimp Is Cooked
Cooking shrimp is tricky since this seafood cooks very quickly and often ends up over or undercooked. There are several ways to cook shrimp, but we will only discuss the stovetop method in this recipe.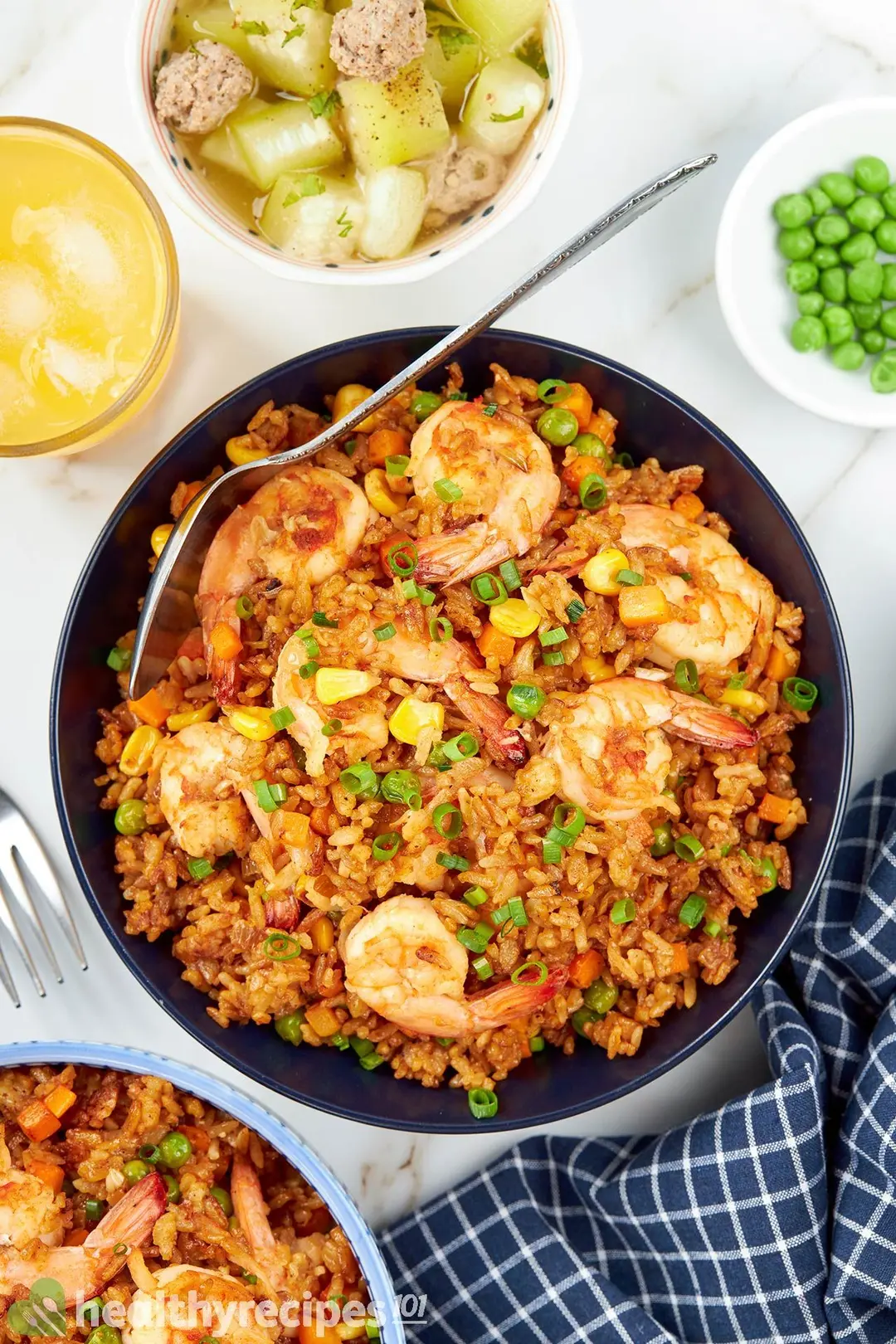 The internal temperature of a fully cooked shrimp is 120 ℉. Besides, doneness can be easily judged by bare eyes. Once cooked, the shrimp should be white with some pink and bright red accents. This is the best and straightforward indicator of whether it's safe to eat or not. We don't recommend eating the shrimp if it's still translucent or gray after cooking.
How to Store and Reheat Shrimp Fried Rice
The key to storing shrimp fried rice is to cool it down completely before transferring it to an airtight container or a Ziplock bag. Once refrigerated, the rice should be consumed within 3 - 5 days and only be reheated once before enjoying it. To maximize the shelf life of fried rice, consider keeping it in the freezer for up to 2 months.
The best way to bring back fried rice's original taste and texture when reheating is to add moisture back into the rice. Whether using a microwave, oven, or stovetop, you will always want to add some water or oil to keep your rice from drying out. 
Stir the rice once or twice until all the water has evaporated and the rice is heated through. This way will return your rice to its former glory and deliciousness.
What to Serve With Shrimp Fried Rice?
Packed with carbs, protein, and vegetables, fried rice has always been considered a wholesome, savory main dish. Serving it with a soup, salad, or simple roasted vegetables, will quickly transform your easy weeknight dinner into an unforgettable taste experience.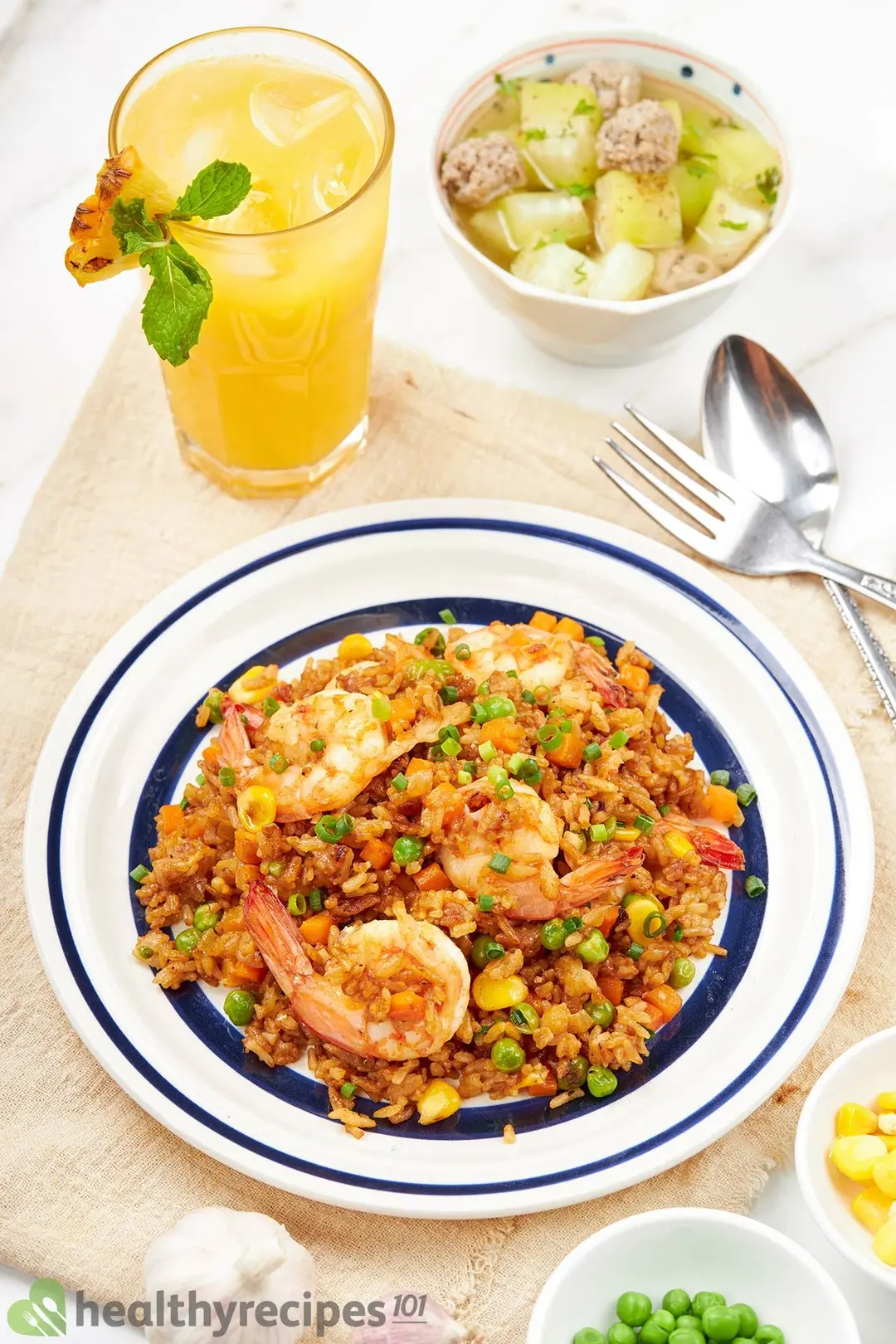 In this recipe, we paired our hearty Asian-style shrimp fried rice with a homemade winter melon meatball soup and orange pineapple juice. A warm soup and fresh juice not only boost nutritional value but also bring balance to the meal.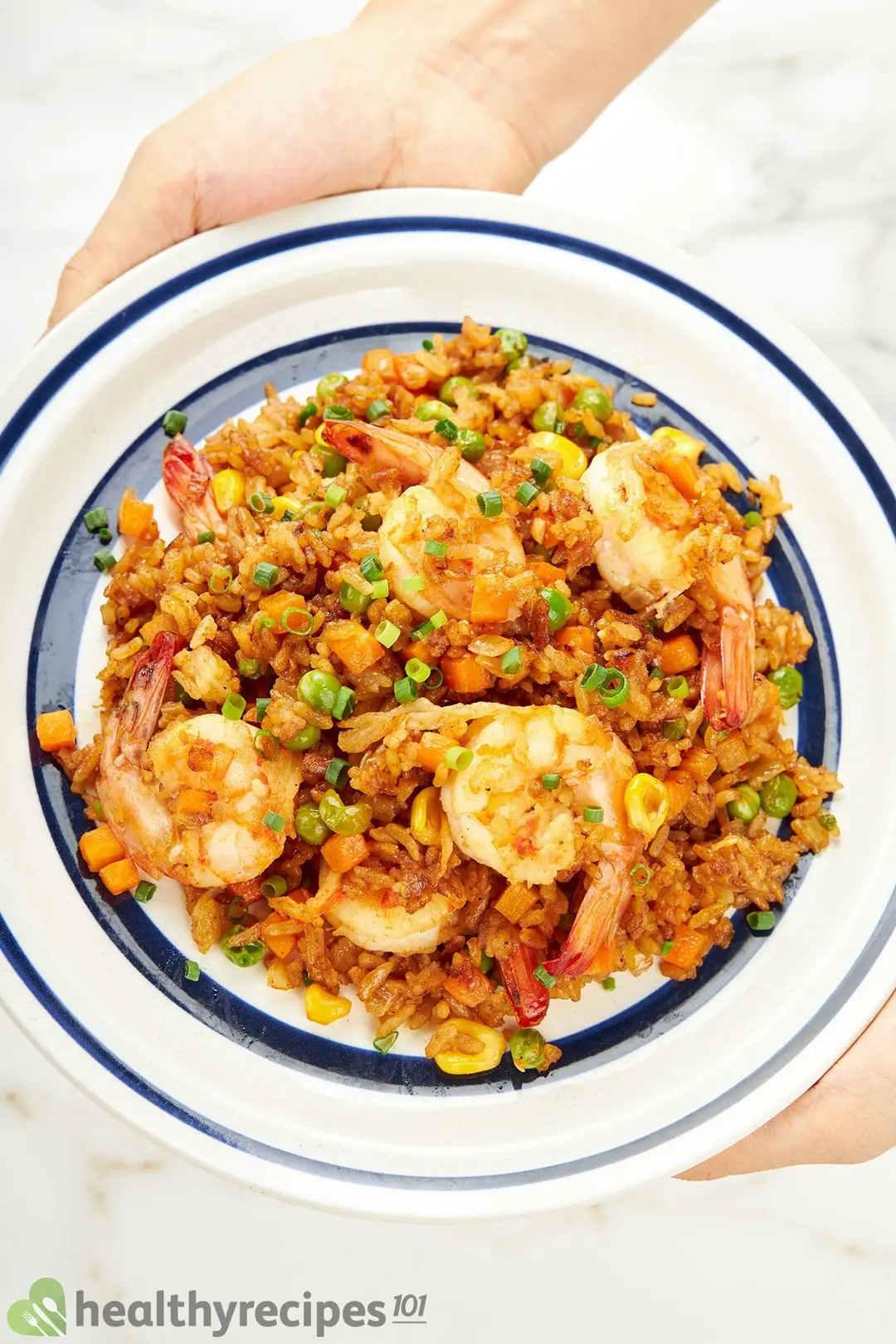 Shrimp Fried Rice Recipe
Our shrimp fried rice recipe makes a better-than-restaurant-quality dish with just a handful of simple ingredients. You will never have takeout again!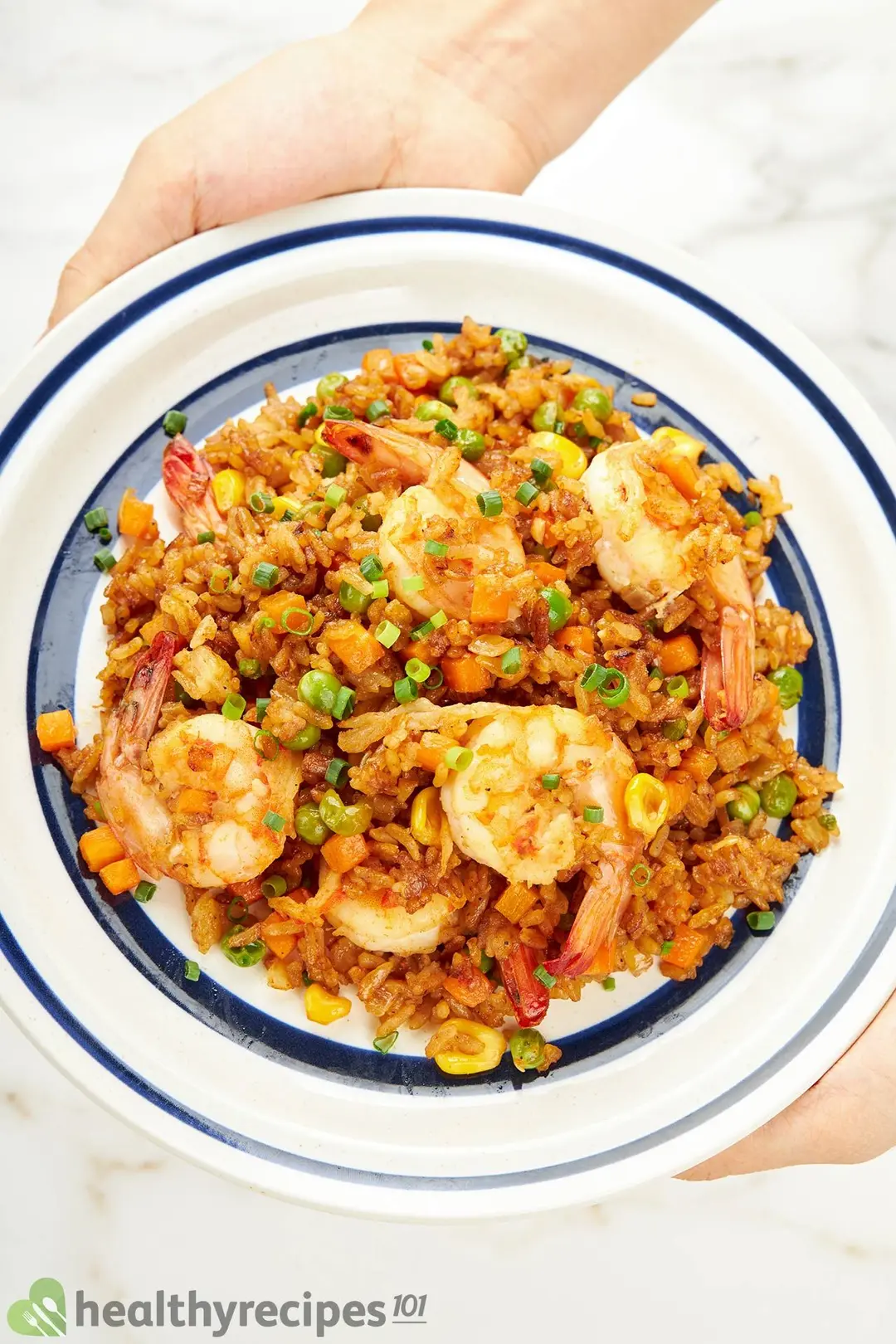 cook TIME

25 mins

prep TIME

10 mins

total TIME

35 mins
COURSE

Dinner, Lunch, Main Course

CUISINE

Chinese

SERVINGS

servings

CALORIES

502 kcal
INGREDIENTS
12 oz

peeled shrimp 20 oz raw shrimp

3 cups

cooked medium-grain rice

2

medium eggs

1 tsp

paprika divided

2.5 tbsp

olive oil divided

2 tbsp

garlic chopped

0.5 tsp

garlic powder

2 oz

onion chopped

3 oz

green peas thawed

2 oz

corn

4 oz

carrots chopped

0.5 tsp

hoisin sauce

2 tbsp

reduced sodium soy sauce

0.5 tsp

ground pepper

1 tbsp

sesame oil

2 tbsp

scallion chopped
INSTRUCTIONS
1
In a large bowl, combine 3 cups cooked rice, 2 medium eggs, and 1/2 tsp paprika. Stir until well combined.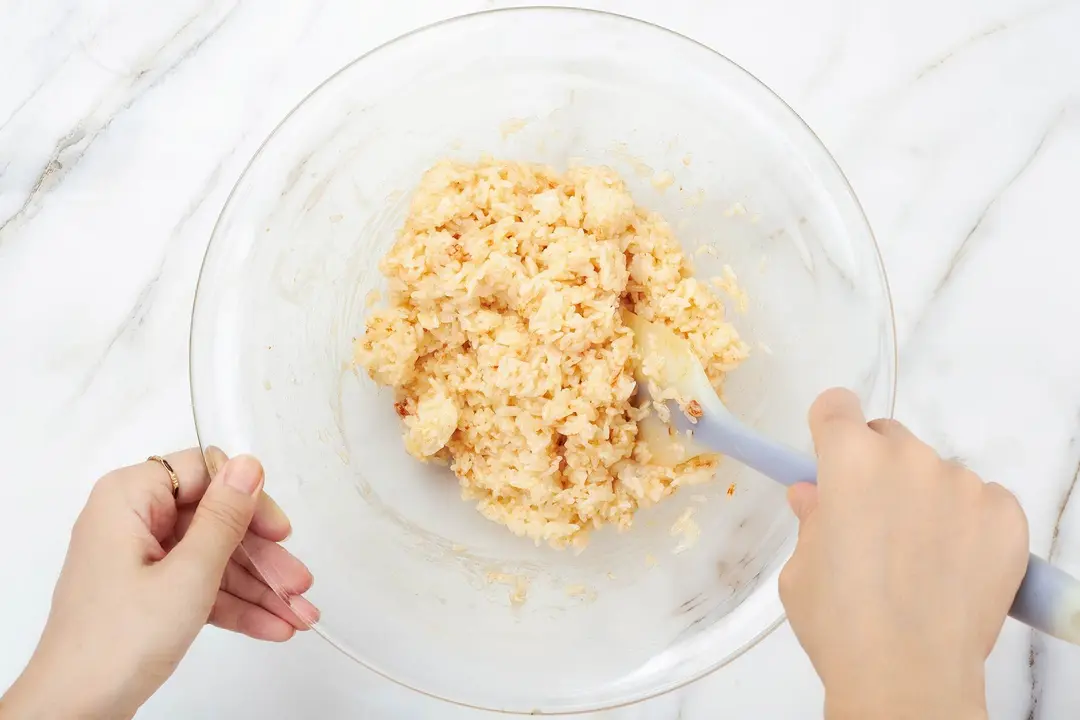 2
In a large skillet over medium heat, heat 1 tbsp olive oil. Add 2 tbsp garlic, 1/2 tsp paprika, 1/2 tsp garlic powder, and 12 oz peeled shrimp and stir-fry for 3 minutes. Transfer the shrimp to a bowl and set it aside.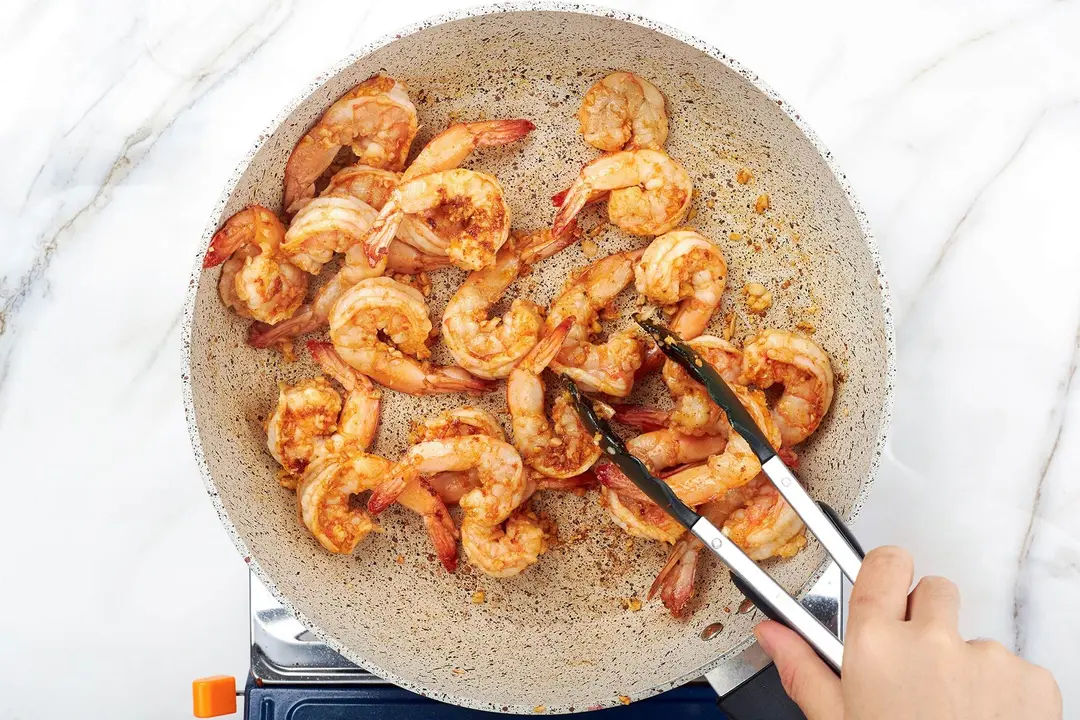 3
Add the remaining 1 1/2 tbsp olive oil to the skillet. Add 2 oz onion and sauté for 1 minute.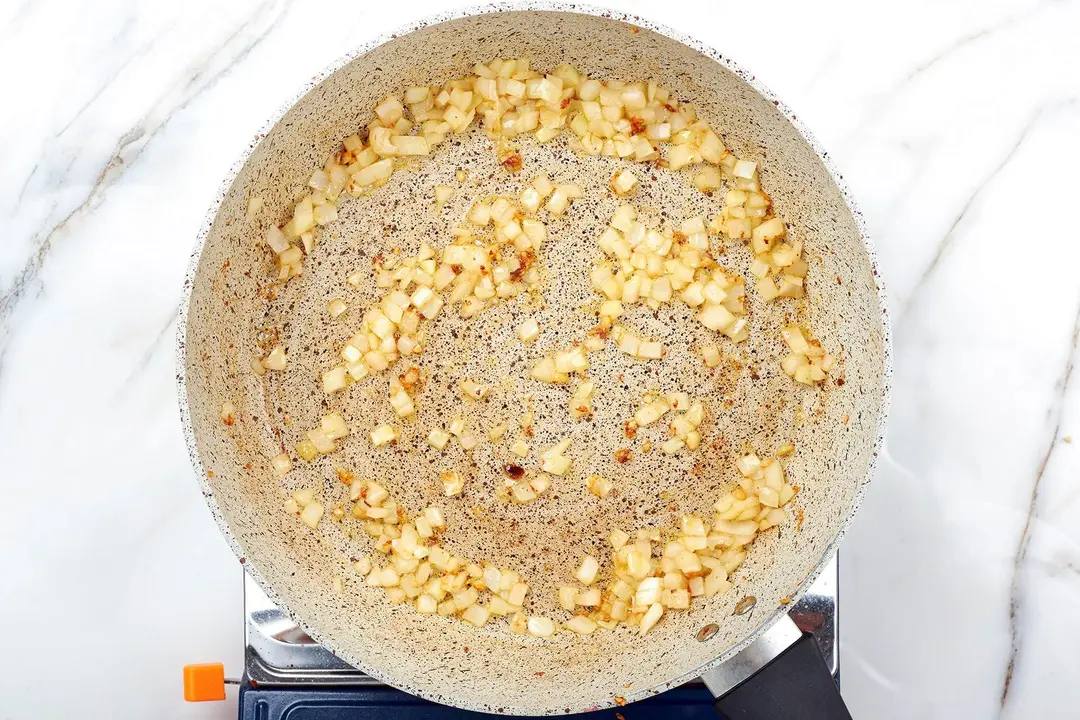 4
Add the rice and stir-fry over low heat for 10 minutes.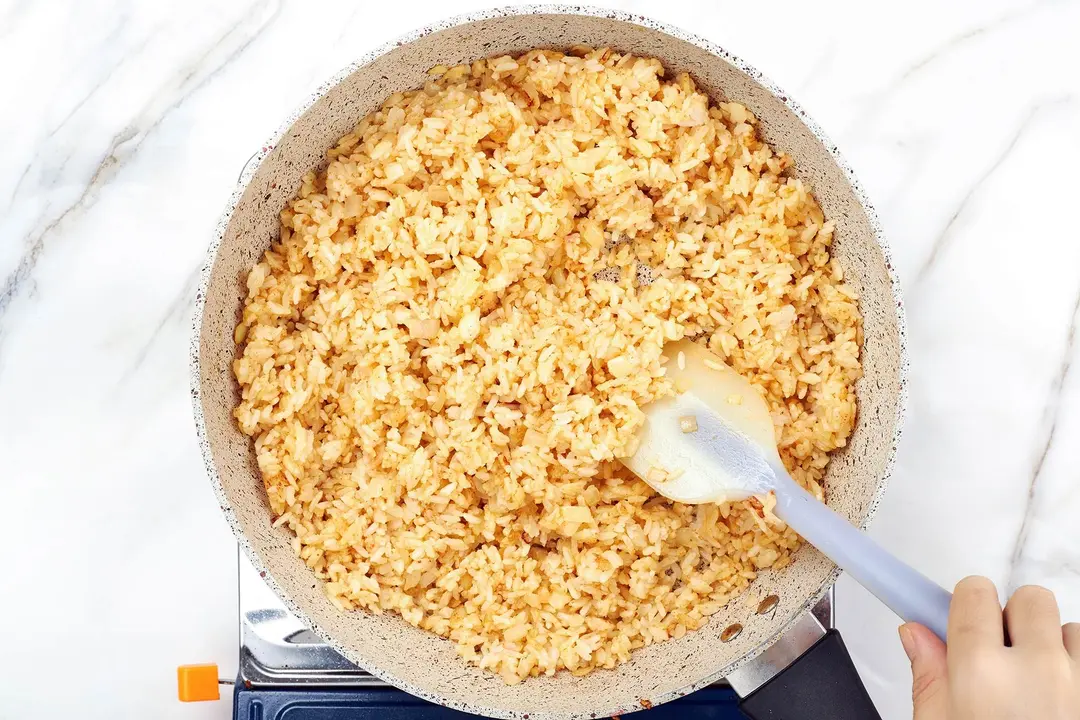 5
Stir in 3 oz green peas, 2 oz corn, and 4 oz carrots and toss until all the ingredients are heated through, about 3 minutes.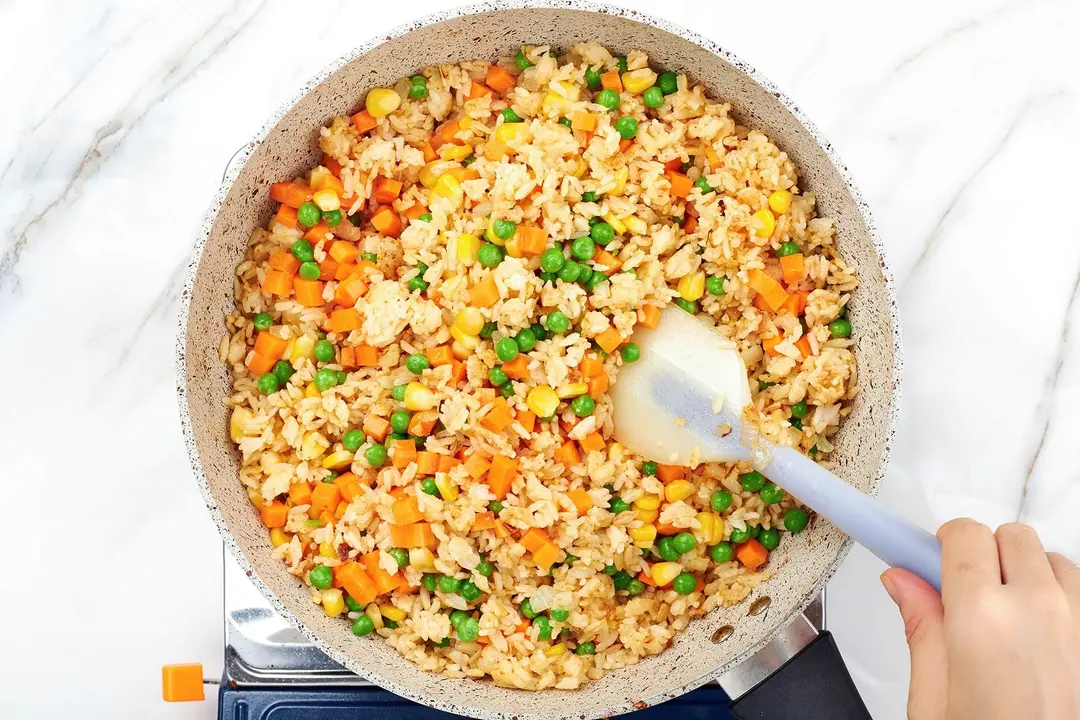 6
Season the mixture with 1/2 tsp hoisin sauce, 2 tbsp soy sauce, 1/2 tsp ground pepper, and 1 tbsp sesame oil. Stir to combine well for another 3 minutes.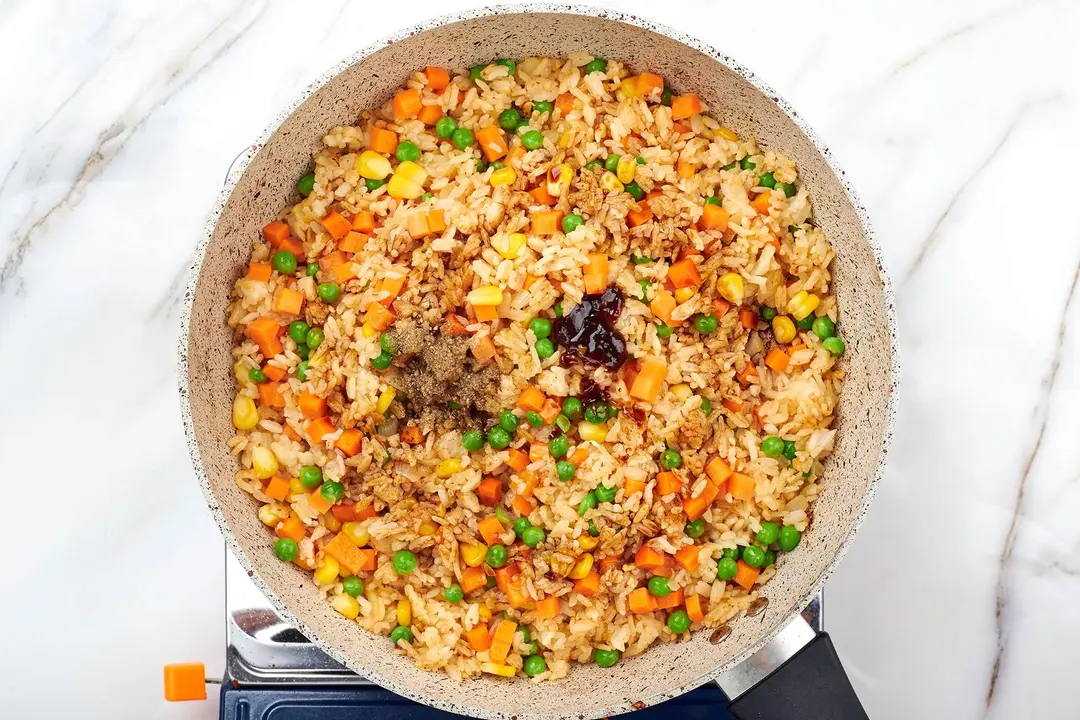 7
Return the shrimp to the skillet. Let stir and cook for 3 more minutes until sizzling hot. Remove from heat.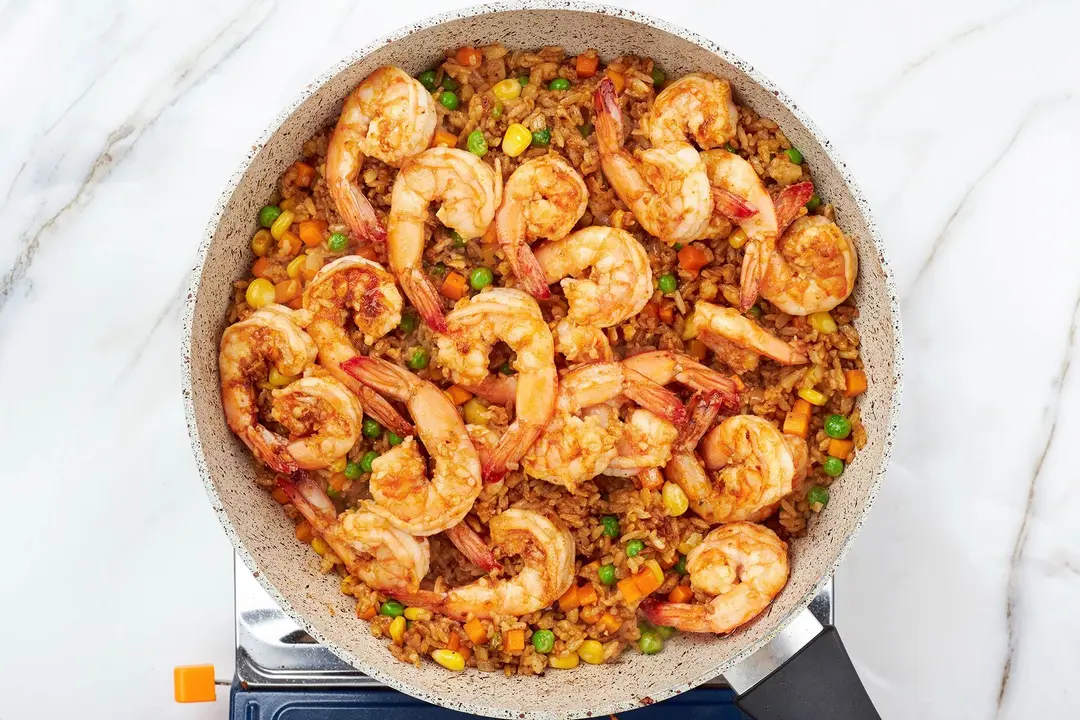 8
Garnish with 2 tbsp chopped scallion. Serve hot.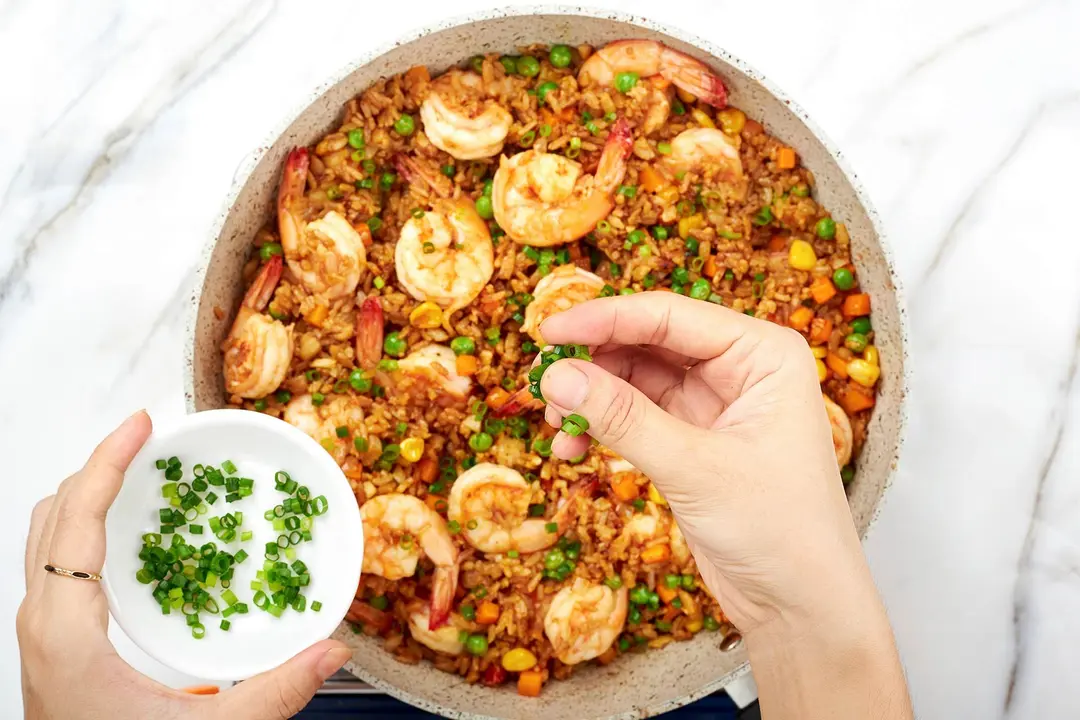 NUTRITION
Nutrition Facts
Shrimp Fried Rice Recipe
Amount Per Serving (1 serving)
Calories 502
Calories from FDA
% Daily Value*
* Percent Daily Values are based on a 2000 calorie diet.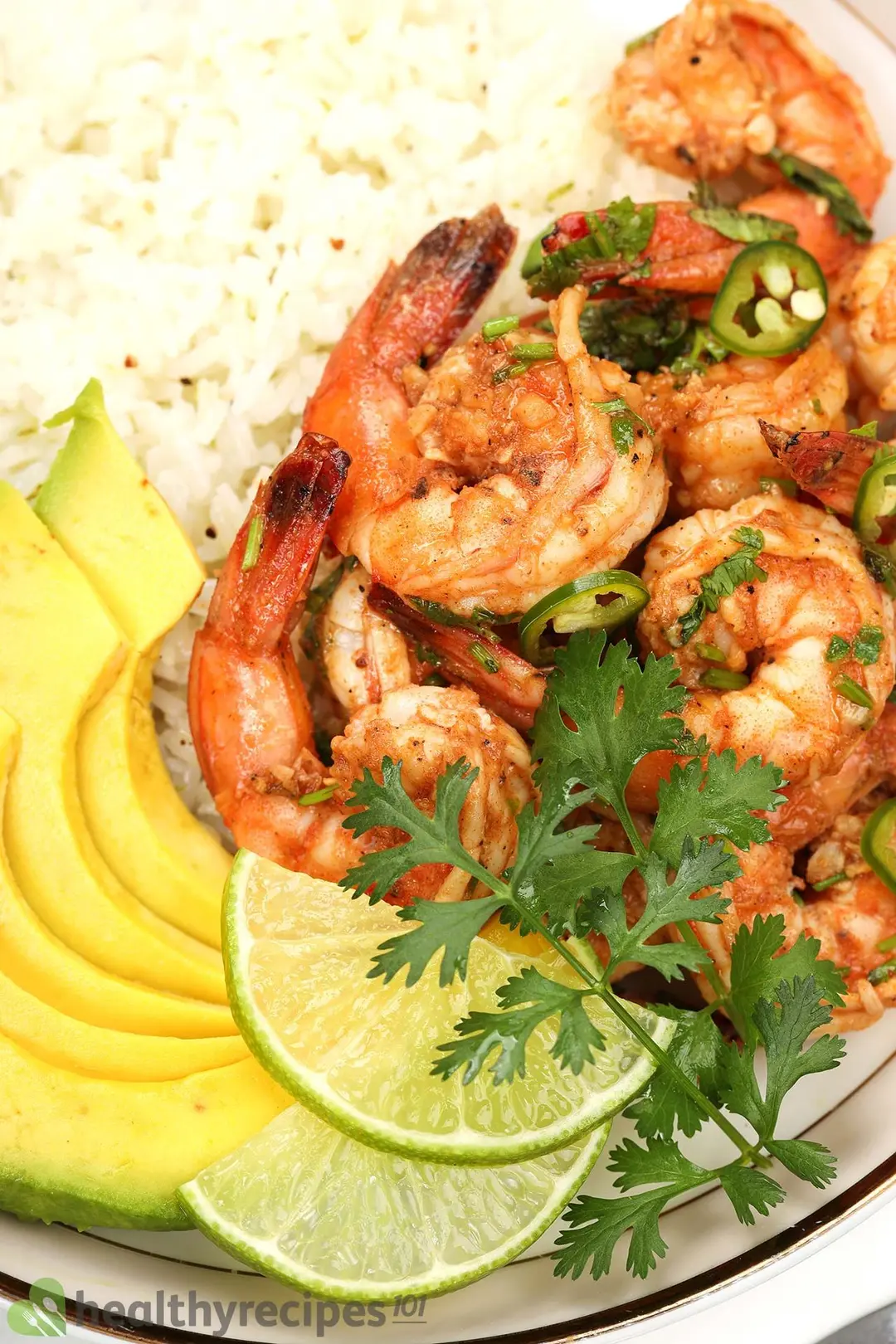 Previous Recipe
Cilantro Lime Shrimp
Cilantro Lime Shrimp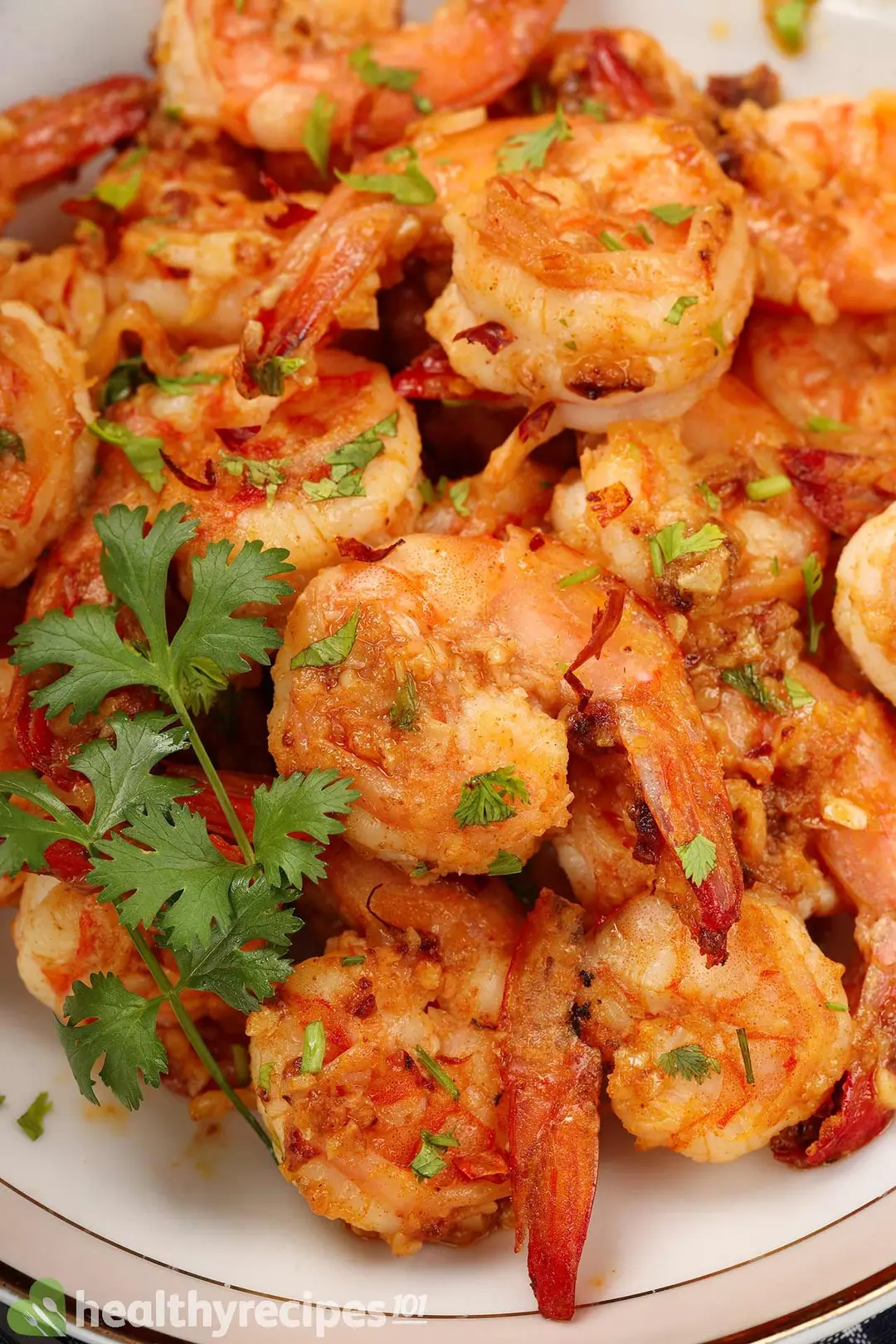 Next Recipe
Lemon Garlic Shrimp
Lemon Garlic Shrimp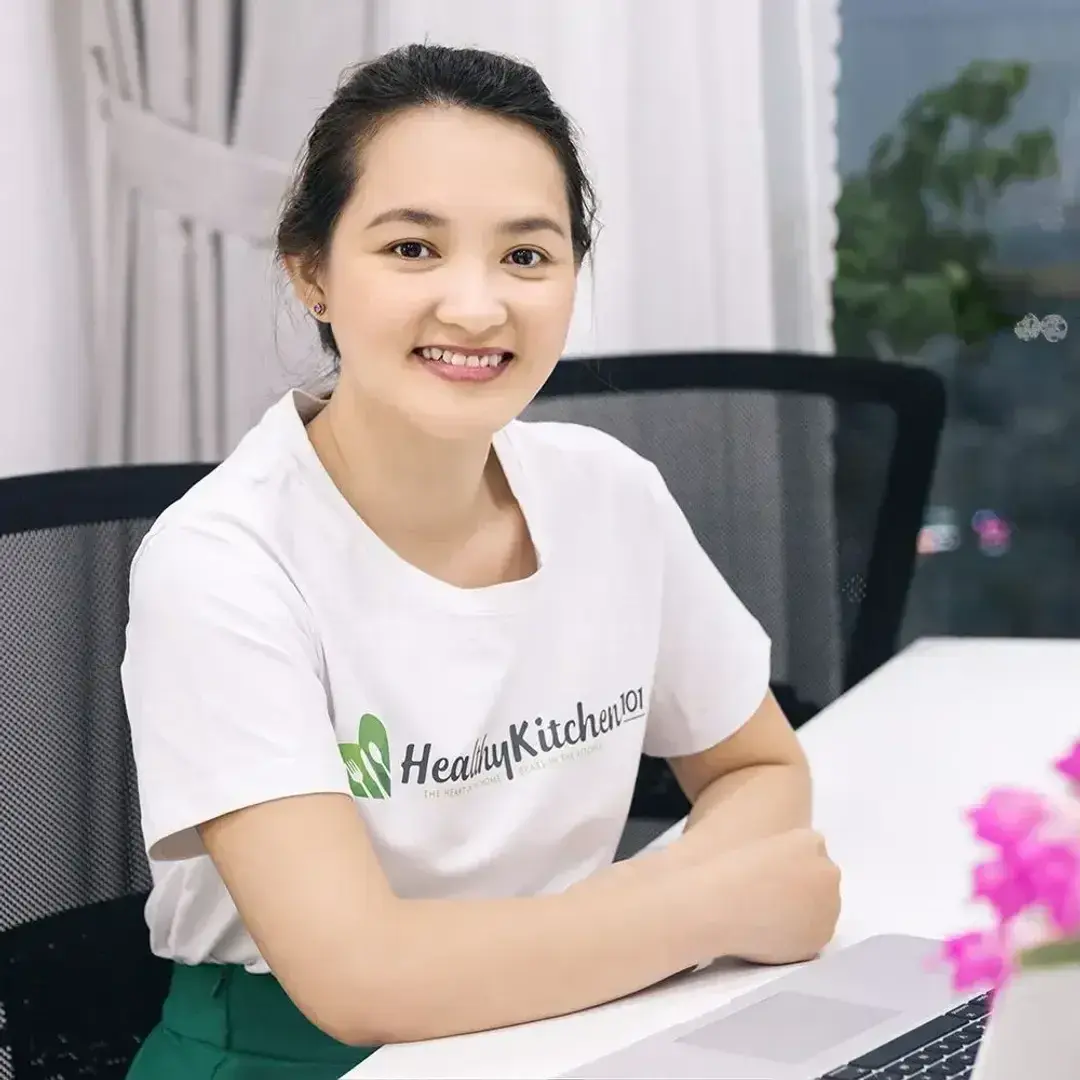 Luna Regina
Luna is the founder and chief recipe developer of Healthy Recipes 101. Apart from cooking, she also loves reading, programming, exploring the outdoors, and collecting useless facts about everything.