We can say with confidence that this hearty and fragrant shrimp biryani recipe will be worth a bookmark in your recipe collection. It could be just what you need for your next gathering.
In this recipe, warm and delicate flavors from the fresh herbs and spices are infused into both the shrimp and the basmati rice separately to create an aromatic and heart-warming dish. If you're looking for something that is suitable for family mealtimes and will keep everyone asking for more, you need to give it a try.
What Is Shrimp Biryani?
Shrimp biryani, also known as "jheenga" or "jhinga biryani" in India, is a spicy shrimp dish that's made by slow-cooking the spice-coated shrimp with fragrant basmati rice, yogurt, and a mix of fresh herbs.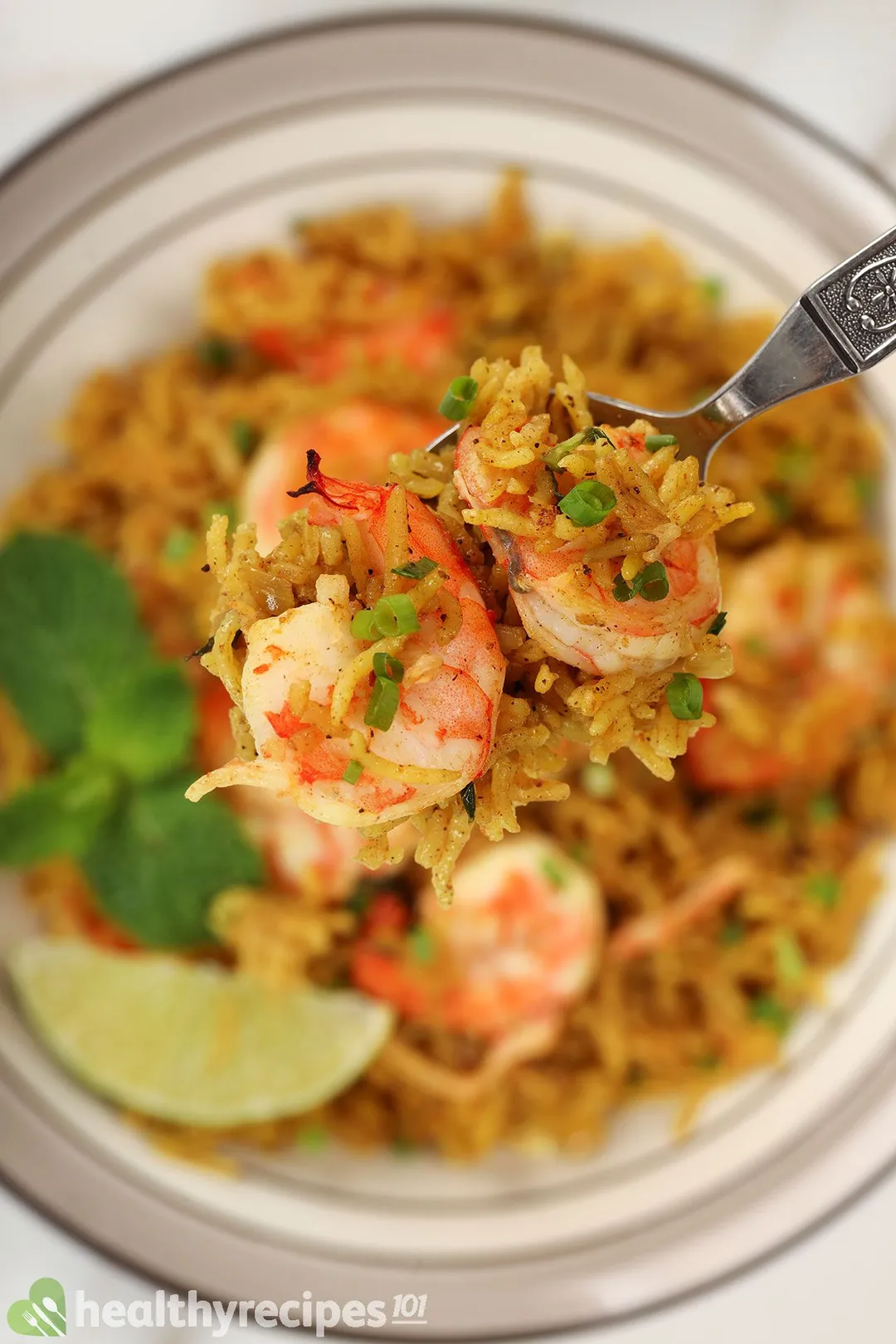 This dish has gained popularity all around the world with a great diversity of variations per region. It's usually served with raita, naan, or a simple green salad of choice.
If you're interested in using shrimp in other Indian dishes, check out our Shrimp Tikka Masala Recipe.
Is Shrimp Biryani Healthy?
We believe the answer is yes.
One serving of this shrimp biryani has 493 calories, nearly a third of which comes from the shrimp.
Shrimp, like many other marine creatures, are packed with a generous amount of omega-3 fatty acids. They're also known as a great source of antioxidants and many vitamins and minerals, including calcium, potassium, selenium, and vitamin B12.
This would explain the many health benefits of eating shrimp regularly such as promotion of heart health, decreased cell damage,  skin protection against sunlight, and wrinkle prevention. Being low in carbs and rich in protein, shrimp have also long been a go-to choice for weight-loss dieters.
The second main ingredient in today's recipe, basmati rice, is a staple in many Indian dishes.
Besides having a nutty, distinctly fragrant aroma, white basmati rice also provides a great source of soluble fiber. Its glycemic index also falls low on the scale (50-58), meaning one serving of basmati rice won't raise your blood sugar rapidly after eating, which is especially important if you have diabetes.
How to Prepare Shrimp Biryani
In this shrimp biryani recipe, there are two separate processes for the two main ingredients: shrimp and basmati rice. Only at the final step, will we combine them in one skillet to allow all the flavors to meld together before portioning out to serving plates.
For this recipe, we opted for medium-sized tail-on shrimp. That being said, if you like your shrimp with tails on go ahead; there are absolutely no fixed rules for shrimp in a biryani.
If frozen shrimp are used, be sure to thaw them well, then pat dry with a clean kitchen towel to get rid of any excess water.
One more thing to take into account is that shrimp cook quickly; 3 minutes of searing on medium heat is all they need. As long as they turn pink and curve into a C shape, you're good to go.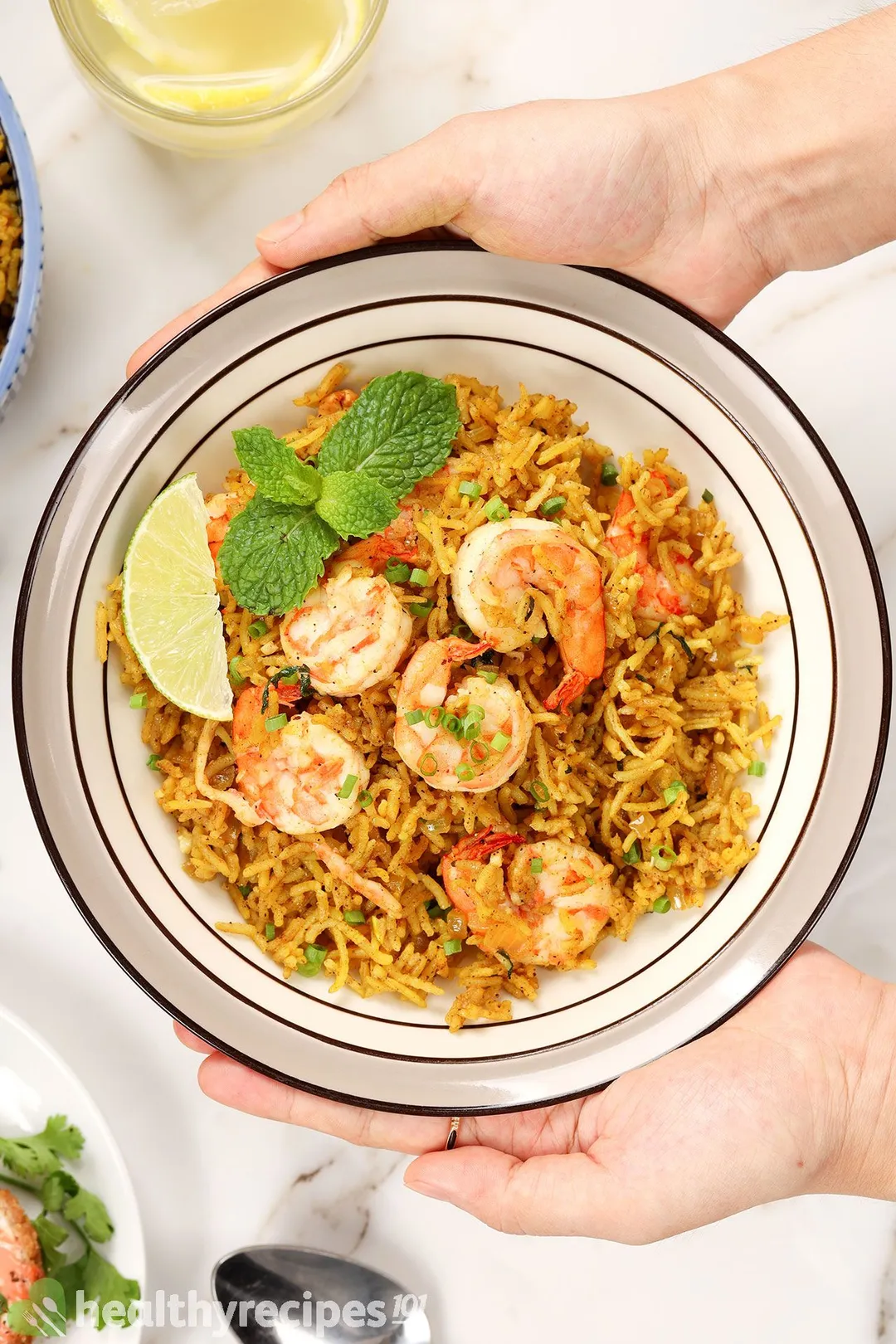 A basic biryani recipe usually goes with long-grain basmati rice. Once cooked, basmati rice should be firm and fluffy, thereby soaking up the spices without becoming sticky.
Basmati rice gives a biryani its beautiful texture and appearance, and so sometimes the similar but more expensive Jeera Samba rice (Seeraga Samba rice) is a good option to go for. If you're in the market for a premium quality rice brand, don't hesitate to spend the extra pennies to get the best possible result.
To remove as much starchiness as possible, consider soaking the rice for about 30 minutes, then drain it well before cooking.
In this shrimp biryani recipe, we used a ratio of 1 part rice to 2 parts broth. We also flavored the rice with an aromatic spice mix of cumin, cinnamon, lime juice, turmeric, salt, ground black pepper, paprika, mustard, bay leaf, and star anise.
Next, we brought it to a low-simmer in the chicken broth until it had absorbed all the liquid and became fluffy and aromatic. All that was left to do was combine the rice with the cooked shrimp and garnish to serve.
Can You Freeze Biryani?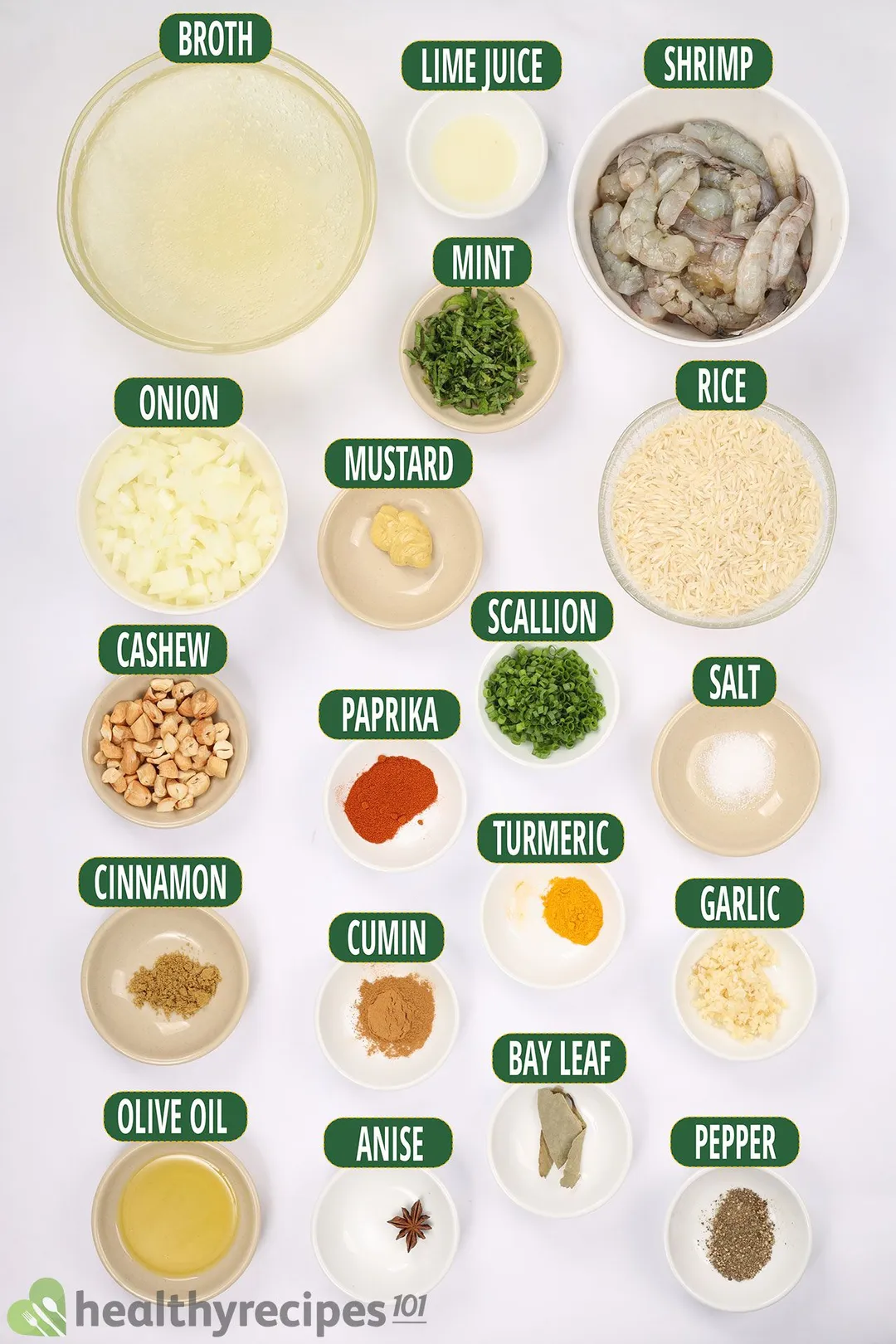 Yes, of course.
You can store the leftover shrimp biryani in airtight containers or Ziploc bags and freeze them in portions for up to 2 months. Refrigerated, they will keep for up to 4 days.
How to Reheat Biryani
First, let the leftover portions thaw overnight in the fridge. On the day of serving, reheat them in the microwave or on the stovetop until warmed through.
Shrimp biryani doesn't stand multiple rounds of freezing and thawing. So once reheated, it should be finished within the day of serving for the best quality and taste.
What to Eat With Shrimp Biryani
Traditionally, shrimp biryani is served plain as-is or with a simple green salad on the side. But for today's recipe, we decided to create a mash-up of different cuisines by enjoying our main with scotch eggs and lemonade.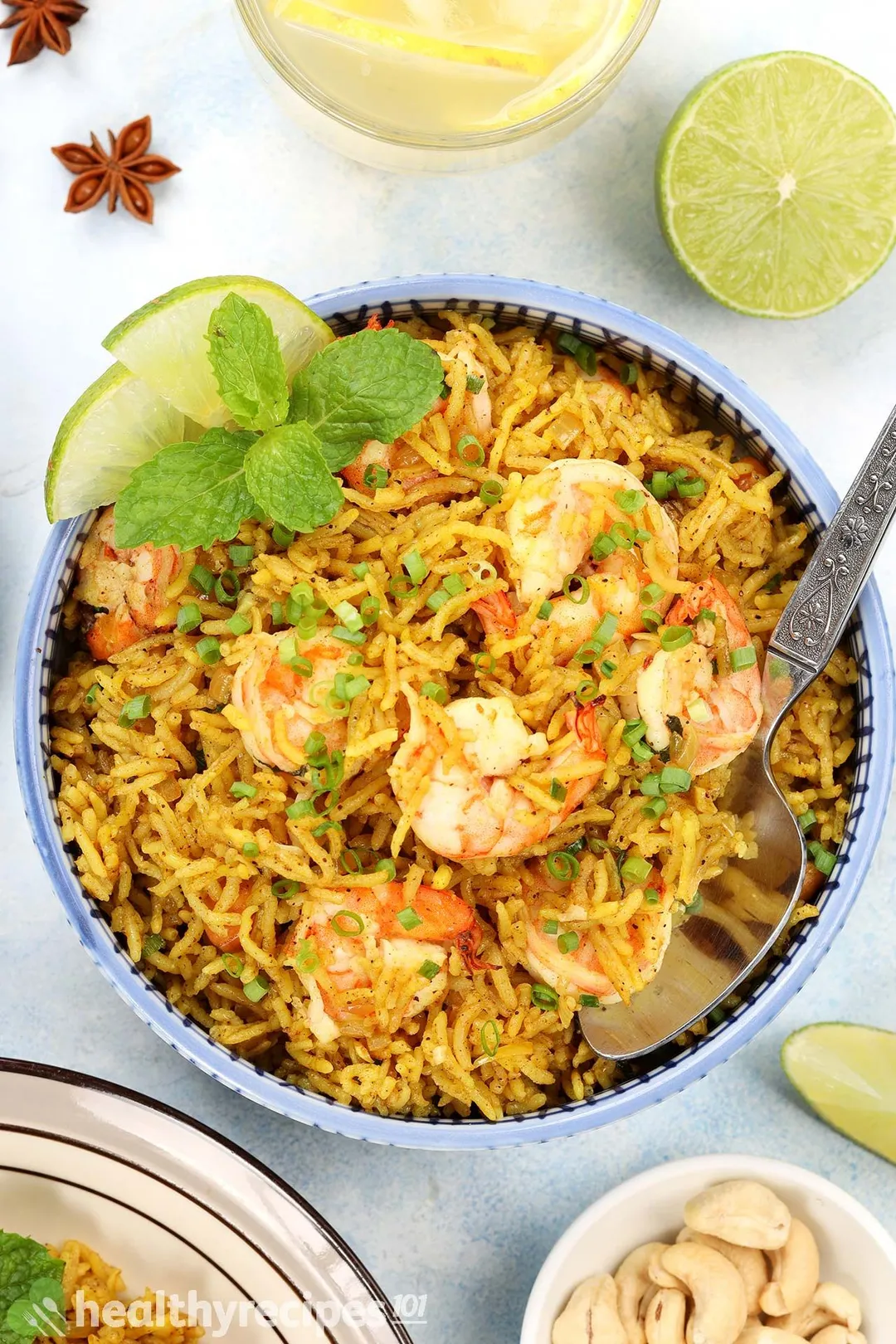 Scotch eggs: A delicious, simple, healthy take on the British's beloved snack. The soft-boiled eggs are wrapped in seasoned ground meat and coated in breadcrumbs before being deep-fried. When you bite into these crunchy balls, you'll get to enjoy many layers of different textures and flavors. They're also served with a creamy ketchup-mayo sauce as a dip.
Lemonade: Our refreshing lemonade is super easy to make at home as it takes just 5 minutes to whip up a large pitcher for a whole crowd. This drink is the perfect choice to reset your palate after protein-rich meals while boosting your body's vitamin intake.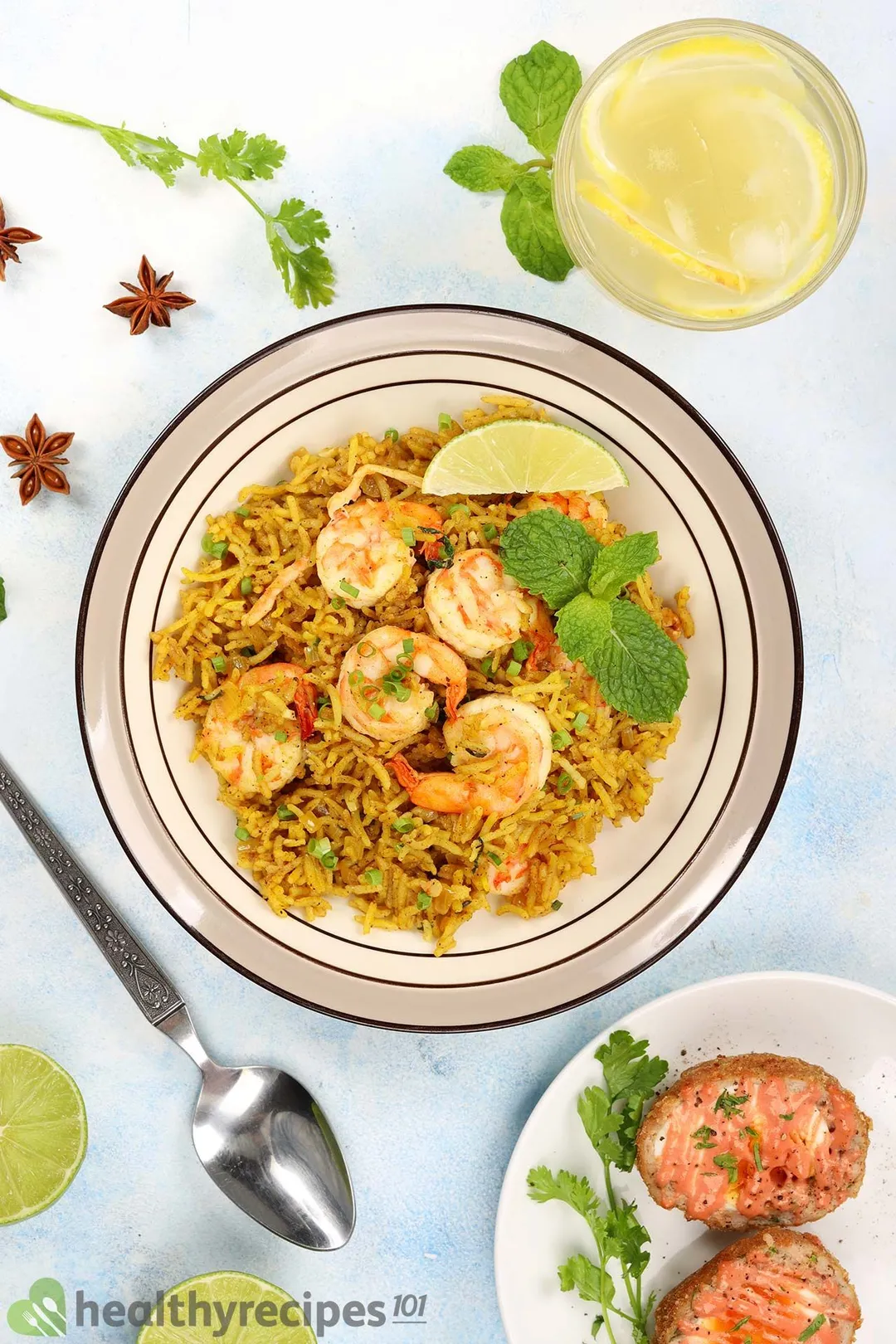 For Other Asian Shrimp Dishes, Check Out These Recipes!
Shrimp Biryani
We can say with confidence that this hearty and fragrant shrimp biryani recipe will be worth a bookmark in your recipe collection. It could be just what you need for your next gathering.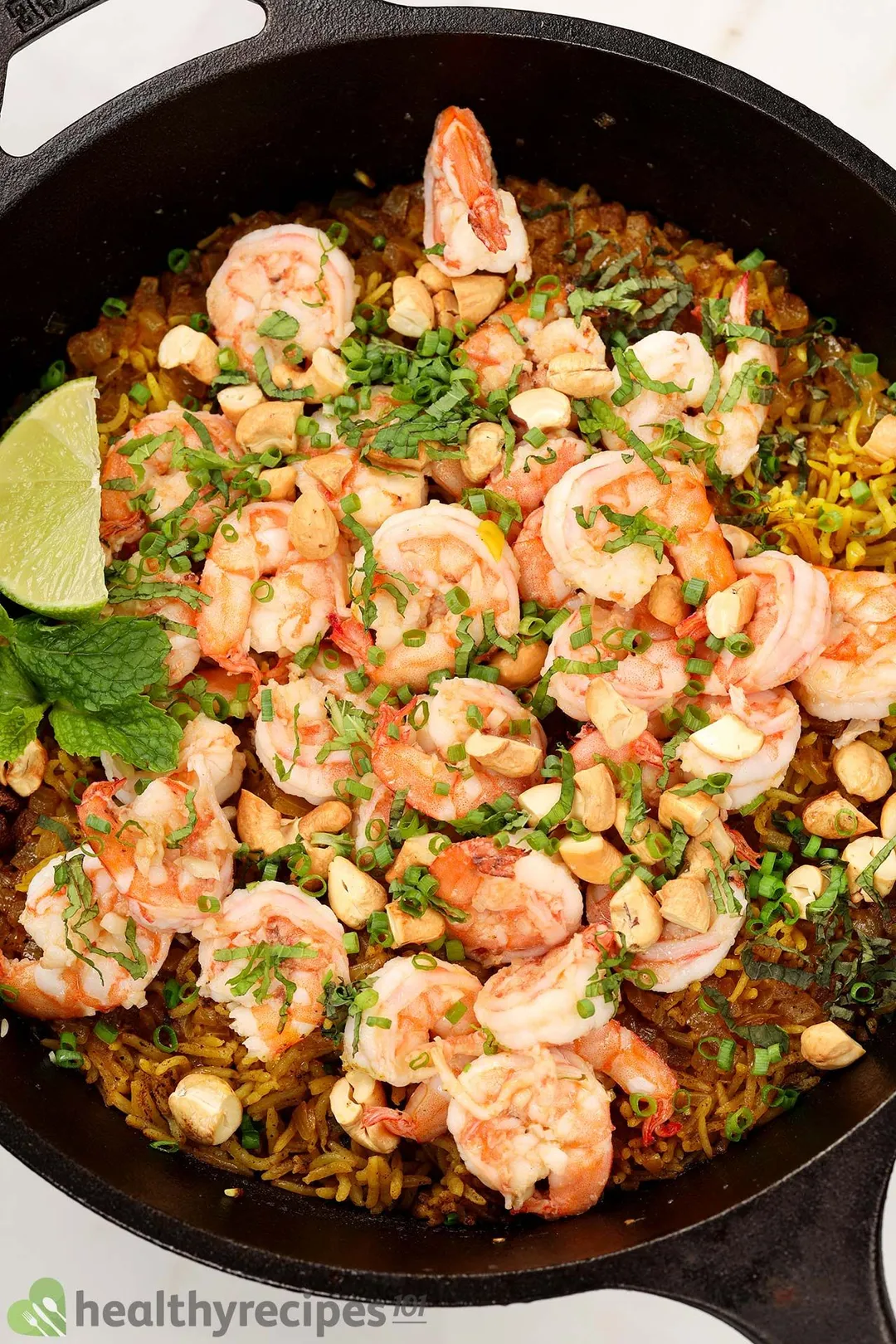 cook TIME

30 mins

prep TIME

10 mins

total TIME

40 mins
COURSE

Main Course

CUISINE

Indian

SERVINGS

CALORIES

493 kcal
INGREDIENTS
13 oz

raw shrimp

(peeled, deveined, tails off, equals 24 oz whole)

1 oz

cashew

(chopped into halves)

2 1/2 cup

unsalted chicken broth

1 1/4 cup

uncooked basmati rice

2 1/2 tbsp

olive oil

(divided)

1/2 tsp

ground black pepper

1 1/2 tsp

traditional Dijon mustard

2 tbsp

mint leaves

(chopped)

2 tbsp

scallions

(chopped)
INSTRUCTIONS
1
In a cast-iron skillet, heat 1 tbsp olive oil over medium heat, add 1 tbsp minced garlic to sauté until fragrant (for about 30 seconds).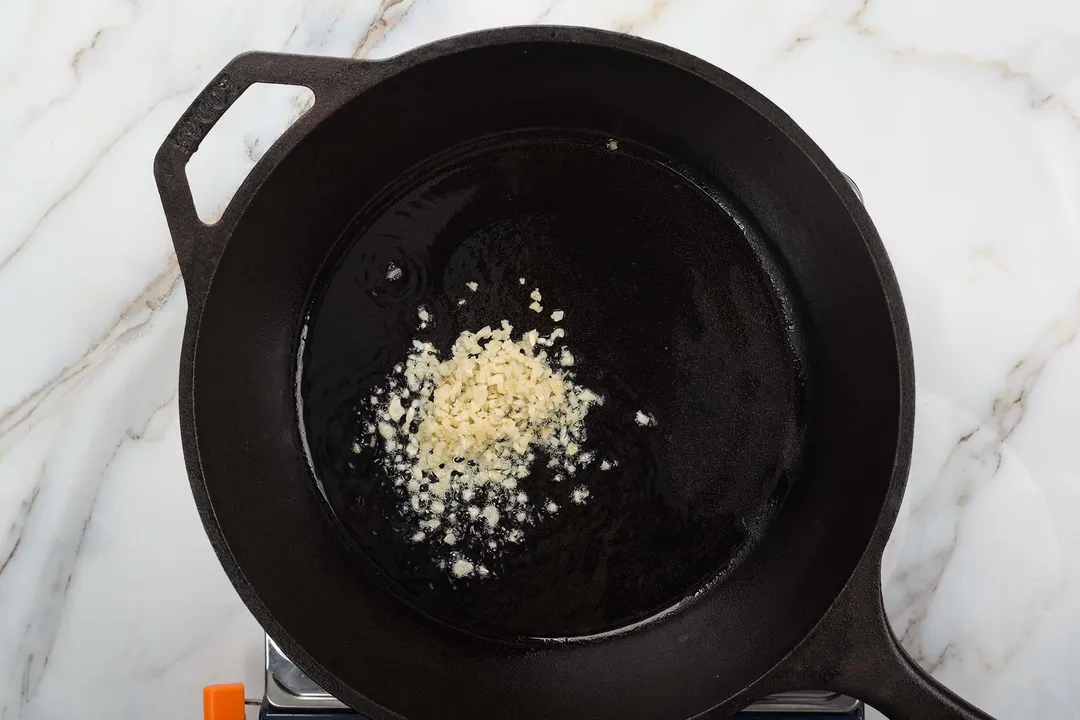 2
Add 13 oz peeled and deveined shrimp to sauté for 3 minutes until pink. Remove to a bowl and set aside.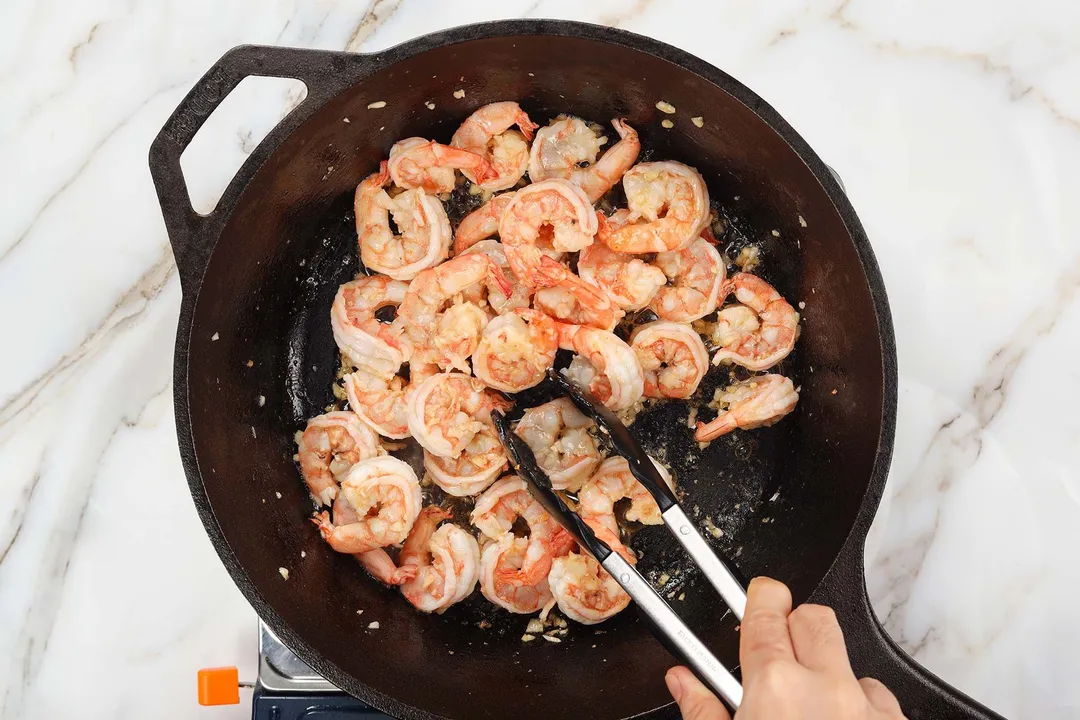 3
Add 1 1/2 tbsp olive oil to the skillet. Sauté 4 oz diced onion for 2 minutes until soft and translucent.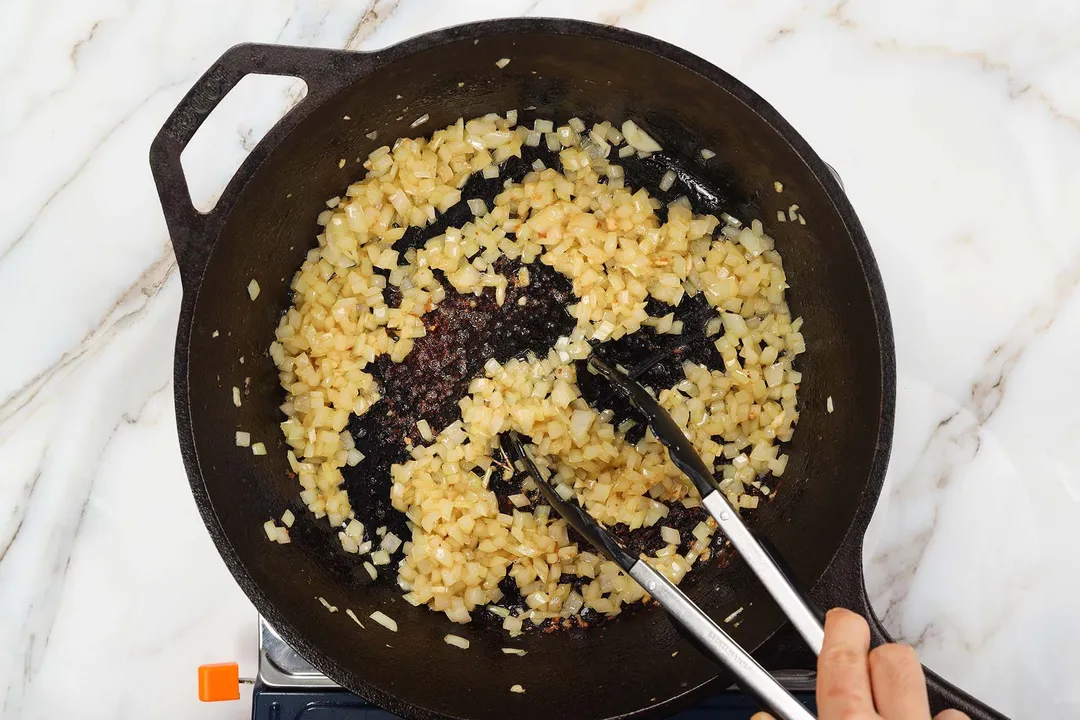 4
Add the spice mix of 1/2 tsp cumin, 1 tsp cinnamon, 1 tsp lime juice, 1/2 tsp turmeric, 1/2 tsp salt, 1/2 tsp ground black pepper, 1 tsp paprika, and 1 1/2 tsp Dijon mustard to the skillet. Stir for 30 seconds.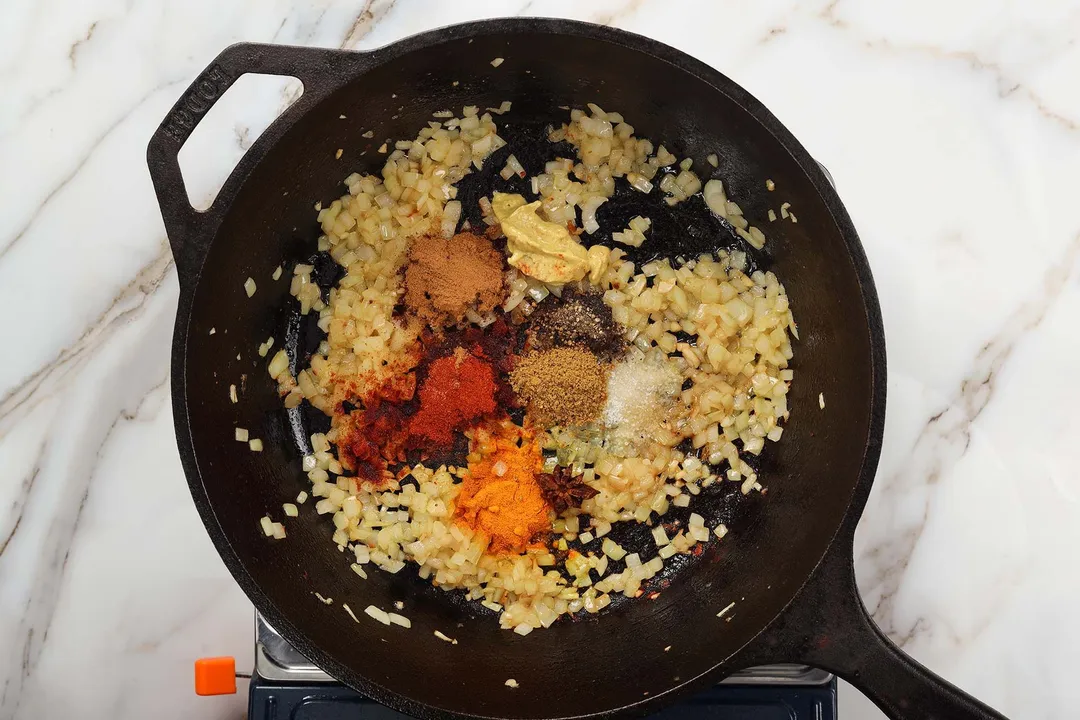 5
Add 1 1/4 cup uncooked basmati rice. Stir and toss to coat with the spice mix.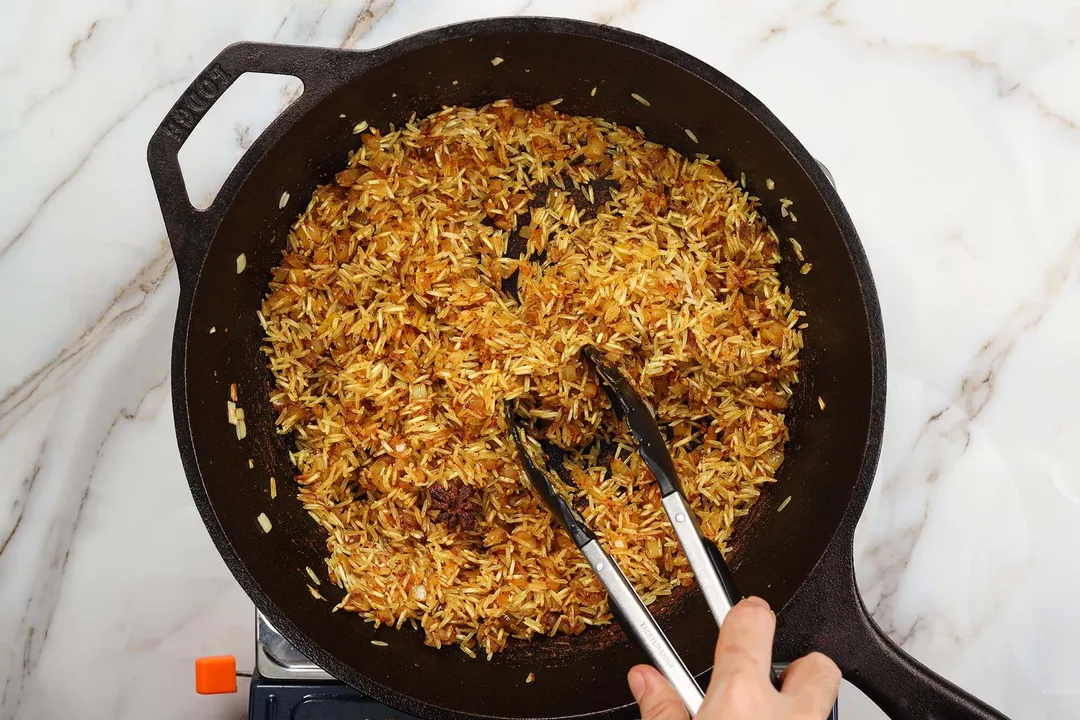 6
Add 2 1/2 cup unsalted chicken broth.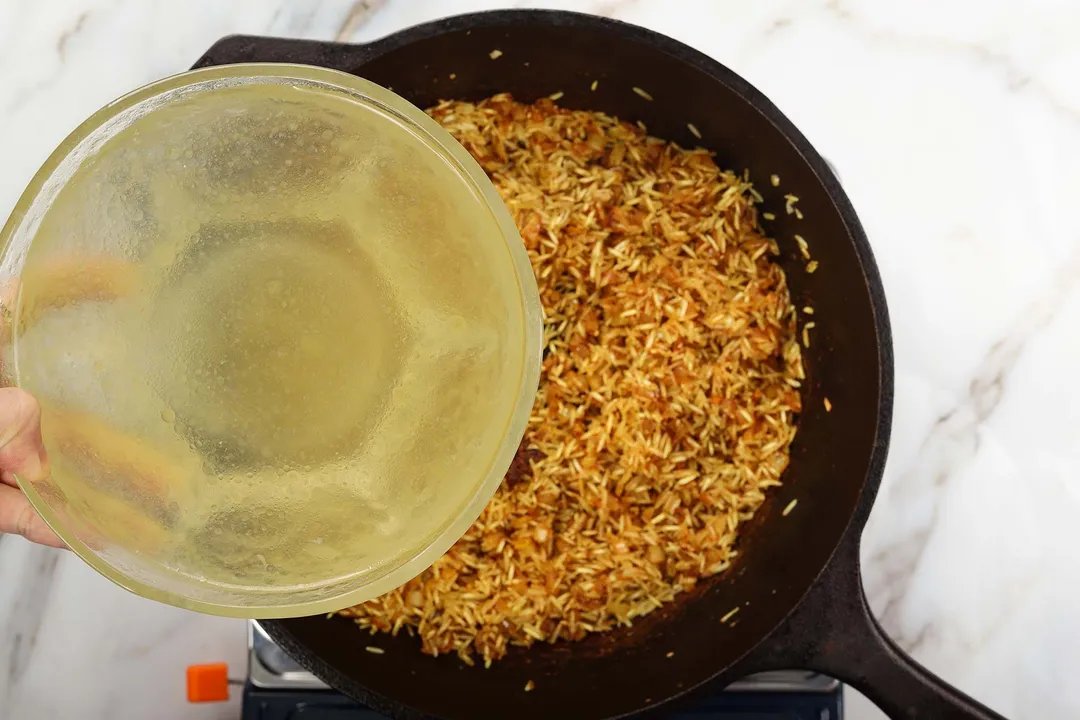 7
Add 1 bay leaf and 1 star anise. Give it a quick stir.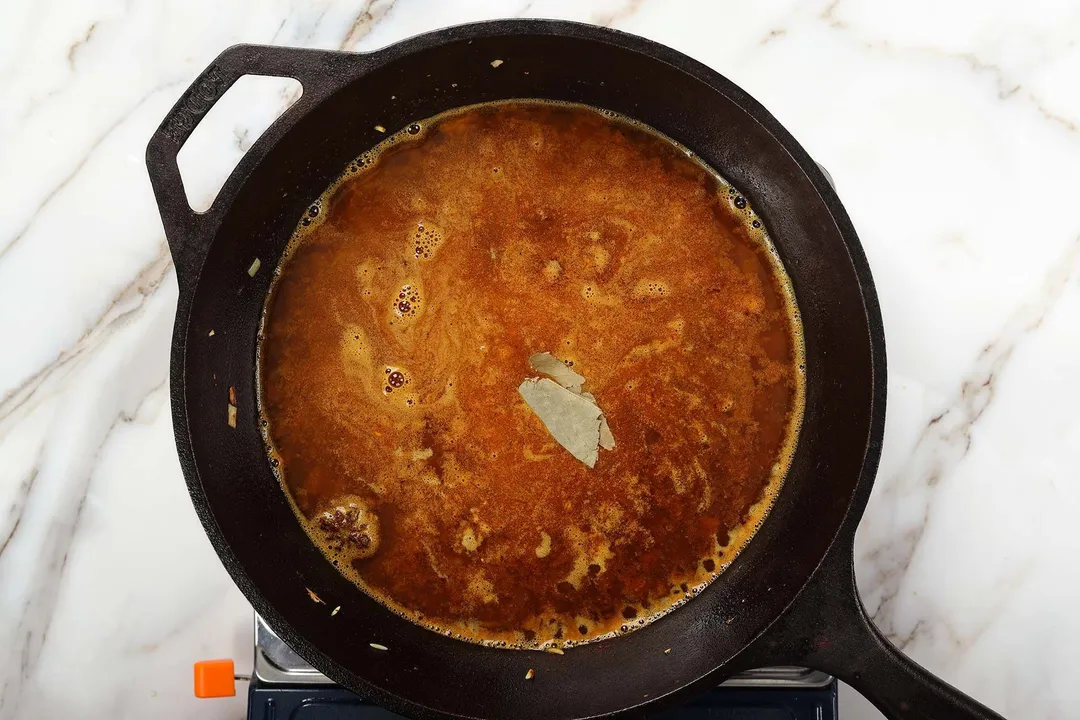 8
Cover with a lid and bring it to a low simmer for 20 minutes.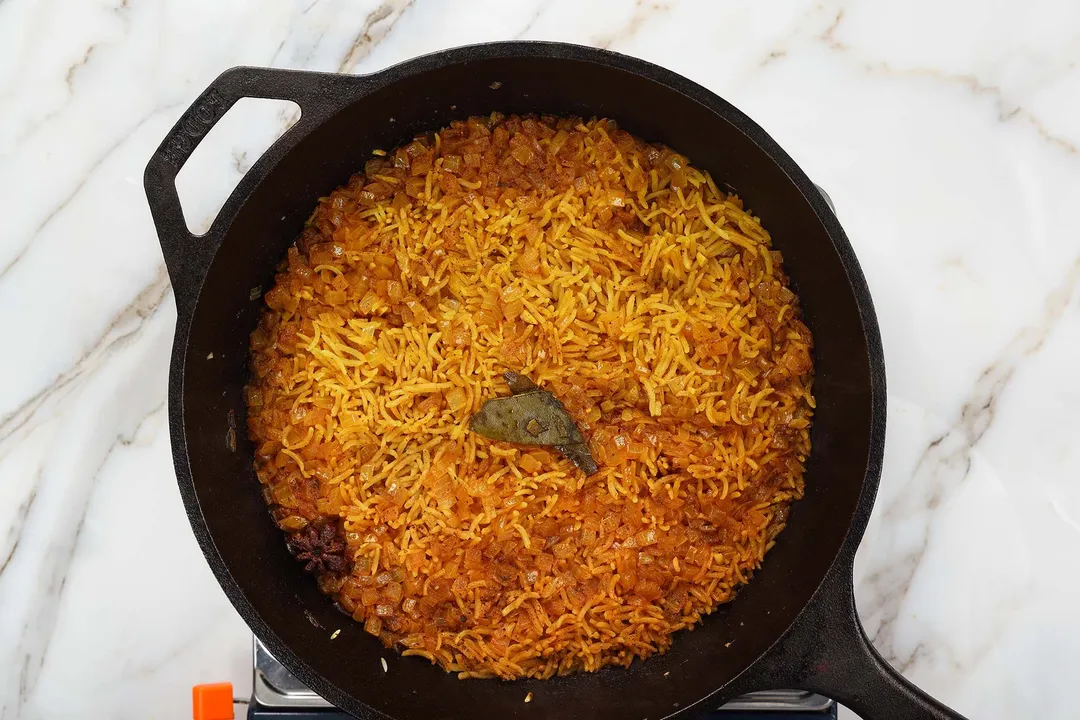 9
Remove the lid. Return the cooked shrimp to the skillet with 2 tbsp chopped mint leaves, 1 oz chopped cashew, and 2 tbsp chopped scallions.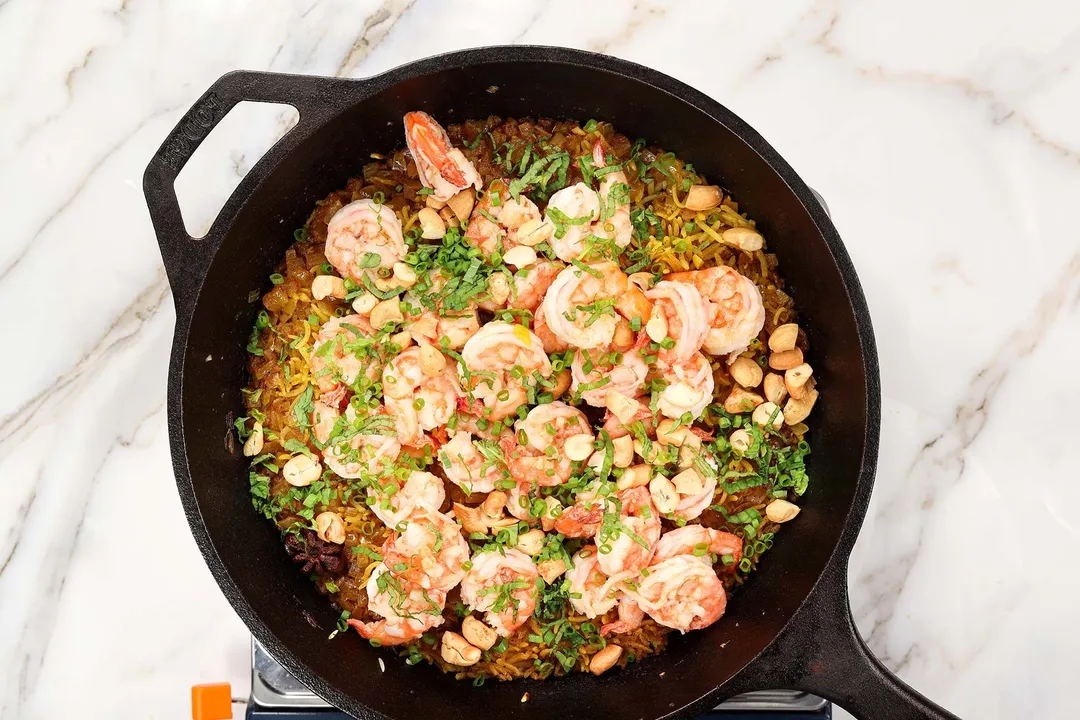 10
Portion out and serve hot with side dishes.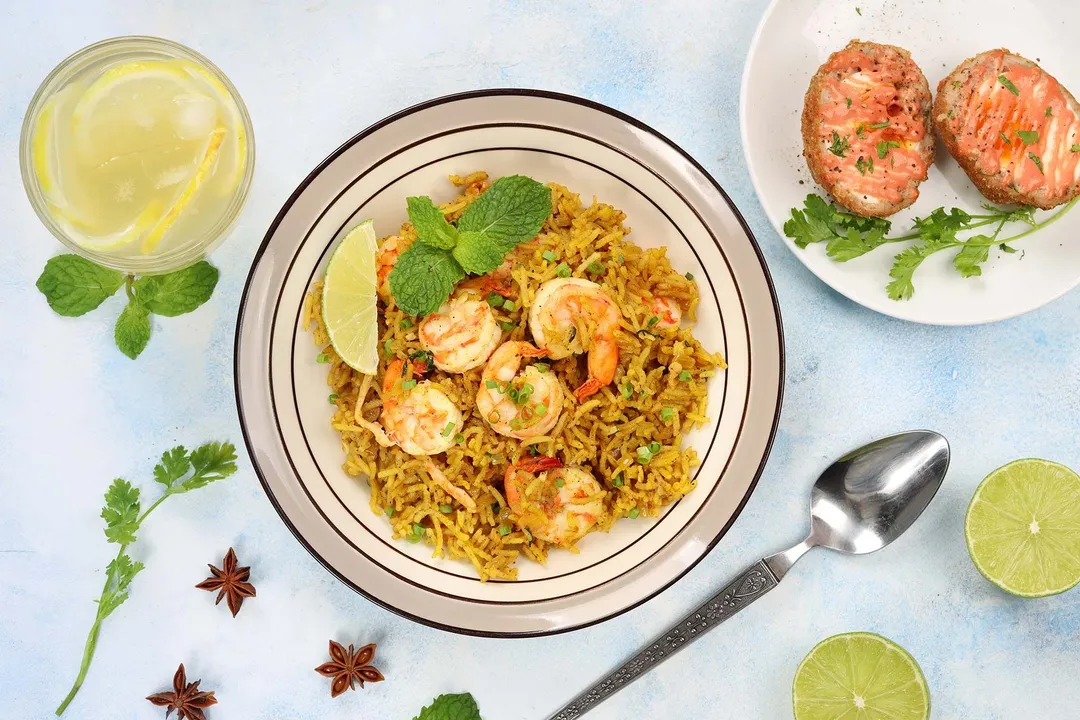 NUTRITION
Nutrition Facts
Shrimp Biryani
Amount Per Serving (1 serving)
Calories 493
Calories from Fat 117
% Daily Value*
* Percent Daily Values are based on a 2000 calorie diet.
Keywords: Shrimp Biryani, Shrimp Biryani recipe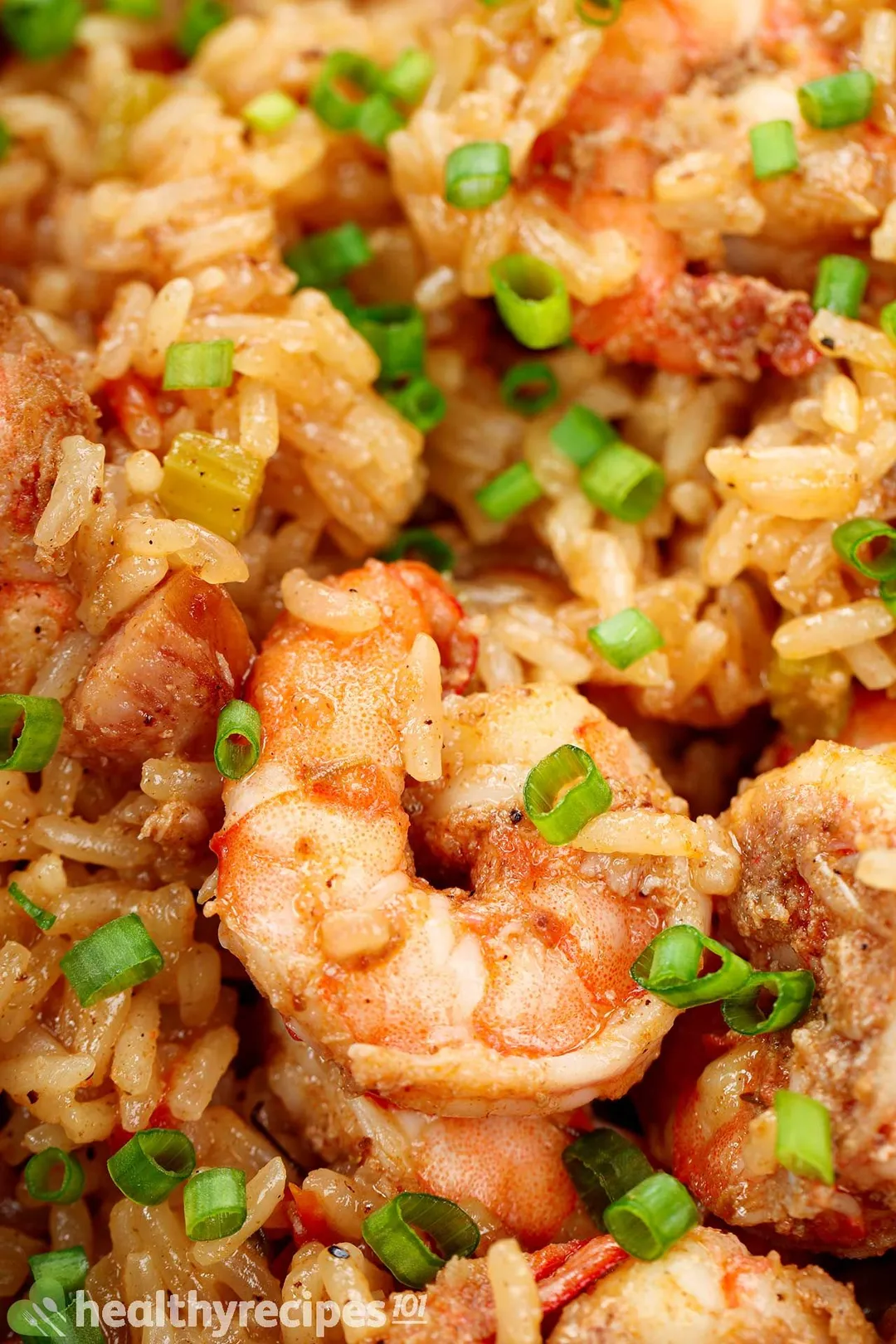 Previous Recipe
Shrimp Jambalaya
Shrimp Jambalaya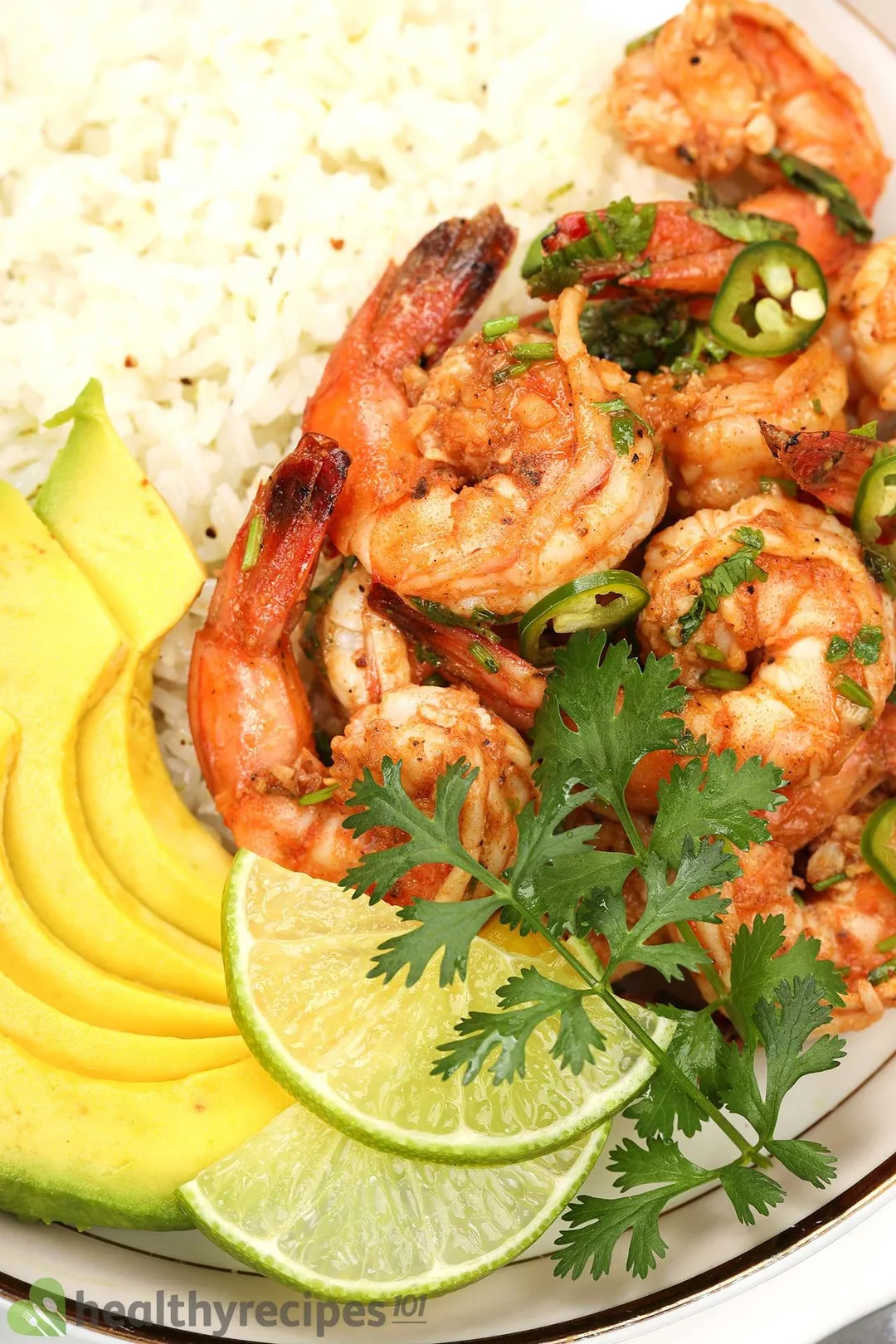 Next Recipe
Cilantro Lime Shrimp
Cilantro Lime Shrimp
Head Chef, Culinary Consultant
Tuyet Pham is an award-winning Saigonese chef who believes that joy is the secret ingredient to delicious food. At Healthy Recipes 101, Tuyet personally tests and simplifies every recipe, ensuring maximum flavor with minimal effort. With a background at prestigious French restaurants P'TI Saigon and Le Corto, Tuyet knows how to make every dish exceptional.
Writer, Author
Luna Regina is an accomplished writer and author who dedicates her career to empowering home cooks and making cooking effortless for everyone. She is the founder of HealthyKitchen101.com and HealthyRecipes101.com, where she works with her team to develop easy, nutritious recipes and help aspiring cooks choose the right kitchen appliances.
Nutrition Reviewer
Natalie Butler is a registered dietitian nutritionist with a passion to help others live their best life through food, fitness, safer beauty and a healthy lifestyle. She has expertise with a variety of diets and diseases and believes that there is no one-size-fits-all approach for health.
Fragrant shrimp biryani, Indian delight.