Today's shrimp tikka masala recipe focuses on a creamy, aromatic curry made with yogurt and Indian spices.
While Indian cuisine is frequently regarded as a complicated area for many home cooks, this dish defies that perception. The incredible masala gravy explodes with flavor, emulating a restaurant-style curry in the comfort of your own home. You should absolutely give this a try!
Is Shrimp Tikka Masala Healthy?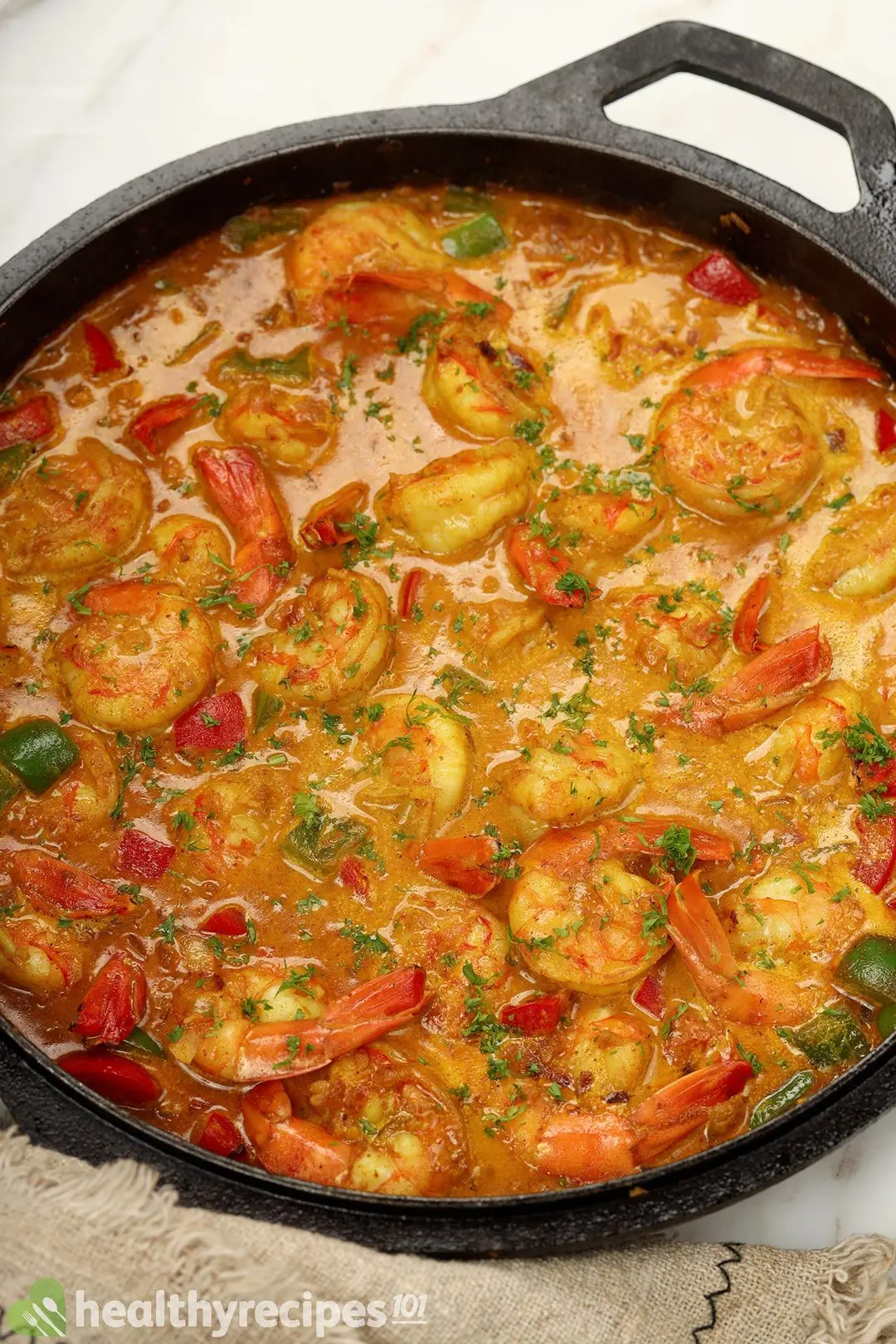 Tikka masala is usually creamy, well-spiced, and often a little greasy when ordered in restaurants. There is, however, always room for a healthier and lighter version of it.
Our shrimp tikka masala is nutrient-dense and has a low-calorie count. This dish is a balanced meal made up of shrimp, Indian spices, vegetables, and rice, providing a good source of protein and carbohydrates, plus a variety of micronutrients.
Each serving (rice included) of this shrimp tikka masala contains only 503 calories. Additionally, we kept the sodium content of one serving to a manageable 556 mg, or approximately 25% of the daily recommended limit. These amounts are within recommended ranges and will help you maintain a healthy lifestyle with minimal effort.
Shrimp is an excellent source of beneficial fats for the brain, including EPA and DHA (omega 3 fatty acids). They're low in calories and fat but high in protein and a good source of vitamins and minerals such as iodine, selenium, and vitamin B12.
While this dish is low in fat and calories, the flavor is anything but. Continue reading to discover its flavor profile.
Ingredients for Shrimp Tikka Masala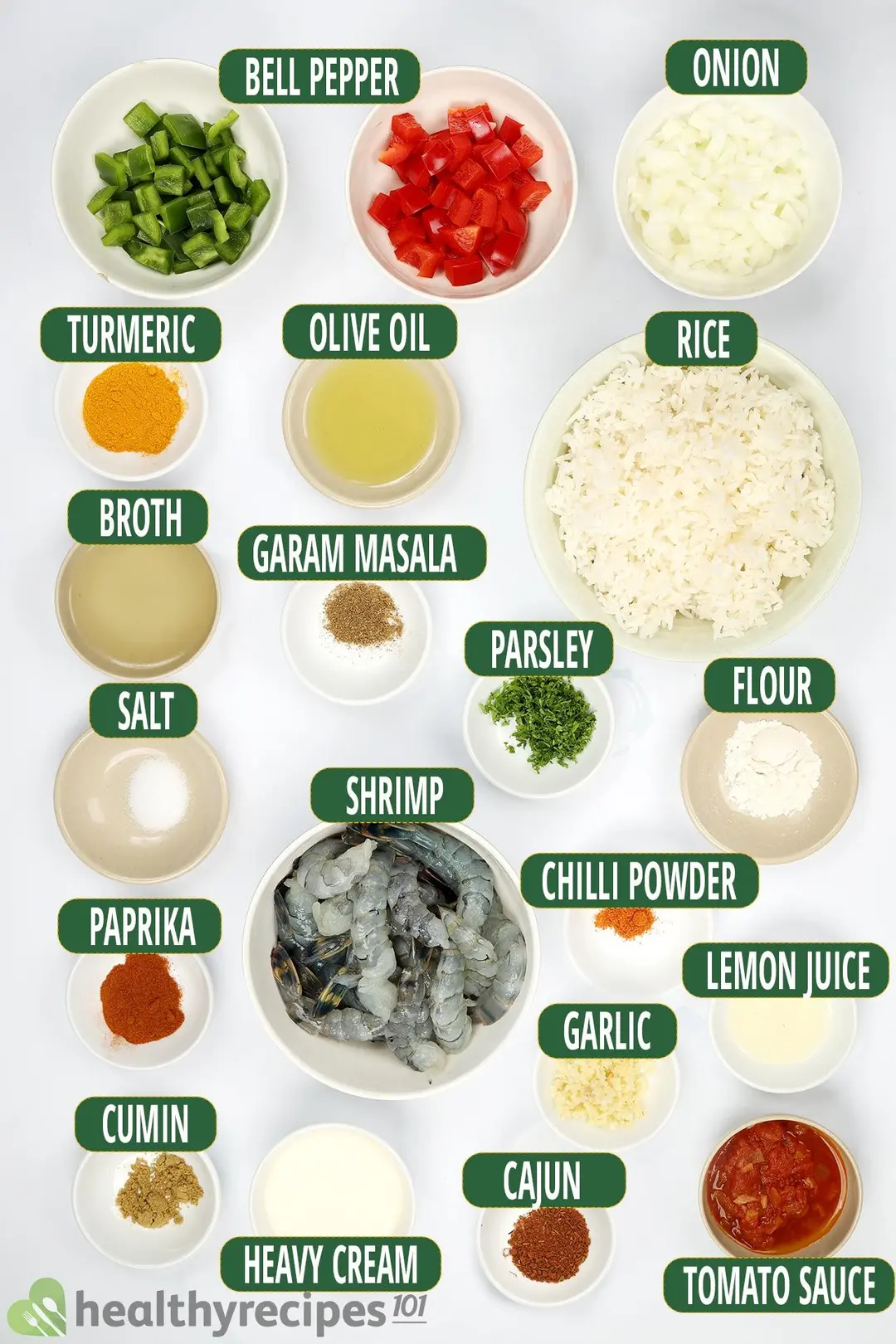 While fresh shrimp is preferable, if you only have access to frozen shrimp, defrost them in water.
We recommend purchasing peeled and deveined shrimp to save time and effort in preparation. Generally, you'll find flash-frozen and packaged shrimp in the frozen food section deveined, peeled, and ready to cook.
If you purchase shrimp from a fishmonger, you can also request that the shrimp be peeled and deveined in advance to save time prepping.
Due to the rapid cooking of the shrimp over high heat, if using small shrimp, keep a close eye on them while cooking to avoid overcooking.
While some people say that shrimp should be cooked to an internal temperature of 12o°F, their color is also a good indicator of their doneness. The shrimp are ready when they have turned pearly white and opaque, without any translucent gray spots. Generally, perfectly cooked shrimp have a C shape, while overcooked shrimp have an O shape.
The most simple side dish for every tikka masala dish would be naan bread or rice. Although we're using regular white rice for this shrimp tikka masala, rest assured that any variety of rice, from white to brown, jasmine to basmati, will complement our meal perfectly.
If you're watching your carb intake, substitute cauliflower rice for the rice. After all, you get to choose what you want to accompany such a delectable dish.
We simplified this recipe by using only red and green bell peppers.
Feel free to add any vegetables of your choice to this shrimp tikka masala for more texture and nutritional value. Paneer, tofu, and green peas should also be considered.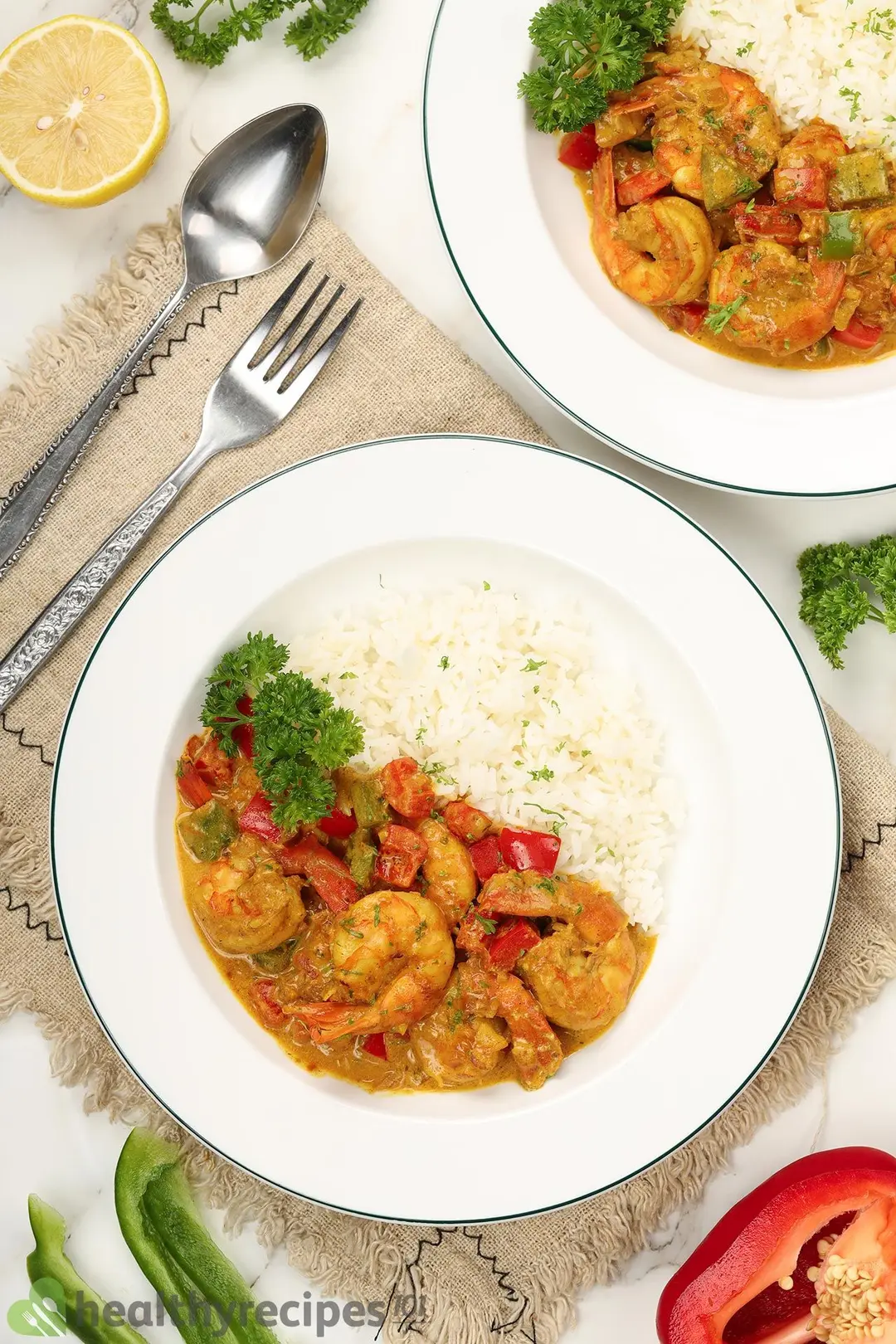 Tikka Masala Sauce
Paprika, garam masala, cumin, turmeric, lemon juice, chili powder, salt, cajun, chicken broth, tomato sauce, and heavy cream are all ingredients that contribute to the unique flavor profile of this tikka masala.
Tikka masala sauce is a cream-based sauce that is vibrant in color and flavorful to the extreme. It's made with an aromatic Indian spice mixture and has a thick, creamy texture provided by heavy cream and tomato sauce.
In this recipe, we used homemade tomato sauce to create a flavorful base that has a more robust tomato flavor than commercial products. Meanwhile, heavy cream is added to the sauce to thicken and enrich it.
Add coconut milk or heavy cream to make the masala sauce richer and creamier if desired, or substitute half and half for heavy cream to reduce the fat content.
Chicken tikka masala tastes even better the next day, as the flavors have had additional time to infuse and meld. Increase the marinating time if you have a strong preference for the aroma of Indian spices. Allow the shrimp to marinate in the marinade overnight for a bold flavor.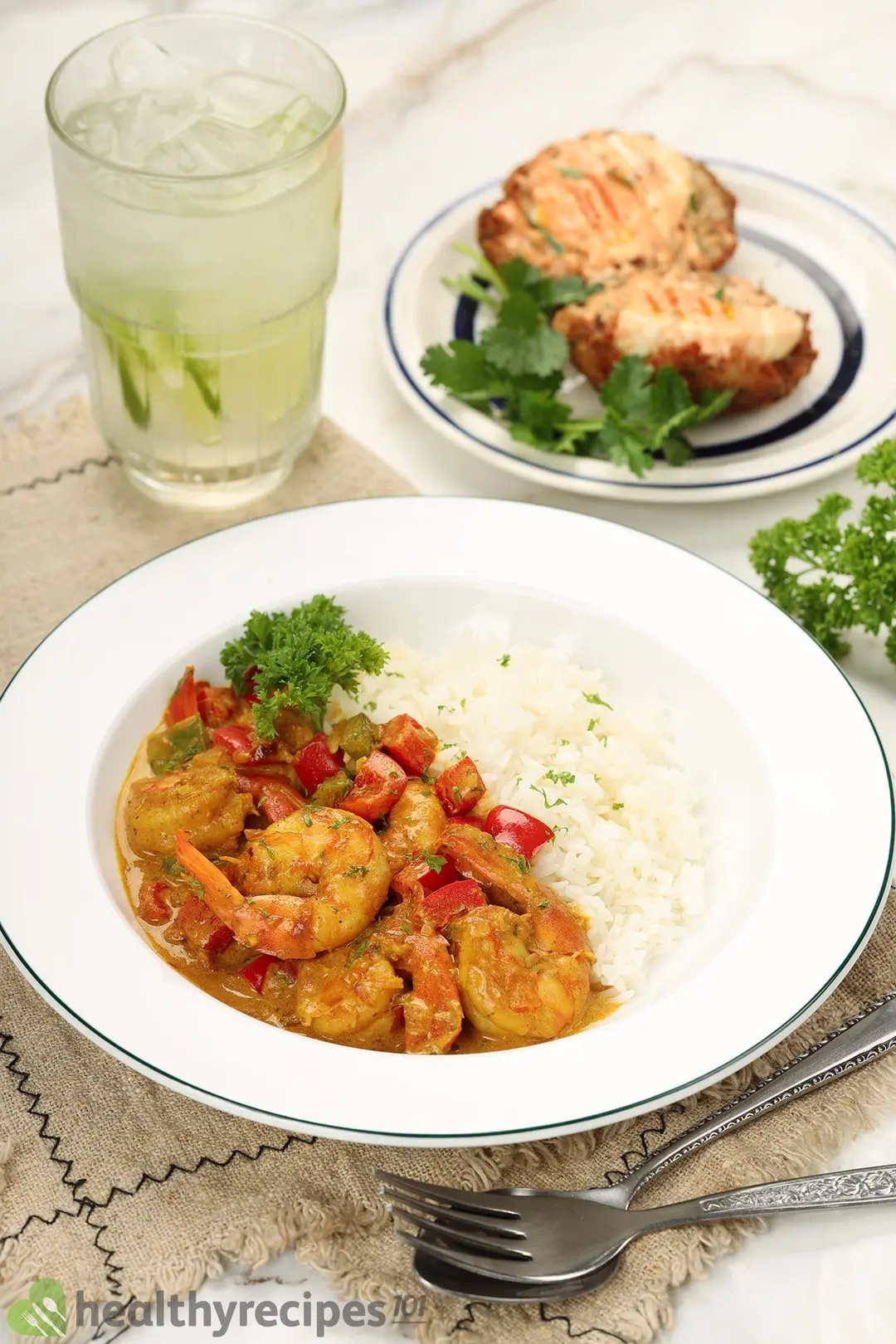 Storage and Reheating
When refrigerated, leftover shrimp tikka masala remains delicious for up to 4 days. All that is required is to place it in a glass food storage container and tightly cover it with a lid.
Additionally, leftovers can be frozen for up to 3 months.
To thaw, remove the shrimp tikka masala from the freezer to the fridge the night before you plan to eat it. It's best to reheat tikka masala in a saucepan over medium-low heat, or simply microwave the glass container.
What to Serve With Shrimp Tikka Masala
Making shrimp tikka masala a complete meal is not difficult. To round it off, we served our main alongside delectable, crunchy scotch eggs and a refreshing fresh lime juice.
Check the below table for their nutritional values:
Scotch Eggs
Fresh Lime Juice
How to Make Shrimp Tikka Masala
Today's shrimp tikka masala recipe focuses on a creamy, aromatic curry made with yogurt and Indian spices.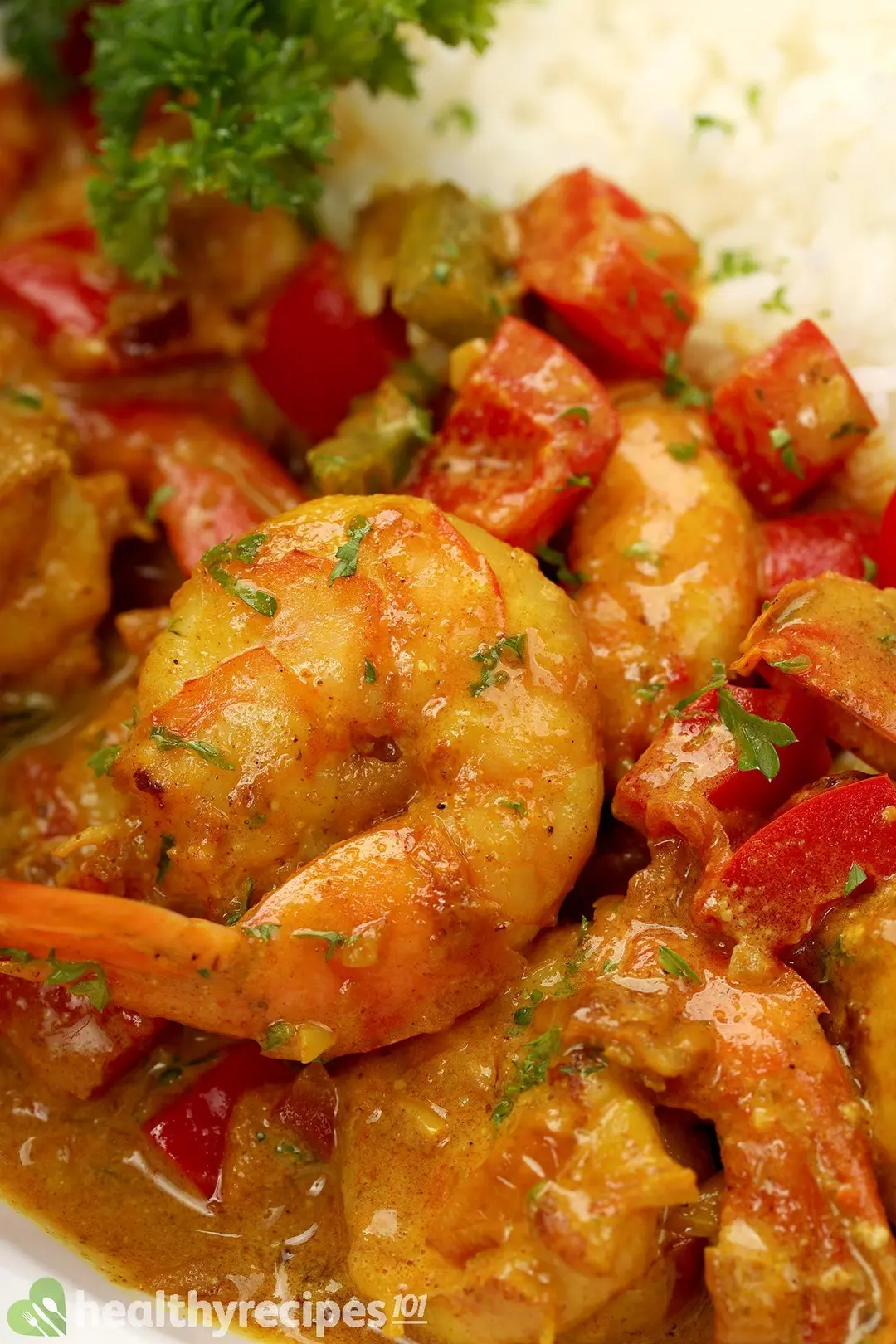 cook TIME

15 mins

prep TIME

10 mins

total TIME

25 mins
COURSE

Main Course

CUISINE

American

SERVINGS

servings

CALORIES

503 kcal
INGREDIENTS
12 oz

raw shrimp peeled and deveined, equals 24 oz unpeeled

2 tbsp

garlic minced

1 tsp

paprika

0.3 tsp

garam masala

2 oz

yellow onion diced

4 tbsp

heavy cream

0.5 tsp

cumin powder

1 tsp

turmeric

1 tbsp

lemon juice

0.3 tsp

chili powder

0.5 tsp

salt

0.5 tbsp

all-purpose flour

1.5 tbsp

olive oil

0.8 cup

unsalted chicken broth

0.3 cup

homemade tomato sauce

2 oz

green bell pepper diced

2 oz

red bell pepper diced

0.5 tsp

Cajun seasoning

2 tbsp

parsley chopped

3.5 cup

cooked medium-grain white rice
INSTRUCTIONS
1
In a cast-iron skillet, sauté garlic in heated olive oil over medium heat for 1 minute.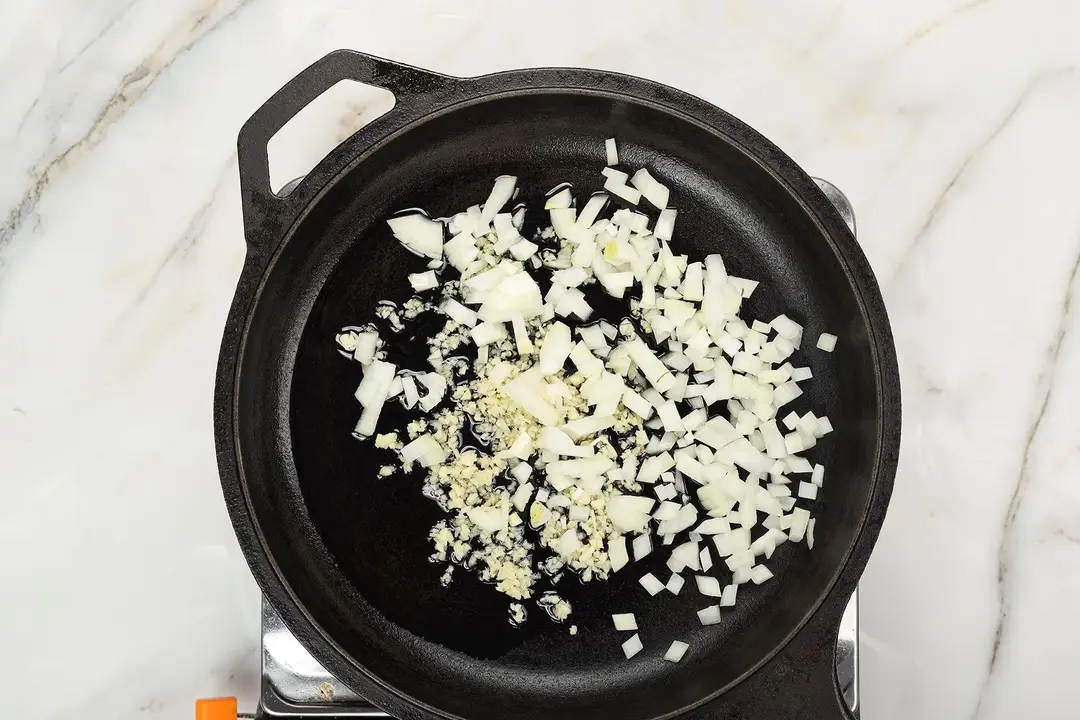 2
Add shrimp to the skillet and sauté for 2 minutes.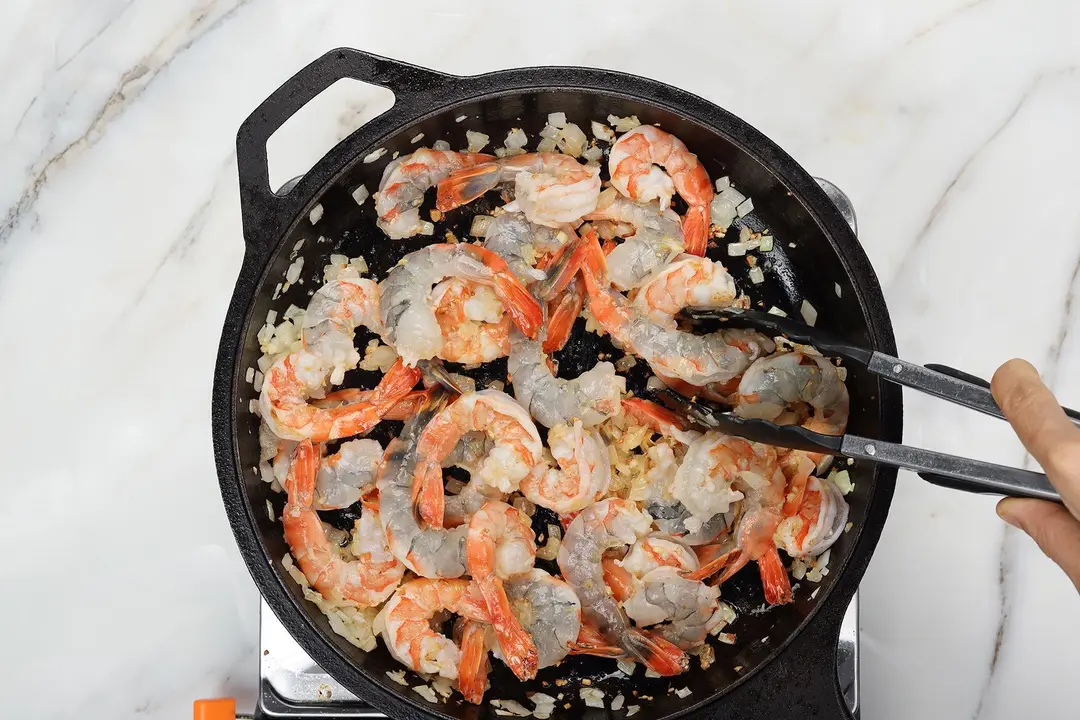 3
Add paprika, garam masala, cumin, turmeric, lemon juice, chili powder, salt, red bell pepper, green bell pepper, and cajun. Sauté for 2 more minutes.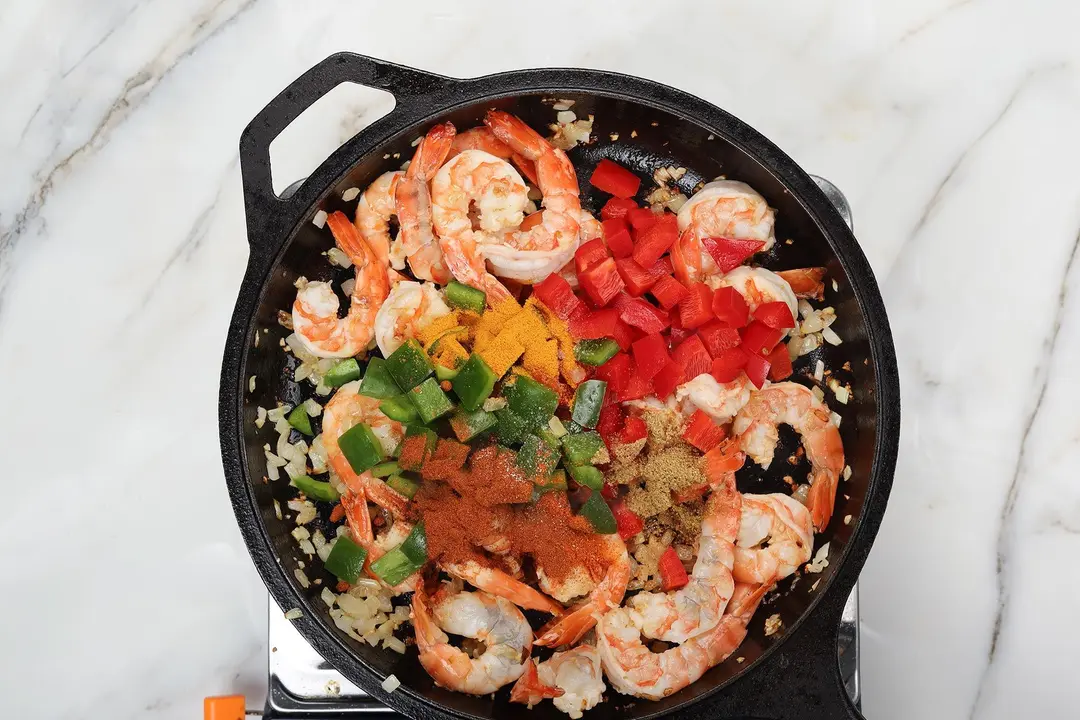 4
Add flour and whisk constantly until well combined.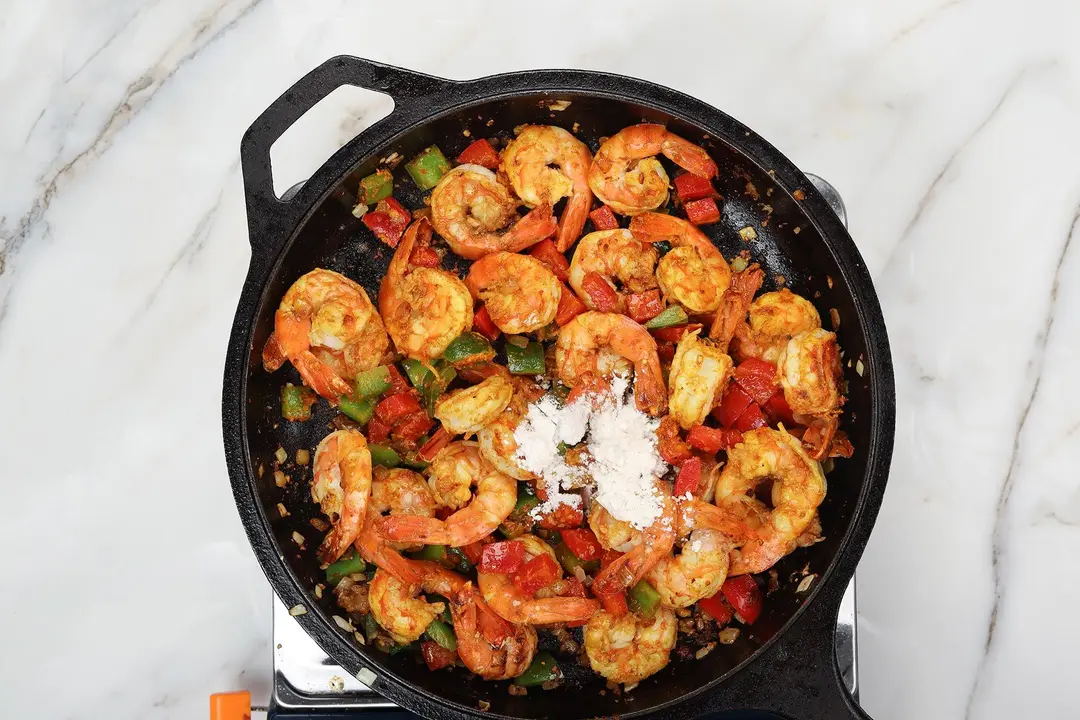 5
Add chicken broth, tomato sauce, and heavy cream. Let simmer for 5 minutes over low heat.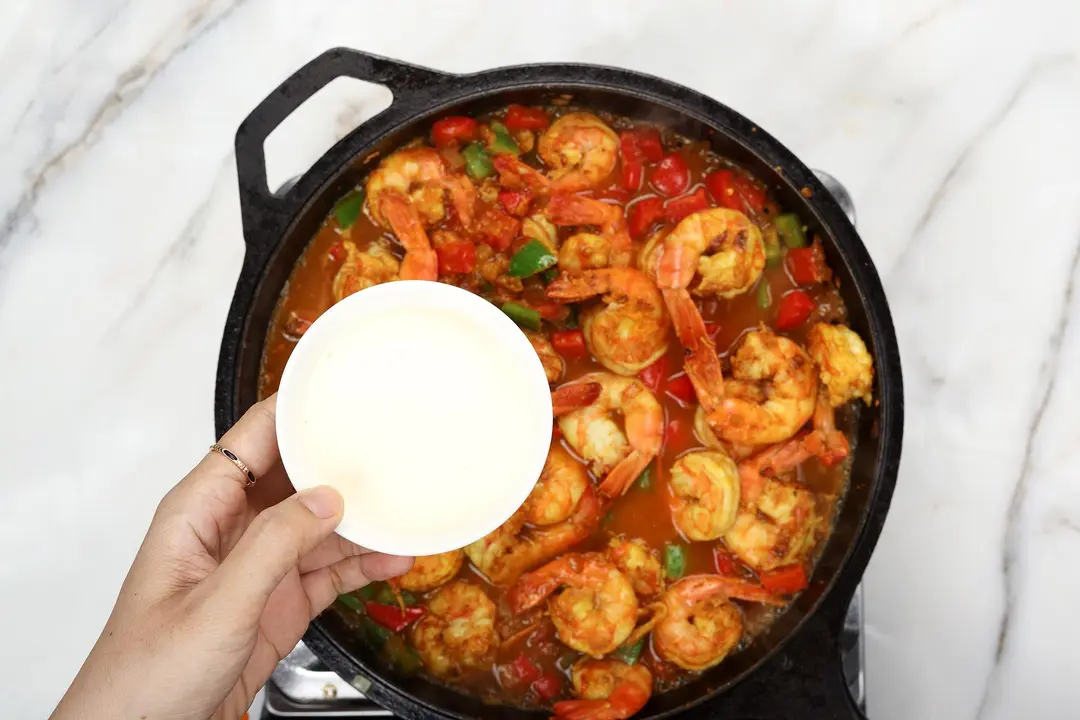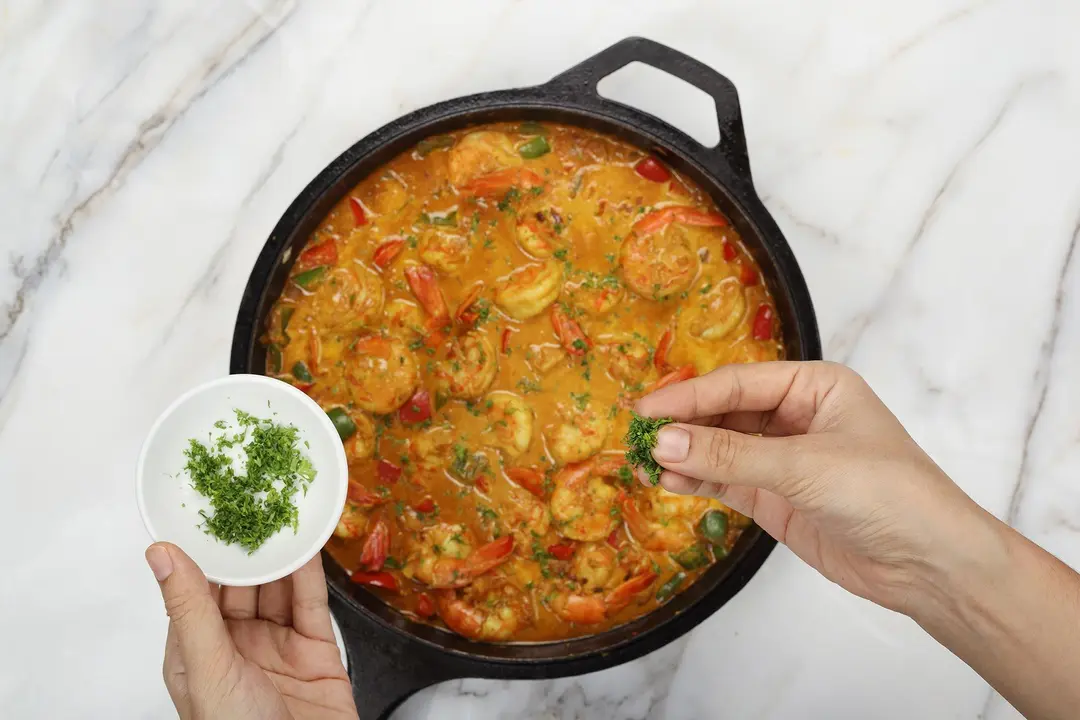 7
Portion out onto serving plates and serve with cooked white rice.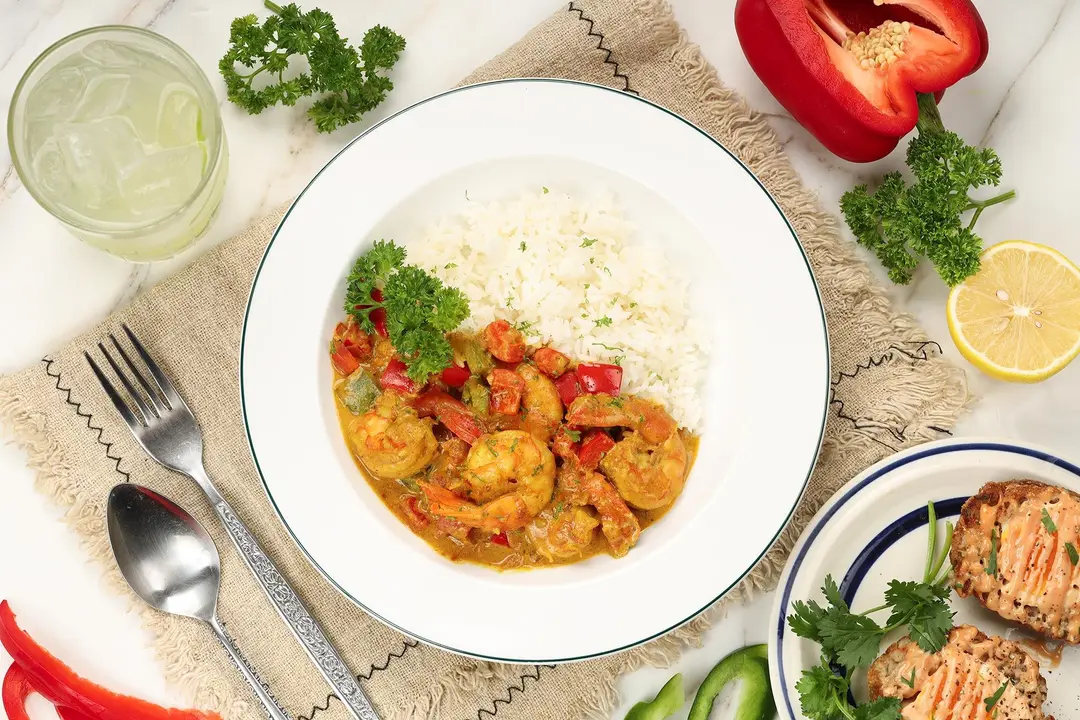 NUTRITION
Nutrition Facts
How to Make Shrimp Tikka Masala
Amount Per Serving (1 serving)
Calories 503
Calories from FDA
% Daily Value*
* Percent Daily Values are based on a 2000 calorie diet.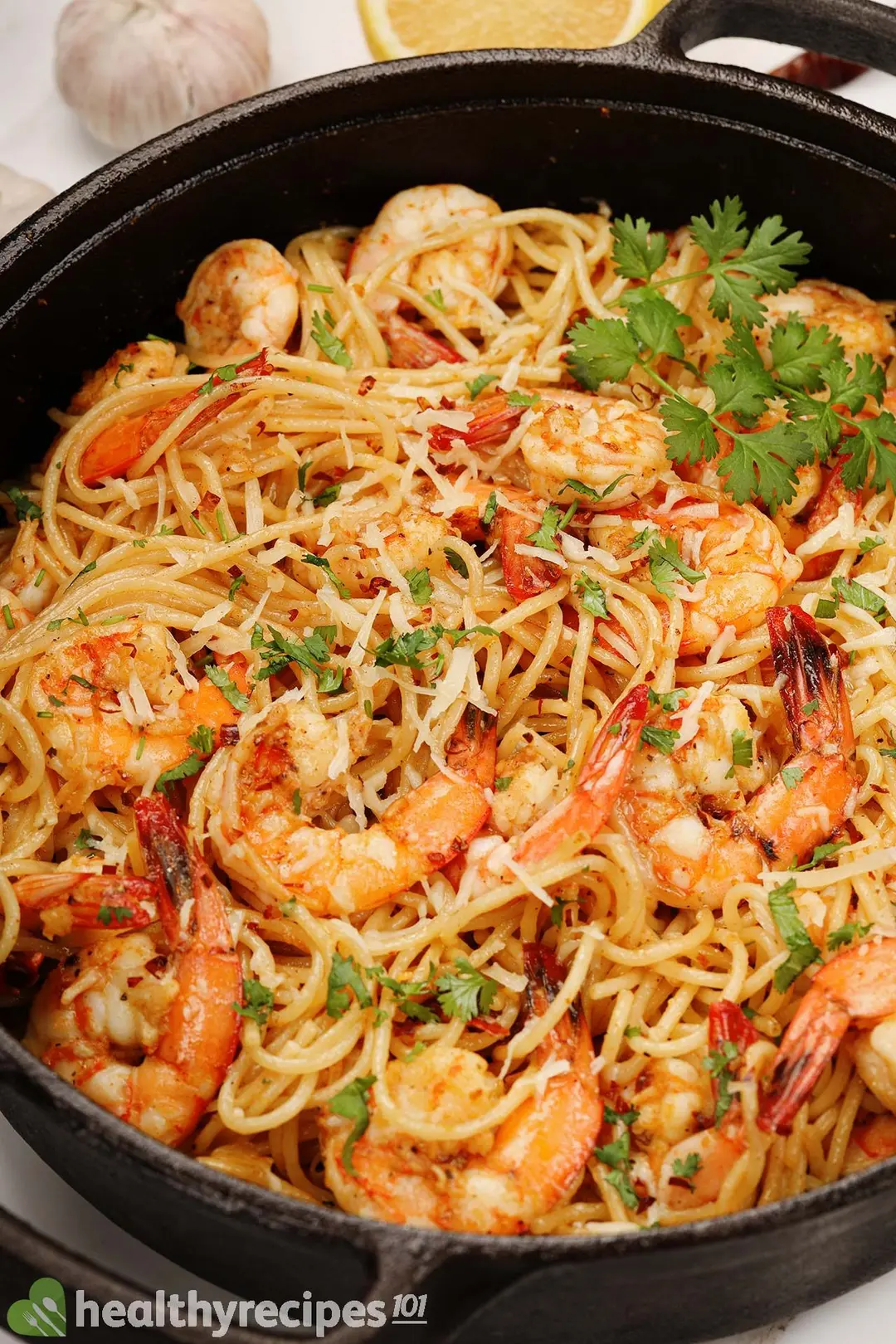 Previous Recipe
Garlic Butter Shrimp Pasta
Garlic Butter Shrimp Pasta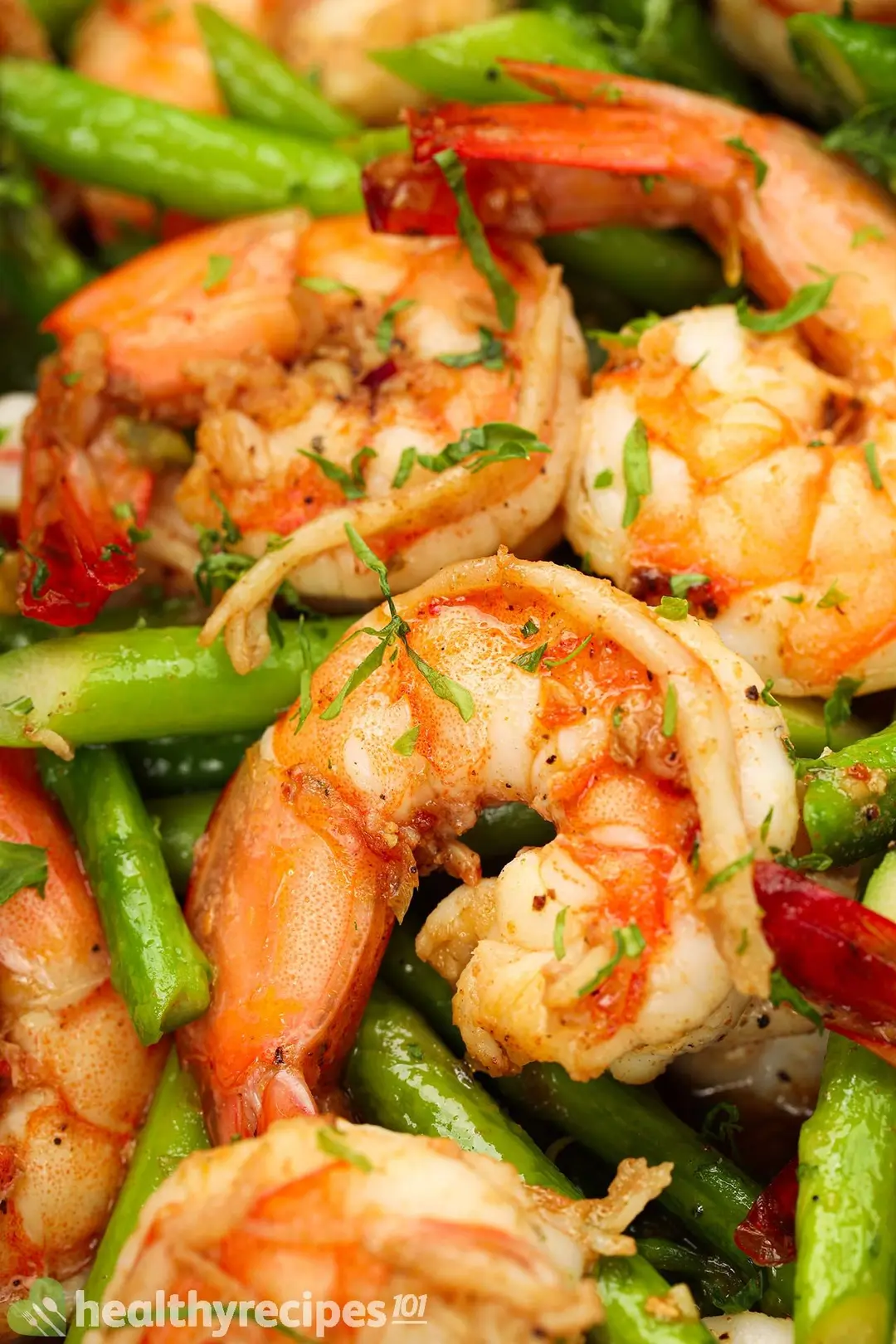 Next Recipe
Shrimp And Asparagus
Shrimp And Asparagus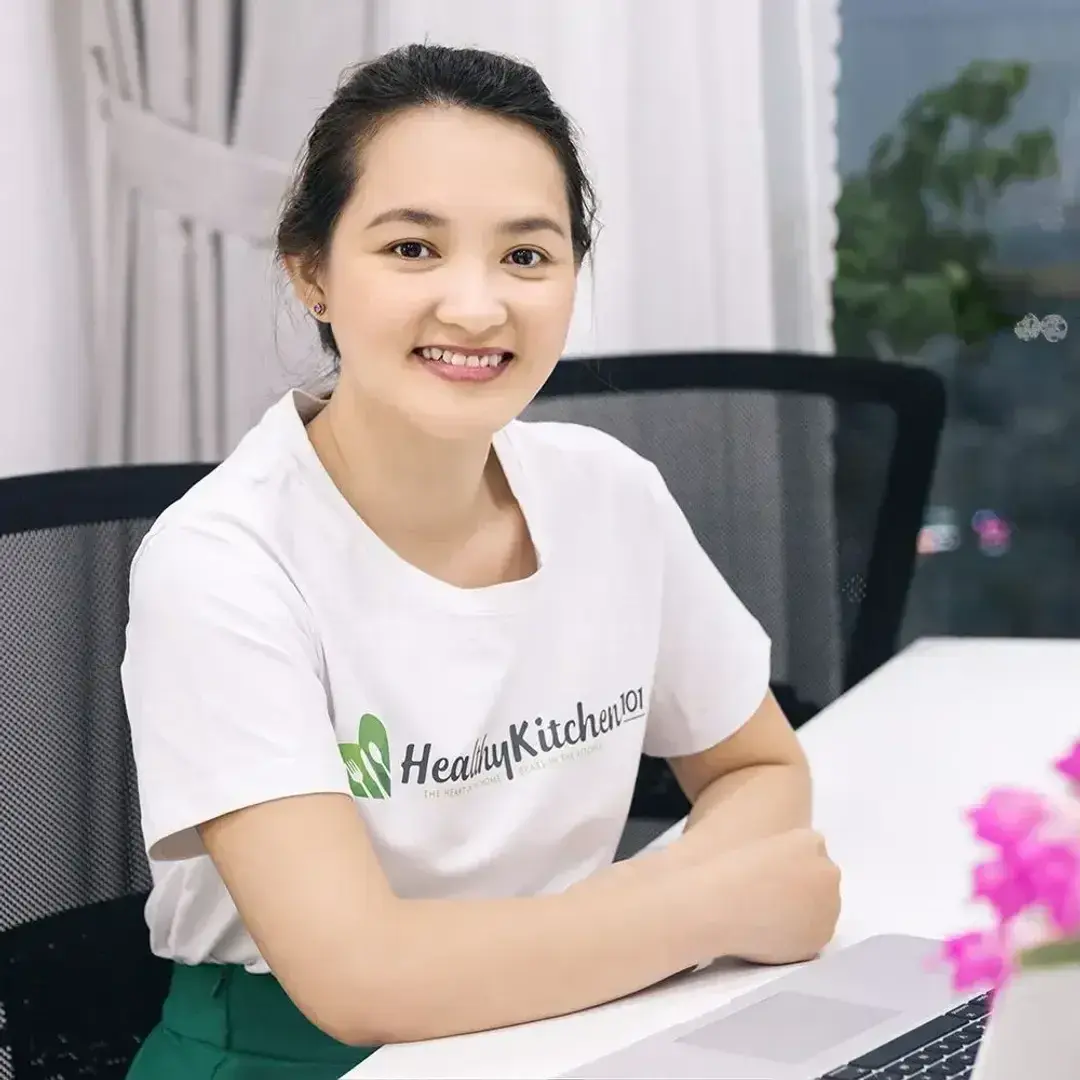 Luna Regina
Luna is the founder and chief recipe developer of Healthy Recipes 101. Apart from cooking, she also loves reading, programming, exploring the outdoors, and collecting useless facts about everything.