Our air fryer chicken burger recipe is an easy option for when you need a fast, hassle-free dinner. The buns and chicken are cooked in the air fryer, so once the button is pressed, you have plenty of time to clean and slice the veggies.
Is Chicken Burger Healthy?
The chicken in these burgers is typically battered then deep-fried, and the burgers themselves are served with fries and possibly topped with cheese. These ingredients contain large amounts of sodium, saturated fats, and calories — what we should regulate for a healthier body.
Taking it into account, we air-fried the chicken using very little oil and carefully adjusted each burger's nutrition. As a result, we ended up with these amounts in each serving:
479 calories
10.3 g saturated fat
558 sodium
Note the absence of sauce or cheese in our recipe; we believe the burgers taste just as good without them. If you prefer chicken burgers with sauce, we have a healthy recipe for it right here.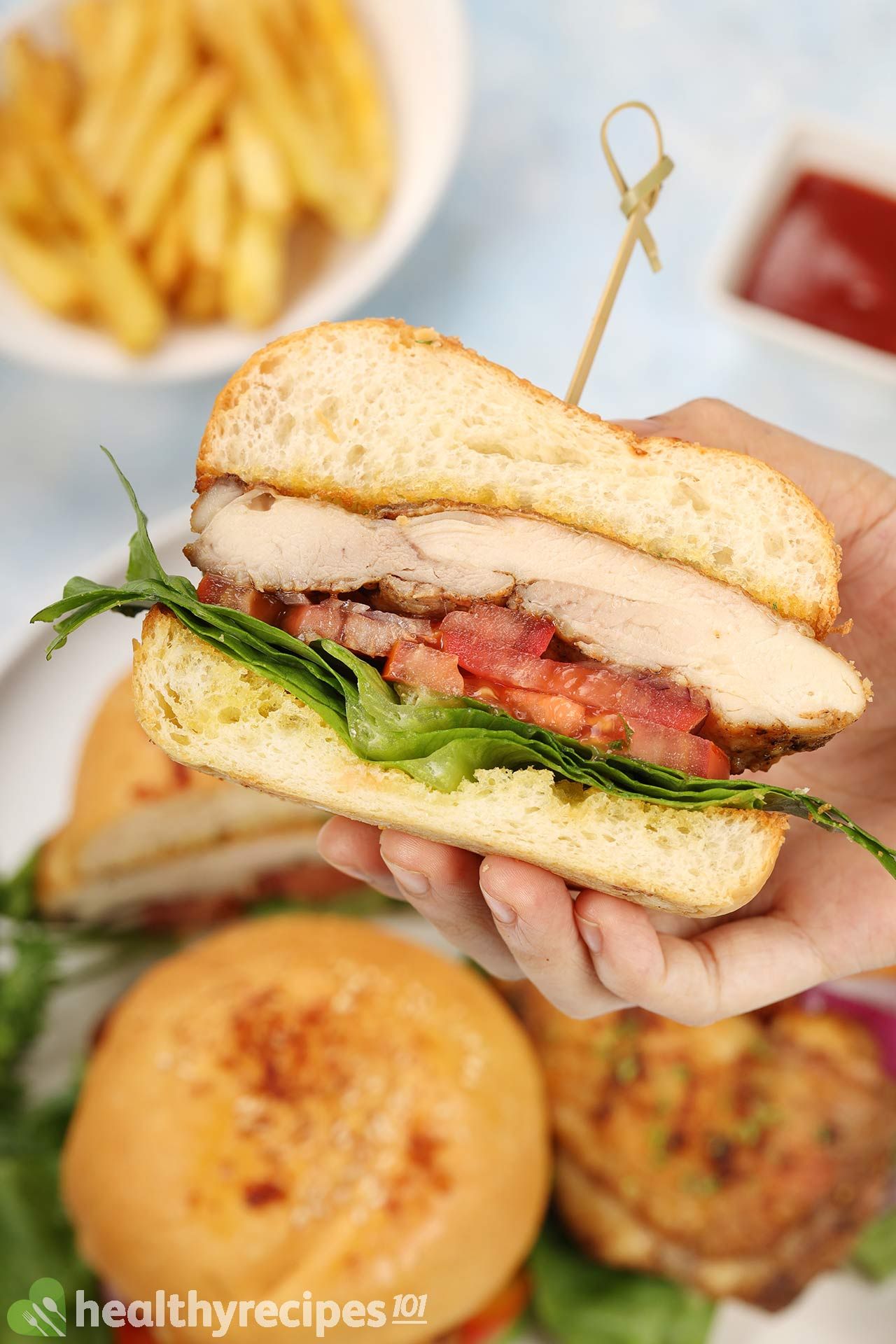 Ingredients for Air Fryer Chicken Burger
You'll need nothing more than chicken, burger buns, veg, and a few seasonings.
1. Chicken
Everyone knows that skinless chicken breasts are the healthiest option as they contain very little saturated fat. While this is true, we prefer using skin-on thighs for our burgers. Don't worry — the level of saturated fats is within our calculations of a healthy amount.
For burgers, it's important that each one has a whole piece of thigh. We recommend that you pick large ones (more than 4 ounces per piece) then trim them down a bit. The bits can be saved for soups or anything that requires minced chicken meat.
2. Burger Buns
If you have access to whole wheat buns, use them as they add a small number of nutrients to your diet. Otherwise, plain white burger buns are completely fine — the veggies will provide you with vitamins and minerals anyway.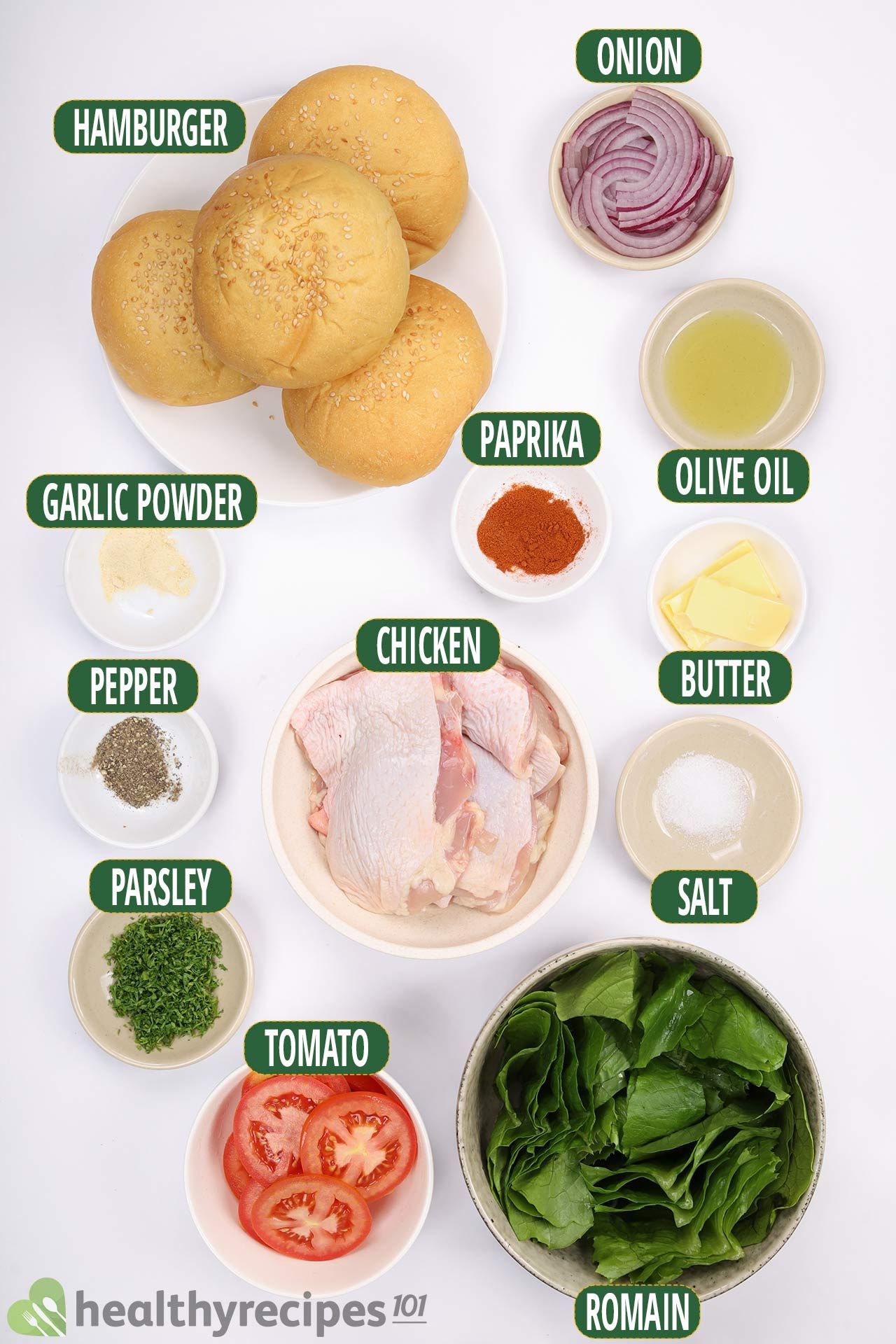 3. Vegetables for Air Fryer Chicken Burger
Our veg mix is what you'd expect in a regular burger: lettuce, tomato, and red onion. We think these are the most suitable selections for chicken burgers, but if you have another favorite, add it to the mix.
4. Spices
We seasoned the chicken with some garlic powder, paprika for heat, salt, and pepper. These are simple ingredients, so feel free to alter the recipe to your liking with whatever seasonings you desire. Cajun, fresh thyme, and cumin are great options.
How to Make Chicken Burger in an Air Fryer
It's easy: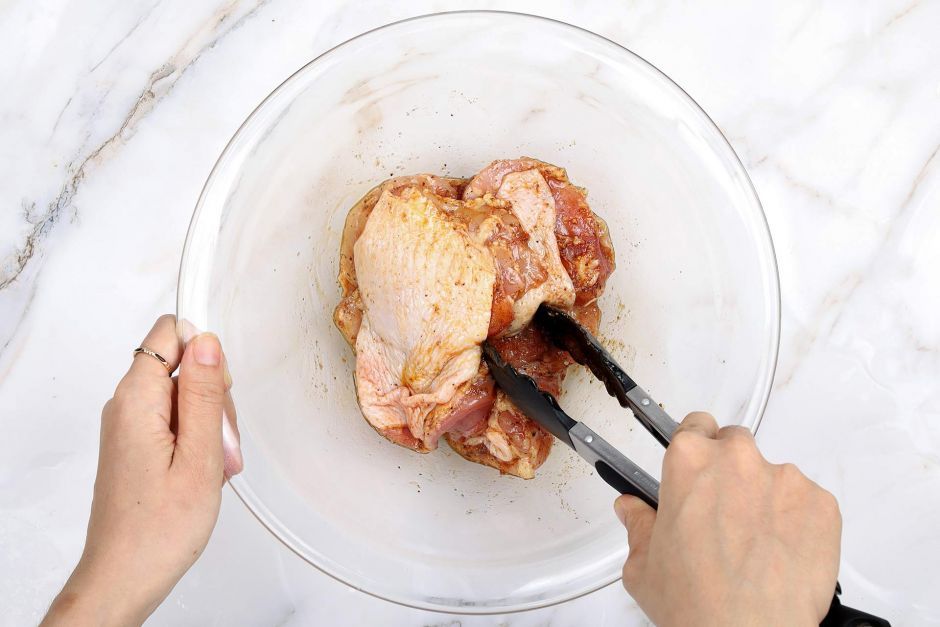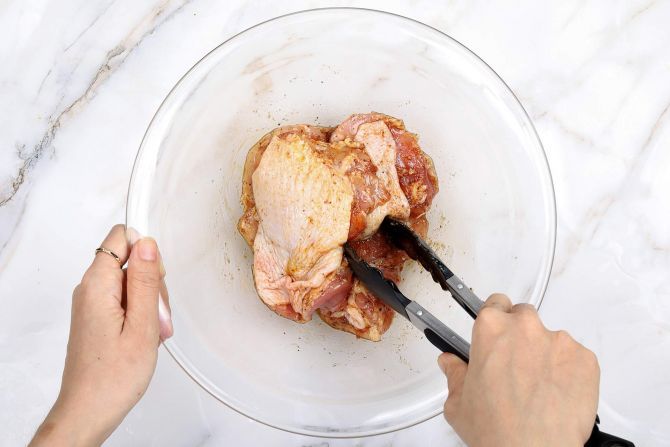 Season the chicken.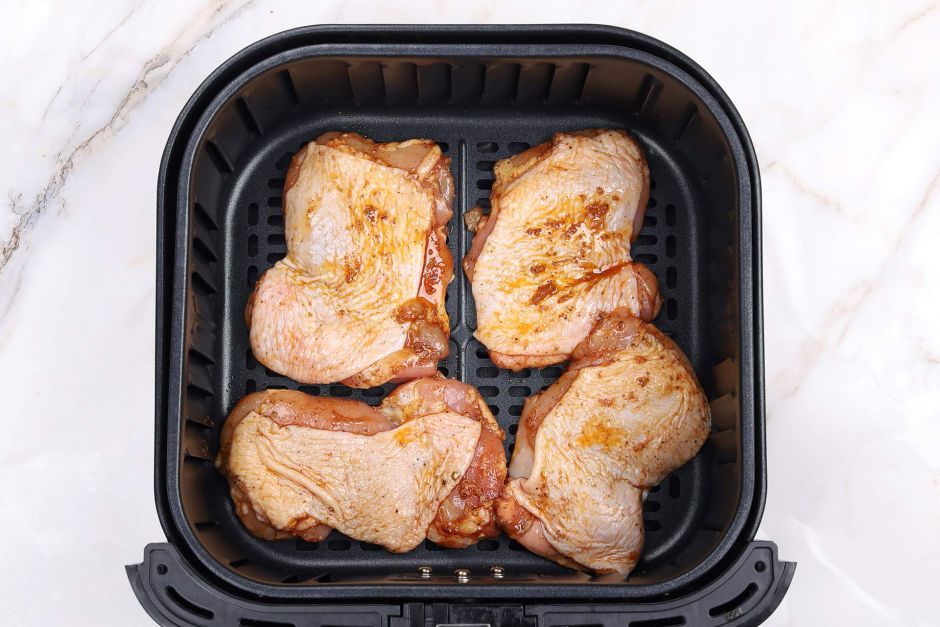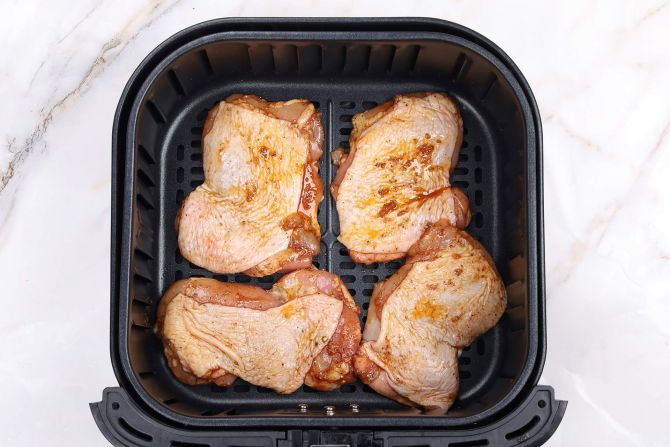 Air-fry it.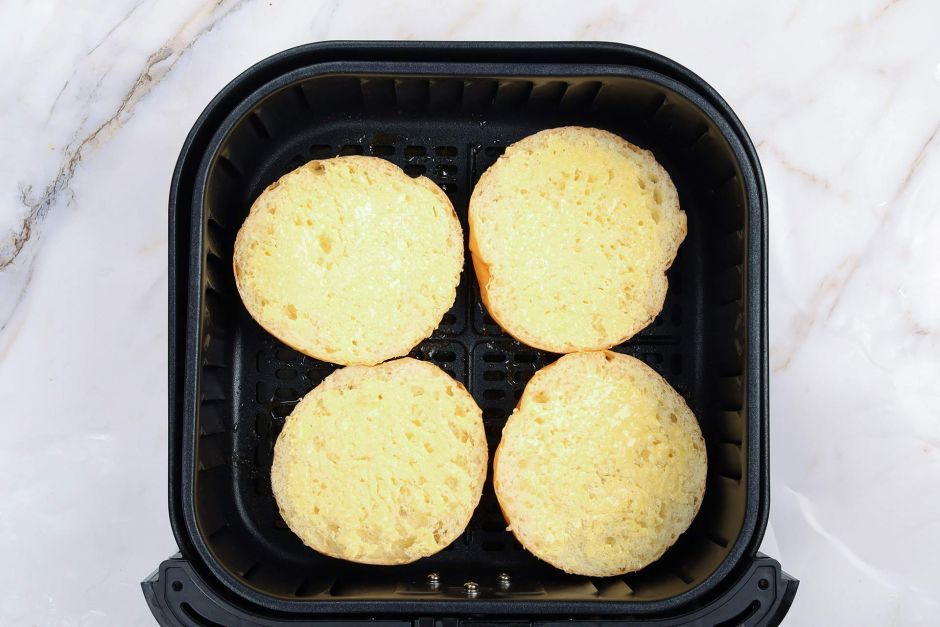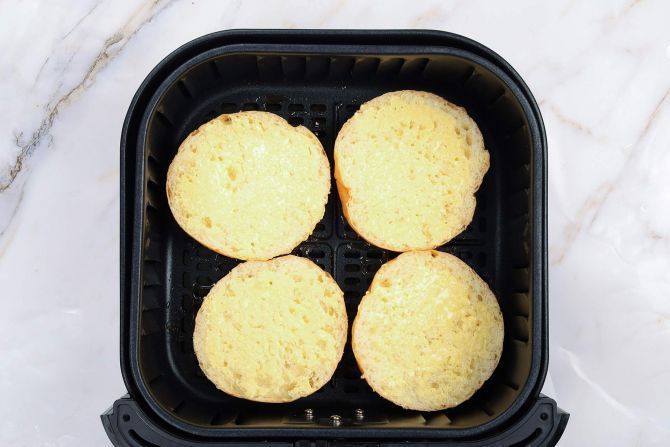 Butter the buns and air-fry them.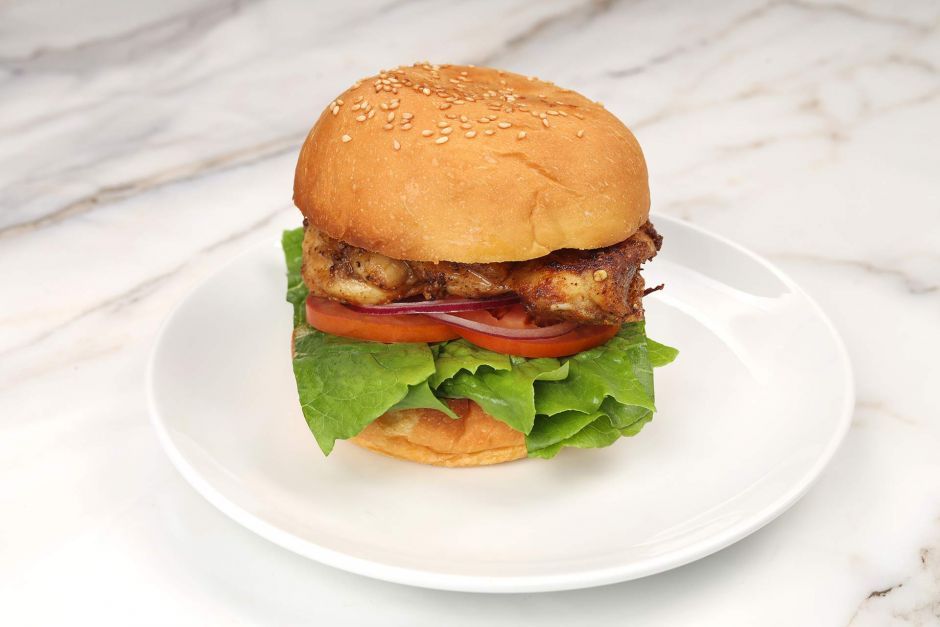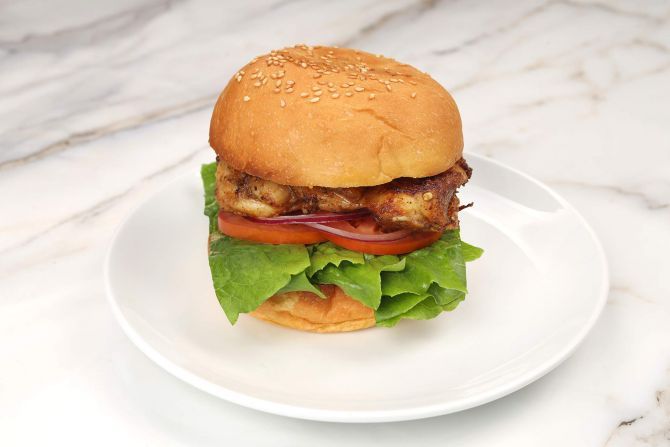 Assemble and enjoy.
Jump to Recipe
This air fryer chicken burger recipe doesn't include instructions for sides, but we do serve the burgers with fries and a drink. The recipes for them will be shown once you scroll past the recipe card.
How Do You Cook Frozen Chicken Burger in an Air Fryer?
Since our chicken thighs are a little thick, we don't recommend cooking rock-hard frozen meat in the air fryer.
Allow the meat to soften first by wrapping it in plastic wrap, placing it in a bowl, and leaving it under cold tap water until it becomes pliable.
After that, cook it as instructed and for about 5 minutes extra.
How to Store and Reheat the Leftover
Burger components should always be stored separately.
1. For Hamburger Buns
Place them in a bag and keep them in a dry area in your kitchen. Commercial bread typically lasts for longer than 7 days, while home-baked goods survive no more than 3 days.
2. For the Chicken and Toppings
Cooked chicken can be kept either in the fridge for 5 days or the freezer for 3 months. The veggies should not be frozen but kept in the fridge for a maximum of 5 days.
To eat, reheat the chicken and buns in the air fryer. The chicken should take 7 minutes and the buns should take just 2.
If this dish strikes your fancy, we think this Shrimp Burger Recipe or Beef Burger Recipe and Salmon Burger Recipe will also suit your likings. If you like chicken in general, our best chicken roundup have lots of ideas.
What to Serve With Our Air Fryer Chicken Burger
Like a typical meal built around burgers, we serve ours with French fries and a drink. To easily control the calorie intake, we cook our fries in the air fryer and make homemade drinks that also provide plenty of vitamins and minerals:
Nutritional values in this table vary somewhat to those below due to different app calculations. Read more...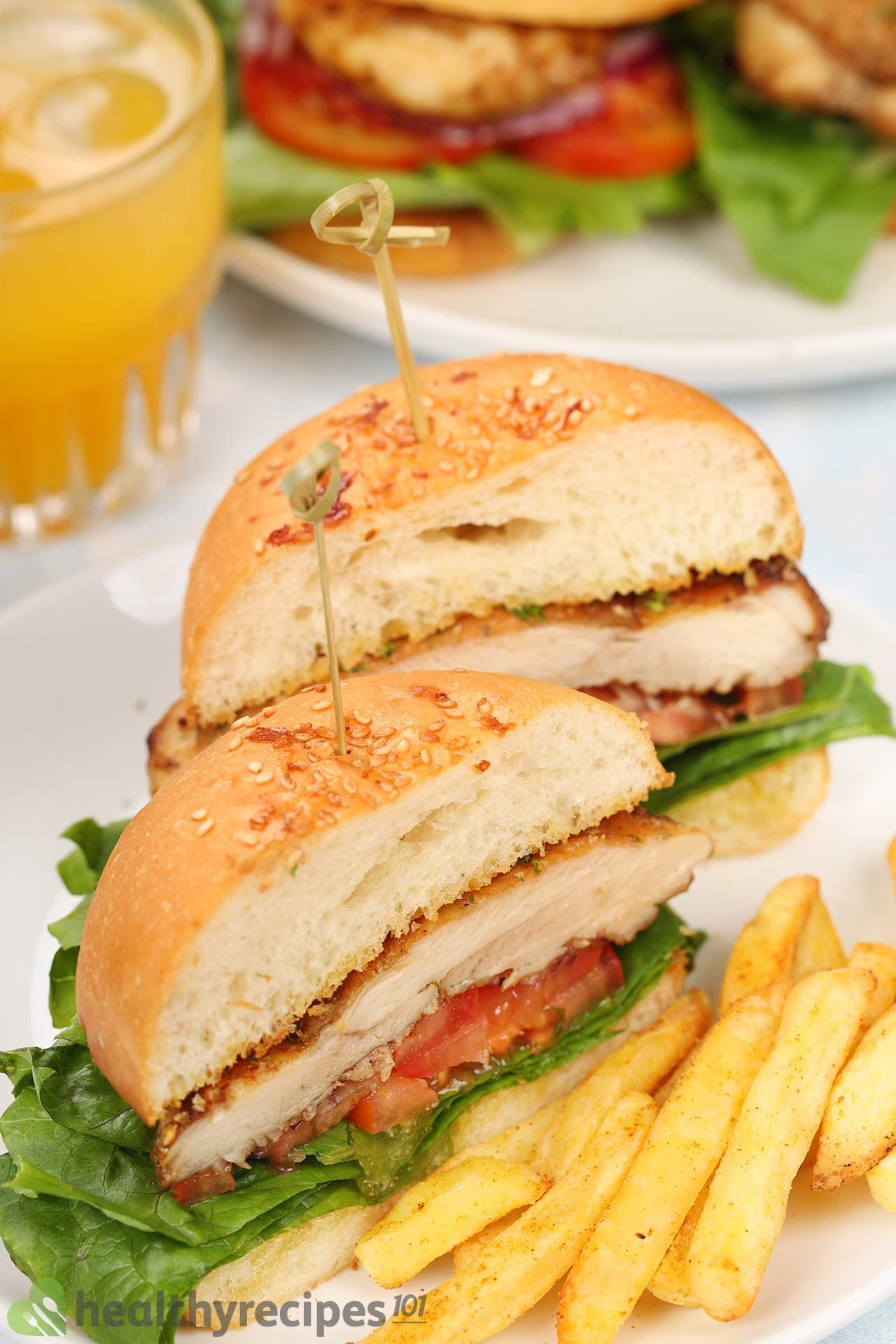 For more delicious air fryer recipes, check out our healthy air fryer dinner ideas.
But Wait, There's More!
There are so many ways to whip up delicious meals with chicken in air fryer that it'd be a shame not to learn a few more. We have lots of ideas you may love: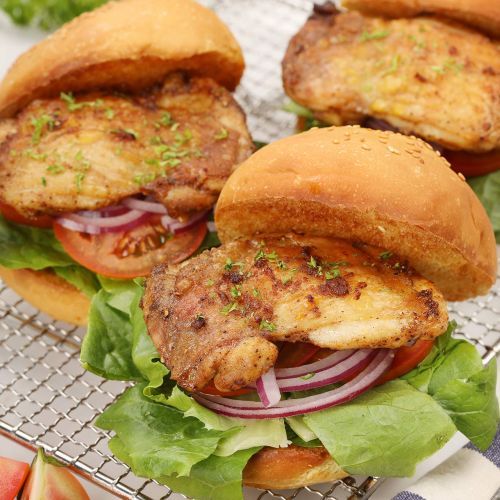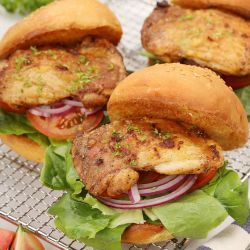 Air Fryer Chicken Burger Recipe
Our air fryer chicken burger recipe needs only 25 minutes of your time to turn out an easy, laborless meal. Once the buttons are pressed, it's hands-free.
Ingredients
16

oz

boneless chicken thighs

about 4 medium

1

tbsp

olive oil

1

tsp

paprika

1/2

tsp

garlic powder

1/2

tsp

salt

1/2

tsp

ground black pepper

2 1/2

tbsp

unsalted butter

room temp

1

oz

red onion

about half 1 medium, sliced

2

oz

romaine lettuce

4

oz

tomatoes

about 1 medium, sliced

2

tbsp

parsley

finely chopped
Instructions
Rub 16 oz chicken thighs with 1 tbsp olive oil, 1 tsp paprika, 1/2 tsp garlic powder, 1/2 tsp salt, and 1/2 tsp pepper.

Cook the thighs skin-side up in the air fryer at 400°F for 20 minutes.

In the meantime, slice the buns in two and butter them using 2 1/2 tbsp unsalted butter. When the chicken's finished, cook the buns flat side up for 2 minutes.

Assemble the burger: bun, lettuce, tomato, red onion, chicken, parsley, and the top bun. Use as much of the vegetables as you want.
Nutrition
Nutrition Facts
Air Fryer Chicken Burger Recipe
Amount Per Serving (1 serving)
Calories 479
Calories from Fat 279
% Daily Value*
Fat 31g48%
Cholesterol 130mg43%
Sodium 554mg24%
Potassium 377mg11%
Carbohydrates 26g9%
Protein 19g38%
Vitamin A 1975IU40%
Vitamin C 8mg10%
Calcium 26mg3%
Iron 1mg6%
* Percent Daily Values are based on a 2000 calorie diet.