This air fryer chicken wings recipe makes crispy, succulent, saucy, and satisfying buffalo wings. They may not look like the ones you're used to, but trust us when we say they taste like the real deal.
Whether you're looking for a quick meal, or are not a patient person who enjoys cooking, or need a winning dish for National Chicken Wing Day (July 29), this recipe is for you. Once the buttons are pressed, these wings will cook and automatically turn out amazing with or without your presence.
Click here to get the ingredients list for this air fryer chicken wings recipe. Or, feel free to read on for hints, tips and tidbits, including how to store these wings in the freezer.
Are Air Fryer Chicken Wings Healthy?
By making these treats in the air fryer instead of a deep fat fryer, you're doing your body a big favor.
For starters, air-frying requires very little oil (no oil in this recipe). This allows you to cut out a large portion of potential calories from your diet, making calorie management easier.
If you're worried about the wings not turning out crispy, fear not. Under the intense and constant heat, the fat inside the wings leaks out and fuses with the coating, making it crispy without any oil.
Plus, by making fried foods in an air fryer, you're avoiding consuming cancer-promoting substances. These can be formed as the starch in the food reacts with the hot oil for a long time.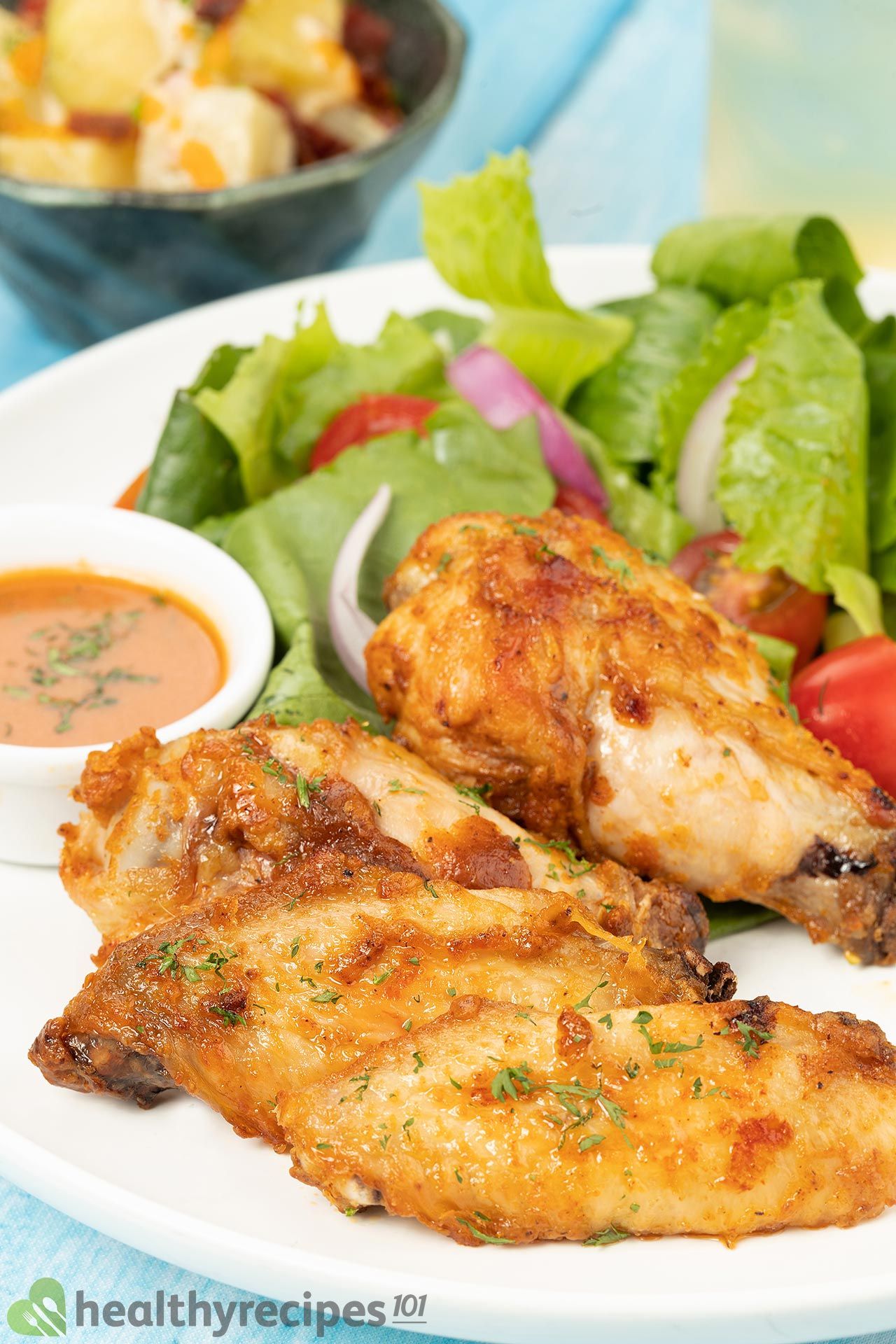 If you're interested in air-fried treats similar to this one, have a look at our collection:
How Our Chicken Wings Are Different
Watching calorie intake isn't the only factor making up a healthy diet, and this is supported by the USDA in their latest guidelines. Other nutrients need to be taken into consideration too, such as sodium, saturated fat, and added sugar, all of which buffalo wings tend to have plenty of.
Seeing this but loving the dish, we began our journey of making a healthy buffalo wings recipe, and it started with the sauce. The buffalo coating and the blue cheese dip tend to be salty, with the blue cheese dip also piling on plenty of saturated fats.
Realizing there's no healthy (and tasty) way to have both in one dish, we decided to skip the dip. Plus, we made our own buffalo sauce, which shares the same flavors as the store-bought but not the saltiness.
If you can't do without the dip, a well-seasoned yogurt and herbs would do. It does a great job cutting right through the heat of the buffalo sauce.
As a result, each portion of our air fryer chicken wings recipe has the right amount of calories and the aforementioned nutrients.
To learn more about how we decide ideal amounts for each nutrient, refer to our dietary guidelines.
Seasonings for Fried Chicken Wings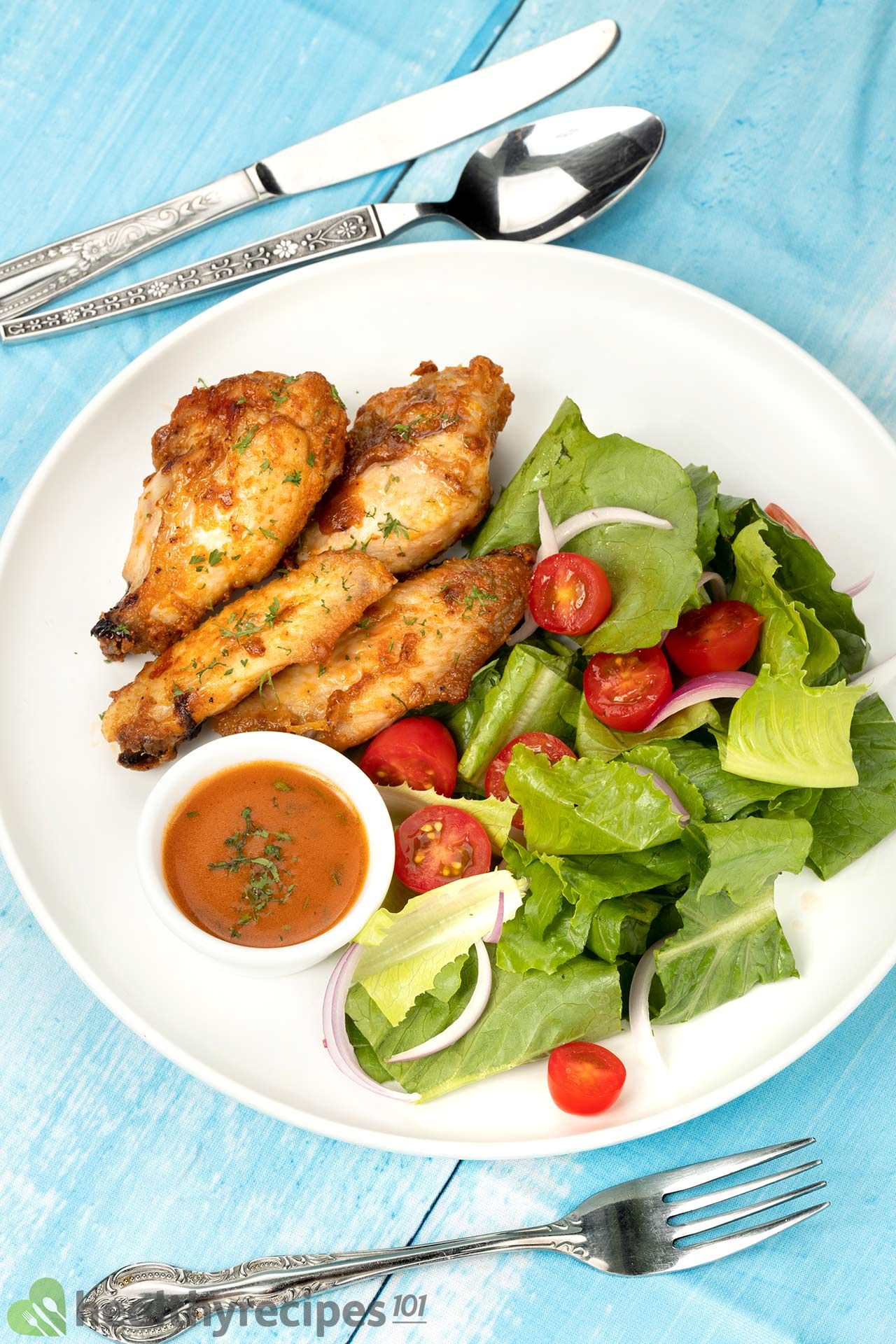 Tasty wings start with the right seasonings.
We flavored the flour that coats the wings with the most basic seasonings: salt, pepper, paprika, chili powder, garlic powder, and onion powder. Most of the time, you can use this combination to season any kind of food.
The buffalo sauce is also pretty simple: chili, cumin, vinegar, sugar, butter, and Worcestershire sauce. It's mildly hot, tangy, salty, sweet, and glossy red, making it look exactly like the real deal, but homemade.
You can check out the recipe for our buffalo sauce here. It won't take long to make (we made ours while the wings were cooking).
How to Cook Chicken Wings in the Air Fryer
Begin by making cuts right in the joints, and once the wings are divided into three, discard the tip. Wash the drumette and wingette clean, and pat them with a paper towel.
Be sure not to pat them too dry. A little bit of moisture helps the coating stick.
After that, it's pretty straightforward: flour the wings, air-fry them, then toss them with the buffalo sauce.
We realize it can be messy to eat, so we didn't toss ours but served the sauce on the side instead. You can serve it however you like.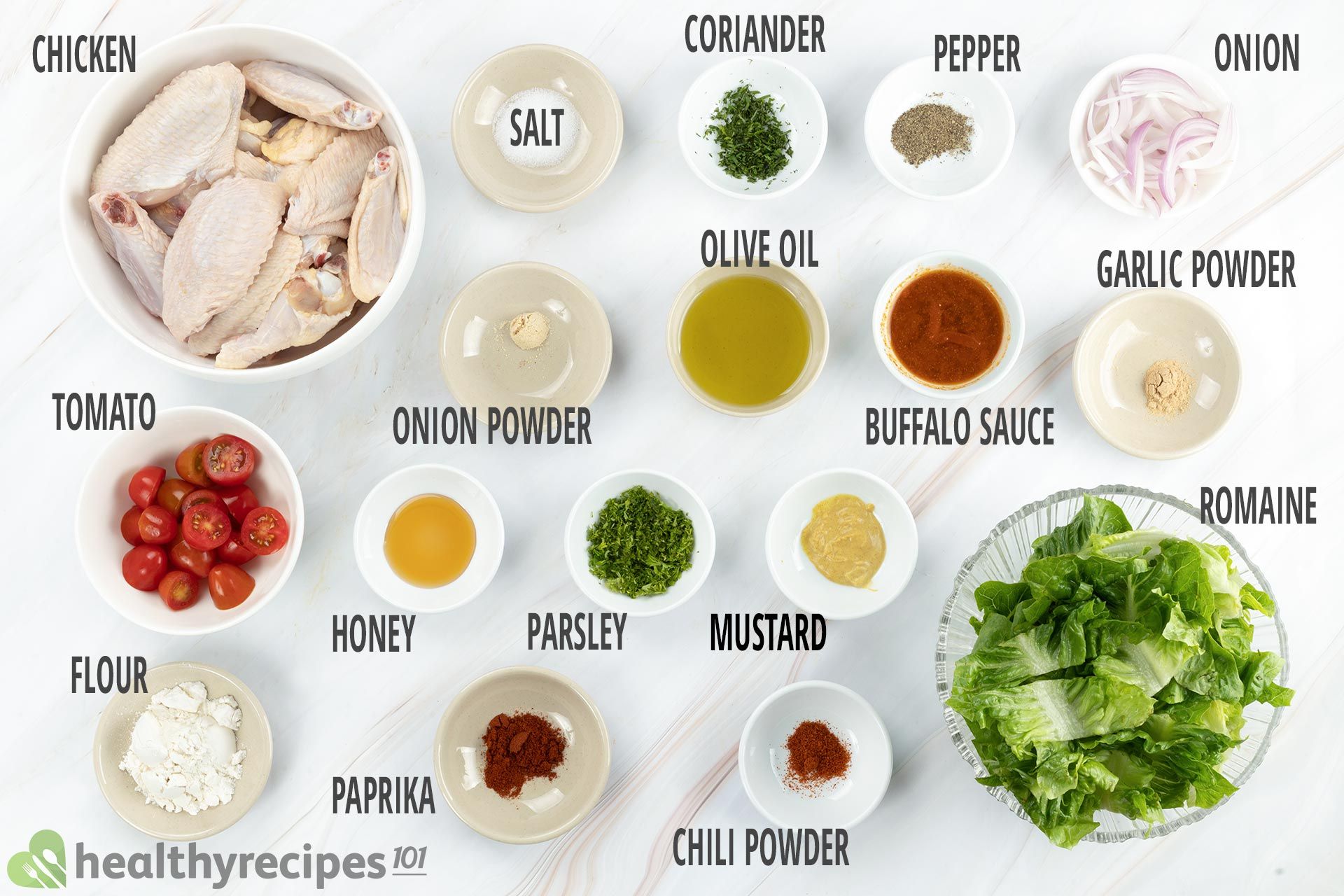 While the wings are cooking, feel free to do other stuff. We used that time to mix the sauce and make the salad, which is also quick and easy to make.
Here's a quick recap:
Cut and wash the wings
Coat in seasoned flour
Preheat the air fryer
Air-fry them, flipping after 10 minutes
Mix the sauce and make the salad while they're cooking
Serve the wings with the sauce and salad
Click here for the full version of our air fryer chicken wings recipe.
As promised, we'll show you how to store the wings in the freezer. By doing this you'll be able to have crispy wings anytime you want, after just 15 minutes.
For more air fryer chicken recipe ideas, this healthy chicken in air fryer roundup might be of help. If you want more delicious air fryer recipe, check out this air fryer dinner ideas.
How to Store and Reheat Fried Chicken Wings
A rule of thumb when it comes to fried food is to leave no leftovers. Refrigerated fried foods aren't the same when reheated — losing moisture and texture.
What you can do instead is as soon as you flour the wings, place them in a Ziploc bag and freeze them. You can add the frozen wings straight to the air fryer — they'll thaw in there and cook as if they're freshly prepared.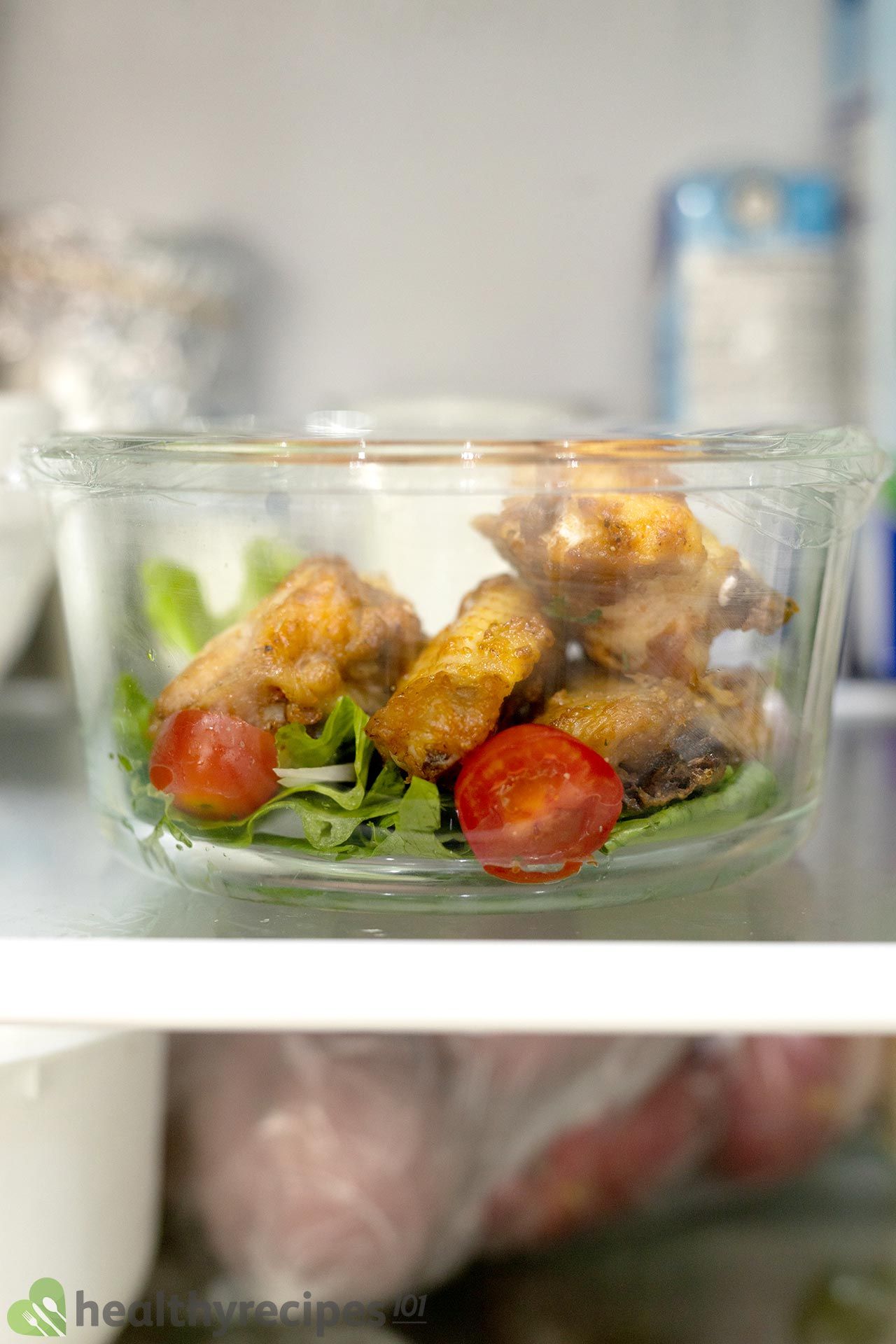 How Long Do You Cook Chicken Wings in an Air Fryer
1. Fresh Chicken
The wings need exactly 13 minutes in the air fryer. Longer than that and they'll burn.
2. Frozen Chicken Wings
Frozen wings need 15 minutes to cook in the air fryer. They'll thaw and turn crispy without additional thawing.
Tips for Making These Buffalo Chicken Wings
To save time individually coating them, fill a large paper bag or Ziploc bag with the flour and seasonings. Prep the wings, then add them to the bag and give them a good shake.
Doing this should have the wings all coated in less than 2 minutes.
If this dish is of interest to you, you may also find this top 20 chicken thigh roundup helpful. Or, simply have a look at our best 50+ chicken recipes for more chicken ideas.
Side Dishes for Fried Chicken Wings
The wings are succulent, flavorful and hot, so we paired them with other foods to help balance them.
First, some garden freshness from tomatoes, lettuce, and red onion on the side. You can make a tangy salad by squeezing some lemon juice on top if you want.
Then, a little creaminess from our loaded potato salad. It's really comforting to eat, and most importantly, it mellows out the heat.
To round things up, a cool, thirst-quenching glass of simple lemonade. This adds a satisfying and cleansing feel to round up the meal.
Nutritional values in this table vary somewhat to those below due to different app calculations. Read more...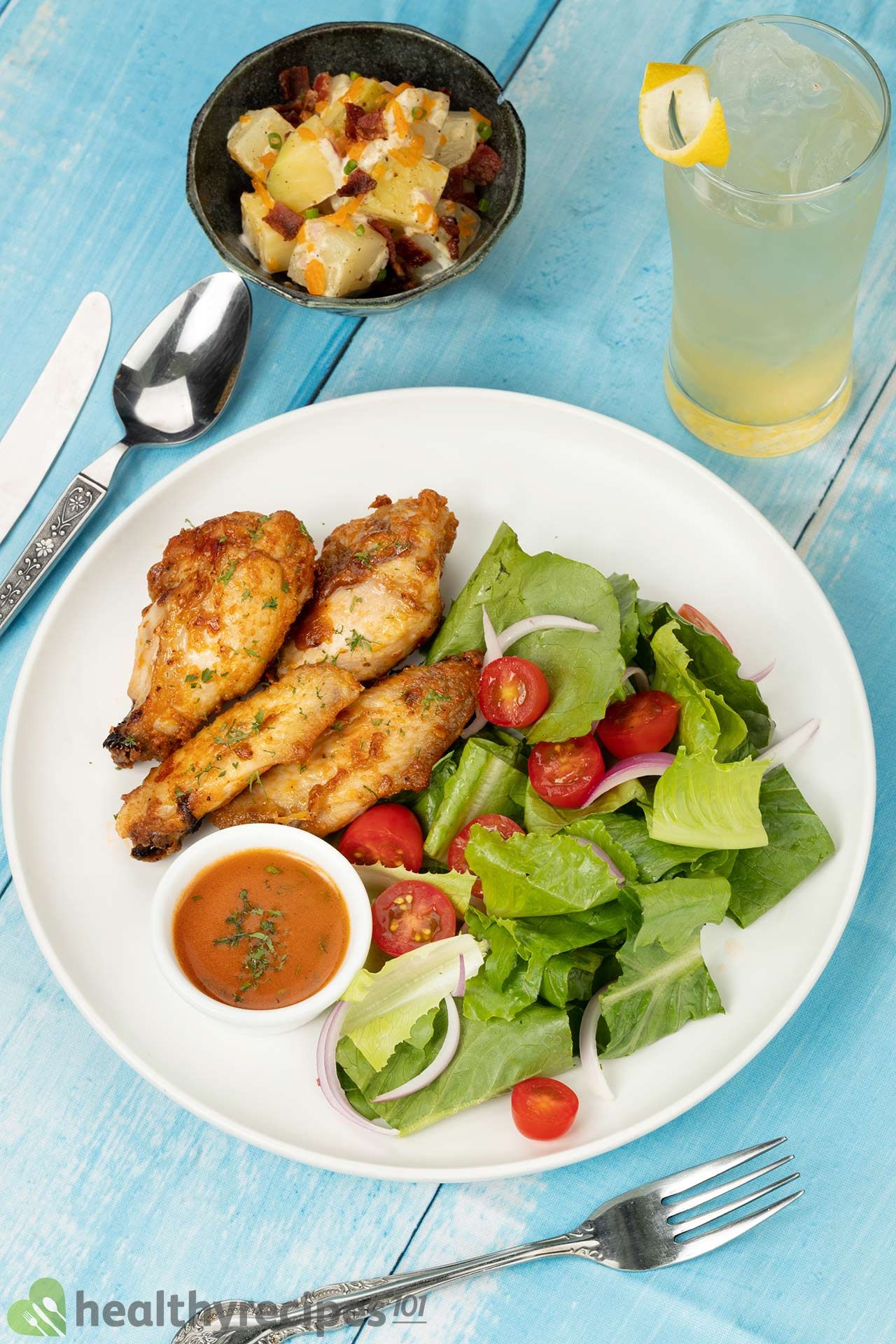 This might seem like a lot of work, but we promise that each element is easy and quick to make. Health-wise and taste-wise, they're the perfect companions to go with these fried wings with buffalo sauce.
More Quick & Easy Air Fryer Chicken Ideas
Interested in cooking chicken in air fryer? We know you're going to love these five chicken killer recipes!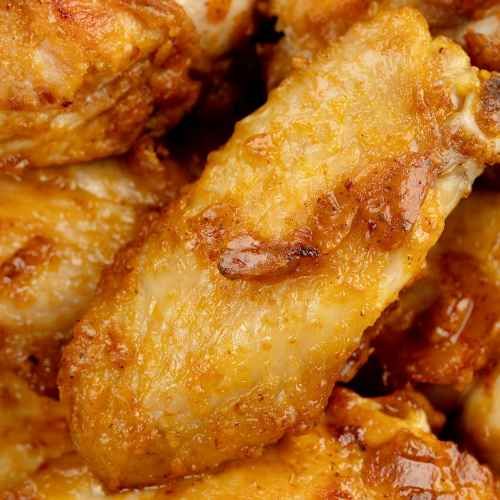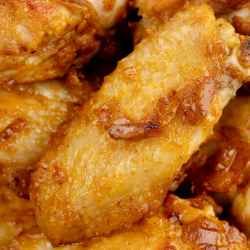 Air Fryer Chicken Wings Recipe
This air fryer chicken wings recipe turns out tasty wings in just 15 minutes. With the sides, these wings make an awesome meal.
Ingredients
30

oz

chicken wings

without the tips

1/2

tsp

paprika

1/4

tsp

chili powder

1/4

tsp

garlic powder

1/4

tsp

onion powder

1/4

tsp

ground black pepper

1/2

tsp

salt

divided

2

tbsp

all-purpose flour

2 1/2

tbsp

olive oil

divided

2

tbsp

homemade buffalo sauce

1

tsp

honey

1

tsp

cilantro

finely chopped

2

tbsp

parsley

finely chopped

1

oz

red onion

sliced

4

oz

cherry tomatoes

halved lengthwise

3

oz

Romaine lettuce

chopped
Instructions
Toss the wings with paprika, chili powder, garlic powder, onion powder, pepper, 1/4 tsp salt, flour, and 1 tbsp olive oil. You can store these wings in the freezer for later use, or fry them right away.

Preheat the air fryer to 375°F.

Meanwhile, make the buffalo sauce (if you haven't) and mix it with honey, mustard, cilantro, and 1/4 tsp salt.

Add the wings to the frying chamber and cook for 10 minutes. Flip and cook for another 3 minutes (5 if they're frozen).

Meanwhile, prepare the vegetables, make the potato salad, and lemonade.

Remove the wings and serve with the sauce and sides. You can toss the wings with the sauce for an authentic experience or keep it on the side for dipping.
Nutrition
Nutrition Facts
Air Fryer Chicken Wings Recipe
Amount Per Serving (1 serving)
Calories 468
Calories from Fat 297
% Daily Value*
Fat 33g51%
Cholesterol 204mg68%
Sodium 564mg25%
Potassium 514mg15%
Carbohydrates 8g3%
Protein 34g68%
Vitamin A 2455IU49%
Vitamin C 22mg27%
Calcium 39mg4%
Iron 2mg11%
* Percent Daily Values are based on a 2000 calorie diet.