Our avocado soup recipe introduces a tasty, quick-to-prepare, no-cook soup. It consists of luscious ripe avocados, brilliant green cilantro, an umami chicken broth, and creamy cheese. Finally, the soup is enriched with croutons, which not only add color but also crunch and flavor to the bowl.
What Does Avocado Soup Taste Like?
This vegan avocado soup is loaded with flavor, combining the delicately sweet taste of avocado with the sharpness of lime juice, the pungency of garlic, and the heat of jalapenos. Blended with vegetable broth, it is light but rich and incredibly filling.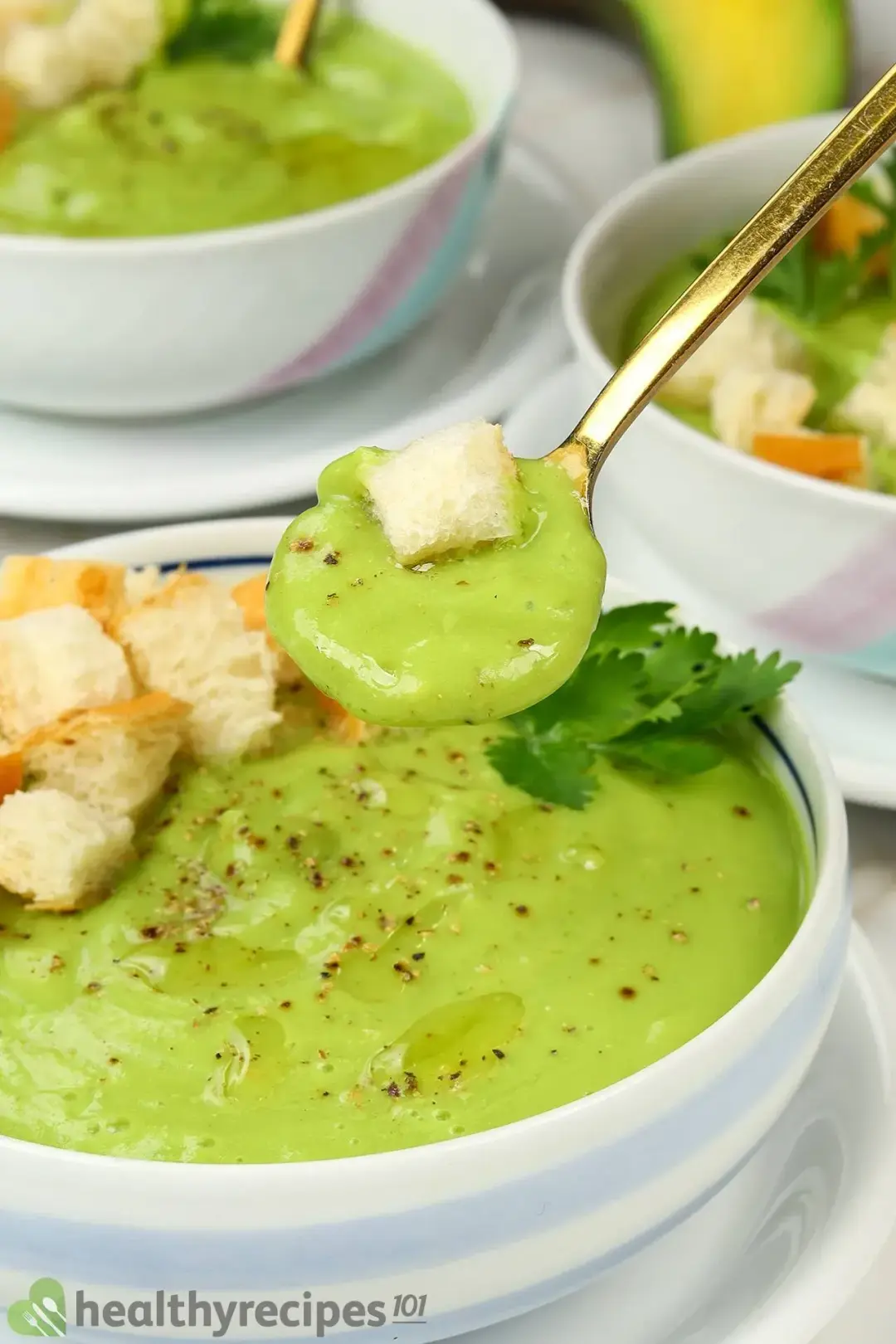 Avocado Soup's Benefits
Avocados are a powerhouse of nutrients. These tasty green pleasures are loaded with vitamin K (26% of the daily requirement in one avocado), folate, vitamin C, potassium, vitamin B5, vitamin B6, and vitamin E, as well as riboflavin, niacin, folate, pantothenic acid, magnesium, and potassium.
In addition, they have a high concentration of lutein, beta-carotene, and omega-3 fatty acids. With all this nutrition, they offer several health advantages, including the ability to improve digestion, reduce the incidence of stroke, and maintain healthy cholesterol levels.
Ingredients for This Soup
Our simple avocado soup features avocados along with vegetable stock, cilantro, lime juice, garlic, and a few other ingredients.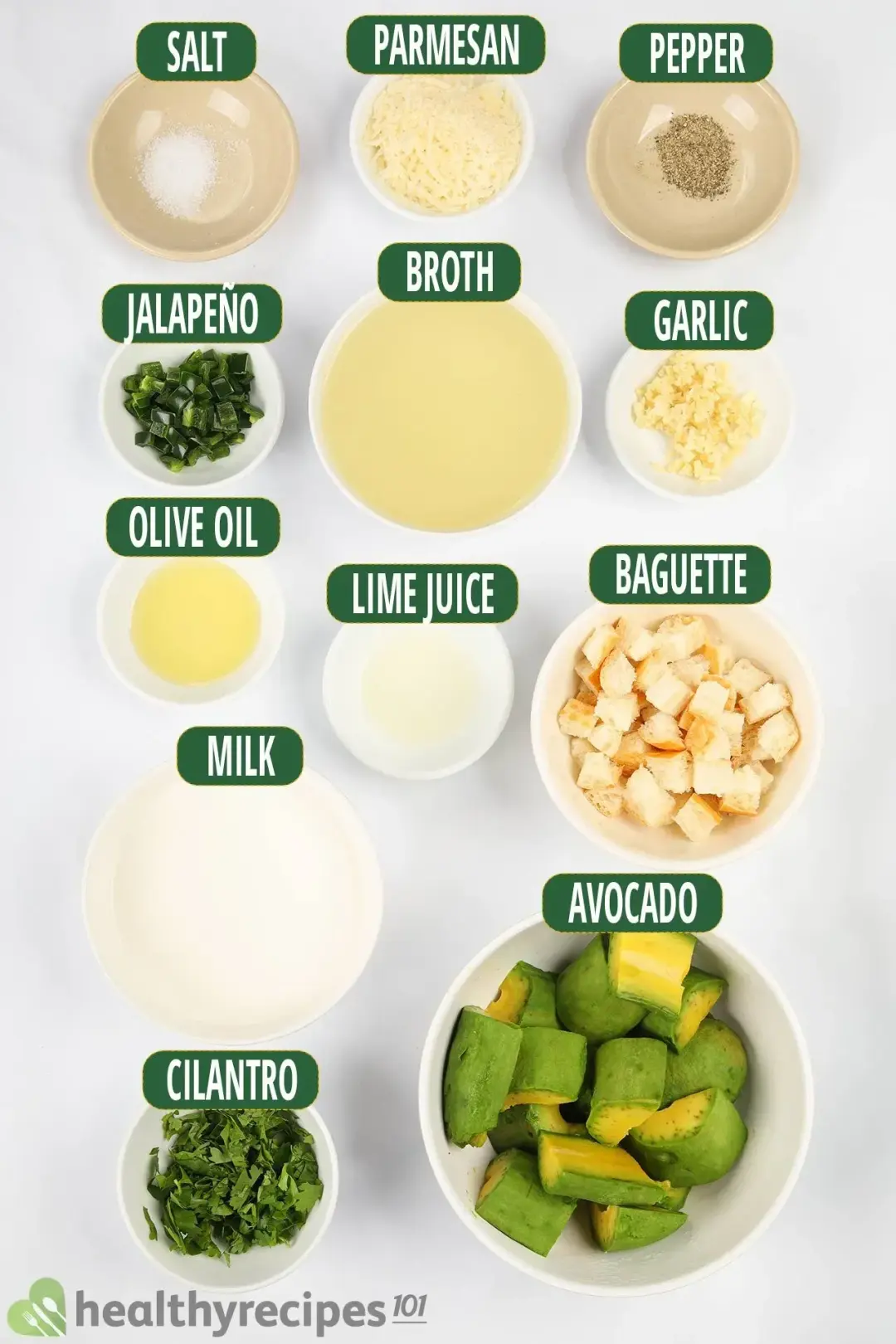 Avocados: To begin, you will need two or three wholesome, ripe avocados. This recipe can even be made with frozen avocados. We like Carlifornia or Haas variants because they are extraordinarily creamy and less fibrous and watery than other cultivars. 
Cilantro: Freshly chopped cilantro lends a bright and citrusy note.
Lime: Citrus juice gives this rich soup an extra zing and also helps prevent the avocado from browning. You can use lemon or lime in this recipe.
Jalapeno: Add a touch of heat with a quarter of a jalapeno. We recommend removing the seeds because many people find they can make the soup too spicy.
Broth: Chilled broth helps thin out the soup. Substitute vegetable stock if you want a vegetarian avocado soup.
Milk and Cheese: Dairy gives the soup a silky mouthfeel with a rich texture. Stir and whisk the soup while adding the milk and cheese to ensure the cheese will be thoroughly melted and incorporated into the soup.
Topping: Add your favorite toppings to this avocado soup for a unique twist. Thanks to its mild flavor, the soup pairs well with everything from homemade croutons to crushed homemade tortilla chips.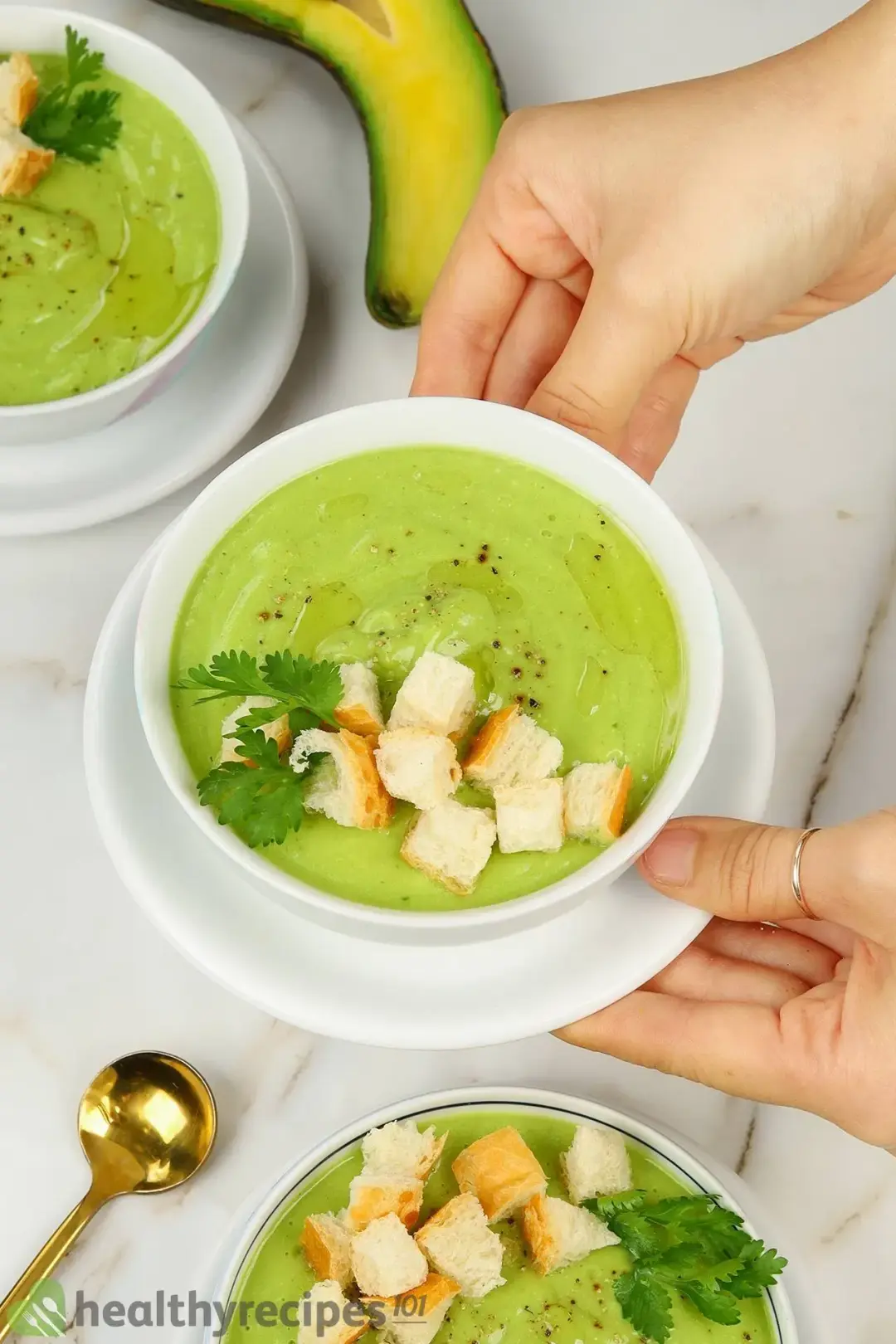 How to Serve Avocado Soup
This soup can be served either warm or cold with croutons, garlic bread, or grilled cheese. The combination is delicious and makes for an ideal light meal.
For the warm version, simply heat it until it is warmed through. However, note that if you bring it to a boil, the color will deepen and become less vibrant.
Storage
To store, place the soup in an airtight container and refrigerate for 2 days. Unlike other soups, we don't recommend freezing this avocado soup. Once thawed, the flavor will be greatly altered and the consistency will have become more watery.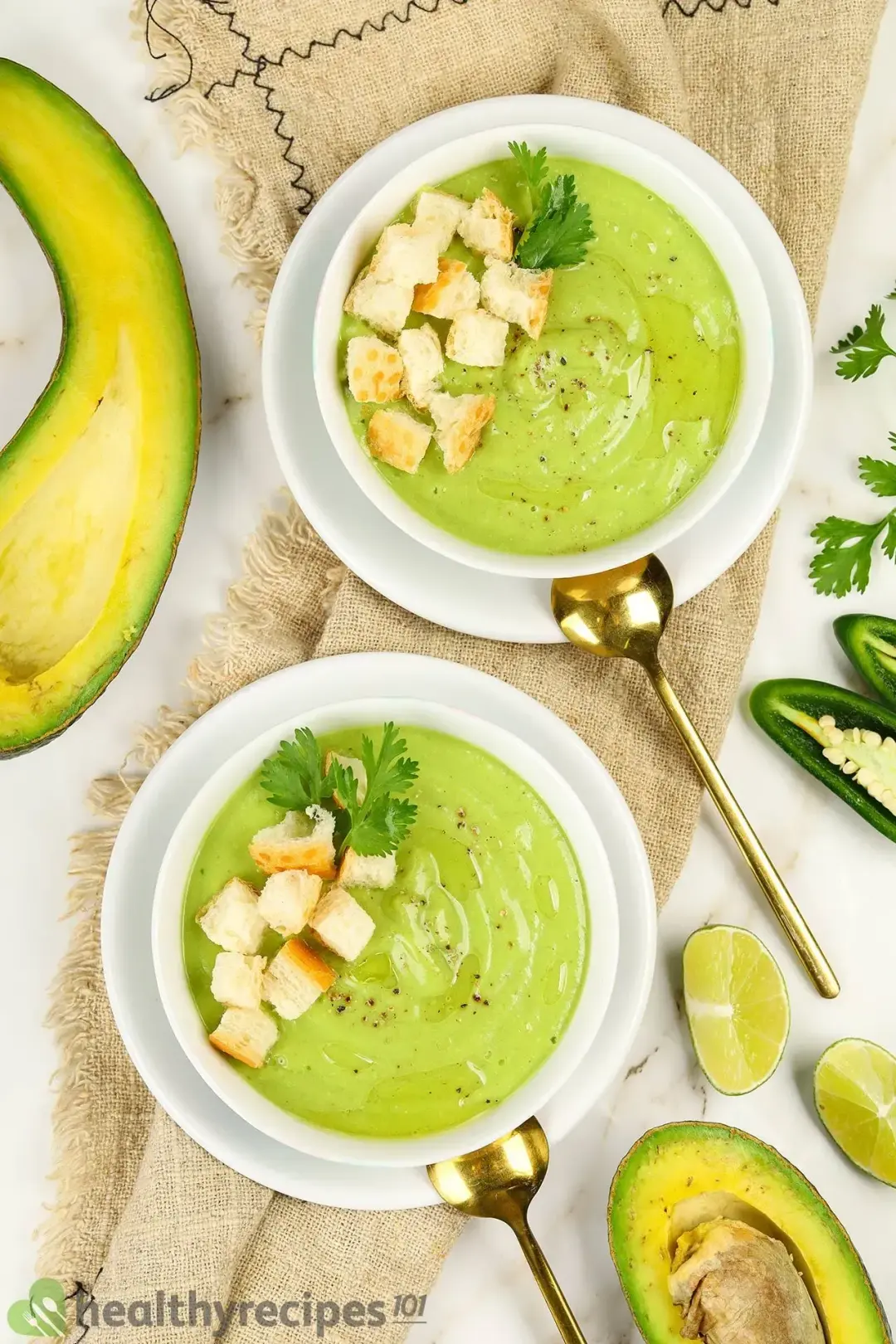 Avocado Soup
This simple creamy avocado soup recipe takes about 15 minutes and a few ingredients for a creamy yet light, and nutritious soup.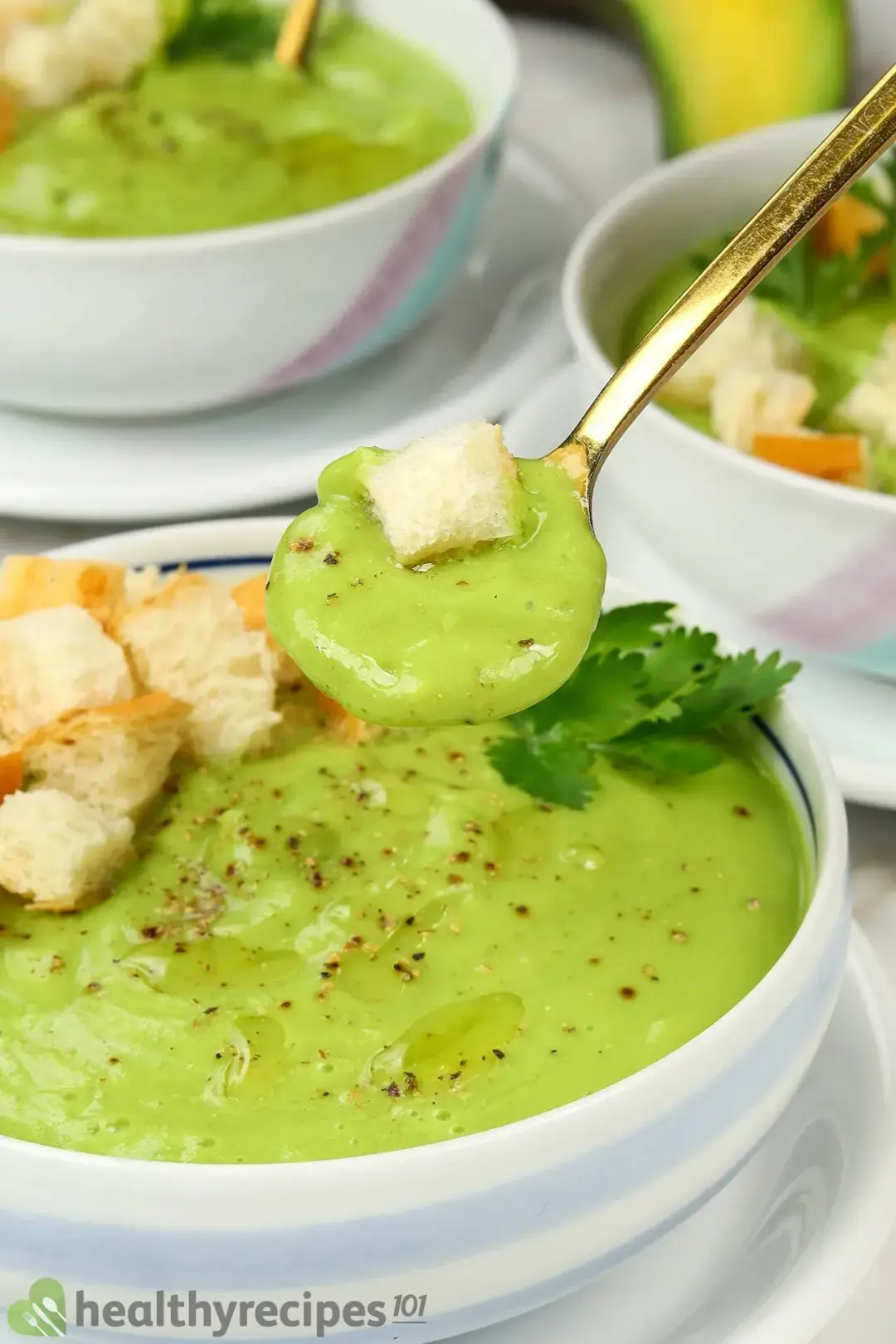 cook TIME

5 mins

prep TIME

10 mins

total TIME

15 mins
COURSE

Side Dish

CUISINE

American, Mexican

SERVINGS

servings

CALORIES

226 kcal
INGREDIENTS
10 oz

avocado

1 tbsp

garlic minced

0.5 oz

jalapeno sliced

0.3 tsp

salt

0.3 tsp

black pepper

1 tbsp

olive oil

0.5 tbsp

lime juice

1 cup

milk

1 cup

unsalted chicken broth

0.3 cup

cilantro chopped

0.5 oz

parmesan cheese shredded

1 oz

french baguette cut into 0.5-inch cubes
INSTRUCTIONS
Preparation
1
Peel and deseed the avocados. Cut the flesh into big cubes.
2
Cut the baguette into 0.5-inch cubes.
4
Finely chopped 1 tbsp garlic.
5
Shred 0.5 oz parmesan cheese.
6
Slice 0.5 oz jalapeno pepper.
Instructions
1
Bake the croutons: Place 1 oz french baguette in the air fryer basket. Bake at 374 ℉ for 4 minutes.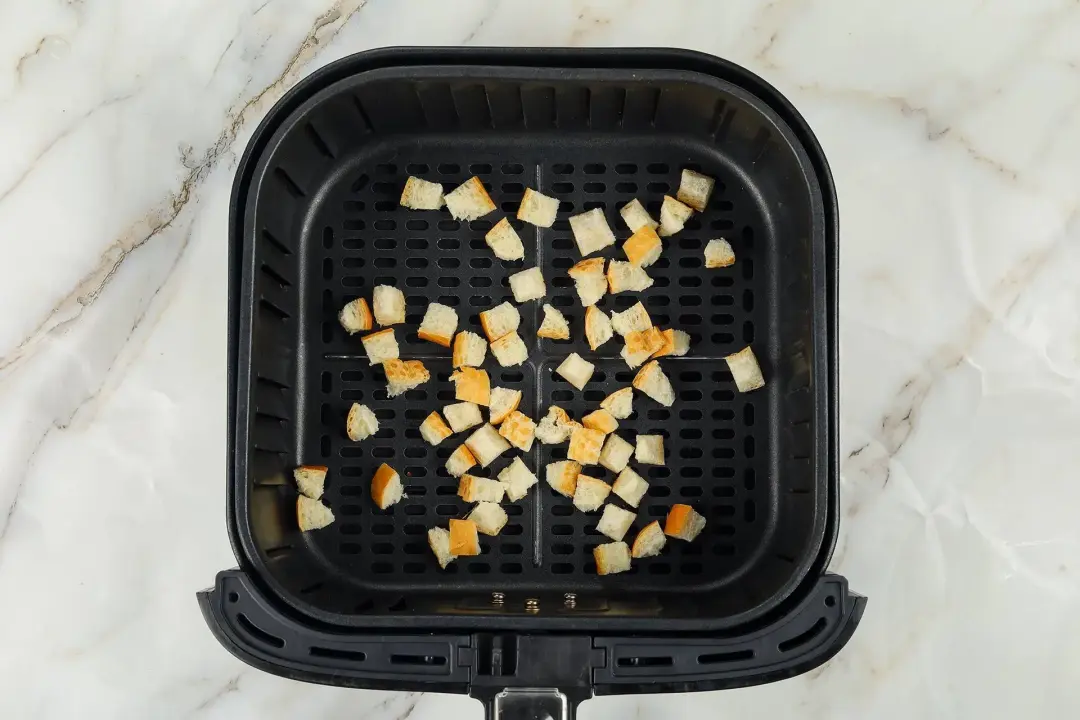 2
Blend and chill the soup: Place 10 oz avocado, 1 tbsp garlic, 0.5 oz jalapeno, 1/4 tsp salt, 1/4 tsp black pepper, 1 tbsp olive oil, 1/2 tbsp lime juice, 1 cup milk, 1 cup unsalted chicken broth, 1/4 cup cilantro, and 0.5 oz parmesan cheese into a blender. Blend at medium-high speed until smooth and creamy.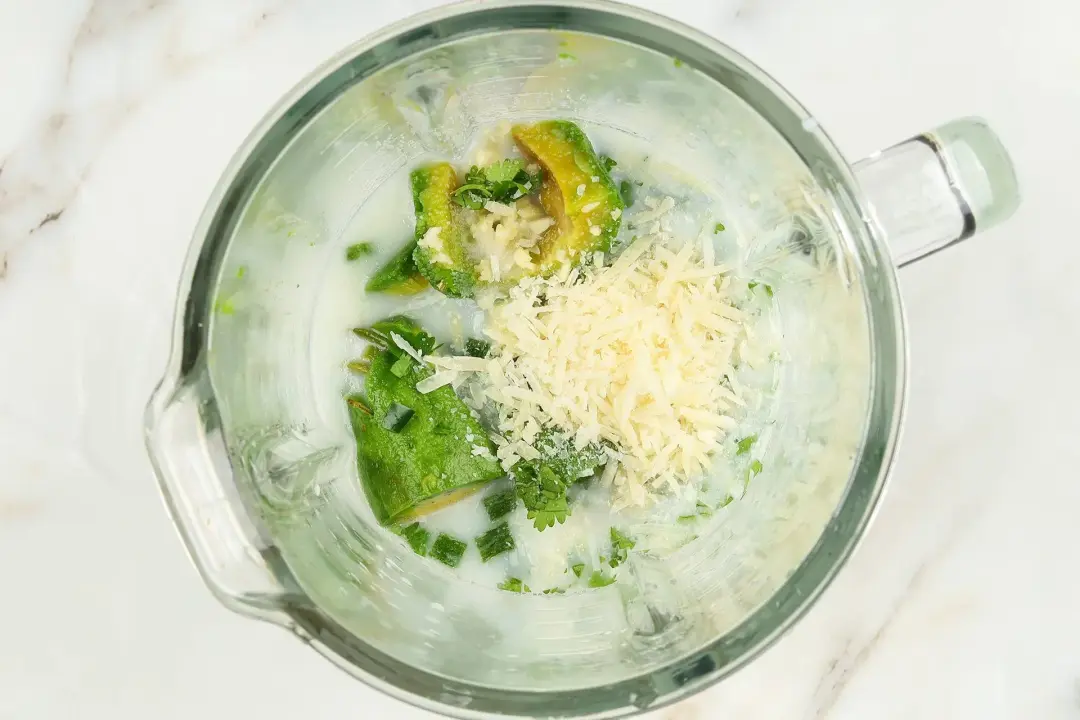 3
Serve the soup: Divide the avocado soup among bowls and garnish with the croutons. Serve the soup immediately.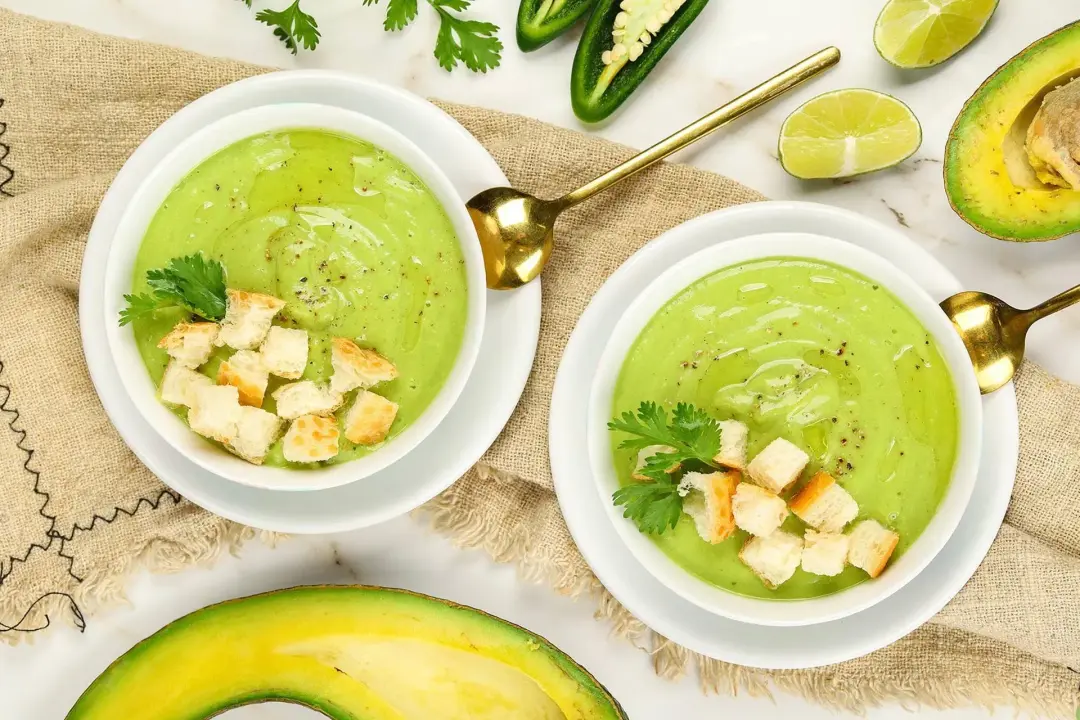 NUTRITION
Nutrition Facts
Avocado Soup
Amount Per Serving (1 serving)
Calories 226
Calories from FDA
% Daily Value*
* Percent Daily Values are based on a 2000 calorie diet.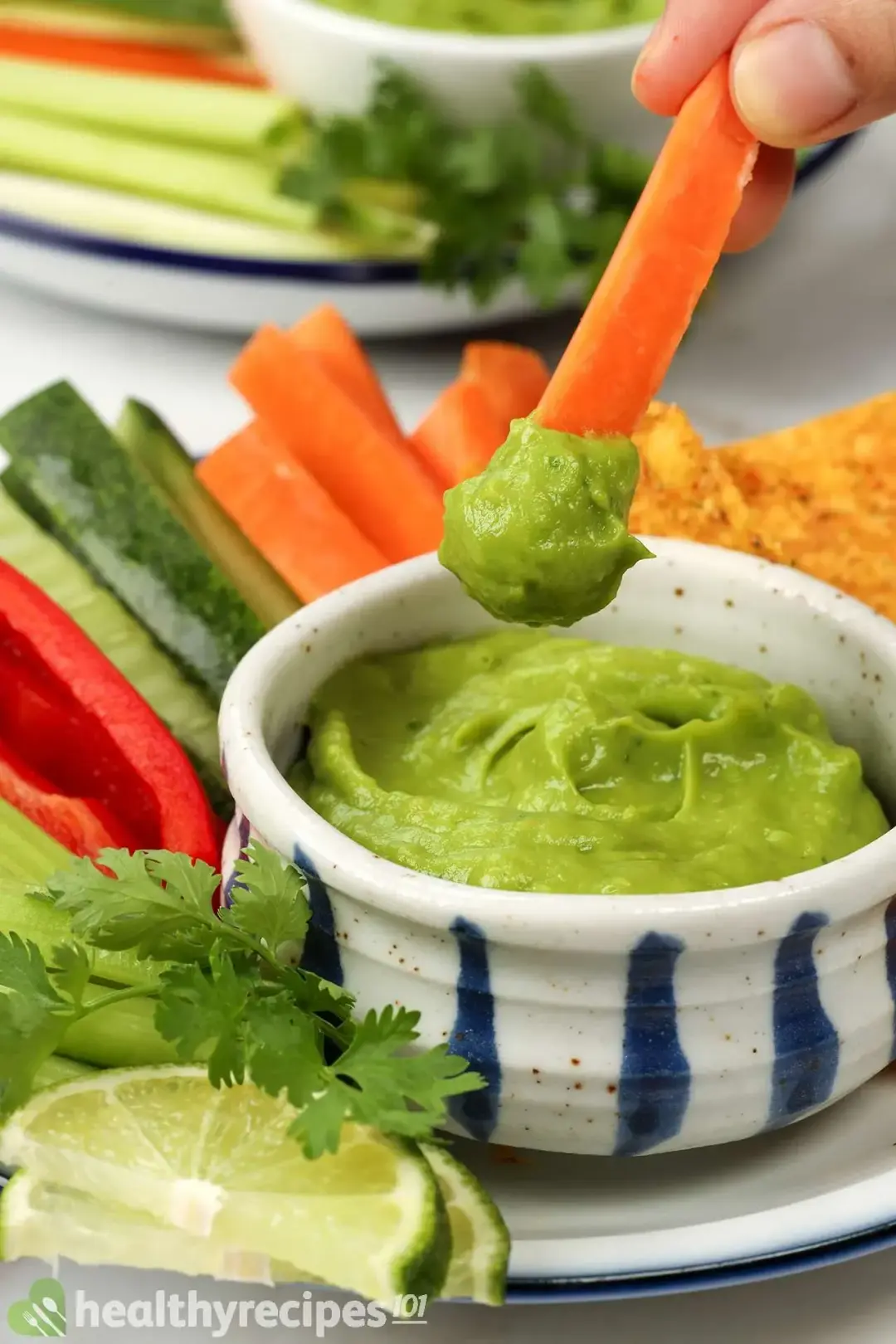 Previous Recipe
Avocado Dip
Avocado Dip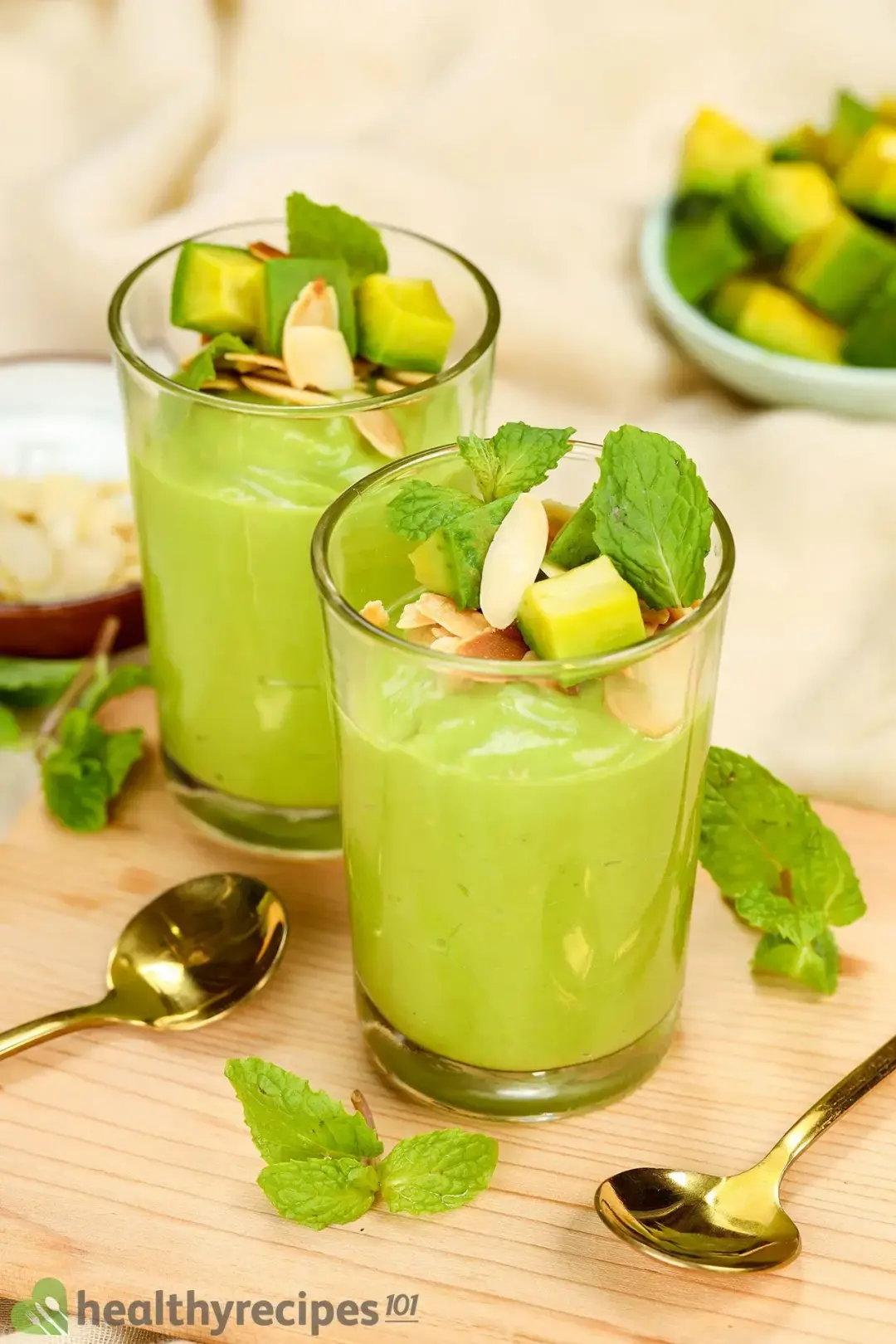 Next Recipe
Avocado Mousse
Avocado Mousse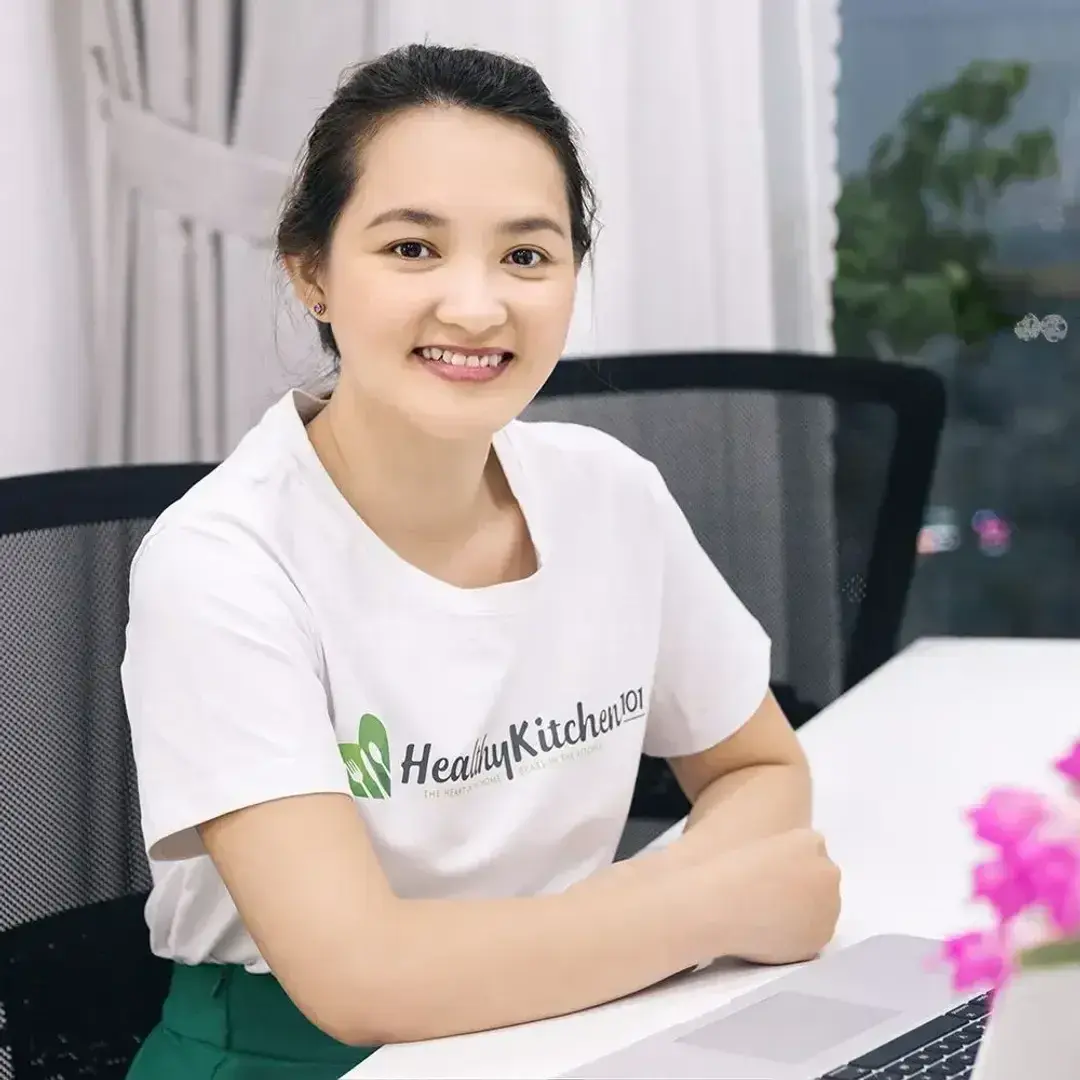 Luna Regina
Luna is the founder and chief recipe developer of Healthy Recipes 101. Apart from cooking, she also loves reading, programming, exploring the outdoors, and collecting useless facts about everything.