Our carrot and tomato juice recipe creates a juice that nurtures the body and the soul in 10 minutes.
Are you looking for a tasty and exciting juice to include in your healthy eating diet? Let's keep the streak going strong with this easy, extra tasty carrot tomato juice packed with revitalizing antioxidants.
Are Tomato and Carrot Fruits?
Carrot is by no means a fruit. It is officially listed as a "root vegetable" that grows underground, with the stalk and leaves on the surface.
Tomato's category, on the other hand, is far more complicated.
Tomatoes are put in savory dishes, and therefore, by this logic, should be in the vegetable category. In the culinary world, tomato is indeed viewed as a vegetable.
However, botanists view tomato not as a vegetable, but as a fruit, which is its scientific category. It grows from the ovary of the tomato tree, a flowering plant, just like many other fruits do.
Absurd, right? After finding out strawberries aren't "berries" but tomatoes are, we learned to just go with it.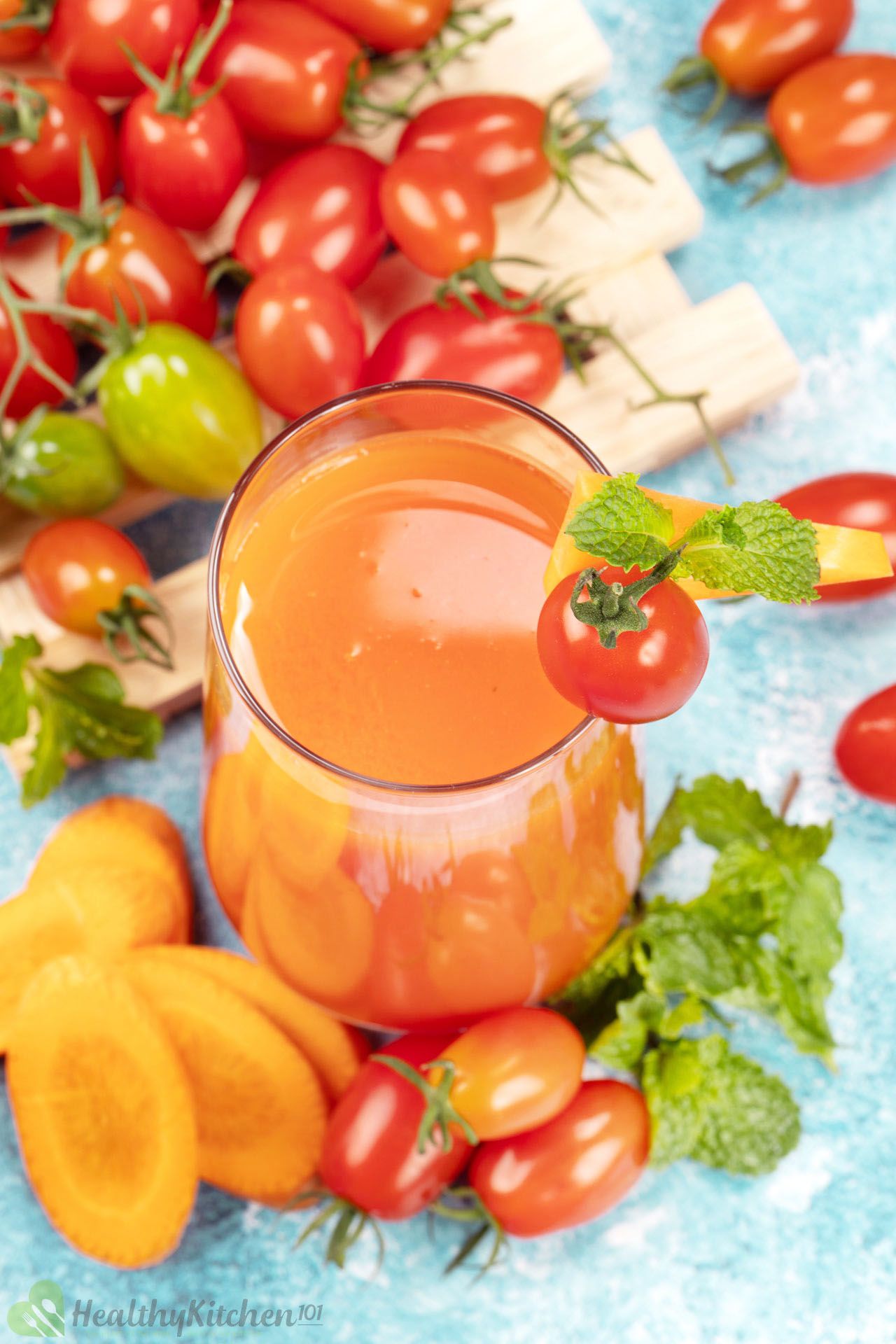 Before we go any further, we'd like to point out that we have another variation of this drink using oranges. Carrot and orange is a great juicing pair that we promise you won't go wrong with.
Now, back to tomato and carrot.
Is Our Carrot Tomato Juice Recipe Healthy?
Yes, this recipe will make a healthy drink that you can include in your healthy eating routine.
The two main ingredients, carrots and tomatoes, are both excellent sources of antioxidants. They help to protect your cells against inflammation and reduce the risk of contracting diseases.
In these juices, the most prominent antioxidants are carotenoids — beta-carotene, lutein, and lycopene. They can reduce the risks of certain cancers and macular degeneration as well.
We only added a small amount of sugar to ensure the drink's nutritional profile complies with our dietary guidelines.
If you love the idea of fresh, looking for healthy drinks, ways to include more vitamin A in your diet, please visit a list of all our carrot juice recipes here, where you'll find a drink for breakfast or a delicious dessert juice for yourself.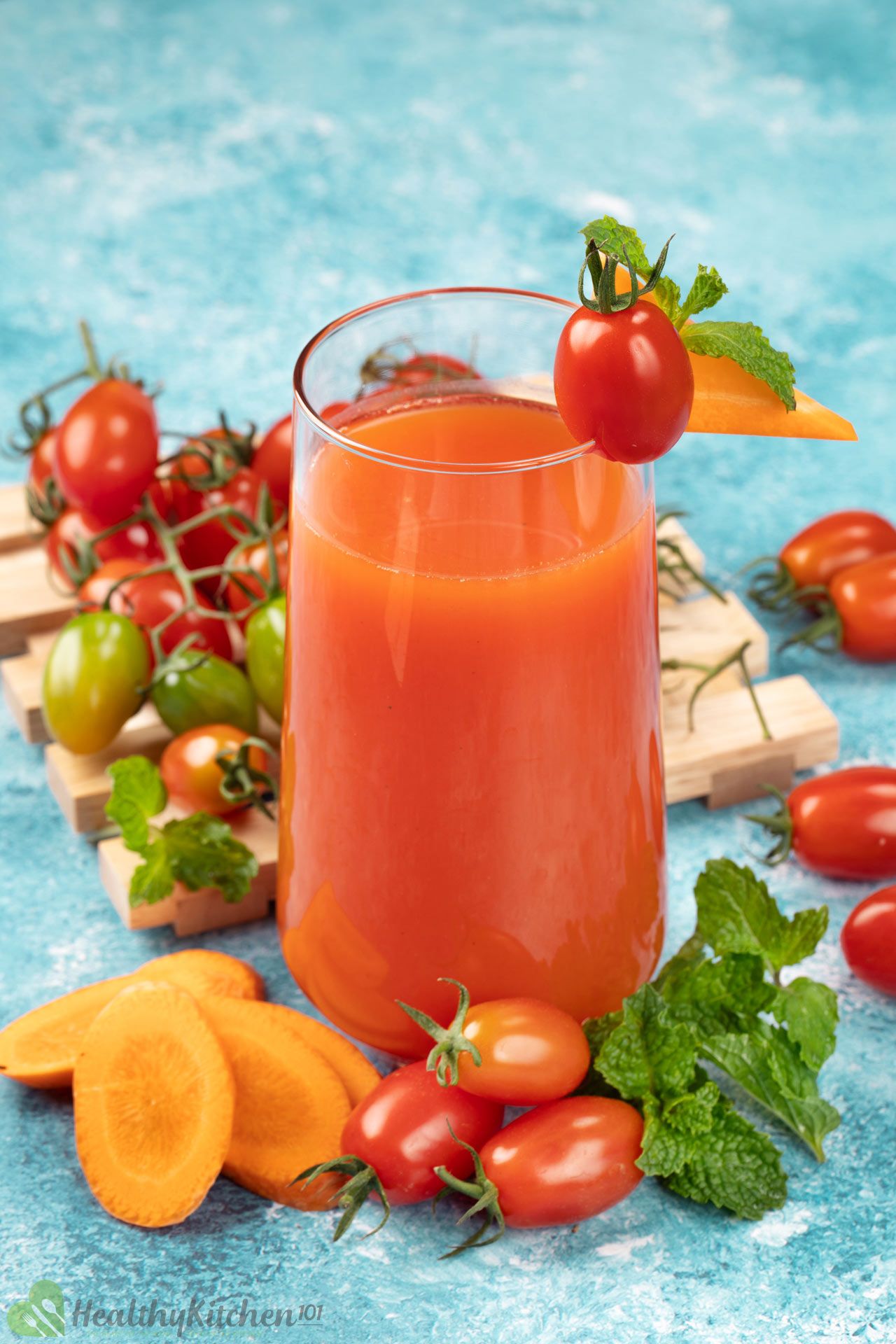 How to Make Carrot Tomato Juice
With a juicer, this drink is really straightforward:
Step 1: Juice the fruits and vegetables
Step 2: Mix
For measurements, refer to our carrot tomato juice recipe down below.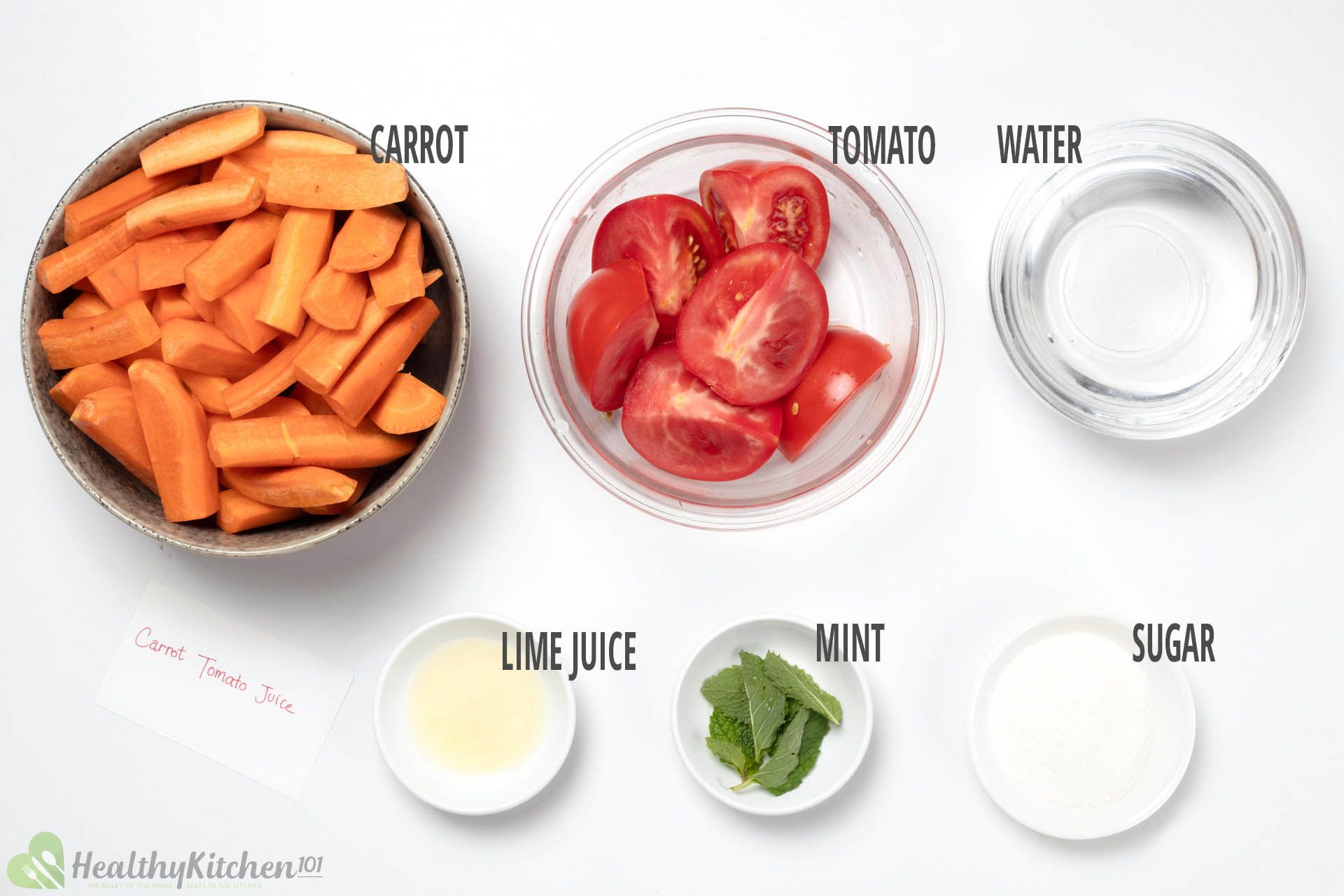 What Can I Add to This Juice?
When it comes to juices, a sophisticated, complementing flavor profile never goes out of style. Here are more ingredients you can add to the grocery list for this carrot tomato juice recipe:
1. Ginger
This medicinal plant has long been known to help ward off colds and sickness. It is also packed with anti-inflammatory nutrients and has the ability to ease digestion.
Plus, adding ginger means adding a warming sensation and a unique, pleasant aroma. It makes any juice more flavorful and healthier.
You can try it using one of the most refreshing juices we've made with ginger; it's simple and pleasantly refreshing.
2. Apple
Apples possess an abundance of vitamins and antioxidants that can boost your immune system. In terms of taste, it pairs wonderfully with carrot and tomato juice.
For a more pungent and acidic taste, green apple would be a perfect choice (and lower in calories, too). If a softer note of sweetness is your favorite, choose red apple instead.
We tried it and achieved an extremely healthy drink that you're going to love! We even added beets to create this super tasty apple, beet, and carrot juice beverage.
3. Cucumber
Cucumber has a less impressive nutritional profile compared to other fruits and vegetables. However, it is a healthier alternative to drinking water.
Instead of using plain water to dilute the juice, place a few chunks of cucumber into the juicer. This green, translucent juice adds a cooling undertaste to your carrot tomato juice.
4. Celery
Celery juice has been getting a lot of attention thanks to its nutritional value. Its pungent, strong aroma, however, makes it difficult to enjoy by itself.
A better idea is to add celery juice to flavorful drinks like this one. You can have the health benefits of celery, plus its diverse flavor profile.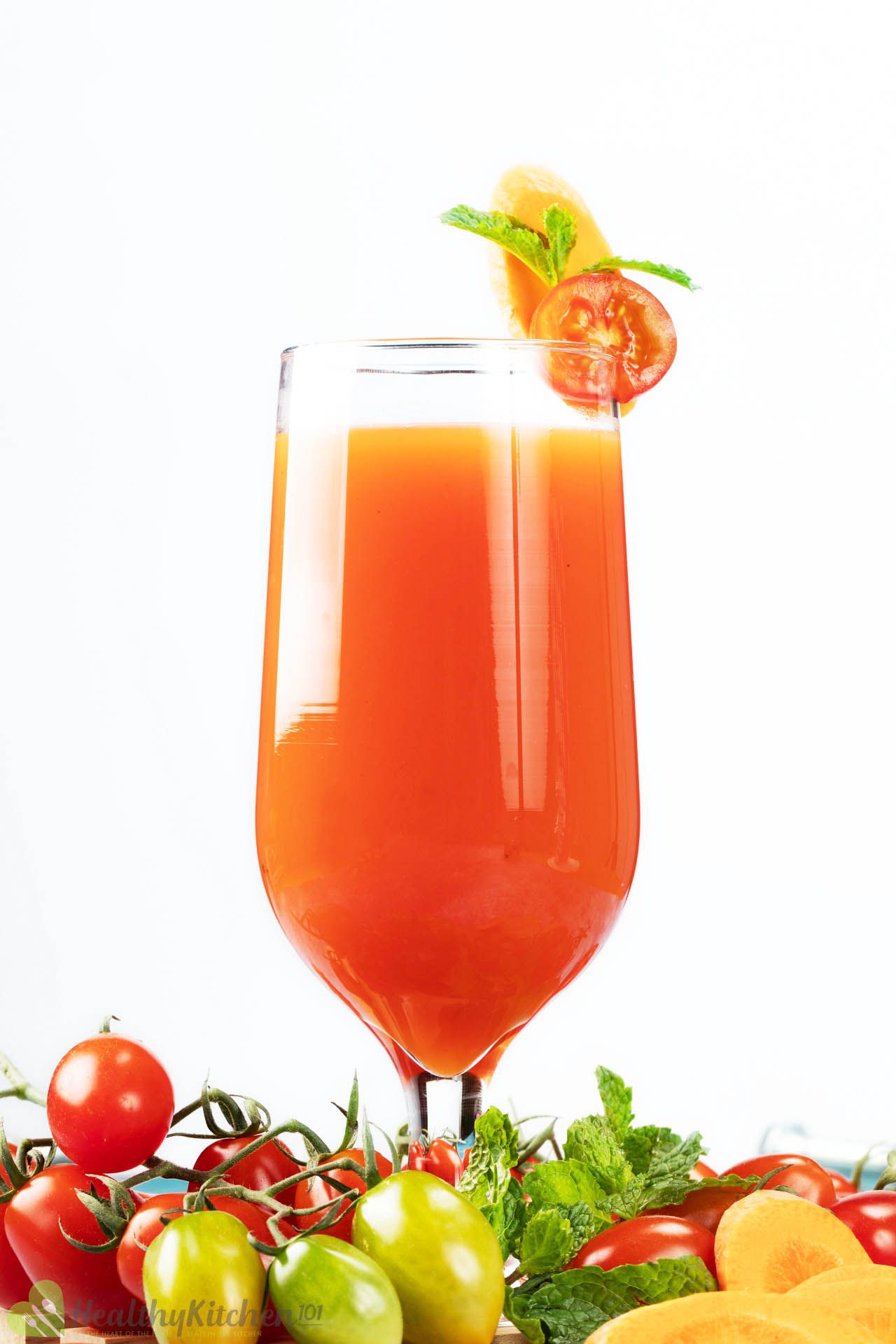 Can I Freeze Carrot Tomato Juice?
Tomato juice alone is freezable. Carrot juice, on the other hand, will separate and become bitter after thawing— not a good idea to freeze.
Therefore, it is best to enjoy the juice freshly out of the juicer. It only takes about 10 minutes.
In love with this recipe? You may find this tomato juice roundup helpful. Otherwise, scan through our best healthy juice recipes for lots of juice ideas.
How Long Does Carrot Tomato Juice Last?
For juices in general, we'd say the best experience is within 24 hours after making. After that, discoloration takes place, making your juice no longer vibrant in colors.
If color is not one of your concerns, this juice can be refrigerated for up to 2 days. Remember to give it a taste test to see if any strange flavor develops (discard if yes).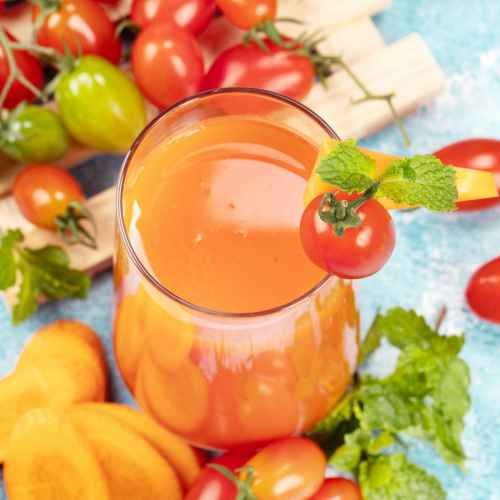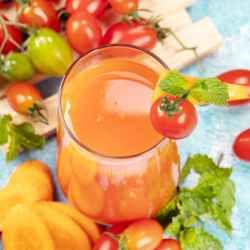 Carrot Tomato Juice Recipe
Let's get into this carrot tomato juice recipe! All you need to do is add stuff to your juicer, mix, and enjoy a beverage that's about to become your favorite.
Ingredients
8

fl oz

carrot juice

from 20 oz carrots

6

fl oz

tomato juice

from 8 oz tomatoes

1

tbsp

mint leaves

2 1/2

tbsp

sugar

1

tbsp

lime juice

1/2

cup

water

1 1/2

cups

ice
Instructions
Place your cut-up tomatoes, carrots, and mint leaves in the juicer and collect the juice. Add to a large pitcher.

Add the rest of the ingredients and stir until the sugar is dissolved.

Add ice to the glasses. Pour the juice in and serve.
Nutrition
Nutrition Facts
Carrot Tomato Juice Recipe
Amount Per Serving (1 serving)
Calories 63
% Daily Value*
Sodium 50mg2%
Potassium 274mg8%
Carbohydrates 15g5%
Protein 1g2%
Vitamin A 222IU4%
Vitamin C 37mg45%
Calcium 22mg2%
Iron 1mg6%
* Percent Daily Values are based on a 2000 calorie diet.