Today's moo goo gai pan recipe will give you simple instruction for a modernized American-Chinese stir-fry dish.
You'll have tender chicken and aromatic vegetables tied together by a silky and savory sauce, making it a crowd-pleaser everywhere it's tasted.
What Is Moo Goo Gai Pan?
Moo goo gai pan ("蘑菇鸡板" in Chinese) is an authentic Cantonese dish. In the Cantonese dialect, "moo goo" means mushroom and "gai pan" means a chicken dish.
It is a dish made by stir-frying chicken, mushrooms, and vegetables in a tasty, gooey sauce. It's usually served over hot steamed rice or with other Chinese soups.
Another chicken dish that uses a similar technique to moo goo gai pan is sesame chicken. These two are both very popular Asian dishes— the most significant differences between them are the sauce and the veggie mix.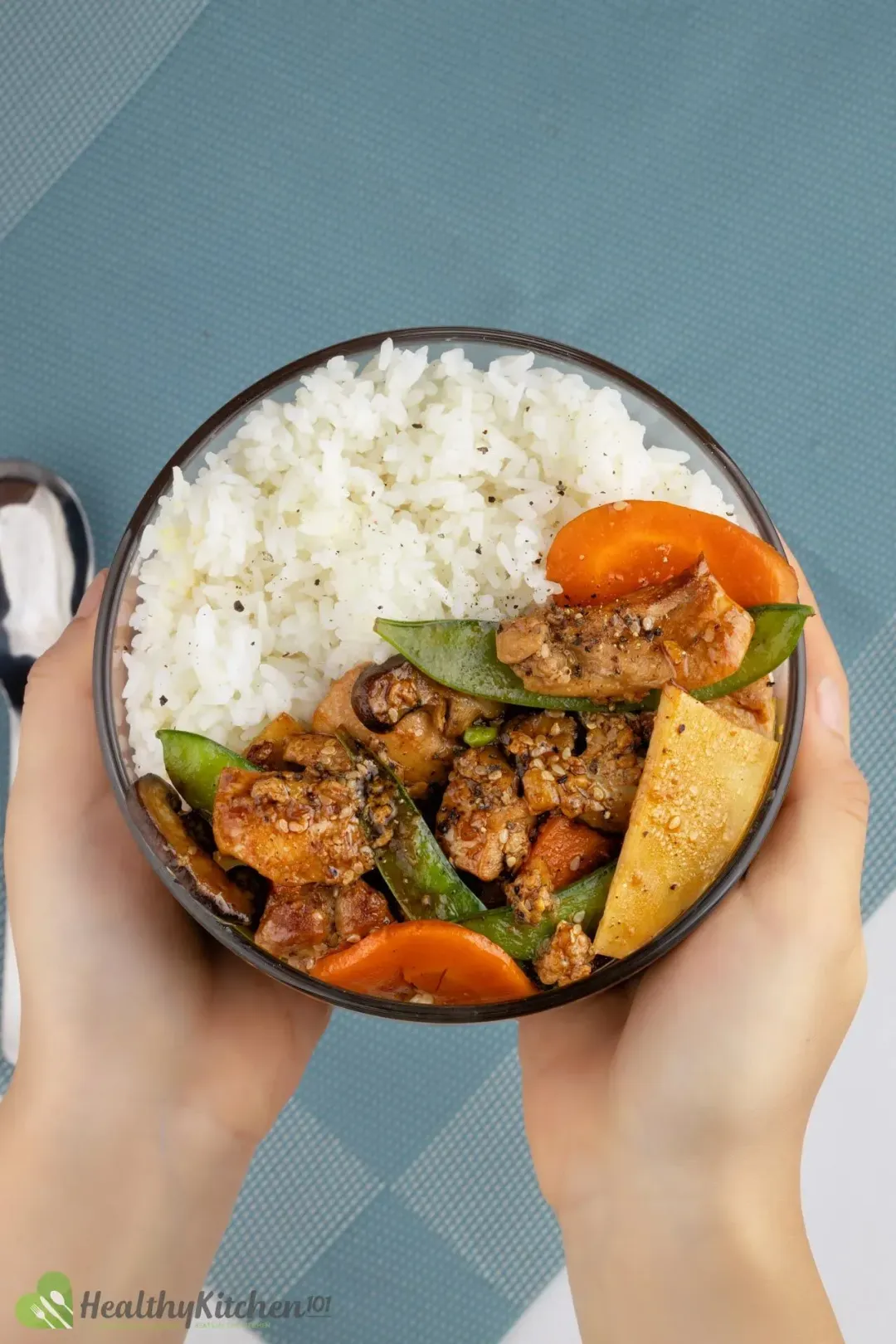 Is This Recipe Healthy?
With chicken, mushrooms, and other vegetables pairing together, this American-Chinese dish is undoubtedly light and healthy.
1. Calories
This moo goo gai pan delivers 506 calories per serving, making it a wholesome and fulfilling choice for a weeknight dinner.
2. Carbs
You'll get 61.4 grams of carbohydrates from one serving of this moo goo gai pan— most of them from the cornstarch. If you wish to decrease the carb content, simply cut the cornstarch by half.
Main Ingredients
Tender chicken, savory mushrooms, and crisp, fried vegetables are what you're going to get from this moo goo gai pan. Here's the lowdown on these main ingredients.
1. Chicken
In this moo goo gai pan recipe, we used skinless boneless chicken thighs and chunked them into 1-inch pieces. Of course, you're welcomed to use other chicken cuts, keep the skin on, or slice it whatever size you prefer.
Please note that you may have to adjust the cooking time if you're planning on slicing it thicker or thinner.
Before stir-frying, the chicken meat is flavored with dark soy sauce, ginger, garlic, salt, and ground black pepper. They're all essential spices in Chinese cuisine that add a savory flavor kick to the dish.
Here's one small tip before you start cooking: Put the raw chicken fillet into the freezer for half an hour. By doing this, the meat will become slightly hard, but not frozen, making it easier to create beautiful slices.
2. Mushrooms
Shiitake mushrooms are our choice for this recipe. However, other types of mushrooms like wood ear or button mushrooms can also do a wonderful job.
3. Vegetables
Aside from mushrooms, this dish also calls for a veggie mix of carrots, snow peas, bamboo shoots, and water chestnuts.
As bamboo shoots and water chestnuts are both sliced thin, you can purchase them in cans to save prep time. But please keep in mind that canned bamboo shoots and water chestnuts are slightly saltier and crunchier than raw ones.
It's important to have all the vegetables sliced into comparable width and thickness so they can cook evenly. Feel free to add more of your favorite vegetables!
4. Cornstarch
For moo goo gai pan, cornstarch is a must-have ingredient, as it plays an important role in creating a significantly gooey texture. We'll go into details further below, but now, let's take a look at the cooking steps.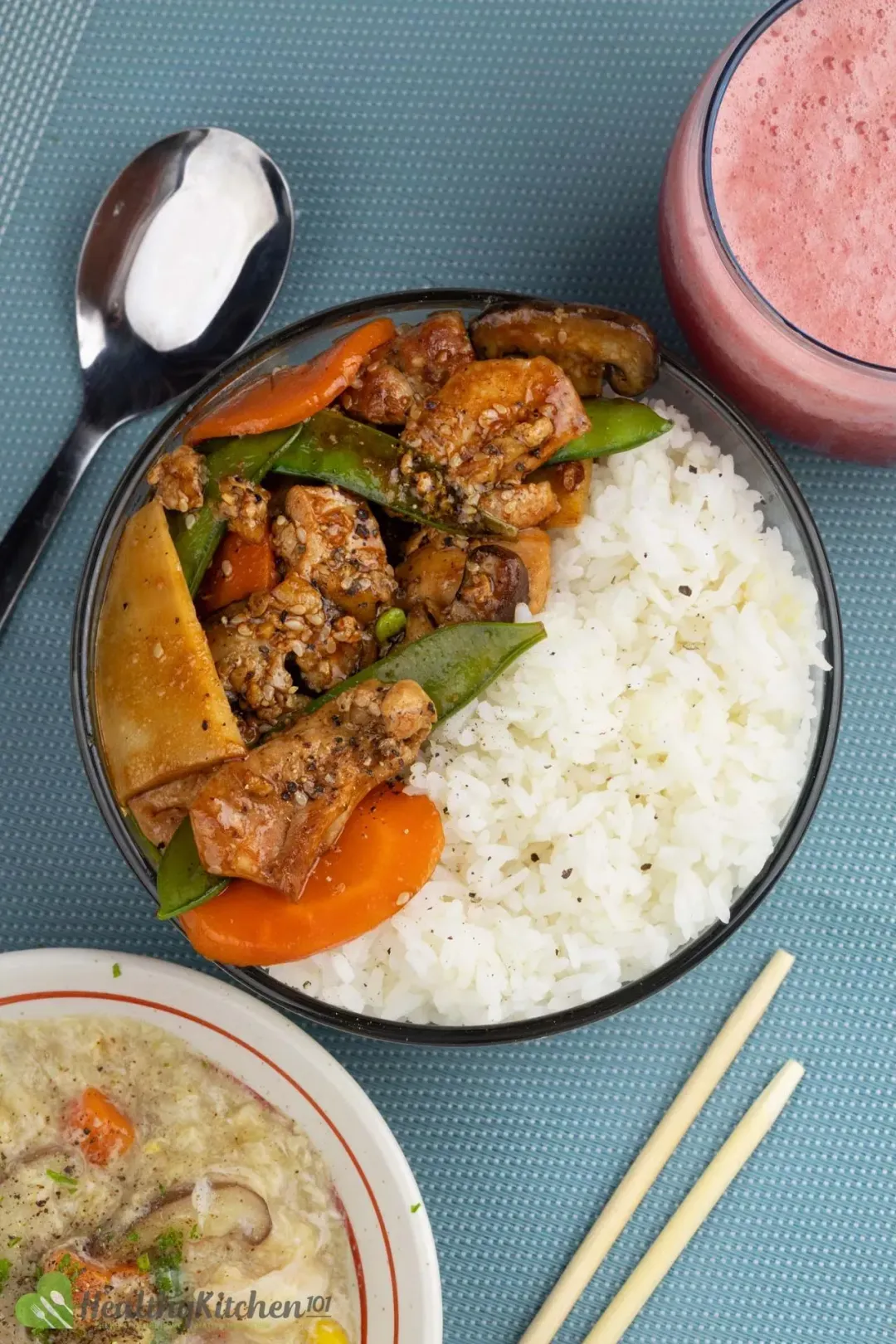 Sauce for This Recipe
The moo goo gai pan sauce is made by whisking up Asian ingredients, and cook together with the chicken. It lends the dish a delicate and subtle Asian flavor.
All you need to do is pour and stir the sauce into the chicken skillet. As it starts to thicken, the chicken also finishes cooking.
The ingredients for the sauce include chicken broth, sugar, soy sauce, dark soy sauce, sesame oil, and cornstarch. Don't hesitate to adjust the amount of cornstarch to reach the desired consistency for your sauce.
One thing to remember is that the consistency of the sauce doesn't last long— roughly no longer than an hour. So, it's best to enjoy moo goo gai pan immediately after cooking.
Tips for Making
Moo goo gai pan always requires marinating the chicken in a mixture of cornstarch and egg white. In Chinese cooking, this method is known as velveting.
Velveting is meant to create a semi-transparent shield to protect the chicken from the direct heat. Thanks to it, the cooking results in juicy, tender meat.
In this recipe, the velveting takes approximately 10 minutes. You certainly can let the chicken marinate for longer and complete the other steps while on the wait.
How Long Will Moo Goo Gai Pan Last?
As said, moo goo gai pan tastes best when it's cooked fresh, since cornstarch doesn't retain its consistency for long. If left on the counter, it preserves the best flavor for an hour, and is edible within the same day of cooking.
If you find yourself with leftovers, don't worry. Simply transfer it to an airtight container and refrigerate like you always do with any leftovers.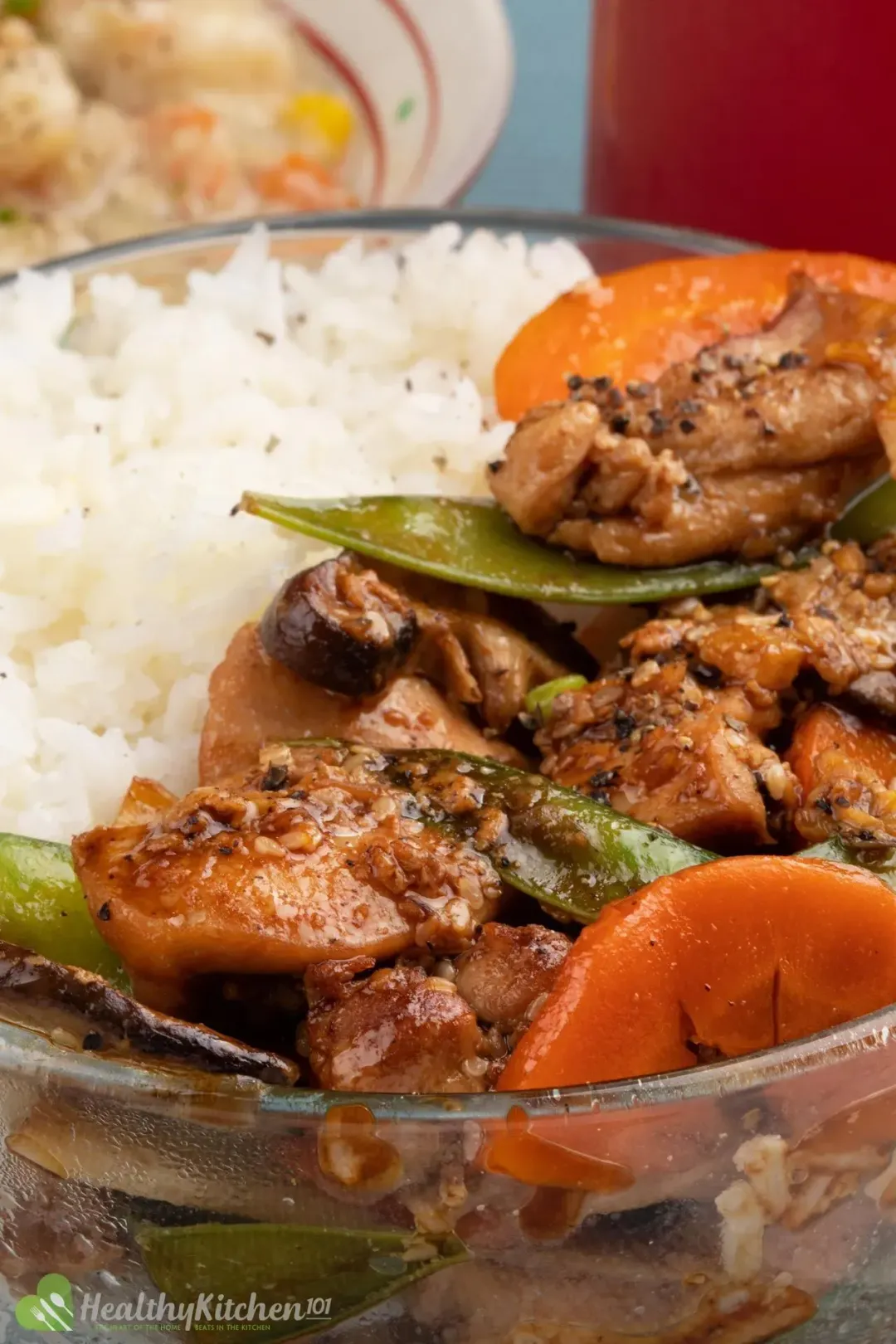 Can You Freeze It?
Yes, you can.
However, it does take a little maneuvering when reheating. You'll have to pour the leftover moo goo gai pan back into a pan and work with the consistency once again.
The reheating steps are actually simpler than they look. Simply heat it up for a minute, then stir in a small spoon of cornstarch to regulate the sauce's thickness.
Please keep in mind that although this might help, it's impossible to recreate the original flavor perfectly. We recommend not storing it more than 2 months in the freezer, and 2 days in the fridge.
We also have this healthy chicken roundup, dedicated to chicken lovers. The recipes are easy to follow and complied with our healthy eating standards.
What to Serve with
Our moo goo gai pan recipe is served best over hot steamed rice or with popular Chinese soups. Here are our suggestions.
1. Rice
Any Asian dish can be eaten with rice, and this recipe is no exception. If you're in a rush, a bowl of hot white rice is enough to wrap up a complete meal with this dish.
2. Egg Drop Soup
Egg drop soup was our first, though, when coming up with a side soup for our moo goo gai pan. It can always be made from scratch, using whatever you have in your kitchen cabinet— what more could we want?
3. Watermelon Juice
We believe taking small sips of this watermelon juice between the meal is a nice way to reset your taste buds. What do you think?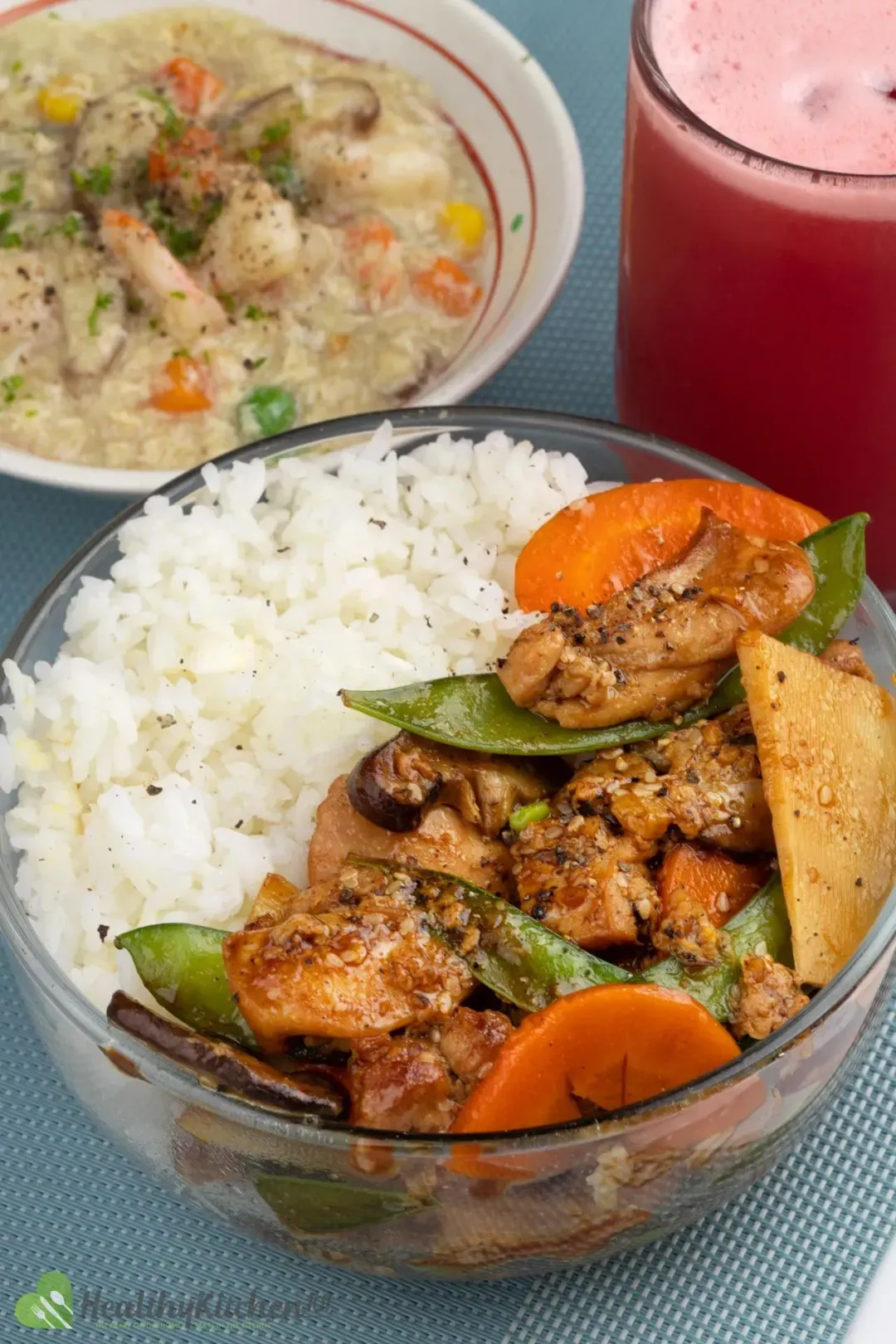 Some More Saucy Skillets for You to Try
Want some pastas for dinner? Our chicken cacciatore will surely give you a good time. It's drenched in tomato sauce, it's got chewy mushrooms, and it also reheats pretty well.
Similarly tangy, these lemon chicken thighs serve with roasted vegetables instead of pastas and thus, adds more nutrients to your plate. It crisps up minced garlic to top the meat and even bakes whole heads for an excellent treat.
From the pan to the oven, chicken is that versatile meat that rocks if done the right way. Check out all of the right ways with our amazing chicken thigh collection.
Moo Goo Gai Pan
In this moo goo gai pan recipe, we used skinless boneless chicken thighs and chunked them into 1-inch pieces. Of course, you're welcomed to use other chicken cuts, keep the skin on, or slice it whatever size you prefer.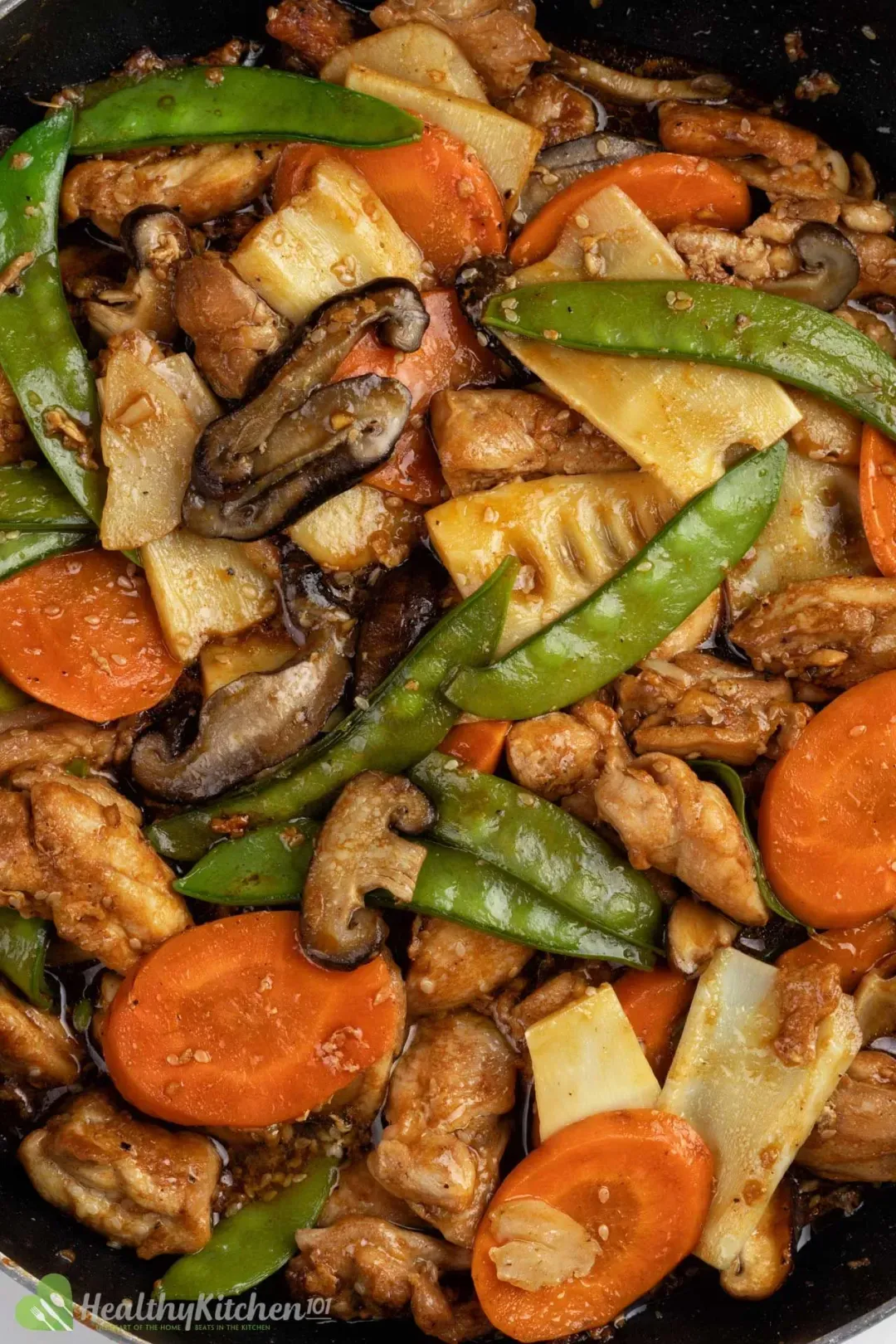 cook TIME

25 mins

prep TIME

10 mins

total TIME

35 mins
COURSE

Main Course

CUISINE

Asian

SERVINGS

CALORIES

462 kcal
INGREDIENTS
16 oz

skinless boneless chicken thighs

(chunked)

3 cups

cooked medium-grain rice

(equal to 1 cup uncooked)

1 tbsp

cornstarch

(divided)

2 tbsp

olive oil

(divided)

1/2 cup

unsalted chicken broth

1 1/2 tbsp

reduced-sodium soy sauce

1 tsp

dark soy sauce

(divided)

1/2 tsp

ground black pepper
INSTRUCTIONS
Coat the chicken
1
In a medium bowl, combine 16 oz chicken chunks together with 1 egg white, 1/2 tbsp cornstarch, and 1/2 tsp dark soy sauce. Toss to coat. Cover with cling film and refrigerate. While waiting, complete the following steps.
Boil the veggies
1
Heat 2 cups of water in a large saucepan over high heat. Add 4 oz shiitake mushrooms, 2 oz water chestnuts, 3 oz carrots, 2 oz snow peas, and 2 oz bamboo shoots to the saucepan. Bring them to a boil.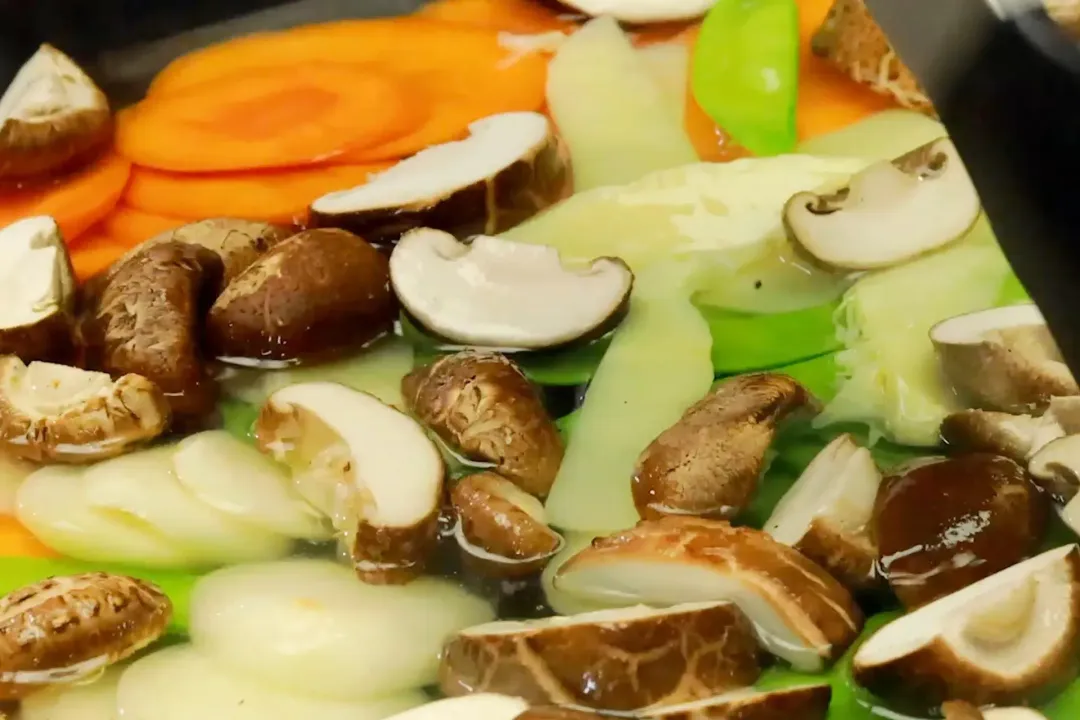 Stir-fry the veggies
1
Heat 1 tbsp olive oil over high heat. Add carrots, and stir-fry for 2 minutes.
2
Continue to add shiitake mushrooms, water chestnuts, snow peas, and bamboo shoots to the pan. Stir-fry for 3 more minutes.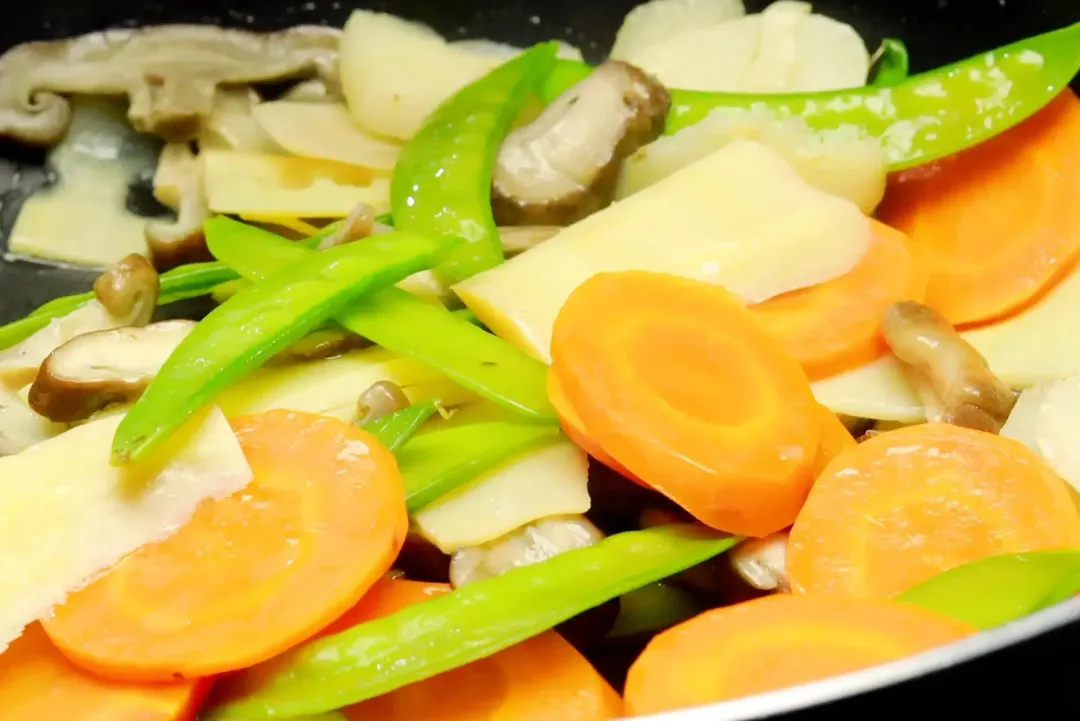 Make the sauce
1
In a small bowl, whisk together 1/2 cup chicken broth, 1 tsp sugar, 1 1/2 tbsp reduced-sodium soy sauce, 1/2 tsp dark soy sauce, 1/2 tsp sesame oil, and 1/2 tbsp cornstarch.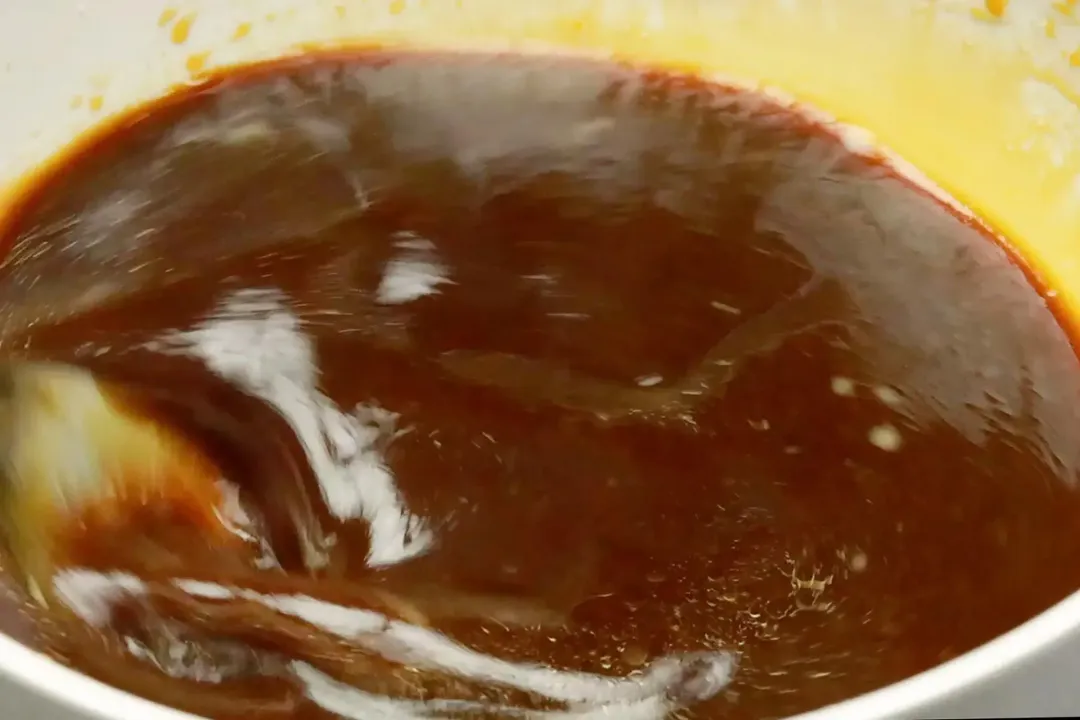 Stir-fry the chicken
1
Remove the chicken from the fridge.
2
Heat 1 tbsp olive oil in a shallow pan over medium heat. Add successively to the pan: chicken, 1 tsp ginger, 2 tsp garlic, 1/4 tsp salt, and 1/2 tsp ground black pepper. Stir-fry for 10 minutes.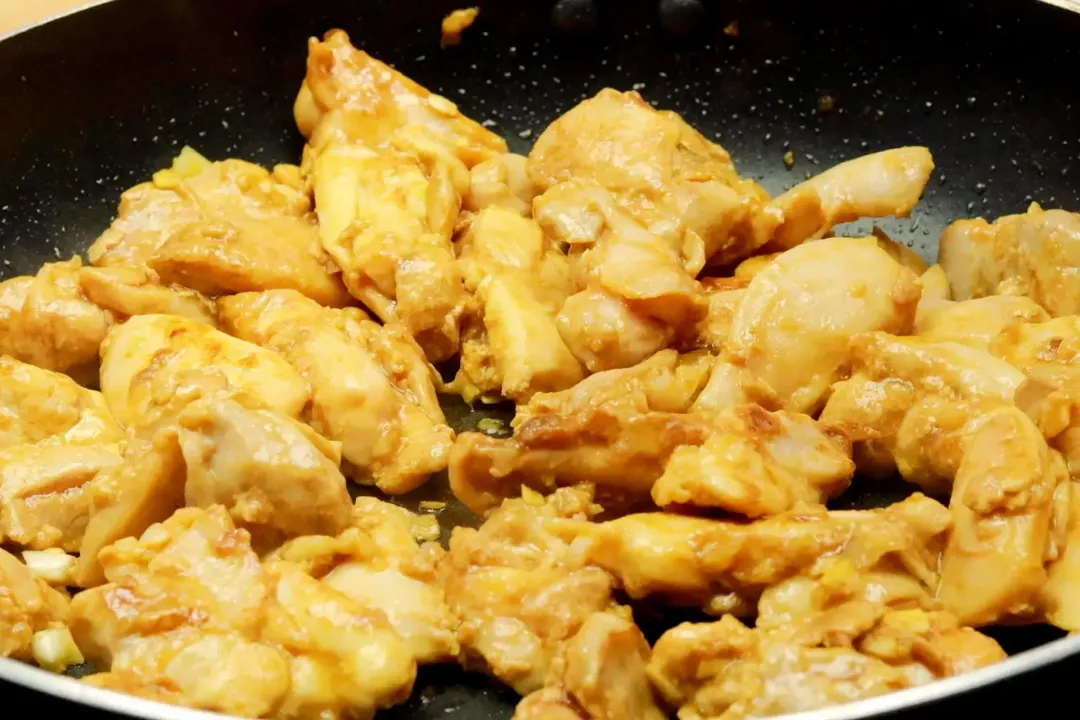 3
Add the sauce mixture to the chicken, turn to high heat, and let simmer for 3 minutes.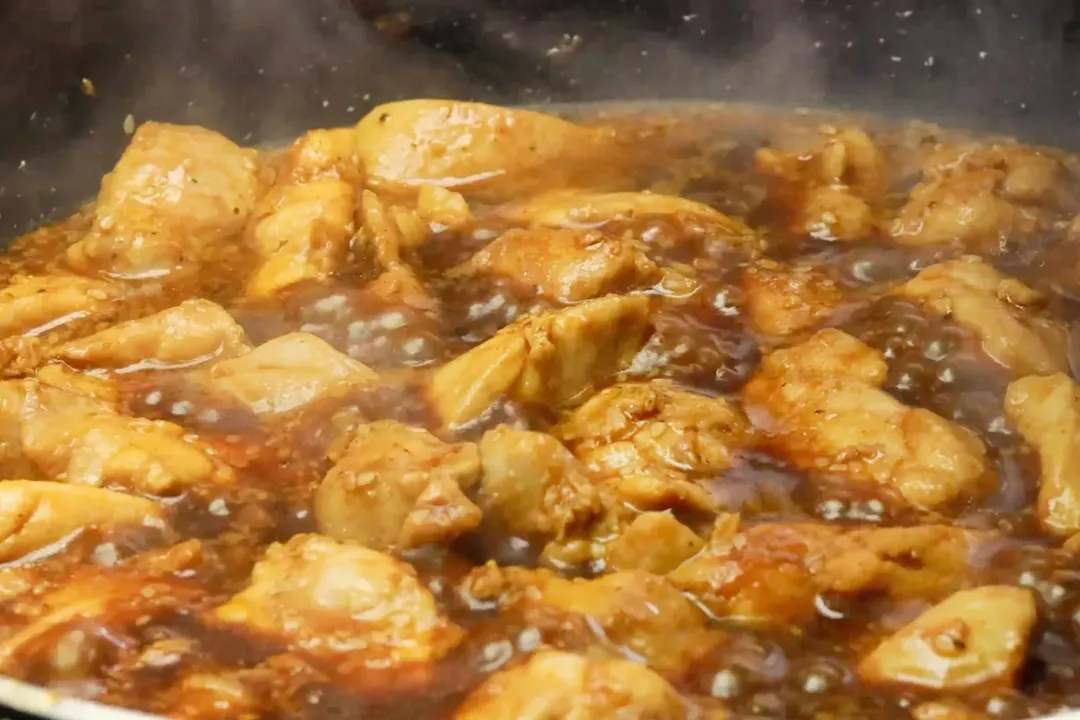 4
Continue to add the fried veggies to the pan, stir around quickly, and turn off the heat.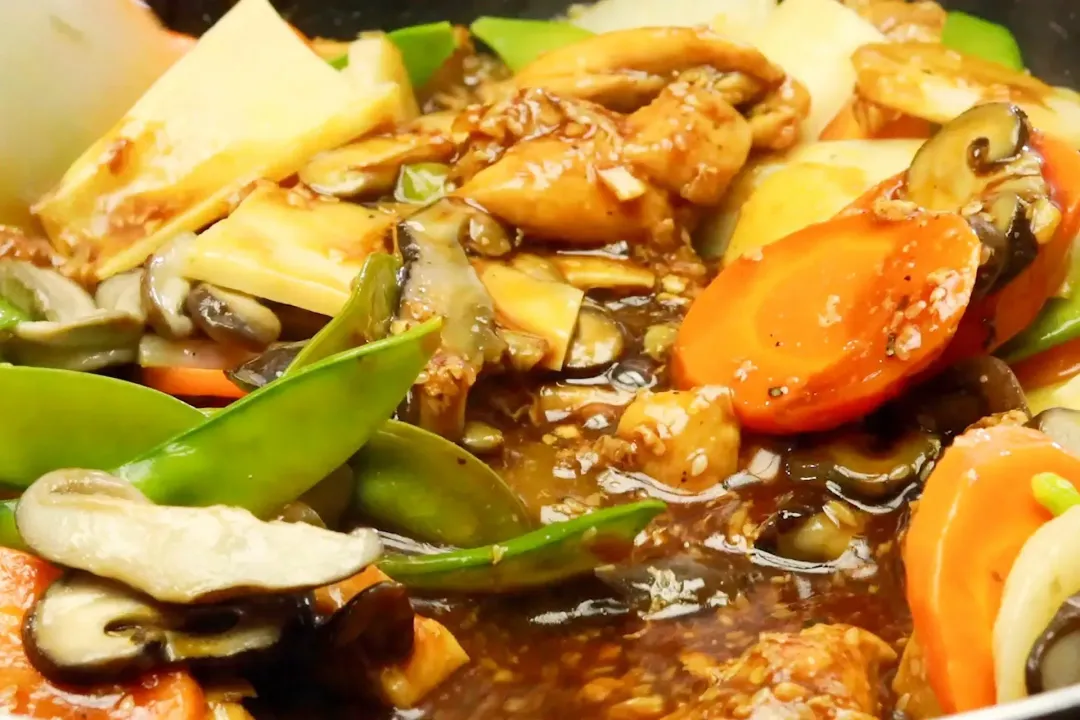 5
Transfer to a clean plate and serve with hot steamed white rice.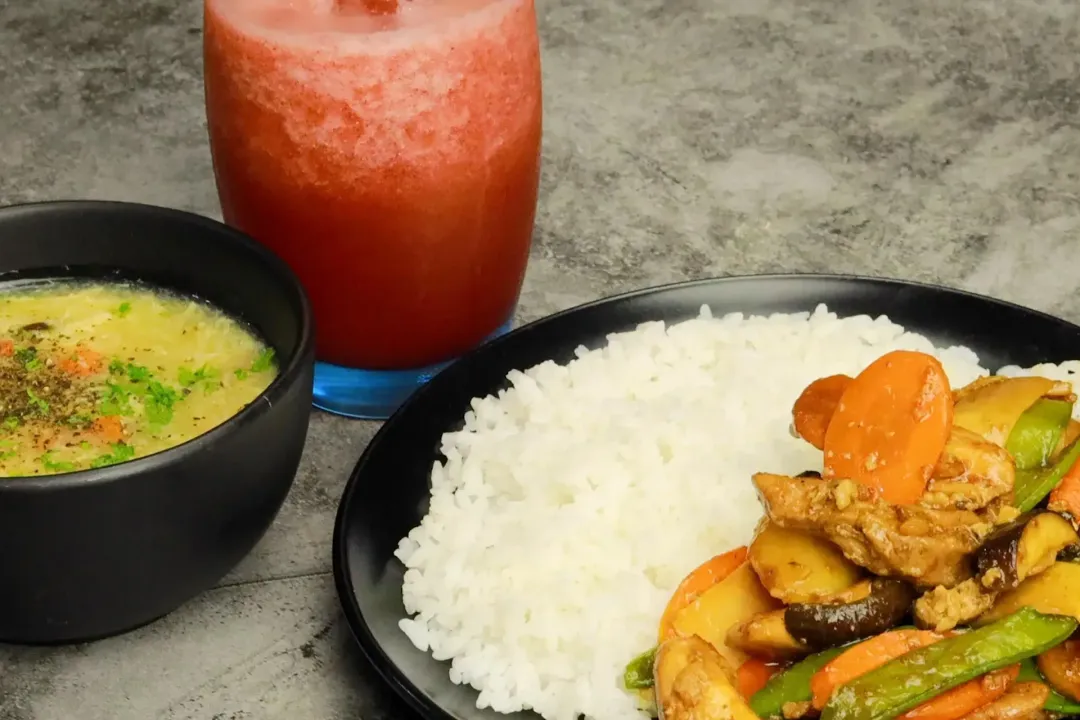 NUTRITION
Nutrition Facts
Moo Goo Gai Pan
Amount Per Serving (1 serving)
Calories 462
Calories from Fat 117
% Daily Value*
* Percent Daily Values are based on a 2000 calorie diet.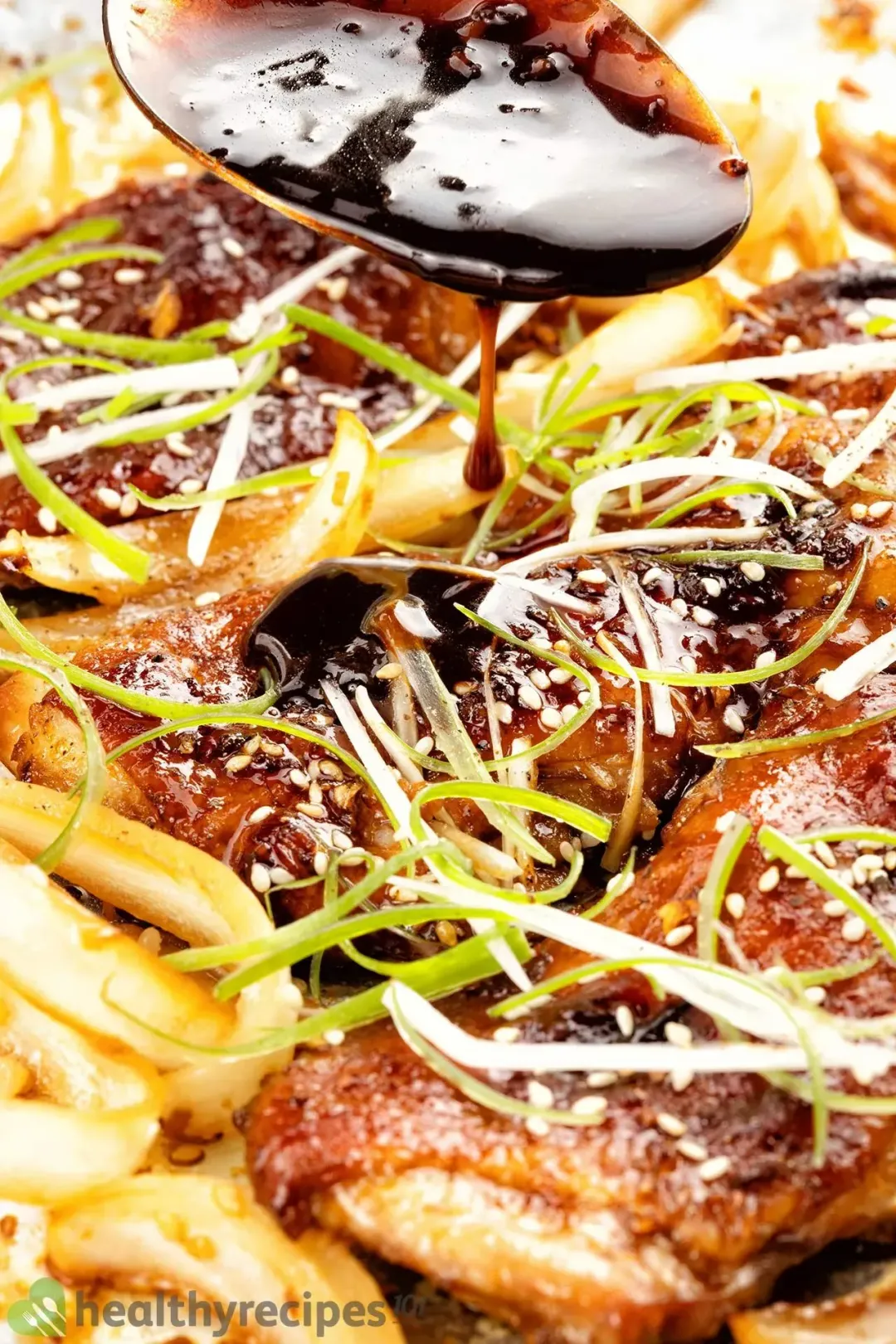 Previous Recipe
Teriyaki Chicken
Teriyaki Chicken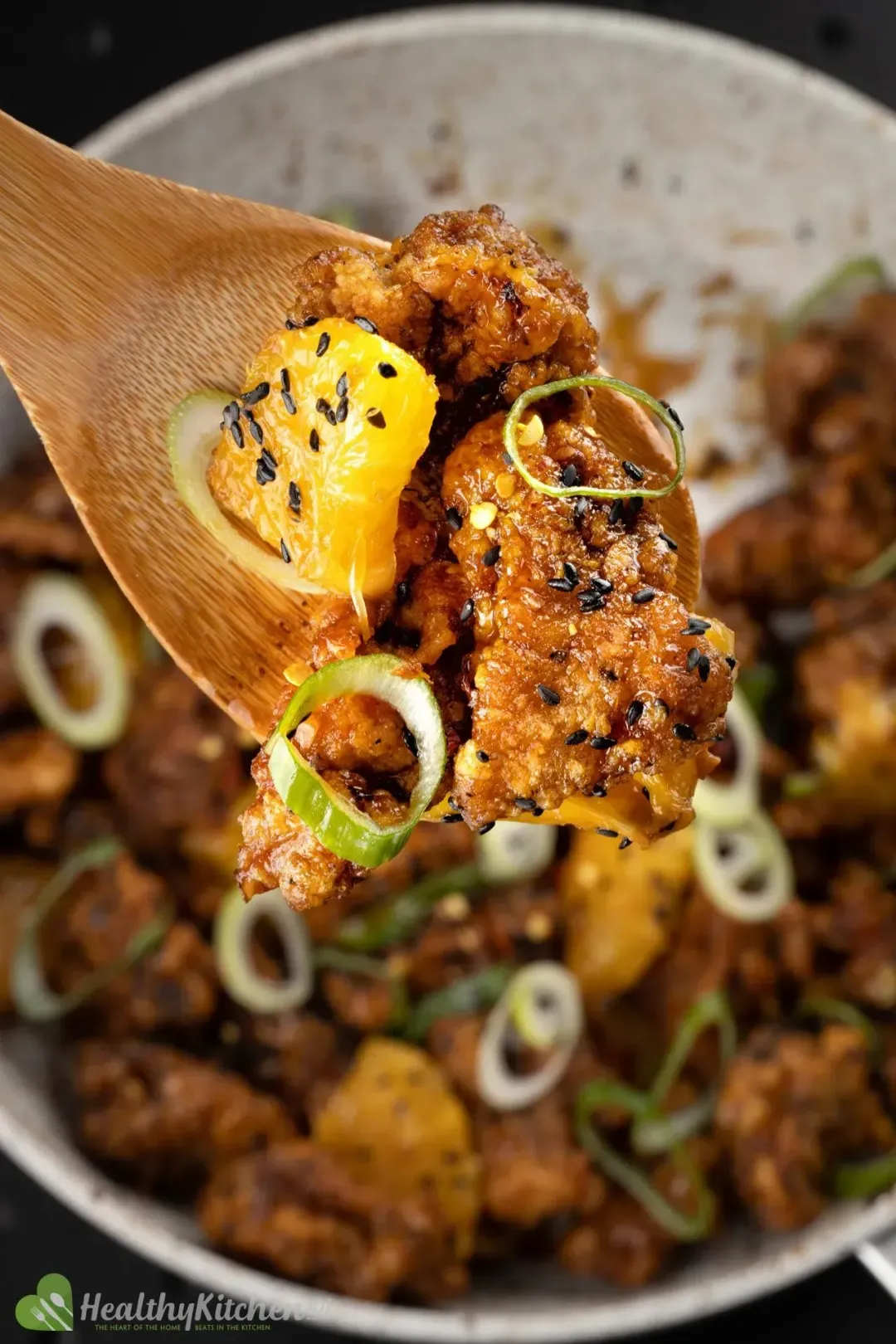 Next Recipe
Orange Chicken
Orange Chicken
Head Chef, Culinary Consultant
Tuyet Pham is an award-winning Saigonese chef who believes that joy is the secret ingredient to delicious food. At Healthy Recipes 101, Tuyet personally tests and simplifies every recipe, ensuring maximum flavor with minimal effort. With a background at prestigious French restaurants P'TI Saigon and Le Corto, Tuyet knows how to make every dish exceptional.
Writer, Author
Luna Regina is an accomplished writer and author who dedicates her career to empowering home cooks and making cooking effortless for everyone. She is the founder of HealthyKitchen101.com and HealthyRecipes101.com, where she works with her team to develop easy, nutritious recipes and help aspiring cooks choose the right kitchen appliances.
Nutrition Reviewer
Lizzie Streit is a Minneapolis-based dietitian and founder of It's a Veg World After All. She completed her MS in Human Nutrition from Drexel University, and is an expert in culinary nutrition, recipe development, and nutrition communications. Lizzie's philosophy is centered around making nutrition recommendations, and especially the advice to eat more vegetables, approachable and realistic. She is excited to be working with the team at Healthy Recipes 101 to ensure that their recipes are both nutritious and delicious.
Tasty and healthy Moo Goo Gai Pan recipe.