Today's pan seared salmon recipe aims to make a restaurant-quality, well-seasoned salmon with crispy skin in the blink of an eye. In this recipe, pan-frying — a classic yet simple technique — produces an amazing flavor and texture.
Before jumping into the how-to part, let's check out some health benefits from this beautiful fish.
Is Pan Seared Salmon Healthy?
Speaking of ingredients, salmon — the star of this pan seared salmon recipe — is a great source of omega-3 fatty acids and protein.
Omega-3 fatty acids have been proven to reduce the risk of heart disease while improving your skin, eye health, and brain functions. Protein plays an essential role in our body, including building muscles, repairing tissues, and producing enzymes and hormones.
In terms of nutritional profile, each serving of our pan seared salmon provides 500 calories and 8.5 grams of saturated fat. These numbers are in line with the healthy eating guideline from the USDA. In other words, this recipe is both healthy and nutritionally balanced.
If you are in the mood for some salmon meals, check out our, perfectly cooked, crispy, and flaky salmon recipe, salmon wellington with spinach, this fresh salmon teriyaki recipe, or this delicious weeknight meal. They are all tasty and easy to make.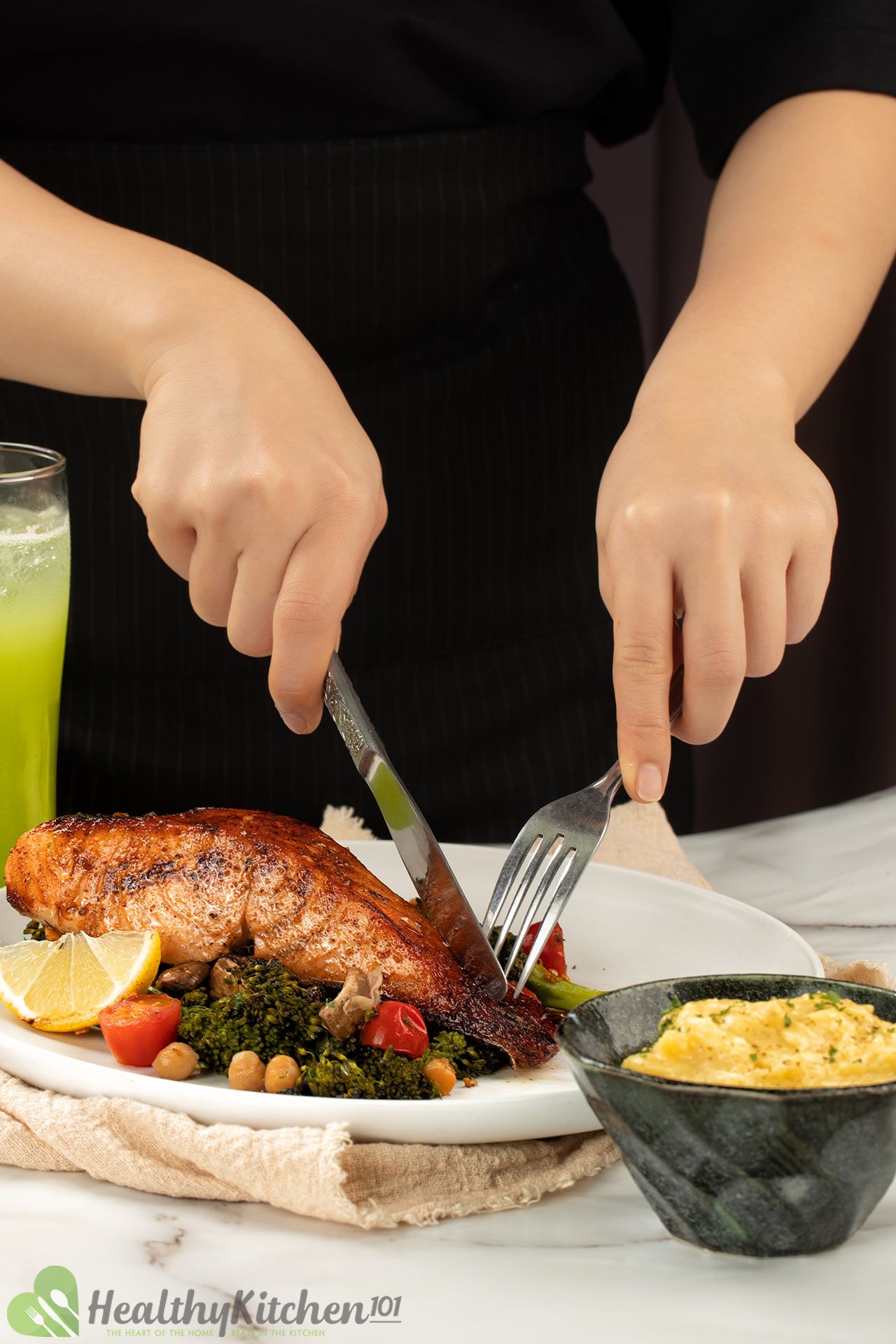 Can Salmon Help You Lose Weight?
Eating salmon frequently may help you control your weight.
Nutritionally, salmon is high in protein and low in calories. One ounce of the fish provides 5,81 grams of protein and only 36 calories.
Like other high-protein foods, salmon support regulate the hormones that control your feel of fulling. This also means that when you eat salmon, you will feel full for longer while consuming fewer calories.
How to Season
There are various seasonings you can go with: a homemade honey mustard sauce, an easy salmon piccata, or an elegant fish sauce for salmon meniere.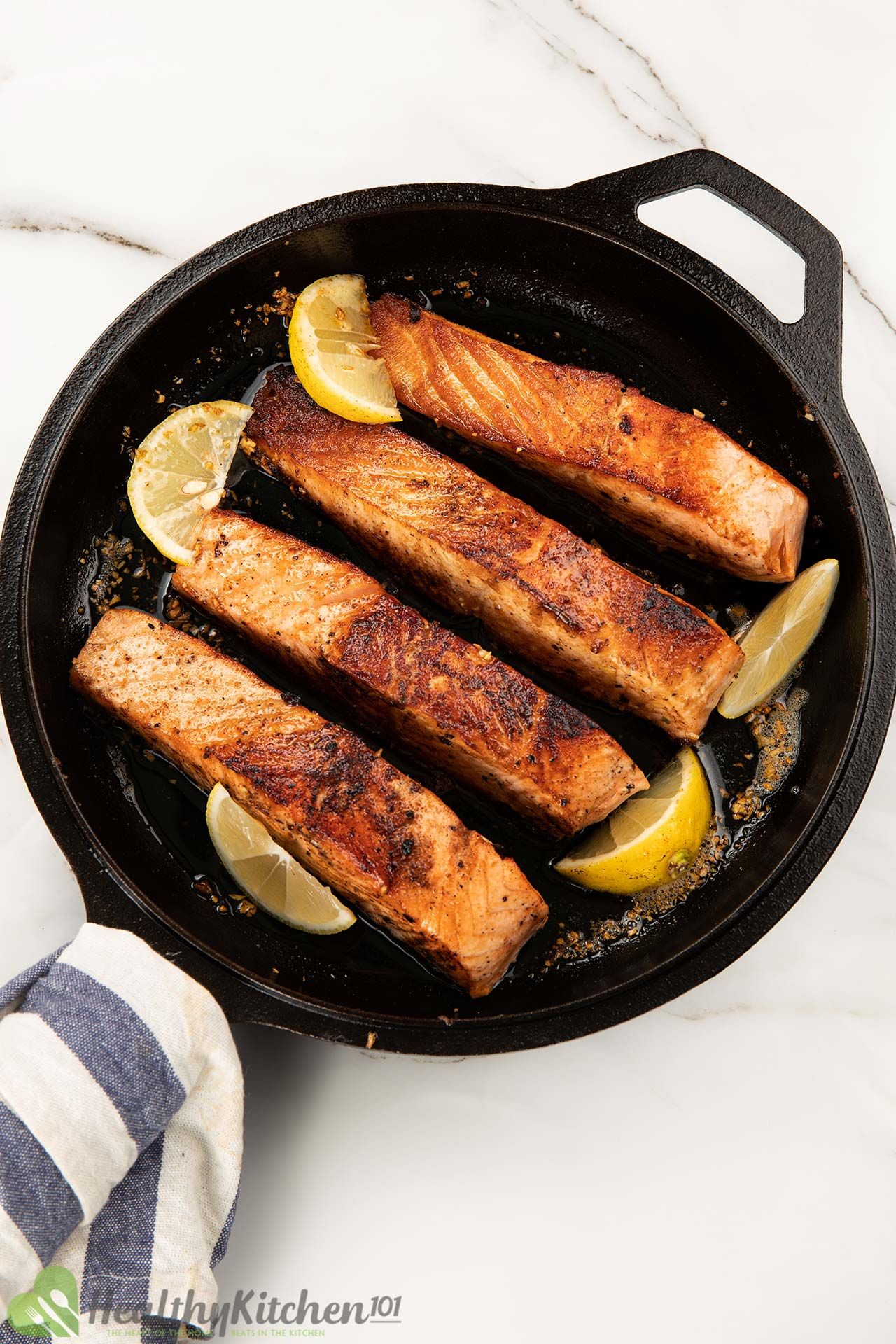 With this pan seared salmon recipe, you can keep the seasoning simple with salt and pepper and let the pan do the work to create a crispy exterior and a succulent interior. A big splash of fresh lemon juice brings everything together perfectly.
Protip: Don't salt the fillet and let it sit. The salt will draw out the moisture from the salmon and leave the meat drier and less flavorful. Instead, let your pan heat up on the stove and add the salt in the meantime.
How to Make Pan Sear Salmon
This is a brief on how-to for pan seared salmon and is among the simplest ways to cook filets. For the full detailed instructions, please reach the recipe card at the end of this article.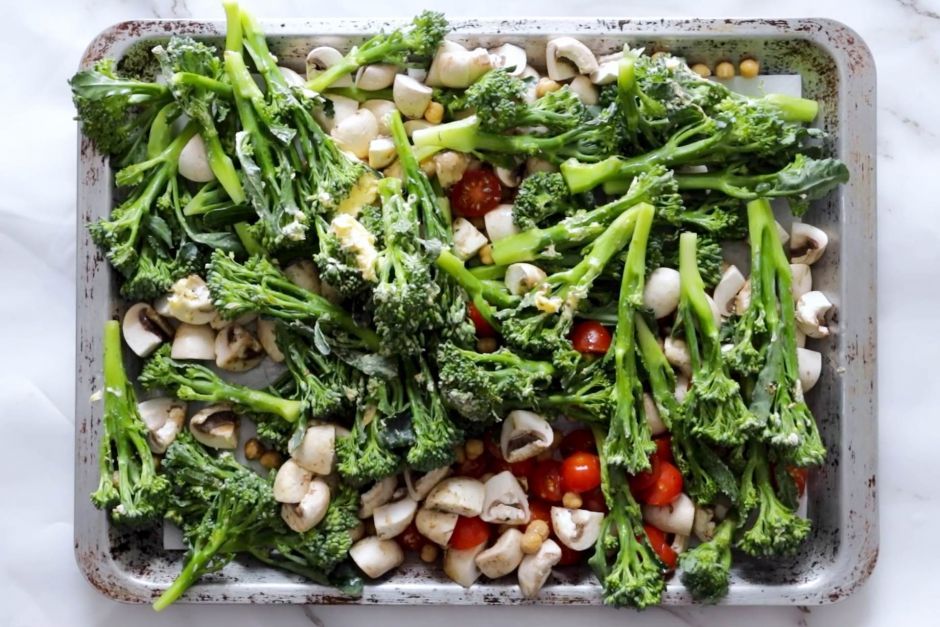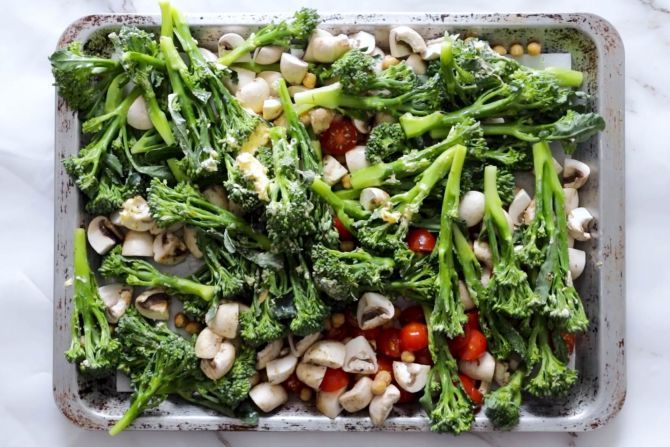 Season vegetables.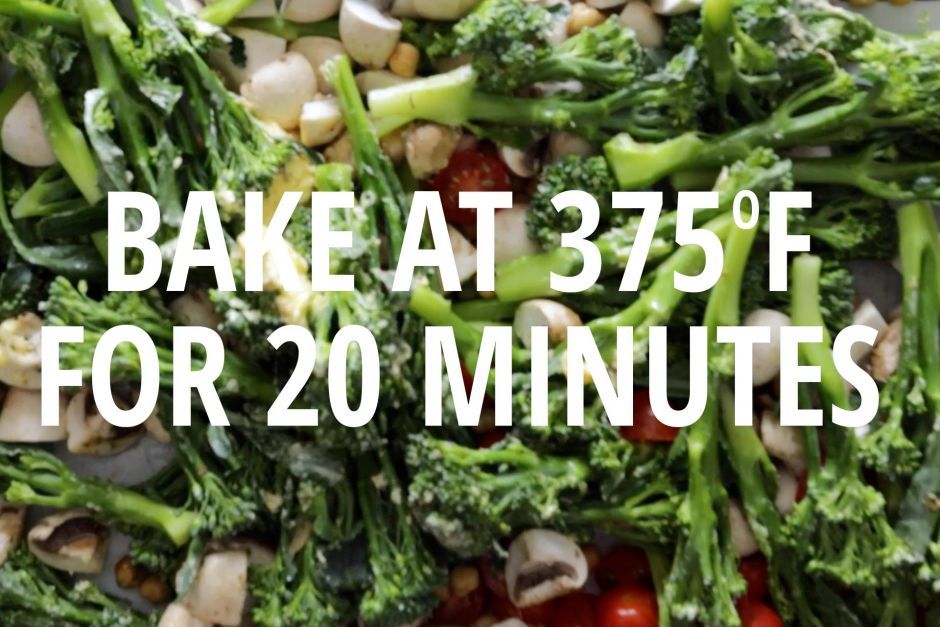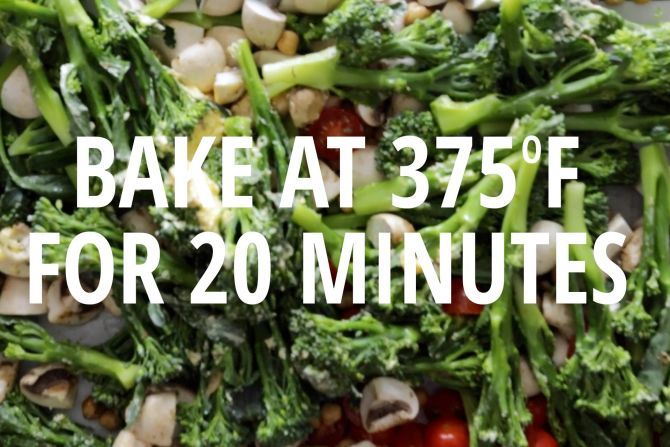 Bake the vegetables.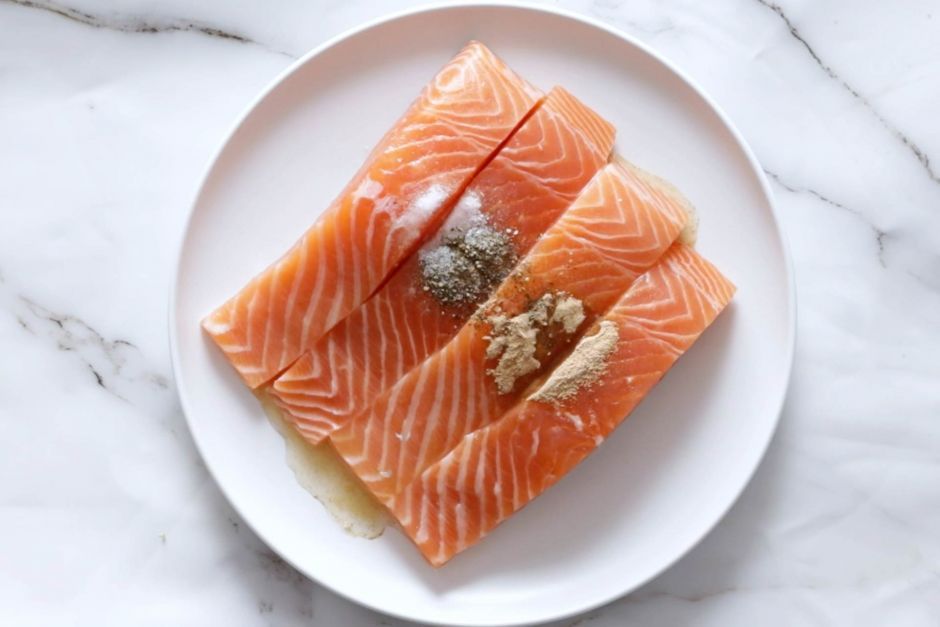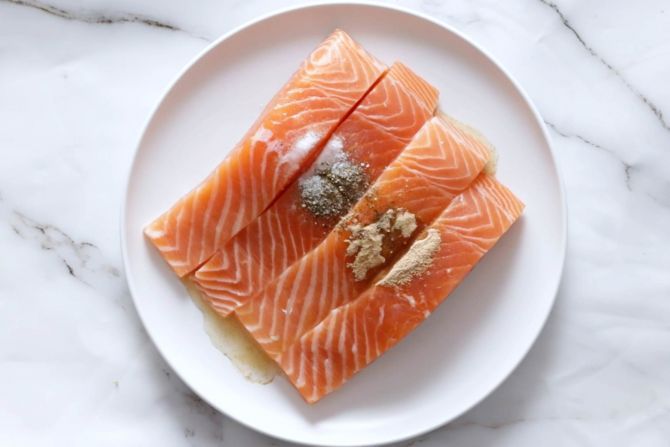 Season salmon.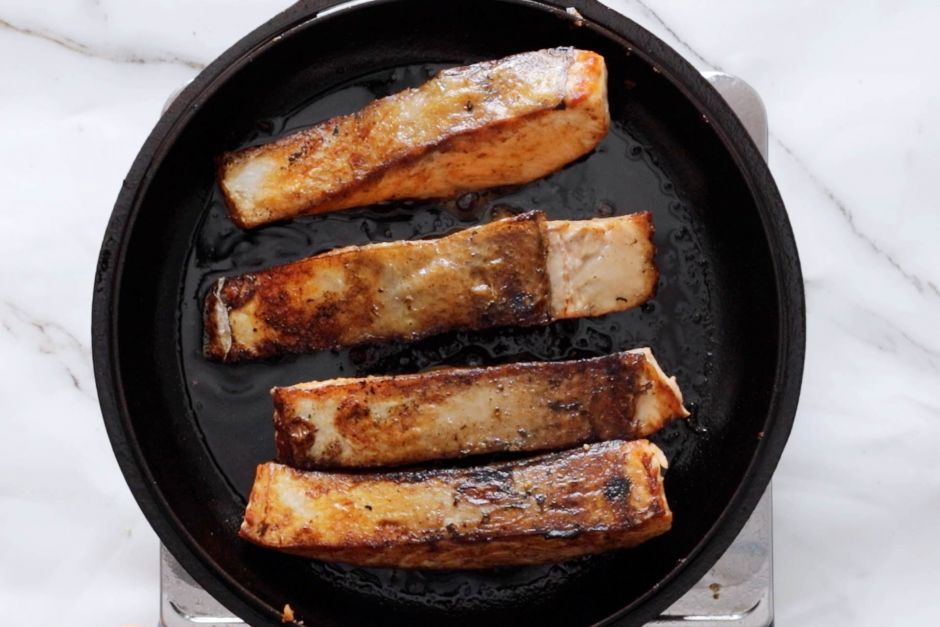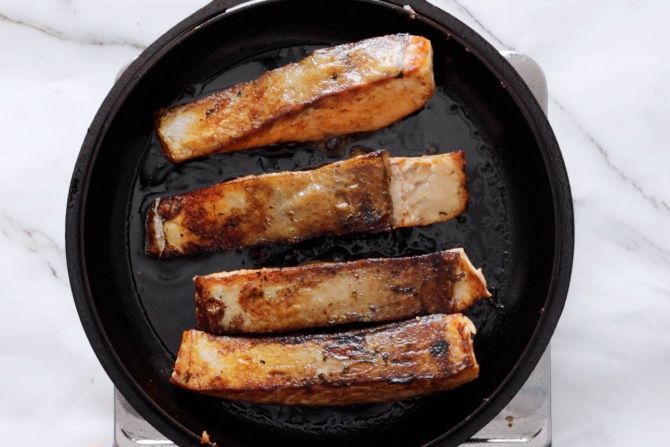 Pan-sear the salmon.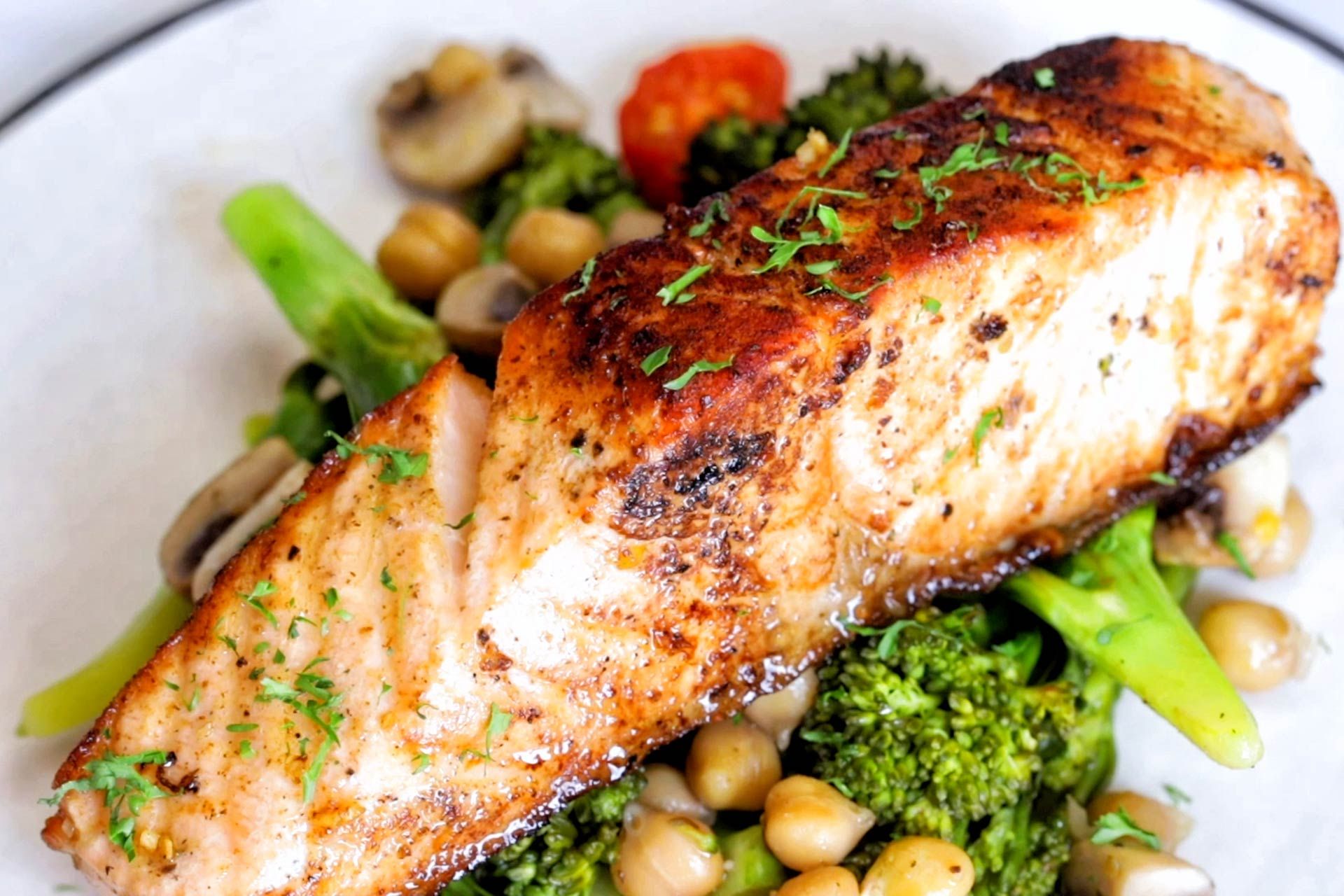 Decor and serve.
Some tips can make all the differences and level up your homemade pan seared salmon. Other methods can give you a crispy layer with deep, golden colors, so be sure to read on.
When Is Salmon Done?
Cooking salmon is easy once you have the right process and technique. Salmon's cooking times depend on two things: the thickness of the salmon and how well it is cooked: medium-rare, medium, or well-done.
In general, you can estimate 6-8 minutes per one inch of thickness of the fillet, regardless of the cooking method. Note that the time can also vary depending on what kind of pan it is and the cooking temperature.
According to the United States Department of Agriculture, once the thickest part of the salmon reaches a minimum internal temperature of 145˚F, it will be a well-done piece of fish.
If you're going for medium-rare, aim for an internal temperature of 125˚F to 135˚F. The fish will continue to cook a little bit even after removing it from the heat, whilst remaining moist and tender inside.
A thermometer is the most accurate kitchen tool to check whether your fillet is done, but not everyone has a thermometer on hand. Another simple way is to check the flakiness of the cooked fish.
Use a fork or the tip of a knife to test the salmon's texture. If the meat begins to flake but is still pink and slightly translucent in the middle, it's ready to eat.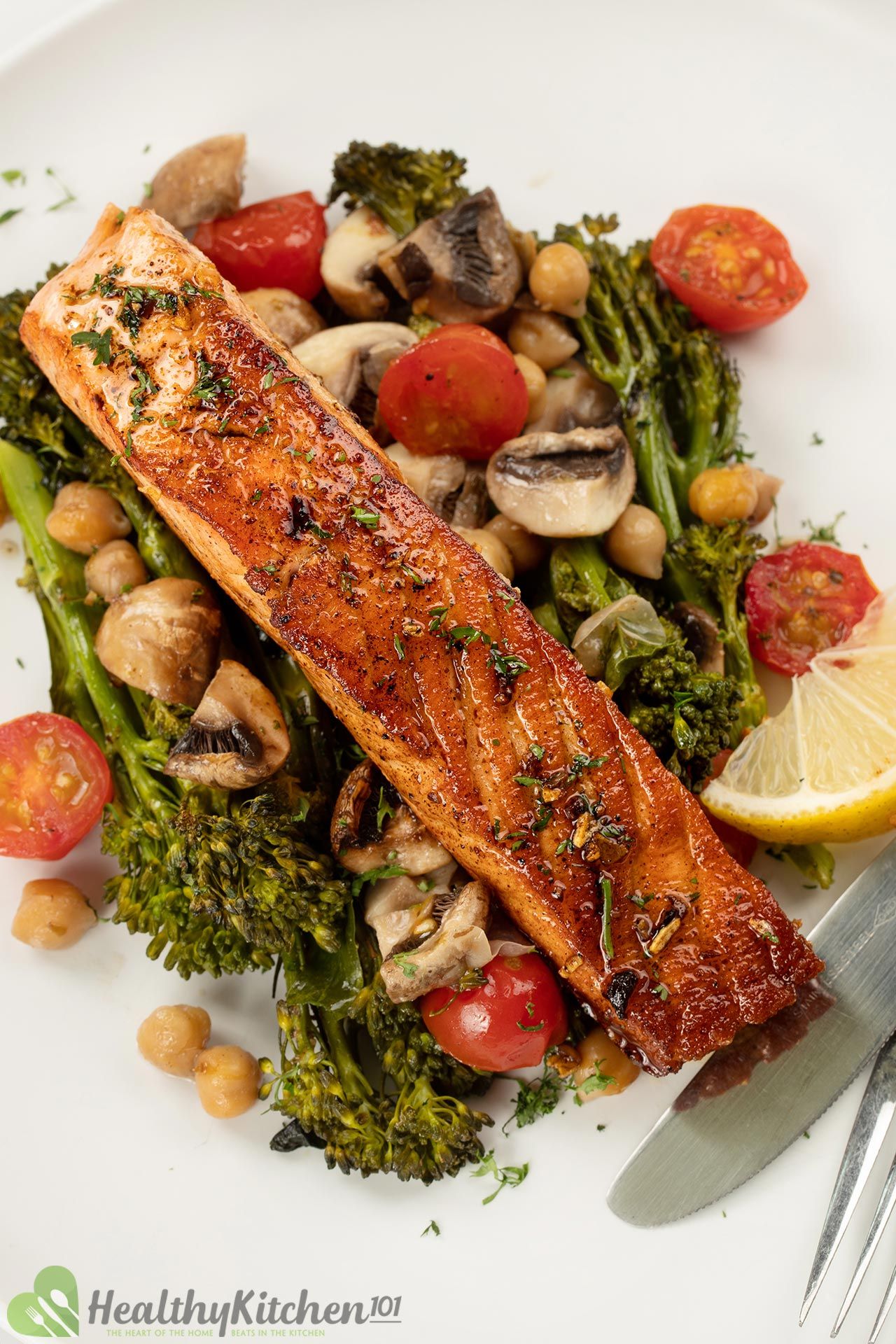 Pan Seared Salmon without Skin
There is no big difference in the amount of time needed to cook salmon with or without skin. While some people prefer removing the skin from the fish, you can keep the skin on for additional nutrition.
Either way, if you employ the best methods when cooking filets you can end up with a healthy salmon dinner recipe.
How to Reheat
Pan seared salmon is best to serve immediately when freshly cooked. Once reheated, the fish might lose its moisture or even end up dried out and flavorless.
Cooked leftover salmon can still be succulent as long as you reheat it correctly. The trick is to cook your fish at low heat, which helps it stay moist and flaky.
Also, don't forget to cover your fillet with aluminum foil before placing it in the oven or microwave. The foil acts as a shield to trap the moistness inside and keep the fish from burning.
In 10 – 15 minutes, your serving-size salmon will be heated through and ready to serve on the table.
How Long Does Pan Seared Salmon Last?
Cooked fish can last for up to 3 days in the refrigerator and months in the freezer, according to the USAD. We recommend wrapping your salmon in aluminum foil or placing it in an airtight container to prevent bacteria and prolong the lifespan of the fish.
What to Serve with Pan Seared Salmon
This nutritious and satisfying salmon dish already contains protein and healthy fat. It is best to accompany with some simple carbohydrates, delivering plenty of flavor without overpowering the palatable fish.
We choose a silky, creamy mashed potato to be a side and round everything up with a bright cucumber lime juice. Below is how they are nutritionally combined:
Nutritional values in this table vary somewhat to those below due to different app calculations. Read more...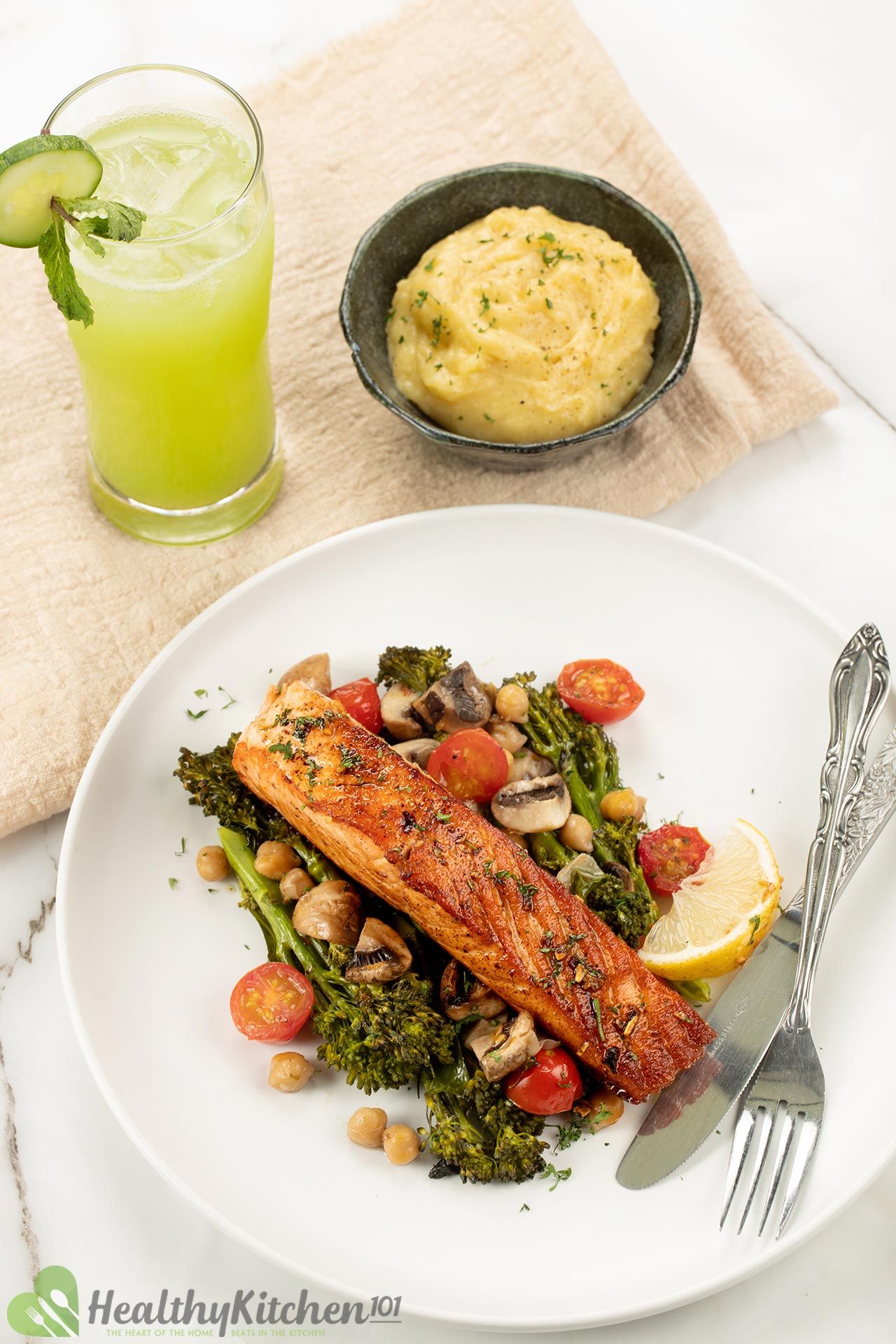 You can also make this tasty salmon recipe with baked potatoes. Or even broil the salmon to a crispy skin and serve with asparagus.
And whether it's a gathering or dinner meal, there are plenty more ways to dish your fish. Check out these tasty salmon recipes: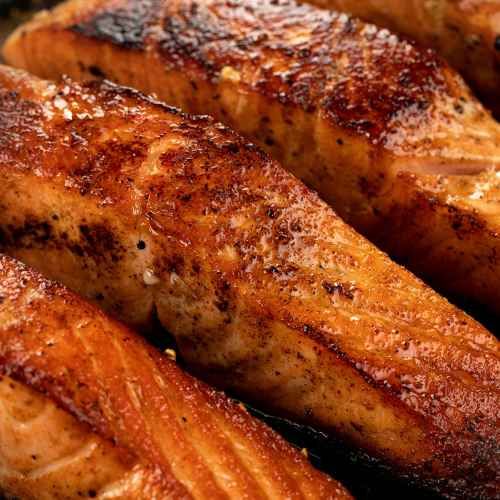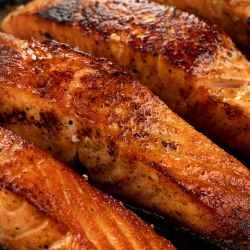 Pan Seared Salmon Recipe
This pan seared salmon recipe is one of the easiest ways to get more omega-3 fatty acids to your diets. Plus, the dish is quick and simple to make.
Ingredients
16

oz

broccoli

10

oz

cremini mushroom

6

oz

cherry tomatoes

4

oz

canned chickpeas

3

tbsp

olive oil

3

tbsp

unsalted butter

1/2

tsp

salt

1/2

tsp

ground pepper

1/2

tsp

garlic powder

1/2

tsp

oregano

26

oz

boneless salmon

2

tsp

lemon juice

1

tbsp

garlic

minced

1

tbsp

parsley
Instructions
Season broccoli, mushrooms, tomatoes, and chickpeas with 1 ½ tablespoon olive oil, 1 ½ tablespoon butter, ¼ teaspoon salt, ¼ teaspoon pepper, ¼ teaspoon garlic powder, and oregano.

Bake the vegetables at 375°F for 20 minutes.

Season salmon with the remaining salt, pepper, garlic powder, and lemon juice.

In a skillet, sear the salmon with 1 ½ tablespoon olive oil over medium heat in 3 minutes. Flip the fillet and sear for another 5 minutes with minced garlic and the remaining butter.

Garnish with parsley and serve.
Nutrition
Nutrition Facts
Pan Seared Salmon Recipe
Amount Per Serving (1 serving)
Calories 500
Calories from Fat 252
% Daily Value*
Fat 28g43%
Cholesterol 117mg39%
Sodium 510mg22%
Potassium 1492mg43%
Carbohydrates 18g6%
Protein 48g96%
Vitamin A 1303IU26%
Vitamin C 114mg138%
Calcium 101mg10%
Iron 3mg17%
* Percent Daily Values are based on a 2000 calorie diet.