Roasted shrimp recipe is by far one of the easiest and most fool-proof ways to cook this seafood. Roasting this seafood brings out their flavor and allows them to absorb the spices and olive oil.
Instead of cocktail sauce, the dish is served with buttered sliced potatoes and roasted asparagus. Together, they make for a visually appealing and satisfying meal that is also super family-friendly.
Our Roasted Shrimp Is Healthy
Shrimp, the star in this recipe, is packed with omega-3 fatty acids that are beneficial to the brain and overall health. This roasted shrimp is also composed of various types of vegetables bringing even more nutrition to the dish. They are loaded with micronutrients such as vitamin A, C, K, folic acid, and many more.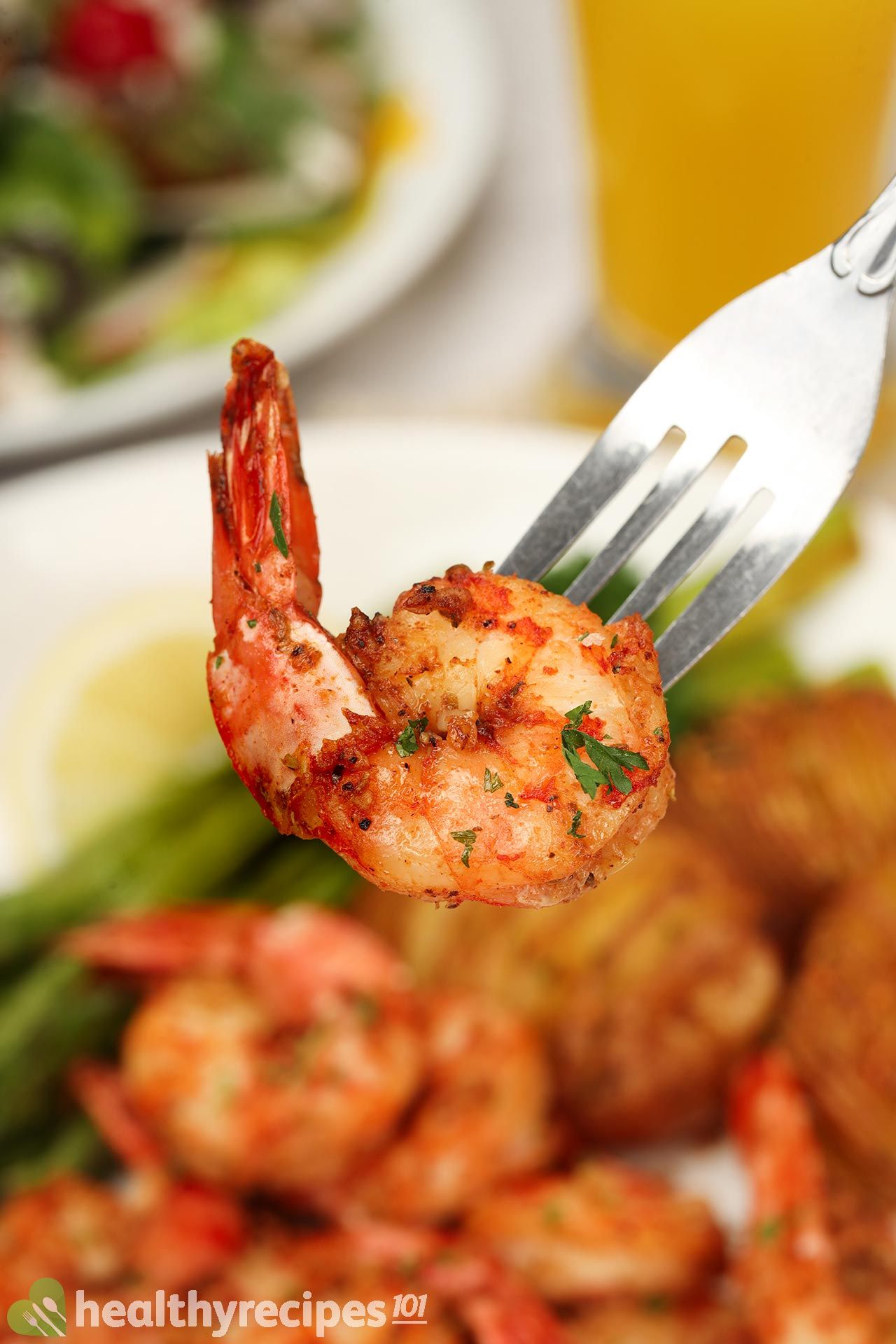 Once we were satisfied with the abundance of nutrients, we addressed the portion size to be within healthy limits. It has a moderate nutritional profile with 462 calories, 5.2 grams of saturated fat, and 546 milligrams of sodium in each serving. In other words, the dish is nutrient-dense and healthy.
Roasted Shrimp Recipe Ingredients
You only need a few ingredients to make this scrumptious roasted shrimp. The exact measurements are listed in the recipe card below. Here's a brief summary of what you'll need:
We used large, peeled shrimp to save some prep time. The tail can be kept or removed; it depends on your preference. Though tail-on shrimp are more attractive and easier to eat by hand.
The secret to juicy, smokey shrimp is to use high heat and avoid overcooking. Due to their high protein content, shrimp become rubbery once overdone.
We baked them at 400 degrees Fahrenheit for around 15 minutes in the oven. Note that the cooking time will vary depending on the size of your shrimp. Check your seafood regularly to ensure they are just cooked to that glorious pinky perfection.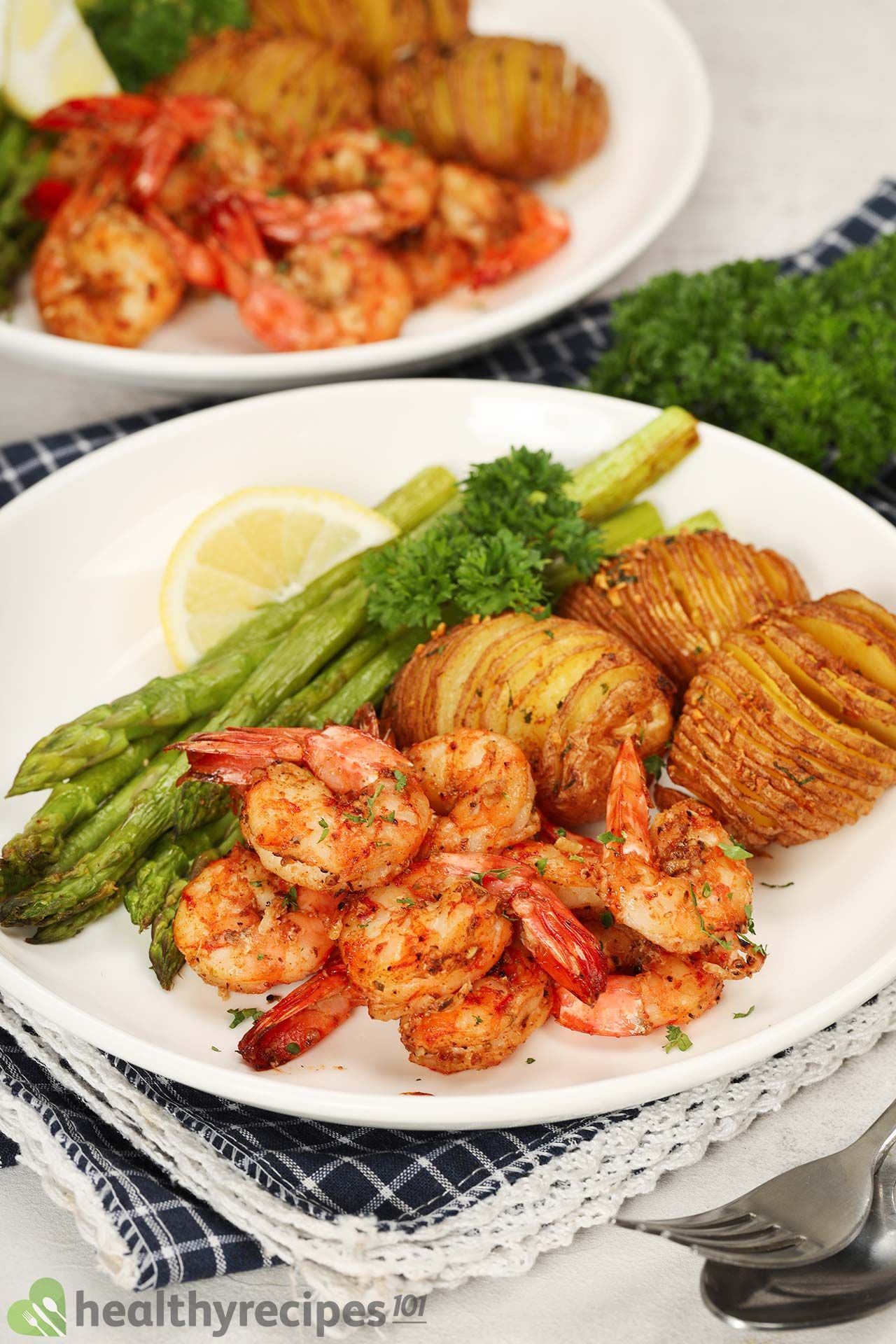 Now you know how to keep the shrimp juicy and chewy, the next important thing to consider for a tasty shrimp dish is the flavor.
We adore the classic blend of salt and pepper for seafood but an addition of other condiments will take your succulent shrimp to new heights. Our spice mixture also includes paprika, garlic, cayenne, oregano, and a squeeze of lemon juice.
These well-seasoned shrimp are marinated for 5 minutes before being cooked in the oven. This step helps to impart flavor, making the shrimp extra delicious.
Our spice combo for roasted shrimp is easily adaptable to your preferences. You might also use Old Bay or garam masala. It's entirely up to you.
Our roasted shrimp is so adaptable that it goes with anything. We came up with the great idea of roasting some veggies that could be prepared in the same oven. This way, the whole meal can be served at the same time.
Some of our favorites for oven baking include: potatoes, green beans, asparagus, mushrooms, broccoli, carrots, zucchini, and bell peppers.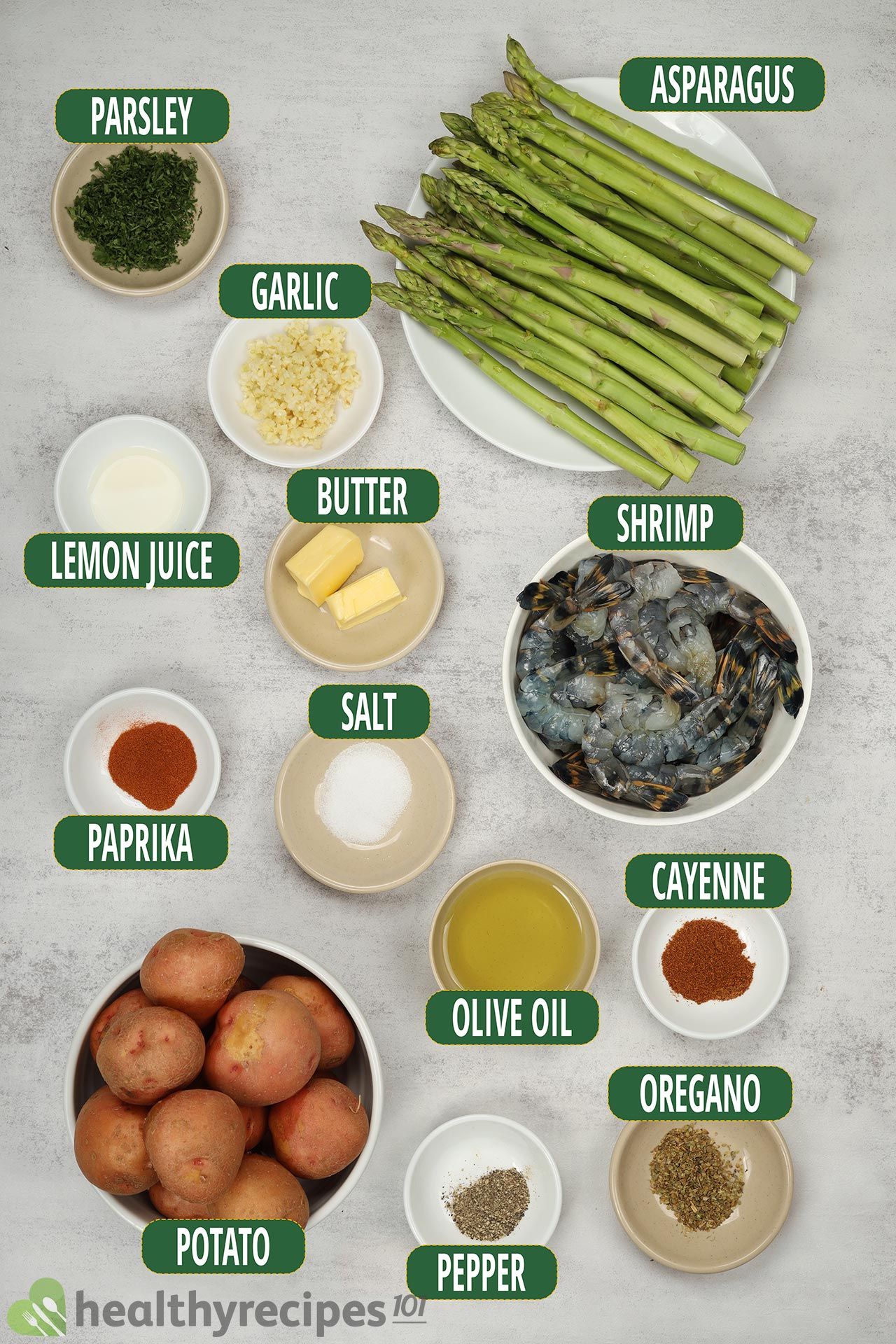 If you love this recipe for oven-baking, check out our other dish: Bacon Wrapped Shrimp, Shrimp Pizza, and Shrimp Enchiladas. They ensure a healthy meal yet are still bursting with flavor.
How to Roast Shrimp
While the dish is baking, you have a great chance to prepare some side dishes or even a dessert. Dinner can be ready in less than an hour. Here's how we make the roasted shrimp: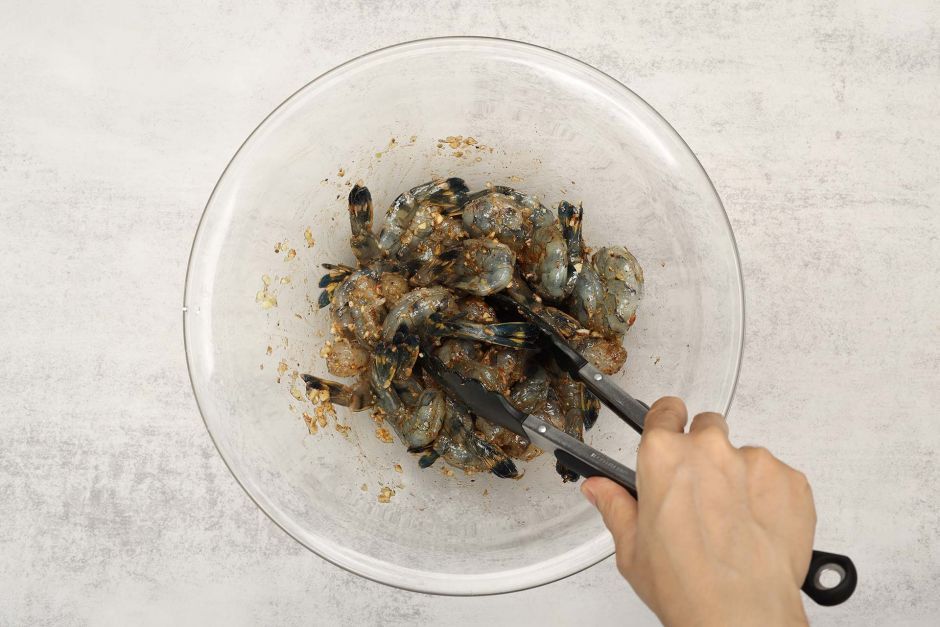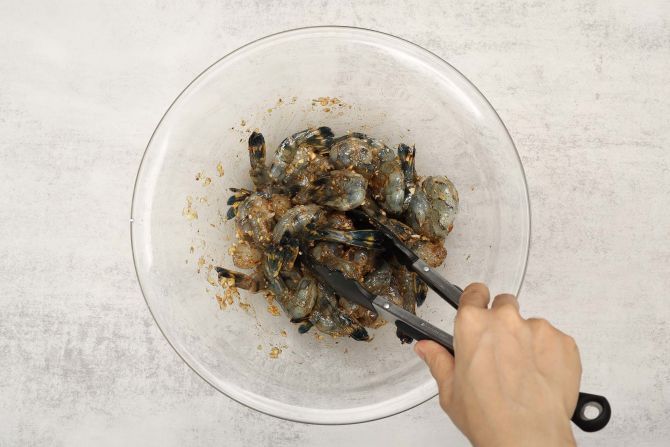 Marinate the shrimp for 5 minutes in the spice mixture.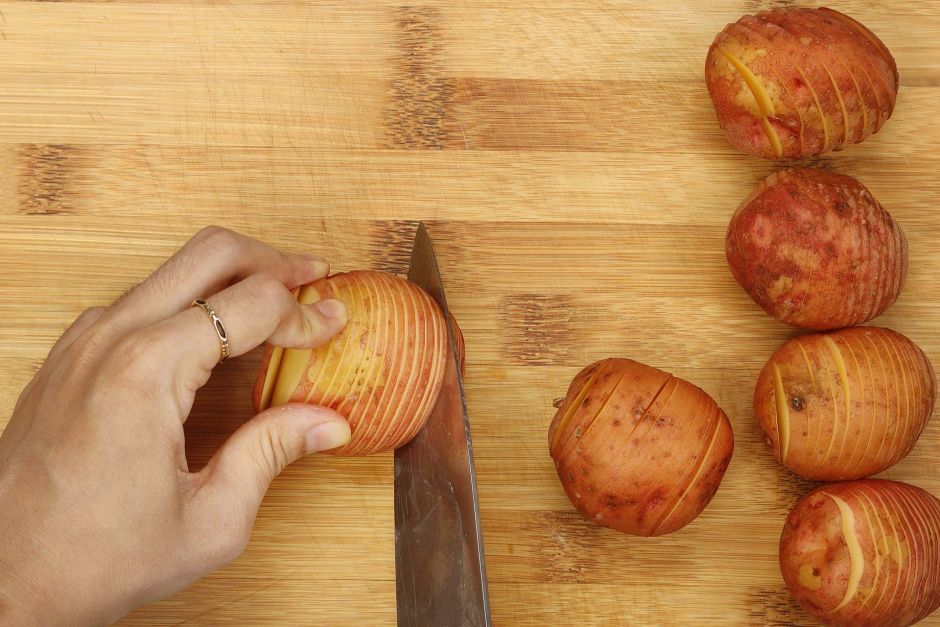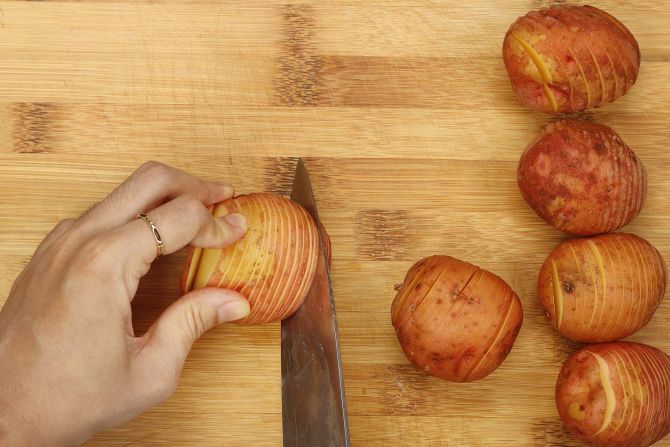 Slice the potatoes.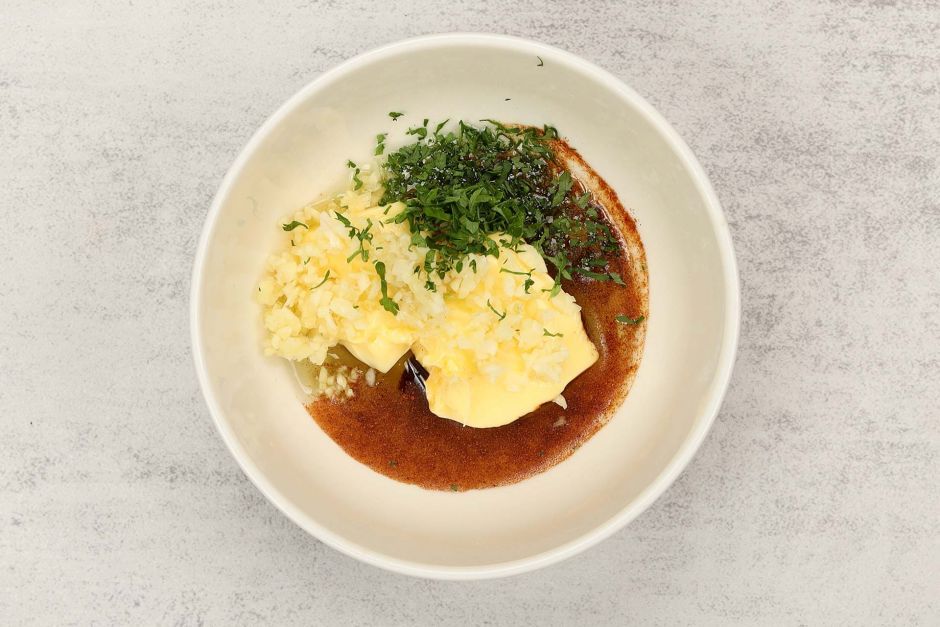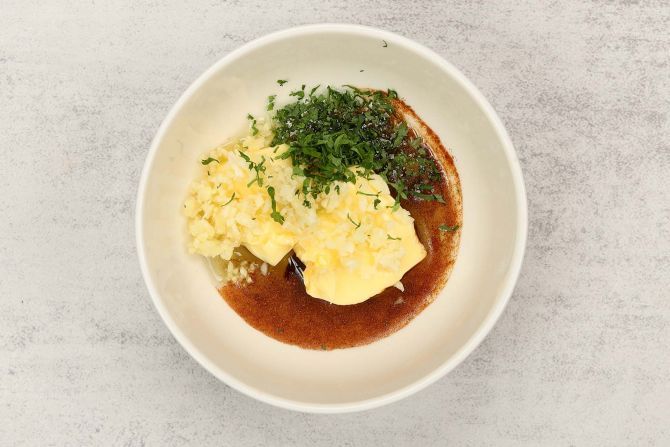 Make the butter mixture for the baked potatoes.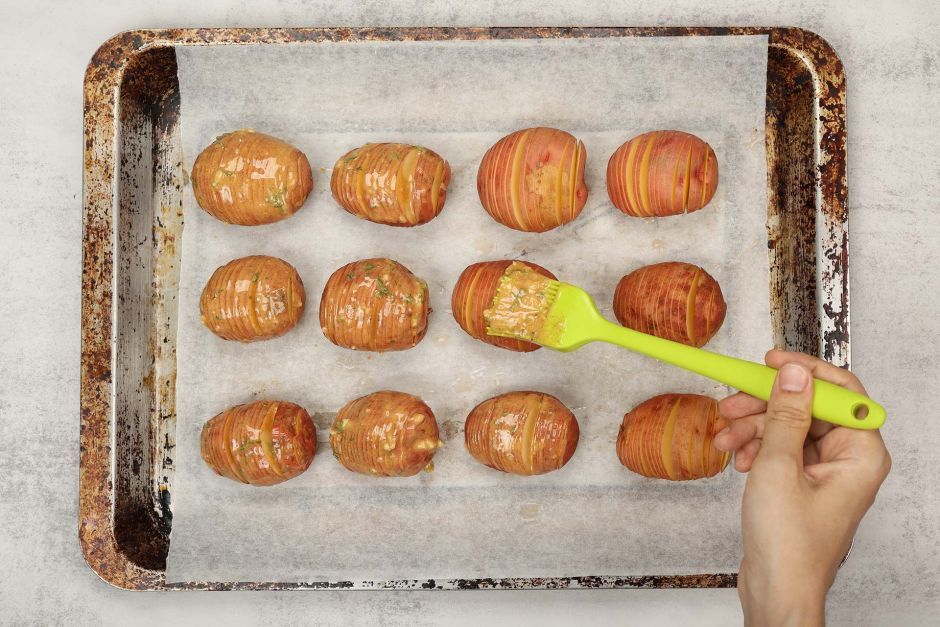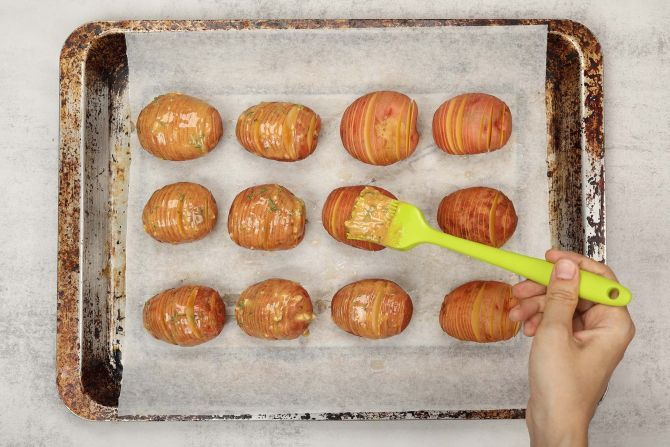 Brush the potatoes with the prepared mixture.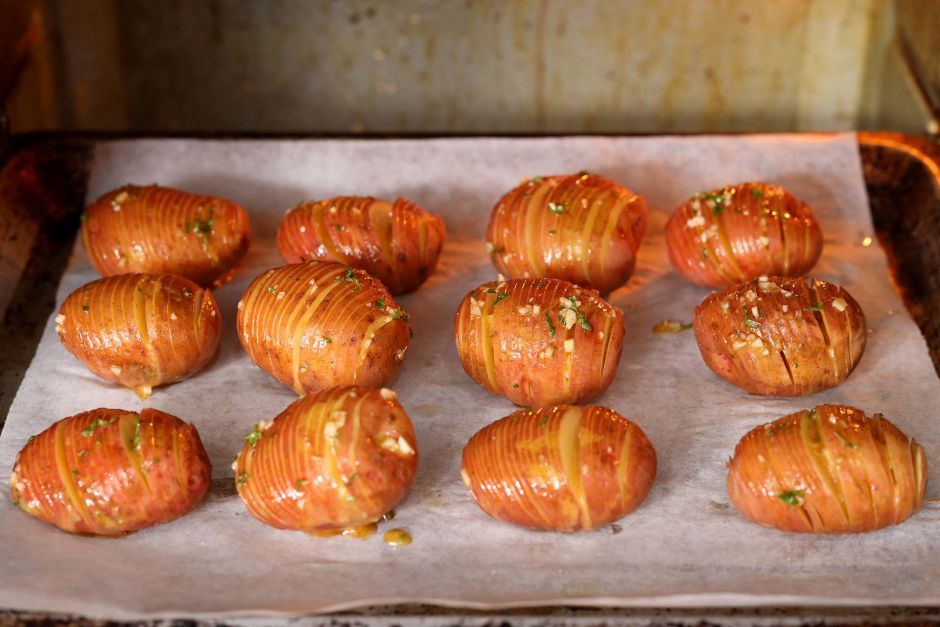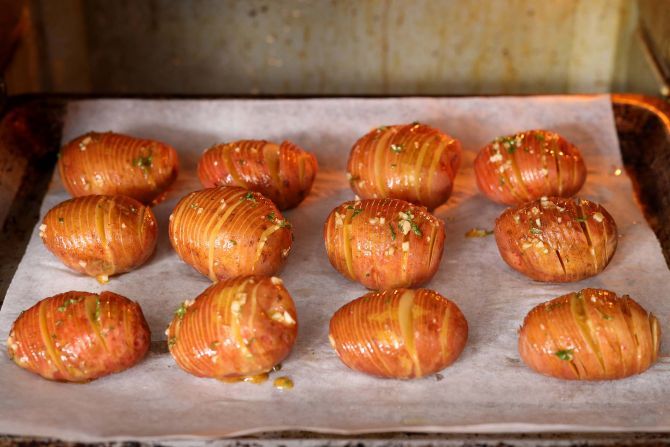 Bake the potatoes for 15 minutes.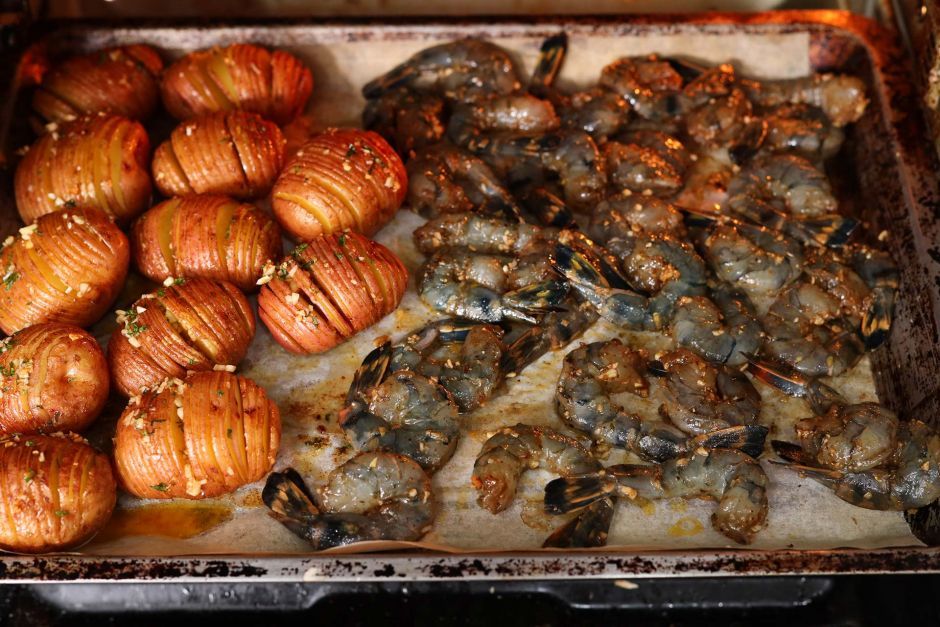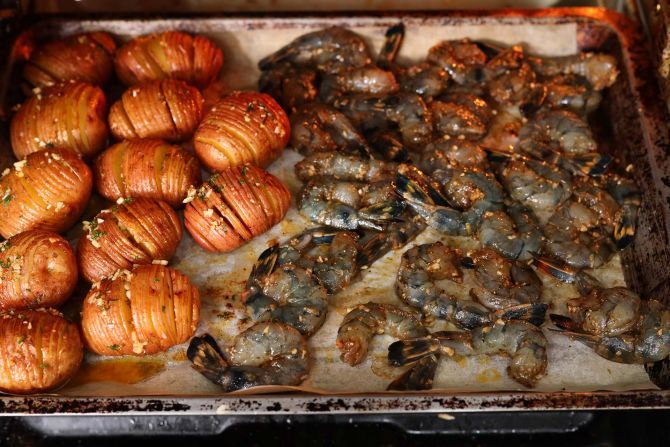 Add the shrimp to the baking tray and cook for another 15 minutes.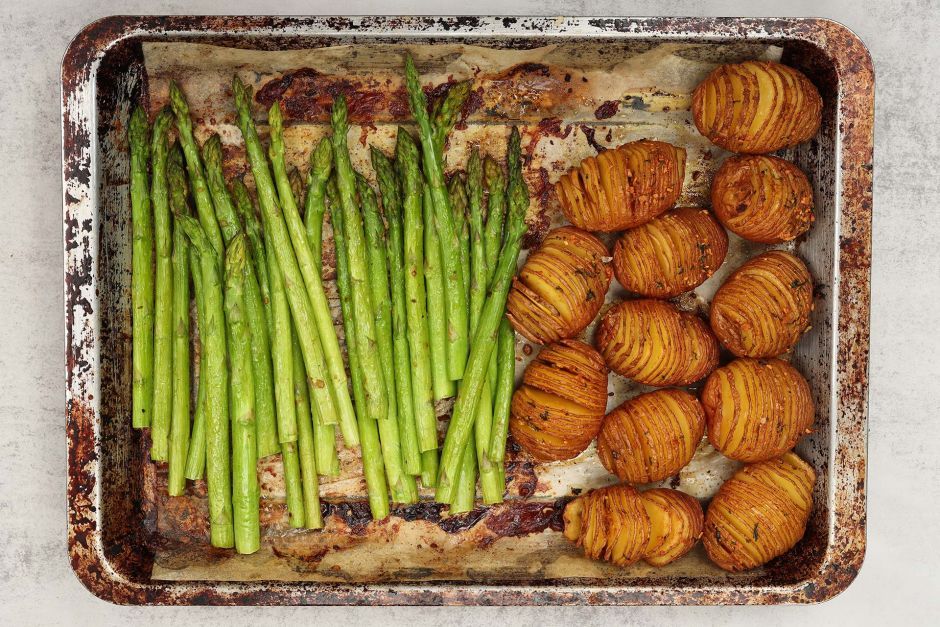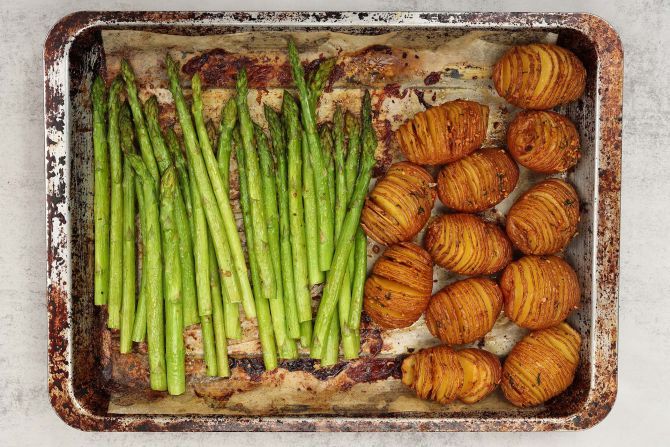 Remove the shrimp from the tray and replace it with the asparagus.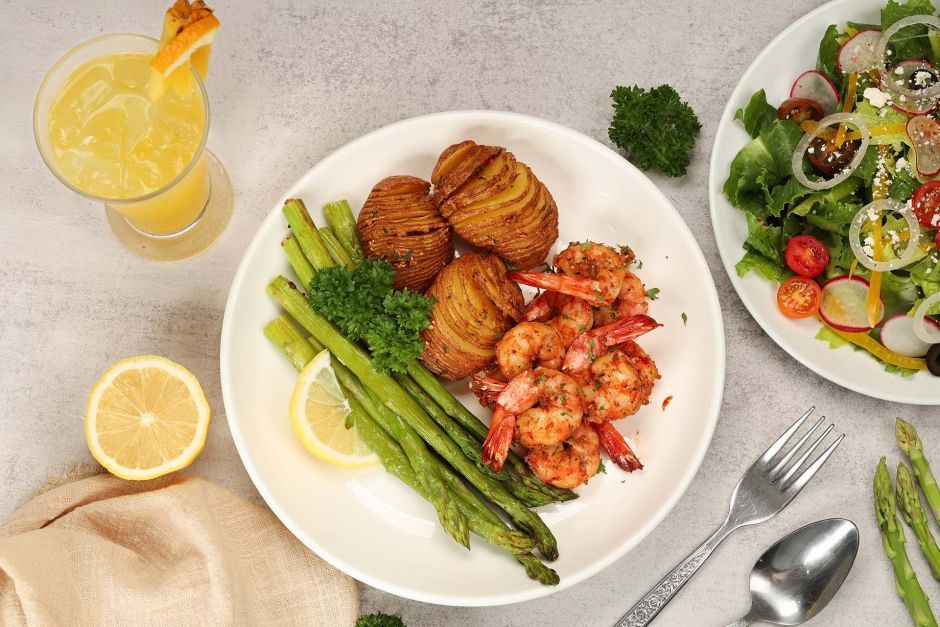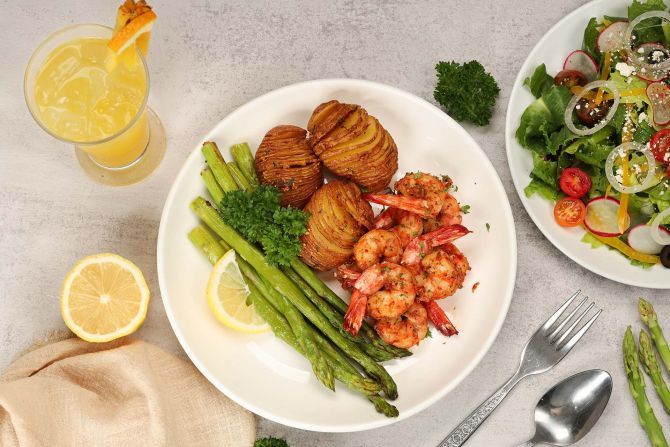 Arrange the roasted vegetables on serving plates and top with the shrimp.
Jump to Recipe
Storage and Reheating
Like most other seafood, this succulent shrimp is best served hot. For any leftovers, refrigerate them within two hours of removing them from the heat source using either aluminum foil or airtight containers.
Refrigerate for up to three days or freeze for up to three months. If you freeze shrimp, you must defrost them in the refrigerator. There are numerous ways to reheat shrimp, including the oven, cooktop, steaming, and the omnipresent microwave.
The option you choose will depend on how your shrimp were previously prepared. If, for example, your shrimp were roasted, it's best to reheat them in the oven, helping recreate the original flavor and texture.
What to Serve With Roasted Shrimp
Our roasted shrimp and vegetables dish is great for getting back on the healthy diet track because it has a high-quality source of lean protein, a lot of vegetables, and a lot of nutrients.
It is an excellent summery supper on its own, but you can add some sides to transform it into a complete meal. We serve it with a Greek salad and orange-pineapple juice. If you prefer a high-carb meal, white rice or brown rice works beautifully with the shrimp.
All of these selections are wonderful, so choose the one that you enjoy the most and that aligns with your personal diet.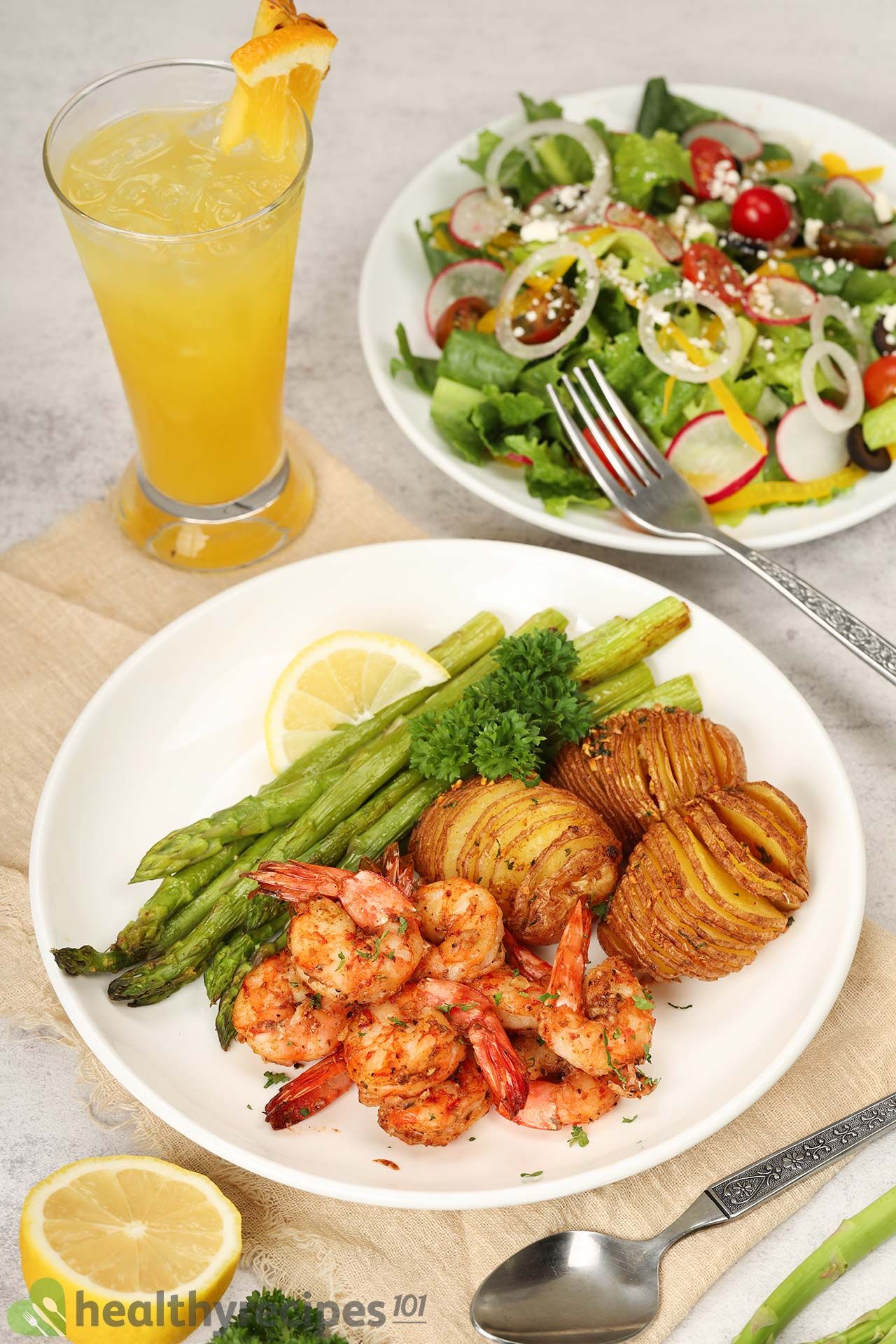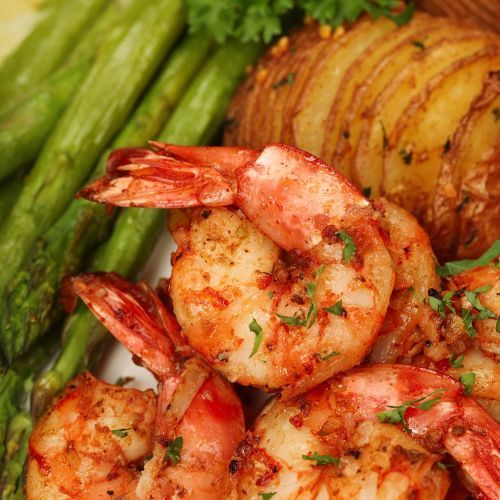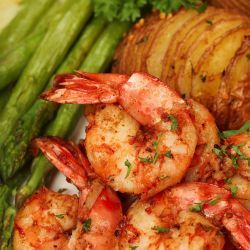 Roasted Shrimp Recipe
When it comes to cooking seafood, you can't get any easier than this roasted shrimp recipe. A flavorful weeknight dinner you can serve with any side dish!
Ingredients
13

oz

peeled and deveined shrimp

equal to 26 oz raw shrimp

1

tsp

paprika

divided

1/2

tsp

salt

divided

3

tbsp

olive oil

divided

2

tbsp

garlic

minced and divided

1/2

tsp

black pepper

1/2

tsp

cayenne

1/2

tsp

oregano

1

tsp

lemon juice

28

oz

potatoes

2

tbsp

unsalted butter

melted at room temperature

2

tbsp

parsley

finely chopped and divided

12

oz

asparagus
Instructions
Marinate the shrimp: In a large bowl, add 13 oz peeled shrimp, 1/2 tsp paprika, 1/4 tsp salt, 1 1/2 tbsp olive oil, 1 tbsp garlic, 1/2 tsp black pepper, 1/2 tsp cayenne, 1/2 tsp oregano, and 1 tsp lemon juice. Toss until the shrimp is coated with seasoning. Marinate for 5 minutes.

Arrange 28 oz potatoes on a chopping board. Slice whole potatoes almost all the way through, so that the slices are all still attached at the bottom of the potato.

Prepare the butter mixture: In a small bowl, add 2 tbsp of butter, 1 tbsp parsley, 1 tbsp garlic, and 1 1/2 tbsp olive oil. Whisk until everything is well combined.

Arrange the potatoes on a baking tray. Brush the potatoes with the butter mixture.

Bake at 485 ℉ for 15 minutes.

Remove the tray from the oven. Add the marinated shrimp in a single layer next to the potatoes and bake for another 15 minutes.

Remove the shrimp from the baking tray. Arrange 12 oz asparagus on the tray and return it to the oven for an extra 13 minutes.

Turn off the oven. Transfer the tray from the oven. Garnish with 1 tbsp chopped parsley. Serve the baked vegetables with shrimp.
Nutrition
Nutrition Facts
Roasted Shrimp Recipe
Amount Per Serving (1 serving)
Calories 462
Calories from Fat 153
% Daily Value*
Fat 17g26%
Cholesterol 312mg104%
Sodium 546mg24%
Potassium 1518mg43%
Carbohydrates 37g12%
Protein 43g86%
Vitamin A 1184IU24%
Vitamin C 27mg33%
Calcium 175mg18%
Iron 4mg22%
* Percent Daily Values are based on a 2000 calorie diet.