This shrimp diablo recipe comes together in just 25 minutes and yields amazing results.
Shrimp Diablo — Fierce and Delicious
This recipe features three different types of chili: sweet pepper, jalapeno, and bird's eye chili. Each comes with its own flavor and different level of heat, which really adds to the complexity of this dish. They're then roasted which imbues them with an awesome smoky flavor, then added to the chunky tomato sauce that's loaded with more spices.
It's an exquisite sauce we are proud to cook our shrimp with.
We serve this dish with cooked rice and avocado slices that pair perfectly with the spiciness. The creamy fruit doesn't keep the spiciness at bay, but mellows it to an agreeable degree. Consider it the glass of water handed out to marathon runners along their way.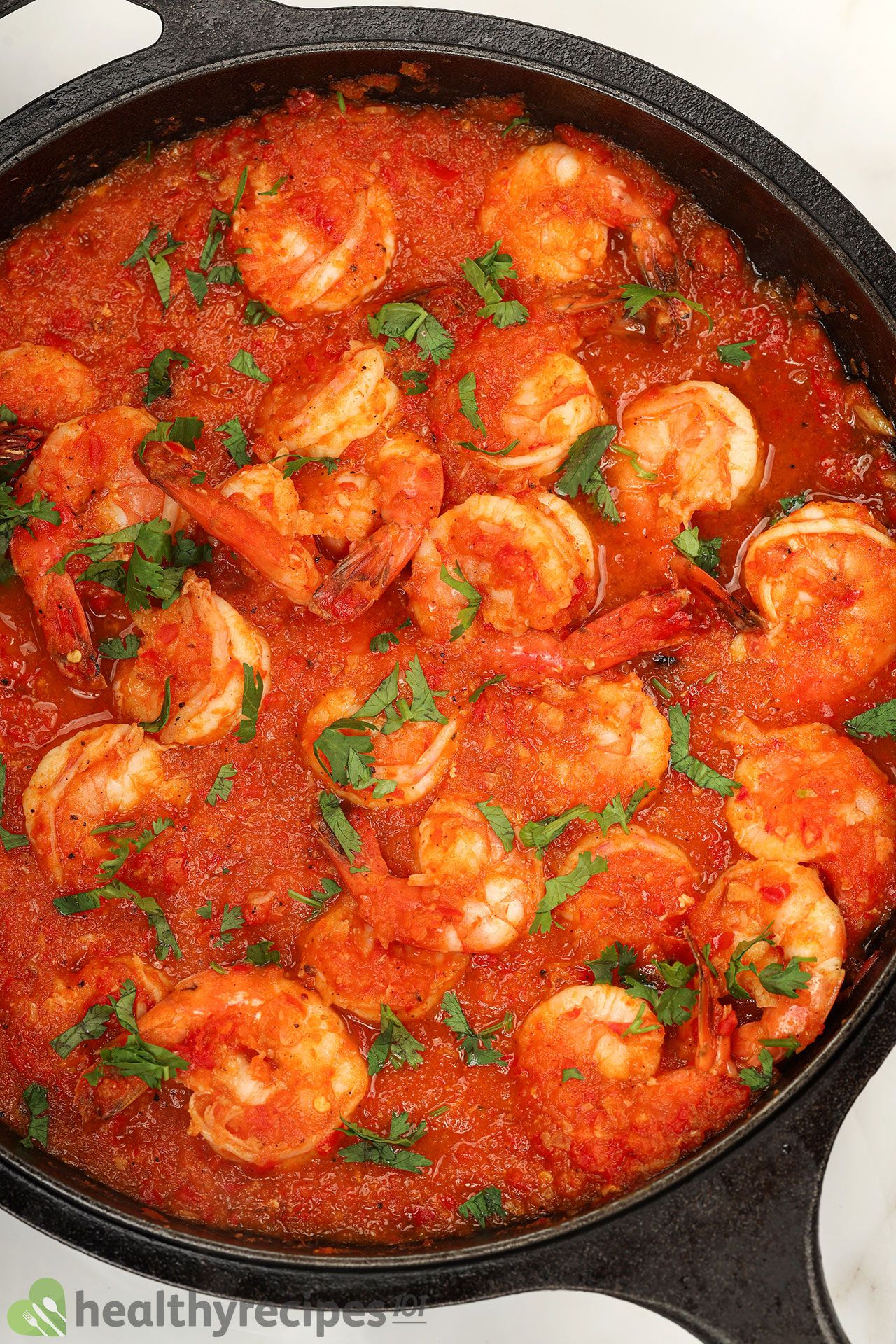 It Is Also a Healthy Dish
Shrimp is a healthy protein to begin with; it provides us with 9 out of 9 essential amino acids (EAAs). It also contains omega 3s, the type of fat beneficial to the heart and brain.
Cooked with the shrimp are plenty of chilis and tomatoes, providing lots of vitamins A and C, and many minerals. Capsaicin in chilis has also been shown to promote weight loss by reducing appetite and facilitating fat burning.
Avocado brings yet another set of nutritional goodness to the meal. It is rich in healthy monounsaturated fats and comes with a plethora of nutrients such as vitamins C, E, K, B vitamins, magnesium, potassium, copper, and many more.
With nutrition in mind, our shrimp diablo is thoughtfully served in a moderate portion size. This means easier regulation of calories, saturated fats, sodium, and other components, the key to healthy eating.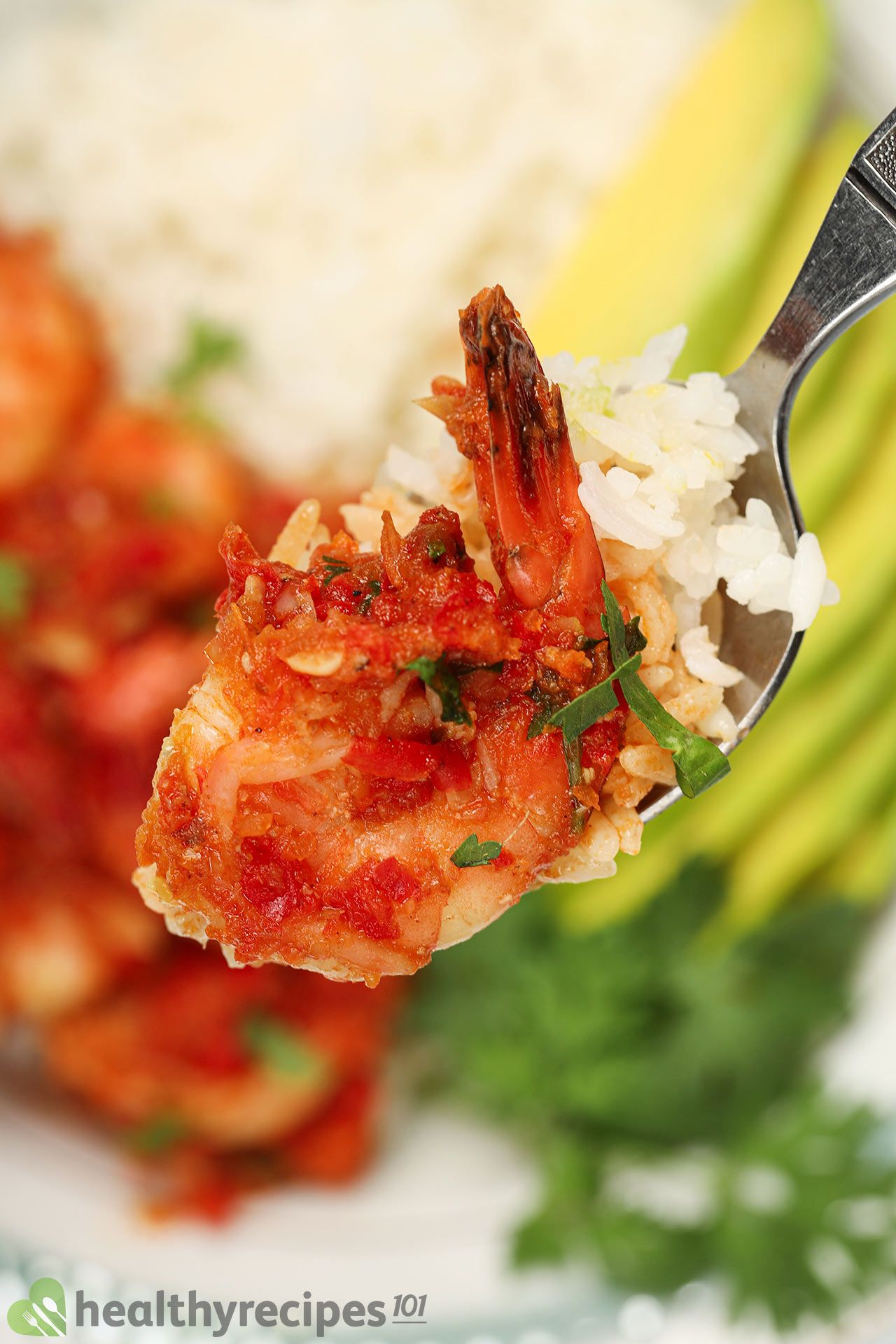 Ingredients for Our Shrimp Diablo Recipe
You'll need shrimp, chilis, tomatoes, tomato paste, onion, garlic, seasonings, cilantro, cooked rice and avocado.
We're using bell pepper, jalapeno, and bird's eye chili, the latter two of which are seriously spicy. If you wish for more heat and flavor, include your favorite type of chili into the mix.
Charred and blended with these chilis are some onions and tomatoes — the umami, tart and sweet base of our sauce. Thanks to charring, this base has got a complexity of flavor, so all we need to add to it is some salt, pepper, and Cajun seasoning.
We top these intense flavors with fresh cilantro, an herb that takes spicy dishes to the next level. Its strong, earthy aroma stimulates appetite even more, adds a fresh, raw note, and makes the meal seem all the more enjoyable.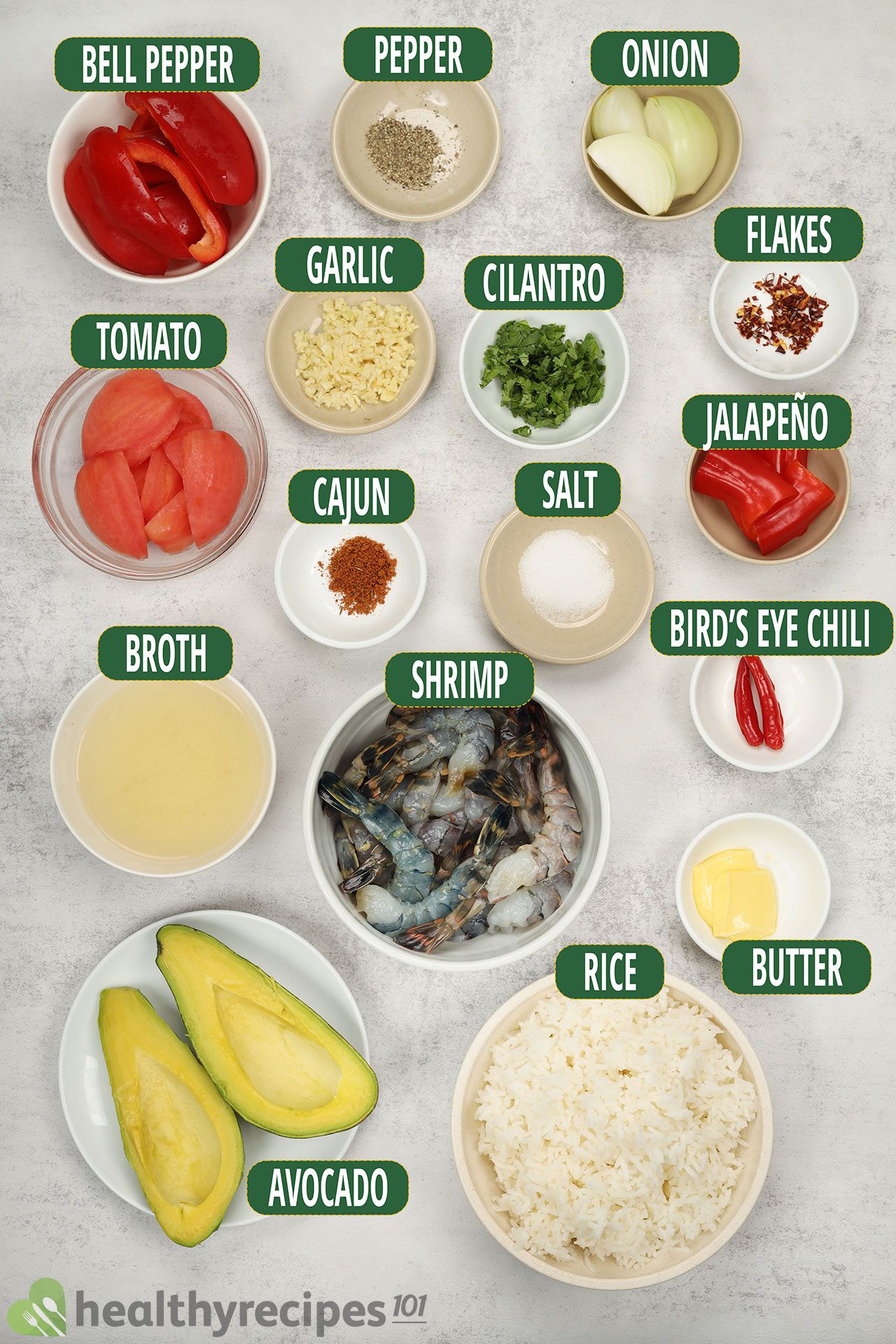 When plating, it's crucial that you use ripe avocados that are not too ripe and not too mushy. You can tell how firm they are by giving them a gentle squeeze — the ones you need should give a little but shouldn't be too soft.
The shrimp is served with cooked rice. Cooking rice can be complicated if you're not used to the process and you could always opt for a more convenient option like microwavable rice. We are lucky enough to have rice cookers which makes the cooking process a cinch.
How We Made Our Shrimp Diablo
We began the process by roasting the chilis, onion, and tomato in the air fryer until they got a bit charred (this could also be done in a pan if an air fryer is not available). They were then blended with garlic and some chicken broth to make the sauce base.
Next, we melted some butter in a skillet, cooked some more garlic in it, along with the shrimp. The sauce base and seasonings were added, and everything simmered until the sauce thickened a bit.
Finally, we sprinkled heaps of cilantro on top and served the skillet with rice and avocado slices.
Here's the entire process in a nutshell: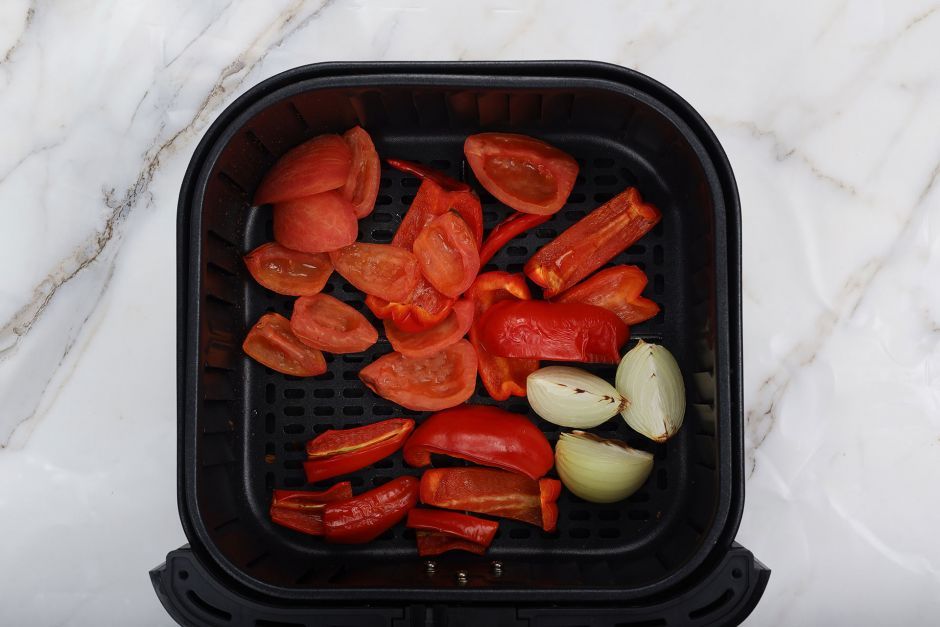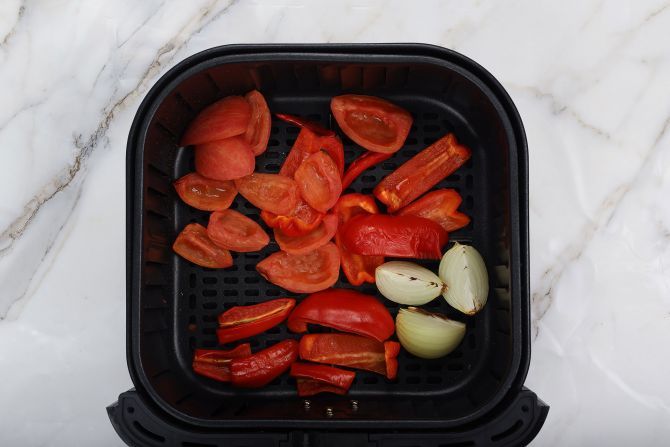 Roast the chilis, onion, and tomato.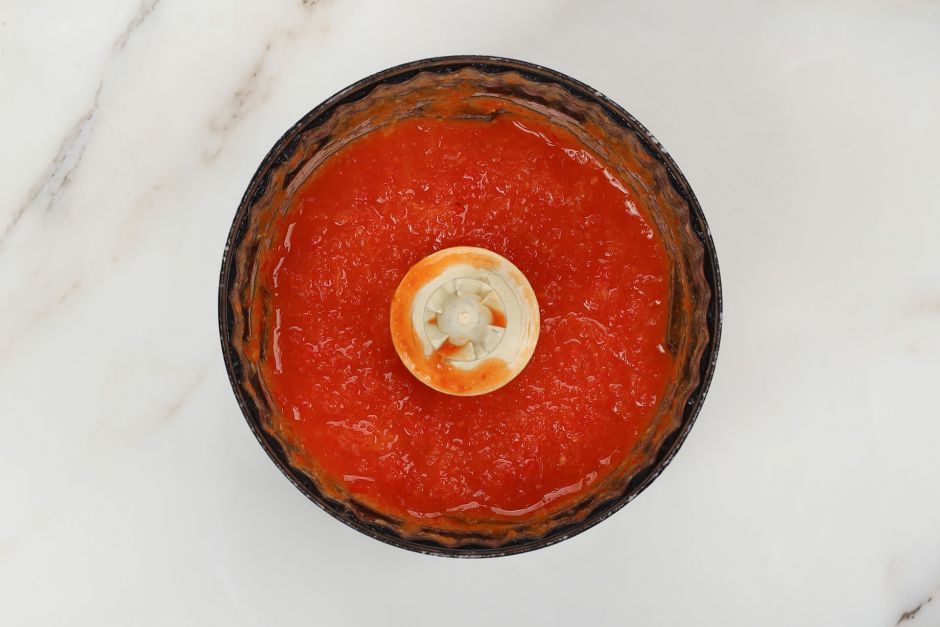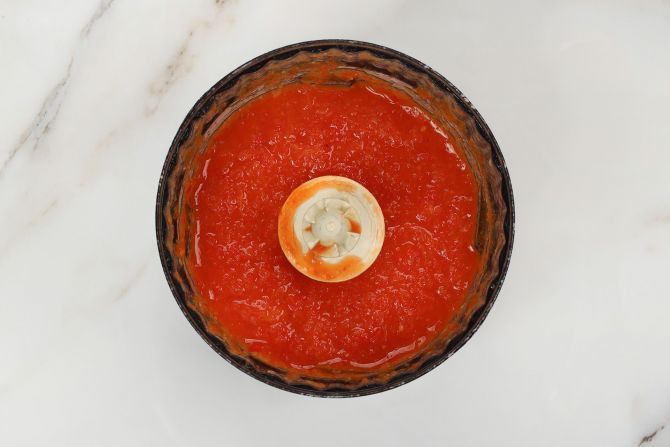 Blend them with garlic and chicken broth.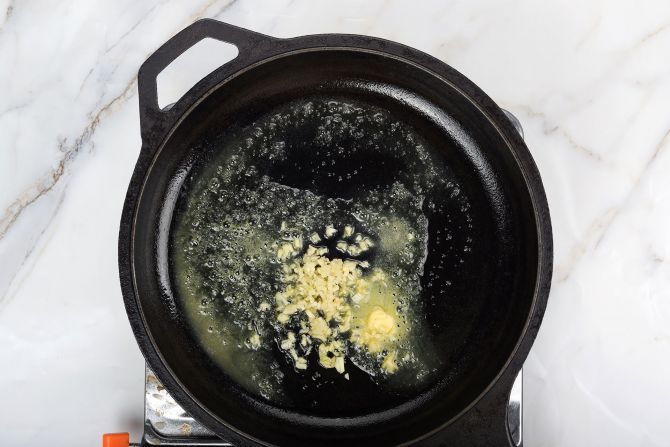 Stir the garlic in butter until very fragrant.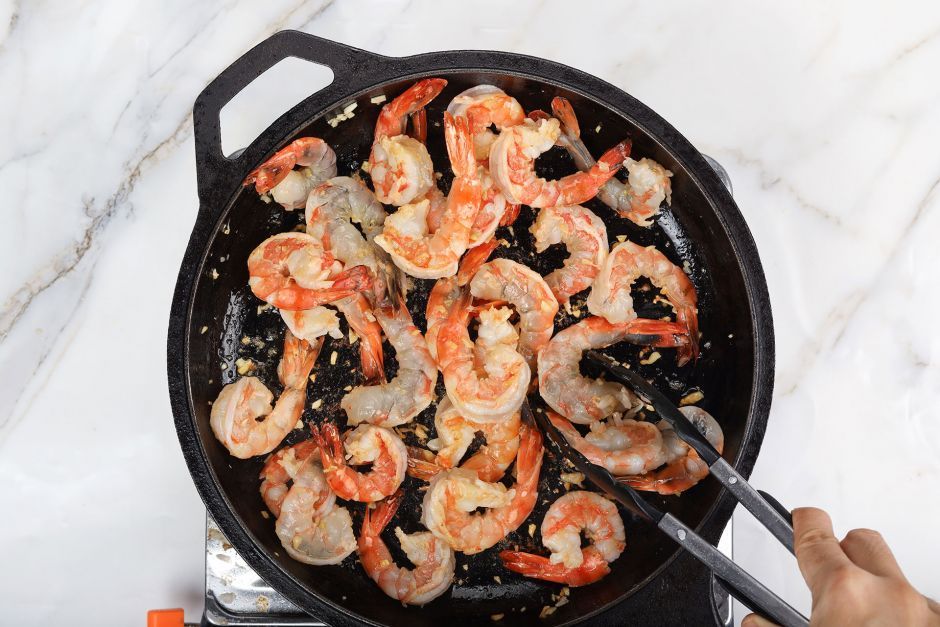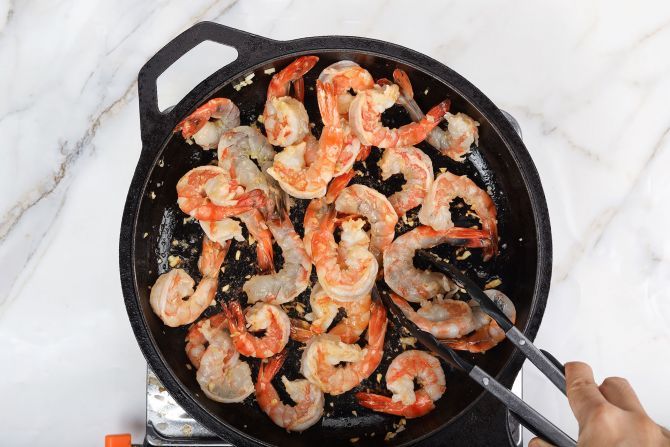 Add shrimp to cook.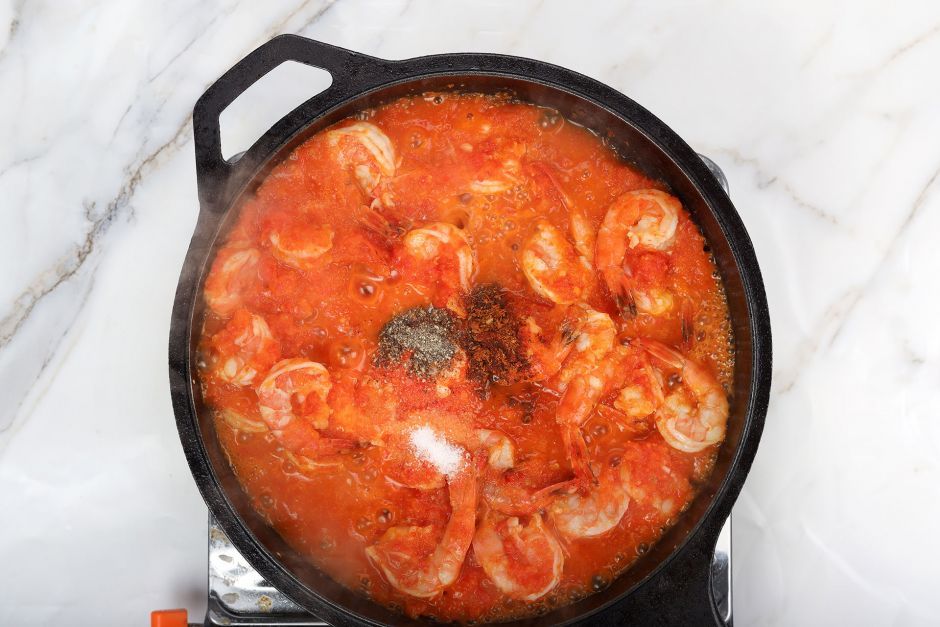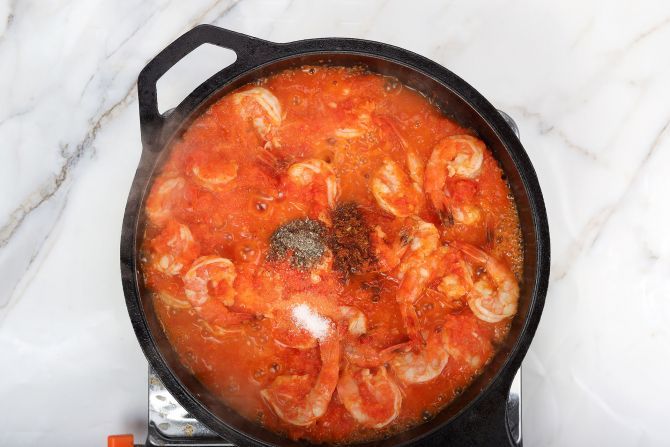 Add the sauce and seasonings. Simmer until the sauce reduces.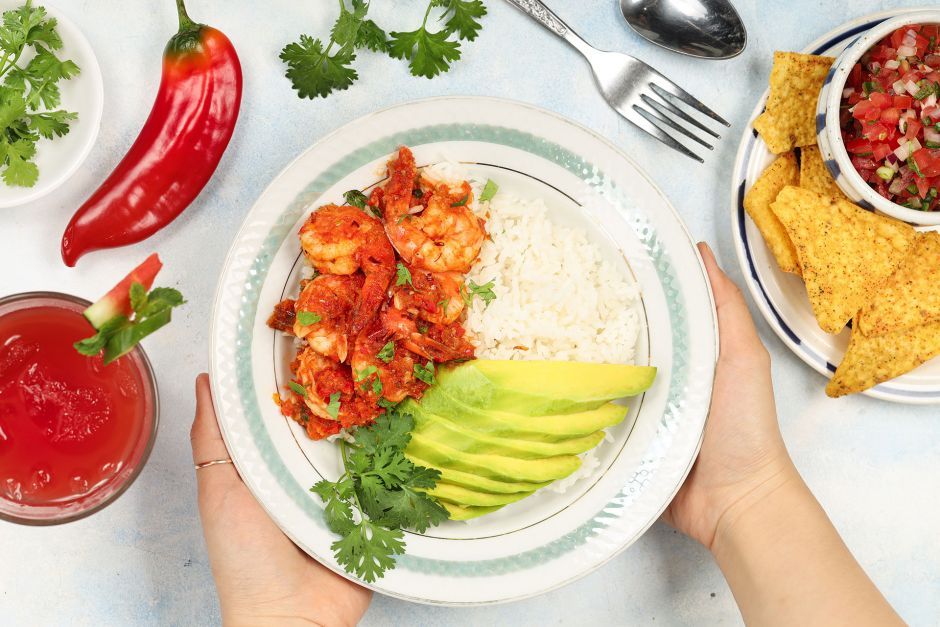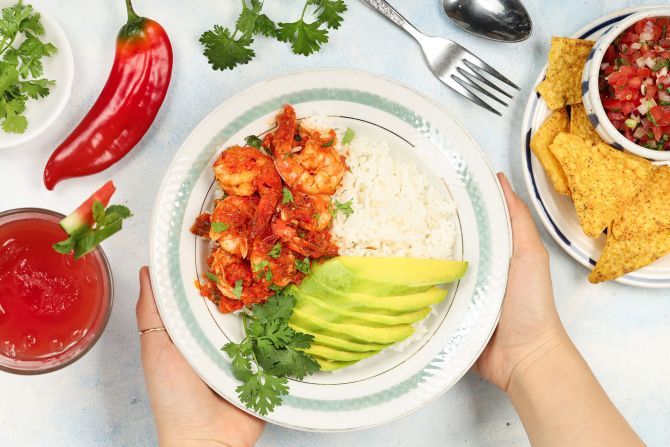 Sprinkle with fresh cilantro and enjoy with cooked rice and avocado.
For more details, have a look at our 'Shrimp Diablo Recipe' at the bottom of this article.
Jump to Recipe
Storing and Reheating
The rice, the saucy shrimp, and the avocado can be stored in the fridge for about 4 days, in separate air-tight containers. Ziploc bags are also ideal for storing foods.
For storage up to months, we suggest freezing the shrimp and rice, and using fresh avocados when you decide to serve.
To reheat, place the shrimp into a pot with some water and warm it over medium heat until heated through, refrigerated or frozen. For the rice, place it in a bowl with a splash of water, cover with plastic wrap, and microwave on medium power for 2 minutes.
What to Serve With Shrimp Diablo
Crisp, fresh salsa and a sweet drink to mellow it out are our suggestions. They have the exact freshness that the main dish needs, giving the meal the balance it deserves.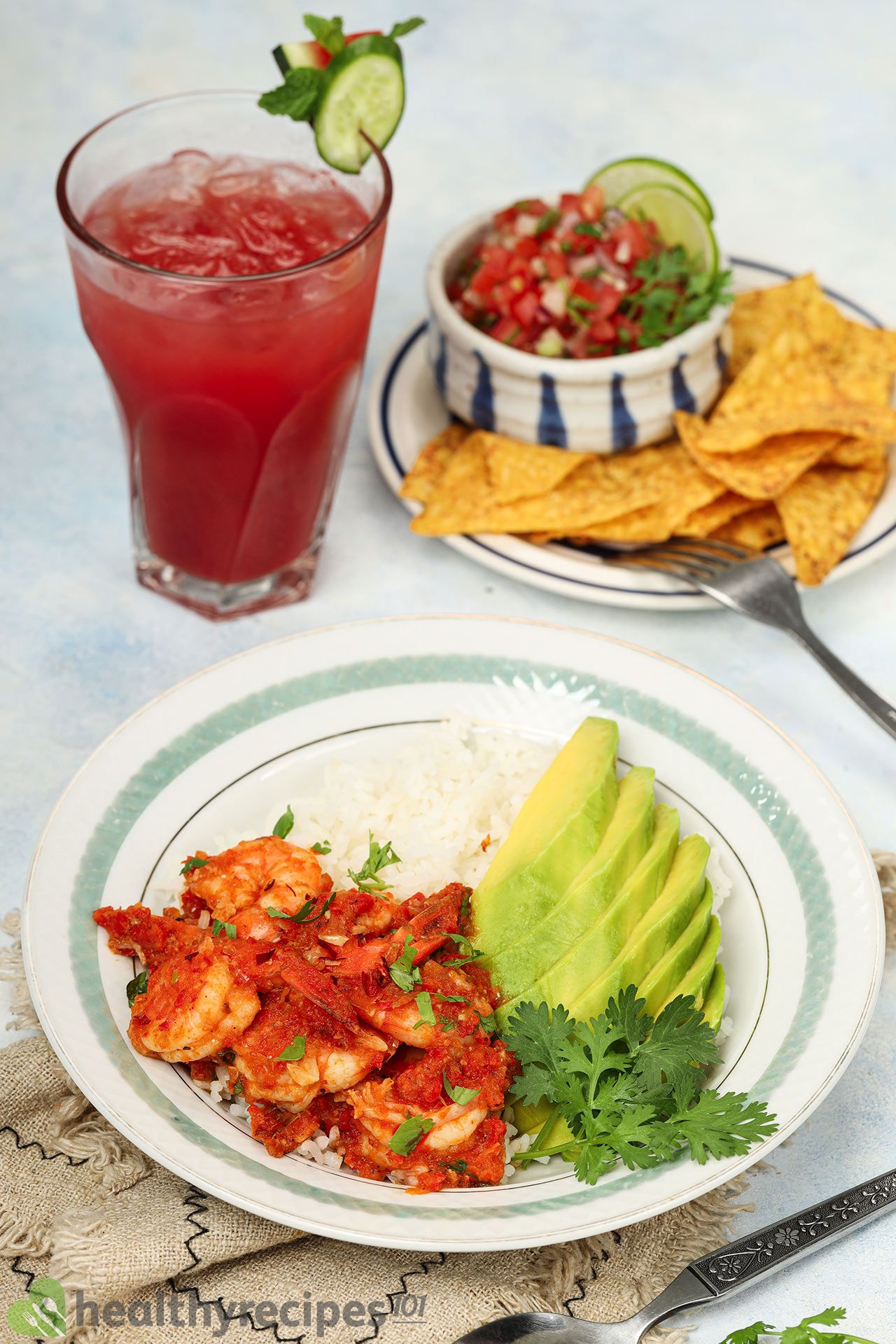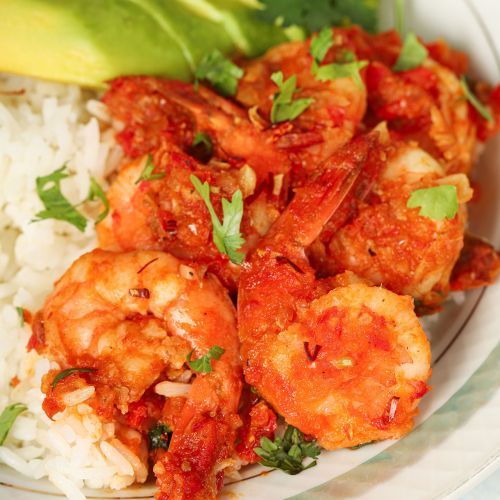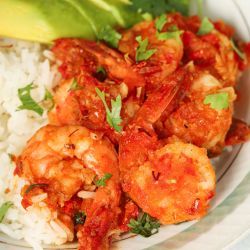 Shrimp Diablo Recipe
Our shrimp diablo recipe is the perfect way to prepare a fast, scrumptious, saucy shrimp skillet that you can enjoy with cooked rice. Make a big batch and keep it in the fridge for the rest of the week.
Ingredients
4

oz

tomato

peeled, quartered, and deseeded

4

oz

red bell pepper

cut into pieces similar to the onion

2

oz

onion

cut into wedges

1

oz

red jalapeno

halved and deseeded

0.5

oz

bird's eye chili

2

tbsp

garlic

minced

1/4

cup

unsalted chicken broth

1

tbsp

unsalted butter

13

oz

peeled shrimp

from 26 oz raw shrimp

1/2

tsp

pepper

1/2

tsp

salt

1/2

tsp

Cajun seasoning

1/4

cup

cilantro

finely chopped

1/2

tsp

pepper flakes

3 1/2

cups

cooked medium-grain rice

6

oz

avocado

sliced
Instructions
Roast 4 oz tomato, 4 oz bell pepper, 2 oz onion, 1 oz red jalapeno, and 0.5 oz bird eye's chili in the air fryer at 400 °F for 5 minutes.

Add the roasted aromatics to a food processor, and blend until smooth with 1 tbsp garlic and 1/4 cup chicken broth.

Heat a non-stick skillet over medium heat. Melt 2 tbsp butter and stir the remaining 1 tbsp garlic for 30 seconds until fragrant.

Add 13 oz peeled shrimp and cook for 3 minutes.

Add the pepper mixture along with salt, pepper, and Cajun (1/2 tsp each). Simmer over low heat for 5 minutes.

Sprinkle over 1/4 cup cilantro and 1/2 tsp pepper flakes. Serve with 3 1/2 cups cooked rice and 6 oz sliced avocado.
Nutrition
Nutrition Facts
Shrimp Diablo Recipe
Amount Per Serving (1 serving)
Calories 496
Calories from Fat 99
% Daily Value*
Fat 11g17%
Cholesterol 304mg101%
Sodium 560mg24%
Potassium 965mg28%
Carbohydrates 57g19%
Protein 43g86%
Vitamin A 1399IU28%
Vitamin C 65mg79%
Calcium 149mg15%
Iron 4mg22%
* Percent Daily Values are based on a 2000 calorie diet.