Our shrimp remoulade recipe is an easy and fantastic way to enjoy seafood with Louisiana-style remoulade sauce.
The luscious shrimp, coated generously with creamy, spicy sauce, are then served over crunchy lettuce. With the addition of avocado, this dish makes a delicate and wholesome side salad, appetizer, or light meal.
Mayonnaise and Remoulade
Remoulade (pronounced re-moo-lahd) is a traditional French sauce created by combining eggs and oil to create mayonnaise. It is then flavored with additional ingredients such as herbs, capers, spices, and pickles.
Although it began in France, Louisiana popularized and spread it throughout the world. Its recipes vary significantly between countries and even regions. The sauce is often served as a seafood dipping sauce or a condiment for cold meats, and fried foods such as French fries.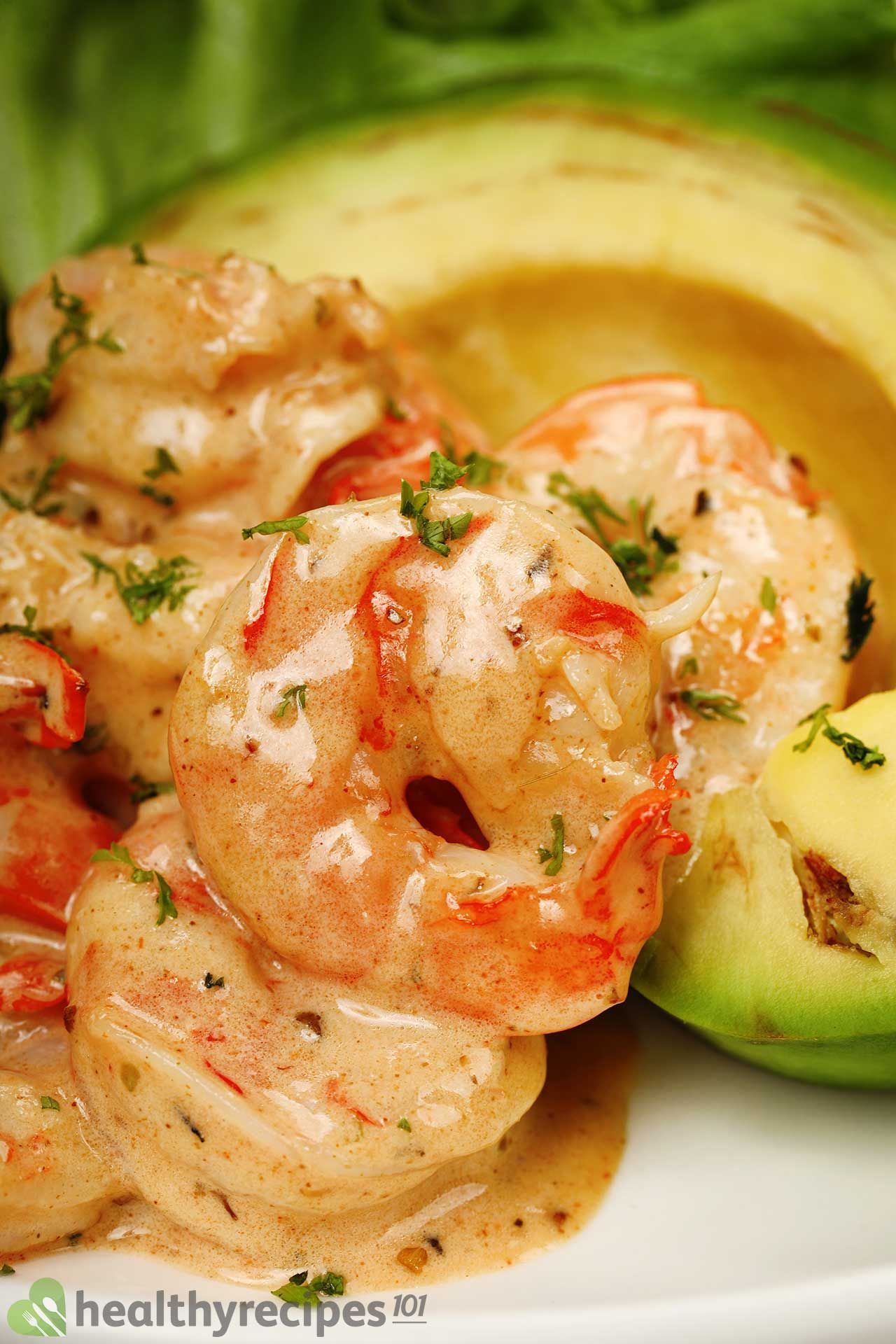 Shrimp Remoulade Benefits
Shrimp is a nutritious protein since it contains all of the nine essential amino acids (EAAs). In addition to brain-healthy lipids, it contains omega-3 fatty acids. This kind of fat is good for the heart and overall health.
Avocado provides additional nutritional benefits. It is abundant in healthful monounsaturated fats and contains a multitude of minerals, including vitamins C, E, K, B, magnesium, potassium, and copper, among others.
More importantly, our shrimp remoulade is served in reasonably-sized portions. Each serving has approximately 474 calories, 4.2 grams of saturated fat, and 554 milligrams of sodium (calculated using the USDA's food database).
Ingredients for Shrimp Remoulade
For a chewy bite, we use large shrimp, at least 16-20 pieces per pound of shrimp. We also keep the tails on for their aesthetic quality.
Unlike regular poached shrimp, our shrimp remoulade has tons of flavor thanks to the seasoned boiling water. Scroll down for details about the spices used in our boiling water.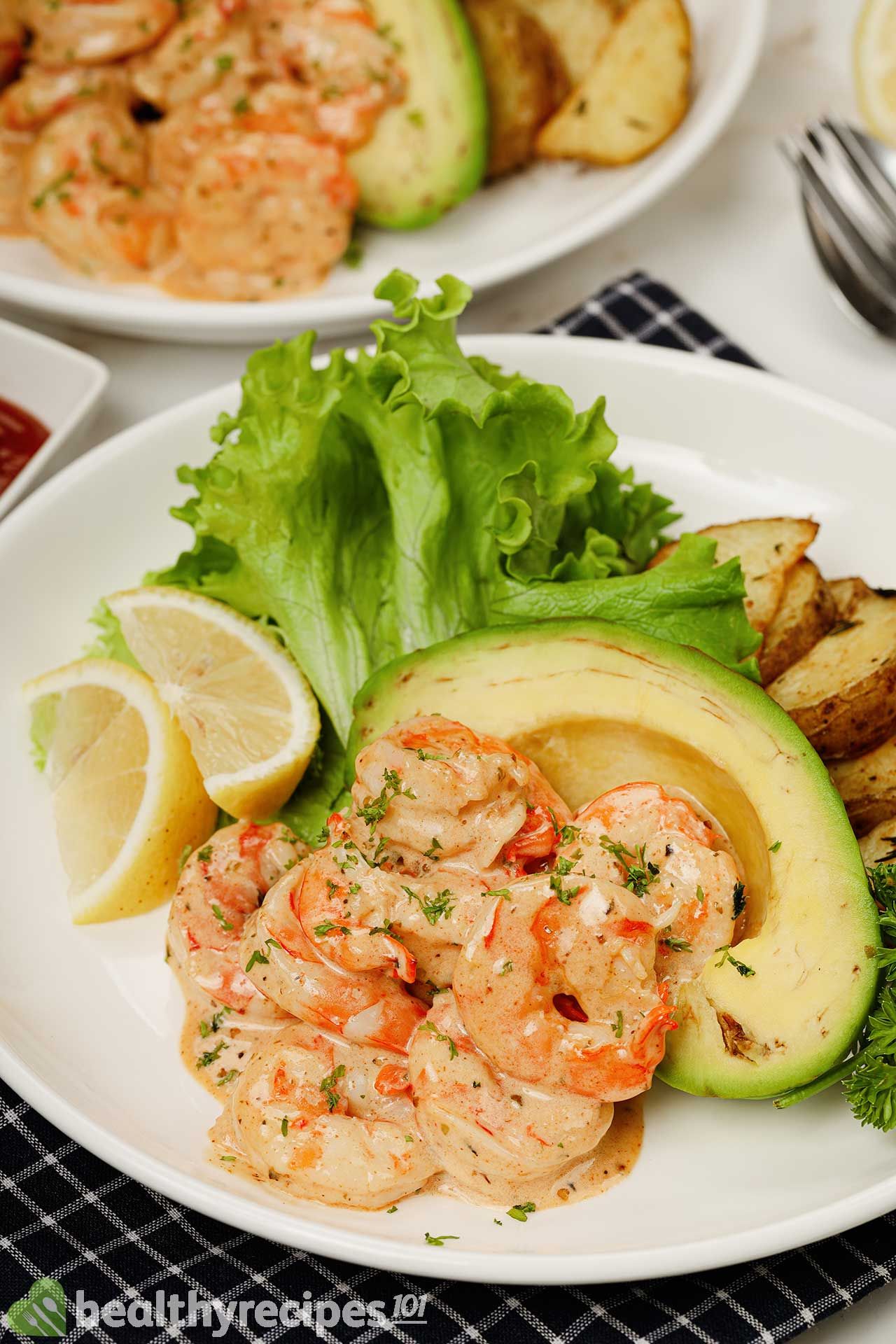 Remoulade sauce is similar to most classic recipes. Here is what you will need:
Mayonnaise and Olive Oil: Mayonnaise is the sauce's foundation, so we don't suggest substituting it with other condiments. It was acceptable when we tried making it with plain Greek yogurt, but the end result was less creamy.
Other condiments include lemon juice, cayenne, ketchup, Worcestershire sauce, Dijon mustard, salt, and oregano.
In the New Orleans region, it is also common to add chopped hard-boiled eggs. This makes a creamy, acidic, spicy, and delectable dip that can be enjoyed year-round.
Some recipes boil the shrimp in plain water: okay if you're in a hurry, but adding a few ingredients to the water will help enhance the flavor. There's no right or wrong blend of condiments, but if you want a starting point, try our combo.
In a pot, bring the water, paprika, peppercorns, bay leaf, and onion to a boil. One or two minutes of simmering will allow the flavors to permeate through the water.
Add the shrimp when it has reached a rolling boil over high heat. Depending on the size of the shrimp, cook for 2 to 4 minutes, or until the shrimp are opaque, and remove the cooked shrimp to a bowl.
We promise that a few pantry staples and a few more minutes will take your shrimp to another level of deliciousness.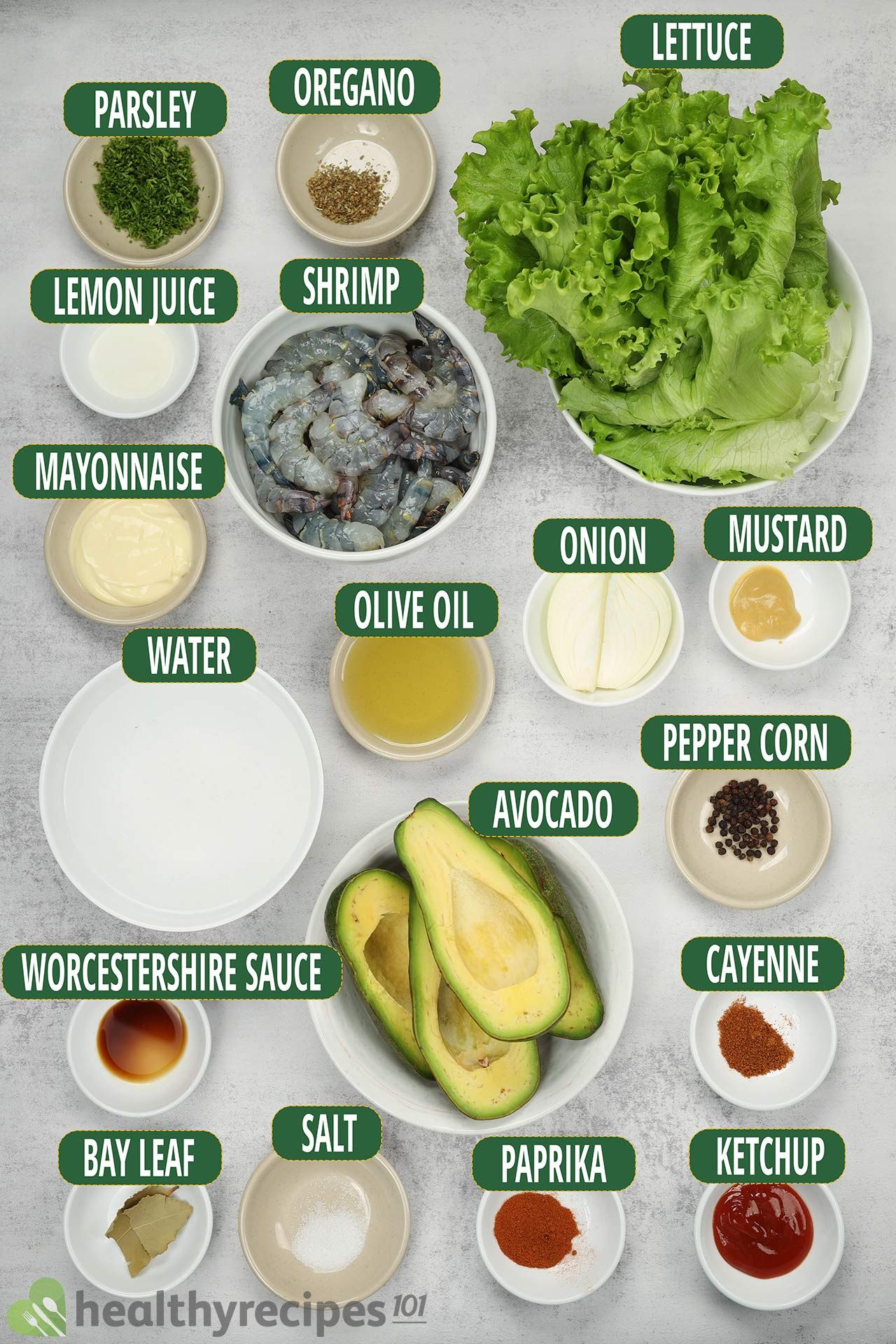 How to Make Shrimp Remoulade
Shrimp remoulade is more straightforward than you can imagine! This New Orleans-style recipe requires only basic ingredients and a simple homemade remoulade sauce.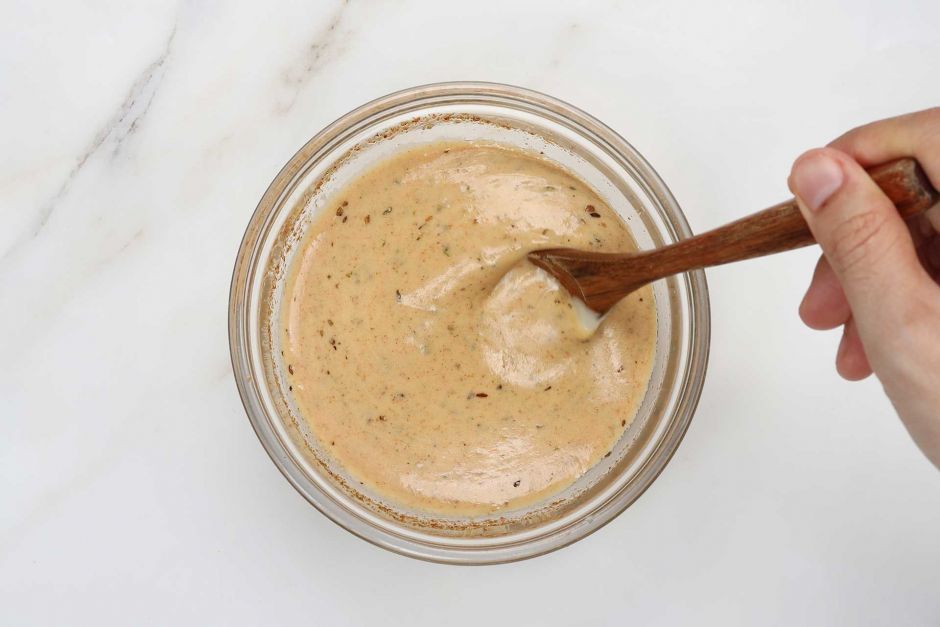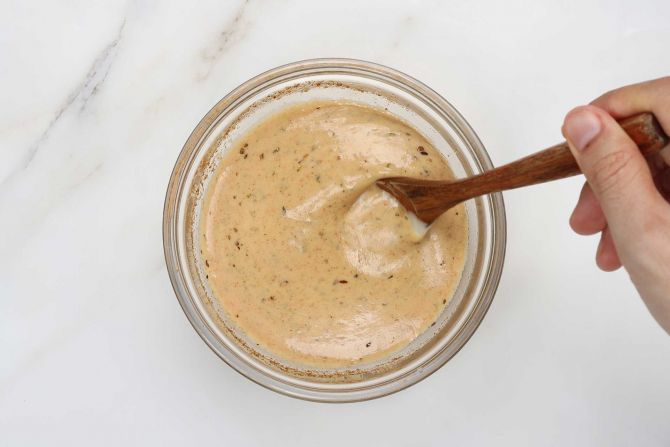 Prepare the remoulade sauce.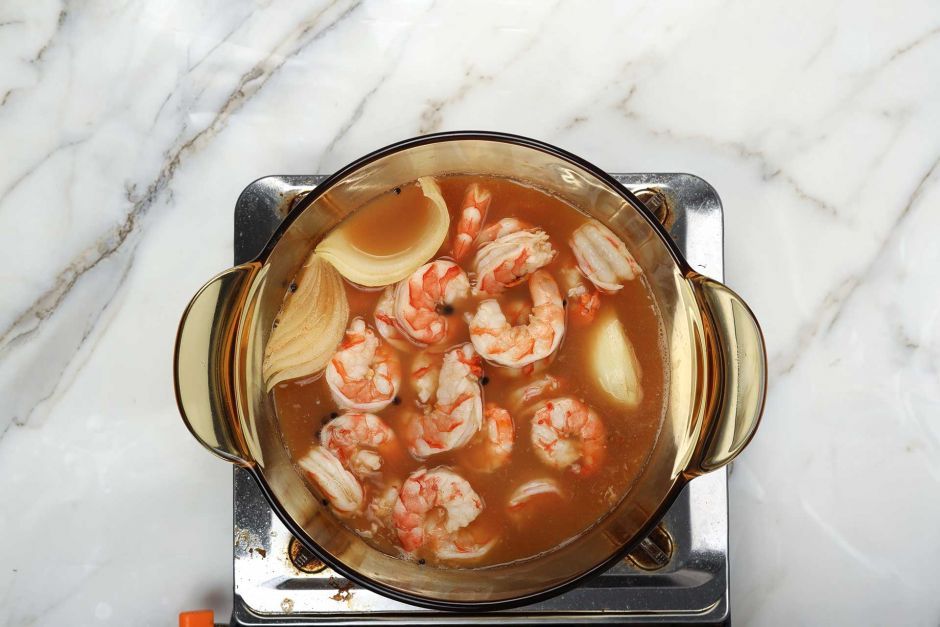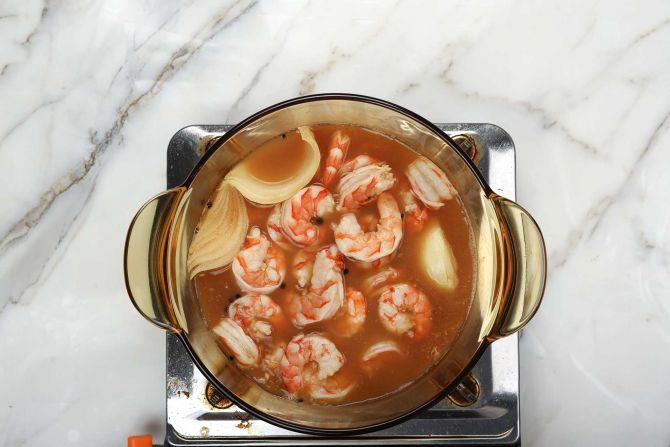 Boil the shrimp in water with spices and herbs.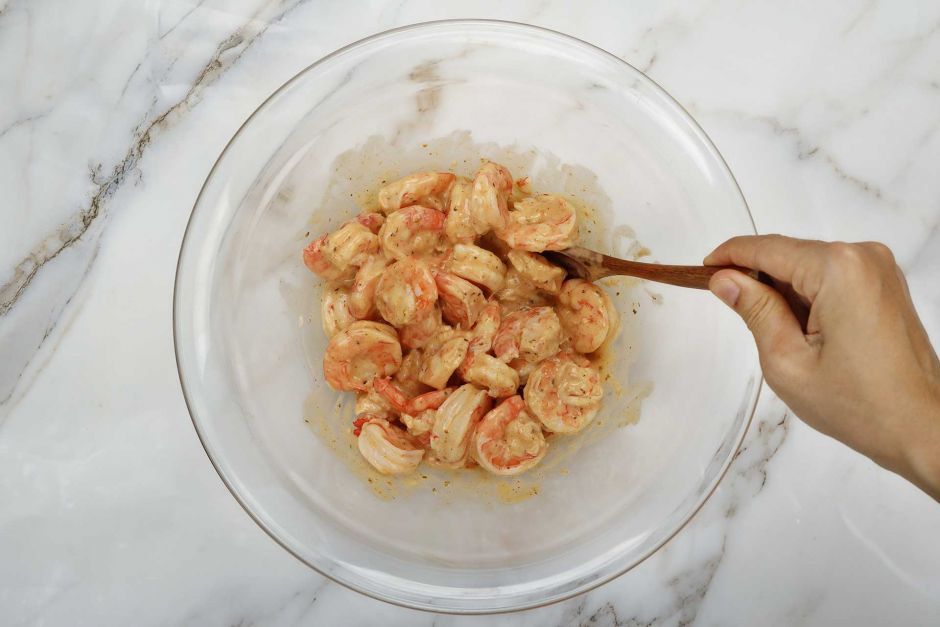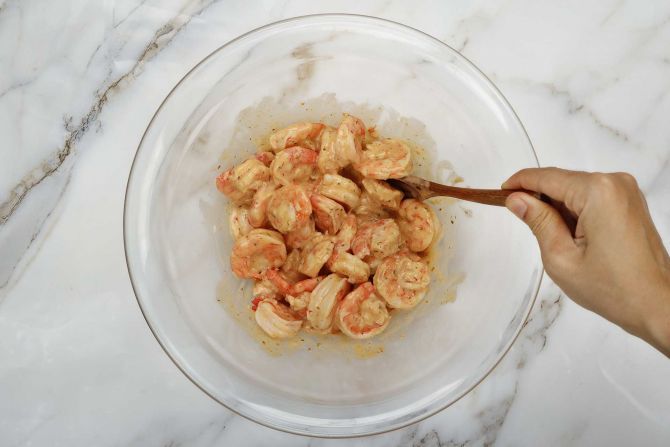 Drizzle the remoulade sauce over the shrimp.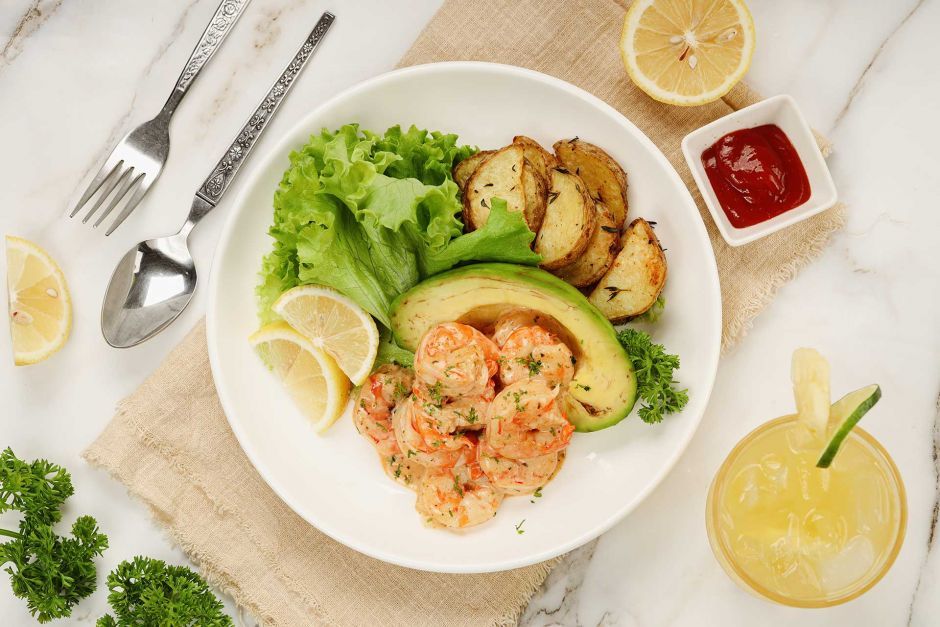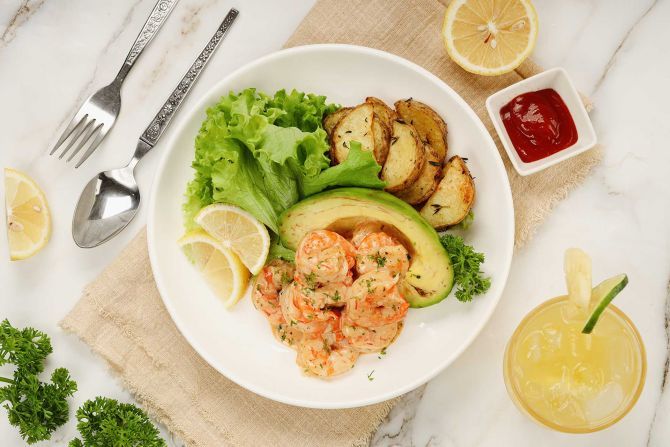 Serve the shrimp over lettuce and avocado.
Jump to Recipe
This recipe is perfect for warm weather. The poached shrimp is dressed with remoulade sauce and can be served alone or in lettuce cups as a complete meal. It is light and refreshing, yet filling.
If you're looking for more healthy shrimp recipes, check out our pan seared shrimp, bacon wrapped shrimp, or Cajun shrimp recipe. They are all easy to make, delicious, and ensure a hearty meal within 30 minutes.
Storage and Reheating
We recommend storing the shrimp and remoulade sauce separately to keep them fresh for longer:
Keep any leftover shrimp in an airtight container and store them in the fridge. They should last from three to four days.
Remoulade sauce made with store-bought mayonnaise can be refrigerated for up to 2 weeks when properly stored in an airtight container and refrigerated. The homemade remoulade sauce has a shorter shelf life of 3 days once kept in the fridge.
What to Serve with Shrimp Remoulade
Rich, flavorful, and protein-packed, our shrimp remoulade needs a carbohydrate side dish to boost its calorie and nutritional profile. We recommend serving the dish with air fryer potato wedges, dipped in ketchup.
Finally, we bring everything together with our delightful and herbal pineapple ginger juice. This juice contains only simple fruits and herbs to refresh your taste buds with their aromas after each bite.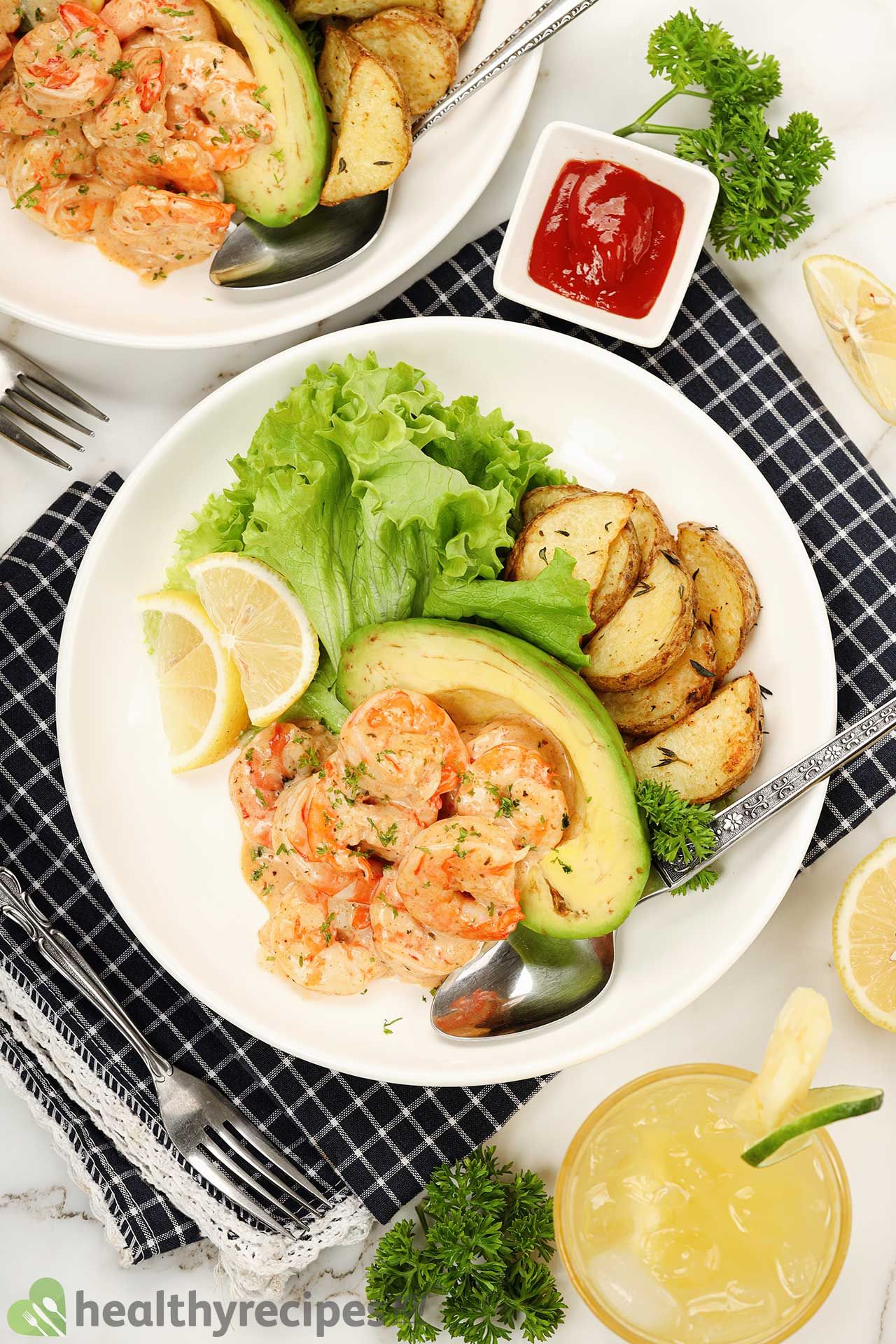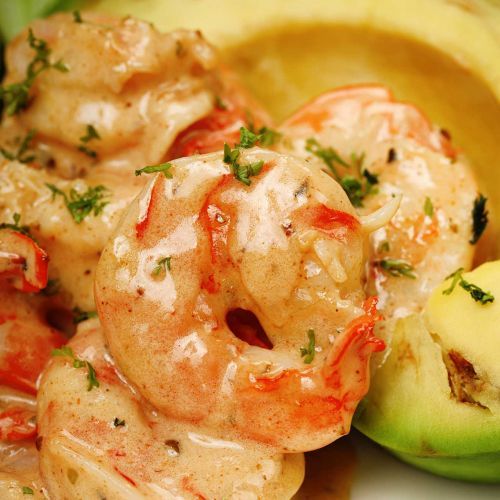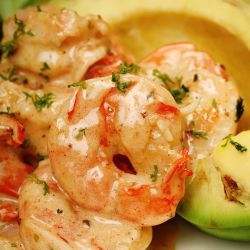 Shrimp Remoulade Recipe
Boiled shrimp can be boring and flavorless, but not with our shrimp remoulade recipe. The dish is packed with flavors and benefits.
Ingredients
14

oz

peeled and deveined shrimp

28 oz raw shrimp

2 1/2

tbsp

olive oil

1

tsp

lemon juice

1/2

tsp

cayenne

1

tbsp

Heinz's Ketchup

3

tbsp

Japanese mayonnaise

1/2

tsp

Worcestershire sauce

1/4

tsp

salt

1/2

tsp

oregano

1 1/2

cup

water

boil

1

tsp

paprika

boil

1

tsp

peppercorns

boil

1

bay leaf

boil

1

oz

onion

boil

3

oz

lettuce

12

oz

avocado

halved

2

tbsp

parsley

chopped
Instructions
Make the remoulade sauce: in a small bowl, add 2 1/2 tbsp olive oil, 1 tsp lemon juice, 1/2 tsp cayenne, 1 tbsp Heinz's Ketchup, 3 tbsp mayonnaise, 1/2 tsp Worcestershire sauce, 1 tsp Dijon mustard, 1/4 tsp salt, and 1/2 tsp oregano. Whisk until well combined and set aside.

In a large pot, heat 1 1/2 cup water, 1 tsp paprika, 1 tsp peppercorns, 1 bay leaf, and 1 oz onion. Bring the water to a boil, then add 14 oz shrimp and cook for 2 minutes. Remove shrimp from the pot using a slotted spoon.

In a large bowl, stir together the shrimp and remoulade until coated.

Serve the shrimp over 3 oz lettuce and 12 oz avocado. Garnish with 2 tbsp chopped parsley.
Nutrition
Nutrition Facts
Shrimp Remoulade Recipe
Amount Per Serving (1 serving)
Calories 474
Calories from Fat 270
% Daily Value*
Fat 30g46%
Cholesterol 335mg112%
Sodium 547mg24%
Potassium 1005mg29%
Carbohydrates 10g3%
Protein 42g84%
Vitamin A 390IU8%
Vitamin C 11mg13%
Calcium 149mg15%
Iron 2mg11%
* Percent Daily Values are based on a 2000 calorie diet.