Our sesame shrimp recipe is a quick and easy way to enjoy this Chinese dish at home. The shrimp is drenched in sauce and served over white rice with some blanched snow peas on the side.

Is This Sesame Shrimp Healthy?
Yes, it is a nutritious meal.
First of all, 1 serving of this meal contains about 41 g of protein, coming from the shrimp alone.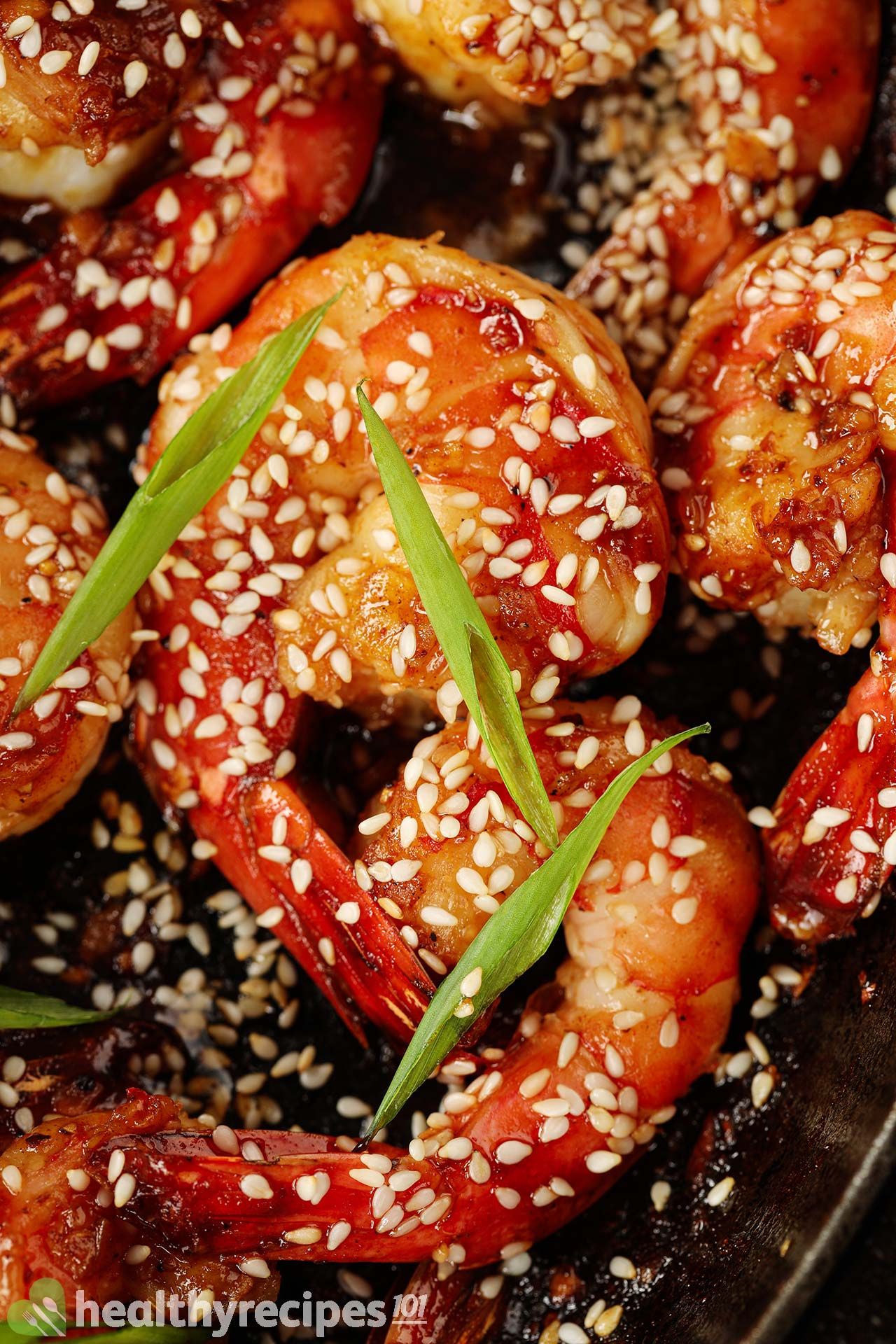 We serve the shrimp with rice and blanched snow peas, which incorporate carbs, micronutrients, and fiber into the meal. Both are perfectly portioned so that each serving yields about 500 calories.
We also make sure not to use too much sauce, leaving each serving with only 534 mg sodium. Compared to the USDA's suggested upper intake of 2300 mg per day, this amount takes up 23%.

Ingredients for Sesame Shrimp
Our sesame shrimp recipe calls for shrimp, cooked rice, snow peas, and several Chinese seasonings/ sauces:
1. Sesame Sauce
To make the sauce, you'll need at least garlic, soy sauce, cornstarch, rice vinegar, honey (or sugar), sriracha, and sesame oil. They make for a glossy sauce with a concentrated flavor and a wonderful sesame aroma.
If you're a big fan of spicy food, add to the mix some spicy red pepper flakes and hot paprika, not the sweet one. If not, you can use non-spicy red pepperflakes and sweet paprika for a gorgeous aesthetic, like we do.
2. Shrimp
This sesame shrimp recipe welcomes shrimp of all sorts, fresh or frozen. If you're using fresh shrimp, leave the tail on for presentation.
3. Vegetable
Like most of our Chinese dishes, we try to sneak in some cooked crisp greens. Our repertoire includes broccoli and green beans amongst others, but today we're using snow peas, which need nothing but a quick 5-minute blanch.
4. Cooked Rice
As it often is, we're serving this dish with medium-grain white rice. If you like, switch it for whole-grain rice for more vitamins and minerals.
Since the shrimp come together quickly, you should have some rice prepared beforehand. Whenever we're short on time, home-made frozen packets of rice are just the ticket.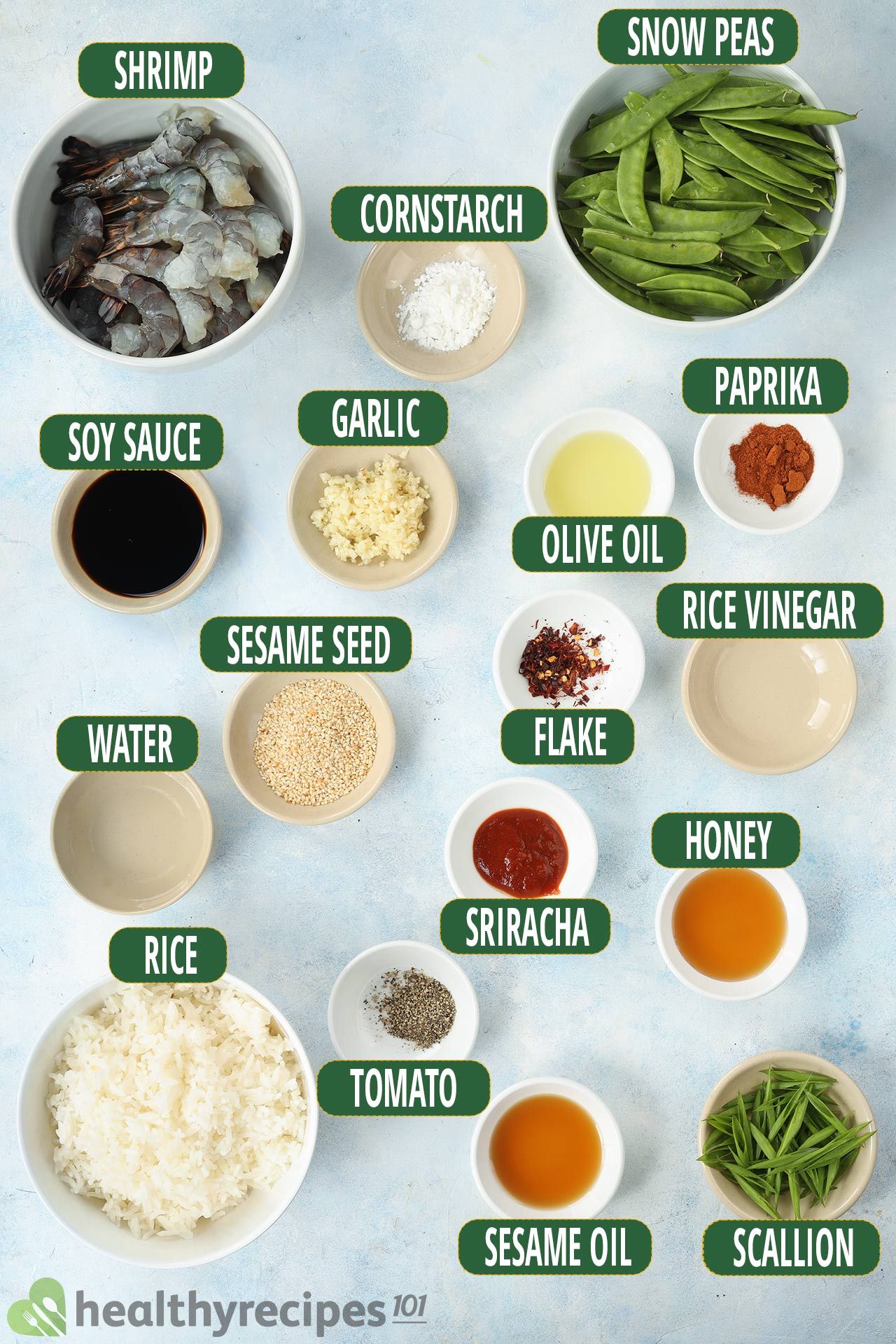 How to Make Sesame Shrimp
To make this dish, first mix together the sauce ingredients. Dilute the cornstarch with water, then add to it soy sauce, honey, vinegar, sriracha, and other spices. Set aside.
Next, bring a pot of water to a boil and cook the snow peas for about 2 minutes. Prepare an ice bath, then shock them right after so they stay crisp and green. Let them dry in a colander.
Finally, sauté some garlic with olive oil, and add the shrimp. A few seconds after they've turned red evenly, add the sauce and it'll thicken in a matter of seconds.
Since sesame oil's healthy fatty acids are sensitive to heat, you'll want to add it right before serving. Sprinkle on top some sesame seeds and carefully-sliced scallions for garnish, and a beautiful Chinese meal is ready to dig in.
Here's a recap of our sesame shrimp recipe:
Mix the sauce ingredients.
Blanch the snow peas and shock them in ice water afterward.
Sauté the garlic.
Add the shrimp and cook until just turning red.
Add the sauce and reduce.
When serving, drizzle sesame oil on top.
Garnish with sesame seeds and scallions, and serve with cooked rice and snow peas.
For the best result, follow our recipe's measurements at the bottom of this article.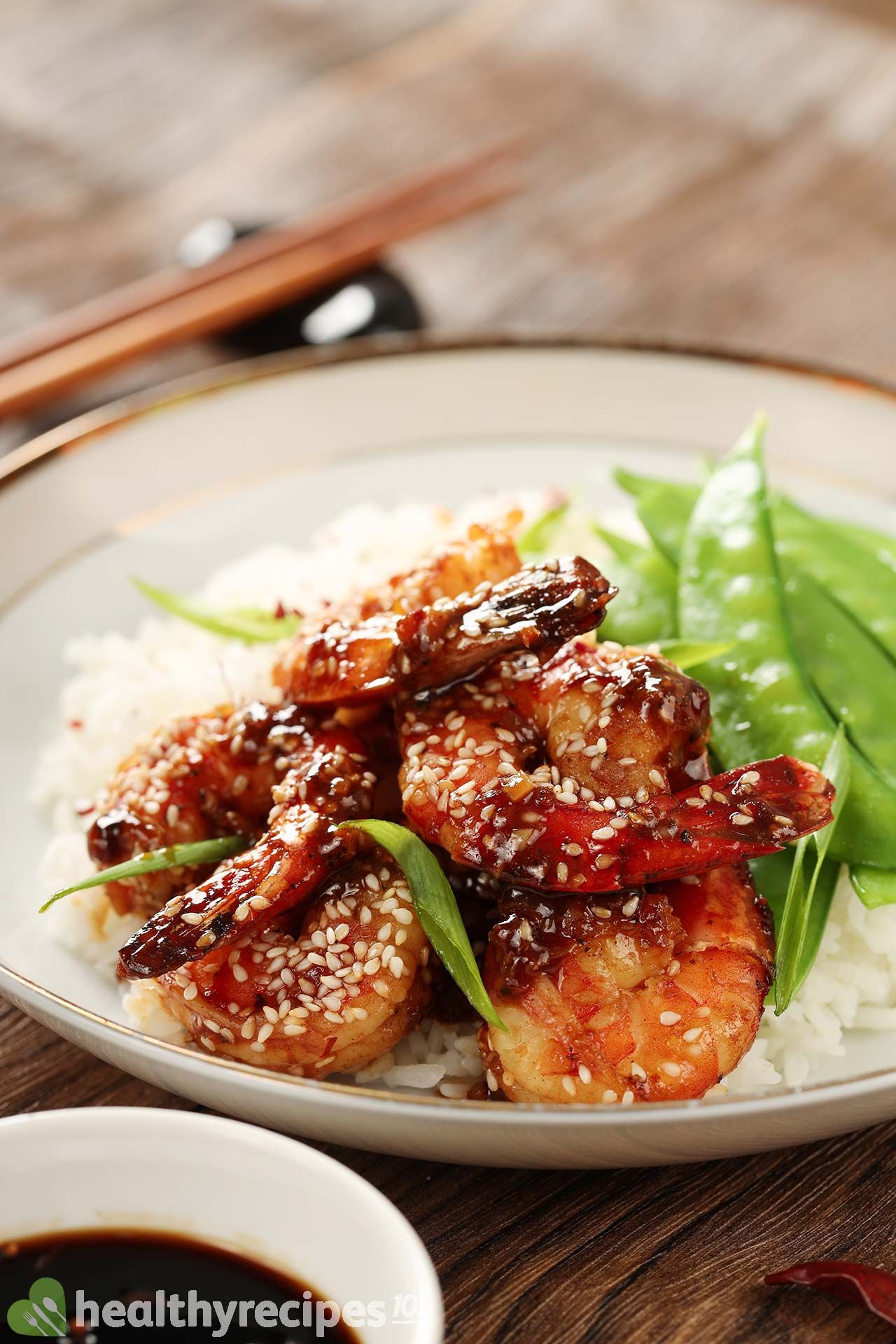 How to Store and Reheat Leftover Sesame Shrimp
The shrimp, rice, and vegetables should be stored in separate containers:
Shrimp: up to 4 days in the fridge, 3 months in the freezer.
Rice: up to 5 days in the fridge, 3 months in the freezer.
Snow peas: up to 5 days in the fridge but don't thaw well from frozen.
We use air-tight containers, food-wrapped clean bowls, or Ziploc bags when the fridge is a bit tight.
To reheat:
Shrimp: stir in a non-stick pan over low heat and allow to bubble for 2 minutes. Or, microwave for 1 minute if refrigerated, 3 minutes if frozen.
Rice: stir in a non-stick pan over low heat with about 2 tbsp water and turn the heat off just as steam appears. Or, microwave with 2 tbsp water for 1 minute if refrigerated, 3 minutes if frozen.
Snow peas: needn't be reheated.

What to Serve With Sesame Shrimp
This dish is best paired with a soup and a drink. We've looked through our menu, and these two are just the right options:
Sesame Shrimp
Winter Melon Meatball Soup
Pear Juice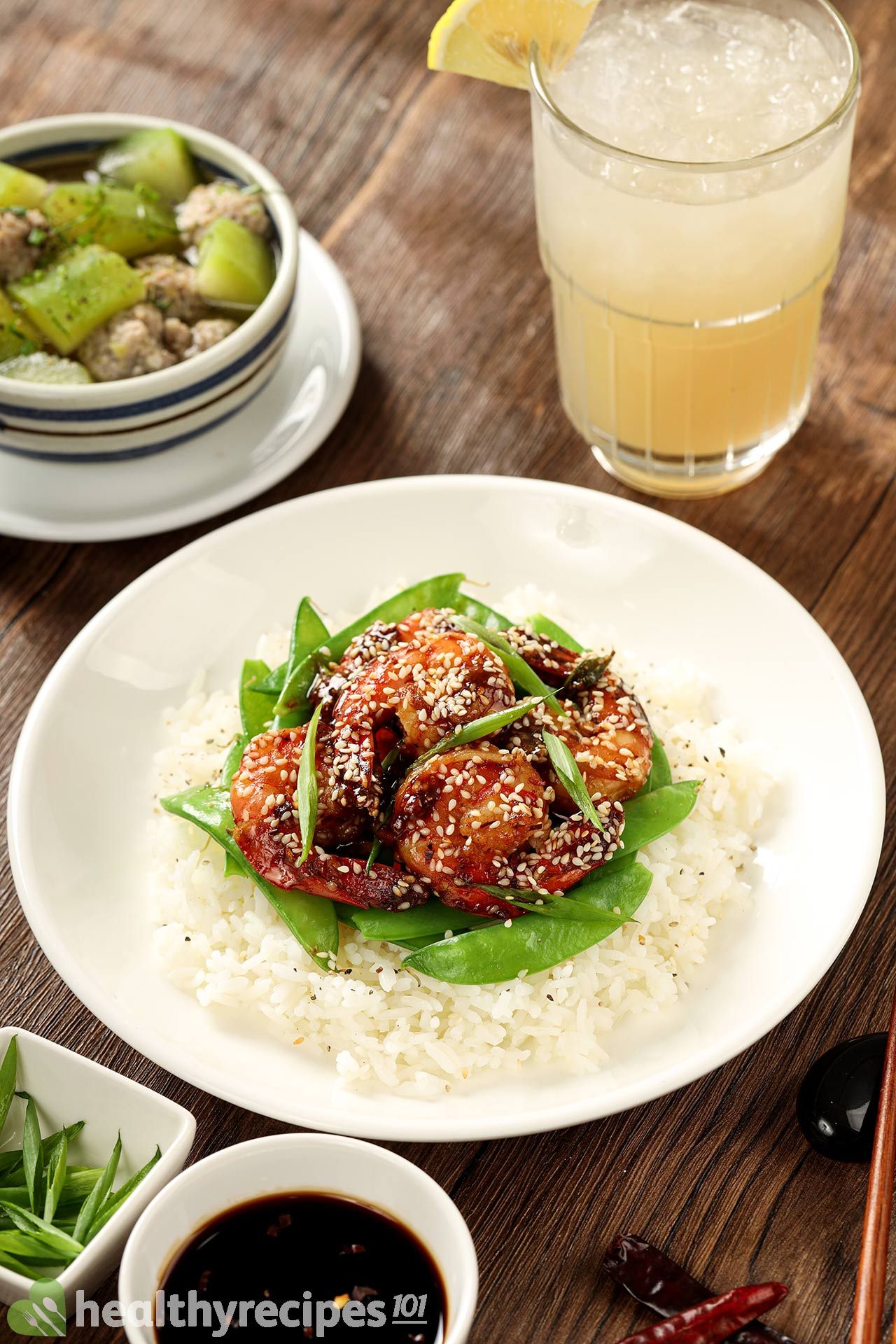 Previous Recipe
Shrimp Risotto
Shrimp Risotto
Next Recipe
Mongolian Shrimp
Mongolian Shrimp
Luna Regina
A writer and entrepreneur, Luna's day doesn't start at the computer keyboard, but in the kitchen.
Half of her working hours are spent on mixing ingredients for her recipes. The other half involve working with the tech team to research and test the tools and appliances that promise to make kitchen work effortless and mess-free. From a kitchen knife or water filter to the Instant Pot, if it can help save time and effort for the home cook, Luna and her team are on it.
Luna's extracurricular pastimes include camping, travel, and photography.