Today's shrimp primavera recipe is a straightforward guide to a flavorful and satisfying pasta dish with colorful sautéed vegetables and juicy plump shrimp. Not only is it simple, it's also suitable for any occasion.
What Is Primavera?
"Primavera" means spring (as in the season) in Italian. As part of this dish's name, it indicates the display of a flavorful pasta dish that's loaded with colorful, fresh spring vegetables and juicy plump shrimp.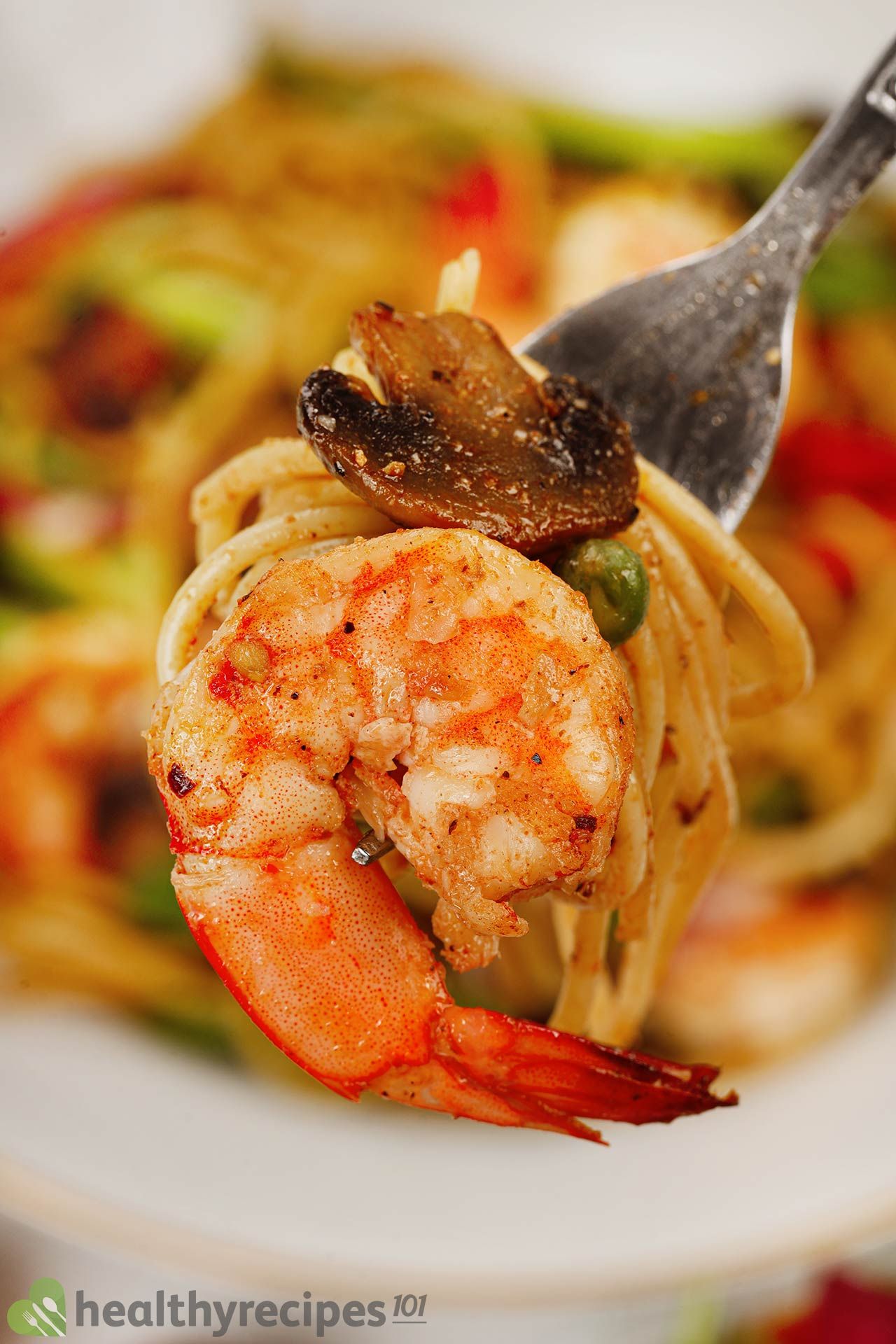 There are countless variations of shrimp primavera, as there's no single set veggie combination, making it easy to customize to personal interest. Some commonly used vegetables in shrimp primavera are mushrooms, asparagus, green beans, tomatoes, zucchini, etc.

Is Shrimp Primavera Healthy?
Each serving of this shrimp primavera contains 475 calories, giving plenty of room for side dishes. We also kept the sodium and saturated fat content within healthy limits (577.4 mg and 5.5 g, respectively) while still ensuring the overall savoriness.
Shrimp, like many other marine creatures, are a great source of vitamins and minerals, such as iodine, selenium, and vitamin B12. They're also an excellent source of healthy fats as they provide high amounts of omega-3 and omega-6 fatty acids.
The remaining ingredients in this stir-fried dish are fresh produce and pantry spices. When combined in the skillet, they add more nutrients, earthiness, and diverse textures to our dish without piling up the calories.

Main Ingredients for Shrimp Primavera
We chose medium-sized tail-on shrimp for this recipe. Having said that, there are no hard and fast rules when it comes to shrimp in a shrimp primavera, so feel free to go for any size you want.
Peeling shrimp can be a challenging job, so look for pre-peeled and deveined packaged shrimp to save time and energy on preparation. They are often located in the frozen foods section of the supermarket.
While fresh shrimp is preferable, if you only have access to frozen shrimp, they work too. Make sure you defrost them thoroughly then pat them dry with a paper towel to remove any excess moisture.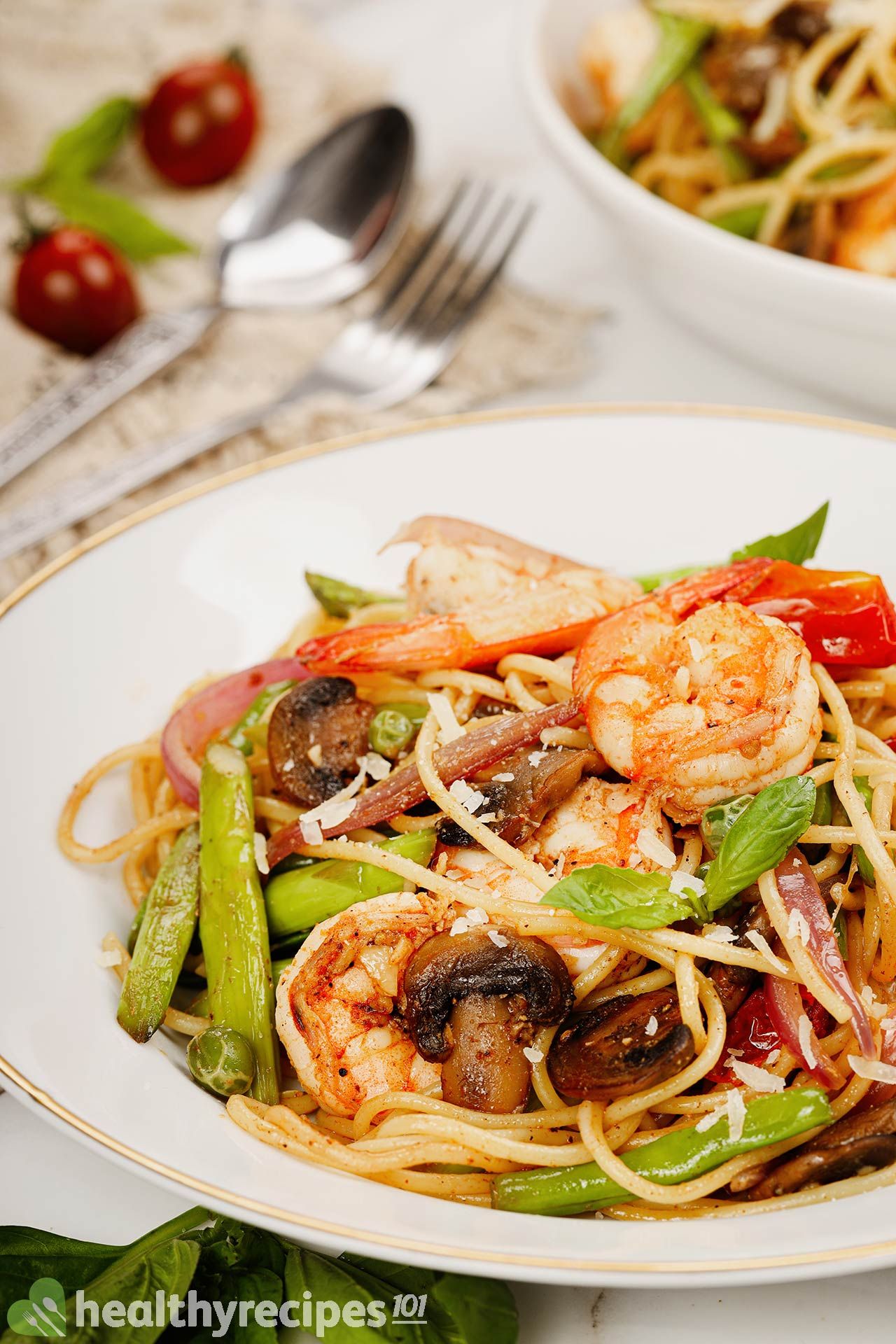 We opted for a mix of mushrooms, asparagus, green beans, cherry tomatoes, yellow zucchini, green peas, and red onion for today's dish.
As previously mentioned, this shrimp primavera is versatile and customizable. You can load your dish with your favorite vegetables or whatever varieties are in the season.
This recipe works well with pasta of any size and shape. We prefer long-tubed pasta, but you can also make it with short-tubed pasta like penne. Feel free to go for whatever your heart desires!

How to Make Shrimp Primavera
Our shrimp primavera recipe is a fool-proof guide to a one-skillet stir-fried dish with al dente pasta, colorful veggies, and juicy plump shrimp. Just follow these simple steps:
Sauté minced garlic in heated olive oil.
Sauté shrimp with spices until they turn pink.
Add butter to sauté with the shrimp, then remove to a bowl and set aside.
Add olive oil and mushrooms to sauté.
Add asparagus and green beans to sauté.
Add tomato and zucchini to sauté.
Add green peas and butter. Stir quickly.
Add more spices.
Add the cooked pasta and stir to combine.
Return the cooked shrimp to the skillet. Stir quickly then turn off the heat.
Garnish with cheese and basil. Enjoy it hot.

How to Store and Reheat Shrimp Primavera
Refrigerate the remaining shrimp primavera in airtight containers or Ziploc bags in portions for up to 2–3 days. Although we do not recommend freezing this dish due to the possibility of the pasta drying out after reheating, the leftovers can still last well in the freezer for up to 3 months.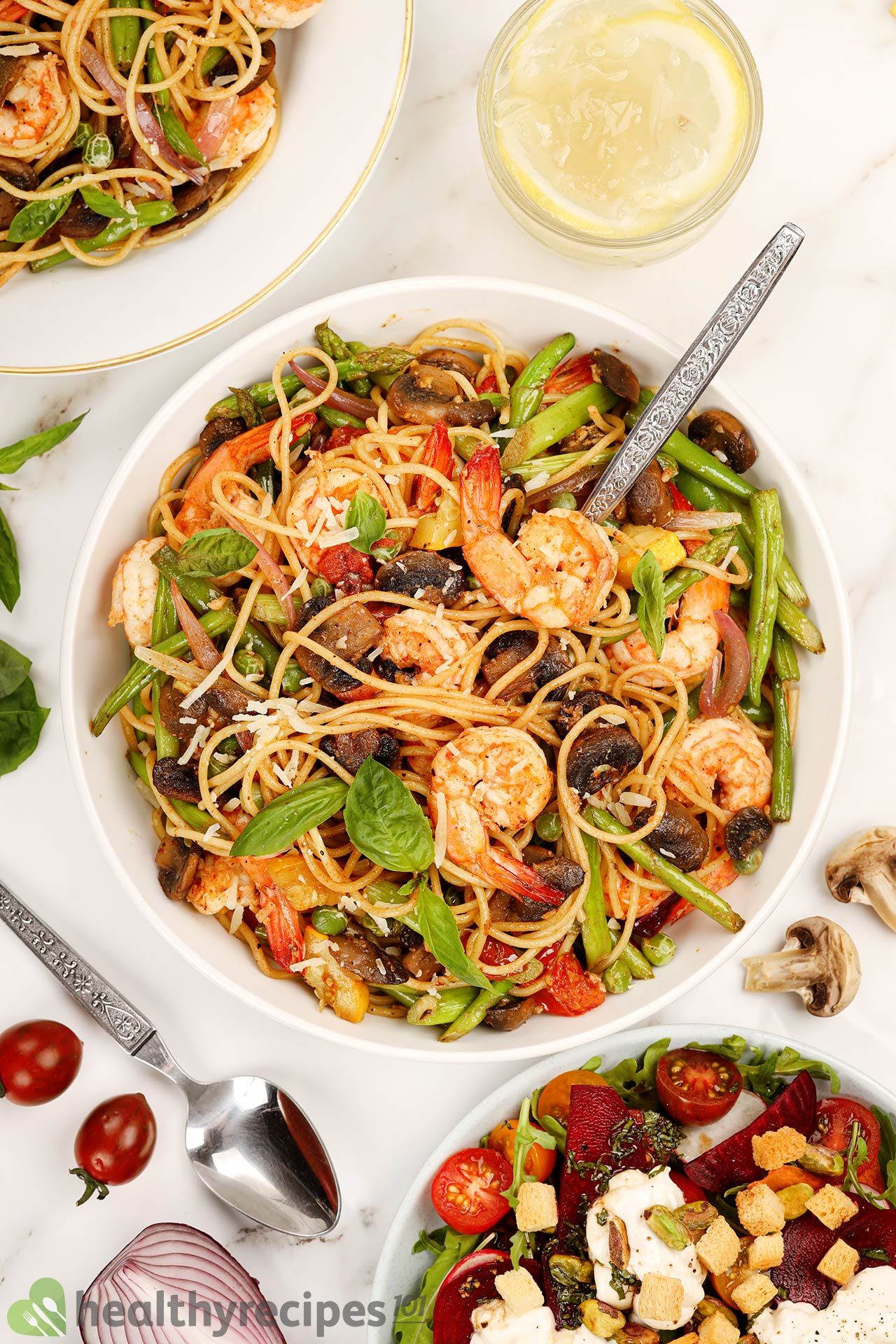 Shrimp primavera is best reheated in a skillet with an added splash of cooking oil or liquid to prevent the shrimp and pasta from drying out. Cook them over medium-low heat until they are warmed through and ready to serve.
You can also zap the leftovers quickly for 2-3 minutes in the microwave if you're short on time and need them heated in a flash.
For frozen portions, let the leftover portions first thaw overnight in the fridge. Reheat them as instructed above the next day (day of serving).
Shrimp primavera cannot withstand repeated freezing and thawing cycles. Therefore, once warmed, it should be consumed within a day of serving to preserve the texture and flavor.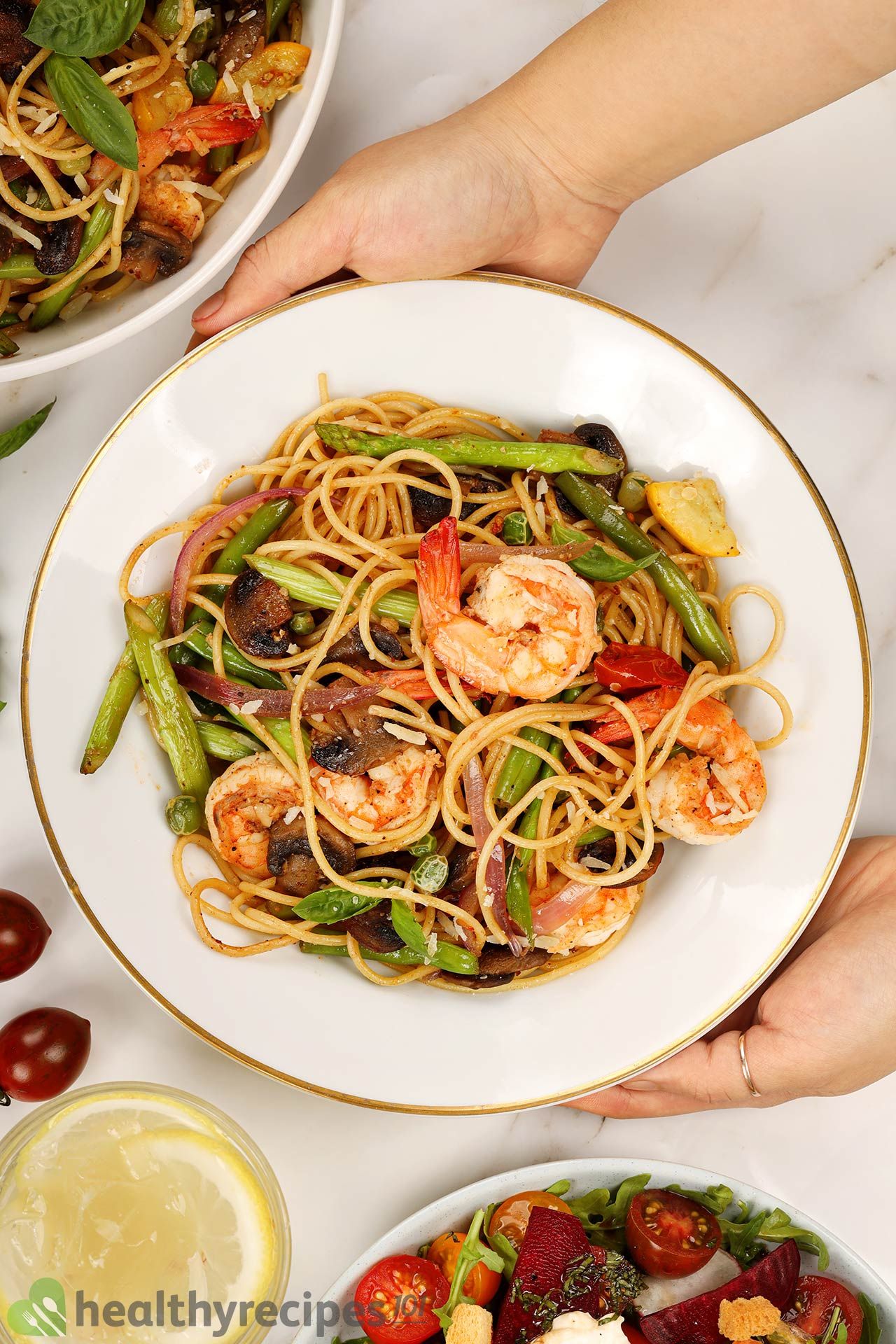 What to Serve With Shrimp Primavera
We believe this shrimp primavera is best enjoyed with a light salad and a simple fruit juice on the side. Here are our choices to create a delicious and hearty full meal:
Burrata Salad: A 10-minute tasty salad made with fresh summer veggies and bread cubes, served with a tangy balsamic vinaigrette. It complements this savory shrimp primavera perfectly and provides a more balanced flavor profile for the meal.
Lemonade: A simple and refreshing lemonade loaded with vitamin C will round out this rich meal wonderfully. Plus, it takes just 5 minutes to whip a large pitcher full while adding an invigorating taste to reset your palate.
Previous Recipe
Shrimp Burger
Shrimp Burger
Next Recipe
Moo Shu Shrimp
Moo Shu Shrimp
Luna Regina
A writer and entrepreneur, Luna's day doesn't start at the computer keyboard, but in the kitchen.
Half of her working hours are spent on mixing ingredients for her recipes. The other half involve working with the tech team to research and test the tools and appliances that promise to make kitchen work effortless and mess-free. From a kitchen knife or water filter to the Instant Pot, if it can help save time and effort for the home cook, Luna and her team are on it.
Luna's extracurricular pastimes include camping, travel, and photography.