This 20-minute shrimp pasta recipe can be made in the comfort of your kitchen with simple ingredients and little effort. The plump fresh shrimps are tossed in a buttery, herb-infused sauce, folded into a pool of al dente pasta, and then topped with grated Parmesan cheese. A healthy, flavorful family-sized meal is now achievable in a quick and fool-proof way.

Is This Shrimp Pasta Healthy?
As we intentionally kept the quantities of butter, oil, and salt down (which take-outs usually push way too high), this shrimp pasta recipe is brimming with healthy ingredients. You can think of it as a simpler and lighter take on the popular shrimp scampi.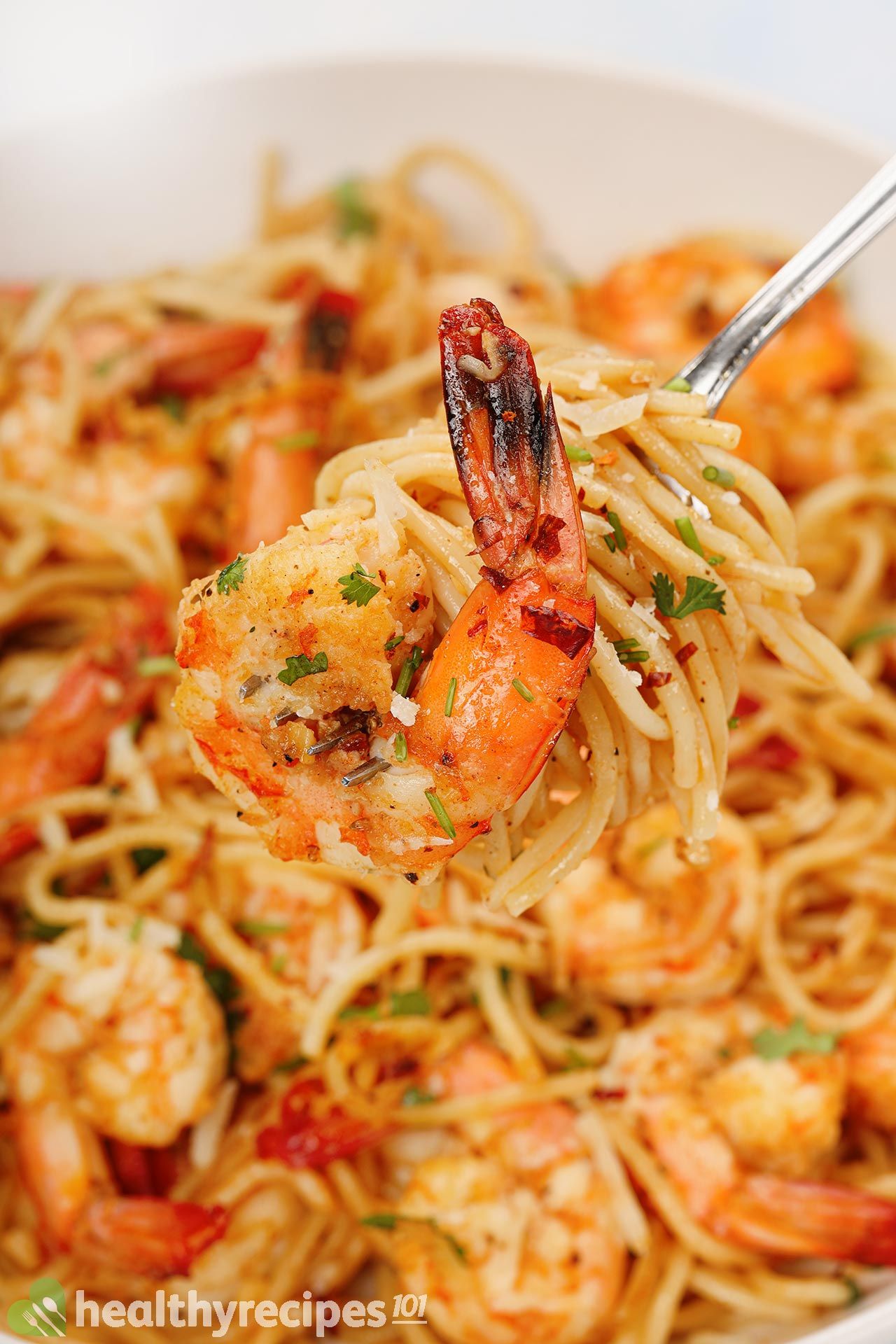 When you make this dish, you can be certain that you won't have a giant pile of carbs on your plate. Instead, you'll have a perfectly balanced medley of shrimp and pasta.
For the creamy sauce, we managed to make good use of garlic, lemon juice, and some easily available spices so we could omit the heavy cream and white wine. Butter alone is enough to complement the juicy plump shrimp twirled with pasta on your fork.

Shrimp Pasta Ingredients
All the ingredients for our shrimp pasta need just 10 minutes on the heat to bring together a dish that tastes just like the one you might find on a fine dining menu. Let's take a brief look at them.
1. Best Pasta for this Recipe
Any thin round pasta will work well with this dish (here we use linguine). To have the shrimp delicately shine through those long strands of noodles, tube-shaped pasta isn't a good choice; they work better with dishes comprising glossy thick sauces.
Remember to only cook the pasta until almost-al-dente as it will continue to cook when being tossed with the shrimp in the skillet later.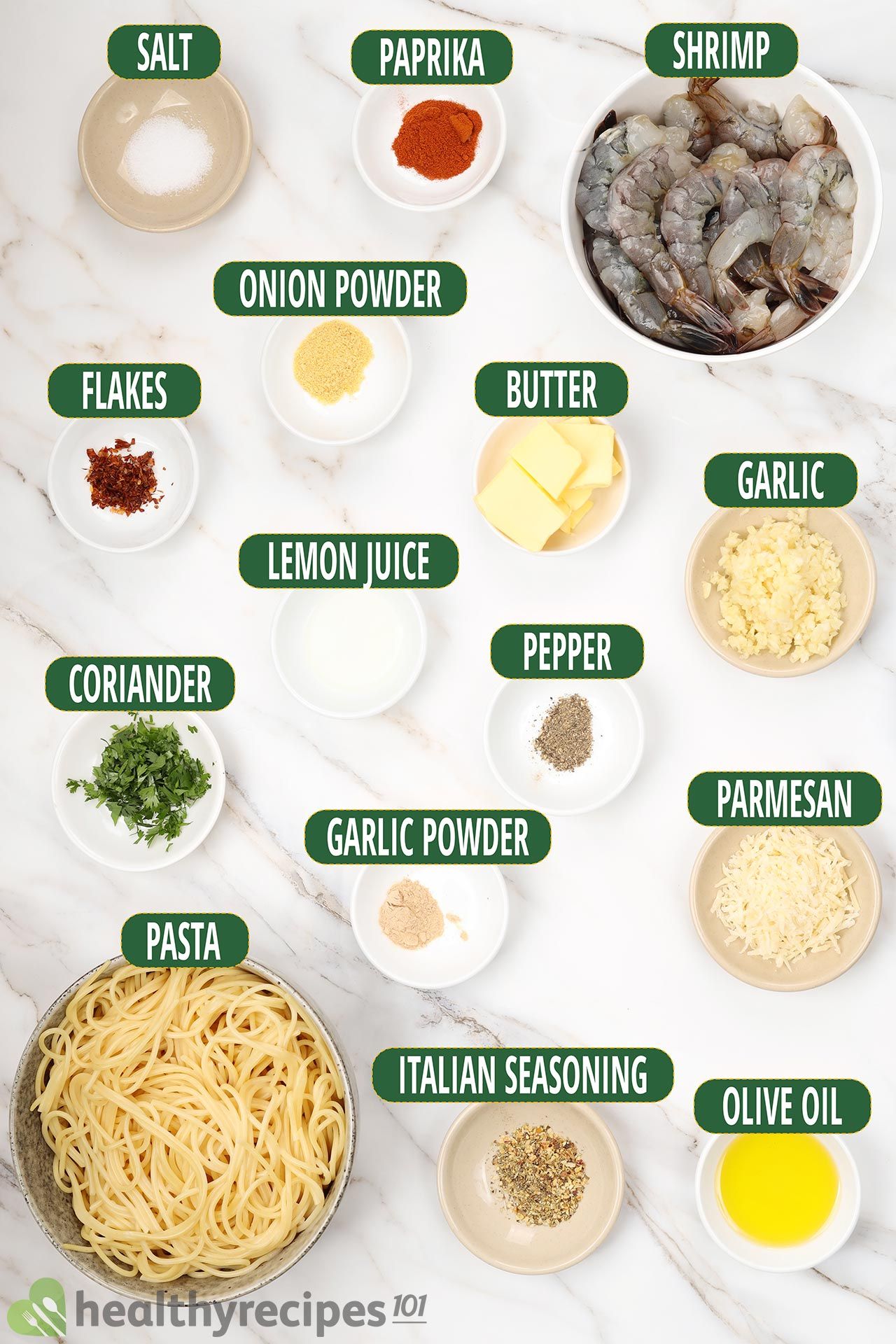 2. How To Season the Shrimp
Either fresh or frozen raw shrimp will work for our recipe. To save time, feel free to look for packages of frozen shrimp that are already peeled and deveined but spend a few minutes before cooking to thaw them before heading on to other steps.
For this recipe, we kept it quick and simple by skipping the marinating. Instead, we toss the shrimp with the spice mix right on the heat.
Because shrimp are done so quickly, it's best to cook the pasta and the shrimp separately, then combine them on the heat before serving. If you're not good at multi-tasking in the kitchen, don't rush, just handle these two tasks successively adding just a few extra minutes to the cooking process.
You'll need a blend of paprika, onion powder, garlic powder, Italian seasoning, pepper, salt, and lemon juice to enhance the big and bold flavors of the shrimp. While garlic adds vibrancy and fragrance to the flavor base, lemon juice will add a freshness and brightness to complement the whole dish.
Finally, shredded Parmesan cheese is sprinkled on top to add more creaminess to our pasta, while red pepper flakes are also added for a mild heat.

How to Make Shrimp Pasta
This 10-minute shrimp pasta recipe will satisfy your cravings for a hearty meal with big, bright, and bold flavors. All it takes is 5 simple steps with just one dirty skillet to clean!
Step 1: In a cast-iron skillet, sauté the garlic in heated olive oil until fragrant.
Step 2: Add the shrimp together with the spices. Cook until the shrimp turns pink.
Step 3: Add butter and stir constantly.
Step 4: Add the cooked pasta to the skillet. Still until well combined.
Step 5: Turn off the heat. Garnish with toppings and serve hot.

How to Store and Reheat Leftover Shrimp Pasta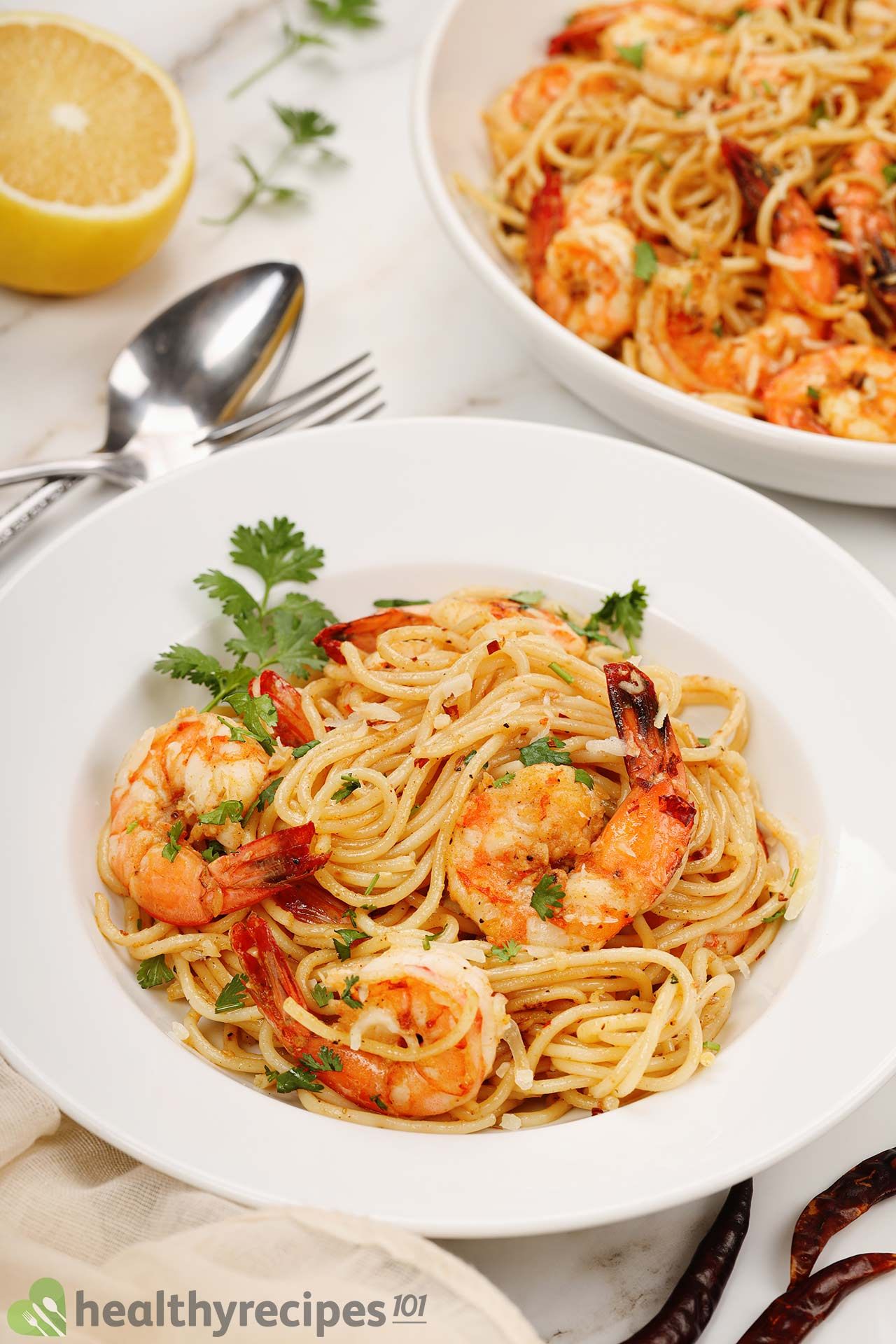 If cooked fresh, a portion of leftover shrimp pasta will last well in the fridge in a sealed container for 3 days.
You can either reheat the portions on the stovetop or in the microwave. Simply turn the stove on to medium heat, add a little water or any cooking liquid of choice (milk, meat broth, or veggie stock), and cook until warmed through.
You might also need to reheat the shrimp and the pasta separately since these two don't take the same time to cook. Always reheat the pasta just before serving for the best possible texture.
To keep shrimp pasta for even longer, consider freezing it. Wait for it to cool down and put the leftovers in airtight containers or heavy-duty freezer bags and they will last for up to 6 months. Before the day of serving, thaw them in the fridge, then reheat on the following day as instructed above.

What to Serve with Shrimp Pasta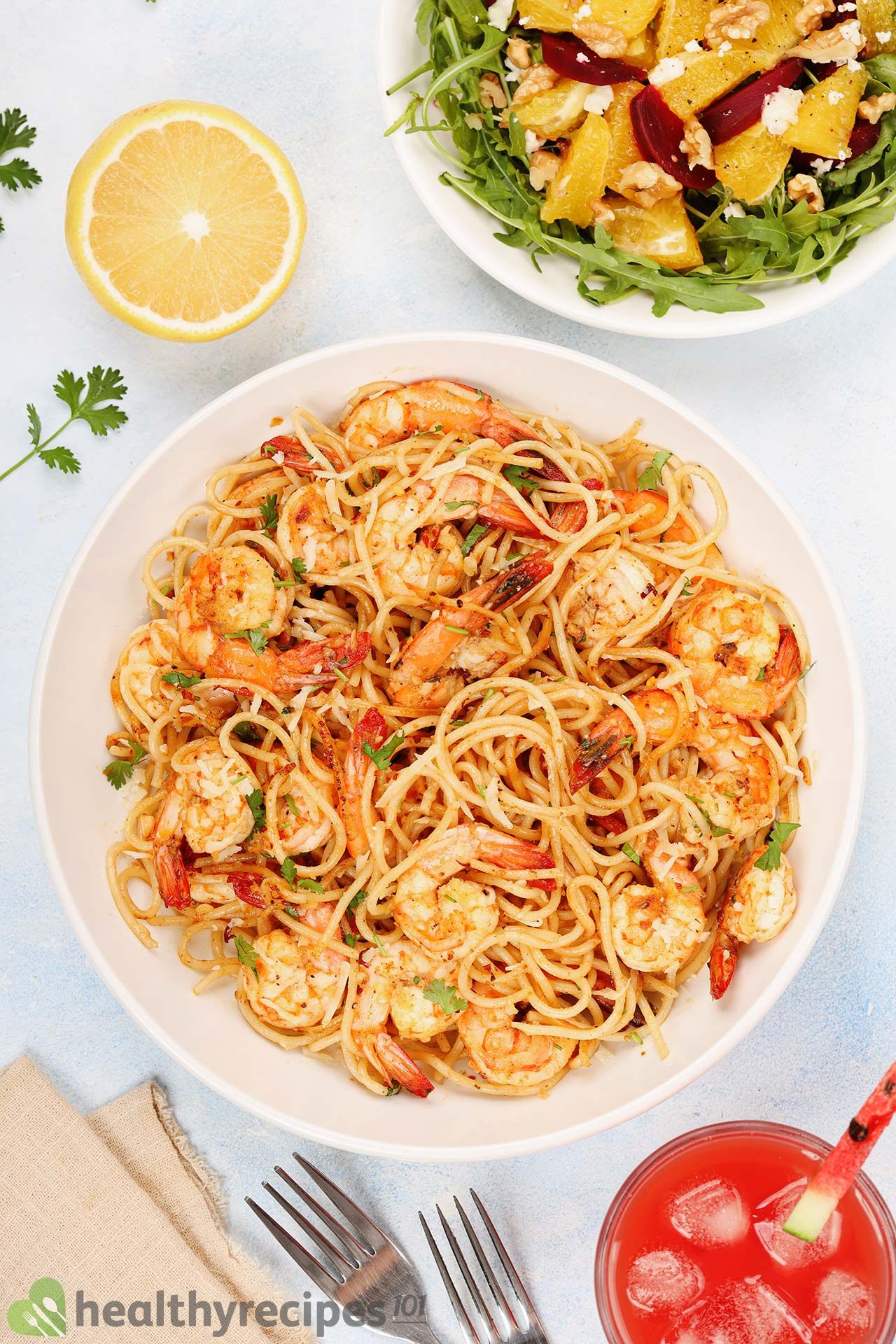 Shrimp salad goes best with a simple veggie salad to balance the bright and rich flavors. Take a look at our recommended combination meal:
Beet And Feta Cheese Salad:
By making this light salad, you'll get to enjoy a diverse range of textures and flavors in one big bowl: hearty wedges of roasted beets, succulent navel oranges, crunchy walnuts, and salty feta cheese crumbles. It's a true burst of freshness, especially when dressed with a tangy olive-oil-infused vinaigrette.
Finally, let's chase the heat away with our super fragrant and refreshing lime watermelon juice! This drink is hands down a satisfying ruby concoction of watermelon juice and fresh lime; it will refresh your palate, make your day less hectic, and keep you energized for hours.
And not just for this pasta meal alone — you can make a large pitcher of it kept readily chilled in the fridge so you can have it on the go whenever you feel like it.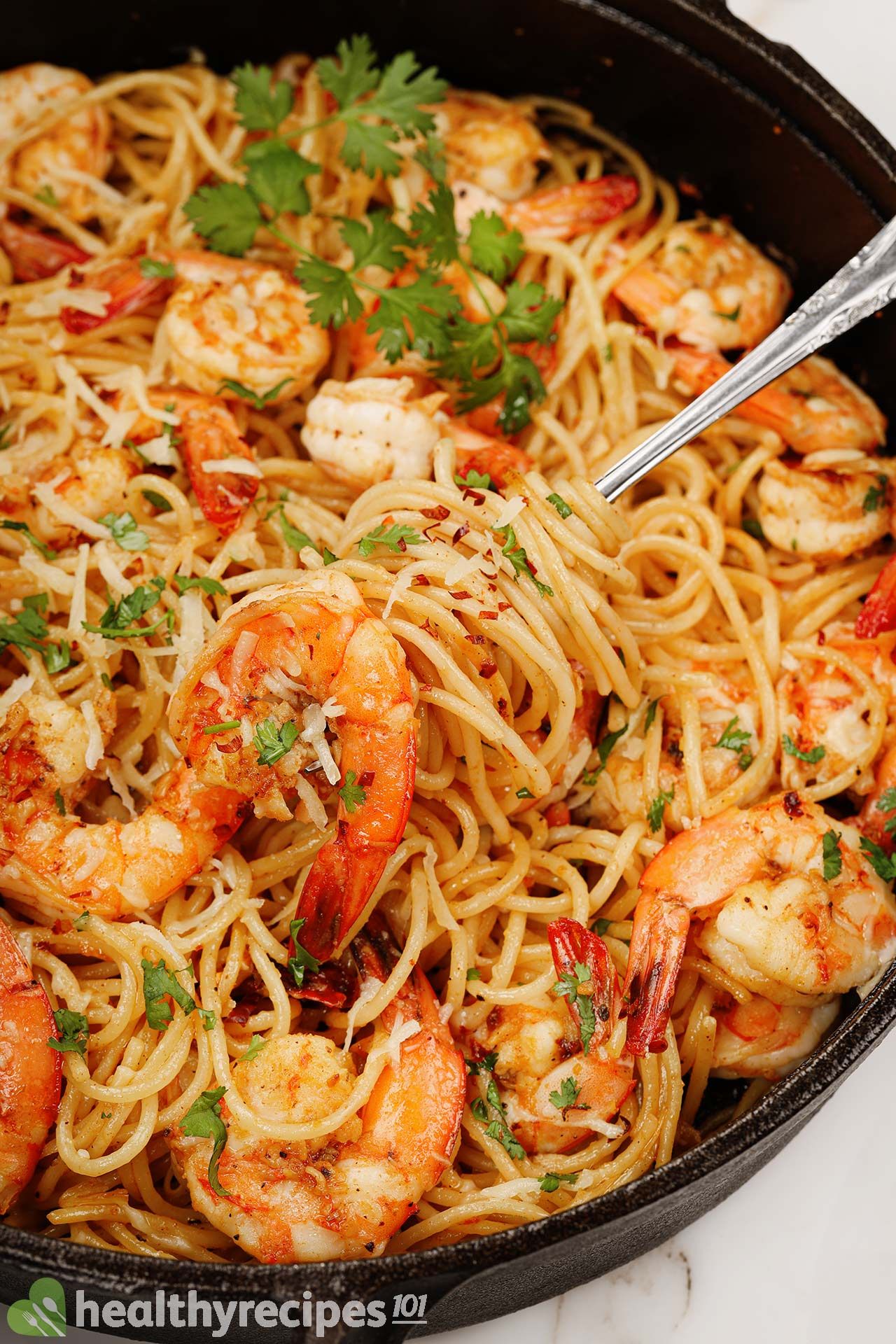 Previous Recipe
Shrimp Curry
Shrimp Curry
Next Recipe
Shrimp Tikka Masala
Shrimp Tikka Masala
Luna Regina
A writer and entrepreneur, Luna's day doesn't start at the computer keyboard, but in the kitchen.
Half of her working hours are spent on mixing ingredients for her recipes. The other half involve working with the tech team to research and test the tools and appliances that promise to make kitchen work effortless and mess-free. From a kitchen knife or water filter to the Instant Pot, if it can help save time and effort for the home cook, Luna and her team are on it.
Luna's extracurricular pastimes include camping, travel, and photography.