Shrimp and pasta are both versatile ingredients and go great with each other. So today we are introducing this collection of shrimp pasta recipes for you to try.
In this article, we will talk about all things shrimp pasta, side dish suggestions, and some tips on preserving and reheating leftovers.
Can You Use Cooked Shrimp in Pasta?
Yes, you can. Cooked shrimp save you some preparation and cleaning time and they are just as delicious. However, there are two things to pay attention to for cooked shrimp to turn out perfectly.
Firstly, don't cook them in the oven. The oven uses dry heat to cook food and this makes the cooked shrimp dry and rubbery. We recommend sauteeing the shrimp with pasta and the sauce to keep their moisture intact.
Secondly, add the shrimp at the last minute. Shrimp has delicate flesh, so if you sautee them throughout the cooking time of the sauce and pasta, precooked shrimp can become rubbery.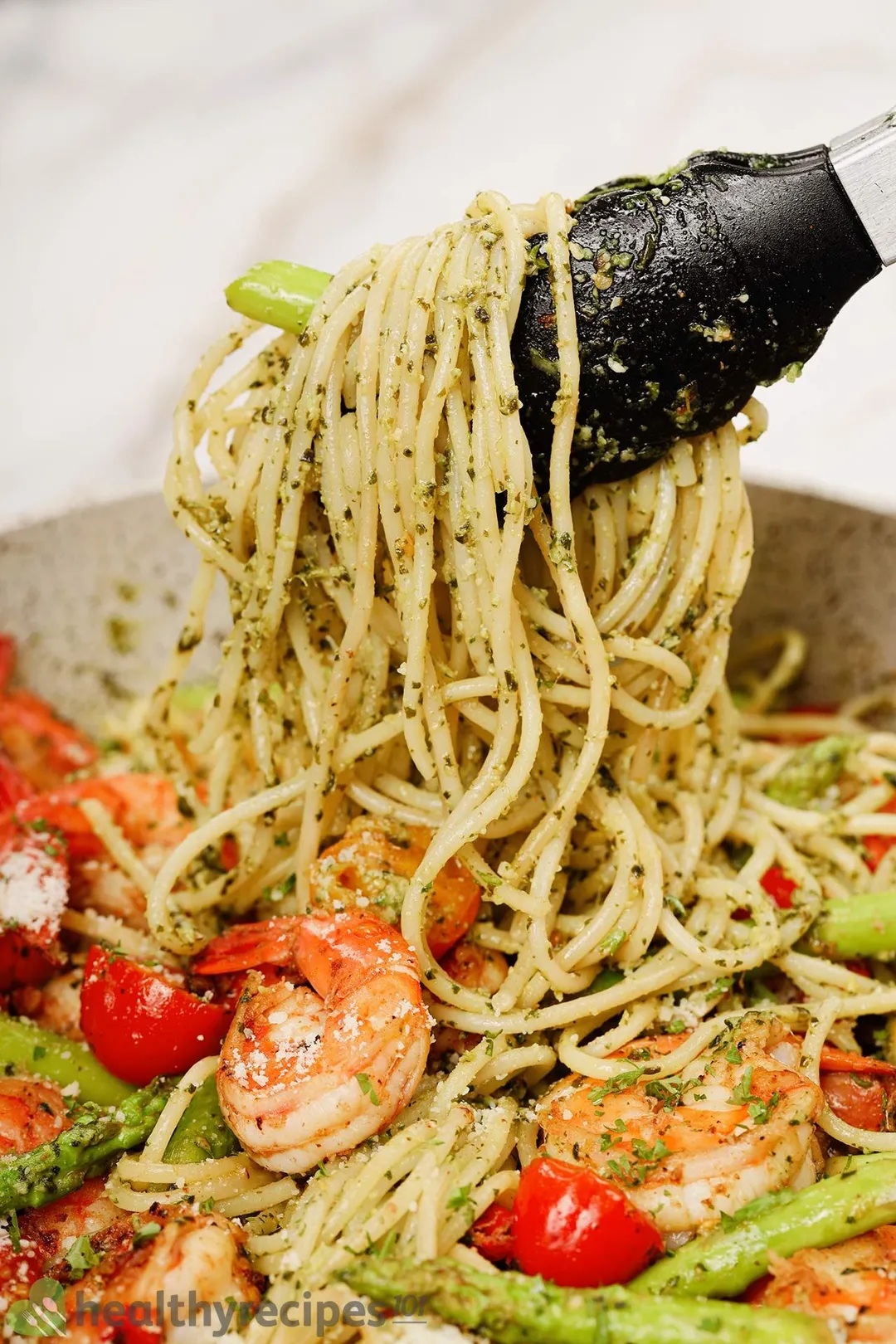 Best Shrimp Pasta Recipes
Have a look at this list and treat yourself to a delicious shrimp pasta recipes.
What Sauces to Add to Shrimp Pasta
The sauce is one of the most appealing components of a pasta plate. You may already have a few in mind, but we have some recommendations.
This simple white cream sauce has solidified its status as one of the best creations of Italian cuisine. It is made from butter, heavy cream, and parmesan cheese so it is as rich and cheesy as it gets.
Alfredo sauce complements the shrimp nicely with its thick consistency and creamy flavors.
This gorgeous-looking green sauce is another Italian representative. Pesto is made from herbs, olive oil, nuts, and cheese, bringing a lot of flavors to this beautiful sauce.
Pesto is perfect for pasta in terms of both taste and appearance. Furthermore, the herby notes go perfectly with shrimp.
Italian cuisine often makes use of garlic and butter. This combination is timeless because these two ingredients are popular and mix harmoniously. You can also add some parsley and lemon juice to make the flavor profile more layered.
Garlic butter sauce will elevate the shrimp flavor to a whole new level. 
Which Side Dishes Go Well With Shrimp Pasta?
You can't go wrong with vegetables like asparagus, potatoes, broccoli, eggplants, zucchini, etc. Whether boiled, baked, roasted, or steamed, these vegetables will add freshness to the pasta and diversify your meal.
Salads also offer incredible options. You can use the vegetables mentioned above or any others you prefer. The choice is yours and the sky's the limit.
Lastly, bread sides like bruschetta or breadsticks will bring some Italian vibes to your dining table. 
How to Store and Reheat Shrimp Pasta
Shrimp pasta can last for up to 3 days if refrigerated in airtight containers. Or, by placing it in the freezer, you can extend the shelf life of the dish to 2-3 months.
There are multiple ways to reheat pasta. We recommend the following methods:
Reheating on the skillet is fast and you can monitor the process.
Place a pan on medium-high heat and add a bit of oil.
Add the shrimp pasta, sauce, and some liquid (water or broth) to prevent it from drying.
Sautee your shrimp pasta for 2-5 minutes.
Using the oven is more convenient because the heat circulation will ensure the pasta is heated up evenly.
Transfer the pasta to a baking dish.
Cover with aluminum foil to avoid drying.
Cook at 350°F for 20 minutes.
The microwave is not the most ideal choice, but it is certainly the most convenient one if you plan to bring your leftovers to work or school.
Make sure that your pasta is in a microwave-safe container.
Add a bit of water to prevent drying
Cook then stir the pasta every minute to distribute the heat evenly.
How to Reheat Pasta Without Making It Greasy
For pasta with creamy sauces like alfredo, high heat can break the sauce (separating the fat from it). Hence, you may find the pasta greasy after reheating.
Controlling the heat is your best bet to make sure this does not happen. But before reheating, you can add extra cream to the sauce to revive the dish.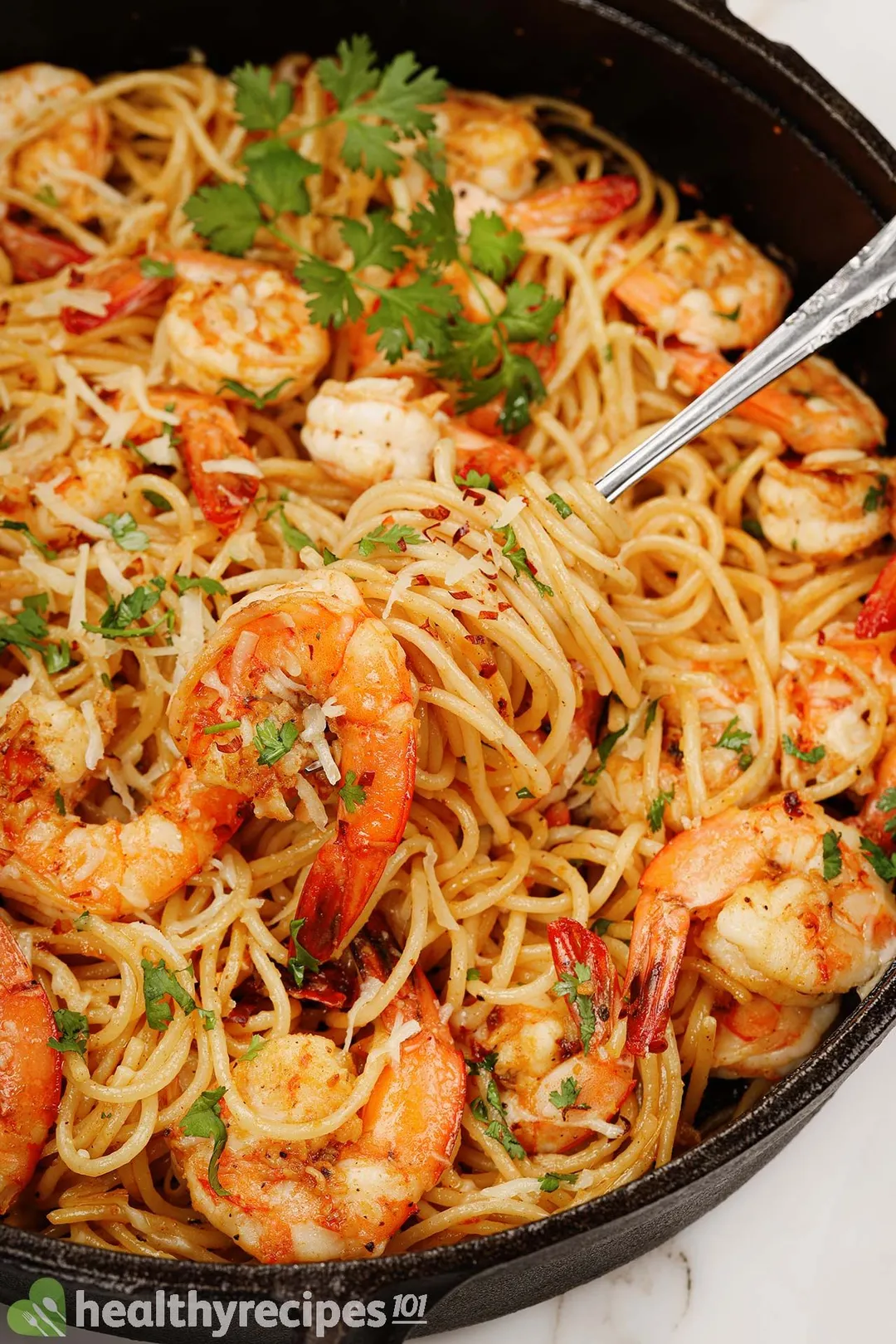 Shrimp Pasta Recipes
We put together this list of shrimp pasta recipes to give you some suggestions for a high-end pasta dish.
Ingredients
Instructions:
Choose a recipe that you like.
Assemble all the essential ingredients.
Follow the instructions to give you incredibly tasty shrimp pasta in less than 45 minutes!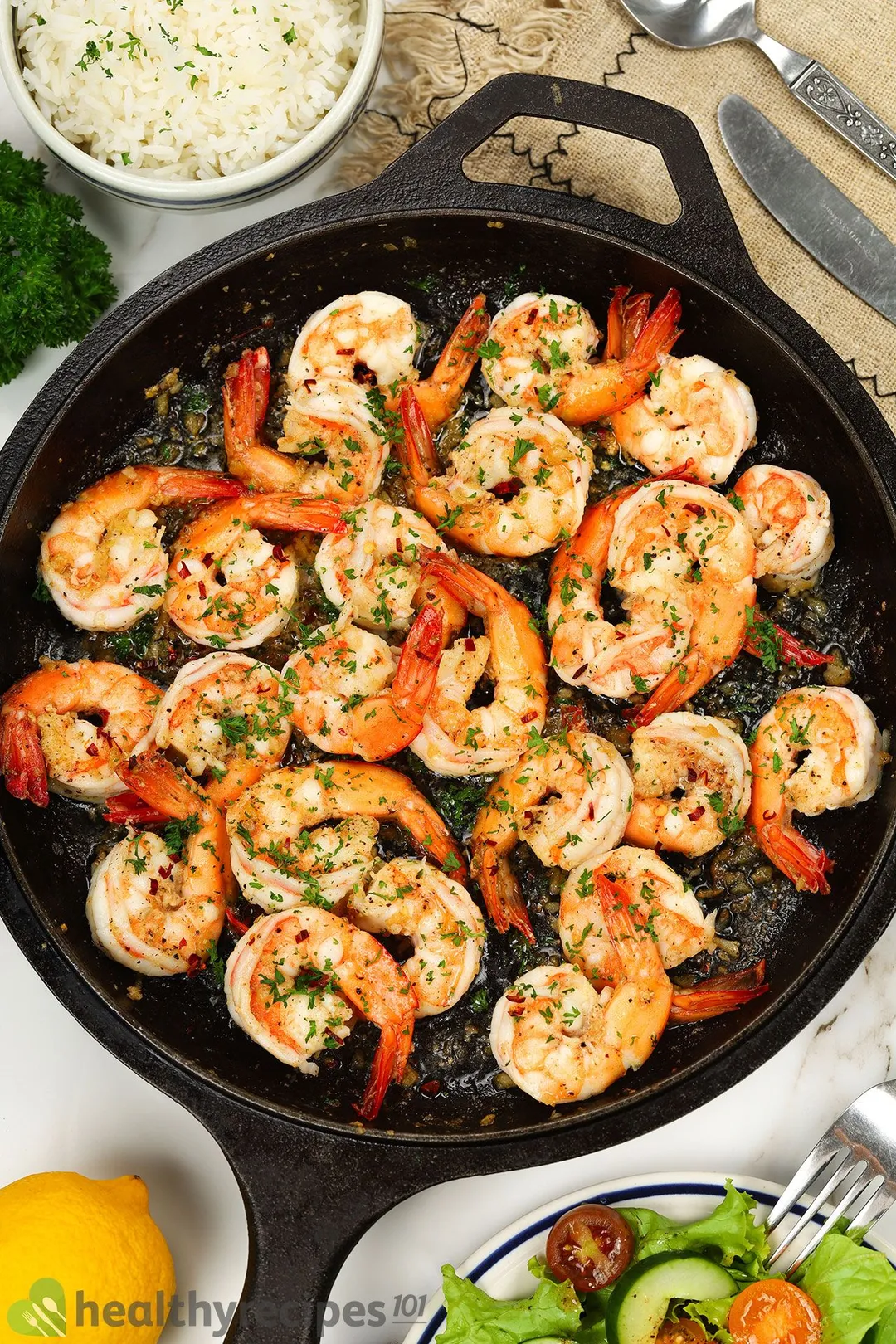 Previous Recipe
Healthy Shrimp Recipes
Healthy Shrimp Recipes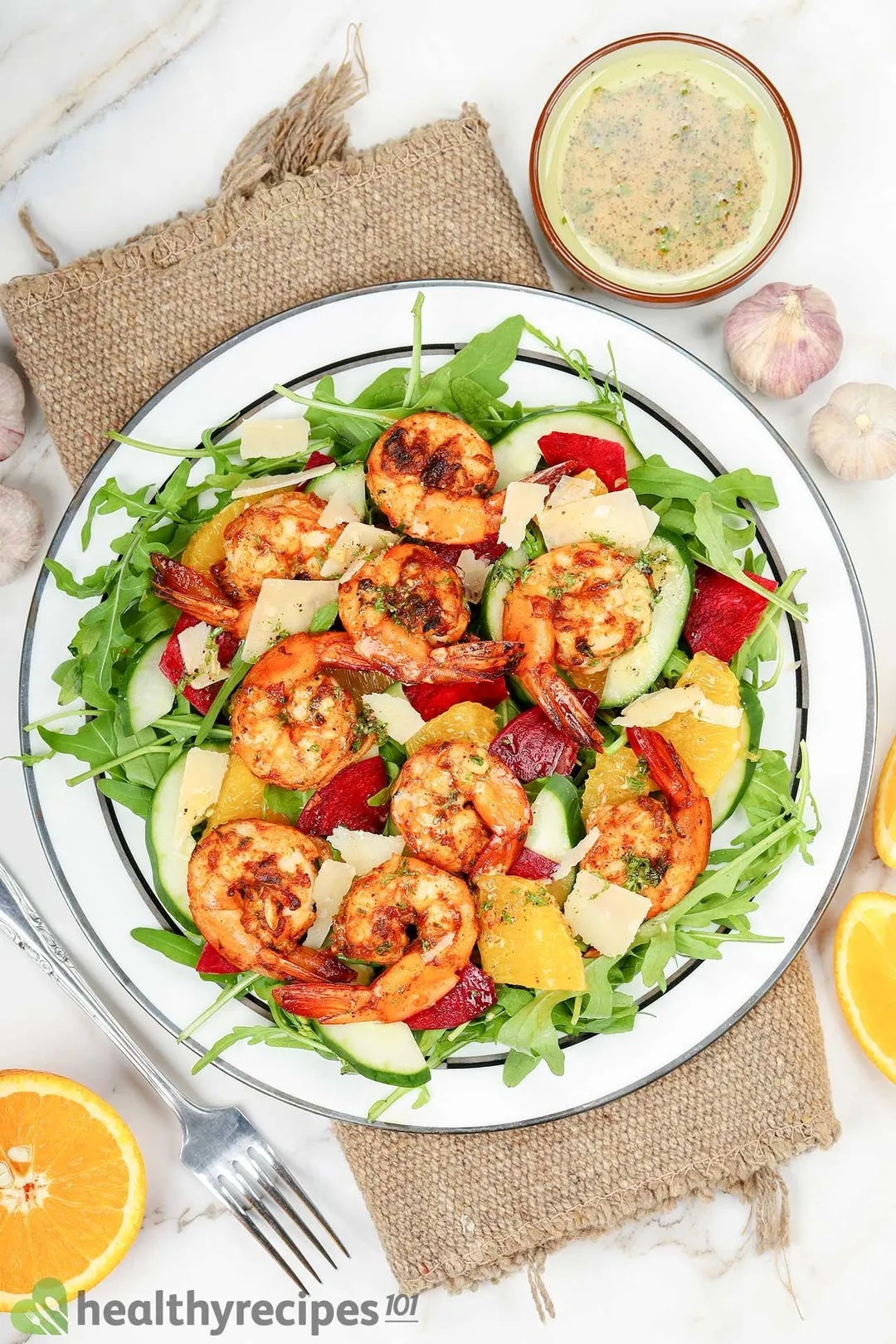 Next Recipe
Shrimp Salad Recipes
Shrimp Salad Recipes
Writer, Author
Luna Regina is an accomplished writer and author who dedicates her career to empowering home cooks and making cooking effortless for everyone. She is the founder of HealthyKitchen101.com and HealthyRecipes101.com, where she works with her team to develop easy, nutritious recipes and help aspiring cooks choose the right kitchen appliances.
Comments/ Reviews