Imagine a list of healthy shrimp recipes you could never tire of. We're talking juicy, plump seafood that'll have the family sprinting to the dinner table!
Well, there's no need to wish for it when you own your own dreamy collection.
That's right.
We're sharing our favorite and most recommended healthy shrimp recipes to help bring around even the rare gems that are seafood critics.
And believe us, this is a shrimp recipe collection to win over anyone!
Is Shrimp Good for a Healthy Diet?
Shrimp often gets a bad rap since it's high in cholesterol, but it can be a healthy addition to your diet. It contains beneficial minerals that contribute to an overall impressive nutrition profile.
So much so that it's a contender for the best sources of protein, selenium, and creatine.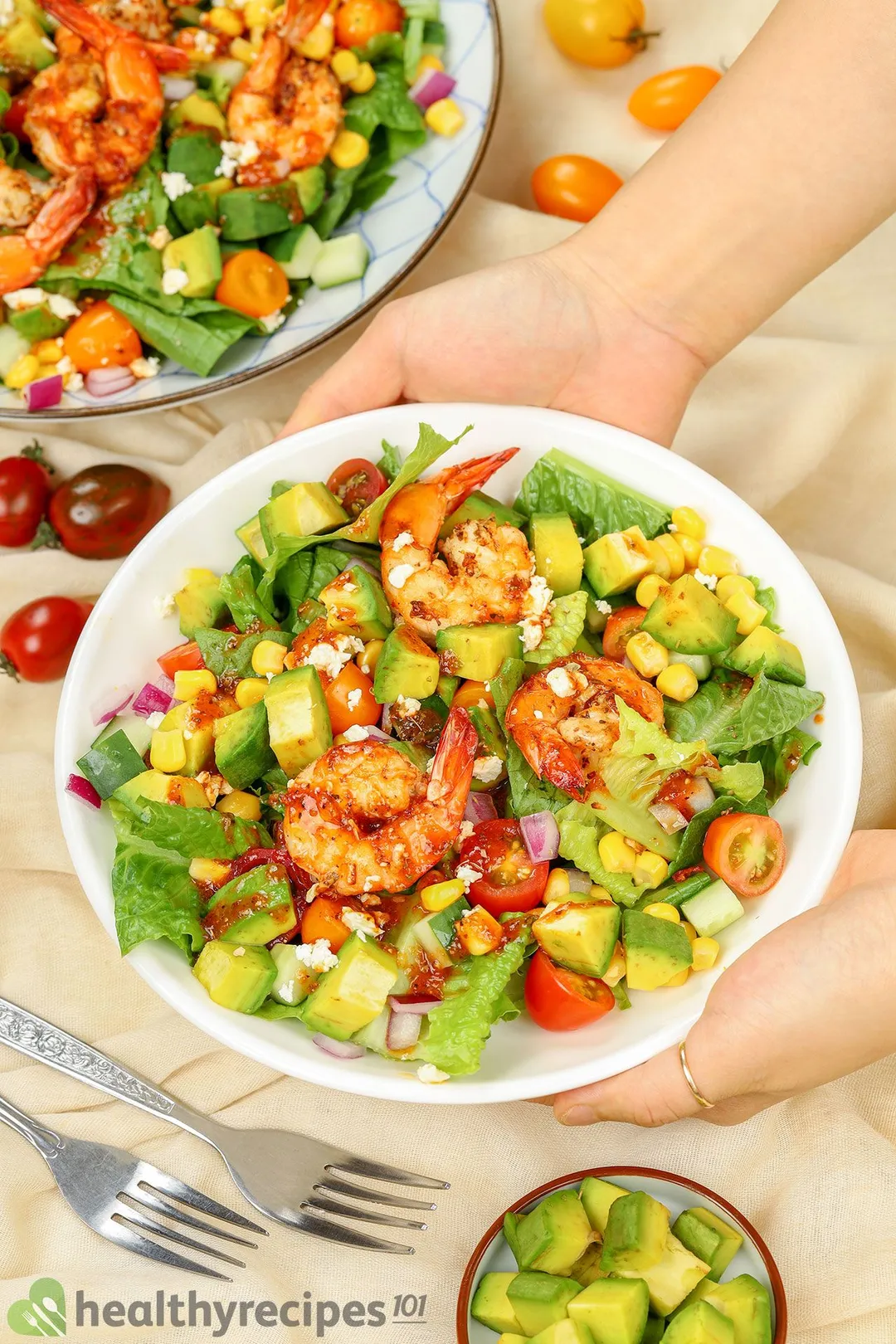 What Goes Good With Shrimp?
Shrimp's bare, oceanic essence makes it enjoyable, plain, or paired.
We love it salted lightly, but we also can't deny the wonders a basic garlic-butter sear works. Or how a bowl of Southern-style grits complements shrimp splendidly.
Whatever your preference, there are many ways to take these crustacean critters to the next level. So let's explore them!
1. Shrimp and Grits
This Southern invention is an excellent duo. Like an angelic intervention, the creamy cornmeal smoothes out each chunky bite to deliver a heavenly experience!
In essence, soul food meets ocean splendor in shrimp and grits—and the result is divine.
Many have reservations about the texture and taste of shrimp and grits, but smooth-textured versions do exist, and they ooze authentic Cajun flavors.
We recommend this incredible shrimp and grits meal by The Wicked Noodle to help kick off your Southern food experience. Or to simply introduce you to more fascinating seafood flavors!
2. Shrimp and Pasta
You can pair numerous foods with pasta, but a few shrimp and pasta classics are worth mentioning.
The likes of shrimp scampi, shrimp ravioli, and shrimp carbonara are some of the best amalgams to grace the culinary sphere. Michelin-star restaurant chefs make it their life's art to master these dishes and deliver a fine dining experience.
What if you could do the same in your kitchen? Try out this terrific Pesto Shrimp Pasta, and you won't set foot in a restaurant again!
3. Shrimp and Rice 
Like pasta, it's hard to go wrong with rice pairings.
You can try this glorious shrimp risotto that's so creamy you won't get enough of it! Or settle for a simple shrimp casserole; most people will love both.
Below are more rice-paired options to help you begin your shrimp affair!
Check Out Our Best Healthy Shrimp Recipes
Even if you've never been a shrimp fan, you'll love these ideas. They're versatile and easily adjustable to suit your taste. Moreover, these healthy shrimp recipes amount to dishes so tempting that seconds are rarely turned down. The next time you have company, make sure you treat them to some of these!
Shrimp and Rice Recipes
Shrimp Recipes With Pasta
Best Shrimp Recipes for Dinner
Quick Shrimp Recipes (25 minutes and less!)
Shrimp Side and Salad Recipes
A Special Shrimp Breakfast Recipe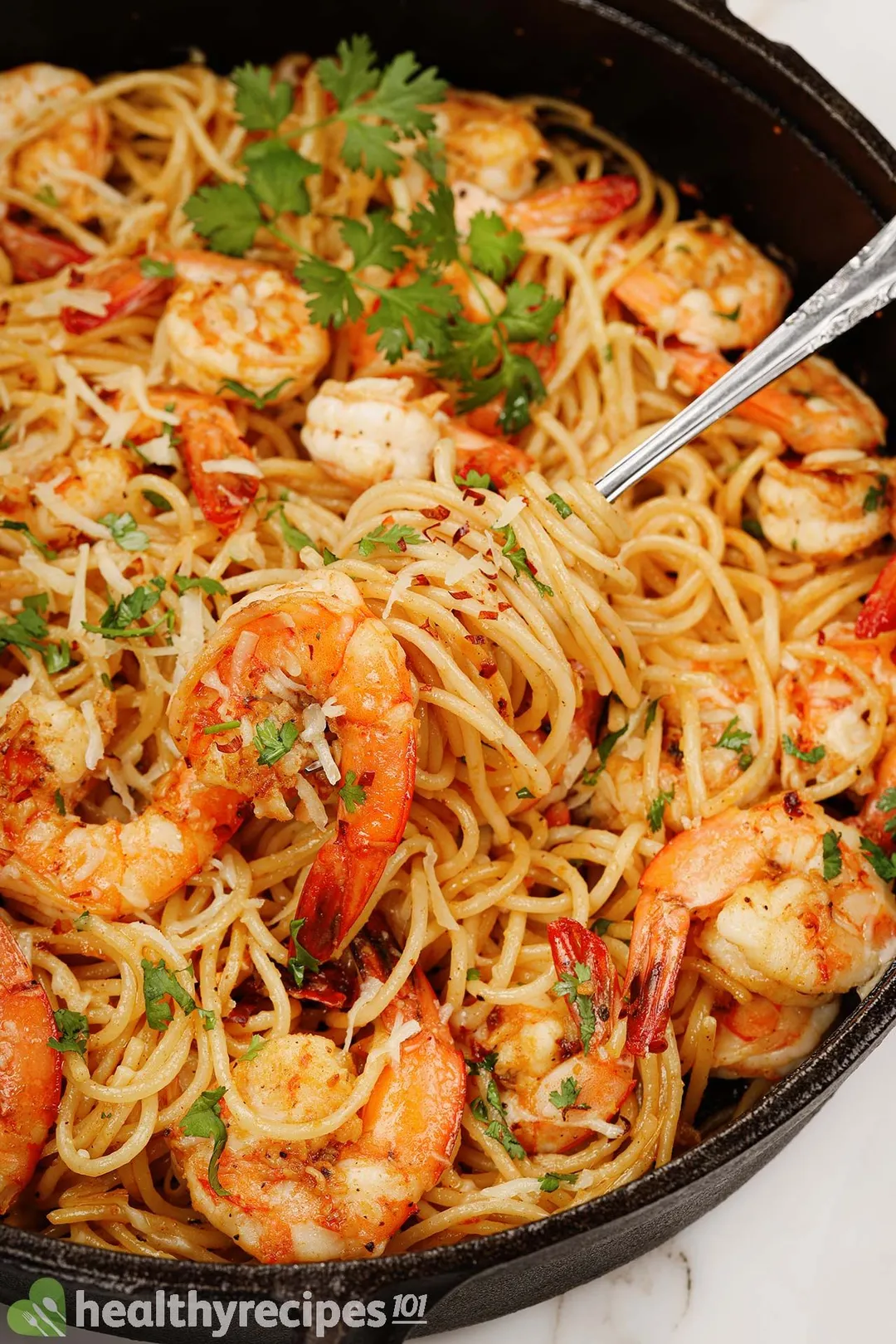 Next Recipe
Shrimp Pasta Recipes
Shrimp Pasta Recipes
Writer, Author
Luna Regina is an accomplished writer and author who dedicates her career to empowering home cooks and making cooking effortless for everyone. She is the founder of HealthyKitchen101.com and HealthyRecipes101.com, where she works with her team to develop easy, nutritious recipes and help aspiring cooks choose the right kitchen appliances.
Comments/ Reviews