Our stir-fried shrimp and egg recipe is an upgraded Chinese version of your favorite scrambled eggs. Instead of soft and buttery scrambled eggs, however, you'll get airy bits of eggs mixed in with savory, crunchy shrimp.
Before we start cooking, there are a few facts about eggs and shrimp you may want to know.
Can You Eat Shrimp and Eggs Together?
Yes, you can. There is nothing wrong with combining these two ingredients in a recipe.
That being said, it's important to note that you should pay close attention to the doneness of the eggs.
Eating raw or undercooked eggs increases the risk of salmonella, which can be poisonous and may cause stomach irritation, diarrhea, or vomiting.
Therefore, it's important to make sure that the eggs are cooked thoroughly.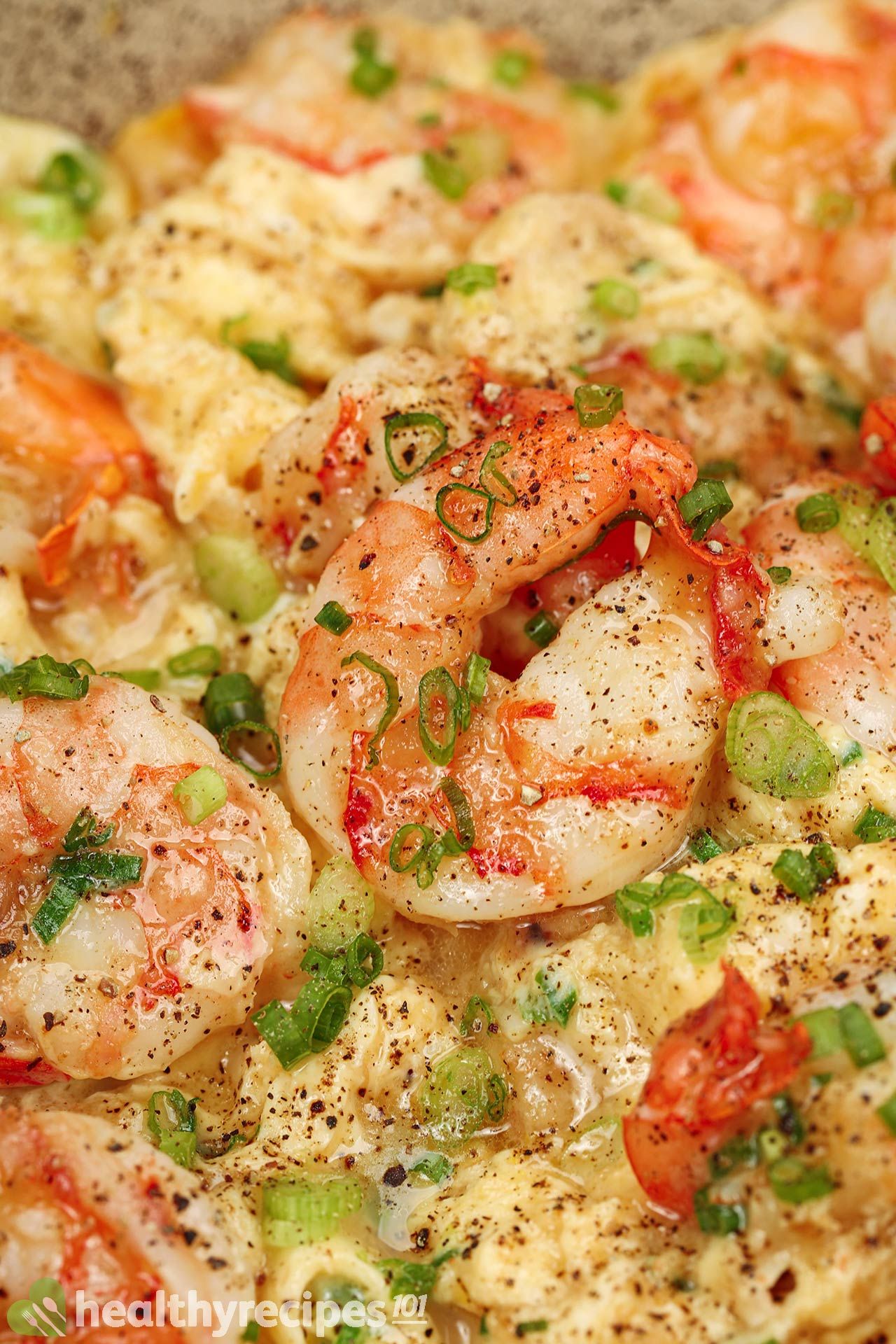 Is This Shrimp and Egg Recipe Healthy?
Yes, our stir-fried shrimp and egg recipe is healthy. Here's why:
It contains the right amount of calories: This dish contains only 488 calories per serving. Packed with eggs, shrimp, and rice, that's pretty low for a Chinese-style stir-fry dish!
It's relatively low in sodium: Generally, Chinese dishes tend to have a bad rap for being excessively loaded with different types of soy sauce, MSG, and many other sodium-laden condiments. With today's recipe, however, we only use a little salt; no soy sauce, MSG, or any other condiments.
It's super low in saturated fat: Unlike rich and creamy scrambled eggs, our stir-fried shrimp and egg recipe doesn't contain any dairy product (particularly butter), which reduces the amount of saturated fat per serving to only 2.5 g.
It is protein-dense: Thanks to the main ingredients — eggs and shrimp, our recipe contains 39.5 g of protein per serving.
If you're a fan of healthy oriental recipes, we have another Chinese dish with shrimp as the main source of protein.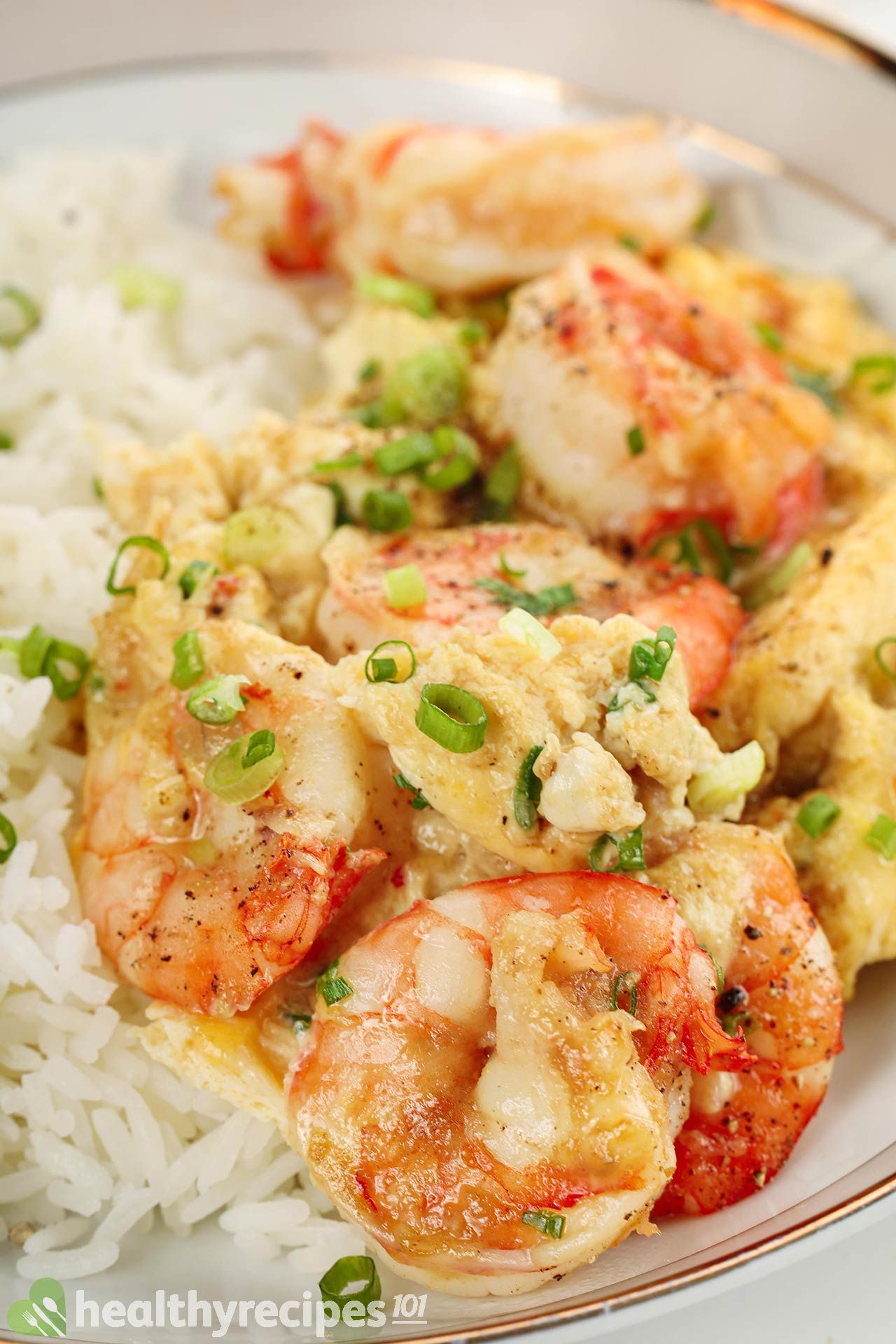 Ingredients for Stir-Fried Shrimp and Egg
Today's stir-fried shrimp and egg recipe requires the following ingredients:
Shrimp: Fresh whole shrimp are always our go-to variety because of their superior crunch. For convenience, though, we have to admit frozen shrimp are much easier to work with, especially when you don't have time to prep and peel.
Eggs: Make sure that you use fresh eggs to achieve that light and airy texture.
Oils: We use two types of oil for this recipe: canola and sesame. Canola oil is for stir-frying our proteins. Once everything is cooked, we add a few tiny drops of sesame oil to make the dish more fragrant.
Cooked rice: We serve our stir-fried shrimp and egg over a bowl of hot steamed Jasmine rice. If you don't have Jasmine rice, you can also use long-grain Thai rice or regular medium-grain white rice.
Seasonings: We're keeping it simple today and only use salt and freshly cracked black pepper for this recipe.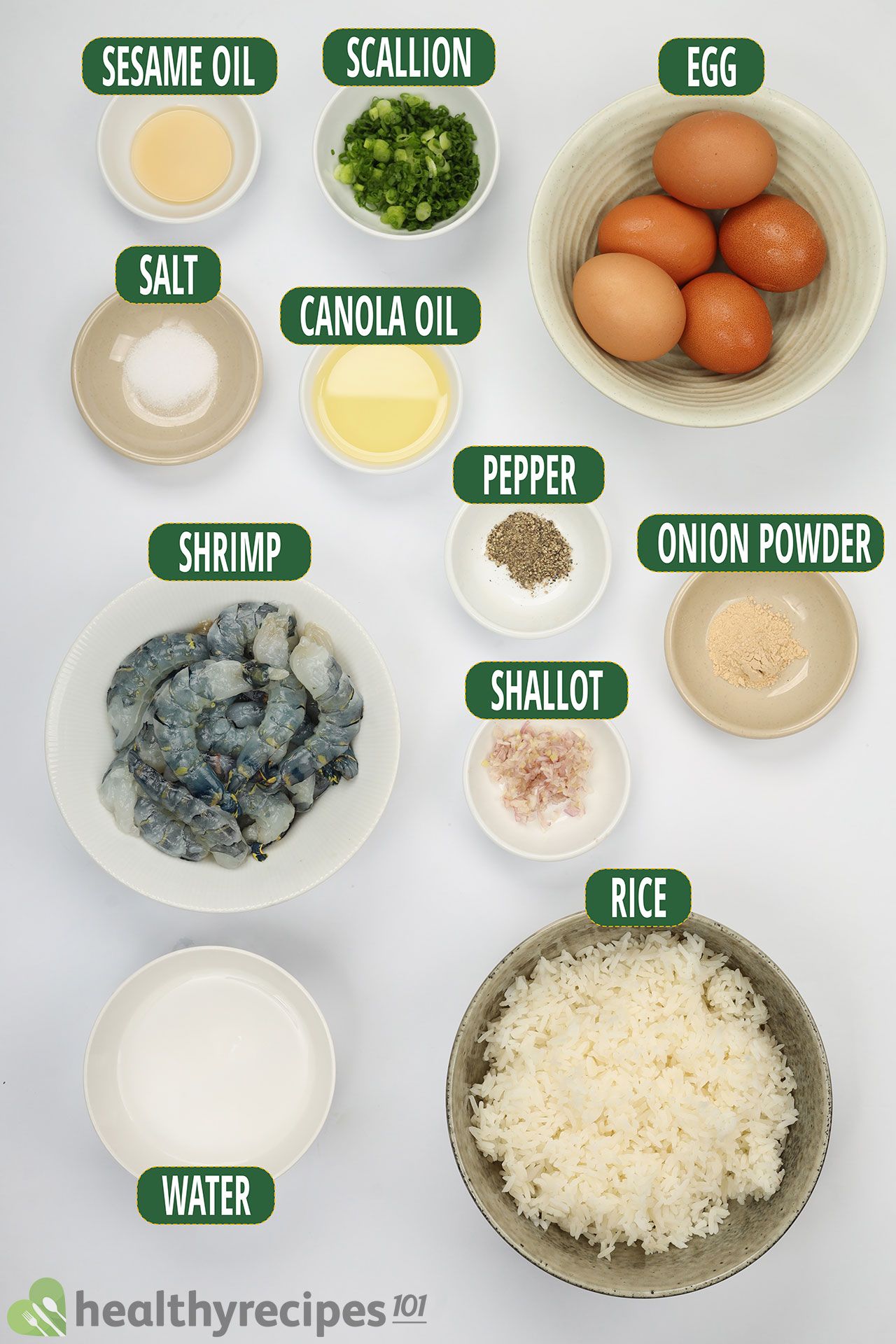 How to Make Shrimp and Egg Stir-Fry
If you use fresh, whole shrimp like we do, make sure you clean them first.
Peel and discard the shell and heads of the shrimp. After that, place the shrimp on the cutting board. Make a shallow cut along the back of the shrimp to reveal the black vein. Remove the vein and repeat with the remaining shrimp.
After that, give them a good rinse under running water and shake off the excess water. Pat them dry with paper towels and set them aside.
Once you've finished handling the shrimp, wash your hands with soap and water before you measure the remaining ingredients for today's stir-fried shrimp and egg.
Since this dish comes together within minutes, it's better to place all of your ingredients near the stove. Setting up your cooking station like so allows you to make this dish with ease: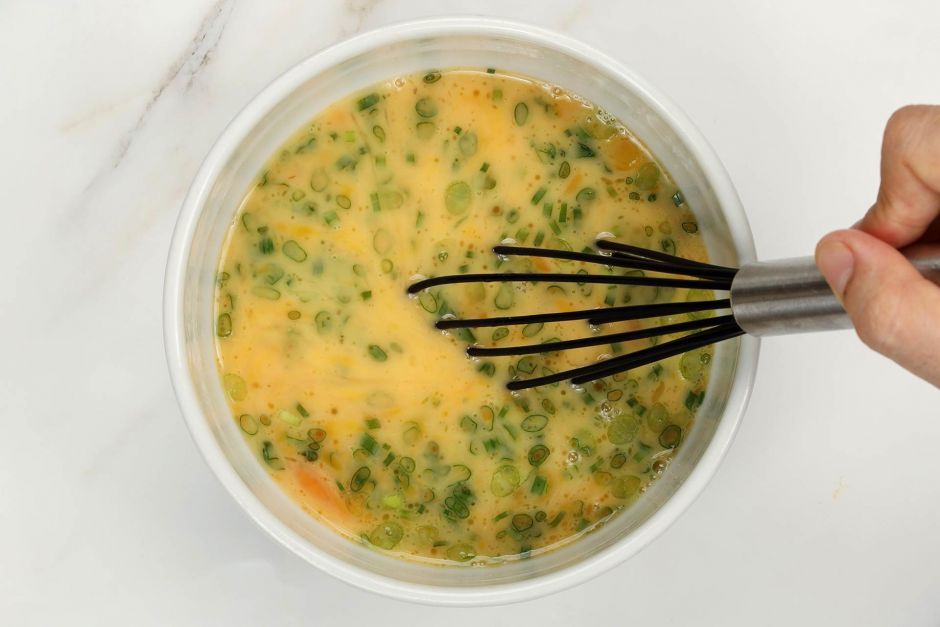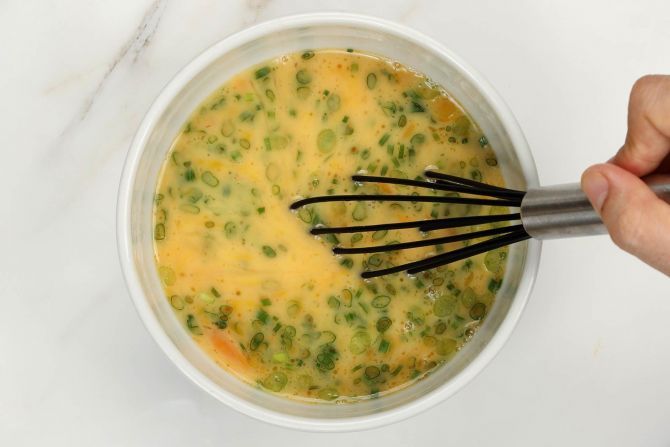 Beat the eggs.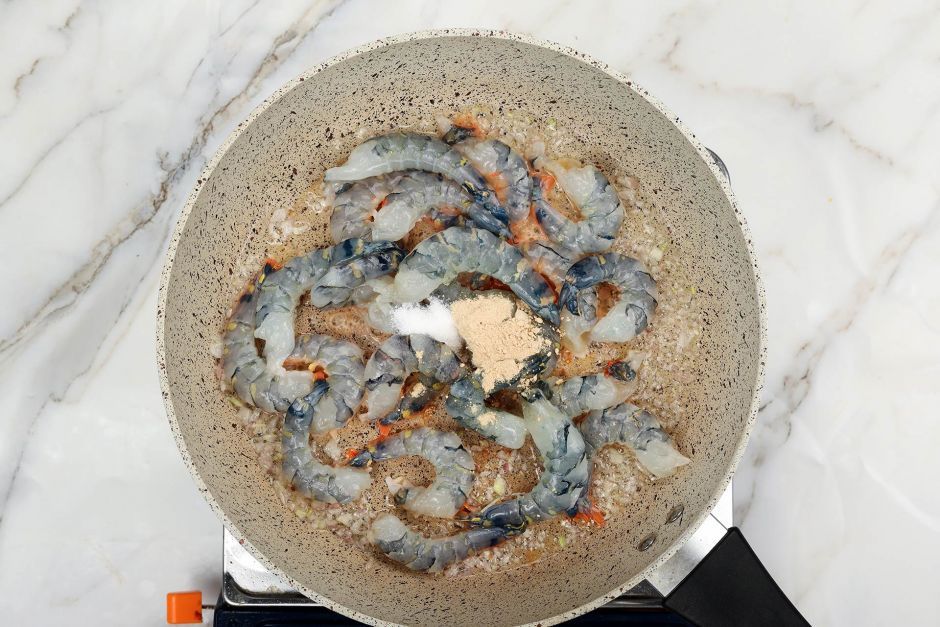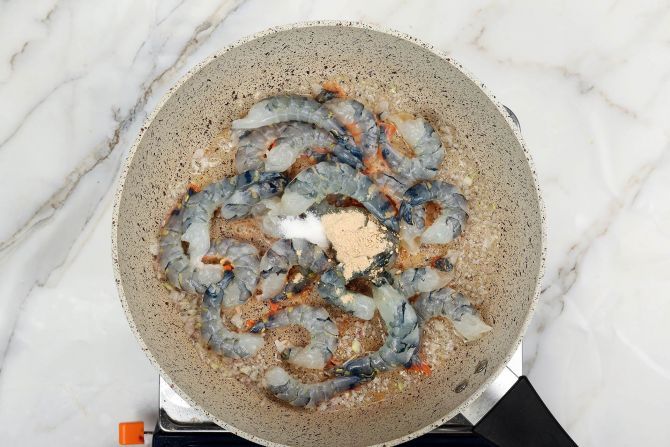 Cook the shrimp.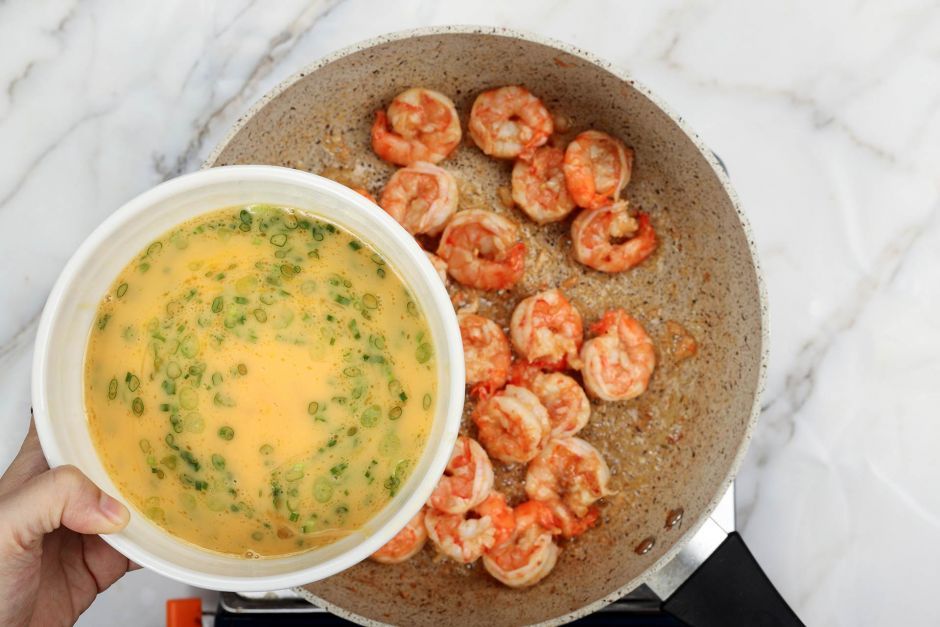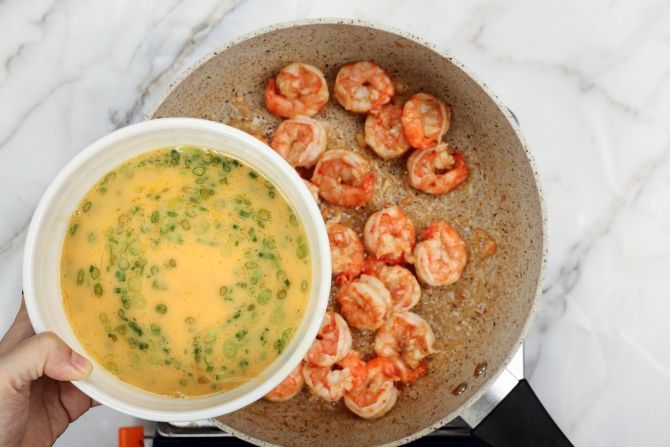 Cook the eggs.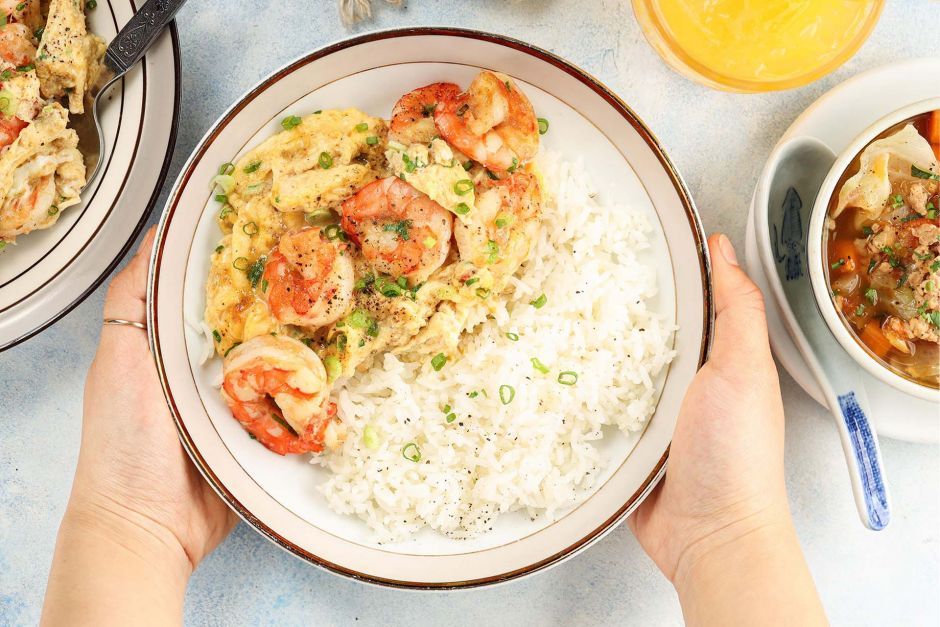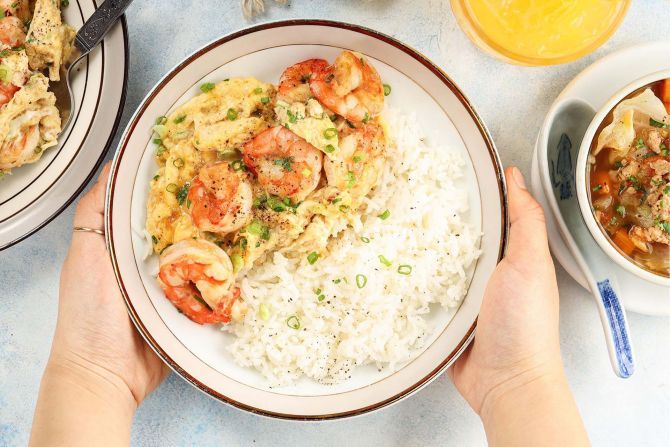 Garnish and serve.
Jump to Recipe
Storing and Reheating the Leftovers
1. Storing Raw Shrimp
If you have leftover raw shrimp, we recommend placing them into an air-tight container and freezing right away. They should last for 3 months but we recommend cooking them all within the first month for optimal flavor.
2. Storing and Reheating Stir-Fried Shrimp and Egg
Leftover stir-fried shrimp and egg should be placed in separate airtight containers to the rice. They should both last from three to five days in the fridge.
Be sure to allow the leftovers to cool before placing them into said containers.
When you want to reheat your leftovers, transfer the shrimp and egg along with the rice to a microwave-safe container. They should take 2 minutes to warm all the way through.
What to Serve With Stir-Fried Shrimp and Egg
Our stir-fried shrimp and egg is served with rice for a more wholesome dish, however, pairing it with a small bowl of cabbage potato soup and a glass of orange-pineapple juice will turn this dish into a good square meal for the whole family.
Here are the combined nutrition facts of this meal: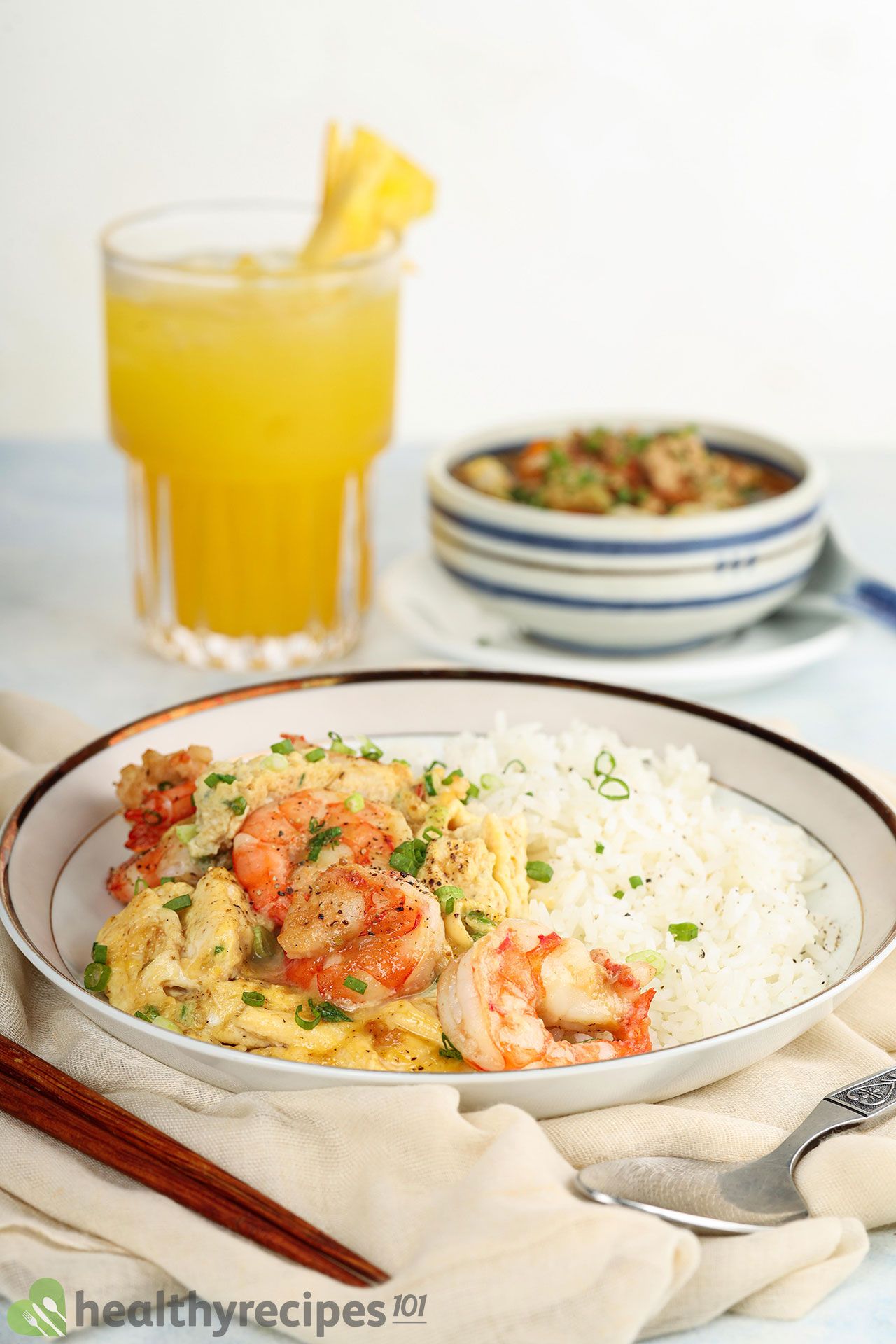 Taking very little time and effort to make, our hearty cabbage soup is a simple yet satisfying dish. Make it beforehand and leave the pot of soup covered on the stove; it will stay warm while you cook your main dish.
Same goes for the fruit juice. We recommend making your orange-pineapple juice at least 2 hours before the meal and leaving it in the fridge so that it's nicely chilled by the time you finish your meal.
If you don't have the time, adding ice can also bring out the robust and refreshing flavor of the drink.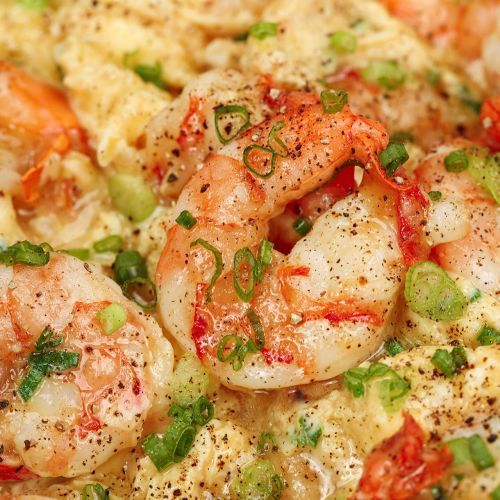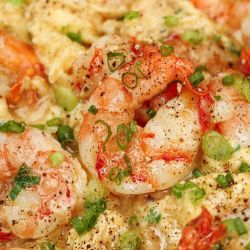 Stir-Fried Shrimp and Egg Recipe
Today's stir-fried shrimp and egg recipe is one of our easiest Chinese-inspired recipes as it takes very little time and effort to make. Anyone can pull this off!
Ingredients
10

oz

raw shrimp

from 20 oz whole shrimp, peeled and deveined

5

medium eggs

1/4

cup

water

0.5

oz

scallions

finely chopped

2

tbsp

canola oil

1

tbsp

minced shallots

1/2

tsp

salt

1/2

tsp

black pepper

1

tsp

onion powder

1

tsp

sesame oil

3 1/2

cups

cooked medium-grain rice
Instructions
Beat the eggs: Crack 5 medium eggs into a large bowl. Add 1/4 cup water and 0.5 oz chopped scallions. Whisk everything together.

Cook the shrimp: Heat 2 tbsp canola oil in a nonstick skillet over medium heat. Add 1 tbsp minced shallots and stir quickly for 30 seconds. Add 20 oz shrimp, 1/2 tsp salt, 1/2 tsp black pepper, and 1 tsp onion powder. Cook and stir constantly for 5 minutes.

Cook the eggs: In the same skillet, add 1 tsp sesame oil and the egg mixture. Stir gently to scramble. Cook for 2 minutes.

Garnish and serve: Transfer your stir-fried shrimp and egg to a bowl. Serve immediately over hot steamed rice.
Nutrition
Nutrition Facts
Stir-Fried Shrimp and Egg Recipe
Amount Per Serving (1 serving)
Calories 488
Calories from Fat 126
% Daily Value*
Fat 14g22%
Cholesterol 433mg144%
Sodium 539mg23%
Potassium 514mg15%
Carbohydrates 48g16%
Protein 39g78%
Vitamin A 334IU7%
Vitamin C 1mg1%
Calcium 133mg13%
Iron 4mg22%
* Percent Daily Values are based on a 2000 calorie diet.