Adapted to suit American tastes, our beef curry recipe introduces a milder, less spicy but still bursting-with-layers-of-flavors dish.
The secret to making a perfect curry is to allow the chunks of beef to cook slowly in the sauce, absorbing all the flavors. Patiently simmer the beef in the curry paste and coconut milk until it is tender, the sauce thickens, and the flavors intensify.
Our version of a beef curry is creamy, flavorful and less spicy, making it a wonderful introduction for new curry eaters.
Is Beef Curry Healthy?
Our beef curry is made from scratch with nutritionally measured ingredients, so yes, the dish is healthy.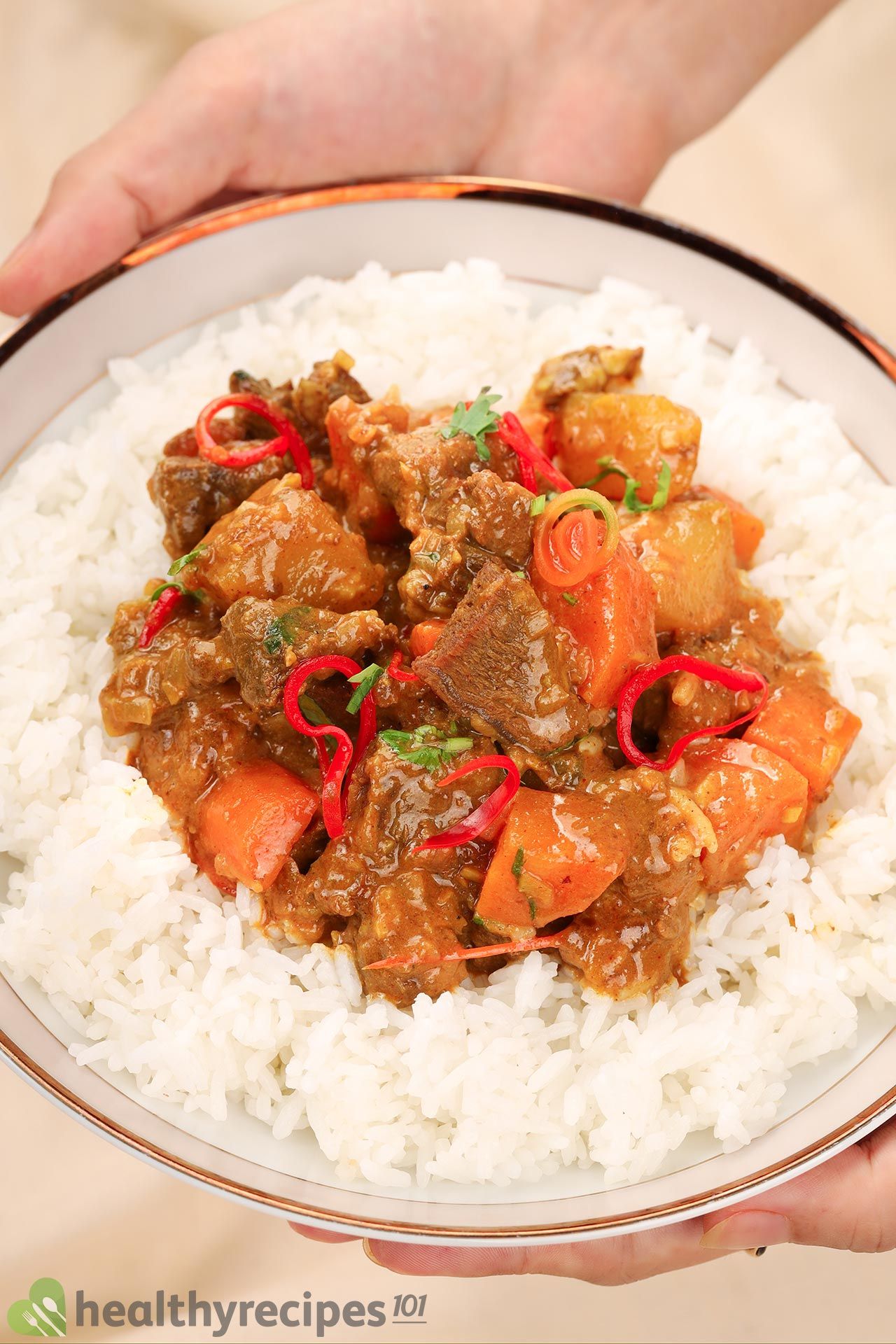 Even with protein and dairy included, each serving of our beef curry contains less than 500 calories. That's low enough to leave room for a salad and a juice drink, to add a healthy dose of vitamins and minerals to the meal.
With 585 mg and 6.8 g of sodium content and saturated fat, respectively, this recipe is one of the healthiest curries you will find on the internet, and still turns out savory and creamy.
Furthermore, with a host of different spices, including turmeric, cumin, oregano, and chili, this curry is a powerhouse of anti-inflammatory capability and offers a wide variety of other health benefits too.
What Types of Beef to Use for Curry
Curries can be made from a wide range of meat cuts. Because of the long simmering time, it's better to choose a cut with a high amount of fat.
Chuck or bottom round roast is our favorite since they can easily break down to a juicy tenderness, enhancing the sauce's flavor. Leaner meat cuts like tenderloin, on the other hand, can be left chewy and dry after stewing.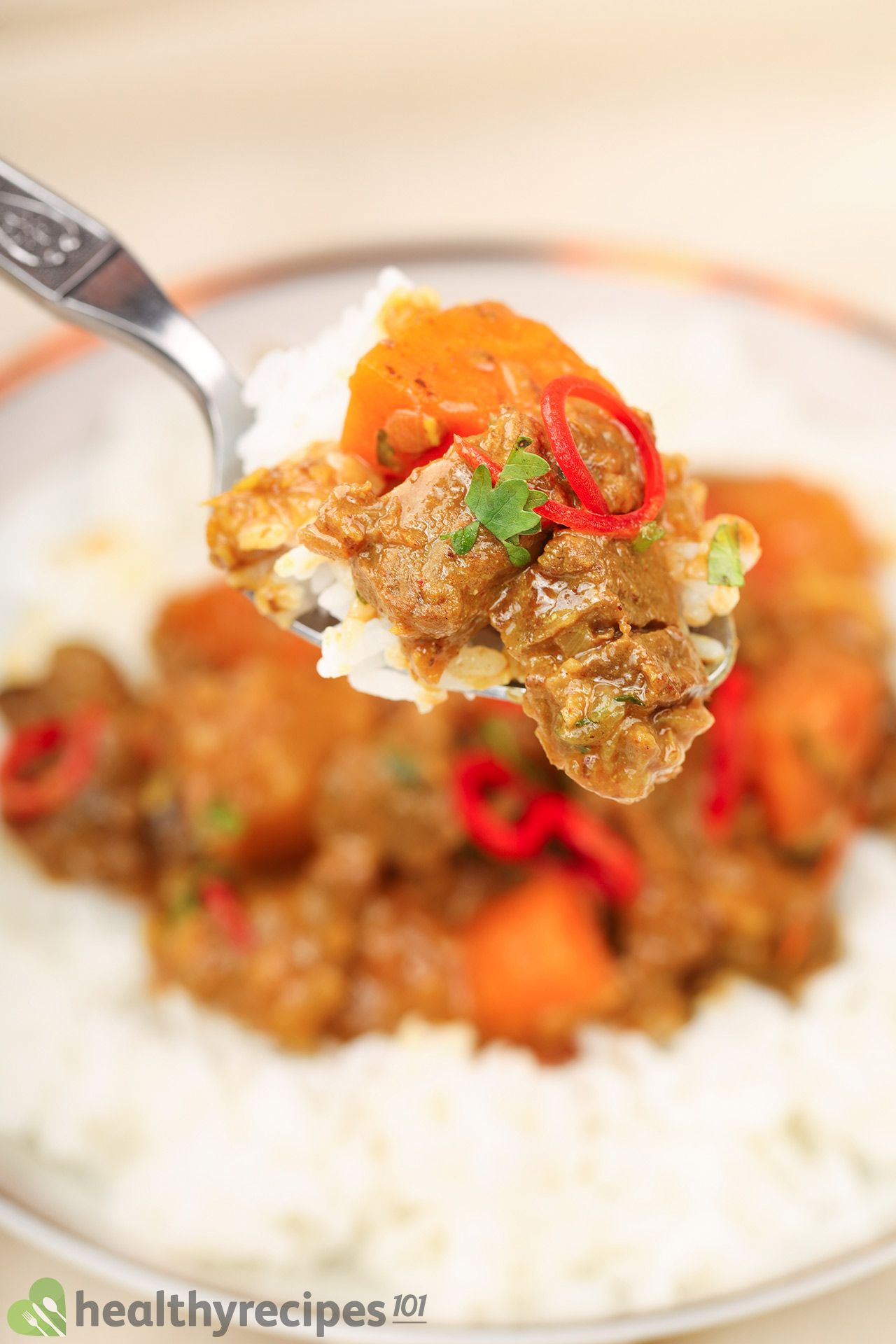 Main Ingredients
Beef: You don't need an expensive beef cut for this curry recipe due to the long simmering time.
You can switch the beef to your favorite protein of choice — pork, chicken, or seafood. For a vegetarian option, you can add tofu to the simmering pot right before serving the dish, just enough to warm it through.
Coconut Milk: Coconut milk adds a heavenly creaminess to the sauce, without making the dish too heavy.
Vegetables: We included carrots and potatoes in our curry recipe as they infuse beautifully with the curry sauce and are always readily available. However, feel free to customize your curry with any vegetables you like based on personal preference.
Cornstarch: Cornstarch — or any type of thickening agent — is an indispensable ingredient if crafting an Americanized curry recipe. It helps to thicken the sauce, leaving you a tasty curry with tender meat chunks and a velvety texture.
Herbs: Fresh ginger, shallots, and lemongrass take this traditional curry to another level of tastiness. Sautéing them in olive oil only takes a few extra minutes, but the process provides an instant aroma, making it worth the extra work.
Spices: It's not an exaggeration to say that a curry is nothing without the spices. The core flavors of curry — turmeric, cumin, and chili — are critical in giving the sauce that unique punch of flavor.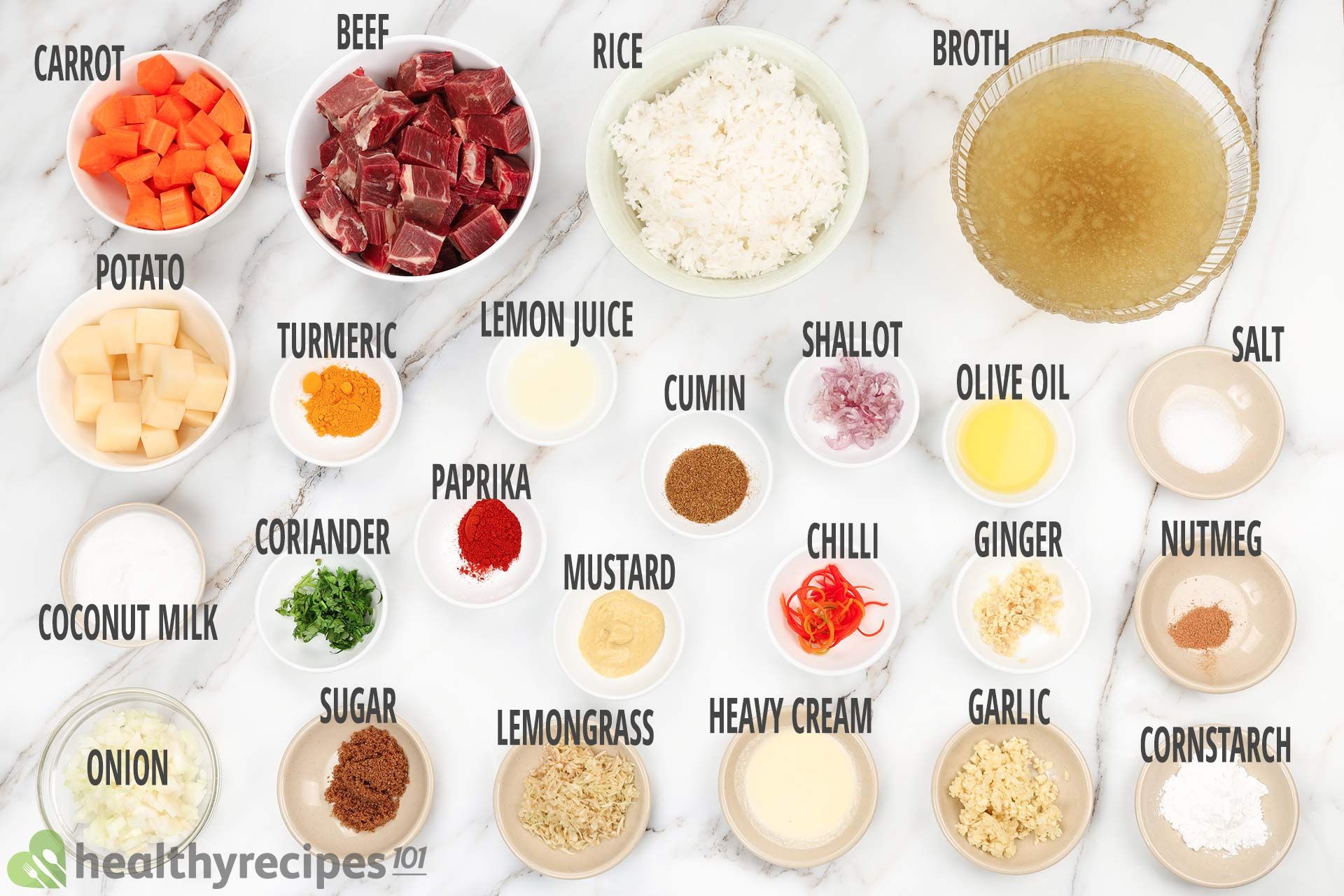 As we've seen curry doesn't have to be a one dimensional dish. It's an enjoyable experience experimenting and exploring the different tastes of this globally adapted dish, and our beef curry recipe is an excellent place to start if you want to try something both classic and versatile.
How to Make Beef Curry
Our rich, savory beef curry is easy to make and will turn out a delicious meal every time. Here is how to make it: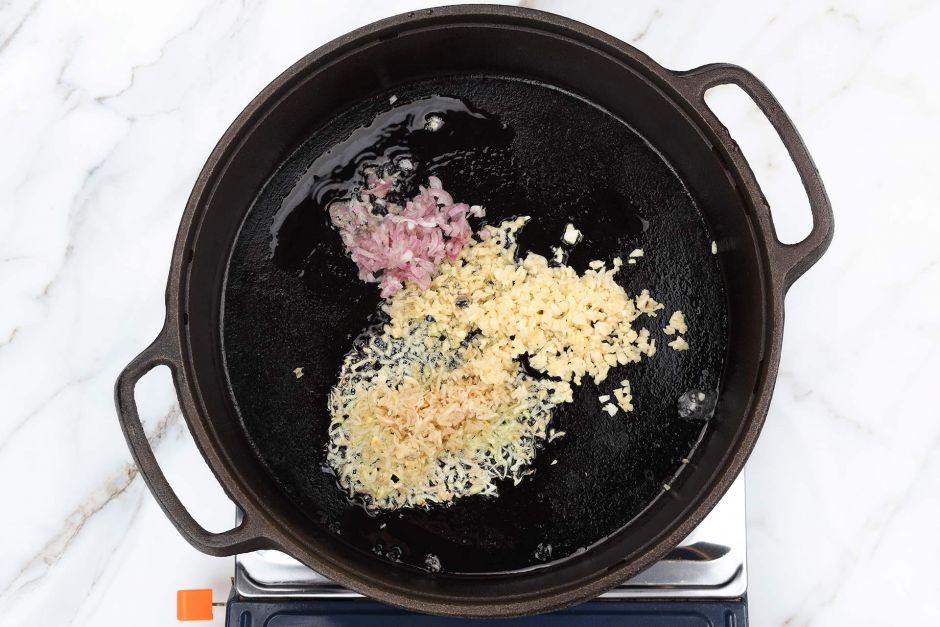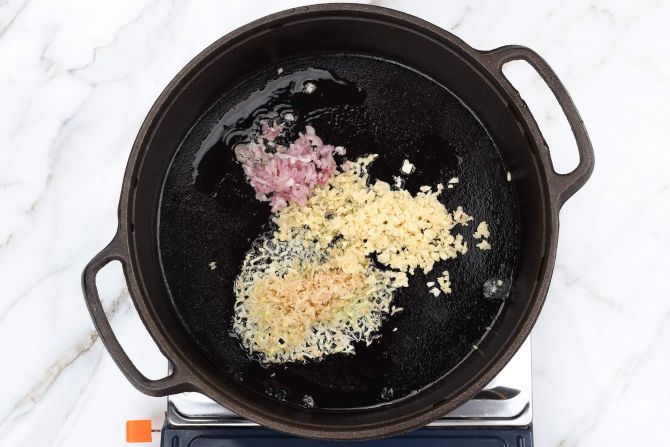 Sauté the herbs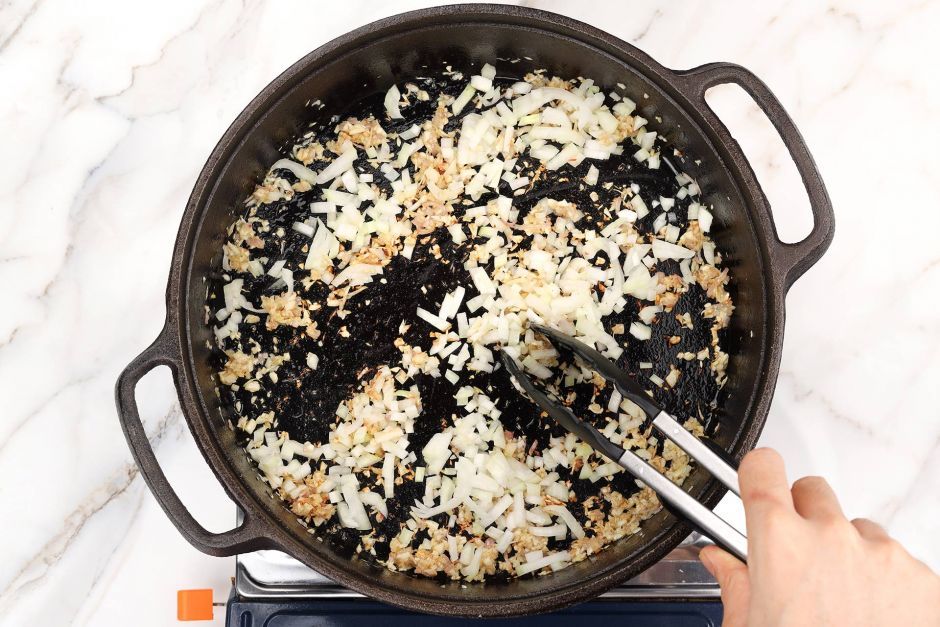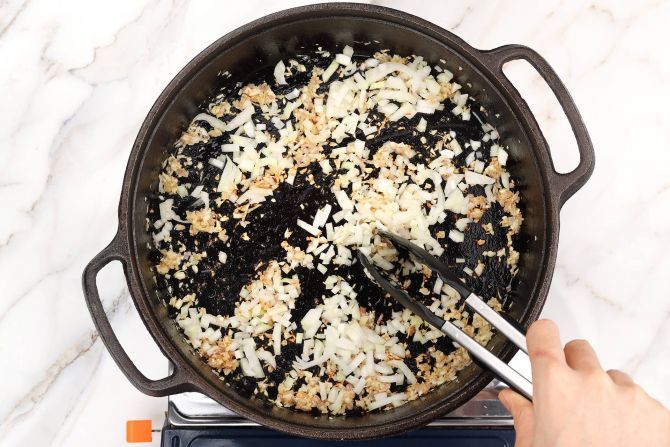 Brown the onions.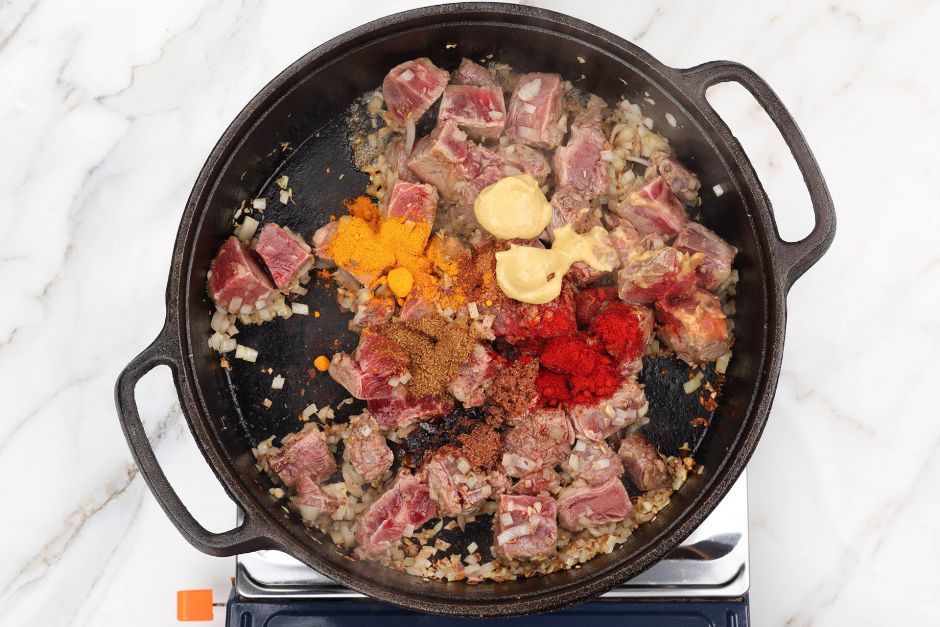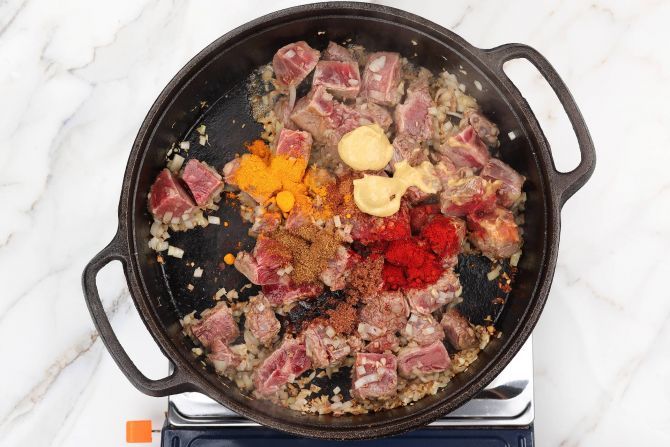 Sear the beef and spices.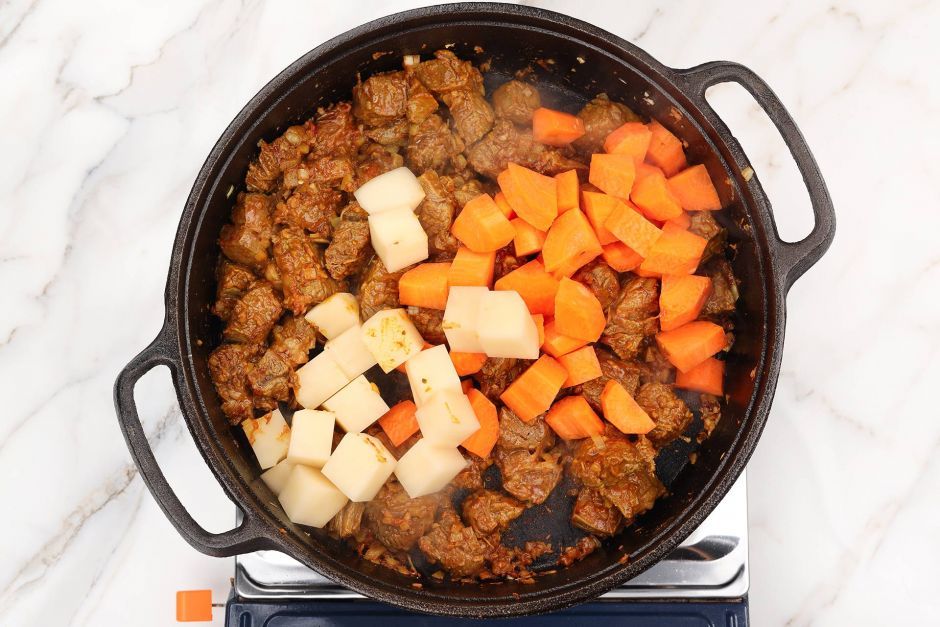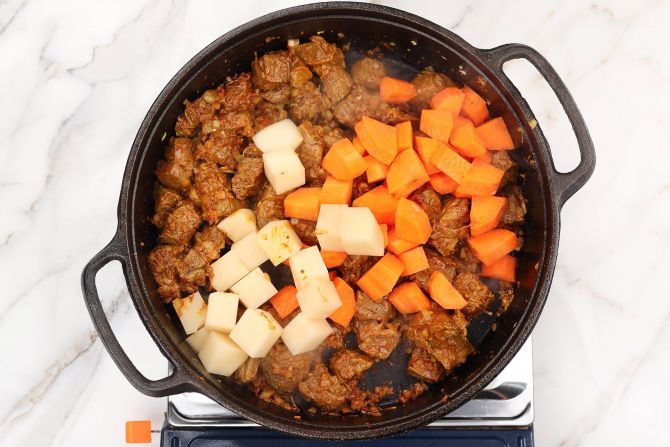 Add the vegetables.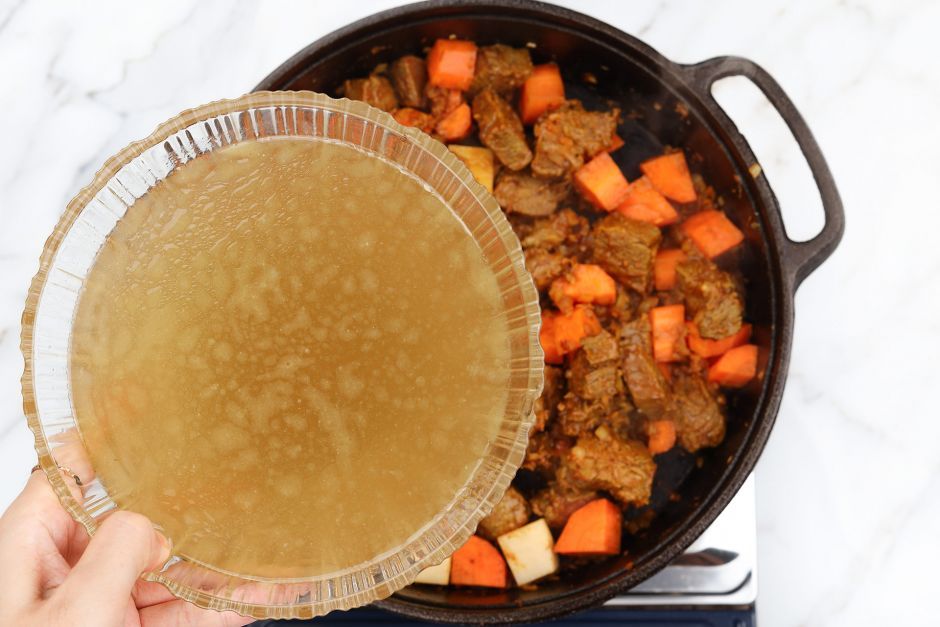 Pour in the chicken broth. Simmer the sauce.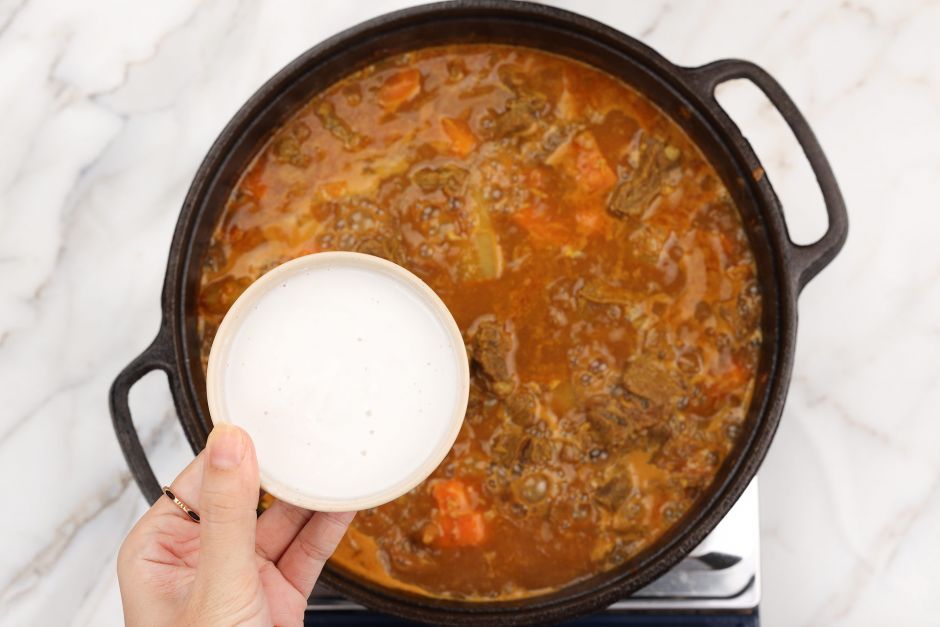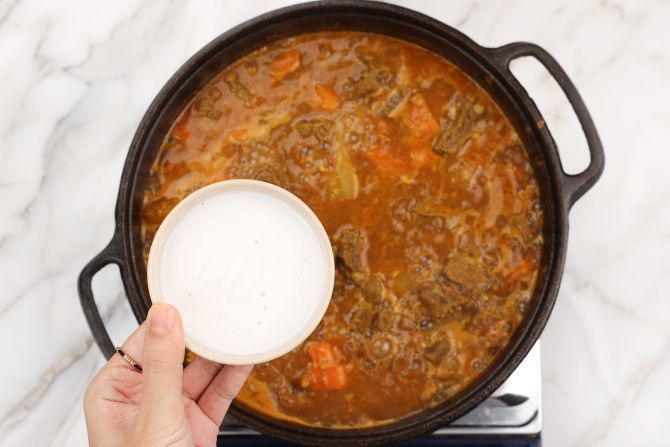 Add the dairy and coconut milk.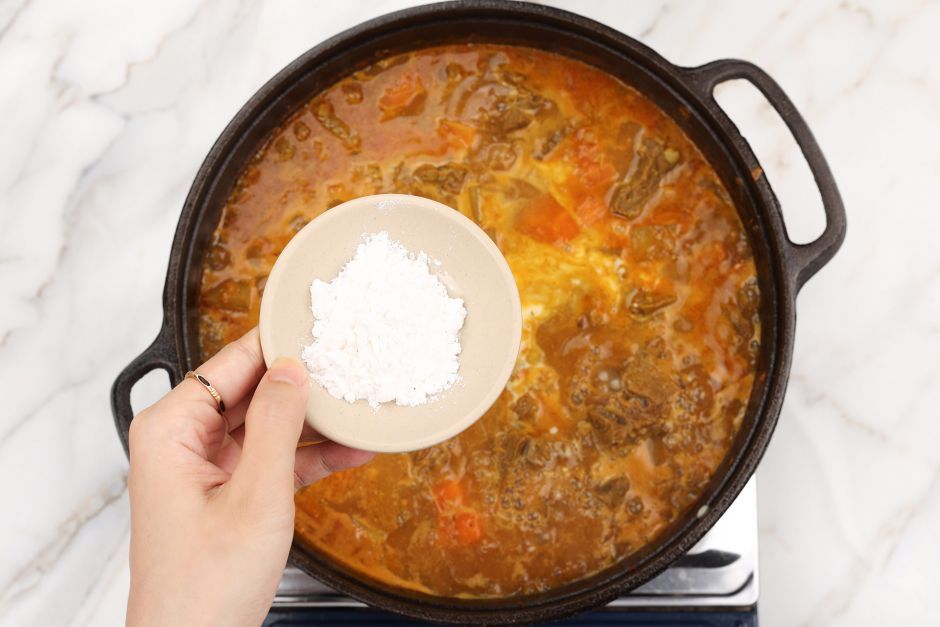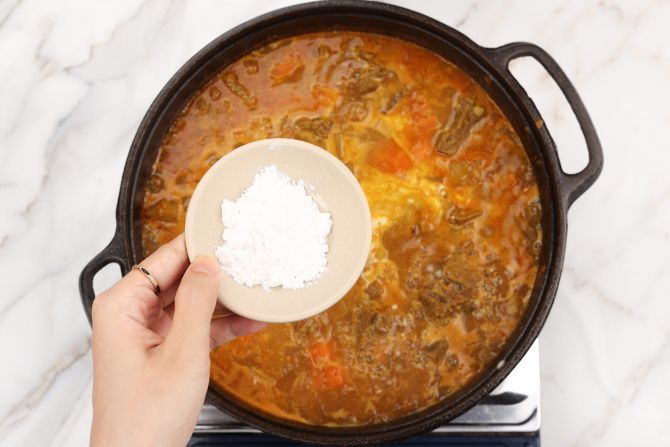 Stir in the cornstarch. Continuously simmer until the beef is tender.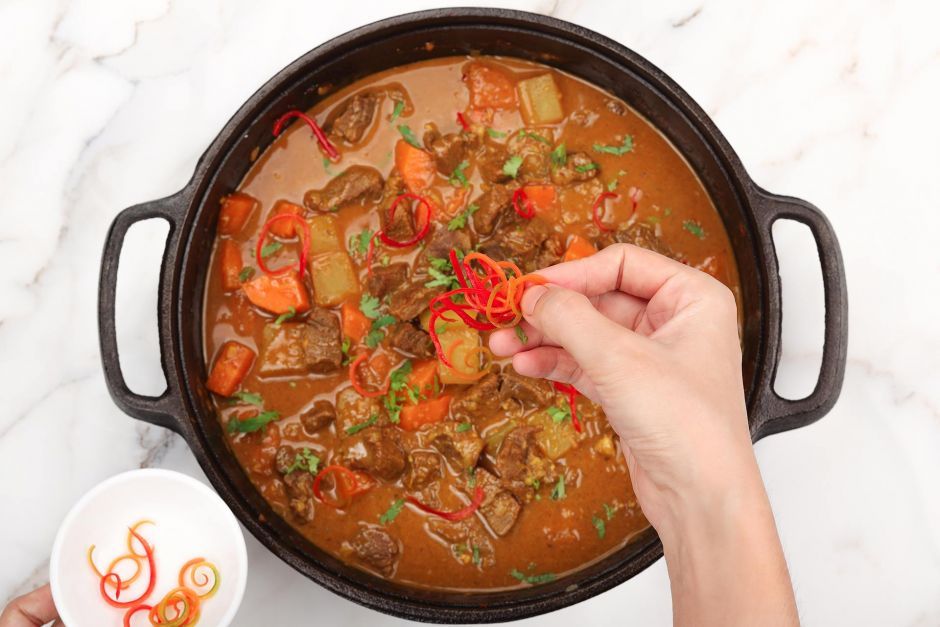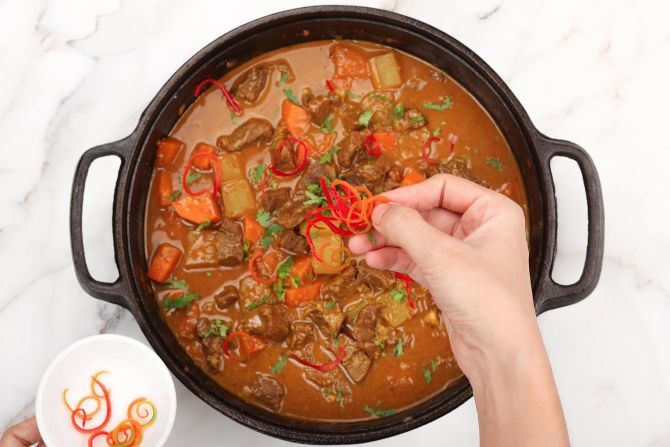 Garnish.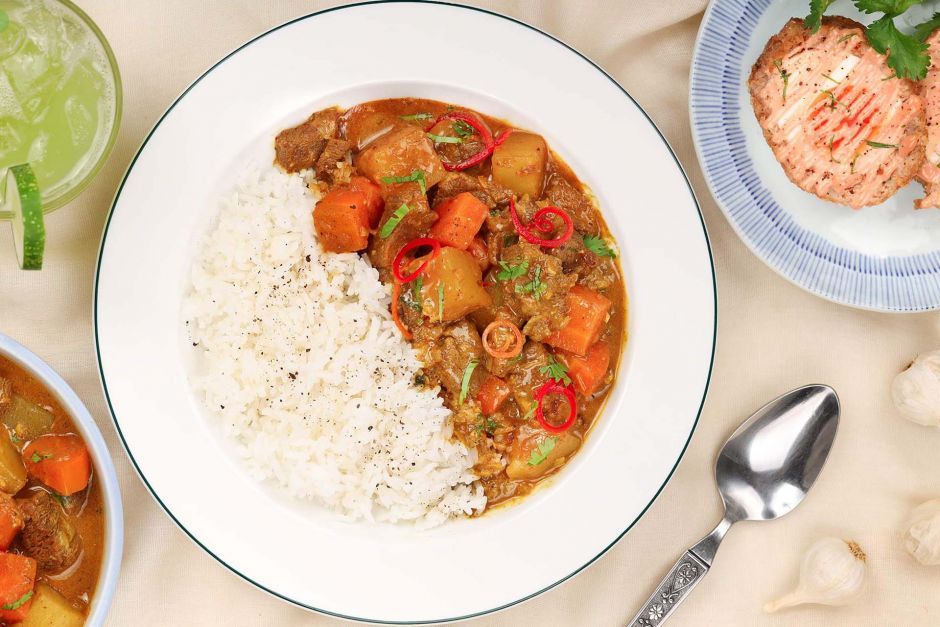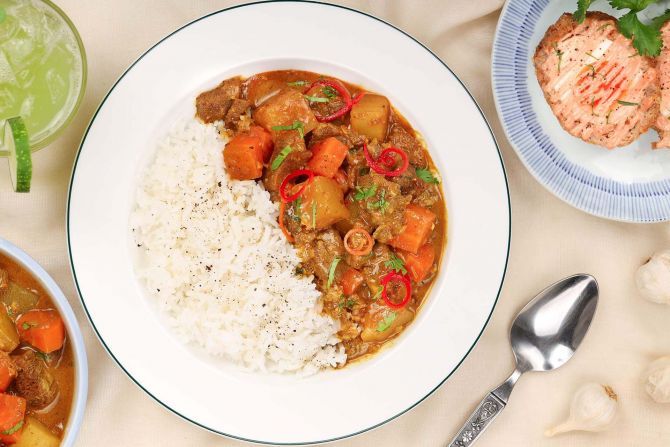 Serve over steamed rice.
For the detailed instructions and ingredient measurements, please refer to the recipe card.
Jump to Recipe
Tips for Perfect Beef Curry
Sear the Beef: Beef chunks are first seared in a blend of spices and herbs over medium-high heat. This helps to caramelize the meat's natural sugar and enhance the savoriness for a delicious finishing taste.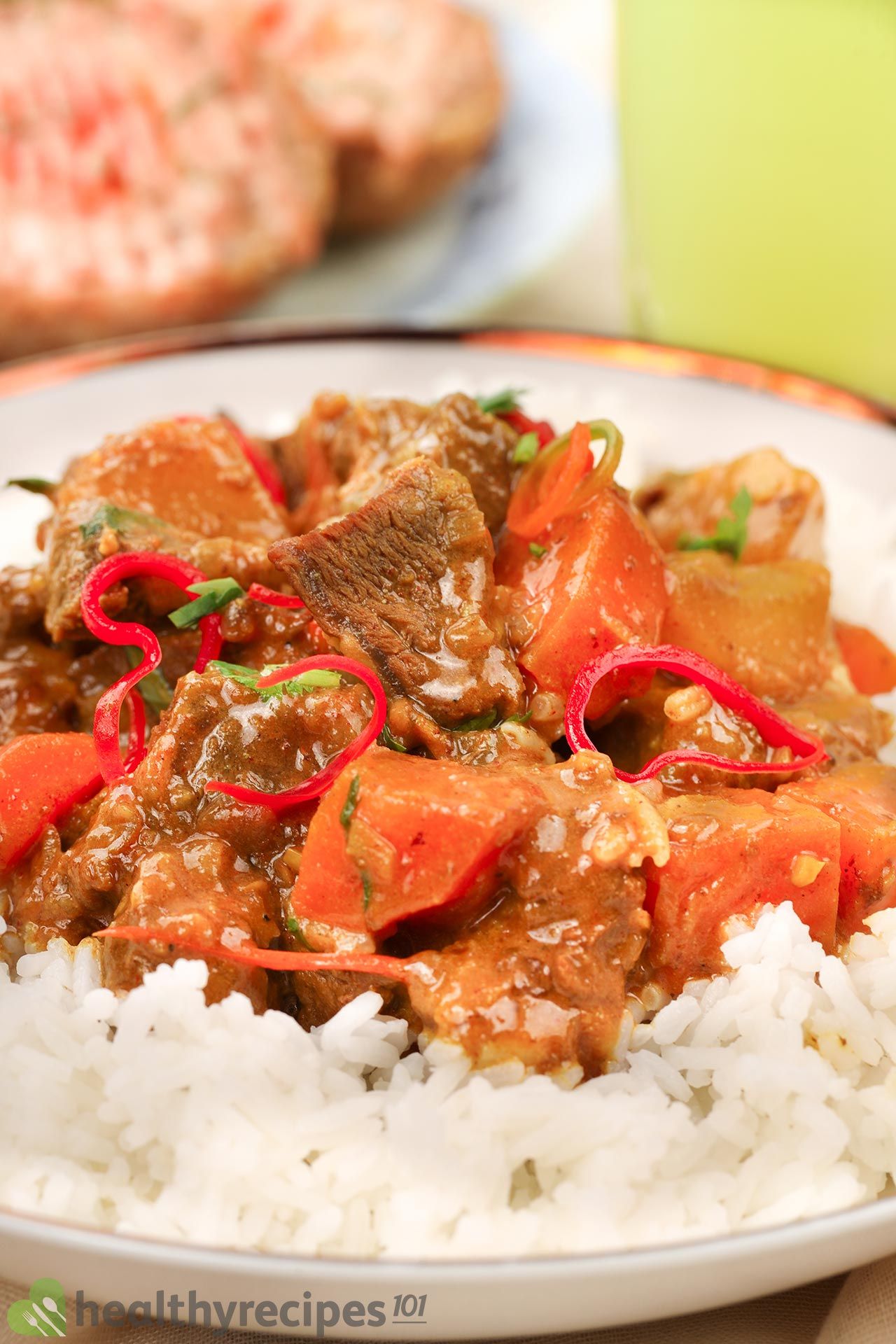 Reduce the Heat: For a smooth and creamy consistency, cook the dish at a simmer, especially after adding the dairy and coconut milk. This method prevents your sauce from curdling and separating.
Double the Recipe: Curry is one of the few dishes that tastes even better the next day, making it perfect for meal prepping. Plus, it's freezer-friendly so you can make a large pot and freeze it in portions for those evenings when you're busy and don't feel like cooking.
Store, Freeze and Reheat The Leftover
Store: Allow any leftovers to cool completely and transfer them to an airtight container. Refrigerated curry can last for up to 3 days.
Freeze: For longer storage, keep the curry container in the freezer for up to 2 months.
Reheat: When ready to use, reheat the dish in a saucepan over medium-low heat until heated through and the internal temperature reaches 165 ℉.
What to Serve With Beef Curry
Drinks: It makes perfect sense to pair a beef curry with a soft, refreshing drink. Our Cucumber lime juice with its fruity tones makes it the perfect palate cleanser. It helps to cut through the spices and richness, for a refreshing break after every mouthful.
Salads: To add a bit of crunch alongside our chewy and creamy beef curry, you can try a fancy salad like burrata, but we think this cucumber salad is a light and effortless alternative.
Nutritional values in this table vary somewhat to those below due to different app calculations. Read more...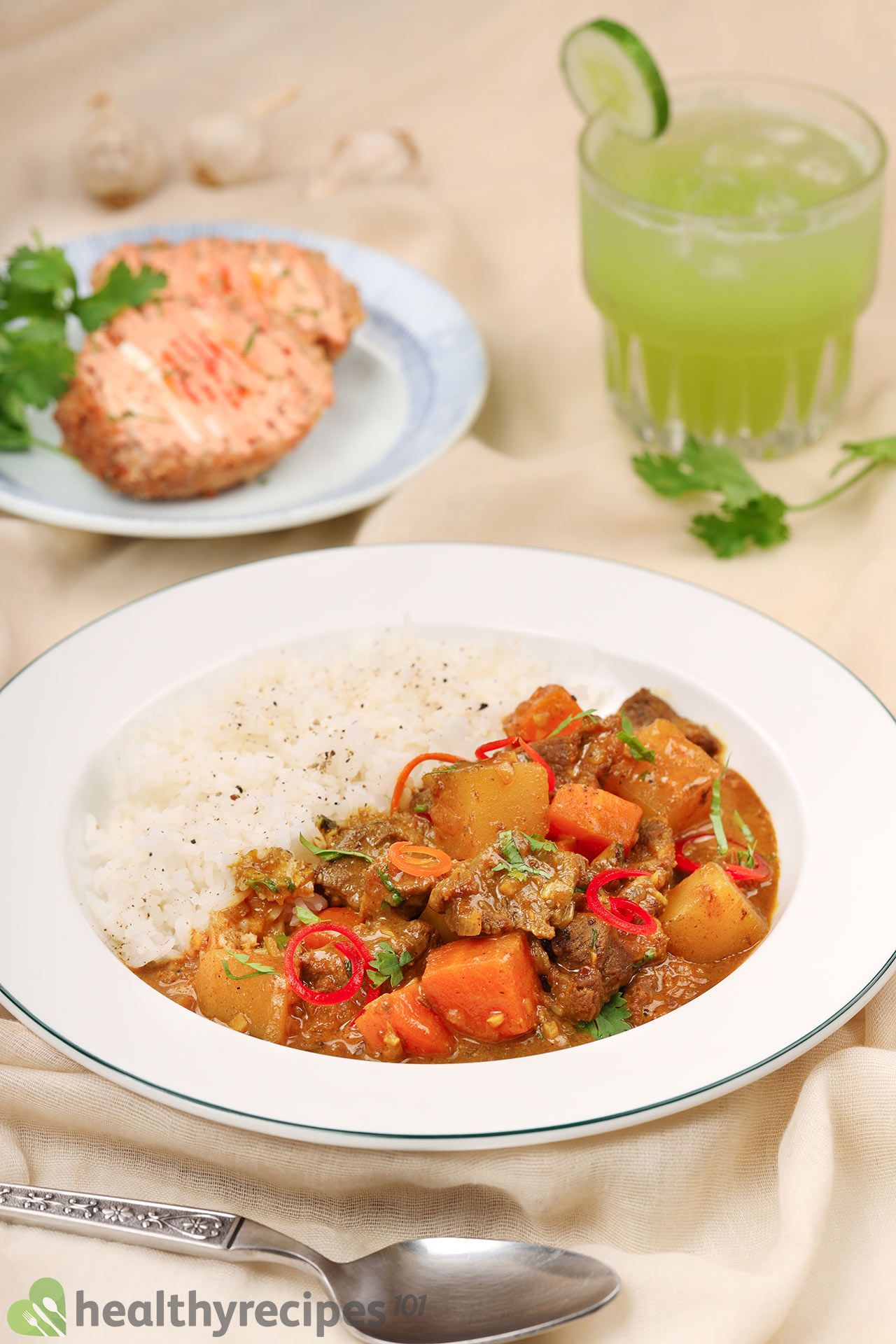 If you're interested in other curry recipes as healthy as this one, we've got some seriously delectable ones: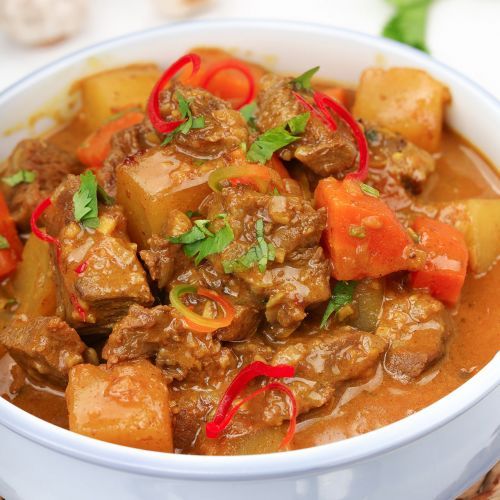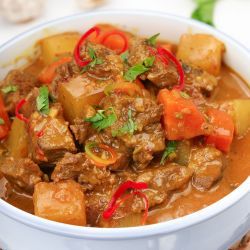 Beef Curry Recipe
This beef curry recipe makes a comforting bowlful of deliciousness every time. The succulent beef and aromatic spices combine to produce the ultimate hearty curry.
Ingredients
14

oz

beef chuck

cubed

1/2

tbsp

olive oil

2

tbsp

garlic

chopped

1

tsp

ginger

chopped

2

tsp

shallot

chopped

2

tbsp

lemongrass

chopped

2

oz

onion

chopped

1/4

tsp

nutmeg

1

tsp

paprika

1

tsp

ground turmeric

1

tsp

ground cumin

1/2

tsp

salt

2

tbsp

brown sugar

1

tbsp

lemon juice

4

oz

potatoes

cubed

6

oz

carrots

cubed

3

cups

unsalted chicken broth

1/3

cup

coconut milk

1

tbsp

heavy cream

1

tbsp

cornstarch

1

tsp

red chili

sliced

2

tbsp

coriander

3

cups

cooked medium-grain rice
Instructions
Heat 1/2 tbsp olive oil in a cast-iron skillet on medium heat. Add 2 tbsp garlic, 1 tsp ginger, 2 tsp shallot, and 2 tbsp lemongrass and stir fry for about 1 minute or until fragrant.

Add 2 oz onions and cook for another 1 minute.

Add 16 oz beef chuck, 1/4 tsp nutmeg, 1 tsp paprika, 1 tsp turmeric, 1 tsp cumin, 1/2 tsp salt, 2 tbsp brown sugar, 1 tbsp lemon juice, and 4 tsp mustard to the skillet. Stir and cook for 3 minutes.

Add 4 oz potatoes and 6 oz carrots.

Pour 3 cups of chicken broth to cover the ingredients. Increase the heat, cover the lid and bring the soup to a boil. Then reduce the heat and simmer for 15 minutes.

Uncover the lid and add 1/3 cup coconut milk and 1 tbsp heavy cream.

Slowly stir in 1 tbsp cornstarch until the sauce is slightly thickened. Cover the skillet and simmer for another 7 minutes or until the beef is tender.

Garnish with 1 tsp sliced chili and 2 tbsp coriander.

Serve the curry hot with steamed rice.
Nutrition
Nutrition Facts
Beef Curry Recipe
Amount Per Serving (1 serving)
Calories 495
Calories from Fat 126
% Daily Value*
Fat 14g22%
Cholesterol 61mg20%
Sodium 553mg24%
Potassium 843mg24%
Carbohydrates 62g21%
Protein 27g54%
Vitamin A 7386IU148%
Vitamin C 11mg13%
Calcium 63mg6%
Iron 6mg33%
* Percent Daily Values are based on a 2000 calorie diet.