'A guide to an oh-so-creamy and silky-smooth staple' is all I can say about this chicken alfredo recipe. Now, chicken alfredo is a surprisingly quick meal that can be made one-pot and enjoyed every National Fettuccine Alfredo Day (February 7).
This chicken alfredo recipe combines a creamy sauce with tender and well-seasoned slices of chicken. The cream simmers until it thickens, and becomes velvety to cling to the fettuccine noodles.
Simple ingredients, simple processing! You'll no longer be pulling your hair out thinking of dishes to feed a crowd.
What Is Chicken Alfredo?
Created in Rome in the 19th century, the very first recipe for Chicken Alfredo was constructed by a restaurant owner, Alfredo di Lelio. His creation was named after himself.
Chicken alfredo or fettuccine alfredo is a simple pasta dish. Fettuccine is tossed with butter and parmesan cheese.
The chicken alfredo recipe later became popular and has evolved to adapt American cuisine. In the US, it is often served as a richer version with heavy cream, garnished with protein (usually chicken), and other ingredients.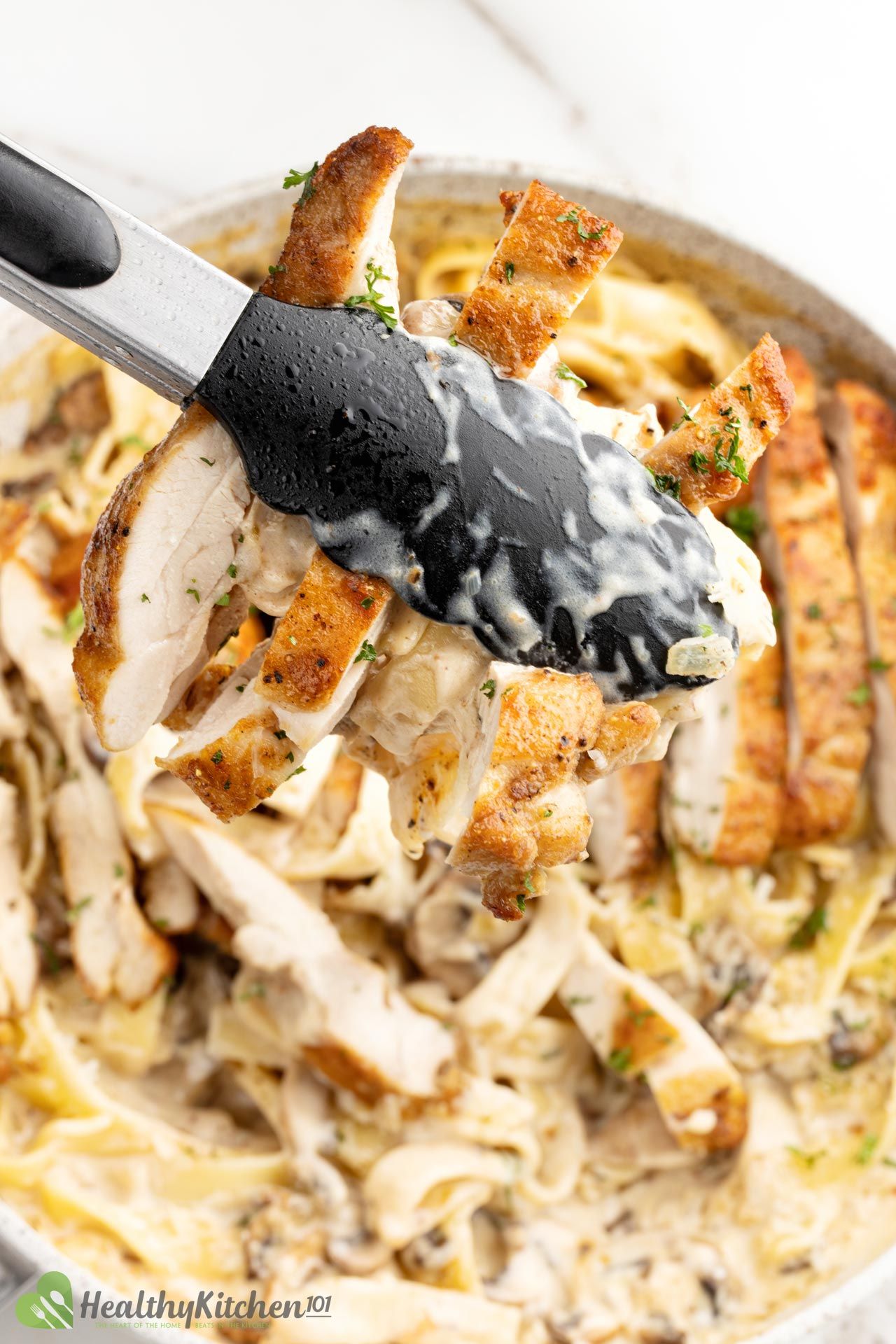 Is Chicken Alfredo Healthy?
Being rich and creamy, not only does this chicken alfredo recipe taste heavenly, but also has plenty of health benefits to offer.
Chicken: chicken is known for being full of essential nutrients that our body needs such as protein, omega-3 fatty acids, and minerals.
Mushrooms: famous for their meat-like texture, but unlike meat, mushrooms are low in calories and cholesterol. Most types are full of vitamins and healthy antioxidants.
Including mushrooms in your daily diet can help boost your immune system, maintain healthy skin, and prevent obesity.
Best Pasta for Chicken Alfredo Recipe
For the chicken alfredo recipe, I'd say fettuccine. Definitely. Fettuccini has long been the go-to when it comes to any chicken alfredo recipes.
However, as long as your pasta is capable of being submerged and stirred easily in the cooking liquid, it should work. Use your pasta of choice— no matter if it's a home-made or a high-end dried one. Here are just a few of the many different kinds you could use:
1. Penne
Penne is a 2-inch long noodle with a hollow center. This tube shape allows the sauce to run down the center, which brings out more flavor in each bite.
This noodle will work in soup, salads, and any pasta dishes with creamy or hearty sauce.
2. Spaghetti
This long, classic Italian pasta is loved by everyone! Spaghetti is just the right thickness to hold a good amount of sauce without overtaking the dish.
It's also substantial enough to not get lost in a hearty family favorite meat sauce recipe, and can be served with cream sauce, or even with just a light dressing of olive oil and garlic.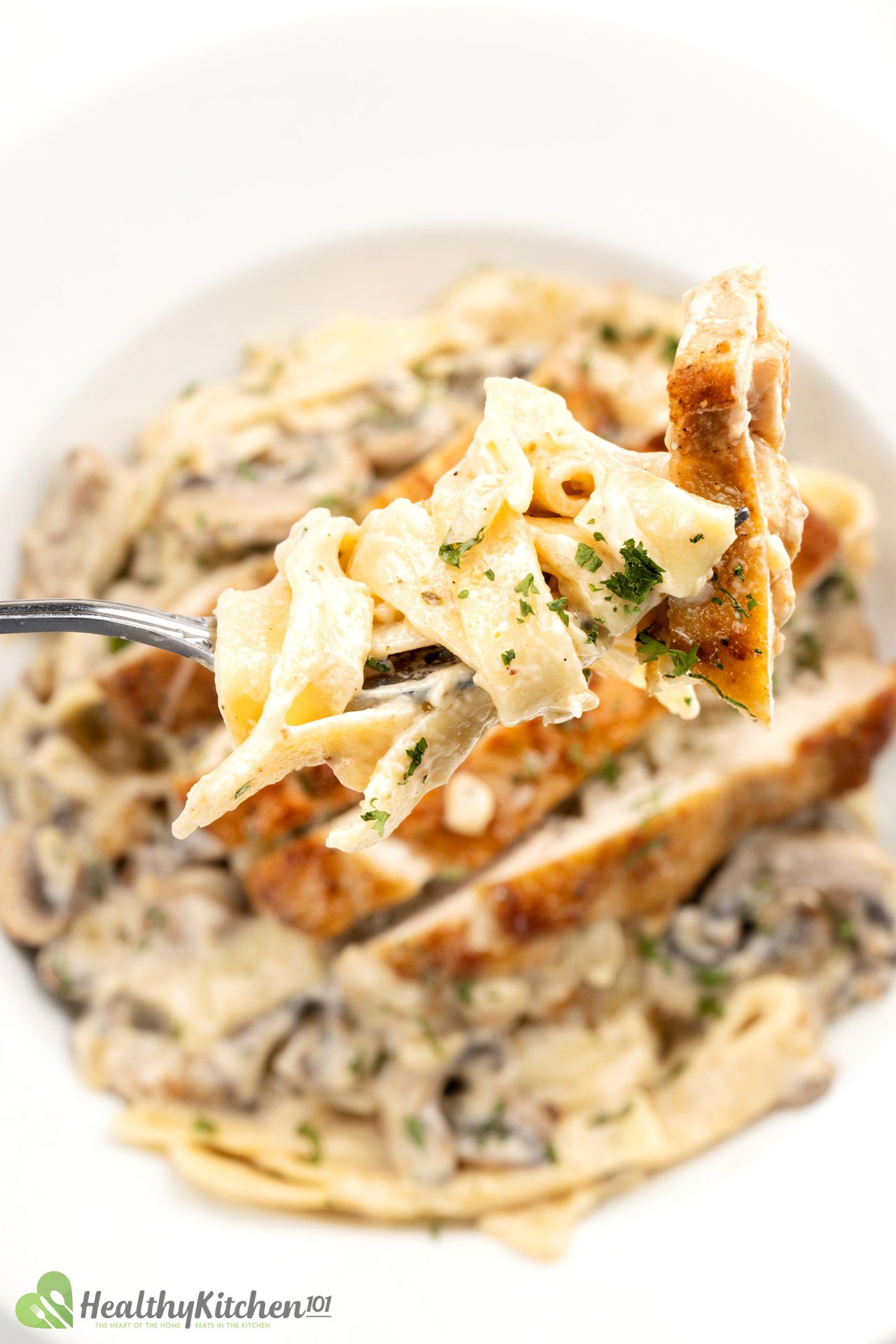 4. Angel Hair
Angel hair pasta is a long, thin noodle with rounded shape, thinner than spaghetti. Thanks to its light strands, angel hair can be coated evenly with sauce and not get weighed down when wound up with a fork.
This delicate pasta is best served in meaty and creamy sauces. You should cook the noodles until al dente because soft pasta will smush into the sauce rather than being coated by it.
How to Make This Chicken Alfredo Recipe
This chicken alfredo recipe combines simple ingredients like chicken, fettuccine noodles, parmesan cheese, heavy cream, and mushrooms. A classic combination of flavor for a tasty and gourmet dish that you can't help but fall in love with!
You need only one pan to cook this alfredo chicken recipe; first for cooking the fettuccine and then you can use the same pan for the chicken and building the sauce.
For the pasta: boil the pasta in a pan or large pot. Do this step before you start cooking the chicken and making the sauce.
For the chicken: season the chicken with salt, pepper, and your favorite spices of choice. Let the chicken sit for 5-10 minutes, so that it has a chance to absorb more flavor.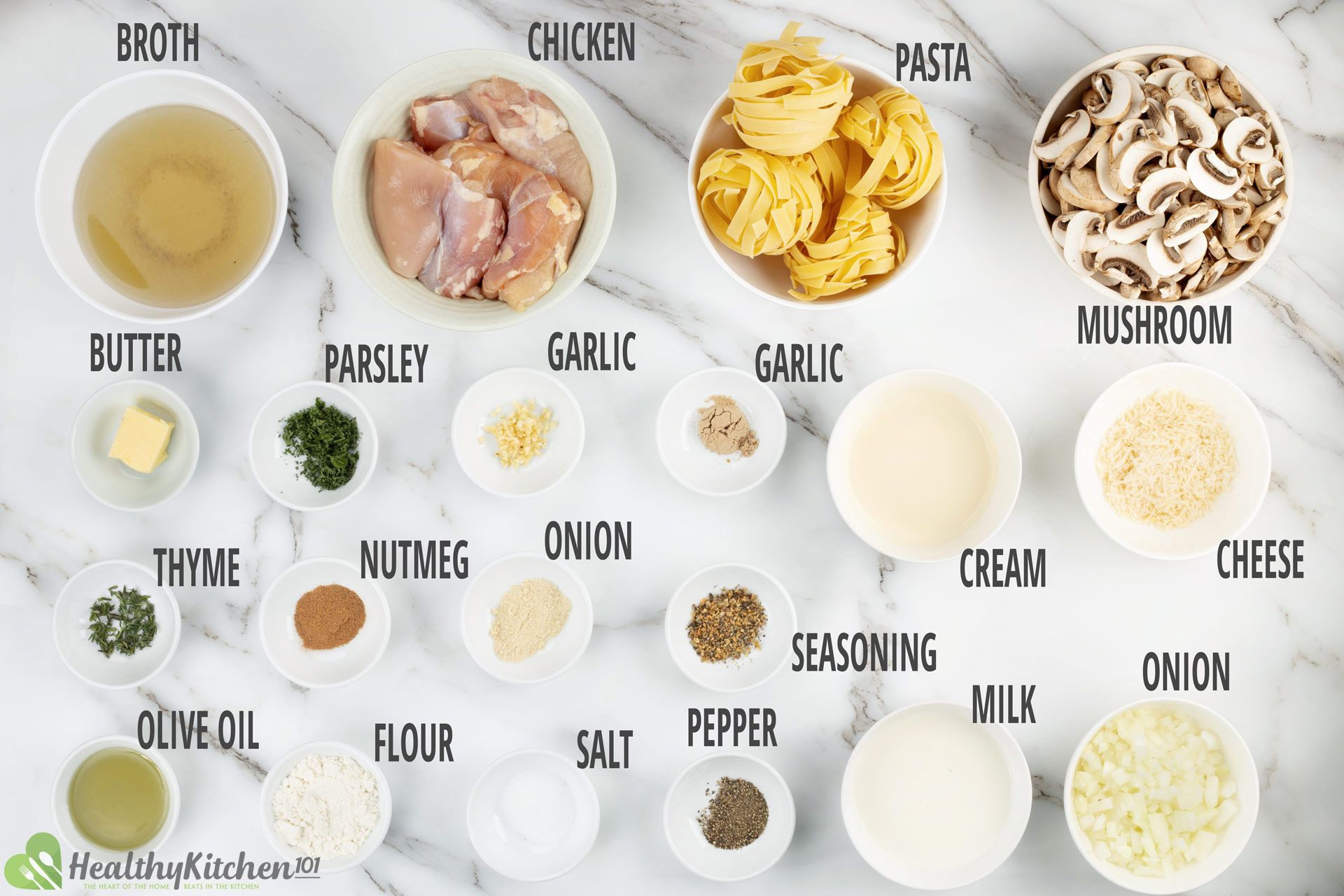 Sear the chicken thigh in the pan in olive oil or butter for golden crispness. You can cover the chicken with foil while making the sauce to keep it moist and warm.
For the sauce: once you drain the pasta well and slice the chicken, start to make the sauce. The alfredo sauce just takes a few minutes to bring together in the same pan that was used for the chicken. This also helps add more flavor.
You simmer the sauce of heavy cream, milk, garlic, butter, and seasonings until it thickens. The parmesan cheese is added at the end of this step to melt in and create a smooth, creamy sauce.
Toss it all: when the sauce is nice and well-seasoned, add the pasta back to the pan. Serve immediately with the sliced chicken and chopped parsley.
What Goes Good with Chicken Alfredo
The chicken thighs are well seasoned and cooked until they're golden brown on the outside while still juicy on the inside. Then the chicken is added to the creamy homemade alfredo sauce and served over fettuccine noodles.
To enhance the savory and hearty taste of chicken alfredo, you can also stir some of the chicken or extra veg into the sauce while cooking. Here are some suggestions that work particularly well:
1. Broccoli
Broccoli or cauliflower gives an interesting bite which adds great contrast in the creamy sauce. Believe us when we say a bunch of broccoli florets will satisfy even the pickiest palate.
2. Mushrooms
Chicken alfredo with mushrooms has added texture and an earthy flavor, giving the cream sauce added depth. We often use cremini mushrooms, but you can use any type you prefer for this sauce.
Remember to slice them so that they get tender and absorb flavor easily.
3. Tomatoes
Alfredo sauce is something that can turn an ordinary dish into a restaurant-quality one, and cherry tomatoes give a nice complement here. Tomatoes add a touch of color and fresh flavor that cuts through the richness of the sauce.
The result is satisfying and creamy but not too heavy!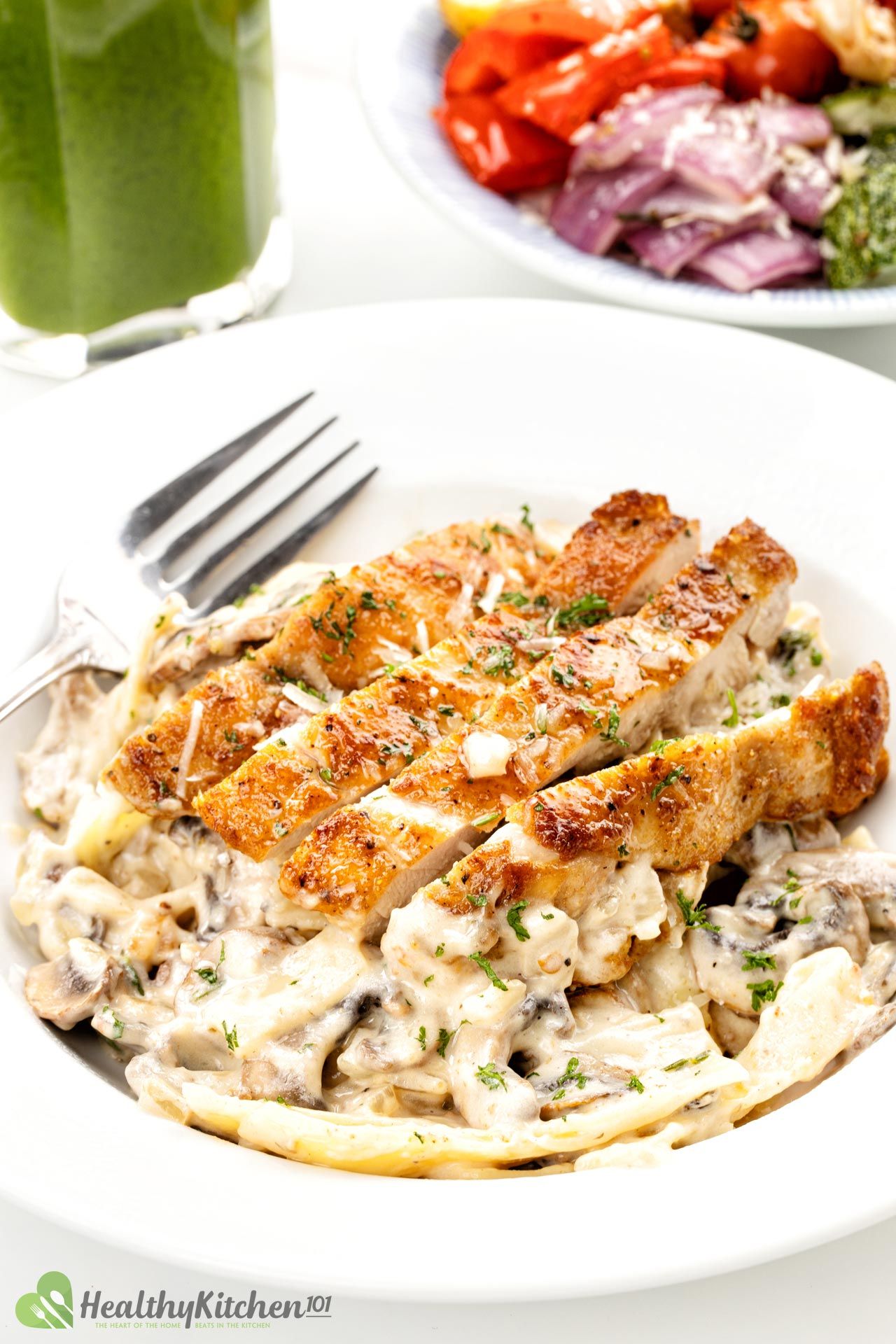 Sauce for Chicken Alfredo
Alfredo sauce is a creamy, silky sauce with three main ingredients: chicken broth, heavy cream and Parmesan cheese. Butter is used quite frequently, along with many other additions.
This is totally no surprise as Chicken Alfredo's reach has spread worldwide with countless adaptations.
Alfredo Sauce with Cream Cheese
If you need alternatives for heavy cream, there are lots of options. Either thickened cream, light cream or evaporated milk can make up for the absence of heavy cream.
Cream cheese is also an interesting ingredient to add a nice thick consistency to your alfredo sauce. We need a little attention to make alfredo sauce with cream cheese.
A small tip is that you should cut up cream cheese into small cubes so that they can melt easily.
You can also try cottage cheese for added probiotics. Just be sure to cook and whisk it for a smoother texture.
If you love chicken alfredo like this one, we also have an Instant Pot chicken alfredo recipe that you may like.
Tips
For a silky but not gluggy sauce: If you cook pasta together with the sauce, it's important to add the parmesan cheese only a minute before you remove the whole pot from heat.
When emulsified with pasta too soon, it's likely that the parmesan cheese will make the liquid thicker (because of fat and starch coming together), causing the pasta to cook and coat unevenly.
That said, you should cook the pasta to al dente in a combination of milk and chicken broth only.
Make sure to use freshly grated Parmesan cheese if possible.
It will ensure a much better taste and melt throughout the sauce, compared to the powdered one – that is if you don't want your sauce to taste so starchy. Parmesan is so delicious, don't accidentally make it a dud in such a lovely dish.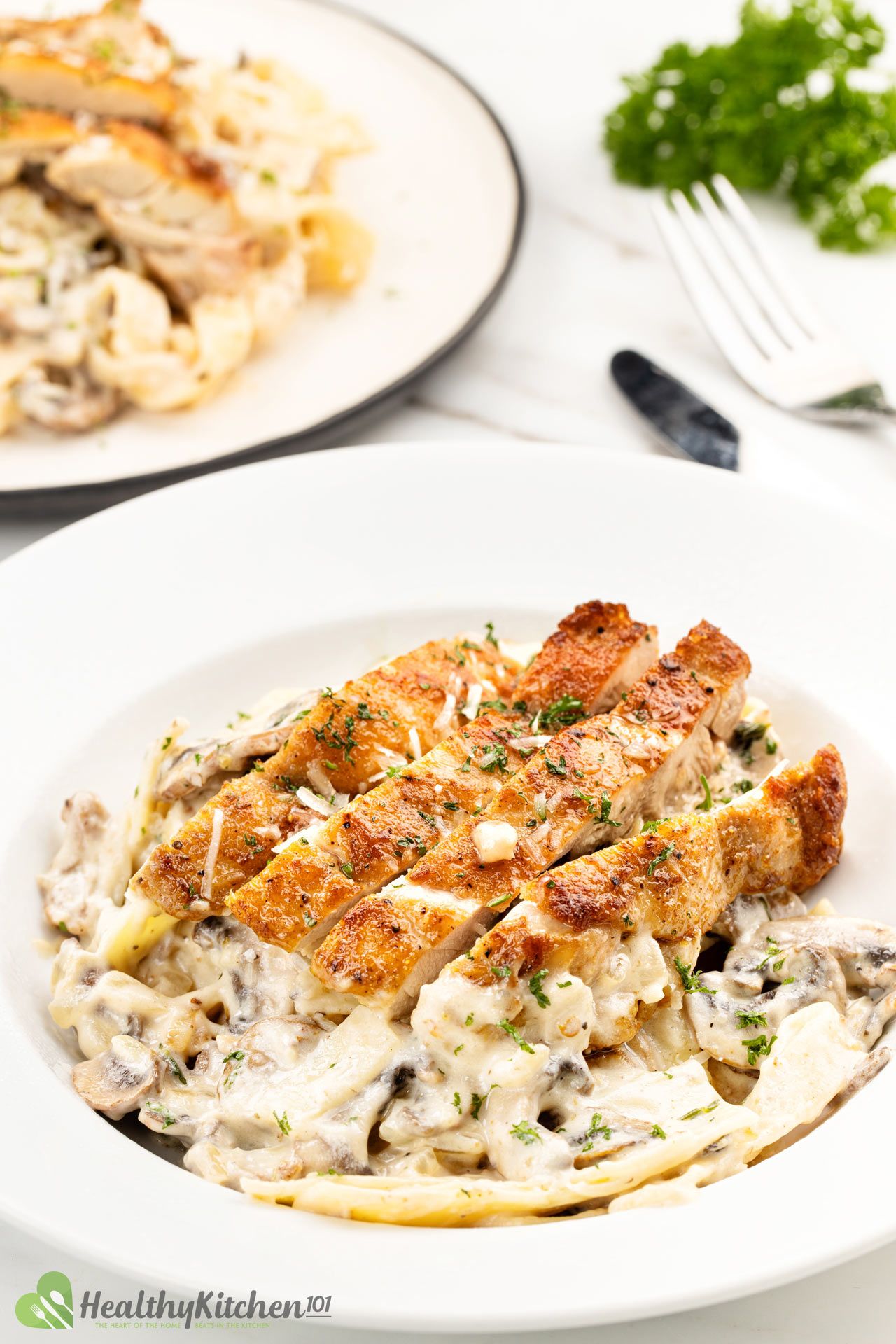 How Many Calories in Chicken Alfredo
Our chicken alfredo recipe is served with fettuccine pasta, which increases the calories of each serving to 460 calories. This takes up to about 25 percent of the recommended daily intake.
To make the dish healthier, we add some good additions like mushrooms, and pair it with roasted vegetables and green juice.
In case you are now craving more healthy chicken pasta, our chicken piccata, chicken spiedini and chicken scallopini are lovely options.
What to Serve With Chicken Alfredo
Chicken alfredo is traditionally served with garlic butter bread. Since the pasta and alfredo sauce are creamy, a light side dish would be a nice accompaniment.
We chose some crunchy roasted vegetables and celery juice on the side for ours. Here are the nutrition facts of the whole meal:
Nutritional values in this table vary somewhat to those below due to different app calculations. Read more...
If you want to include more chicken in your meal, this corralled chicken dishes and healthy chicken thigh roundup have bunch of ideas.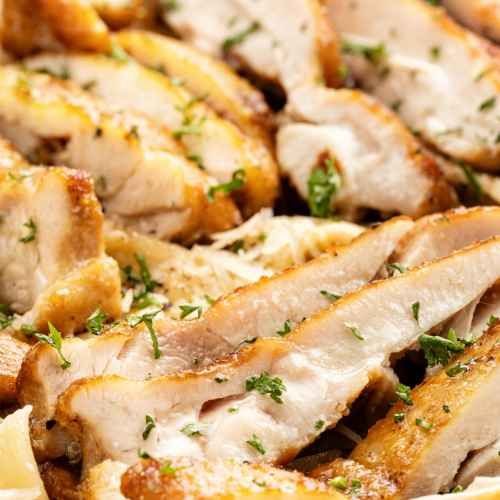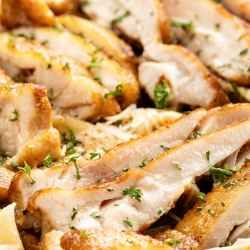 Chicken Alfredo Recipe
This chicken alfredo recipe has simple ingredients and simple processing. You'll no longer be pulling your hair out thinking of dishes to feed a crowd.
Ingredients
1 1/2

tbsp

olive oil

12

oz

skinless boneless chicken thigh

1

tsp

garlic

1/2

tsp

ground pepper

1/2

tsp

salt

1

tsp

onion powder

1

tsp

garlic powder

8

oz

cremini mushrooms

4

oz

yellow onion

1/3

cup

all-purpose flour

1/2

tbsp

unsalted butter

1/2

tsp

nutmeg

1

tsp

Italian seasoning

1/2

tsp

thyme

1/2

cup

whole milk

1/4

cup

heavy cream

1

cup

unsalted chicken broth

6

oz

cooked fettuccine pasta

1

tbsp

parsley

chopped

0.75

oz

shredded parmesan
Instructions
Season the chicken thighs with ¼ teaspoon of salt, ¼ teaspoon of pepper, onion powder, garlic powder, and ¼ teaspoon of thyme. Let them sit for 15 minutes.

Bring 4 quarts of water to a rolling boil. Add pasta and stir occasionally. Boil until al dente (8-10 minutes) and drain immediately.

Sear the chicken thighs in 1 tablespoon of olive oil in a large pot over low heat for about 12 – 15 minutes until they're golden brown. Remove the chicken from the pot and slice it into strips.

Stir-fry the mushrooms with ½ tablespoon of olive oil. Once the mushrooms are cooked, transfer them into a small bowl.

Add butter to the same pot, then saute onion and garlic for 3 minutes. Add in flour, chicken broth, milk, and heavy cream. Season the mixture with the remaining salt, pepper, nutmeg, thyme, and Italian seasoning. Then bring to a boil.

Add the pasta and mushrooms and reduce to a simmer for an extra 2-3 minutes.

Stir in the parmesan cheese and parsley to the pot. Stir so it combines into the mixture. Add chicken to the pot.

Serve. Garnish with fresh parsley and pepper if desired.
Nutrition
Nutrition Facts
Chicken Alfredo Recipe
Amount Per Serving (1 serving)
Calories 460
Calories from Fat 171
% Daily Value*
Fat 19g29%
Cholesterol 107mg36%
Sodium 496mg22%
Potassium 639mg18%
Carbohydrates 46g15%
Protein 28g56%
Vitamin A 148IU3%
Vitamin C 4mg5%
Calcium 148mg15%
Iron 3mg17%
* Percent Daily Values are based on a 2000 calorie diet.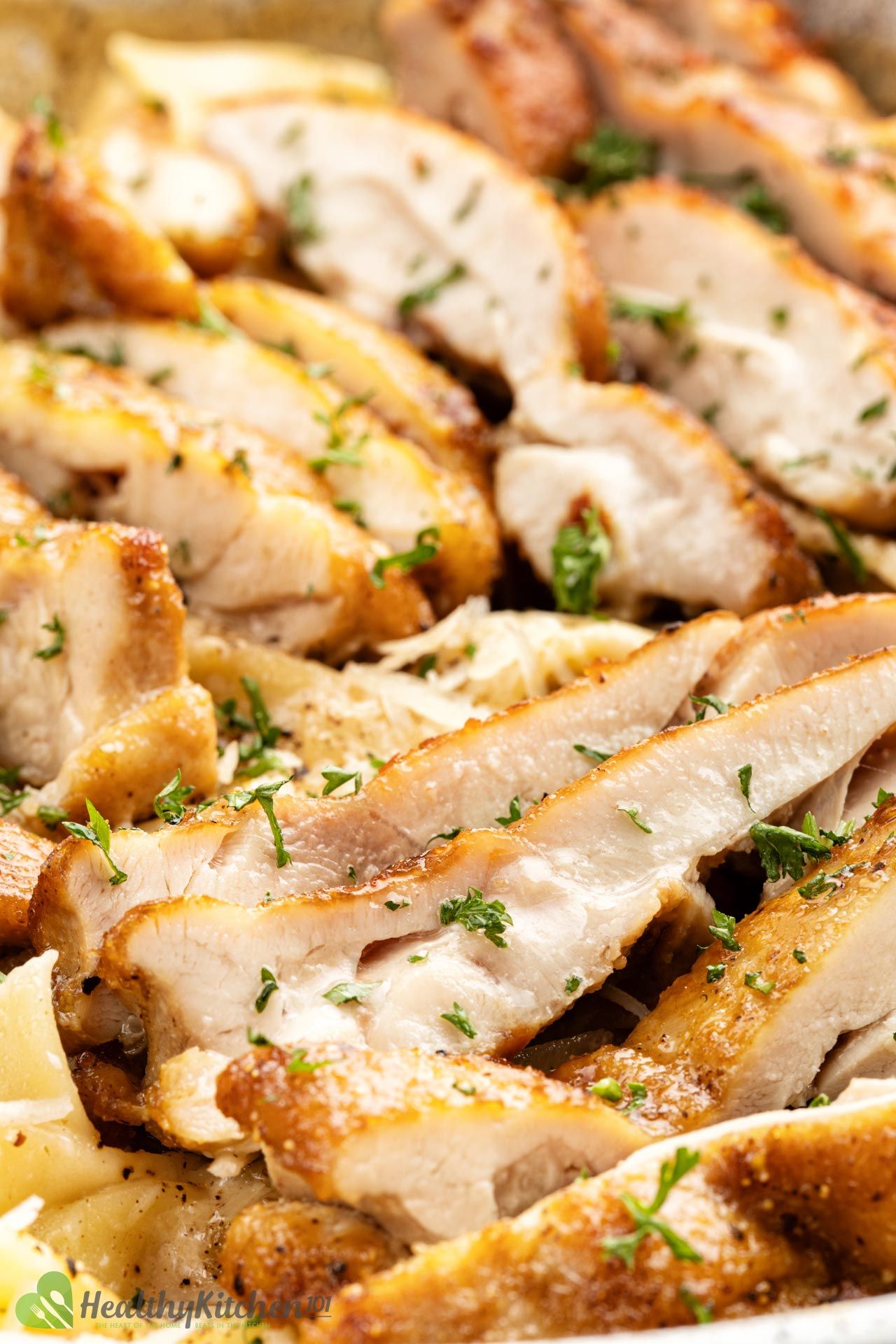 FAQ
1. How Long Does Alfredo Sauce Last?
Any cream based sauce like chicken alfredo should ideally be used within a day. However if you want to keep it in the refrigerator to use later, it can last approximately 3-4 days.
2. Can You Freeze Chicken Alfredo?
Yes, you can freeze chicken alfredo in the freezer for up to 2 months. For the best quality, we don't recommend freezing it longer than that.
3. How to Store
As with any pasta, your chicken alfredo tastes best fresh. As time goes by, the noodles soak up the creamy sauce and get softer.
You should refrigerate leftovers in an airtight container. If you want to reheat it, simply add a splash of milk or chicken broth while simmering the sauce on the stove. It will taste as delicious as the fresh one.