No one can deny that chicken salad is the go-to option for Americans. I mean, white meat in a salad! Chicken is versatile and works well with any dressing or side dish and everything in between.
Chicken salad has most of the time been a non-vegan lean protein source for many people— it's the go-to choice for living a wholesome life, or simply when we've run out of ideas for lunch.
But do we know enough about this versatile dish?
Now is the time for a fresh take, folks.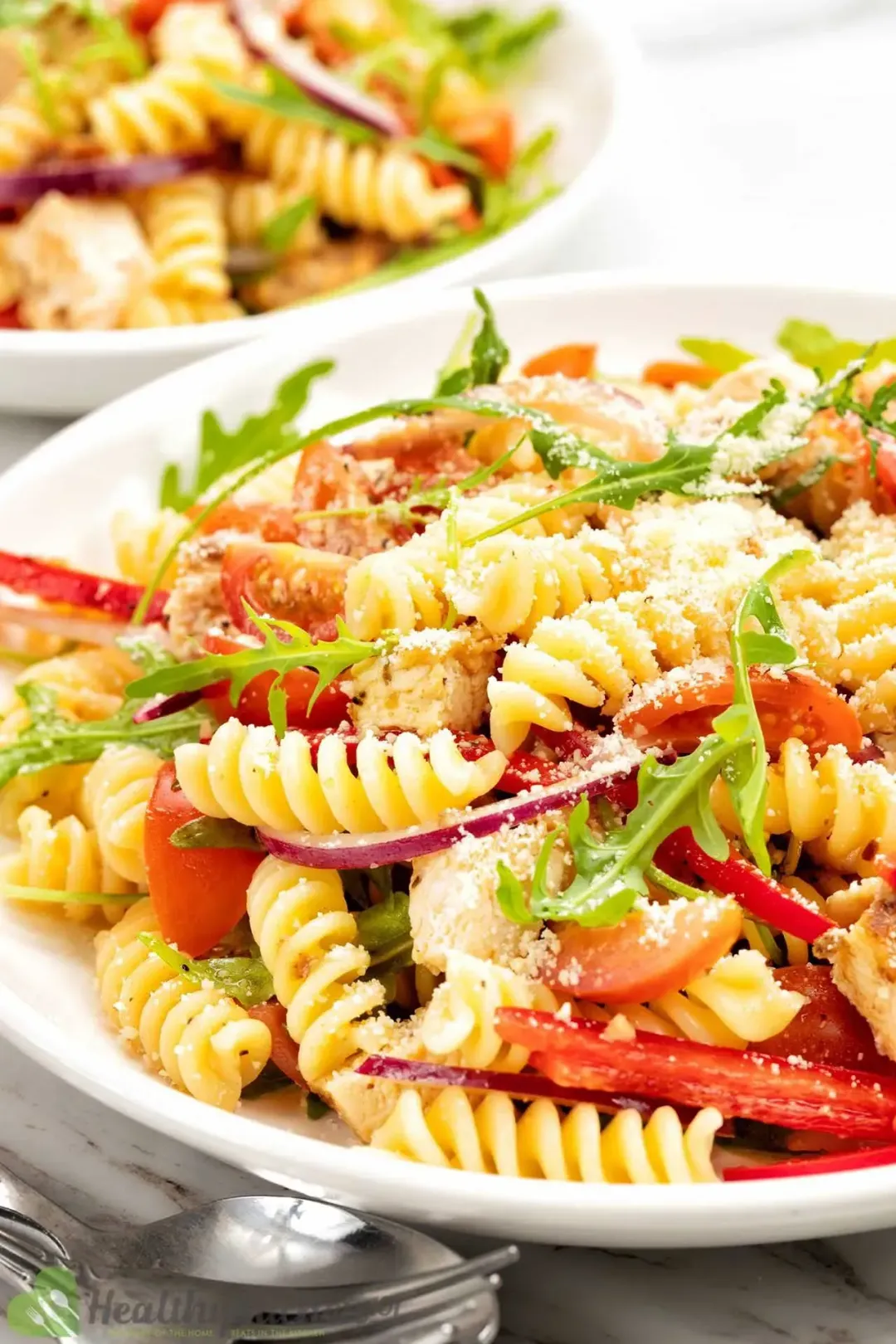 Reasons to Have These Chicken Salad Recipes in Your Meals
They're healthy and nutritionally balanced: Packed with lean protein from the chicken, these chicken salads will keep you feeling satisfied and energized throughout the day. The veggies and legumes provide a decent amount of fiber, vitamins, and minerals that nourish your body in various different ways.
They're versatile and adaptable: These chicken salads are true culinary chameleons. You can obviously eat them as they are, but you can also stuff them into a sandwich, or use them as fillings for wraps and tacos. You can also customize them to suit your preference and experiment with different ingredients. The possibilities are endless!
They're quick and easy: In our fast-paced lives, convenience is key. These chicken salads come to the rescue with their simplicity and ease of preparation. Whether you're whipping up a quick lunch or preparing a crowd-pleasing dish for a gathering, they can be made in a jiffy, saving you precious time in the kitchen.
They're perfect for leftovers: Got some leftover chicken from last night's dinner? Transform it into a delicious chicken salad the next day! It's a fantastic way to repurpose leftovers and create a whole new, budget-friendly meal that still feels fresh and exciting.
25 Best Chicken Salad Recipes for Simple Dinners
1. Grilled Chicken Salad
This grilled chicken salad recipe introduces a favorite side dish to serve at picnics, barbecues, potlucks,… Grab a few basic pantry ingredients and a creamy and tasty salad with fresh summer flavors will be ready in minutes!
Go to Recipe
2. Chicken Salad Sandwich
Our chicken salad sandwich recipe makes a fantastic springtime dish. It's very healthy and very appetizing, even to picky eaters.
Our recipe comes with fresh veggies, succulent chicken and a hint of mayonnaise to make the dish creamy but still light. It's simple and delicious with each bite tasting like a little bit of heaven!This chicken salad dish goes with literally everything. Breakfast? Covered. Snacks? Great. You can even make it into a delightful entrée.
Go to Recipe
3. Chinese Chicken Salad
This Chinese chicken salad recipe features a plethora of crunchy veggies, tender strips of chicken, and crispy fried noodles.
All that goodness is tossed together in an herby, tangy dressing to create terrific flavors. It can also keep well for days— a marvelous choice for busy bees who wish to maintain their clean eating between schedules.
Go to Recipe
4. Waldorf Chicken Salad
Featuring grapes, celery, walnuts, and lettuce, this Healthy Waldorf Chicken Salad is a delicious dish full of texture.
Go to Recipe
5. Chicken Salad With Grapes
Today's chicken salad with grapes recipe introduces a perfect meal-prep food. It can make a light and exquisite meal for both picnics and family dinners.
In this salad, the sweetness of grapes is matched with the richness of mayonnaise and the crunchiness of pecans. It's full of amazing flavor and pulls together in no time!
Go to Recipe
6. Grilled Chicken Salad With Grapes
This grilled chicken salad with grapes recipe features savory chicken breast and sweet red grapes on a bed of colorful lettuce mix. We top it with fresh parsley and crumbled feta cheese, then finish everything off with a drizzling of deep-flavored balsamic dressing. This dressing is Give it a try and find yourself falling in love with each bite.
Go to Recipe
7. Fried Chicken Salad
Our fried chicken salad finds the perfect balance between fast food and nutritious greens. It features fried chicken as the deep-fried item and mixed salad as the light and fresh powerhouse.
This interesting salad shows that healthy eating involves all kinds of cuisine, and you don't have to limit yourself to any specific ingredients.
Go to Recipe
8. Air Fryer Chicken Salad
If you're looking for a light lunch and a wonderful alternative to lettuce wraps, then this air fryer chicken salad recipe is for you.
This all-star recipe includes lean chicken breast as well as an abundance of veggies and dried fruits. Add a dressing made with olive oil, fresh lemon juice, and Italian seasoning, and the flavors are out of this world.
Go to Recipe
9. Avocado Chicken Salad
This avocado chicken salad recipe introduces a hearty mixture of grilled chicken, avocado, corn, cherry tomatoes, red onion, cilantro, red kidney beans, and lime juice. It's full of invigorating flavors and textures, allowing you to enjoy a healthy meal with pleasure every National Avocado Day (July 31).
Go to Recipe
10. Buffalo Chicken Salad
This buffalo chicken salad recipe introduces a splendid way to enjoy your favorite smoky flavor of buffalo wings in the form of a healthy salad. It comes with much fewer calories and cholesterol, and also requires less time and effort to put together.
Go to Recipe
11. Chickpea Chicken Salad
Bring some colors and extraordinary flavors to your meal with this chickpea chicken salad. With chickpeas, air-fried chicken, and various veggies, it's a marvelous celebration of tastes and textures. Everything is tied together by a honey mustard dressing that's freckled with lime juice to brighten the palate from the very first bite.
Go to Recipe
12. Greek Chicken Salad
Most of us are familiar with the classic Greek salad. How about giving it a little twist to freshen things up? Greek Chicken Salad recipe calls for delicious chicken breast as a way to add protein to the dish so that you can enjoy it as a light lunch or easy dinner.
Of course, we cannot leave out that wonderful Greek-style vegetable mix with the delicious and no-fuss dressing that brings it all together.
Go to Recipe
13. Pittsburgh Chicken Salad
This Pittsburgh chicken salad recipe will change the way you think about salads. A salad usually has a lot of greens, other vegetables, and more often than not, protein.
Pittsburgh chicken salad, however, features a food item you never thought would make its way into a salad: French fries. Let's see how these ingredients work together to make a healthy salad.
Go to Recipe
14. Southern Chicken Salad
Today's southern chicken salad recipe features fresh produce and herbs and could be your next lunch choice on a hot summer day and on Southern Food Day (January 22nd).
It's refreshing and filling with big flavors and different textures. Packed with lean protein and healthy fats, this salad allows gulping without guilt.
Go to Recipe
15. Chicken Broccoli Salad
This chicken broccoli salad makes a delicious side or light meal with savory slices of chicken breast and fresh crunchy broccoli on a bed of colorful lettuce mix. Top with pomegranate seeds and feta cheese and dress with a honey mustard sauce.
Go to Recipe
16. Chicken Pasta Salad
We believe this chicken pasta salad recipe is one of the best cold salad recipes to make for either large gatherings, regular light meals, or World Pasta Day.
This salad is full of flavor, texture, and color. You will get tender pasta, hearty chicken, juicy cherry tomatoes, and crispy bell peppers, all wrapped in an irresistibly tasty dressing.
Go to Recipe
17. Chicken and Egg Salad
On days when all you crave is a refreshing salad to help lift your mood instantly, our chicken and egg salad recipe is the one for you. It includes pan-seared chicken breasts, eggs, fresh watercress, beetroot, and almonds tossed in a velvety and creamy dressing.
Go to Recipe
18. Chicken Taco Salad
Taco, the beloved Mexican classic, is reinvented into a healthy, colorful bowl of salad in this chicken taco salad recipe. The ingredients are pretty much the same, but instead of being wrapped in a tortilla, they're all laid out on a plate. This gives the dish the same flavor-bursting qualities as the original recipe, only here it's with the refreshing twist of a regular salad.
Go to Recipe
19. Caesar Salad
Caesar salad has been a popular item on the menu of many restaurants. But why go to a restaurant when you can make it at home, especially this National Caesar Salad Day (July 4)?
It takes only a handful of ingredients and requires hardly any effort. And in 30 minutes, you will have a salad that is just as good as any restaurant's, or even better.
Go to Recipe
20. Cobb Salad
The Cobb salad recipe has been around for decades. There are tons of different versions, but the collection of fundamental elements remains the same.
The salad is loaded with chicken, tomatoes, avocado, blue cheese, and a simple red wine vinegar dressing. It's delicious, satisfying, and hits various flavors and textures.
Go to Recipe
21. Peach Salad with Chicken Breasts
There is no better time than now to treat yourself to a lively and refreshing peach salad. This recipe calls for hand-picked peaches, roasted chicken, corn, and red onion atop a bed of mixed lettuce.
Our chefs combine balsamic vinegar and Dijon mustard and drizzle it over the salad to tighten the dish with a tangy note. Also, our appetizer is fantastic for dining al fresco as it's easy and make-ahead friendly.
Go to Recipe
22. Curry Chicken Salad
This Curry Chicken Salad recipe is a delicious twist on a classic! Everything you love about a chicken salad with grapes, but also packed full of curry and turmeric flavor, perfect for a sandwich, a lettuce wrap, or just on its own!
Go to Recipe
23. Honey Mustard Chicken Salad
Refreshing, sweet and savoury all at the same time! A popular reader favourite, this Honey Mustard Chicken Salad has been remade all over the world time and time again! You all know me by now that when I create a salad recipe, it ends up being a giant salad that's a meal in itself.
Amazing combinations in a bowl with a hint of garlic, crispy bacon, creamy avocado slices, juicy tomatoes and red onion slices. This is THE ultimate in chicken salad recipes.
Go to Recipe
24. Blackberry Balsamic Grilled Chicken Salad with Crispy Fried Goat Cheese
This blackberry balsamic grilled chicken salad with crispy fried goat cheese is one tasty and fresh summer meal!
This salads base is fresh blackberries starting out with a blackberry balsamic vinaigrette that is used both to marinate the chicken and as the dressing for the salad! The salad is filled out with lettuce, avocado, nuts, onions and goat cheese along with the grilled chicken and of course plenty of fresh blackberries.
Go to Recipe
25. Thai chicken salad
This Thai chicken salad with peanut dressing is so fresh, bright, and easy to make! It's a great way to use leftover or rotisserie chicken, and it's on your table in just 20 minutes.
Go to Recipe
FAQ
1. Can You Freeze Chicken Salad?
Yes, technically, you can freeze chicken salad. However, this is not a good idea because once it thaws, the quality can be quite unpleasant.
Some chicken salads will freeze better than others, depending on their main ingredients. For example, high-moisture vegetables and dairy products will not maintain their quality after defrosting.
Dill pickle relish, celery, green peppers, onions, and green onions, and crispy fruits (apples, pear, peach,...) will not maintain their crispness after thawing. Likewise, mayonnaise in the dressing also tends to separate once defrosted.
Truth be told, mayonnaise is not ideal for freezing. Mayo-based dressings will greatly reduce the quality of any dish it's present in after thawing, let alone salads.
It's best to try not to make more chicken salad than you will consume within 5 days. However, if you have made a large amount of chicken salad, divide it into two smaller portions; one for serving and one for freezing.
For the portion you're going to freeze, keep the salad and dressing separate rather than tossing everything together. When you're ready to serve, simply add mayonnaise a few minutes before eating.
It's also worth noting that mayonnaise substitutes (such as pesto, olive oil, and mustard) are more suitable for freezing. They do not clump as severely as mayo during freezing and thawing.
One important note: Don't freeze the chicken salad if it has previously been refrigerated and reheated. Discard the salad immediately once you detect any unpleasant smell or discoloration.
According to the CDC, salads shouldn't sit on the counter for more than 2 hours, with the time limit coming down to 1 hour whenever the air temperature reaches 90°F or higher.
2. Is It Healthy to Eat Salad Every Day?
Salads can certainly assist with weight loss, but you should not be eating them every single day. To paraphrase Shakespeare, "One can desire too much of a good thing."
It's important to build a diverse salad rotation. Your ingredients need to be switched up every time, just so you'll have a wider range of nutrients. Don't withdraw from dieting due to eating bland and boring bowls of greens repeatedly.
If you're not intending to go on a full-time salad diet, making them your side-dish is also a great way to start losing weight. Consuming salad will partially prevent you from overeating other foods.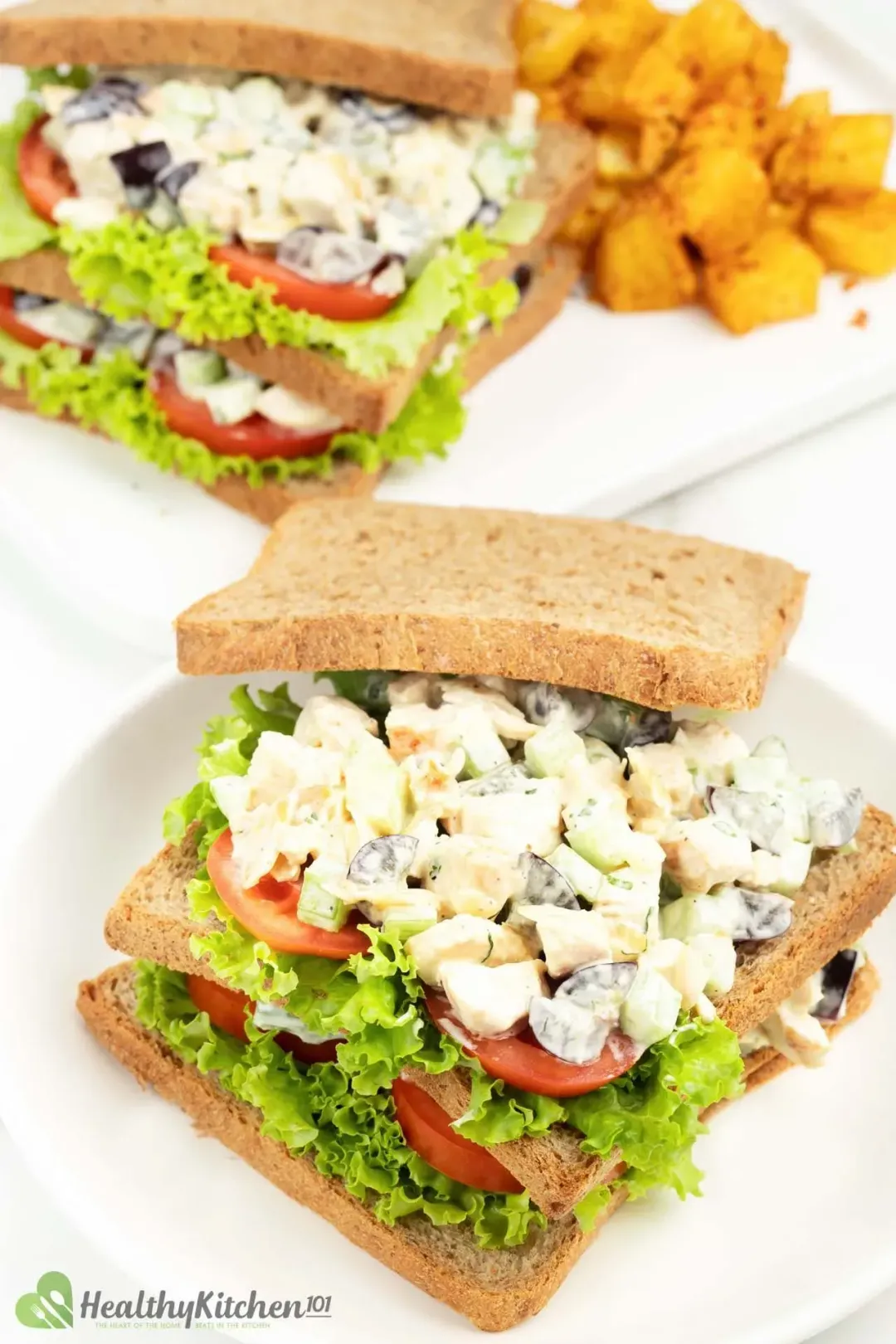 3. Can You Lose Weight by Only Eating Chicken Salad?
Chicken breast salads will help you to cut down on eating too many portions of high-calorie foods every day. But by eating salad alone you will not pass the weight loss challenge with flying colors. 
It also doesn't mean that you've now been given carte blanche approval to chow down on fast-foods.
Of course, you also need to construct your chicken salads with lean protein instead of too many croutons or cheese or mayonnaise. It's also great to squeeze some juice on top to trigger your taste buds a bit.
Always opt for nutrient-dense greens. By that, we're referring to kale, arugula, spinach, or baby greens.
Leafy greens may play a very small role in your daily calorie intake but will boost your satiety significantly. They're all super-low in calories and packed with vitamins, which are good supplements for immune system strength, proper blood clotting, and bone-strengthening. 
At the end of the day, it's mostly hunger that leads a person to binge eating. So an old-but-gold way of avoiding weight gain is to make yourself feel satisfied and full after just one meal.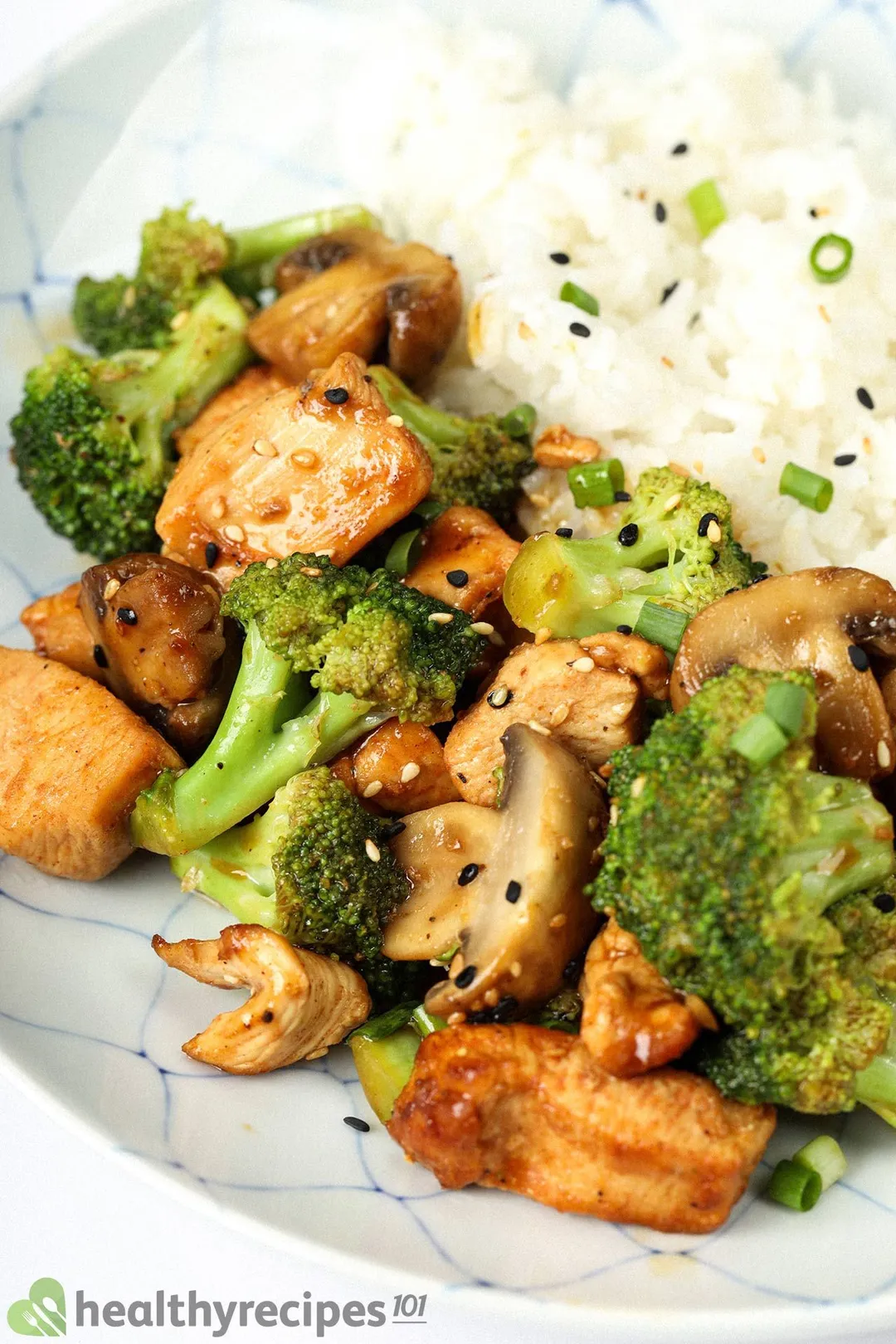 Previous Recipe
Chicken and Broccoli Recipes
Chicken and Broccoli Recipes
Head Chef, Culinary Consultant
Tuyet Pham is an award-winning Saigonese chef who believes that joy is the secret ingredient to delicious food. At Healthy Recipes 101, Tuyet personally tests and simplifies every recipe, ensuring maximum flavor with minimal effort. With a background at prestigious French restaurants P'TI Saigon and Le Corto, Tuyet knows how to make every dish exceptional.
Writer, Author
Luna Regina is an accomplished writer and author who dedicates her career to empowering home cooks and making cooking effortless for everyone. She is the founder of HealthyKitchen101.com and HealthyRecipes101.com, where she works with her team to develop easy, nutritious recipes and help aspiring cooks choose the right kitchen appliances.
Comments/ Reviews