Our shrimp Newburg recipe is our own take on this classic dish. It's as rich and decadent, but veers towards the savory side and requires just basic ingredients.
What Is Shrimp Newburg?
Newburg is a name for the dense, rich sauce scented with sherry and with a mild kick of heat. It's originally meant for lobsters, but it was so good that chefs started using it to cook just about anything. Its popularity is said to have begun in the 1870s, and it remains a popular dish to this day.
Seeing how the name 'Newburg' sounds like a location, we expanded our research to find the sauce's origin. What we came upon wasn't a town, but rather, an interesting story.
The Story of Captain Wenberg
There was once a sea captain named Wenburg, who apparently had a knack for cooking. One day, he came up with a delicious way to cook lobster and decided to show the idea to his pal, a restaurant owner.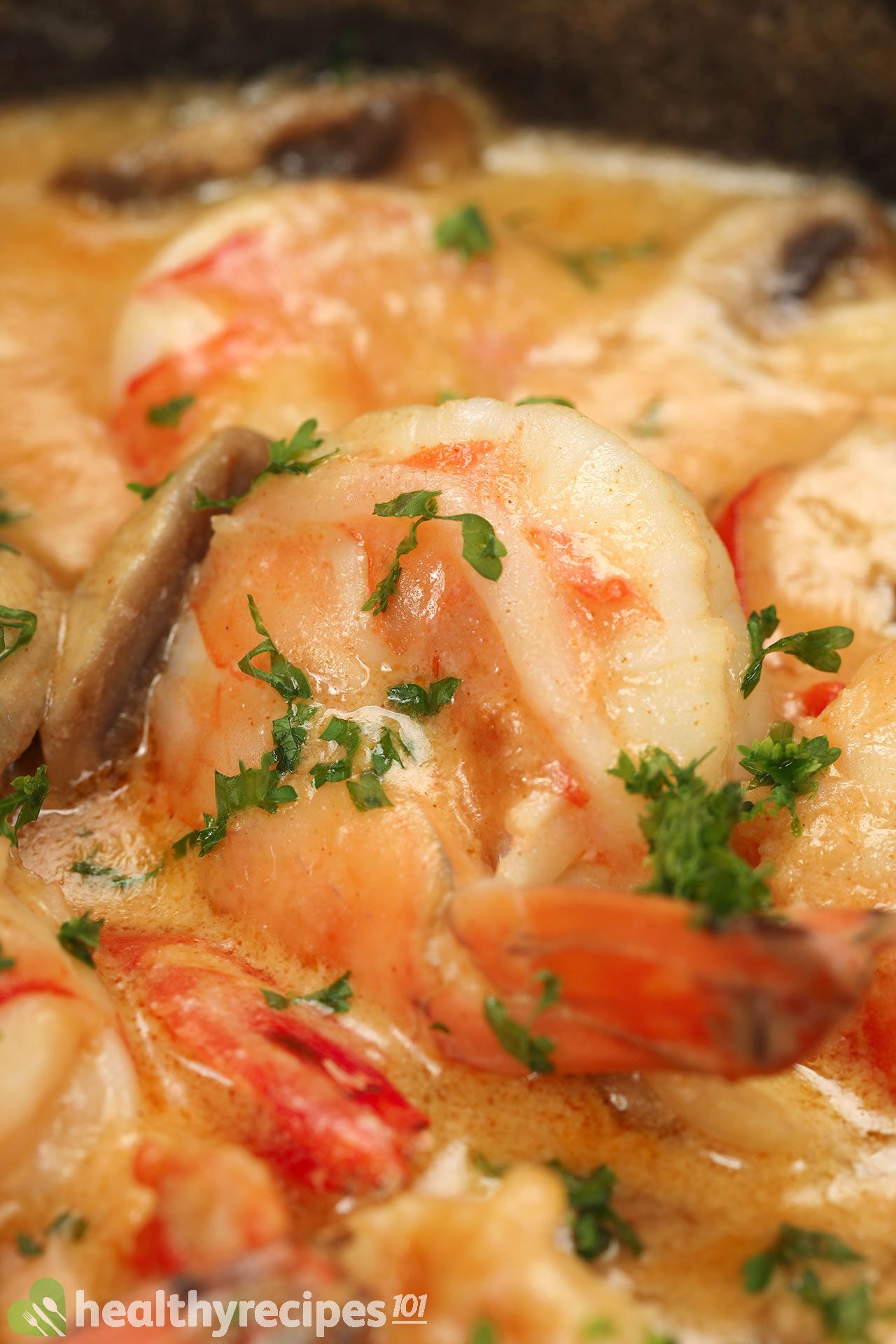 His pal, having grown so fond of the dish, had his chefs tweak the formula and, later, put it on the menu as 'Lobster à la Wenberg', giving full credit to its creator. It didn't take long before the dish became the restaurant's best seller.
The captain, however, felt angry, perhaps because of his friend putting up the creation for sale without his consent. A fight ensued and the restaurant manager had to cross the dish off the restaurant's menu. The restaurant's regulars, obviously, didn't like this and continued demanding their usual order. The manager couldn't say no to his customers but didn't wish for any further trouble with captain Wenberg.
As a result, he decided to put it up for sale once more, but under a different name, and so the captain's invention forever belonged to him. Thus, 'Lobster Newberg' was born.
How the Dish Is Typically Made
The dish's impeccable cooking process is probably what makes it so in demand.
After a full 25-minute boil, the fully -cooked lobster is partially fried in butter and garlic, until it becomes very fragrant. Milk and cream are then added and simmered to reduce, before Sherry or Madeira is added and the mixture is reduced by half once more, over high heat. As the sauce reaches a desired consistency, the chef turns off the heat and leaves it to cool down a little for the next step.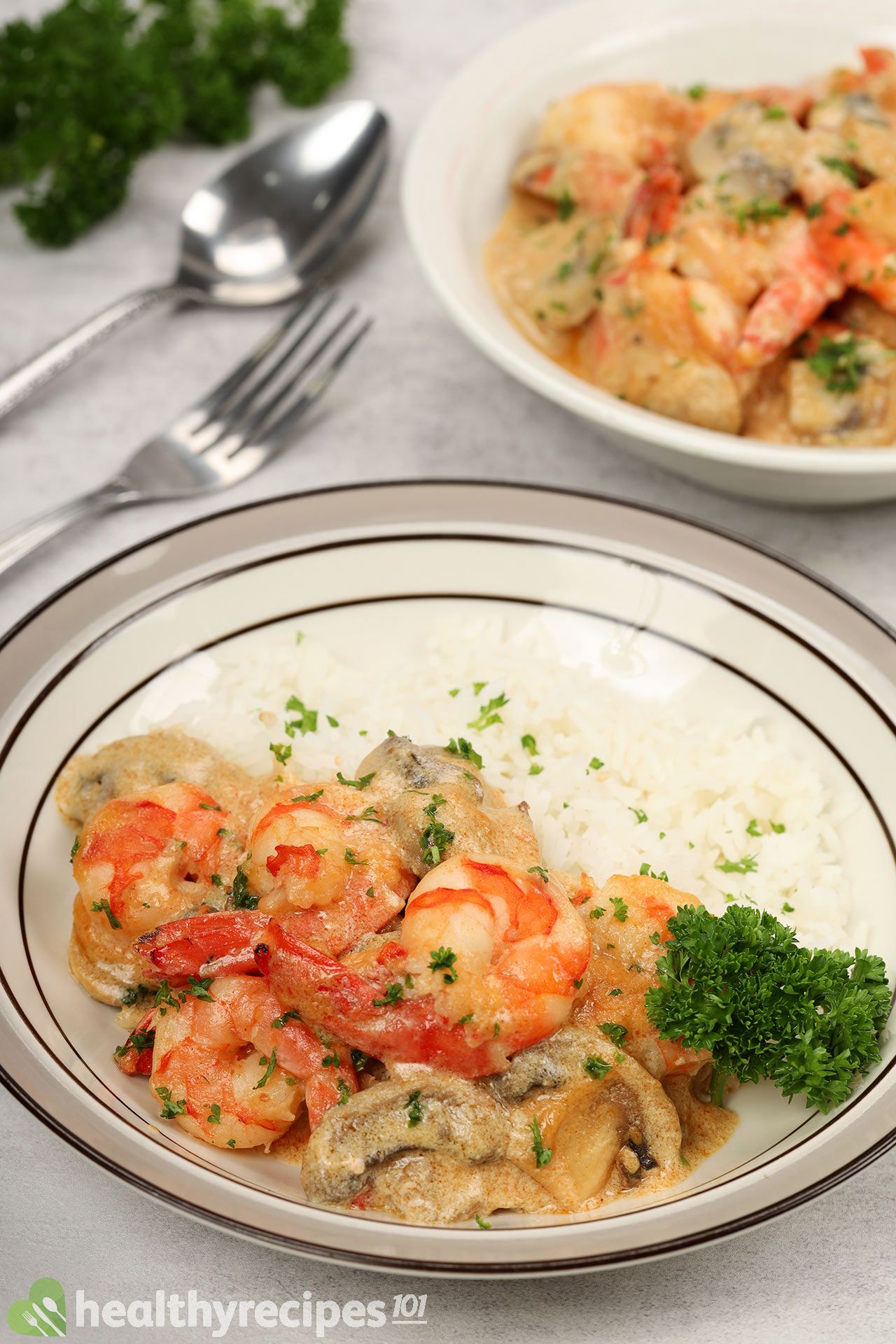 The chef should proceed to plate the lobster, then beat a separated egg yolk into the sauce to further enrich and thicken it. They might also add a dash of cayenne, before pouring the rich, decadent sauce over the lobster.
Shrimp Newburg is prepared similarly, but without the boiling step. The shrimp should be cooked with butter and simmered in the sauce only.
Our version of shrimp Newburg, however, differs slightly in ingredients. Our sauce is still rich and flavorful, but as we are aiming for something home-kitchen friendly, it calls for more basic ingredients.
Our Version of Shrimp Newburg
Our sauce starts out with butter, garlic, cream, and milk, but the next ingredient is neither sherry nor egg yolk.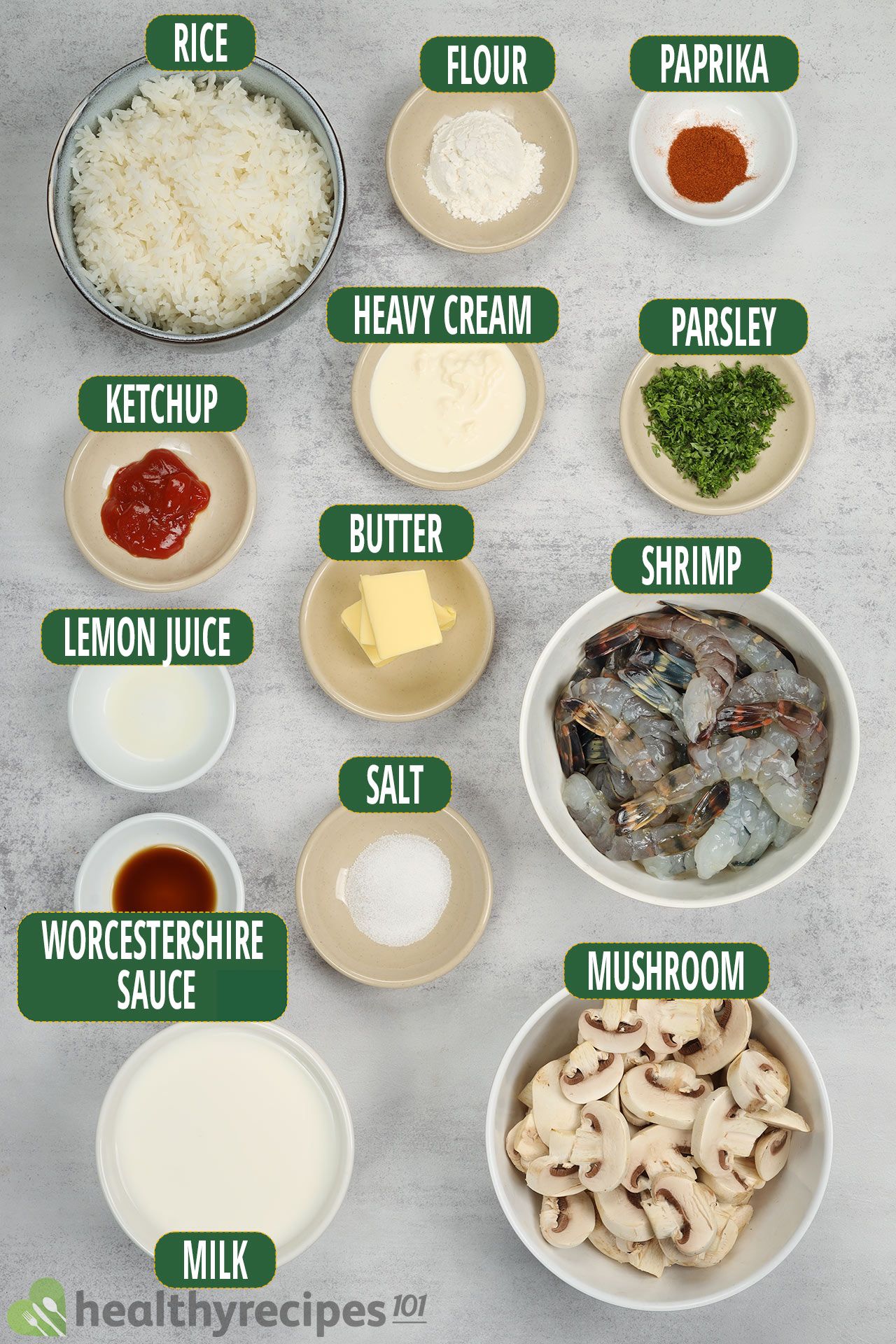 We use lemon juice in place of sherry, which acts as a great odor neutralizer. But while sherry's complex flavor profile was enough to create the dish's persona, lemon juice's simplicity doesn't quite compare. We considered Worcestershire sauce and ketchup to complete the picture, and they are indeed the perfect pairings.
Another difference is that our sauce is thickened with all-purpose flour. It might not enrich the sauce like an egg yolk would, but it surely comes in handy if you run out of eggs.
The mushrooms are also another addition of ours, going very well with the savory, rich sauce. We serve the dish over some cooked rice, which you can replace with cooked pasta if you prefer.
Again, here's how the dish is made: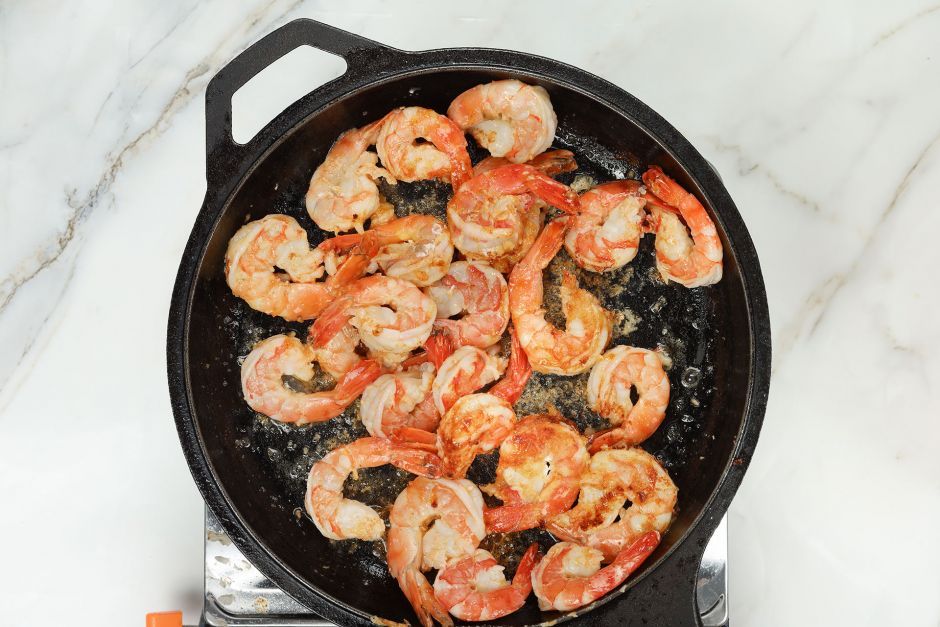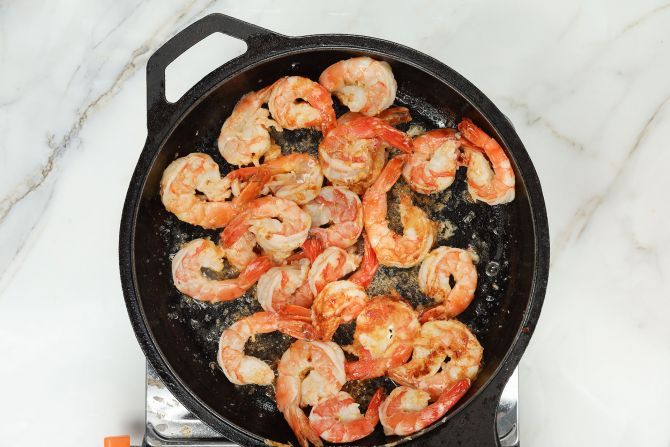 Melt butter and cook the shrimp in it.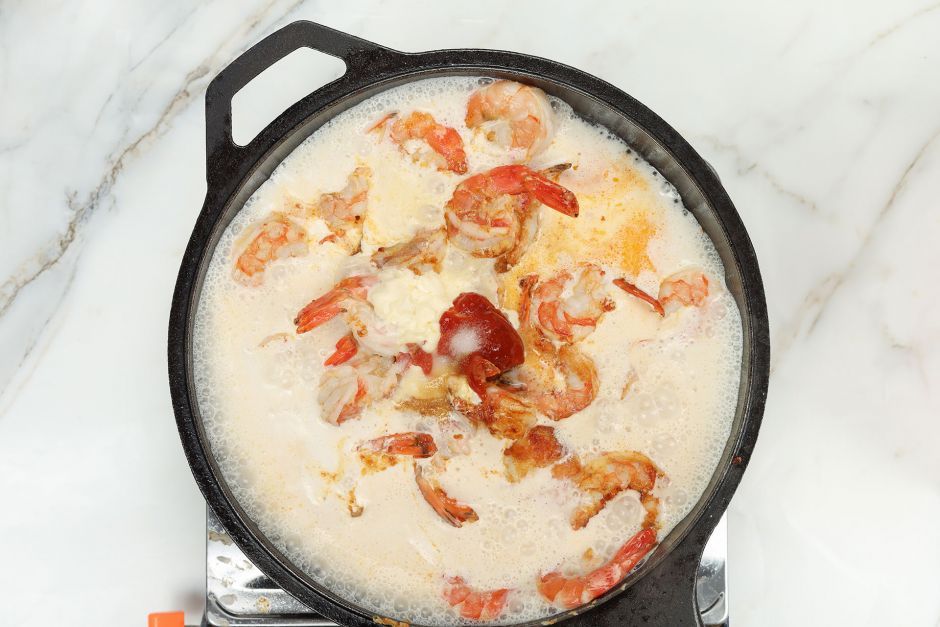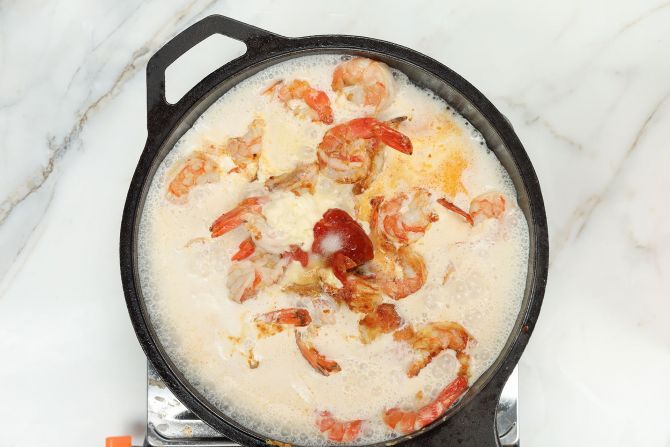 Add the sauce ingredients in, stir, and allow everything to reduce to your desired thickness.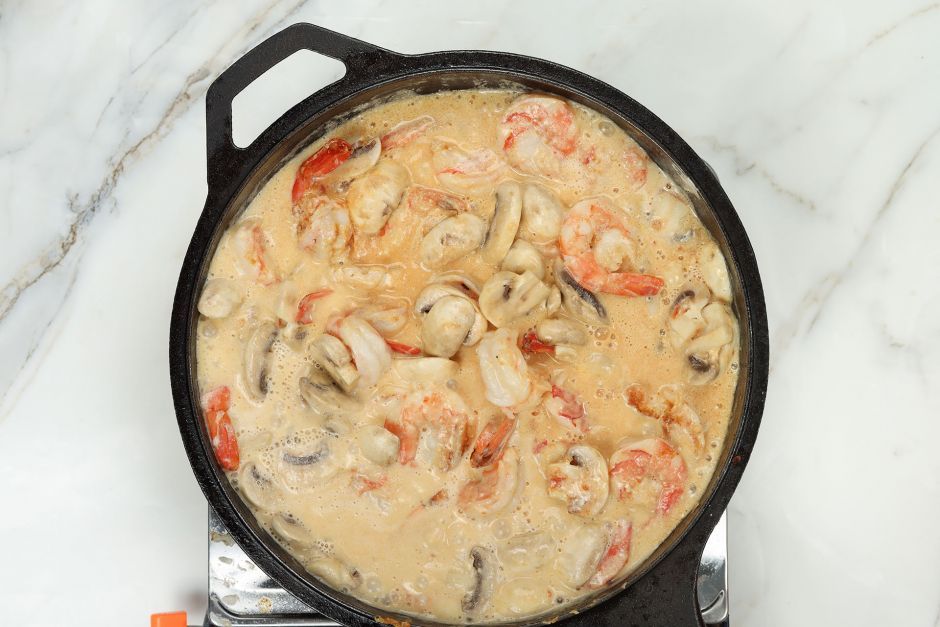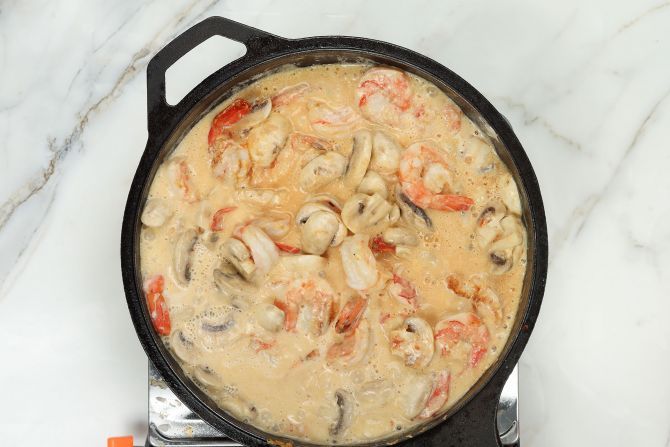 Add the mushroom and continue cooking.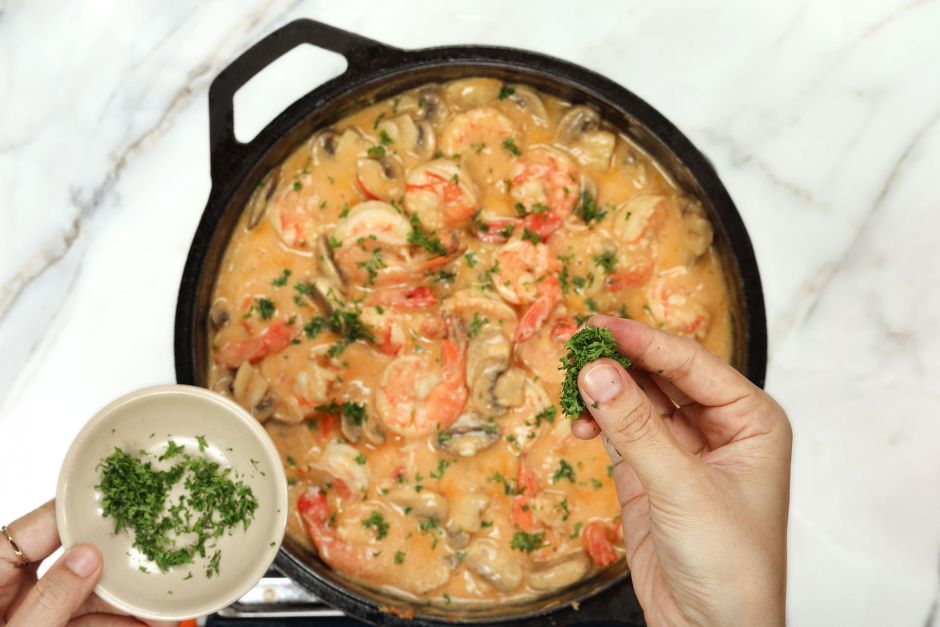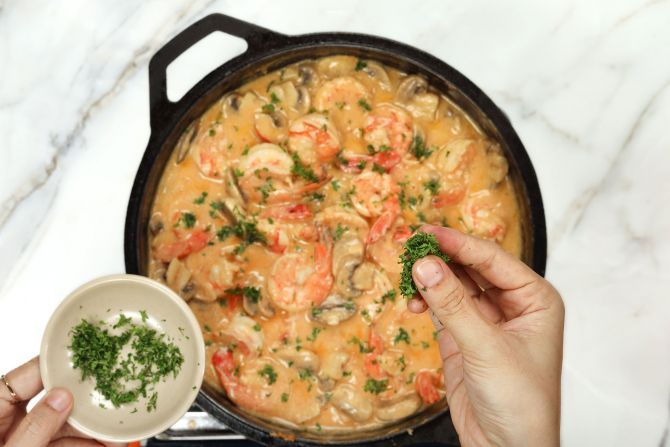 Garnish with parsley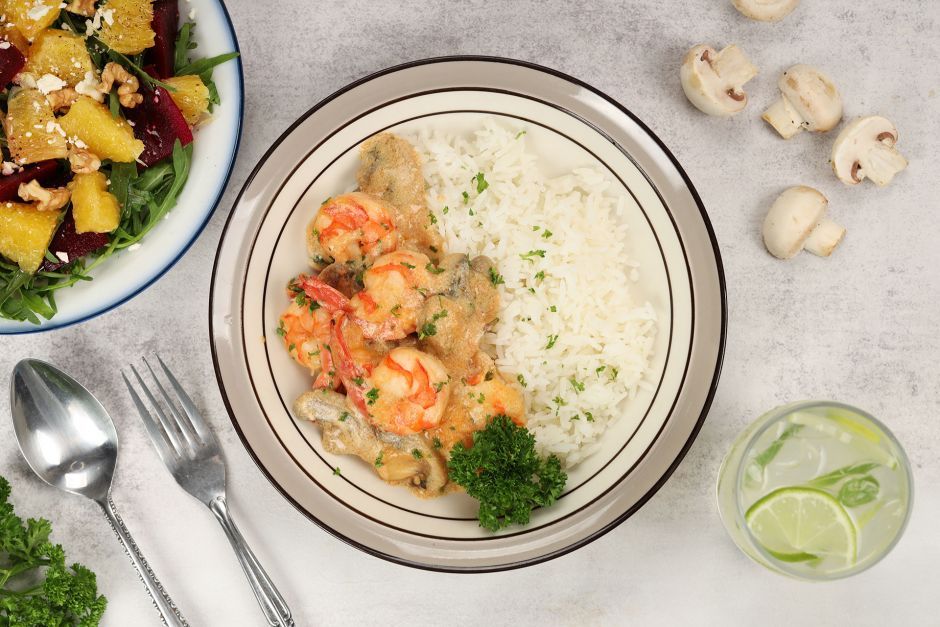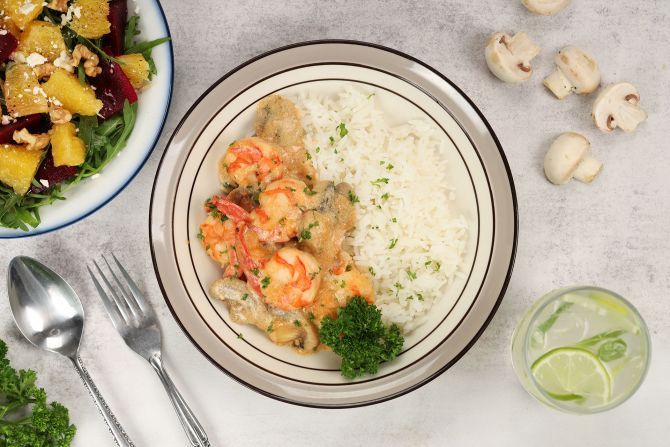 enjoy with cooked rice.
Jump to Recipe
Our Shrimp Newburg's Nutritional Values
Shrimp Newburg is a creamy dish rich in proteins and fats. A small percentage of the fats are omega 3 fatty acids derived from the shrimp and known to have a positive impact on our cardiovascular system.
In comparison to the original recipe, our shrimp Newburg sees a significant reduction in fat because it has no egg yolk and uses less milk and cream. Both this and the fact that it calls for no alcohol significantly reduce the dish's calorie content.
To make the shrimp more satisfying and fulfilling, we serve it with cooked rice, a fresh beet and feta cheese salad on the side, and a glass of lime juice. They contribute some carbs, micronutrients, fiber, all are necessary for the body's growth.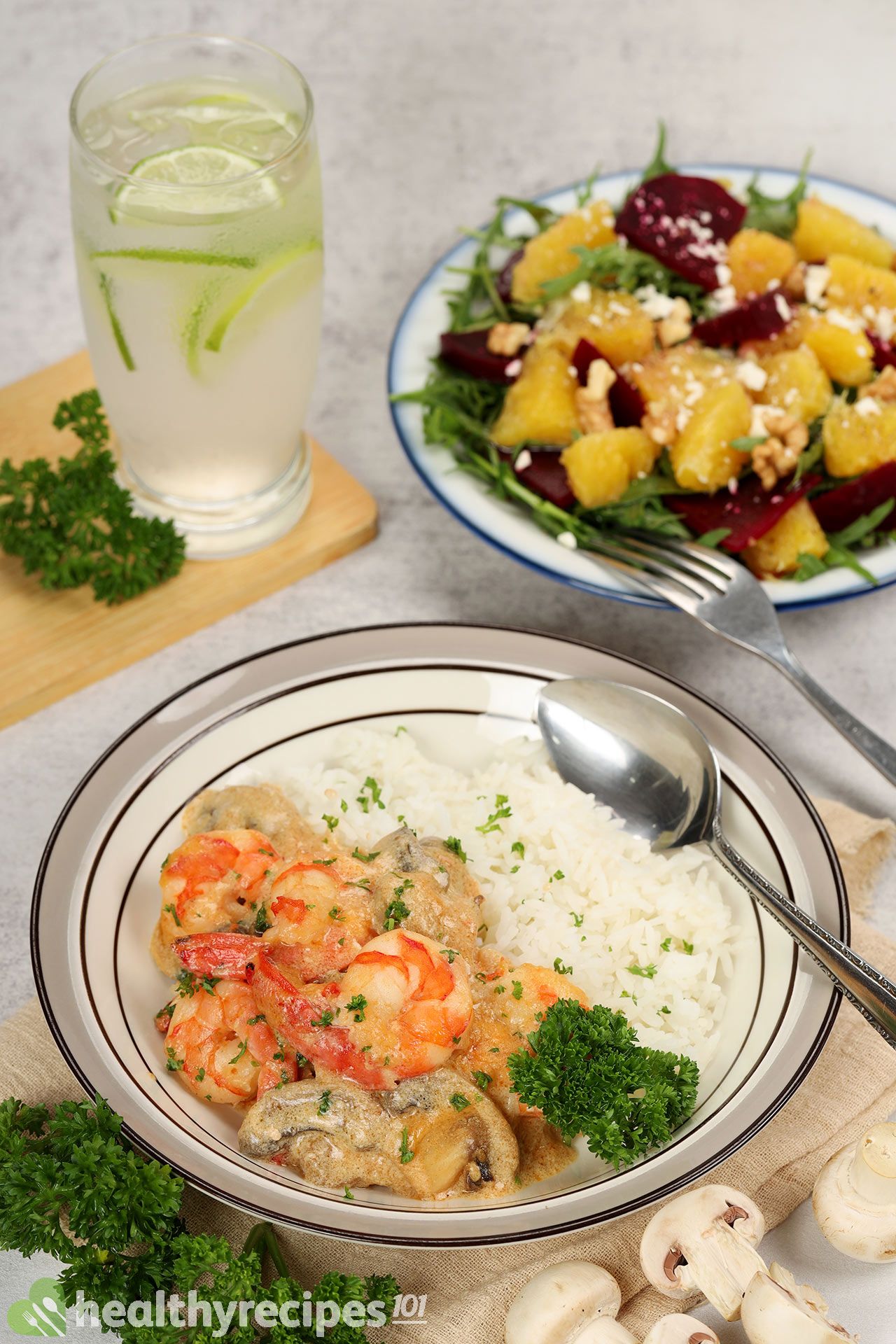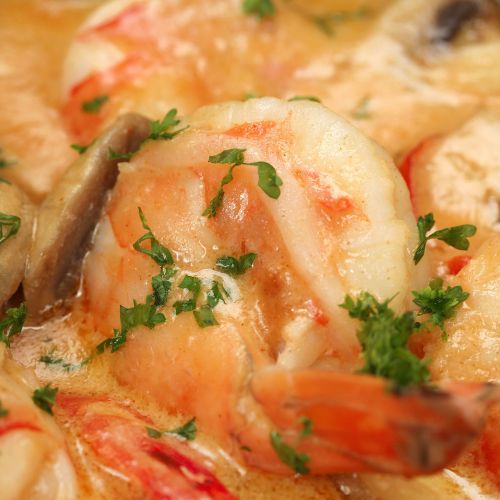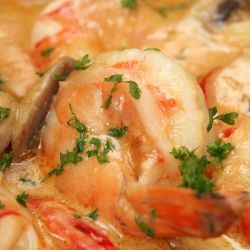 Shrimp Newburg Recipe
This shrimp Newburg recipe is a decadent treat that's very easy to make. You can use microwavable rice to whip up a satisfying meal in just a matter of minutes.
Ingredients
2

tbsp

unsalted butter

13

oz

peeled shrimp

from 26 oz whole shrimp

1

cup

whole milk

2

tbsp

heavy cream

1

tbsp

Heinz's ketchup

1

tbsp

all-purpose flour

1/2

tbsp

lemon juice

1/2

tsp

paprika

1/2

tsp

salt

1/2

tsp

Worcestershire sauce

6

oz

white button mushrooms

2

tbsp

parsley

chopped

3 1/2

cups

cooked medium-grain rice
Instructions
Melt 2 tbsp unsalted butter in a non-stick skillet over medium heat. Add 13 oz peeled shrimp to it and stir for 3 minutes.

To the skillet add 1 cup whole milk, 2 tbsp heavy cream, 1 tbsp ketchup, 1 tbsp all-purpose flour, 1/2 tbsp lemon juice, 1/2 tsp paprika, 1/2 tsp salt, and 1/2 tsp Worcestershire sauce. Stir to combine.

Add 6 oz button mushrooms and cook for 5 minutes over low heat.

Give everything a final stir, then sprinkle 2 tbsp chopped parsley on top.

Enjoy with 3 1/2 cups cooked rice.
Nutrition
Nutrition Facts
Shrimp Newburg Recipe
Amount Per Serving (1 serving)
Calories 506
Calories from Fat 108
% Daily Value*
Fat 12g18%
Cholesterol 328mg109%
Sodium 587mg26%
Potassium 789mg23%
Carbohydrates 54g18%
Protein 45g90%
Vitamin A 391IU8%
Vitamin C 4mg5%
Calcium 210mg21%
Iron 4mg22%
* Percent Daily Values are based on a 2000 calorie diet.