Adhering to the spirit of Chinese cooking, today's shrimp mei fun recipe brings together various ingredients into one nutritious, tasty dish. There are shrimp, eggs, various types of vegetables, and 'mei fun' noodles. They are all flavored with a fragrant sweet-salty seasoning sauce and bring a variety of textures and tastes to the table.
If you've never heard of 'mei fun' noodles, you're missing out on this chewy, low-calorie alternative to pastas.
Mei Fun — A Gluten-Free Noodle With Fewer Calories
'Mei fun' is a Chinese term that translates directly to 'rice powder'. This implies that the white-ish noodle strands are made with just two ingredients, rice and water.
To make mei fun, rice must first be soaked overnight so it expands and sticks better. It then runs through a machine that's capable of multitasking:
It grinds each grain into a fine powder.
It steams and turns the powder into partially-cooked rice dough.
It presses the dough through a shoot with tiny holes and out come thin noodle strands.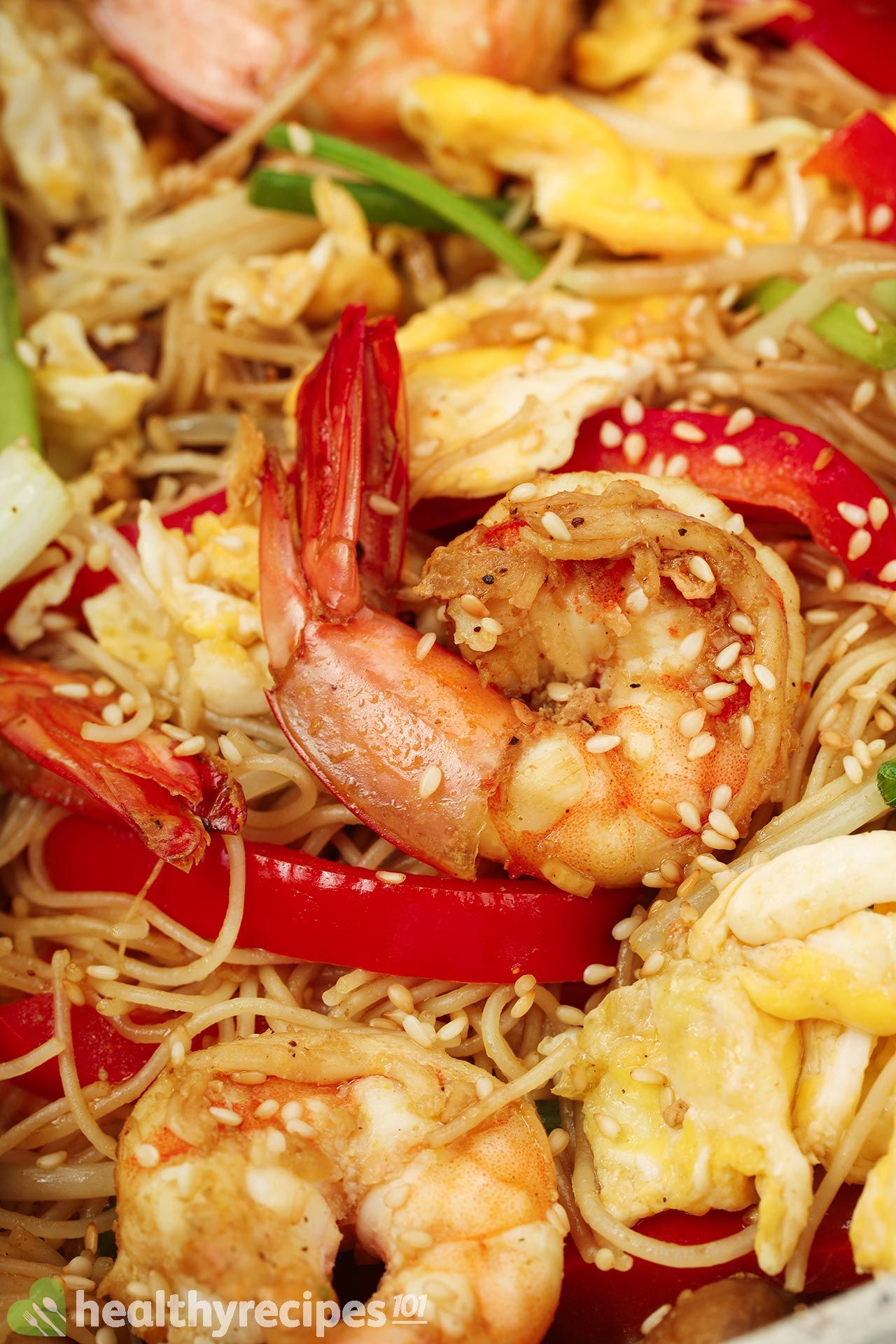 Made with just 2 ingredients, the noodle is gluten-free, vegan, and much lower in calories compared to pastas or noodles made with eggs.
You may find the strands very thin and fragile, but there is a certain springiness to them that makes them quite resistant to breaking. This texture makes it ideal to use in a stir-fry.
Is Shrimp Mei Fun Healthy?
One hundred grams of fully cooked mei fun provides around 108 calories, about 70% of what the same amount of pasta would. Its low-calorie content leaves plenty of room on the plate for other nutrient-dense ingredients.
Speaking of which, our shrimp mei fun recipe includes shrimp, eggs, mushrooms, bean sprouts, and bell peppers. Such diversity gives you an assortment of micronutrients, healthy fats, and a good deal of protein.
If not carefully balanced, however, this dish could end up with a lot of sodium in it and as tasty as salty foods can be, they can pose several health risks when over-consumed.
If you're concerned about your sodium intake, this recipe is for you. It has less than 600 mg per serving and certainly doesn't fall short on flavor.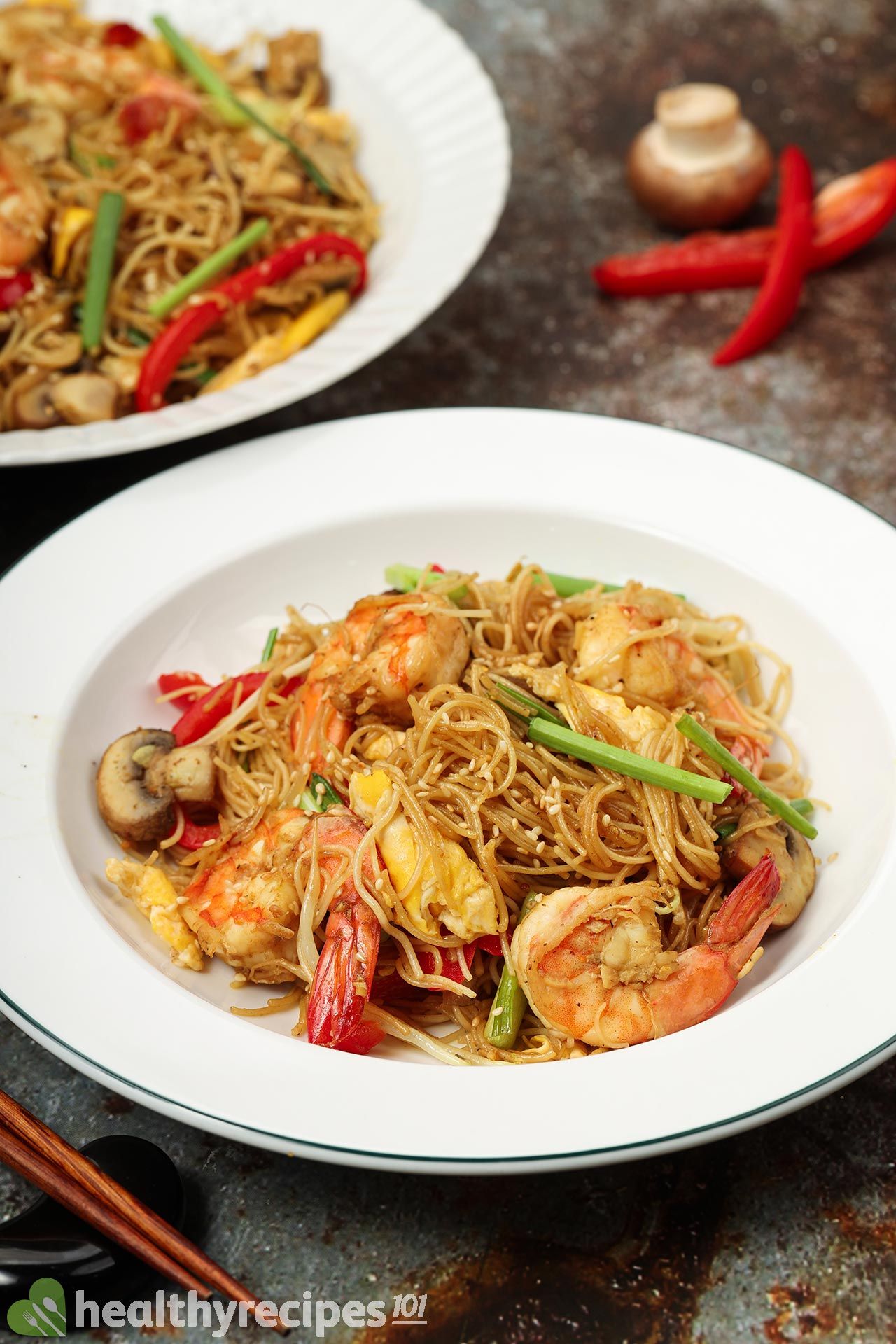 Ingredients You'll Need
Besides rice noodles and shrimp, our shrimp mei fun recipe also calls for some vegetables, eggs, and several seasonings:
Rice noodles are dried and sold in bundles just like pasta, but they can be prepared in two different ways:
For stir-fries, they're to be soaked in water until just pliable, allowing the starch to still be able to absorb the flavorful sauce.
For other dishes like noodle soups or spring rolls, they are often boiled and fully cooked.
For this recipe, we soak the rice noodles in room-temp water for about 15 minutes. We also make sure everything is well-submerged so not a single strand is left out.
Mei fun or Chinese stir-fries typically come with greens like spinach, bok choy, snap peas, green beans, etc. and ours could use some greens. Since greens have loads of nutrients yet so few calories, you can certainly use as much of them as you want.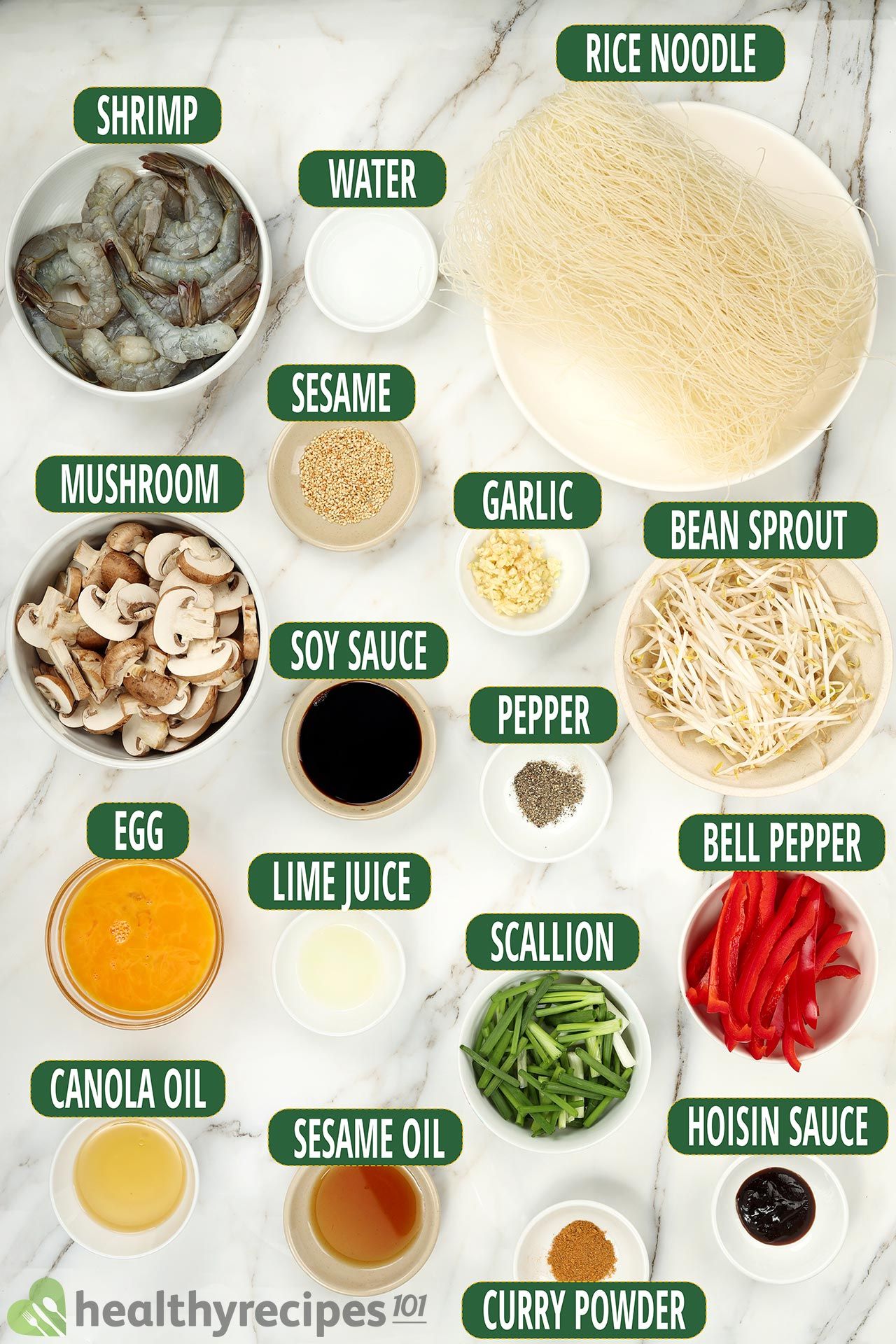 Seasoning Sauce for Shrimp Mei Fun
Like many Chinese dishes, mei fun stir-fries are seasoned with soy sauce, hoisin sauce, sesame oil, and ground black pepper. Depending on the type of stir-fry, more seasonings are sometimes added.
For shrimp mei fun, its creator made a bold move by using curry powder. This isn't a seasoning typically seen in any dishes but curries and for sure, it should outshine the other seasonings in this dish. However, as it turns out, the other seasonings compliment it very well.
Curry powder also comes with a rich taste, so we added a squeeze of lime juice to mellow it out. It did not disappoint.
How to Make Shrimp Mei Fun
First things first, soak the noodles for 15 mins and no longer. While they're soaking clean, cut the vegetables, and mix the seasonings together.
After 15 minutes, drain the noodles and let them sit in the colander.
Next, scramble the eggs. Once they're cooked, transfer them to a bowl, put it aside, and start cooking for real.
The ingredients go in the pan in this order: garlic, shrimp, mushrooms, bell peppers, rice noodles, bean sprouts, sauce, cooked eggs, and finally, scallions. They all have different cooking times, so we recommend you look at our 'shrimp mei fun recipe' card at the bottom for more details.
Here's the entire process: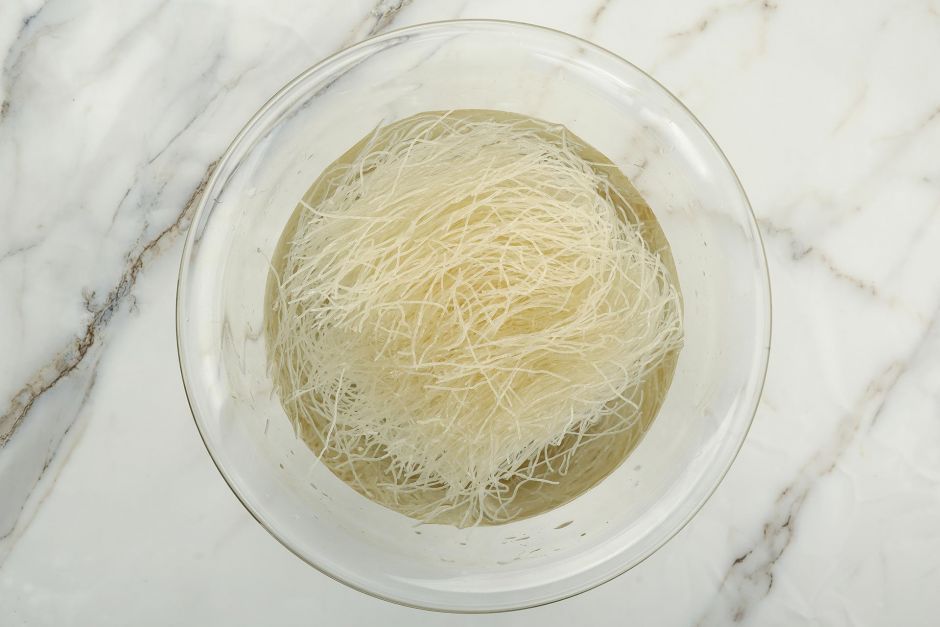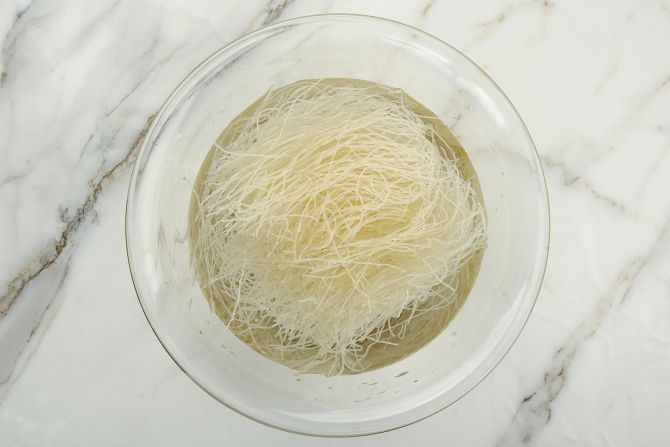 Soak the noodles.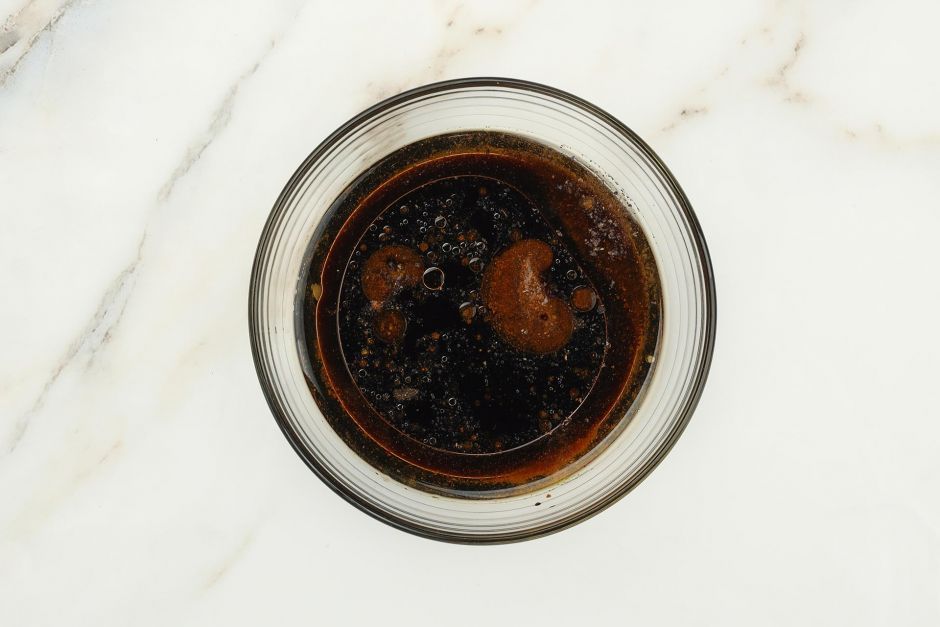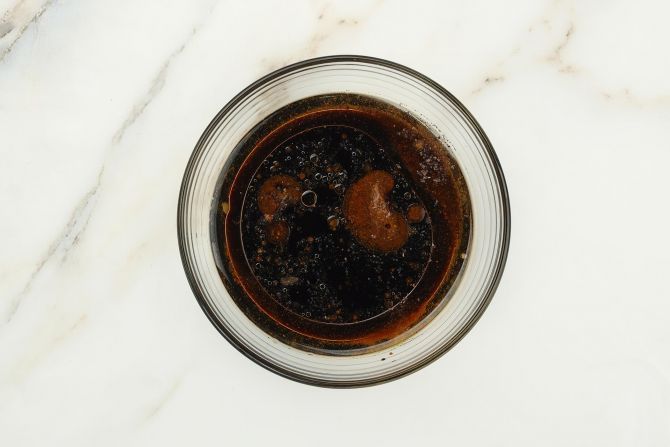 Stir the seasonings together.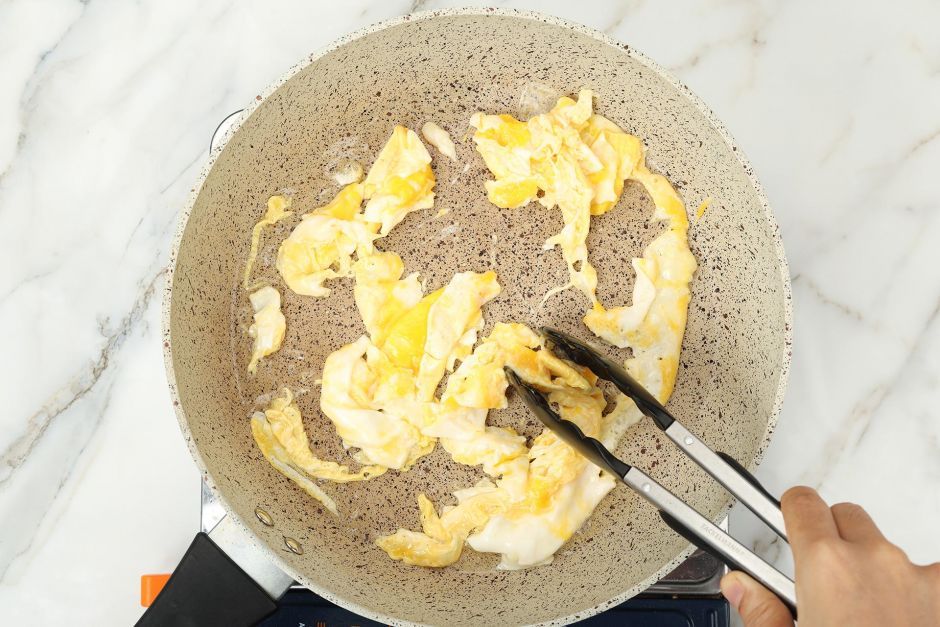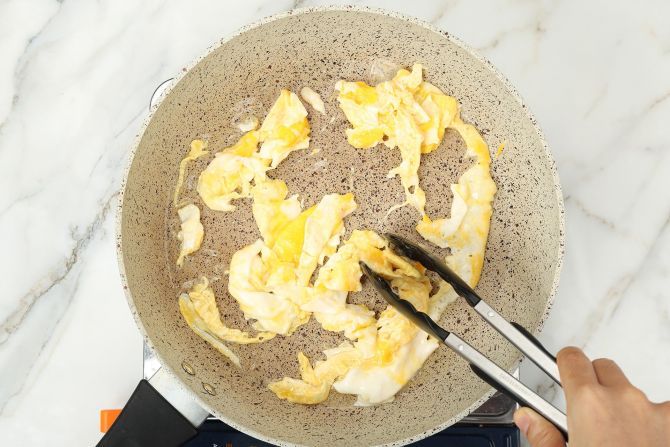 Scramble some eggs and put them aside.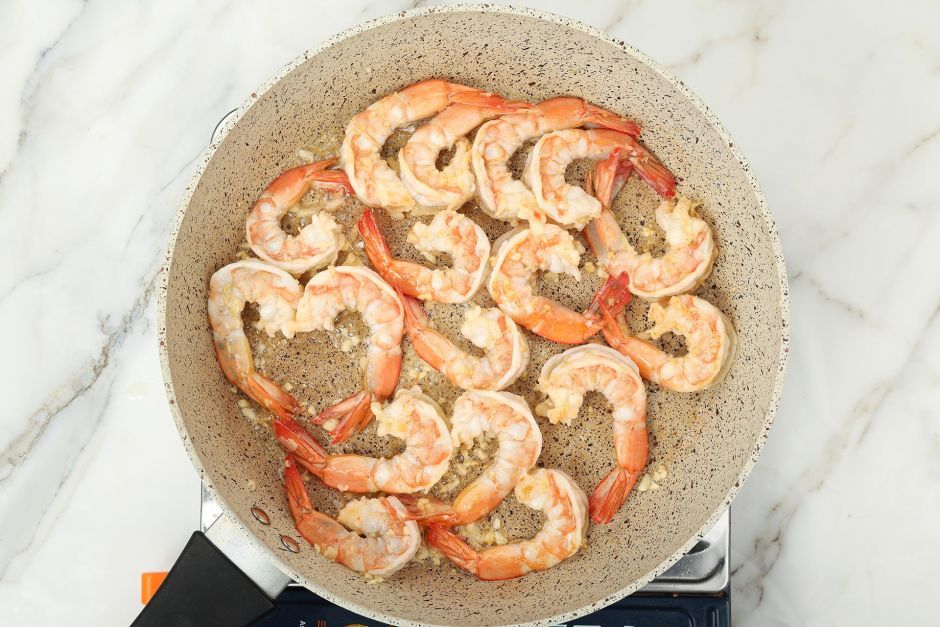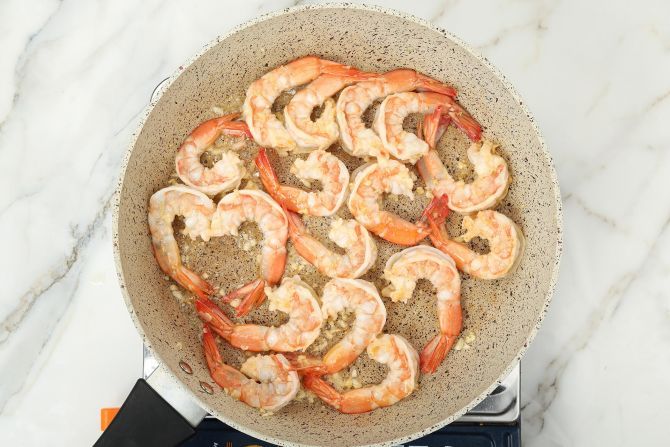 Cook the shrimp with garlic.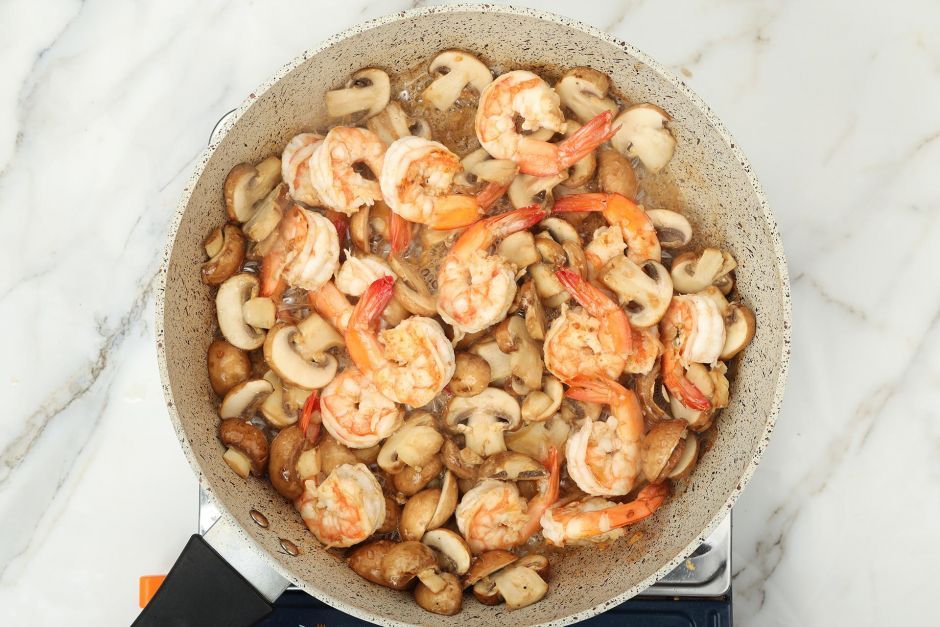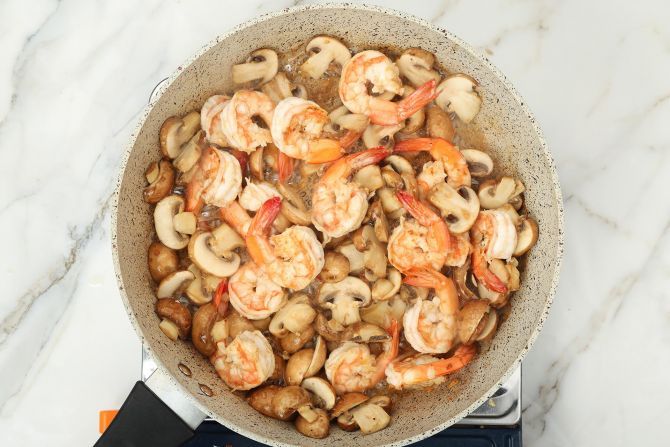 Add the mushrooms.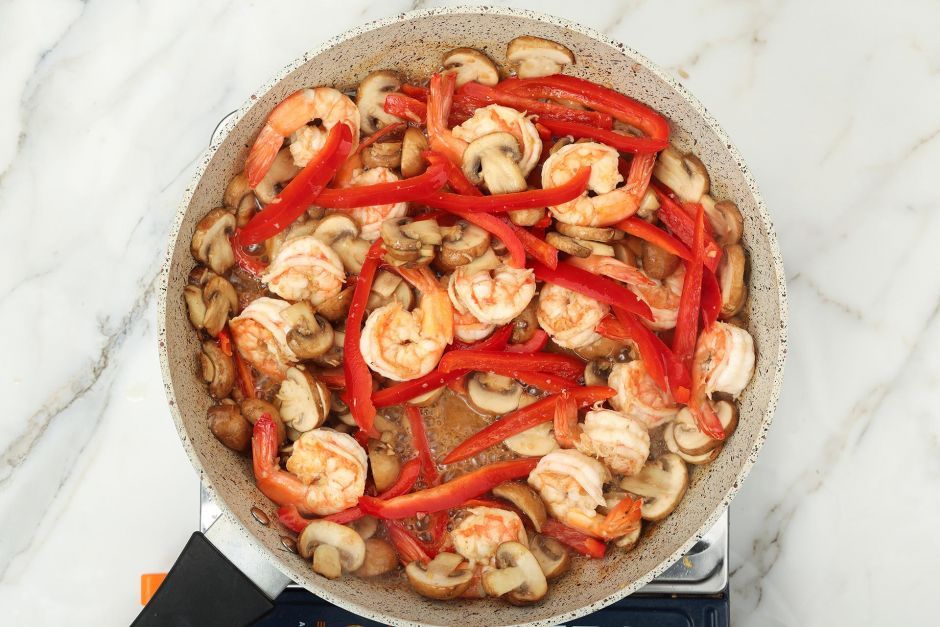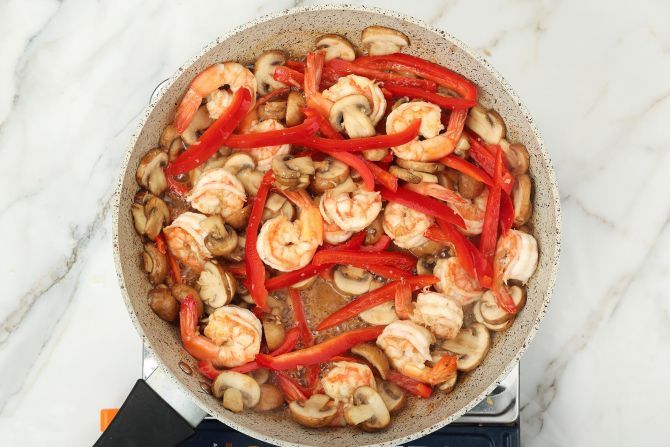 Add the bell peppers.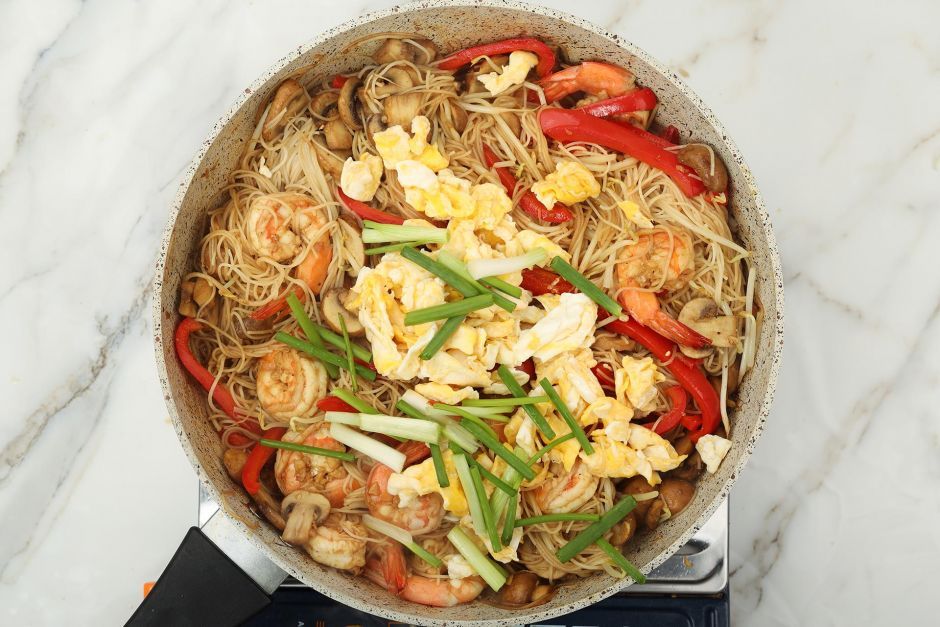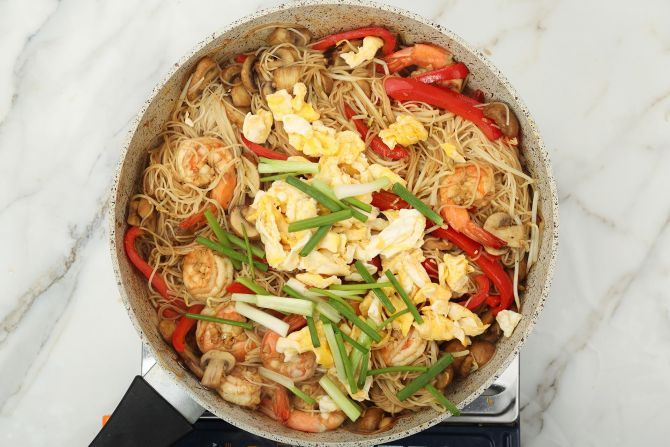 Add the noodles, bean sprouts, sauce, eggs, and scallions and mix well. Cook until the sauce is fully absorbed.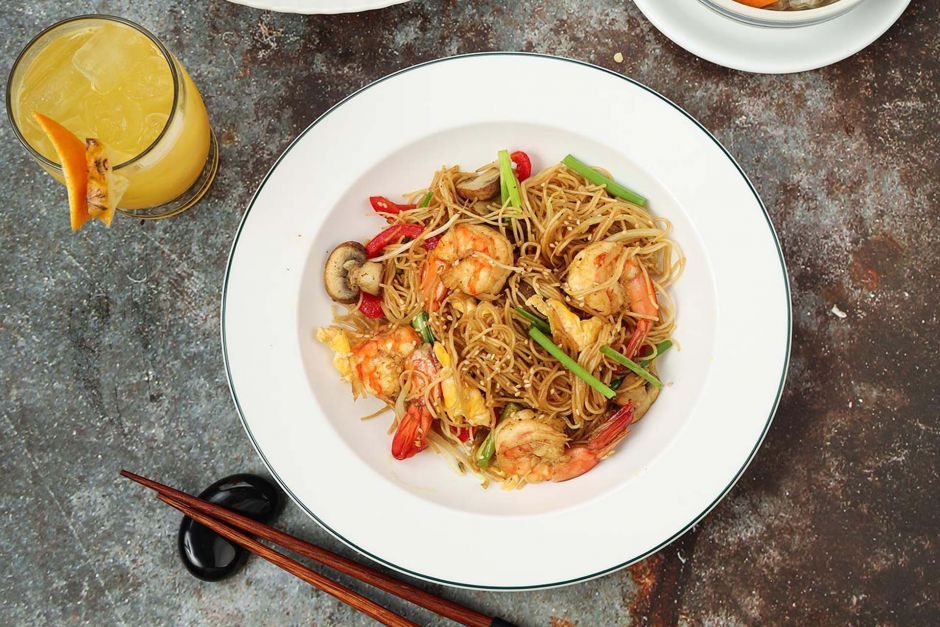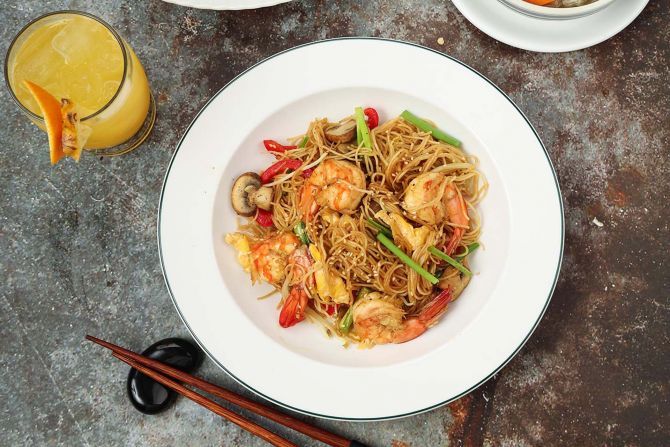 Turn off the heat, add the garnishings and serve.
Jump to Recipe
Here are some tips we think you'll find useful in general cooking:
If you like your garlic to be crispy and smoky, be sure to let it cook until crispy before adding anything else to the pan.
Your button mushrooms may look dry for a while after adding to the pan but keep stirring. In a couple of minutes, their natural moisture will come out, making them look real shiny, and that's when they're officially cooked.
Bean sprouts are a lot like lettuce — crisp, fresh, and juicy. They're always added at the end of the cooking process and tossed just briefly before serving.
How to Store and Reheat the Leftovers
Dishes involving pasta or noodles typically don't freeze well, and neither does this shrimp mei fun. All you can do is store each serving in an individual container, and refrigerate it for 4 days.
To reheat, place the rice noodles and shrimp into a saucepan with some water (2 tbsp per serving) and simmer all on low heat. After 2 minutes, use a pair of chopsticks to gently separate the noodles from each other. Once they completely loosen, continue to stir and mix until the water completely evaporates, then you can eat.
What We Serve With Shrimp Mei Fun
To add even more nutrients to the meal, we're serving this delicious stir-fry with a warm cabbage potato soup and a glass of chilled orange pineapple juice.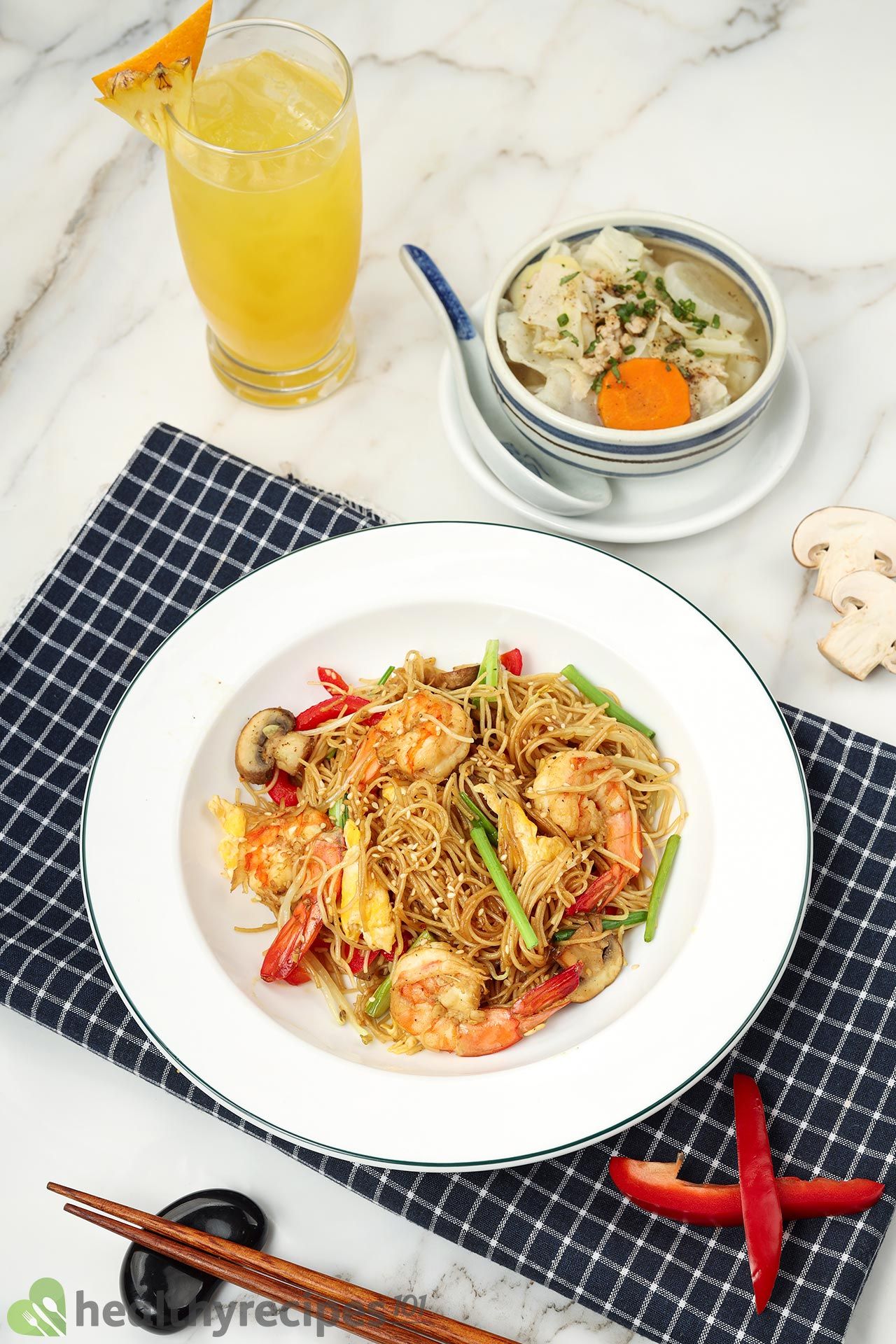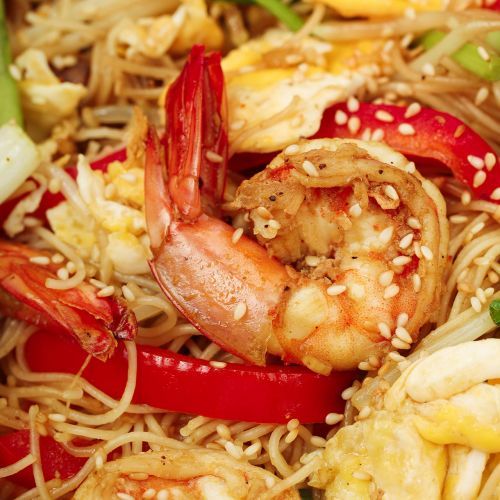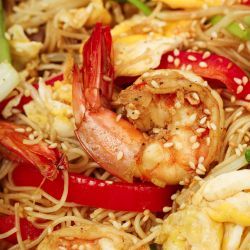 Shrimp Mei Fun Recipe
Today's shrimp mei fun recipe captures the spirit of Chinese cooking by combining a variety of ingredients into a hearty, delectable meal.
Ingredients
6

oz

dry rice noodles

2

tbsp

sesame oil

2

tbsp

water

2

tbsp

reduced-sodium soy sauce

1

tsp

hoisin sauce

1

tsp

lime juice

1/2

tsp

curry powder

1/2

tsp

ground black pepper

3

tbsp

canola oil

divided into 1 and 2 tbsps

2

medium eggs

beaten

2

tbsp

garlic

minced

8

oz

peeled shrimp

from 16 oz whole shrimp

8

oz

brown button mushrooms

sliced

4

oz

red bell pepper

julienned

2

oz

bean sprouts

1/4

cup

scallion

cut into 2-inch segments

1

tbsp

white sesame seed

toasted
Instructions
Submerge 6 oz dried rice noodles in plain water for 15 minutes, then drain and transfer them to a colander.

In the meantime, mix together 2 tbsp water, 2 tbsp reduced-sodium soy sauce, 2 tbsp sesame oil, 1 tsp hoisin sauce, 1 tsp lime juice, 1/2 tsp curry powder, and 1/2 tsp ground black pepper. Set aside.

Heat 1 tbsp canola oil over medium heat in a non-stick skillet, and scramble 2 eggs in it. Transfer them to a bowl as soon as they finish cooking, and set aside.

Heat another 2 tbsp canola oil over medium heat, and stir in 2 tbsp minced garlic. Cook just until fragrant, then add 8 oz peeled shrimp and cook for 3 minutes.

Add 8 oz mushrooms and stir for another 3 minutes.

Add 4 oz red bell pepper and stir for 1 minute.

Add the soaked rice noodles, bean sprouts, the sauce mixture, scrambled eggs, and half of the scallions into the pan. Mix to combine and cook for 3 minutes.

Remove the skillet from the heat. Scatter the rest of the scallions as well as 1 tbsp white sesame seeds on top, and enjoy.
Nutrition
Nutrition Facts
Shrimp Mei Fun Recipe
Amount Per Serving (1 serving)
Calories 493
Calories from Fat 198
% Daily Value*
Fat 22g34%
Cholesterol 265mg88%
Sodium 581mg25%
Potassium 654mg19%
Carbohydrates 44g15%
Protein 31g62%
Vitamin A 1077IU22%
Vitamin C 42mg51%
Calcium 132mg13%
Iron 2mg11%
* Percent Daily Values are based on a 2000 calorie diet.