Our shrimp piccata recipe will help you recreate this addictively rich and saucy dish with a healthy twist.
Piccata Dishes — Naturally Delicious
You've probably heard of 'chicken piccata,' a popular dish in the United States. It's butterflied chicken breasts that have been shallow-fried to perfection, then finished with a thick sauce of cream, milk, lemon juice, and seasonings. This is the definition of piccata as a food genre — any meat that's made flat, not necessarily breaded, and cooked in such a sauce. This is a brilliant idea, in our opinion.
Creamy sauces are notorious for being very appealing at first, but no matter how flavorful, they will quickly tire the palate. This effect, however, appears to be counteracted when there is some tanginess. The entire 'piccata' genre cleverly exploits each flavor's strengths and weaknesses, transforming simple ingredients into a one-size-fits-all kind of sauce.
Shrimp Piccata — A Bright and Rich Delicacy
In today's recipe, the plump shrimp are swimming in this flavorful sauce. Naturally savory and juicy, shrimp is indeed the perfect protein choice. They are already bite-sized, so no pounding is required. Like our Tuscan shrimp, it's super easy to throw together and requires basic equipment.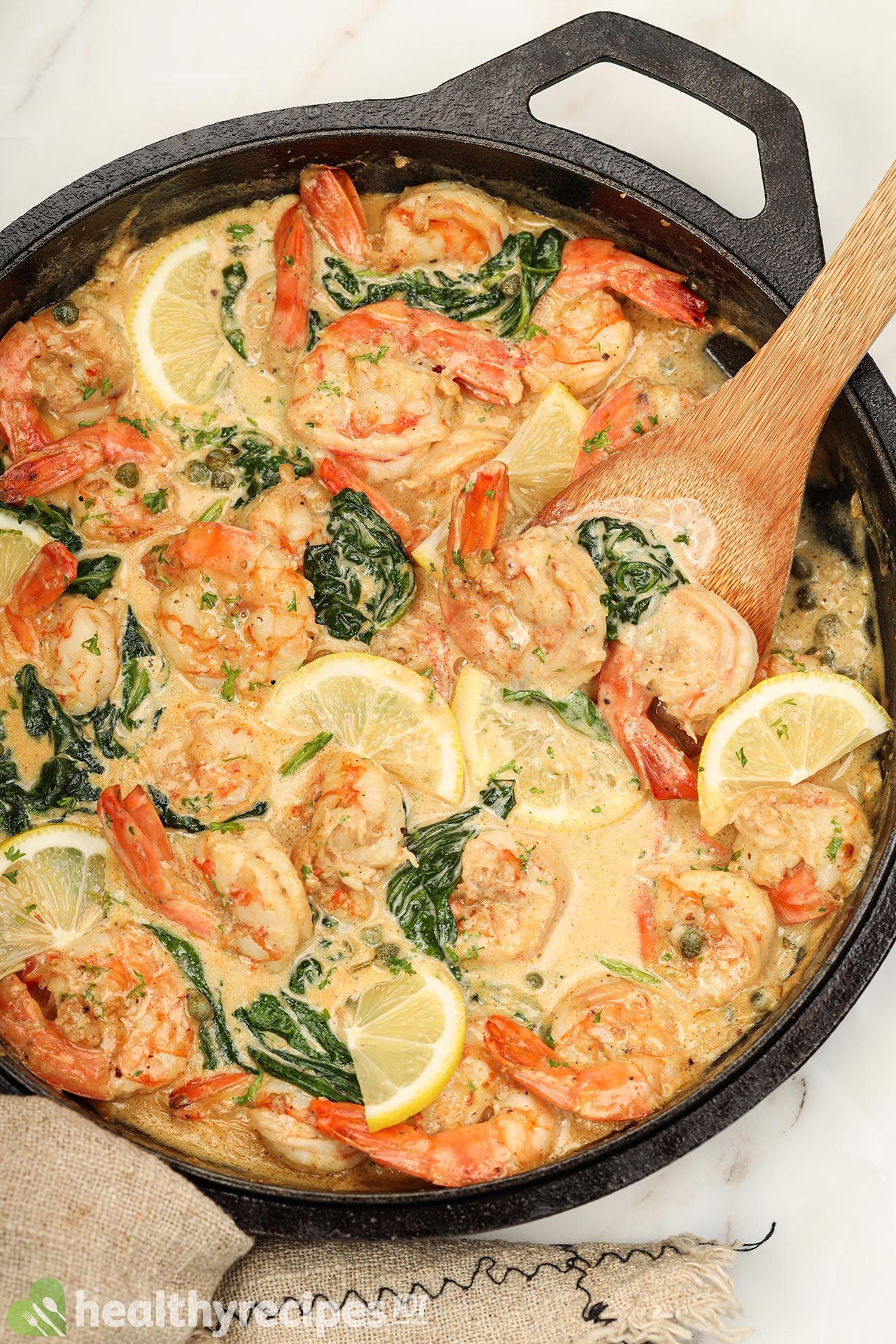 If you need to plan meals for the week on the weekend, shrimp piccata is an excellent option.
What Makes Our Shrimp Piccata Healthy?
Shrimp itself benefits the body in many ways. It provides us with whole-chain amino acids, which are important for muscle growth, and omega-3 fatty acids, which are beneficial for the heart.
The 'healthy twist' we mentioned is spinach. With plenty of fiber, B vitamins, iron, calcium, and more, spinach is a nutrient-dense food that enhances the dish's nutritional value.
In this recipe, the shrimp is cooked with cream and milk. While food diversity should be encouraged, cream and milk are high in saturated fats, which we need to regulate. Long-term overconsumption of saturated fats, for instance, has been found to raise LDL cholesterol levels.
Therefore, we examined the saturated fats, calories, and sodium content of this dish and reduced the salt, cream, milk, and the portion size. Our chefs also made sure these adjustments are efficient, making the dish enjoyable as well.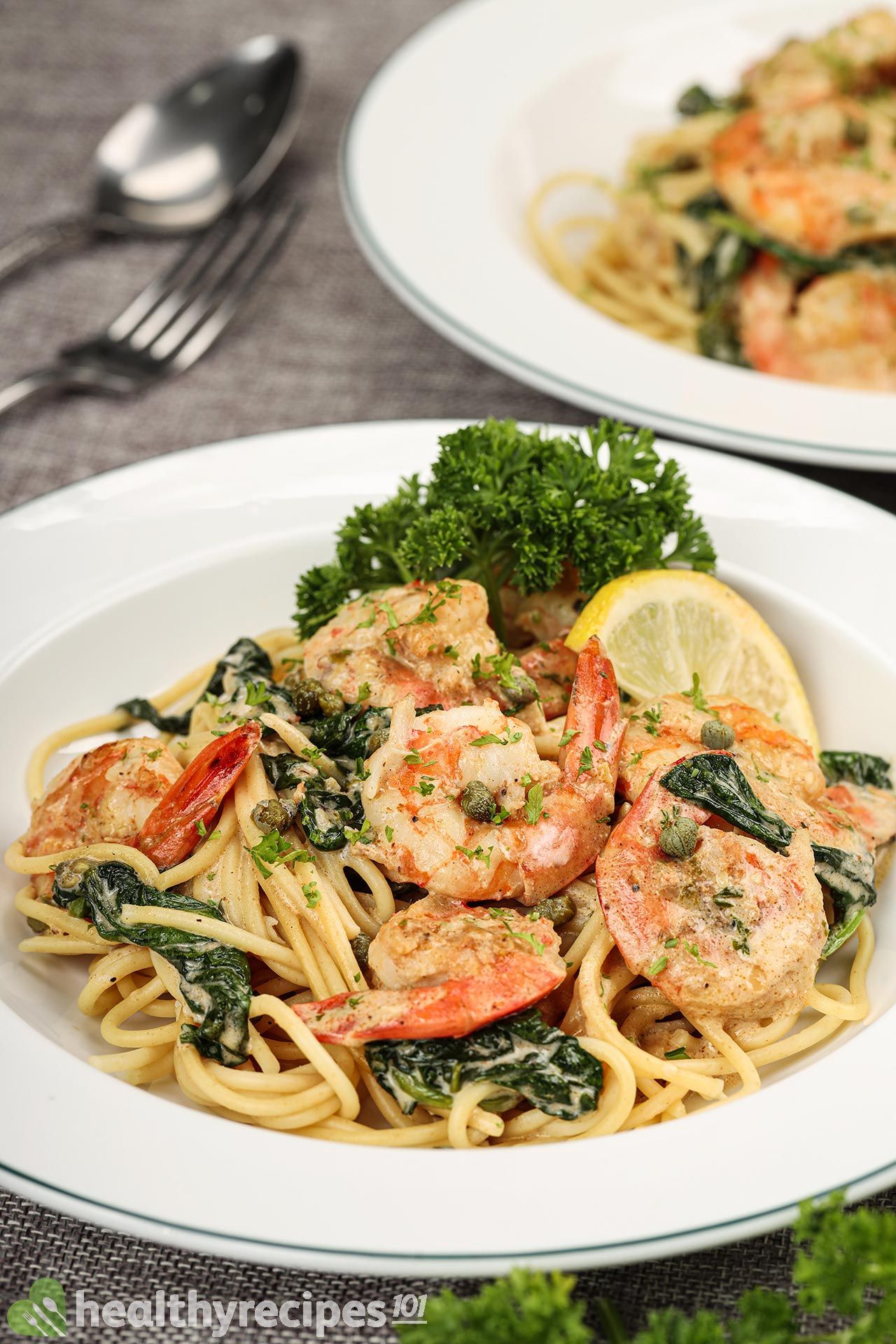 The Ingredients for This Shrimp Piccata
The simplest piccata sauce consists of butter, garlic, cream, milk, lemon juice, flour, salt, and black pepper. Our shrimp piccata recipe calls for a few extra ingredients responsible for major changes in taste:
Capers pack an impeccable tartness and saltiness that cannot be replicated by any other ingredient. Because of this, they became a popular addition to piccata dishes and, in a sense, redefined the term 'piccata.'
With its subtle smoky flavor, paprika adds just the right amount of depth to this shrimp piccata. Paprika does not add heat, so if spice is your thing, you can add cayenne pepper in addition to paprika.
We serve the shrimp and sauce with spaghetti, but with so many options available, we encourage you to try it with any type of pasta you prefer. We think anything with a wide surface like fettuccine, farfalle, or rigatoni holds plenty of sauce and works best.
Our recipe also includes spinach, not just for nutrients but also for the texture. The soft texture of spinach holds plenty of flavors and is quite unlike other vegetables, making it a versatile veg choice.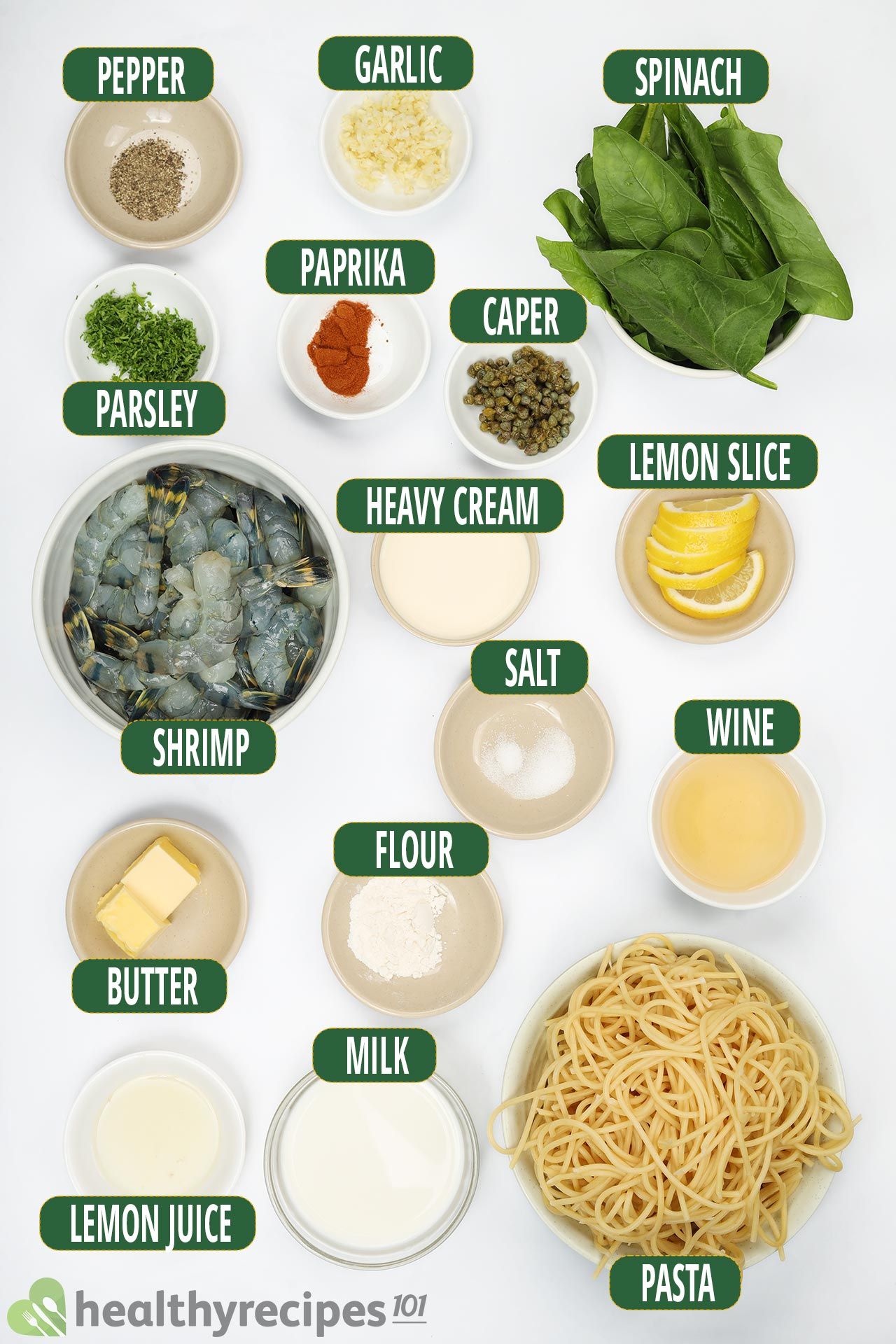 How to Make Shrimp Piccata
We frequently prepare pasta dishes, so we keep pre-cooked pasta in our refrigerator at all times. If this is not the case for you, we recommend boiling some spaghetti before preparing the shrimp. Once cooked, it should be sealed in an airtight container. When you need to use it, pre-soak it in hot water to rehydrate.
With the spaghetti ready in our fridge, we simply need to measure out the ingredients and add them to our skillet in this specific order: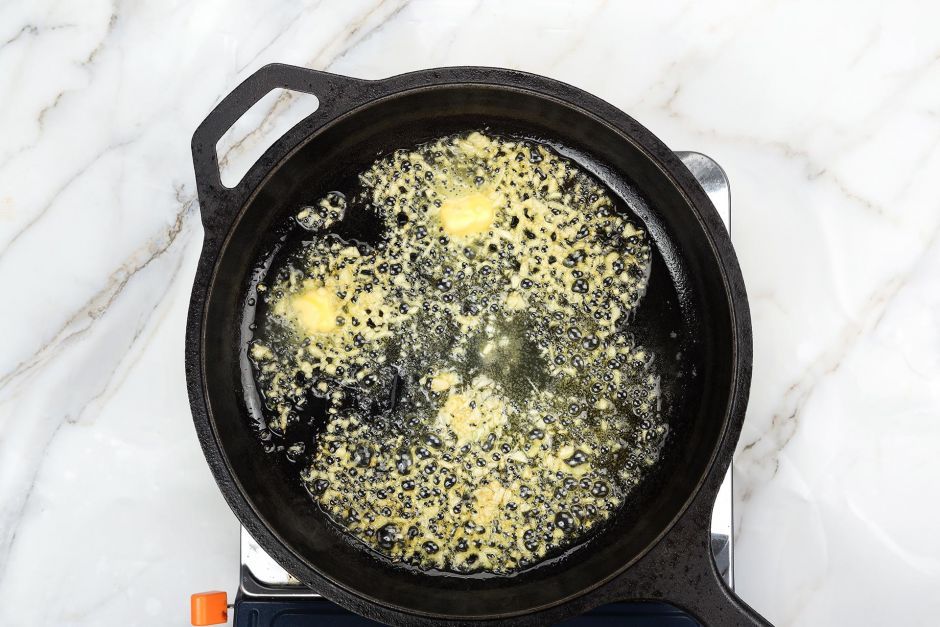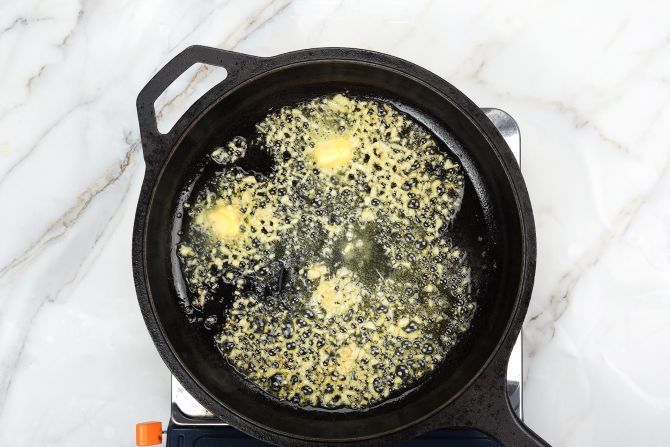 Melt butter and stir garlic.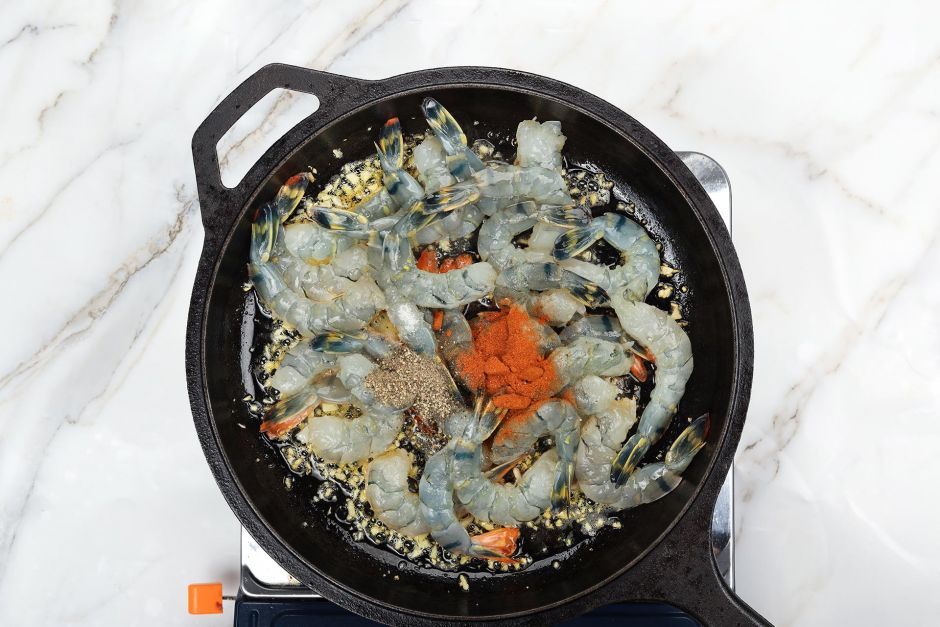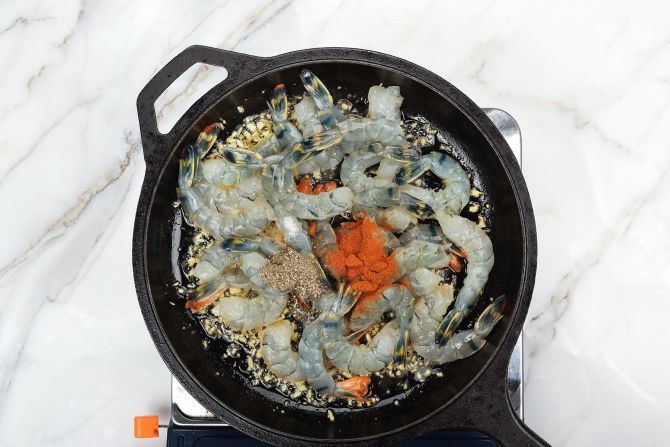 Add shrimp, salt, pepper, and paprika.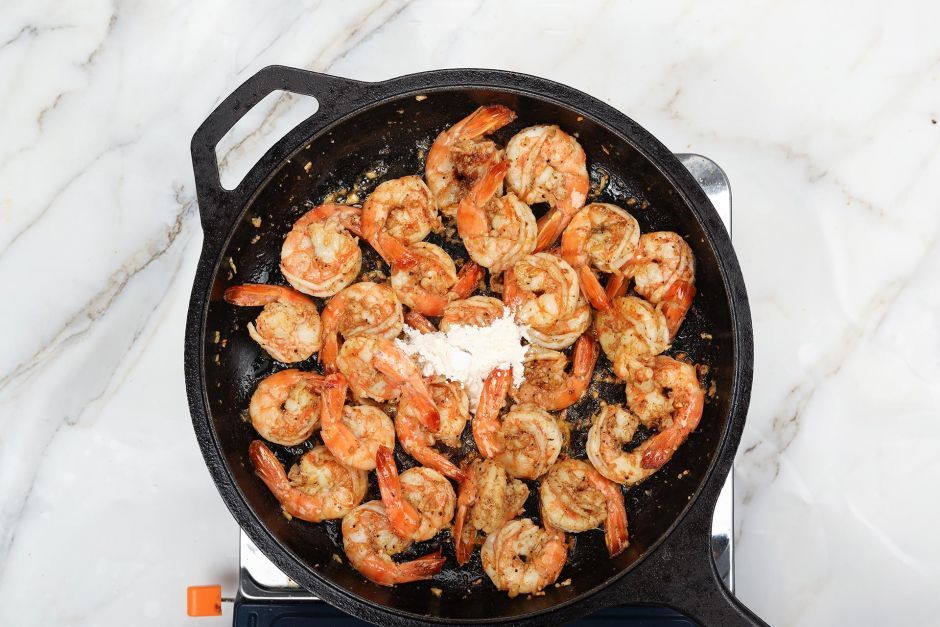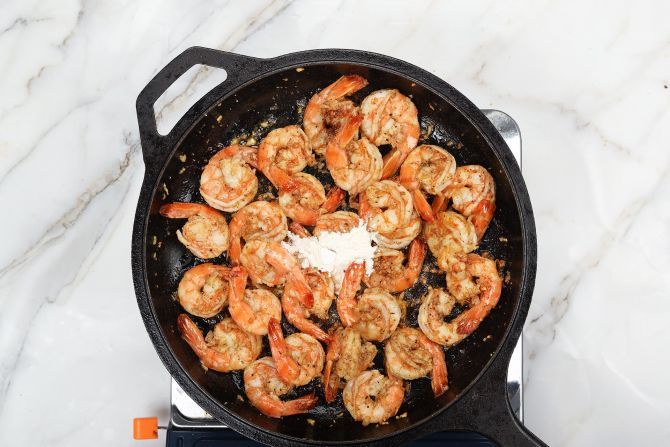 Add flour.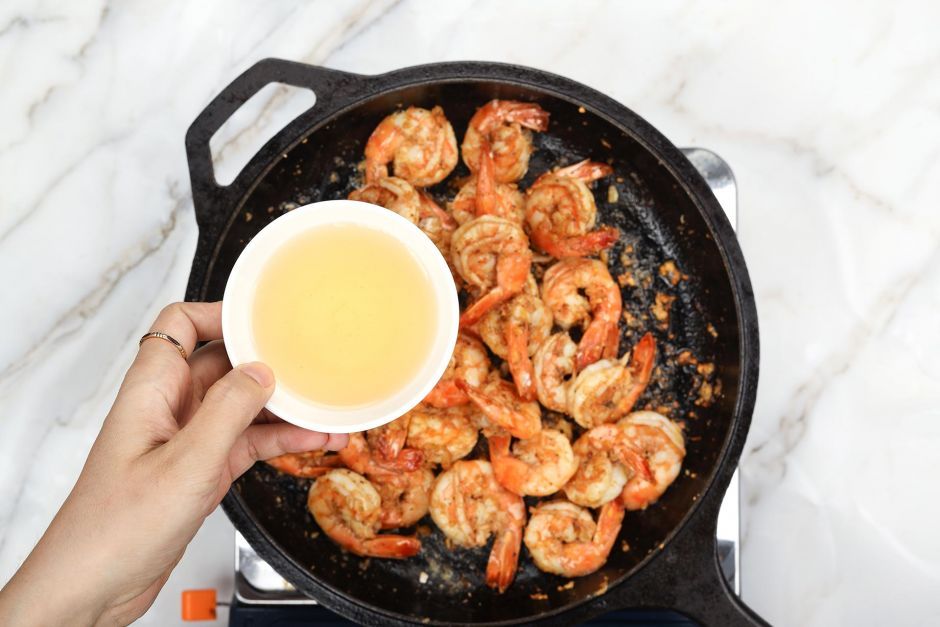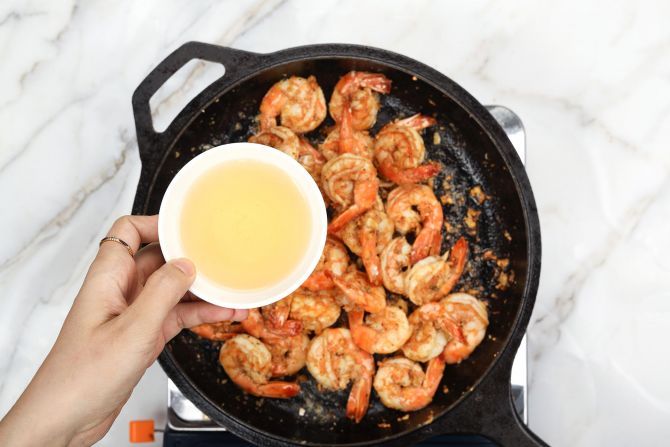 Add white wine.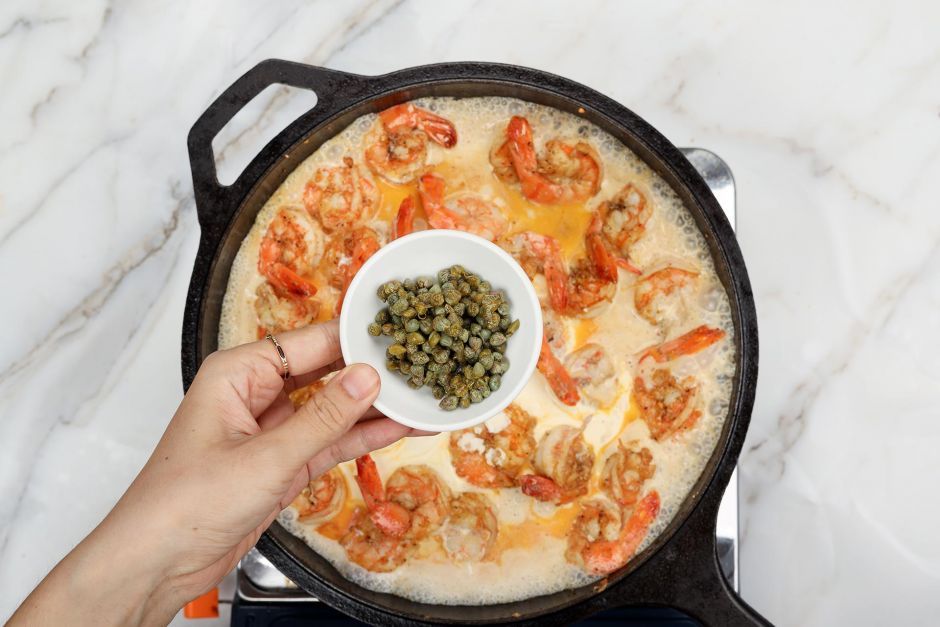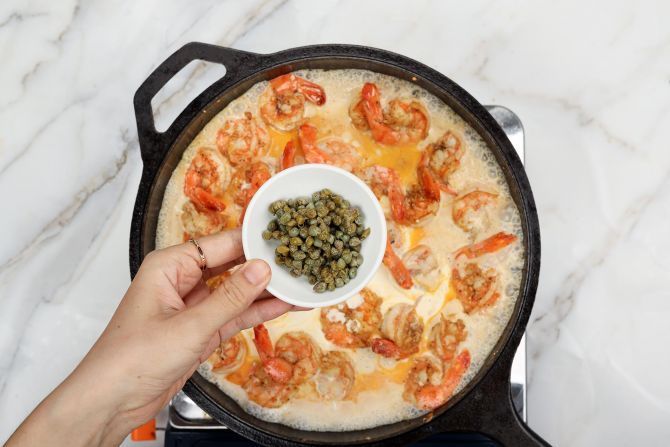 Add milk, cream, lemon juice, and capers.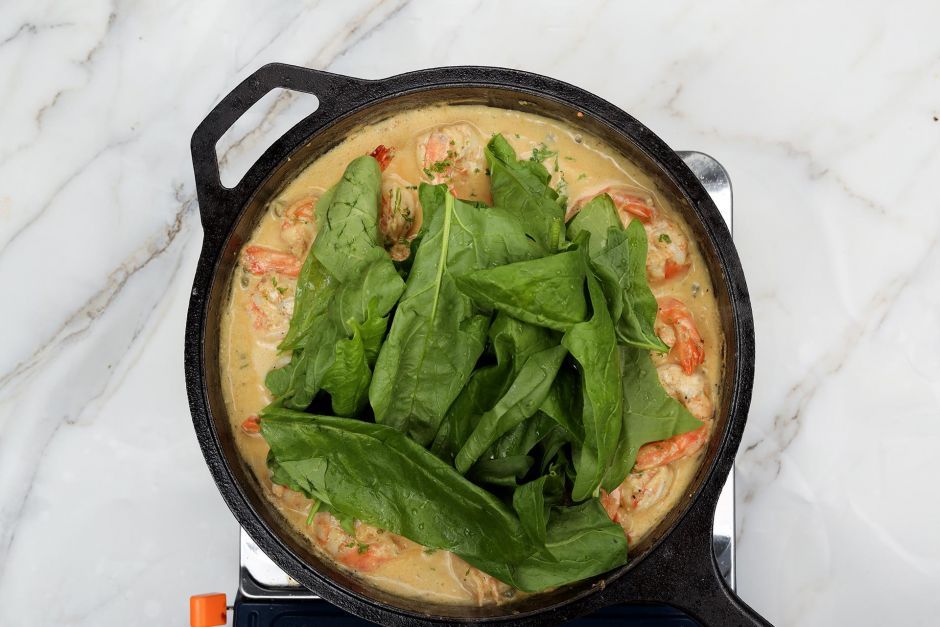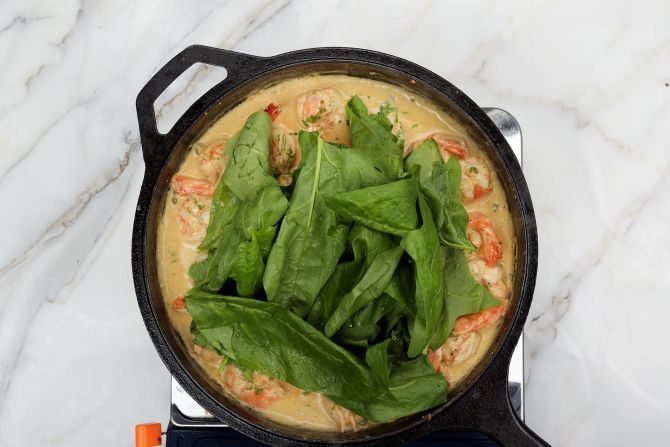 Add spinach.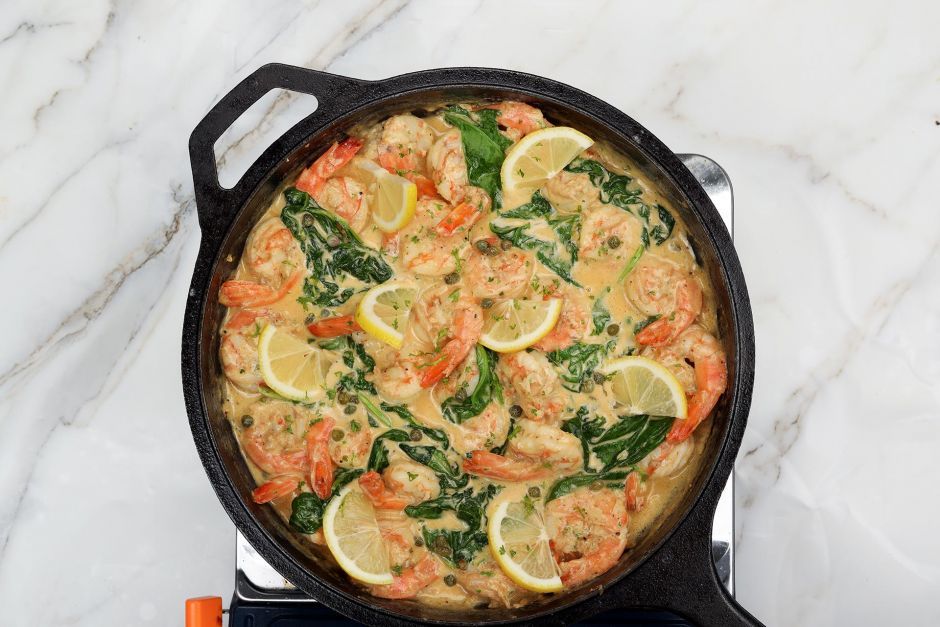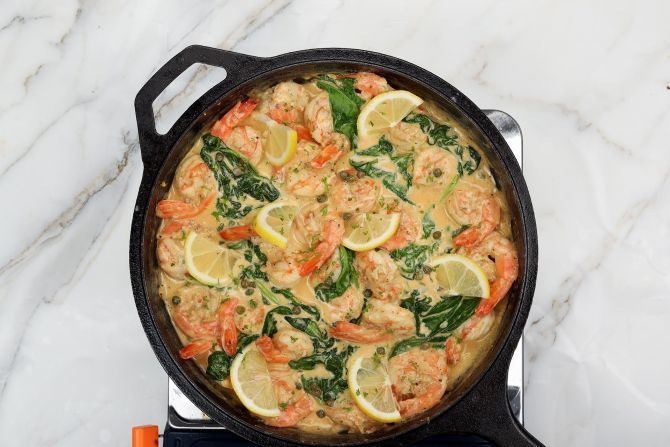 Add lemon slice.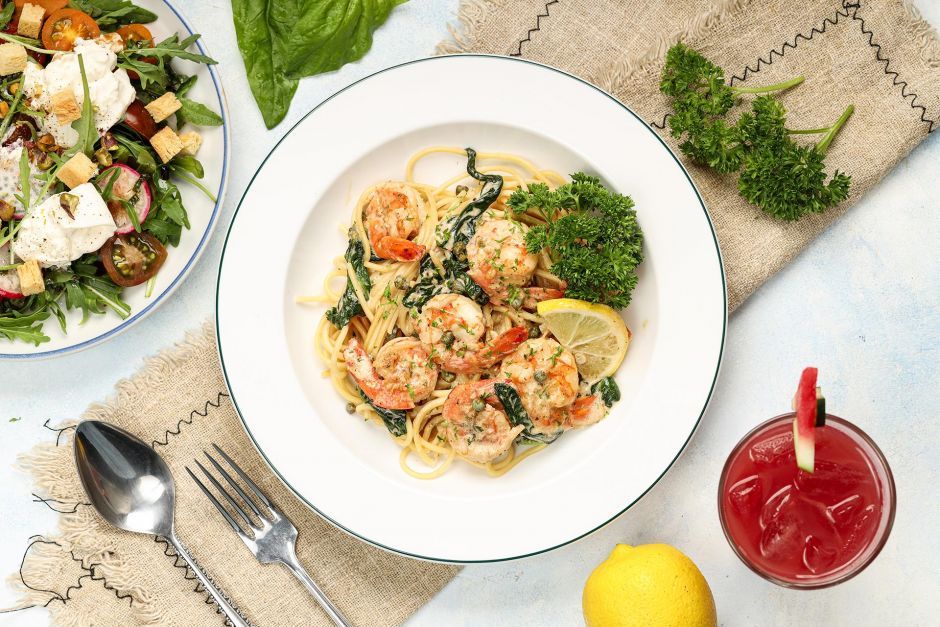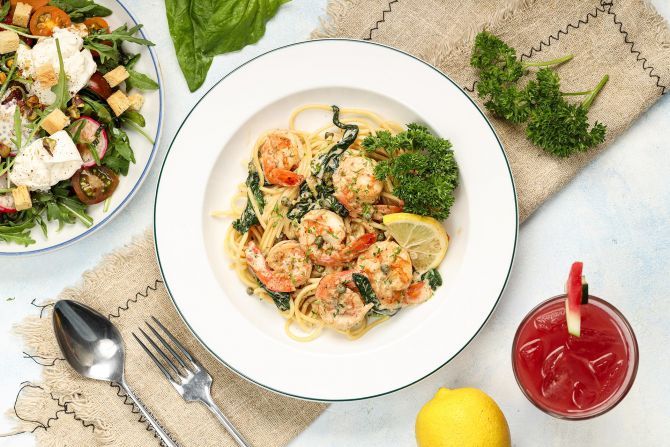 Serve.
The measurements and timing are listed in our 'shrimp piccata recipe' at the bottom of this article.
Jump to Recipe
Storage and Reheating the Leftovers
The leftovers, shrimp and pasta, should be stored in separate containers before being placed in the refrigerator. Properly preserved, both can last for up to 4 days in the fridge, and up to 3 months in the freezer.
The shrimp and sauce can be reheated easily in a saucepan with a little water. If frozen, they will take about 2-3 minutes longer to reheat.
The pasta should be placed in boiling water for about 1 minute or until softened.
What to Serve With Shrimp Piccata
We found that this dish pairs nicely with this burrata salad. The salad features crunchy croutons and a giant ball of creamy, melty cheese; both of which have awesome textures and complement shrimp piccata very well.
The two would go great with a fresh, cool, and sweet drink, and we think our watermelon cucumber juice would be it.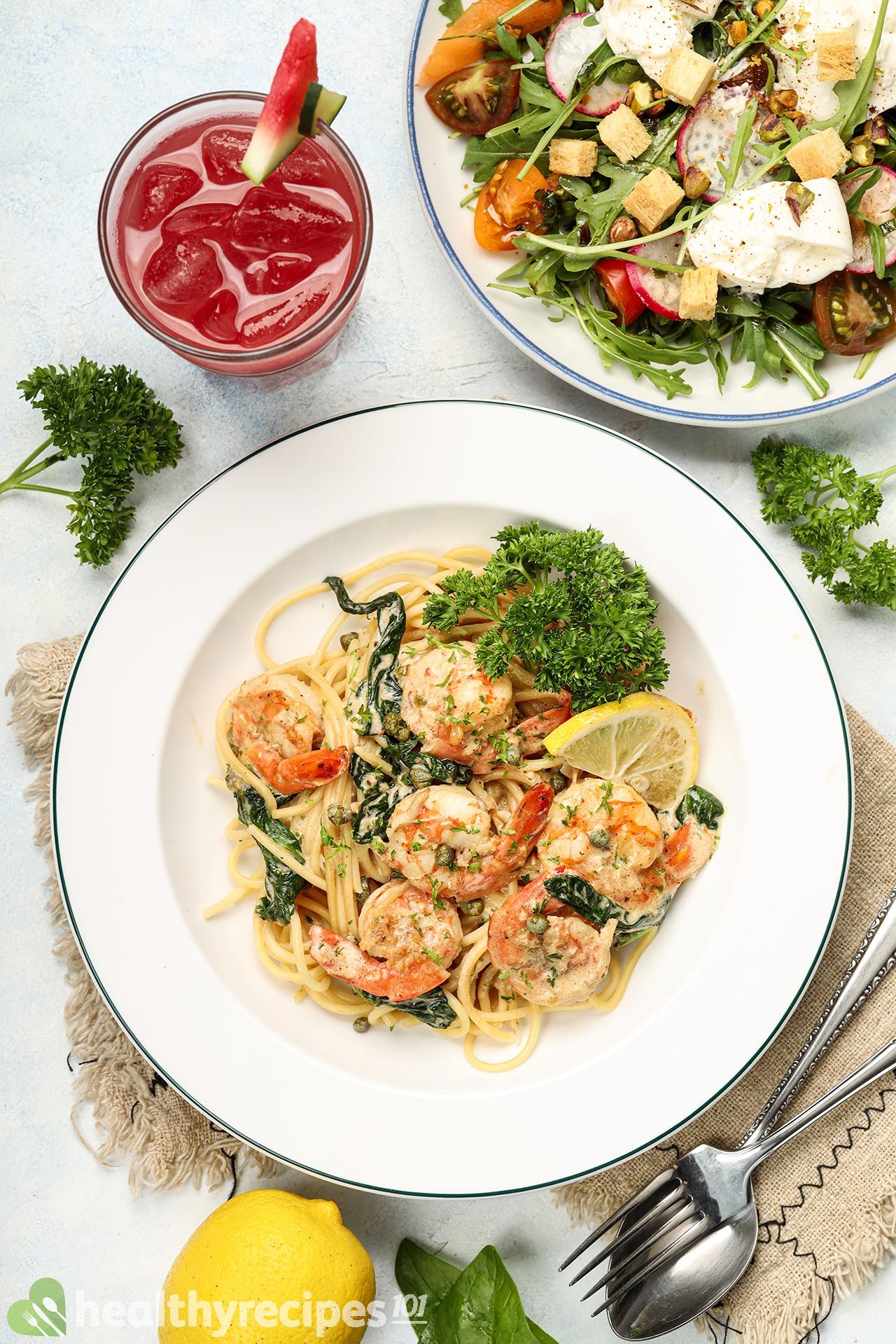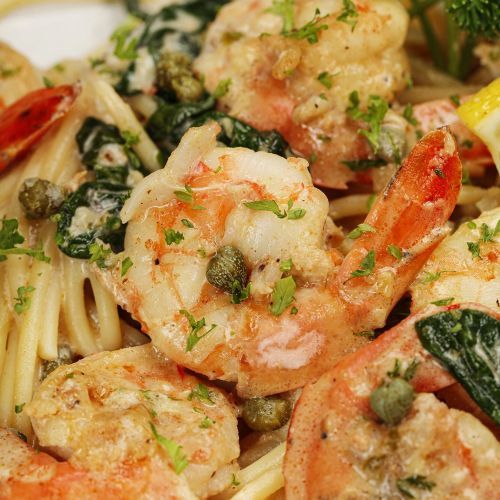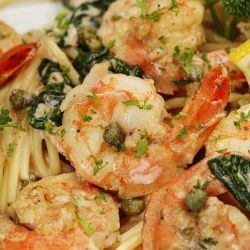 Shrimp Piccata Recipe
This shrimp piccata recipe features plump shrimp, soft spinach, and al dente spaghetti, all drenched in a rich and tart sauce. It also comes together quickly.
Ingredients
2

tbsp

unsalted butter

1

tbsp

garlic

minced

13

oz

peeled shrimp

from 26 oz whole shrimp

1/2

tsp

paprika

1/2

tsp

ground black pepper

1/4

tsp

salt

1/2

tbsp

all-purpose flour

1/4

cup

white wine

1/2

cup

whole milk

1/4

cup

heavy cream

1

tbsp

lemon juice

0.75

oz

brined capers

1

oz

spinach

stems removed

2

oz

lemons

sliced

2

tbsp

parsley

finely chopped

16

oz

spaghetti

cooked
Instructions
Melt 2 tbsp unsalted butter in a skillet over medium heat, and stir in 1 tbsp minced garlic for 30 seconds.

Add 13 oz peeled shrimp, 1/2 tsp paprika, 1/2 tsp pepper, and 1/4 tsp salt. Stir for 3 minutes to cook.

Add 1/2 tbsp all-purpose flour and stir for 1 minute to cook.

Pour over 1/4 cup white wine and stir to dissolve the flour. Heat for 30 seconds or until half is evaporated.

Pour in 1/2 cup whole milk, along with 1/4 cup heavy cream, 1 tbsp lemon juice, and 0.75 oz capers. Stir to combine.

Add 1 oz spinach leaves and cook for 2 minutes.

Remove from heat and add 2 oz lemon slices to the skillet. Move things around and set the skillet aside, until serving.

Serve with 16 oz cooked spaghetti and sprinkle 2 tbsp parsley on top.
Nutrition
Nutrition Facts
Shrimp Piccata Recipe
Amount Per Serving (1 serving)
Calories 487
Calories from Fat 126
% Daily Value*
Fat 14g22%
Cholesterol 333mg111%
Sodium 515mg22%
Potassium 702mg20%
Carbohydrates 41g14%
Protein 46g92%
Vitamin A 1018IU20%
Vitamin C 14mg17%
Calcium 190mg19%
Iron 2mg11%
* Percent Daily Values are based on a 2000 calorie diet.