Why reheat yesterday's dish when you can transform it into something much better with these leftover shrimp recipes? They come together in a breeze, and the result is just as scrumptious as it would be with fresh shrimp. And don't worry, shrimp is incredibly versatile, so whether old or new, you'll still have a whole lot of dishes to try out.
28 Leftover Shrimp Recipes to Transform Last Night's Meal Into Brand New Dishes
1. Shrimp Creole
Shrimp creole is a Louisiana signature that packs a flavor punch with each bite. It's made by simmering seasoned shrimp and vegetables in a tomato-based sauce, creating a rich, vibrant stew that fills the senses with extraordinary aromas. Dinner nights will never be bland again as long as you've got this dish in your corner.
Go to Recipe
2. Lemon Garlic Shrimp
This lemon garlic shrimp can be made in 20 minutes and tastes like it's just come straight from a restaurant kitchen. The shrimp are seasoned with spices, lemon juice, and mustard, then sautéed with garlic and butter until golden perfection. Serve these flavor-packed shrimp over pasta, rice, or bread, and you've got an effortlessly good dinner for all those busy weeknights.
Go to Recipe
3. Shrimp Salad Sandwich
If you're looking for something mild and simple, this shrimp salad sandwich is a perfect choice, especially for those summer picnics or light meals. The shrimp are chopped and mixed with Greek yogurt, mayonnaise, mustard, vegetables, and herbs. Packed between soft buns, the creamy mixture gives each bite of this sandwich a satisfying taste that constantly pulls you in for more.
Go to Recipe
4. Shrimp Fried Rice
When it comes to using up leftovers, fried rice is one of our top choices. Our recipe features simple, pantry-staple ingredients that make up a healthy, colorful, and flavorful meal. It comes together in half an hour and barely requires any work. Just toss everything into a pan, stir them quickly, and there you have it—a comfort dish filled with gorgeous taste and texture that you'll have a fantastic time devouring.
Go to Recipe
5. Coconut Shrimp
Irresistibly crispy on the outside and juicy, tender on the inside, these coconut shrimp will blow you away from the very first bite. The shredded coconut imparts a mild sweetness that goes perfectly with the citrusy dipping sauce, creating a marvelous flavor combo that guarantees to be a hit at any meal.
Go to Recipe
6. Shrimp Tikka Masala
This dish brings you plump, tender shrimp coated in a luscious and aromatic sauce. Indian cuisine's complexity shines through with the harmonious use of intense condiments, creating a delectable mixture of fragrant, savory, and mildly spicy flavors. Everything comes together in just half an hour, giving you an exquisite dish with minimal effort.
Go to Recipe
7. Shrimp Casserole
Comfort meets indulgence in this simple yet delectable shrimp casserole. Layers of cheese, rice, and shrimp are tied together by a creamy celery soup—all baked to decadent, golden perfection. Warm from the oven, each ooey-gooey spoon of this casserole wraps you in a hug that's full of cozy flavors.
Go to Recipe
8. Creamy Shrimp Pasta
This creamy shrimp pasta is what dinner dreams are made of—quick, easy, and packed with gorgeous flavors. The al dente pasta and sweet, plump shrimp are smothered in a rich, creamy sauce, giving this homemade dish a restaurant quality that never fails to impress. You can make it in just 15 minutes, so no matter how busy your nights get, they won't go by with any boring, sloppy meal.
Go to Recipe
9. Shrimp Quesadilla
It's love at first bite with these shrimp quesadillas. They're made in just 25 minutes, using simple ingredients already sitting in your kitchen. Shrimp, bell peppers, Greek yogurt, and melted cheese are tucked inside crispy tortillas, creating a flavor and texture combo that hits the spot every time.
Go to Recipe
10. Shrimp Parmesan
Transform your leftover shrimp into a golden dish that brightens any meal with this shrimp parmesan recipe. The shrimp are simmered in tomato sauce, chicken broth, and spices, then covered in cheese, and baked to create that irresistibly crispy crust top. It comes together in a flash and tastes marvelous when served over pasta—an amazing pick-me-up for all those busy, restless nights.
Go to Recipe
11. Bang Bang Shrimp
Bang bang shrimp comes with a crispy exterior that crumbles like a dream in your mouth, perfectly contrasting with the tender insides. You can serve these shrimp on their own with a sweet-spicy sauce to make a killer appetizer or lay them over pasta, rice, stir-fries, and lettuce wraps for a filling, satisfying main course.
Go to Recipe
12. Spicy Shrimp Sushi Stacks
These stacks are a deconstructed version of the original sushi. The ingredients are all the same, and instead of being rolled together, they are stacked on top of one another.
Despite the difference in appearance, sushi stacks still offer the same delicious mixture of taste and flavor as the rolls. The soft rice, avocado, and cucumber are bound together by a sweet-spicy sauce, all topped with crispy seaweed bits, fish roe, and shrimp. Make this to serve as an appetizer, or simply have it for dinner. You'll have a fantastic time either way.
Go to Recipe
13. Shrimp Ceviche
When summer comes around and you want to deal with as least heat as possible in the kitchen, make this shrimp ceviche. You've already got the cooked shrimp, so all that's left to do is chop the veggies and avocado and toss everything with a bright, zesty dressing. The colorful combination creates a beautiful flavor explosion on your tongue and makes every bite feel like a never-ending burst of sunshine.
Go to Recipe
14. Shrimp Omelet
Turn last night's leftovers into a flavorful breakfast with this shrimp omelet recipe. Beat your shrimp with a few eggs, chopped scallions, milk, and seasonings. Cook the mixture on a hot pan for a bit, toast some bread, and you'll have a nutritionally balanced, filling, and delicious meal to start the day in no time.
Go to Recipe
15. Chili Lime Shrimp Ramen Soup
This ramen's broth is made with chili and lime juice, creating a heavenly flavor base that tantalizes your taste buds with spicy and zesty notes. Hot off the pot, it submerges the shrimp, noodles, boiled eggs, and veggies in a comforting warmth—perfect for cozying up on those cold nights, or whenever you crave a little bit of homemade familiarity.
Go to Recipe
16. Cajun Shrimp Fried Rice
Here's another exciting way to make shrimp fried rice. This recipe takes on a New Orleans twist, featuring Cajun seasonings that infuse the rice, shrimp, sausage, and chopped veggies with a smoky heat. It's a one-pan wonder that you can put together in just half an hour, making both cooking and cleaning up a total breeze.
Go to Recipe
17. Shrimp Stuffed Avocados
This recipe serves up shrimp avocado salad in avocado bowls, giving the already colorful dish an eye-catching appearance that's perfect for all sorts of summer festivities. Meanwhile, the hot sauce and lime juice dressing ties everything together in a bright, zesty burst of flavors that explode like fireworks on your taste buds. 
Go to Recipe
18. Pesto Shrimp Pasta
Make a speedy dinner that still tastes mouthwateringly good with this pesto shrimp pasta recipe. The pesto coats the savory shrimp and earthy mushrooms in a bright, garlicky, and herby taste, creating a rustic flavor combination that's inexplicably captivating. If you use this recipe for your leftover shrimp, we recommend adding it to the pan in the last few minutes to ensure the protein stays tender and doesn't overcook.
Go to Recipe
19. Shrimp Summer Rolls
These summer rolls pull you in with their colorful exterior and keep you hooked with their gorgeous flavors and textures. Vegetables, herbs, and shrimp are wrapped in rice paper, then dipped into a rich, to-die-for peanut sauce. They barely require any cooking, so everything tastes incredibly fresh and soft—an ideal choice for those hot summer days when you just want something light and simple.
Go to Recipe
20. Shrimp Lettuce Wraps
These shrimp lettuce wraps are the epitome of easy-peasy, fresh summer dishes. Tender, sweet shrimp are piled onto lettuce boats along with avocados, cucumber, carrots —all drenched in an umami sauce made from Asian condiments. 
You may find the combination of proteins, vegetables, and fruits to be overwhelming, but that's the beauty of this dish. It's a party of vibrant, sweet flavors and diverse textures that perfectly captures summer's liveliness.
Go to Recipe
21. Shrimp Pad Thai
Make this classic Thai dish and takeout staple right in the comforts of your kitchen in just 30 minutes. All you gotta do is gather the ingredients and toss them on the stovetop—so quick, easy, and effortless. And the result is just out of this world. It's a beautiful jumble of sweet, savory, and tangy flavors that coddles your taste buds with comfort. Not to mention the diverse textures, which change with every bite and keep things endlessly exciting.
Go to Recipe
22. Thai Shrimp Noodle Soup
Our love for Thai food knows no bound, so we had to also include this soothing and equally exciting shrimp noodle soup in this list. With a red curry and coconut milk flavor base, it's a perfect harmony of spicy, rich, sour, and creamy flavors, layered with aromatic notes that dance to the music of your senses.
The best part is that this soup takes only half an hour to make. When the cold season hits, you can easily cook up a bowl or two to slurp on for some much-needed warmth.
Go to Recipe
23. Shrimp Cocktail Dip
This shrimp cocktail dip recipe puts a homemade spin on a gourmet classic, making it a lot more budget-friendly and easy. It consists of only six ingredients and comes together with a simple blend while still offering the original dish's delicate sweet-and-spicy taste. 
Go to Recipe
24. Cajun Shrimp Dip
One dip is all it takes to fall in love with this Cajun shrimp dip. Baked in the oven, the cream cheese, sautéed veggies, shrimp, and cheese unravel into a beautiful and creamy feast that oozes magical flavors. The highlight, of course, is the Cajun seasoning that infuses this dip with a unique smoky touch, captivating the palate with every decadent bite.
Go to Recipe
25. Orange Shrimp
Shrimp, orange slices, and vegetables are drenched in a tangy, sweet, savory, and spicy orange sauce, then stir-fried to a slight crisp in this magnificent, vibrant dish. We like to serve it over white rice and along with a steamy bowl of soup for a heart-warming Asian meal.
Go to Recipe
26. Shrimp Deviled Eggs
This recipe dresses up the classic deviled eggs and elevates their flavors with some delicious shrimp. Adding this seafood also brings a bit more texture to the soft and creamy bites, making the dish a whole lot more exciting and enjoyable. 
Go to Recipe
27. Wonton Shrimp Cups
Biting into these wonton shrimp cups is a heavenly experience. The crispy wrappers crumble beautifully in your mouth, then the soft fillings come in and burst with a rainbow of cheesy, sweet, and vibrant flavors. Everything requires minimum prep and comes together in the oven, so you already know this one's gonna be a breeze to make.
Go to Recipe
28. Shrimp Curry
Embracing Thai cuisine's wonderful complexity, this shrimp curry is a harmony of big and bold flavors. The coconut sauce lays a creamy base that seamlessly blends with intense spices and fragrant herbs. With the shrimp added, each spoonful is a dance of texture and taste that never cease to intrigue.
We like to serve this dish over white rice, with a side of Scotch egg and a refreshing glass of lemonade to make a healthy, satisfying, and utterly flavorful meal.
Go to Recipe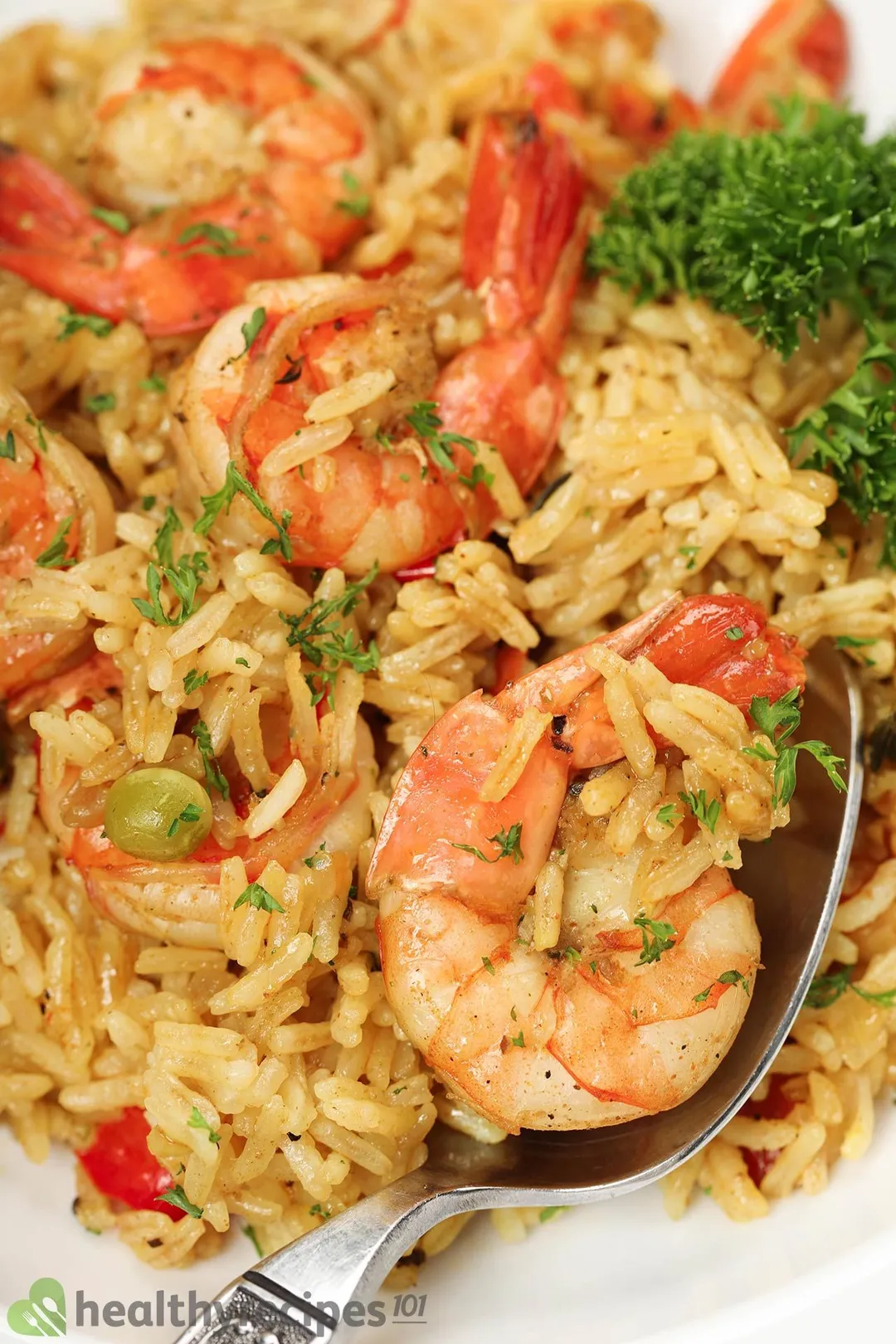 Previous Recipe
Shrimp and Rice Recipes
Shrimp and Rice Recipes
Writer, Author
Luna Regina is an accomplished writer and author who dedicates her career to empowering home cooks and making cooking effortless for everyone. She is the founder of HealthyKitchen101.com and HealthyRecipes101.com, where she works with her team to develop easy, nutritious recipes and help aspiring cooks choose the right kitchen appliances.
Comments/ Reviews