Our apple cider vinegar and lemon juice recipe makes a refreshing and therapeutic drink chock full of nutrients. Add it to your list of National Vinegar Day (November 1) recipes for a unique, vibrant drink.
Healthy, wholesome beverages don't have to be dull and tasteless.
Our cucumber lemon detox water, this basic lemonade recipe, and now, this ACV drink are all testaments to that.
Apple cider vinegar has antioxidant, anti-diabetic, and anti-obesity properties. Incorporating it in this recipe is a great way to flatter your palate while obtaining plenty of nourishment.
Lemon juice, too, isn't always so sharp. You can enjoy its subtle tang with sugar and honey in this recipe.
And just like apple cider vinegar, lemon juice provides vitamin C antioxidant benefits. That, plus limiting added sugar to recommended daily amounts, makes this drink a nutritious beverage you can frequently sip on.
To help you gain control over your diet, this article explains the benefits of apple cider vinegar and lemon juice. It also illustrates how to prepare it and how often you can drink it to maintain a healthy lifestyle.
What Is Apple Cider Vinegar Drink?
Apple cider vinegar drink is a potent beverage for remedial purposes. You can occasionally use it for casual drinking while reaping its health benefits.
It's a detox drink made with apple cider vinegar and water. And it's common practice to add lemon juice, or other fruit juices, to make it less potent.
Take care not to drink straight apple cider vinegar! Consuming vinegar poses a great risk of eroding your teeth enamel.
One study shows how daily consumption of apple cider vinegar led to enamel erosion. So it's recommended to dilute it before drinking and reduce the consumption of acetic drinks to maintain a toothsome experience!
Cinnamon and pepper are just some of the popular flavors that pair well with apple cider vinegar drink.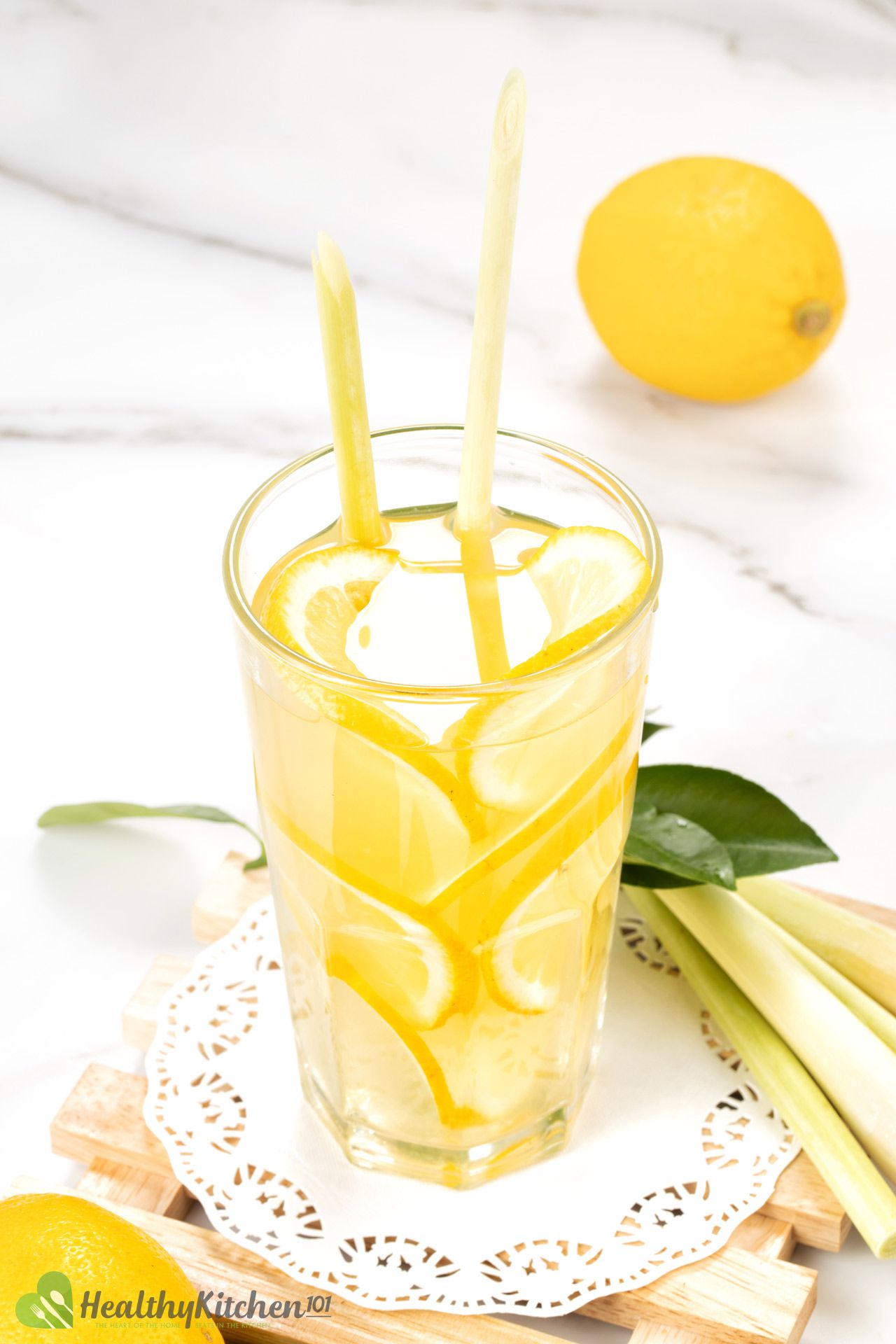 Benefits of Apple Cider Vinegar and Lemon Juice
Apple cider vinegar has long been used as a household disinfectant and food preservative. But is there any science-backed evidence to support its many purported benefits?
The better question is, what is apple cider vinegar?
It's a vinegar made by fermenting sugar (from crushed apples) to alcohol. The alcohol further converts to acetic acid, which composes 5-6% of the vinegar.
1. Anti-Diabetic
Acetic acid exhibits antioxidant and anti-cholesterol behavior. So it's no surprise that consuming apple cider vinegar over eight weeks reduced blood lipids in patients with hyperlipidemia.
Hyperlipidemia refers to disorders that result in high levels of fat in the blood, like diabetes. Thus drinking apple cider vinegar can be an inexpensive approach to treating hyperlipidemia.
2. Weight Loss
Some animal studies also show how it may aid weight loss. Research shows how it improves metabolism, reduces and burns belly fat, and even suppresses rats' appetite.
And though this research is limited to animals, we can hope that future studies on humans will present similar results.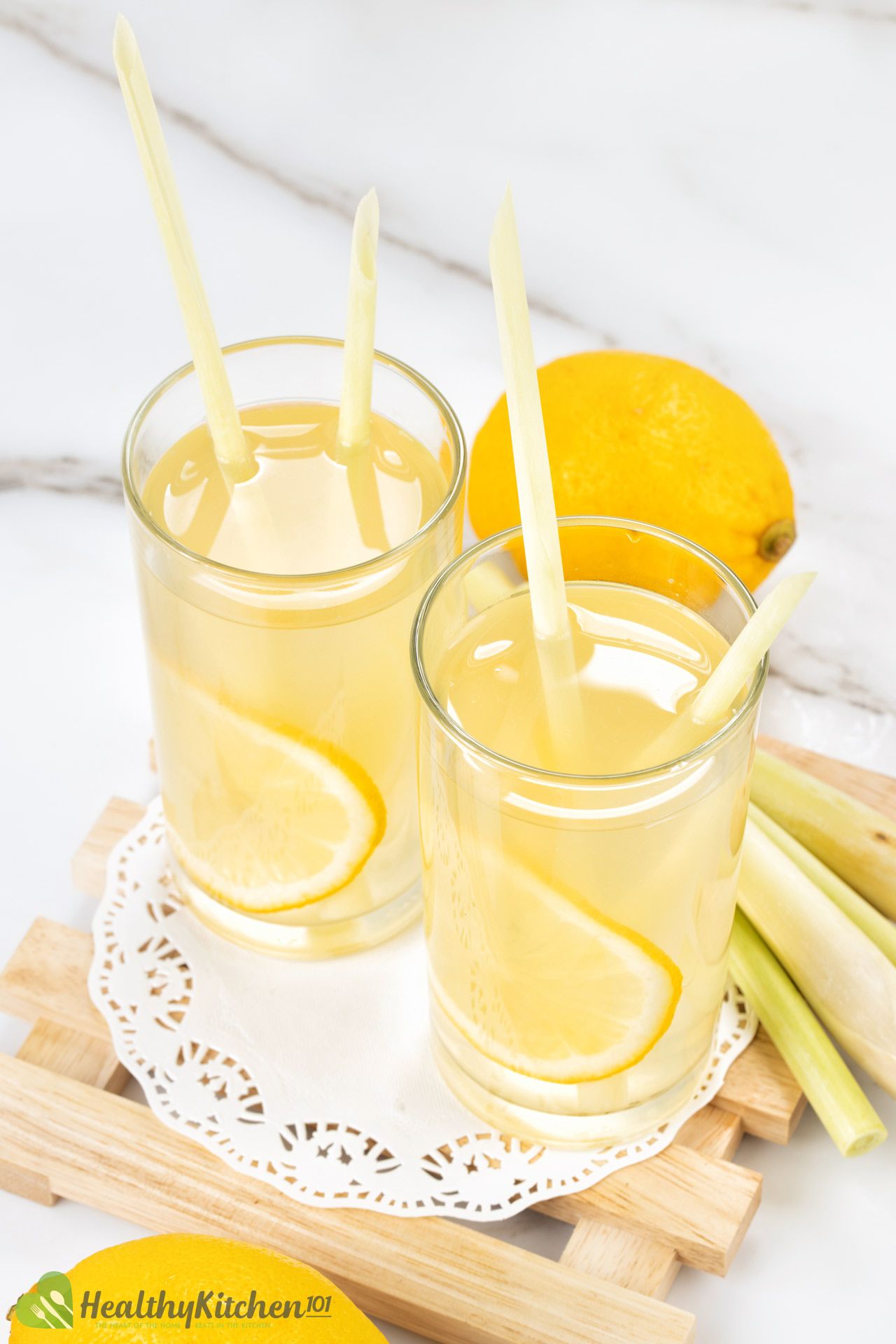 3. Vitamin C
The other main component, lemon juice, is a renowned source of vitamin C. Its antioxidant properties make it a proven force against factors that may harm the body.
Consuming vitamin C helps to fight against aging. It improves your immune system and contributes to building collagen for skin health.
Besides drinking it in this juice, you can regularly have plain lemon water to give you radiant, healthier skin.
4. Less Sugar
Our recipe also incorporates honey and sugar for a sweet element that balances the flavors. And we know sugar is often the enemy, but it's more acceptable in limited amounts.
We've made sure to add just over two teaspoons of sugar per serving. This is within the USDA recommended guidelines and is only 37% of the total daily added sugar limit.
How Often Should You Drink It?
You can drink apple cider vinegar and lemon juice daily. One 2016 study shows that daily consumption of 15ml vinegar was enough to positively affect hypertension, hyperlipidemia, and obesity.
Some people may feel the need to drink excessive amounts of apple cider vinegar to improve overall being. But drinking large amounts like 8 ounces may lead to side effects such as osteoporosis.
Also, there's no harm in incorporating straight apple cider vinegar in daily dishes like salads, condiments, and marinades. The problem may arise if you drink it straight without diluting it.
So take care to limit and mix apple cider vinegar with other ingredients. This is the most effective way to reap its benefits without risking conditions like enamel erosion.
If you would like to see more healthy apple cider vinegar options, see our collection of healthy apple cider vinegar recipes.
Can You Substitute Lime Juice for Lemon Juice?
Yes, you can substitute lime juice for lemon juice. Lime and lemon can pass off as duplicates for their similar properties and tastes.
Nutritionally, lime and lemon juices contain similar amounts of vitamin C, magnesium, and calcium. The differences are negligible and enough to make them interchangeable for health purposes.
Taste-wise, lime juice is more tart. Replacing with lime juice gives more zest— even in this apple cider vinegar and lemon juice recipe.
You can try this healthy Pineapple Celery Juice recipe or this ACV with pineapple juice recipe to experience lime juice's punch and taste.
But you can adjust the amounts in your beverage to make it less intense. And you'll most likely find the overall taste to be the same.
How to Make Apple Cider Vinegar Drink and Lemon Juice
The main components in this drink are (you guessed it) apple cider vinegar, lemon juice, and water. But to make it more palatable, this recipe includes fresh lemongrass, sugar, honey, and mint.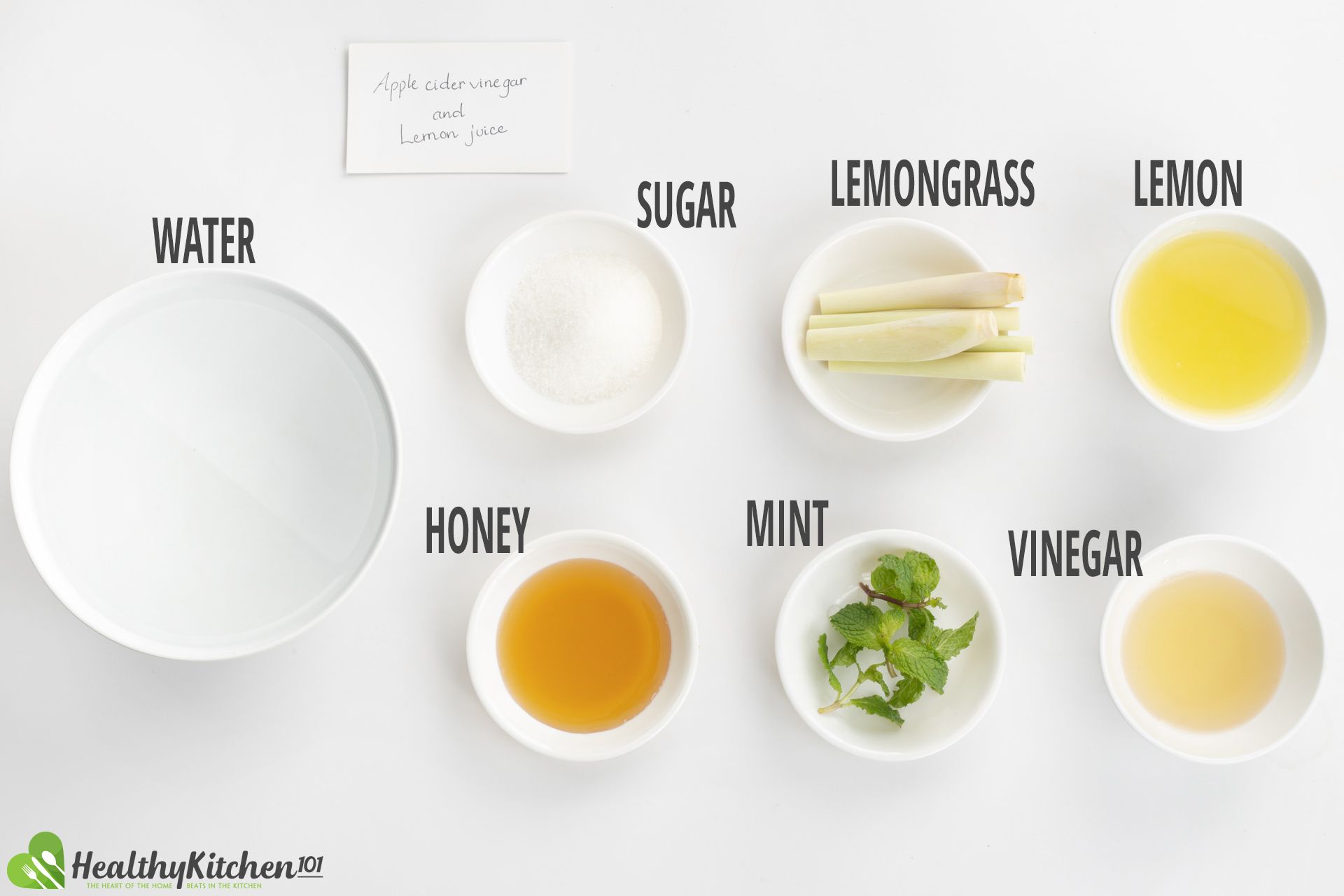 Start by placing the mint leaves in a pitcher and crushing them with a wooden spoon. Once they release their fresh aroma, add apple cider vinegar, lemon juice, water, and sugar.
Stir the mix until the sugar dissolves. Then add honey and lemongrass.
Stir until well mixed and serve it warm or iced. Enjoy it as is, or alongside a healthy dish for a well-rounded, nourishing meal.
Make a substitute with buttermilk to create a bone-supporting dairy drink. Or swap in watermelon juice to make a great summer drink.
Calories
This apple cider vinegar and lemon juice recipe contains a minute 70 calories per serving. That's an incredibly low amount providing numerous health benefits!
Its low-calorie profile makes this apple cider vinegar and lemon juice convenient for frequent and daily consumption. That, plus its fat-burning properties, makes it excellent for weight loss diets.
Most apple cider vinegar and lemon juice's calories come from carbs in the form of sugars, followed by protein. It's a negligible amount of carbs that you can also incorporate in a low-carb diet.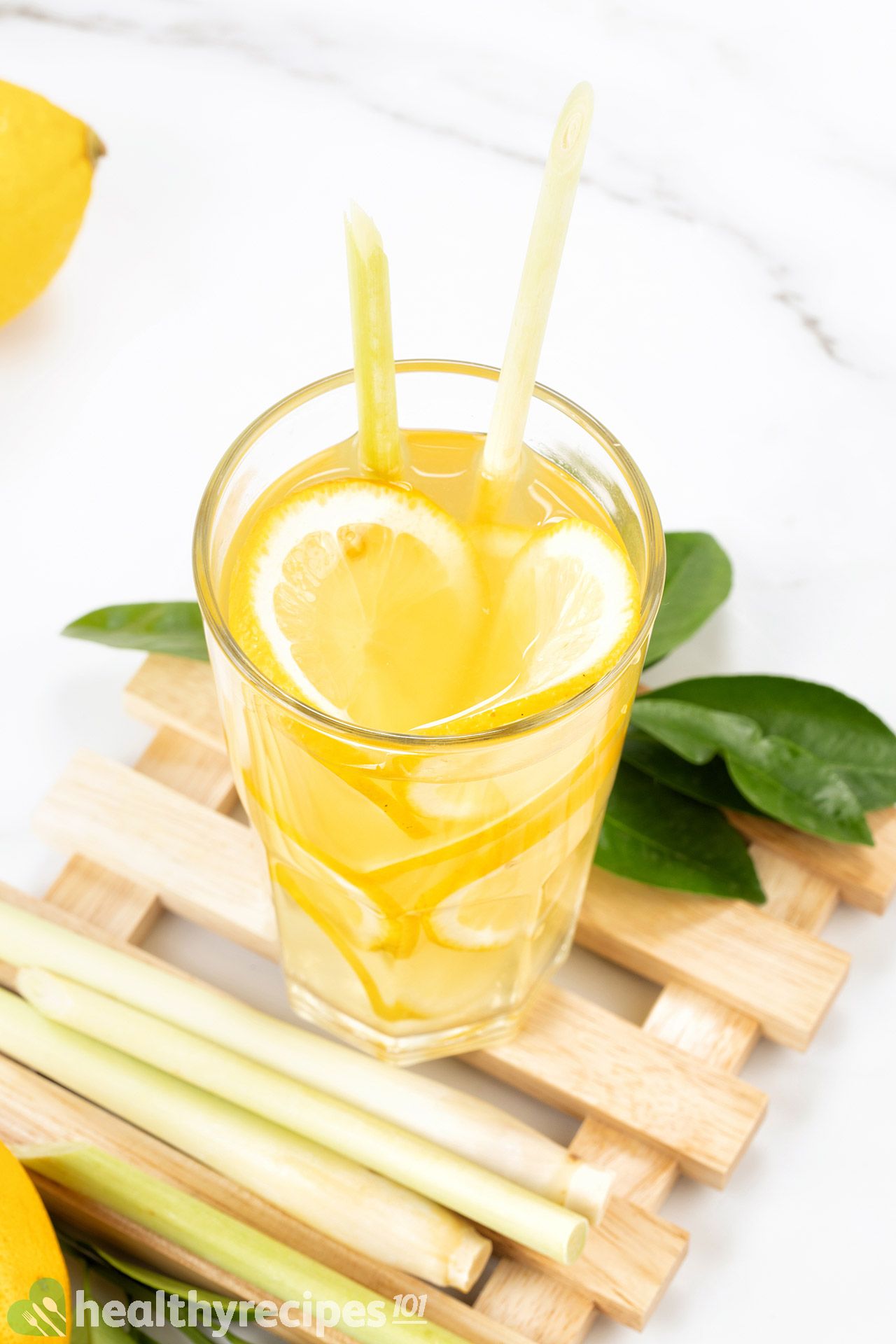 However, remember to monitor your overall sugar amounts. Even small portions can contribute to exceeding your daily sugar limit.
Take this recipe with a grain of salt and adjust some ingredients to your own taste and nutrition!
You can also try out our recipe for another ultimate summer drink or read this article to find delicious lemon juice recipes.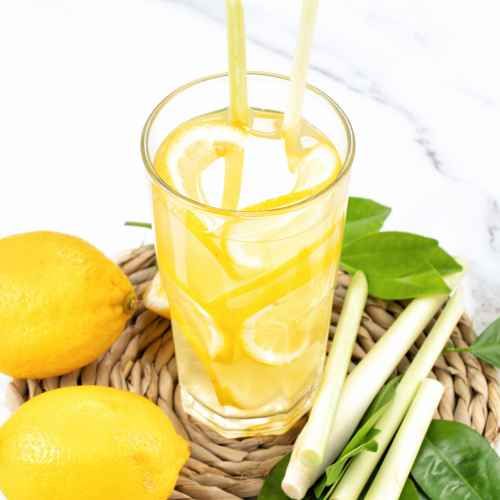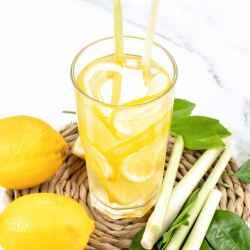 Apple Cider Vinegar and Lemon Juice Recipe
This apple cider vinegar and lemon juice recipe is a sweet and sour drink singing with zesty citrus notes. It's a healthy beverage that you can enjoy plain, warm, or iced for cooling refreshment.
Ingredients
2

tbsp

apple cider vinegar

1 1/2

tbsp

lemon juice

2

cups

water

3

tbsp

sugar

1

tbsp

honey

2

oz

lemongrass

fresh

6

mint leaves

fresh
Instructions
In a large pitcher, add mint leaves and use a wooden spoon to crush them. Add apple cider vinegar, lemon juice, water, and sugar. Stir until sugar dissolves.

Add honey and lemongrass. Stir to mix and serve.
Nutrition
Nutrition Facts
Apple Cider Vinegar and Lemon Juice Recipe
Amount Per Serving (1 serving)
Calories 70
% Daily Value*
Sodium 7mg0%
Potassium 125mg4%
Carbohydrates 18g6%
Protein 1g2%
Vitamin A 65IU1%
Vitamin C 3mg4%
Calcium 18mg2%
Iron 1mg6%
* Percent Daily Values are based on a 2000 calorie diet.