This collection of easy beef flank steak recipes features a wide range of dishes, from steaks cooked with different marinades to stir-fries, tacos, and one-pan skillet dishes.
Whether you need a fast weeknight meal or something truly outstanding for visitors or special occasions, these delicate and satisfying steaks are sure to be a hit at the table!
Collection of Beef Flank Steak Recipes
What Spices and Herbs Go Well With Flank Steak?
The most prevalent steak seasonings are salt and pepper. While there is nothing wrong with these simple condiments, it's also a great idea to add herbs and spices to your seasoning blend. Here are some of the best herbs and spices that bring out the natural flavor of meat:
Fresh Herbs: Fresh herbs taste best when sprinkled over meat just before serving. Fresh chives, basil, coriander, and parsley taste fantastic with steak, burgers, and any grilled beef.
Dried Herbs: Dried herbs are delicious on roast beef or added to stews and braises. Don't forget that dried herbs are stronger than fresh herbs; you will normally need 2 - 3 times as much fresh herbs as dried.  Rosemary, oregano, tarragon, thyme, and bay leaves are among the dried herbs that pair especially well with steak.
Spices: Spices can be added directly to beef or to braising pots, stews, curries, and casseroles before cooking. We recommend using a mixture of herbs, spices, and salt/pepper when constructing a dry beef rub, and letting it marinate for a few hours prior to cooking. Beef goes well with cumin, cinnamon, red pepper flakes, cayenne pepper, curry powder, and mustard powder.
How to Marinate
The flank steak is cut from the abdomen muscle of the cow. It is exceptionally lean, muscular, and low in fat, yet has a powerful, robust taste. 
Although flank steak is a tough cut of beef, when marinated, it becomes extraordinarily juicy and tasty. Marinating agents such as citrus juice or vinegar break down the tough muscle fibers, resulting in a soft steak.
Marinating also adds an abundance of flavor. As a result, the meat not only becomes buttery soft but also absorbs the marinade and bursts with flavor.
Note that, to ensure hygienic conditions and food safety, steak should always be marinated for an extended amount of time in the refrigerator and never at room temperature. 
Remove the steak from the refrigerator 60 minutes before you plan to prepare it. This will help get it to room temperature and ensure that the meat cooks more evenly.
The Best Ways to Cook
Flank steak is a popular ingredient for grilling and searing since it cooks fast at high temperatures. Here is everything you ever wanted to know about how to cook your new favorite beef cut!
Grill
Grilling is our favorite way to cook flank steak. Simply lay the flank steak over direct heat on the grill for 5 - 6 minutes per side, with just one flip. The steak requires continual direct heat to achieve its distinctive, strongly flavorful crust. If you continue to rotate the steak, it will brown but not get that tasty char.
Transfer the flank steak to a platter and allow it to rest for 10 minutes prior to slicing. During the steak's cooking, the juice is driven away from the heat and toward the meat's center. Resting time allows the redistribution and reabsorption of the steak's juice, resulting in delicious flavor and tenderness.
Oven
If you don't have a grill or it's not grilling season, you can use alternative methods like cooking on the stove or in the oven to achieve the typical smoky taste. 
The flank steak is baked to simulate the high-directional heat of a grill. Place the steak on a sheet pan and cook at a distance of 6 - 8 inches from the broiler for 6 to 8 minutes per side, or until the food achieves the desired doneness.
Stovetop
In a large cast-iron pan, heat one tablespoon of olive oil over medium-high heat. Cook for 6 to 8 minutes per side, or until it reaches the desired temperature.
How Long to Cook
As flank steak is a lean cut of beef, it should not be cooked beyond medium; otherwise, it will become tough and chewy rather than juicy. We frequently aim for medium, meaning it will be pink in the center. 
Depending on the thickness of the steak and the desired degree of doneness, the cooking time will range from 5 to 6 minutes per side. Using an instant meat thermometer is the easiest technique to determine if flank steak is perfectly done without being overcooked. 
Rare steak: 125 ℉ 
Medium rare: 135 ℉
Medium: 145 ℉ 
Medium well: 155 ℉
Well done: 165 ℉
For safety, the USDA advises steaks be cooked to 145°F and rested for at least 3 minutes before cutting and consumption.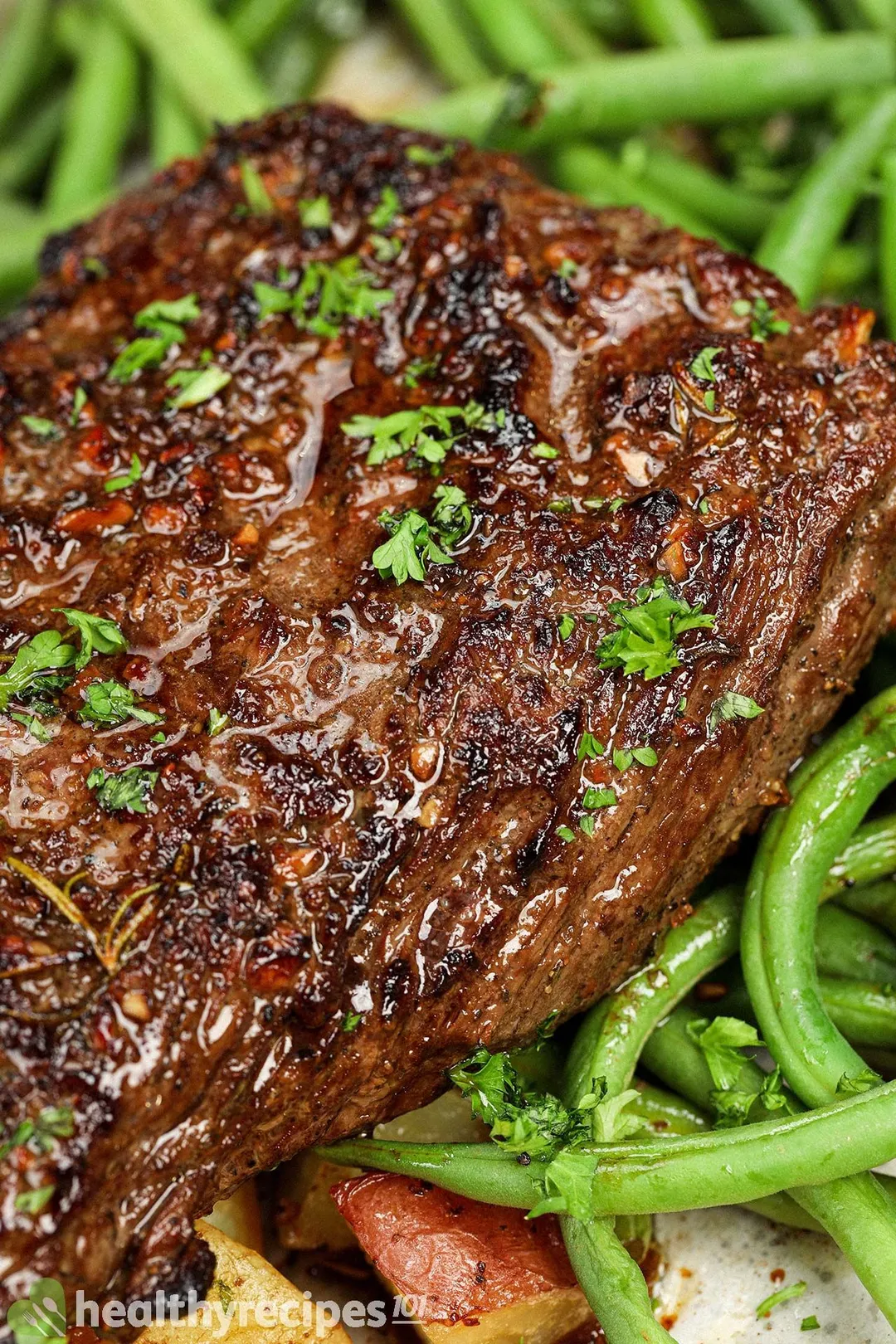 Beef Flank Steak Recipes
If you've been wondering how to cook flank steak or just need some new ideas, we've got you covered with these beef flank steak recipes.
Ingredients
Directions
Choose a recipe that you like.
Assemble all the essential ingredients.
Follow the instructions to give you incredibly tasty beef flank steak recipe in less than 40 minutes!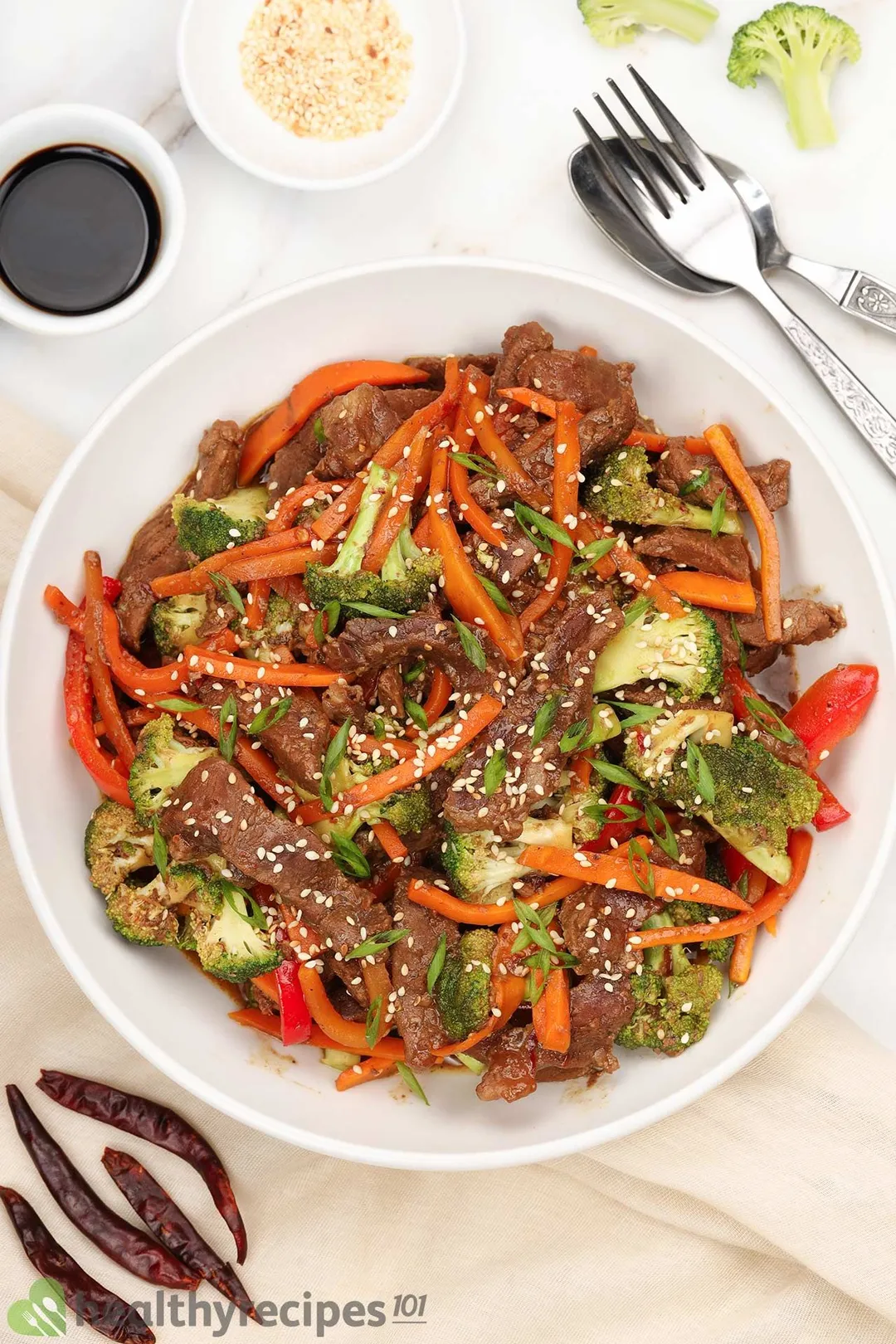 Previous Recipe
Mongolian Beef Recipes
Mongolian Beef Recipes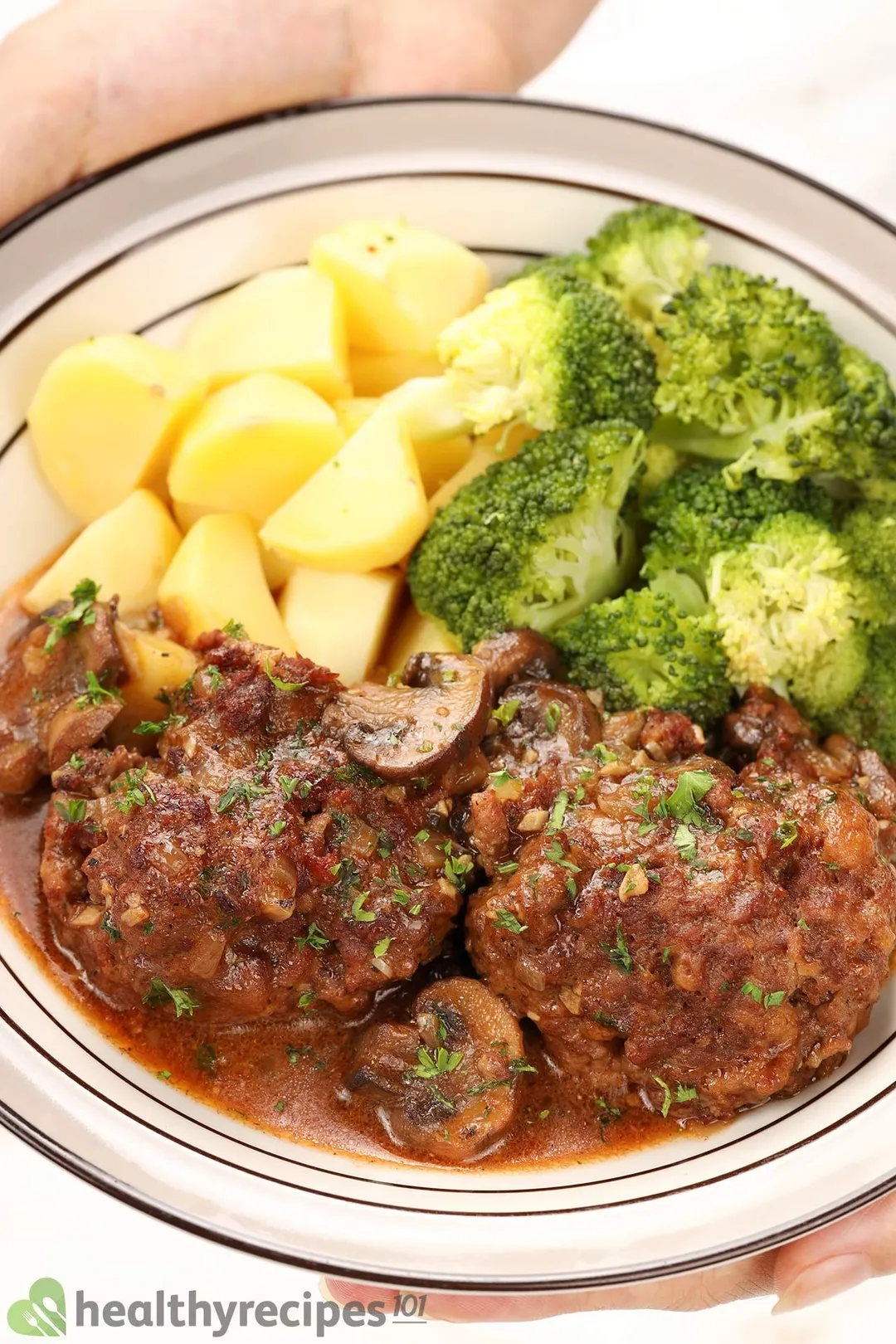 Next Recipe
Beef And Mushroom Recipes
Beef And Mushroom Recipes
Writer, Author
Luna Regina is an accomplished writer and author who dedicates her career to empowering home cooks and making cooking effortless for everyone. She is the founder of HealthyKitchen101.com and HealthyRecipes101.com, where she works with her team to develop easy, nutritious recipes and help aspiring cooks choose the right kitchen appliances.
Comments/ Reviews