Today's top 20 chicken thigh recipes are going to transform chicken thighs into five-star delicacies. All from the comfort of your kitchen!
You won't need any fancy equipment and long hours standing in the kitchen either. These recipes are as straightforward and simple as they get.
So, without much ceremony, let's get to know more about this chicken cut.
Everything You Need to Know About Chicken Thighs
From a chicken leg, you get 2 separate cuts: the chicken thigh, and the chicken drumstick.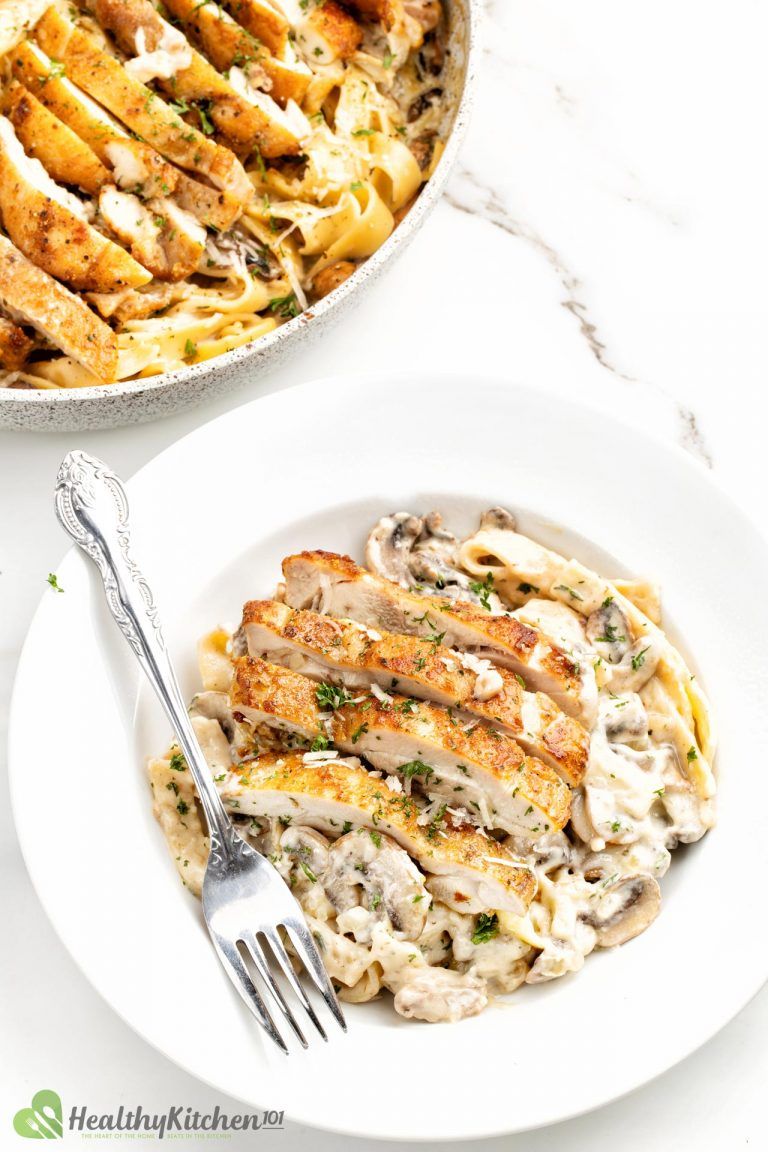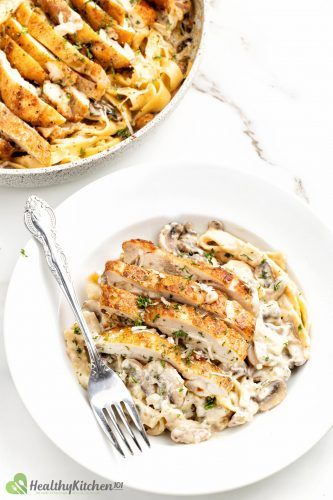 Chicken thighs are the top part of the chicken leg where it connects to the body. The drumstick is right below the thigh, making the calf part of the leg.
1. Are They White or Dark Meat?
Now, though chicken is generally white meat, the chicken leg is referred to as dark meat. This is because of its slightly darker tinge, which turns even darker when cooked.
The fun part is chicken thighs and drumsticks tend to be juicier, especially compared to chicken breast! They contain more fat and— as a result— more flavor.
However, for these same reasons, chicken thighs often get a bad rep.
2. Are They Healthy?
More fat = more calories, and if you're looking to lose weight, you may want to keep the distance. Chicken breasts are a better option for weight loss diets since they're lean meat.
Don't rule chicken thighs out, however. They contain more nutrients, minerals, and healthy fats compared to chicken breasts.
Therefore, chicken thighs can be included in a healthy diet. That said, let's take a look at some of the healthiest meals out there using thighs.
It's an Oven Affair: Baked Chicken Thigh Recipes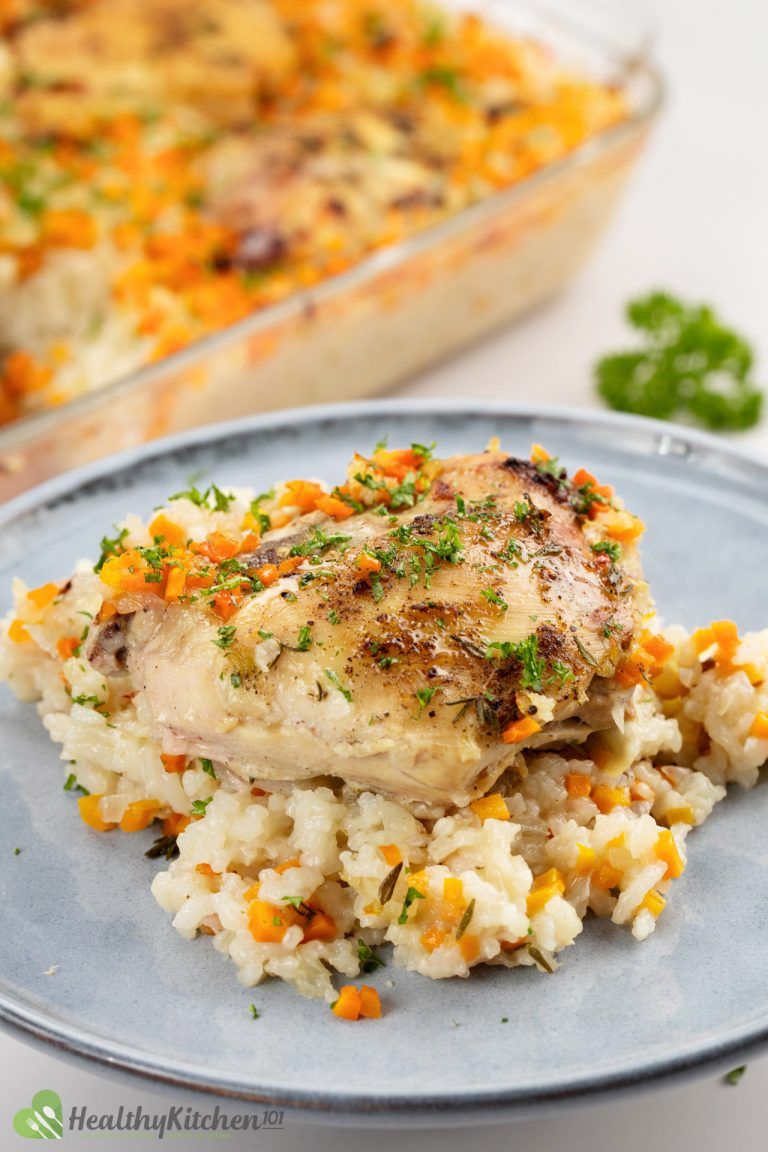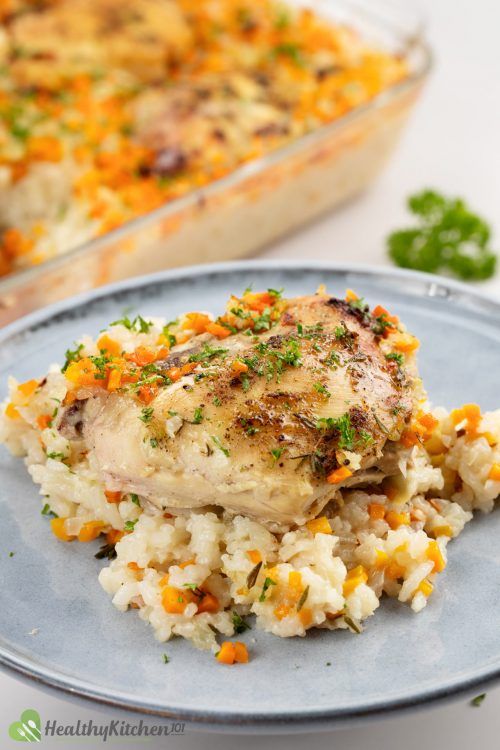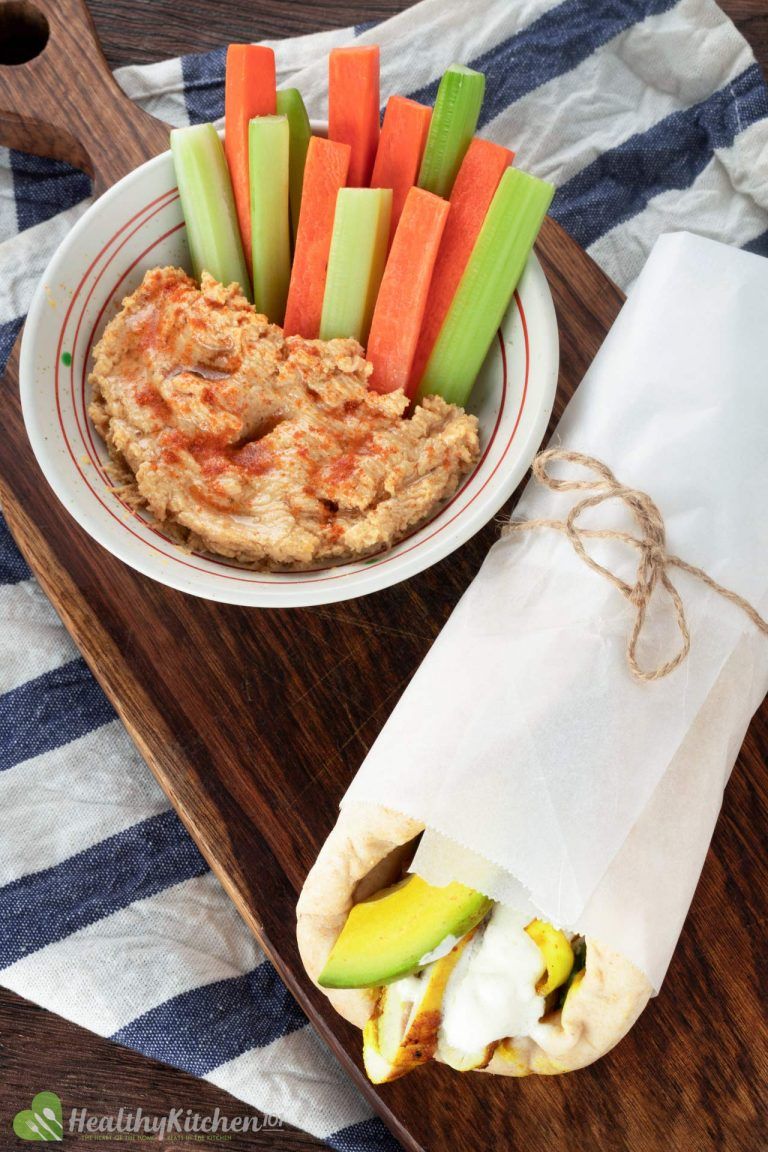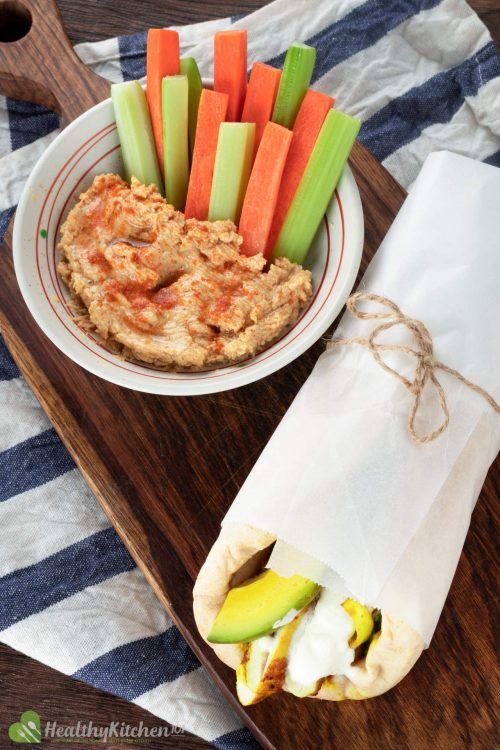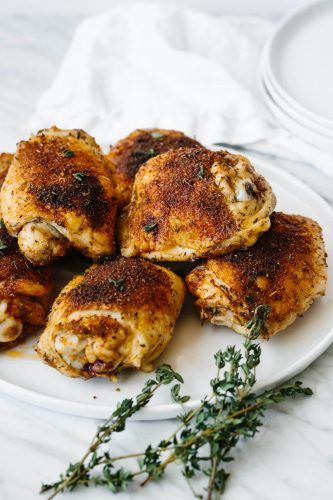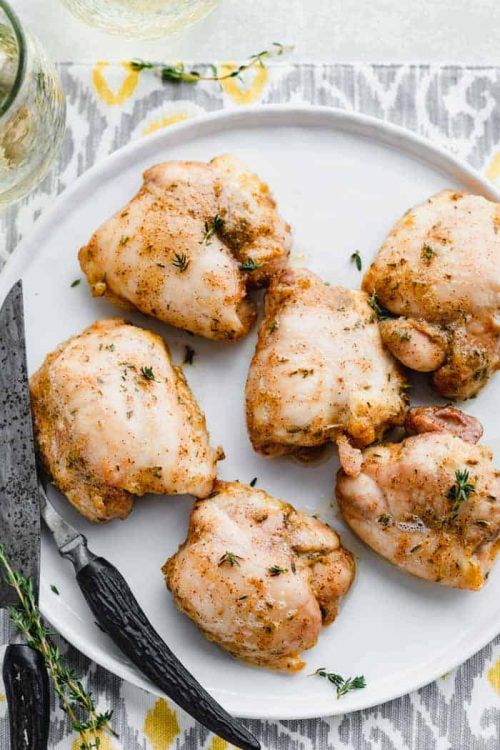 The Pot Cooked It: Instant Pot Chicken Thigh Recipes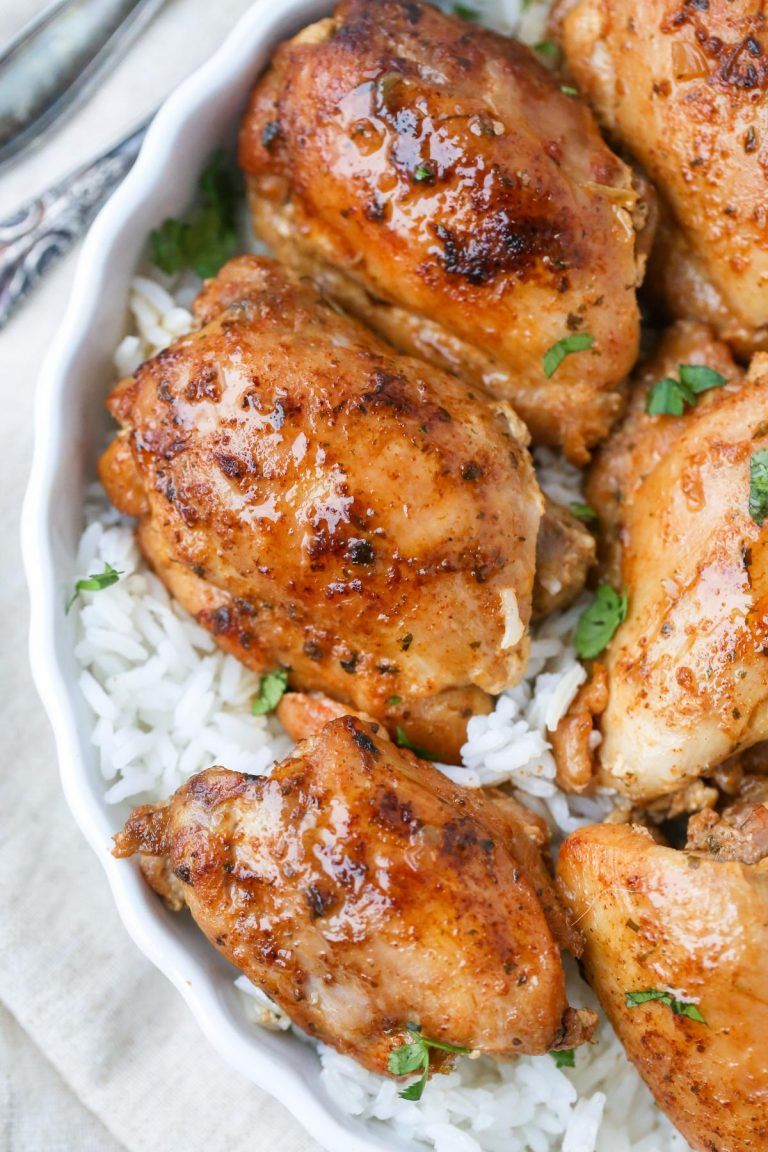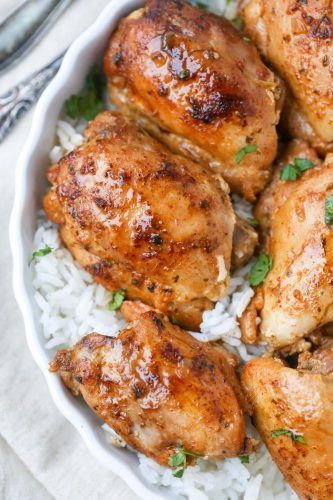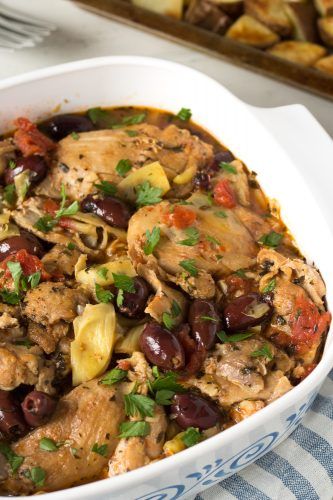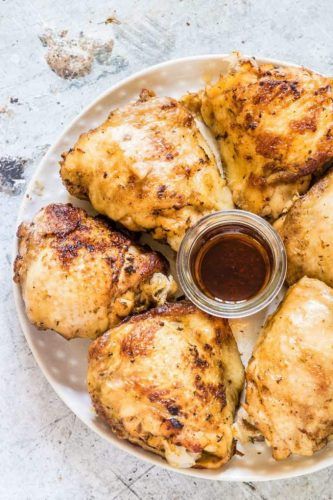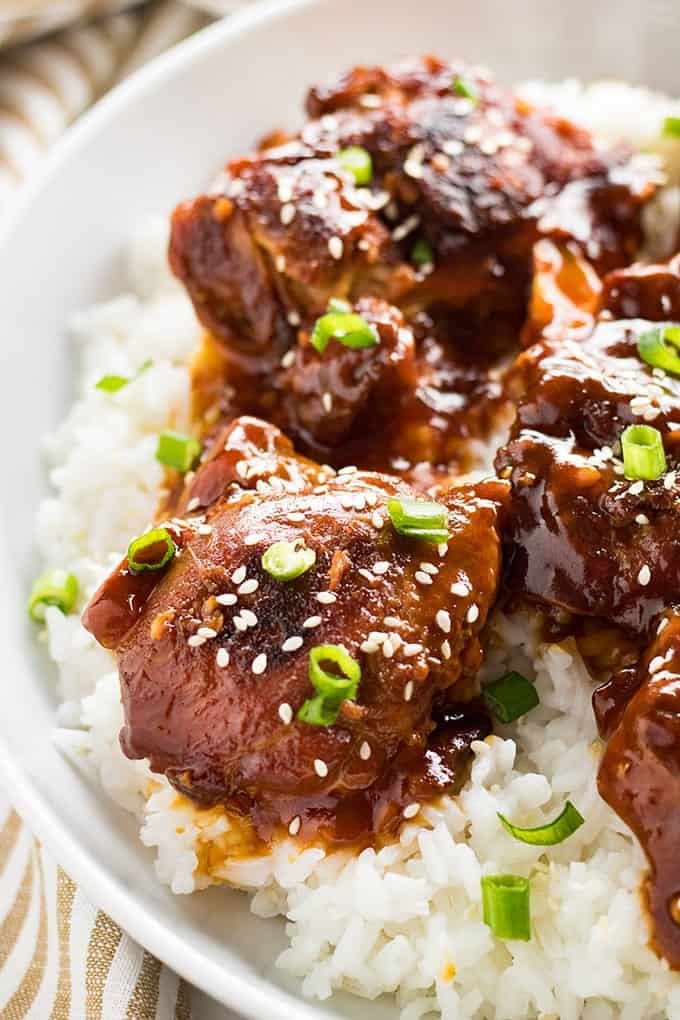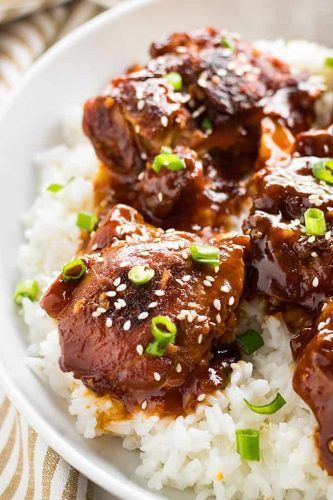 Easy Breezy Lemon Squeezy: Air Fryer Chicken Thigh Recipes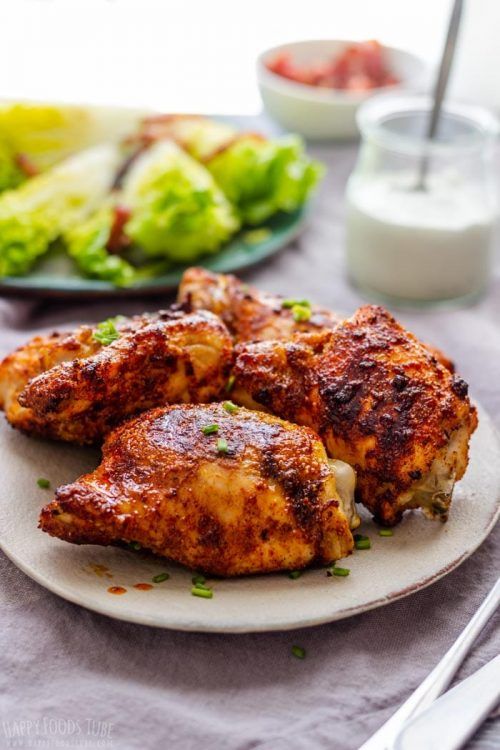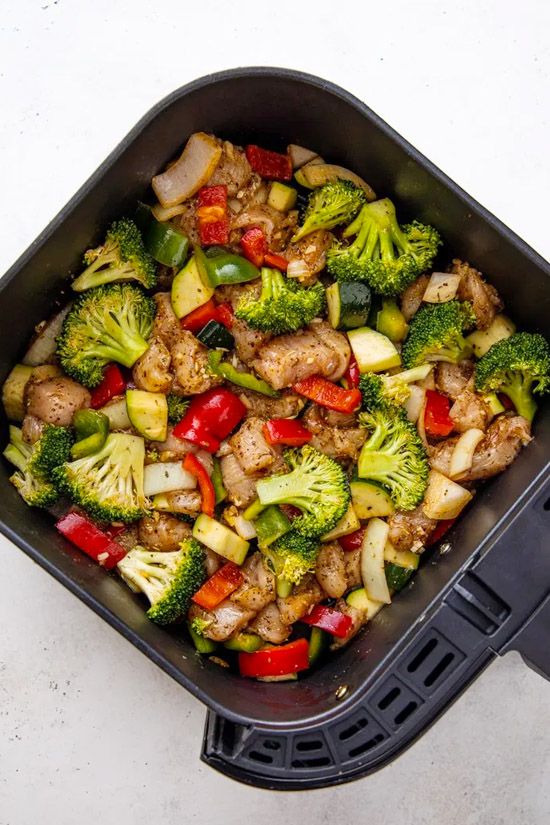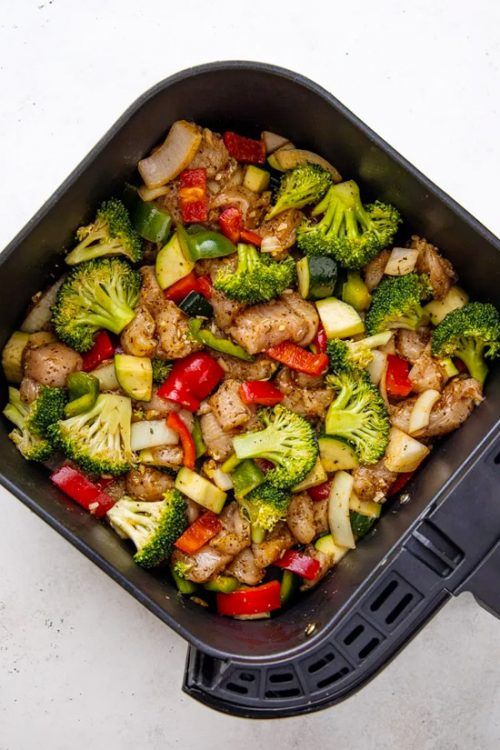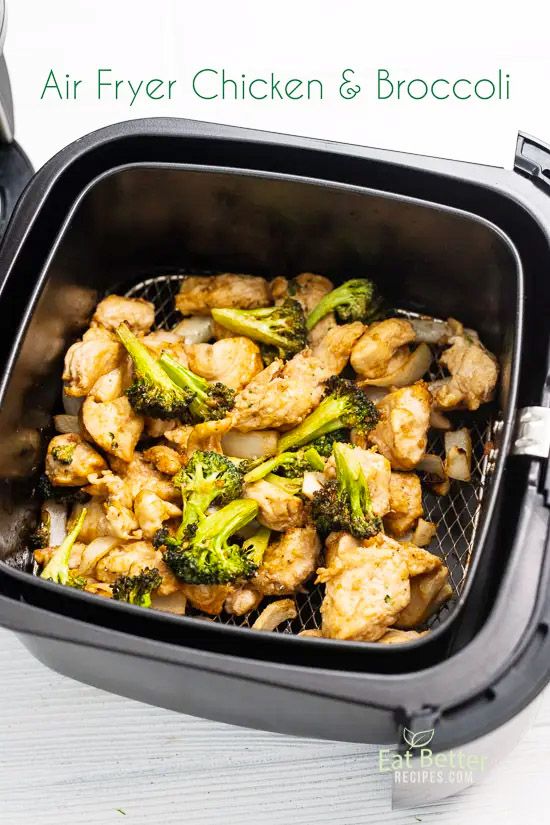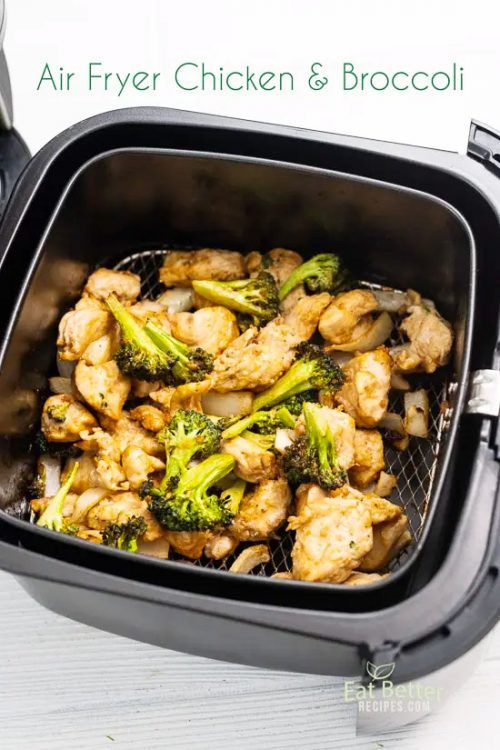 Picnic & Party Favorites: Grilled Chicken Thigh Recipes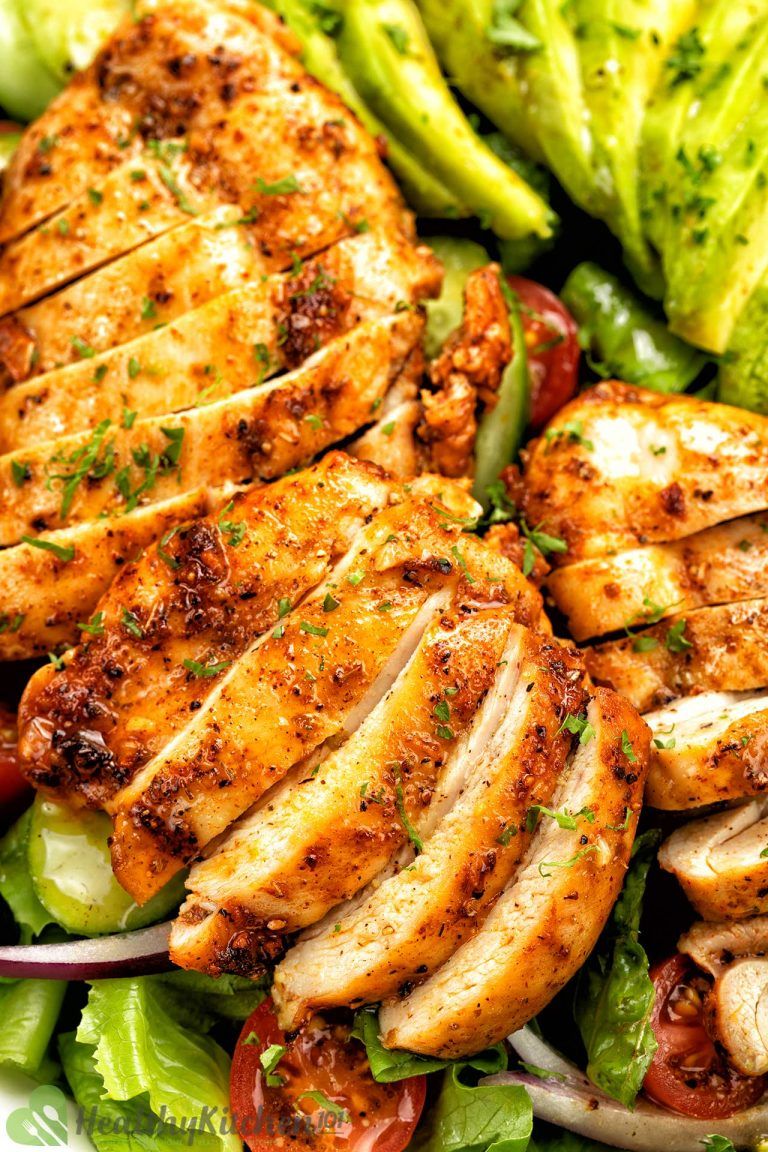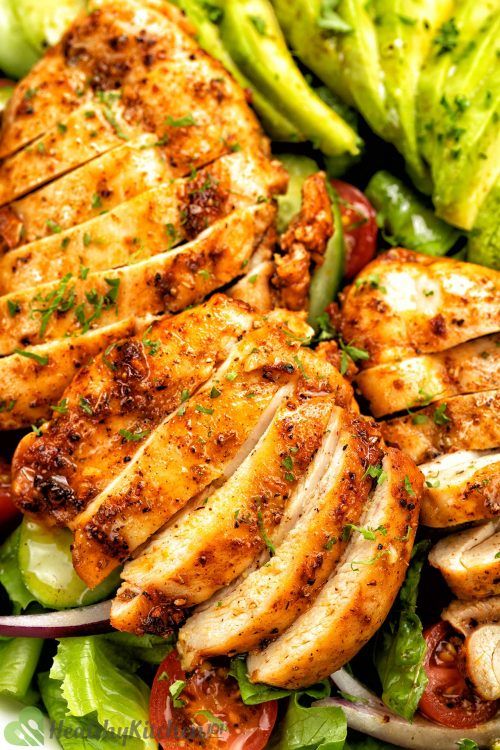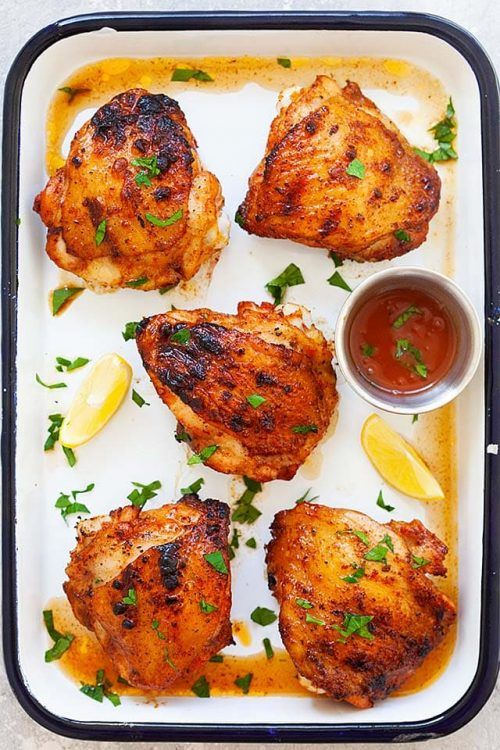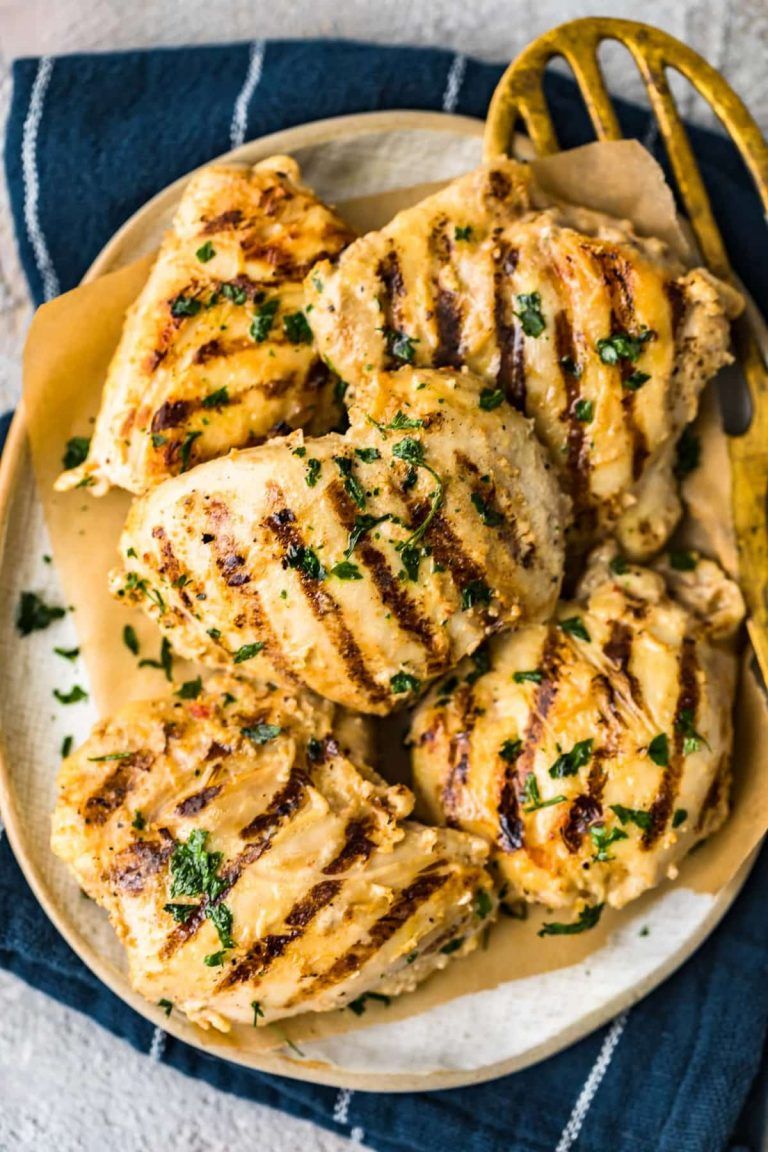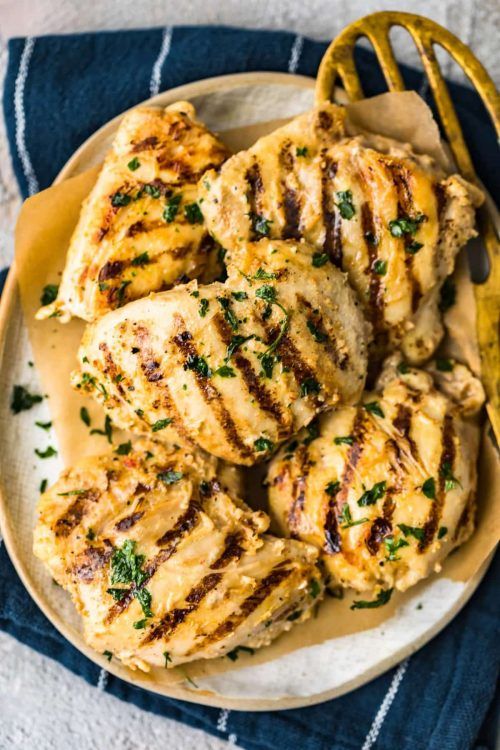 How Long to Bake?
You can bake chicken thighs for anywhere between 25-60 minutes— it mainly depends on what temperature you set the oven to. We have an article that explains how long to bake chicken, which also gives details for various cuts.
In summary, you can set the oven temperature to 300°F and expect to wait for 55-60 minutes while the chicken thighs roast. Or, if you're in a hurry, you can crank the temperature up to 450°F, giving you a quick 25-30 minute cook.
The only caution is to avoid overcooking it. As much as it's naturally plump and juicy, overcooking will result in a dryer piece of chicken that's not as satisfying to bite into.
How Long to Boil Chicken Thighs?
Boiling is a simple way to cook chicken thighs. It comes in handy when you're looking for effortless ways to get chicken ready.
The best way to boil chicken thighs is to boil the water before actually adding in the thighs. Some would argue that this is poaching, which is also accurate in this case.
After adding the chicken lower the temperature to a simmer and leave it to cook. For bone in chicken, 45 minutes should suffice, while for boneless chicken it will take 25-30 minutes.
You can tell it's ready when the internal temperature reaches 170°F or when the flesh is no longer pink.
How to Debone?
From the outside looking in, deboning chicken thighs might seem like a challenging task. We're here to reassure you that it's not.
Here are a few steps that will have you opting for the less costly bone-in chicken thighs the next time you go grocery shopping.
Step 1: Place the chicken thigh onto a cutting board, with the skin side down so that you can see the bone.
Step 2: Cut vertically— from top to bottom— as close as you can to the bone without cutting too deep on both sides. Ensure to include the cartilage at the top and bottom of the bone.
Step 3: Make incisions under the bone and pull the chicken flesh from the bone. Scrape any excess flesh remaining on the bone.
Chicken Thigh Calories
A 5-ounce chicken thigh without skin contains 180 calories. That's similar to the number of calories in a similar-sized piece of chicken breast.
So the difference in calories is not that big, and both score points in the healthy column.
One chicken thigh with skin, however, weighs almost 7 ounces and contains 427 calories— more than 2 times that of skinless thighs. This is owed to the chunk of fat that chicken skin provides.
If weight loss is the name of your game, we suggest you stick to skinless chicken thighs. This way, you get the best of both worlds with juicy chicken flavor and plenty of protein.
Protein
The same 5-ounce chicken thigh, without skin, contains 29.3 grams of protein, which is a pretty large portion.
It's not as much as the protein found in chicken breasts (31.8 grams). However, it provides more than 16-50% of the required amount of protein on a 2000-calorie diet.
So if chicken breasts happen to be missing from the grocery poultry section, or you just feel like having a juicier piece of meat, go ahead and select chicken thighs. They'll be just as good for helping you stay satiated and building some muscle while working out.
If these recipes got you craving some more chicken, check out our list of 50 healthy chicken recipes. A collection of delicious and diverse dishes!